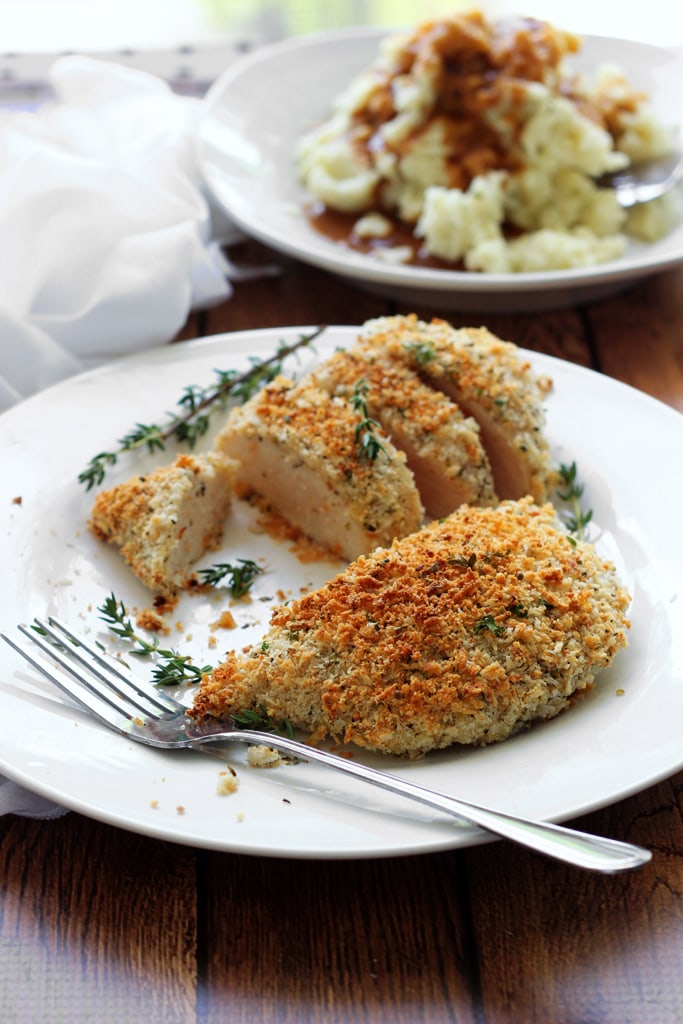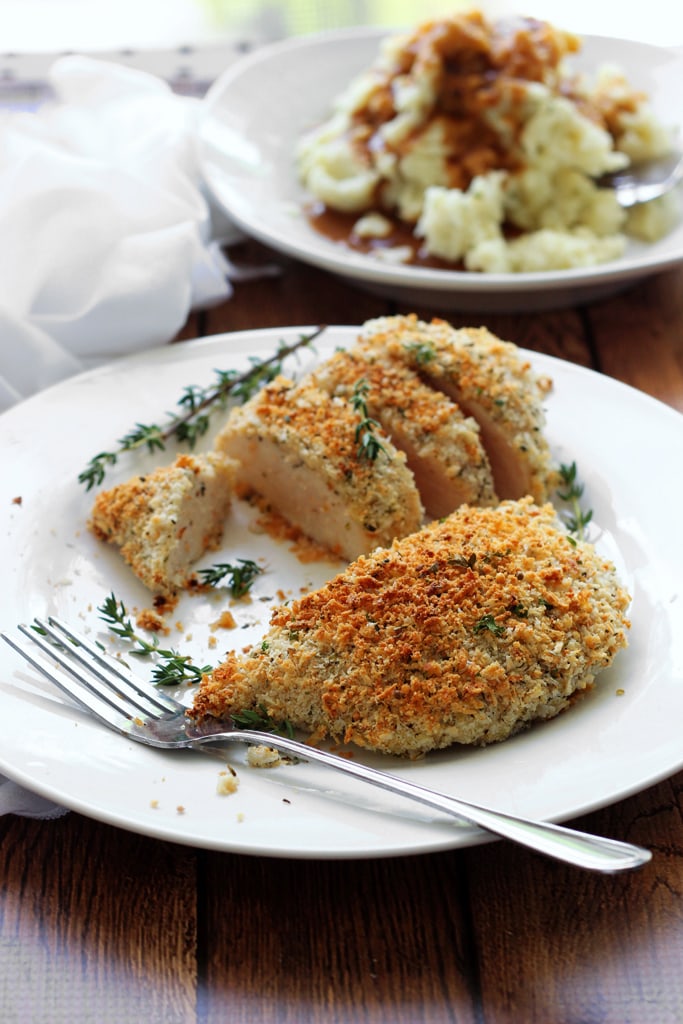 I love fried chicken as much as the next girl. And super crispy skin is one of the BEST parts of fried chicken. Bad and bad, I know. Buuut you know you can kinda have the same thing without the frying. I won't lie and say it's as good as fried chicken but the breading on this chicken is definitely crispy. The answer is by baking it with panko breadcrumbs. Because these breadcrumbs make everything crispy, even sans fried.
It worked for panko crusted tilapia. It'll work for chicken breasts. And since it's chicken we're messing around with now, I'll just go and add a few herbs that'll make ordinary chicken into wow chicken. Just a little bit of Italian seasoning here and oh maybe some sage too.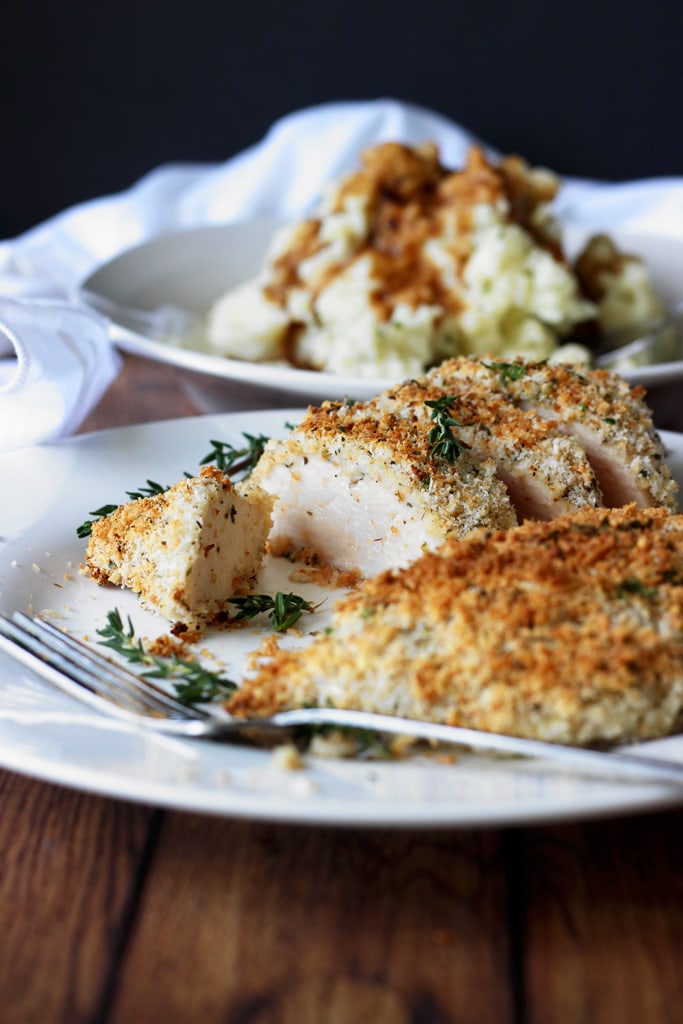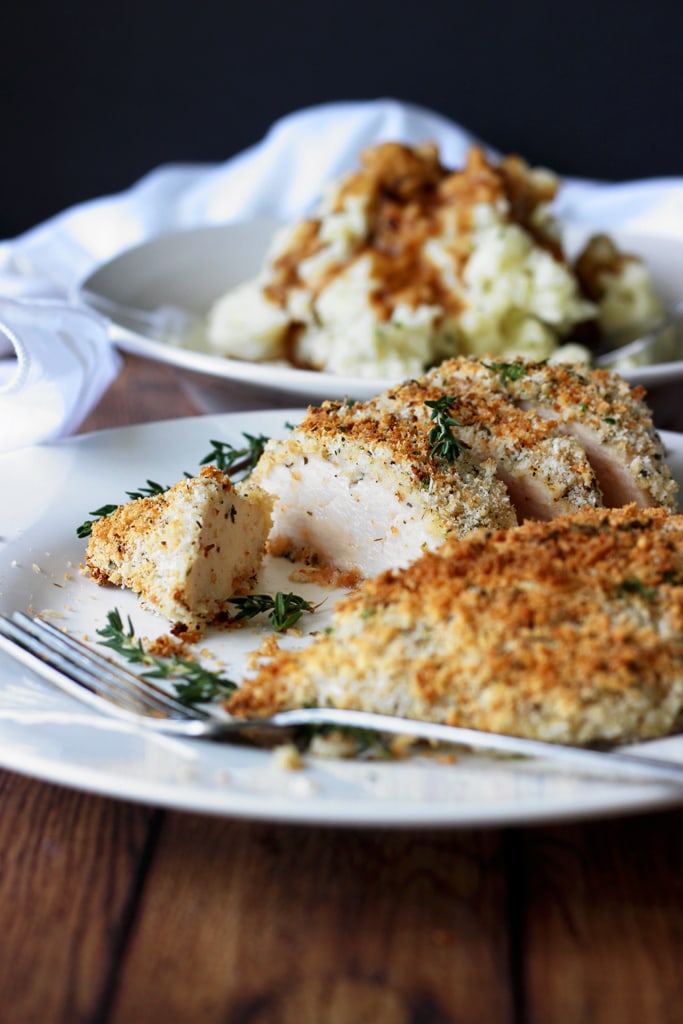 Interested yet? No? How about if we add some Parmesan? Now that's gotta be good. And it all comes together pretty darn easy. Dip it in egg and then roll it in the panko Parmesan herbed breading mix and bake! Yum!
It's so simple, there's really not much more to say. I did make the  mistake of picking uneven chicken breasts though. If you're baking chicken, you'll want them to cook evenly, which is tough to do if one breast is relatively nice and flat and the other is super plump. Get a mallet if you have one and pound them down to even out the thickness. That way, you'll get even cooking and browning, even on the corners. Learn from my mistakes! Mine still tasted good though. It's  just not as aesthetically pleasing. Time to go shopping for a mallet.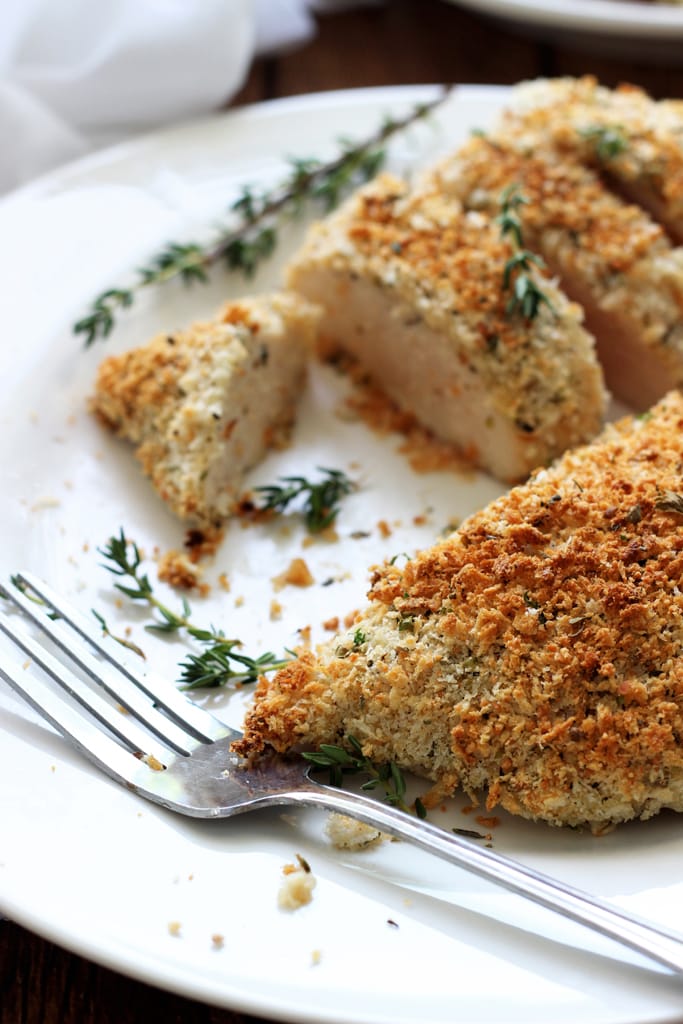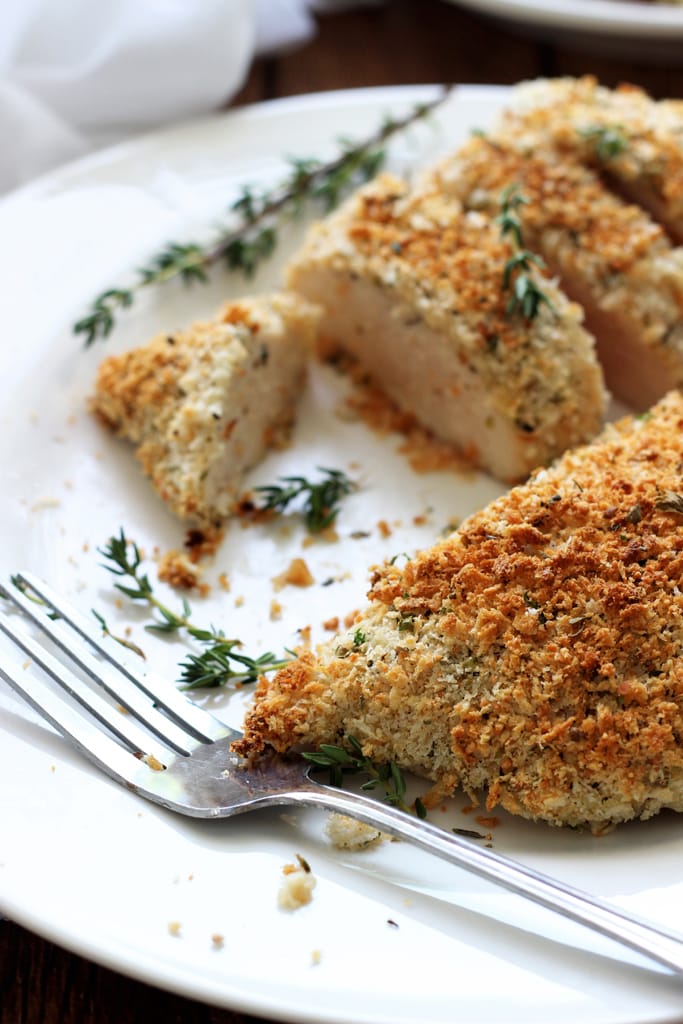 So let's talk about how you can enjoy your pseudo fried chicken. I tend to dip my chicken in mashed potatoes and gravy sometimes or just plain ketchup. But the mashed potatoes and gravy dip are so good. Weird, right? If you do the same, give me a holler so I don't feel so awkward!
But you could have these with mashed potatoes on the side. And green beans. I have a recipe for stir fried green beans with garlic but you'll have to excuse the pics. It's from the early days. Consider it my awkward teenage blogging days. Don't worry. I don't start the post with a 'Dear Blog'.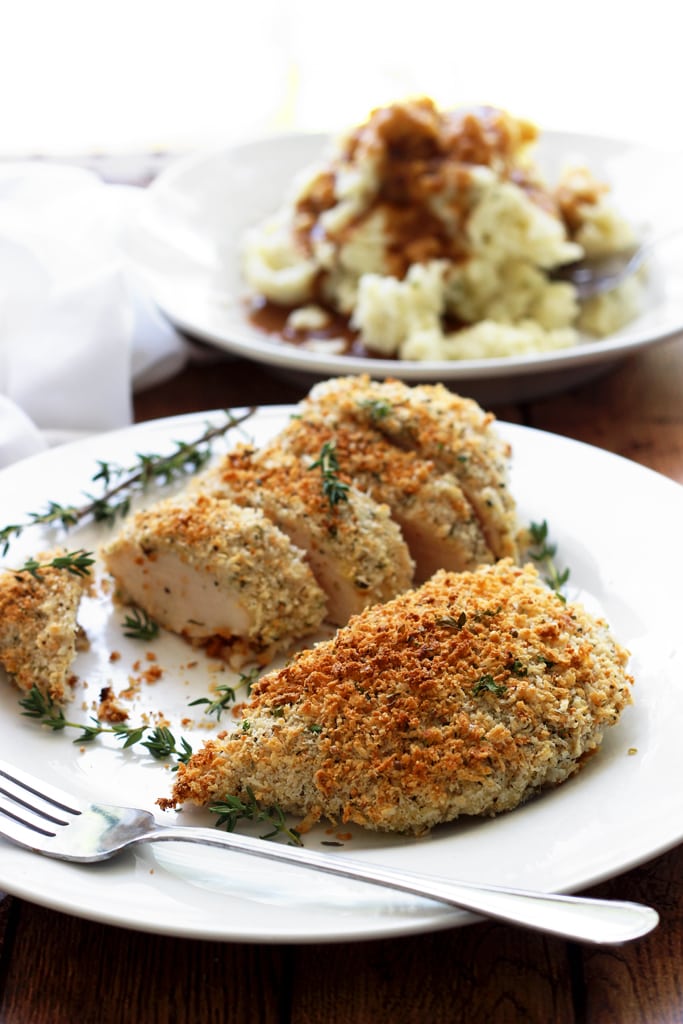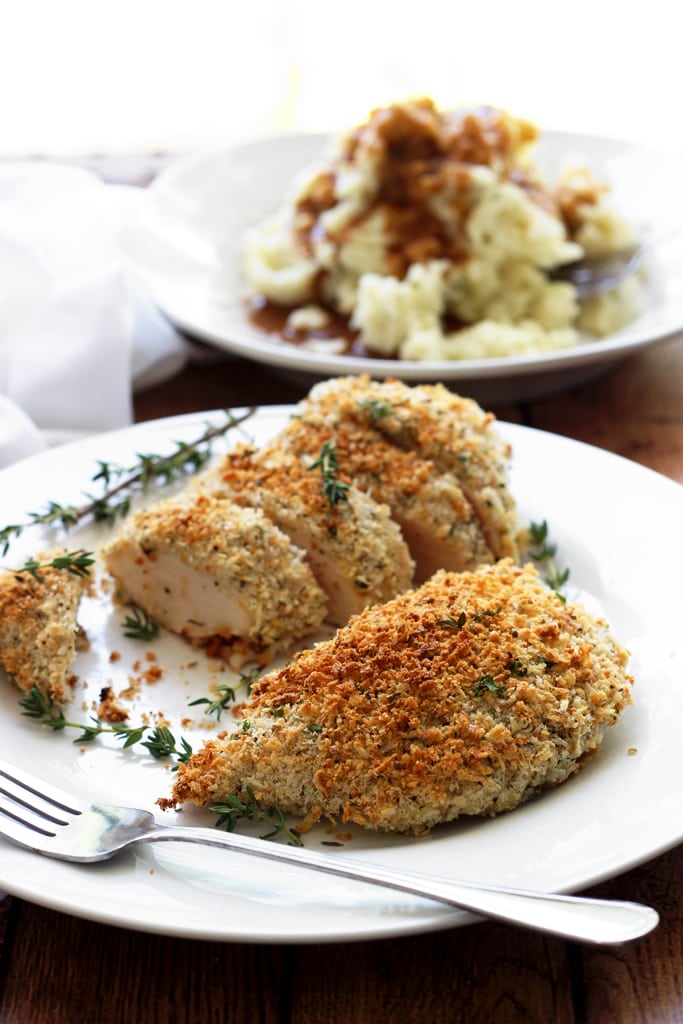 As for sage, it has to be one of my favorite herbs besides basil. Fresh basil that is. Sage just smells homey you know?
And hey, this will work with chicken tenders as well if you want finger food, although I'd suggest reducing the baking time since they're smaller and cook faster. Maybe 10 minutes would work. Let me know!
Print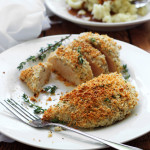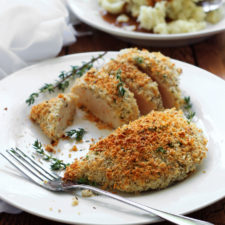 Baked Parmesan and Herb Crusted Chicken
---
Author:

Prep Time:

10 mins

Cook Time:

20 mins

Total Time:

30 mins

Yield:

2

1

x
Scale
Ingredients
2

boneless, skinless chicken breasts

1

egg, beaten

1/2 cup

panko breadcrumbs

1/4 cup

dried Parmesan

2 teaspoons

Italian seasoning

1/2 teaspoon

dried sage
Salt and pepper to taste
---
Instructions
Combine panko, Parmesan, Italian seasoning, sage and salt and pepper to taste for breading
Dip the chicken in egg and then coat the chicken breasts with the panko mixture until fully breaded. Pat in any excess breadcrumbs in for maximum crispiness
Bake at 425 degrees F for about 20 minutes or until the chicken is cooked through and the crust has browned
Dish and serve hot