Cheat the time over the stove with this slow cooker mushroom risotto. No more babysitting and endless stirring for hours. Just set and forget and come back to a creamy and rich risotto!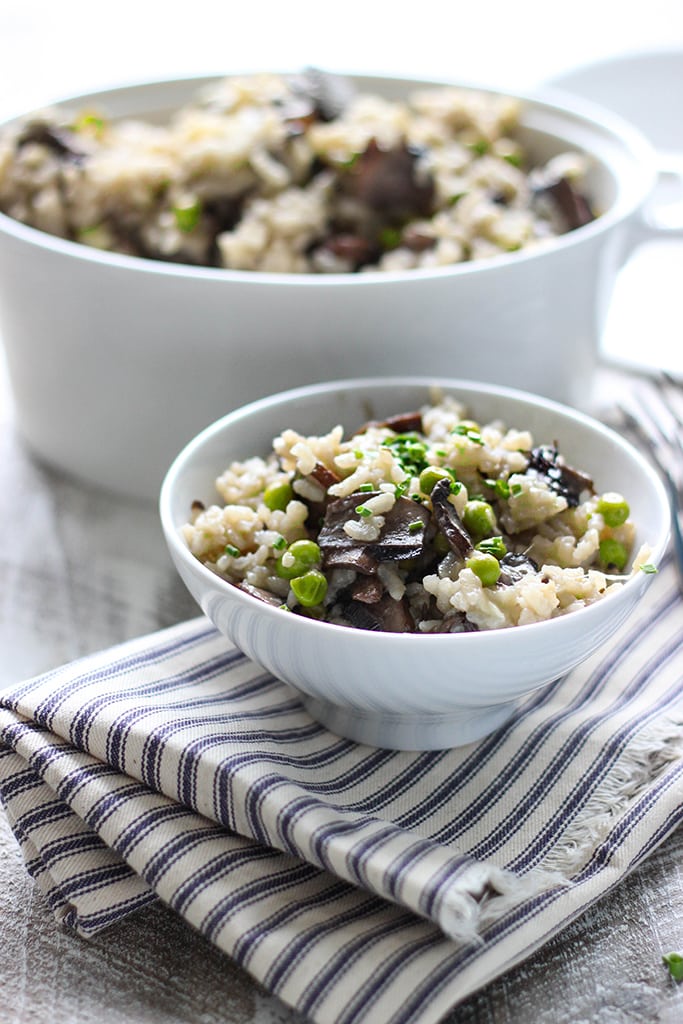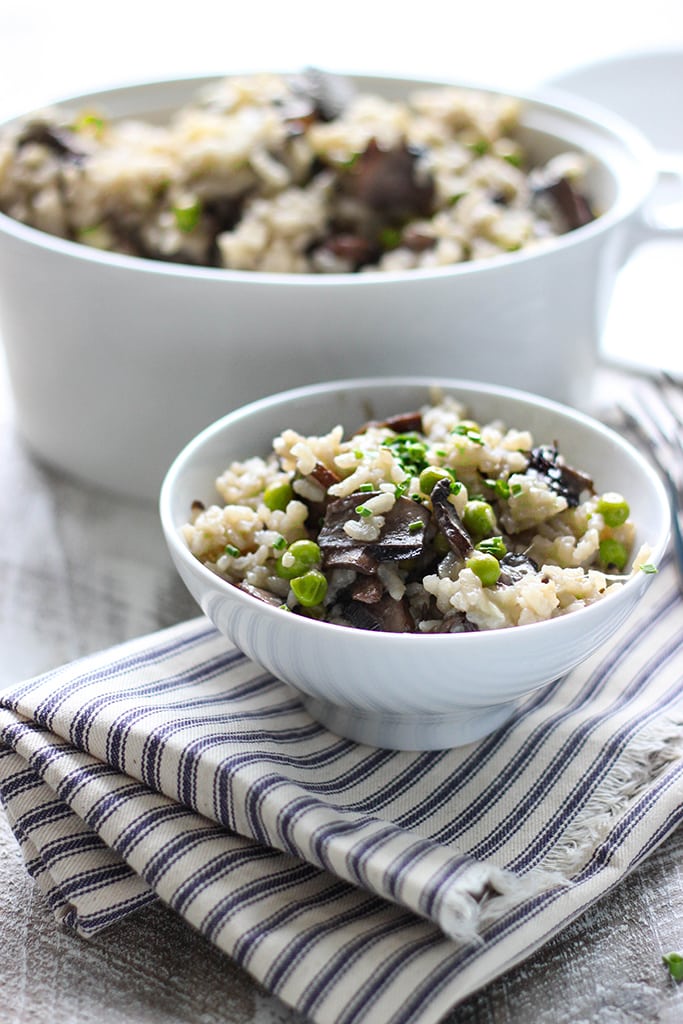 If there's any dish that's perfect for the slow cooker, it's risotto. The last time I made risotto the traditional way was five years ago. I did not enjoy it. Standing over the stovetop for almost 20 minutes constantly stirring is no fun.
That's why throwing everything in the slow cooker and letting it do its own thing for an hour and a half feels so good. That's literally all I did. No babysitting. No hand cramps. Just set and forget.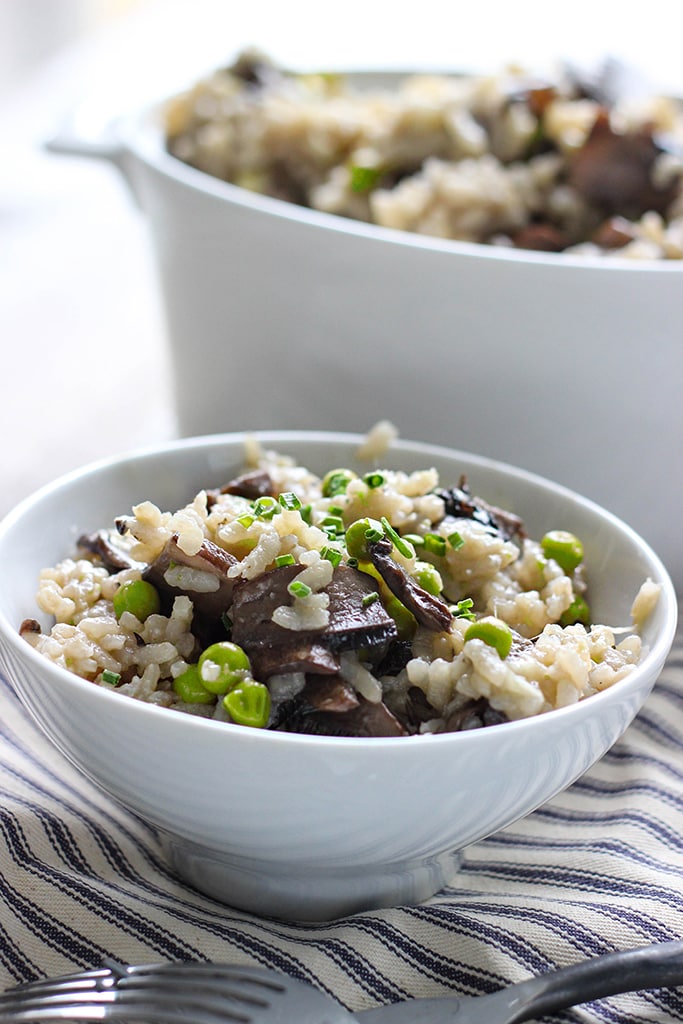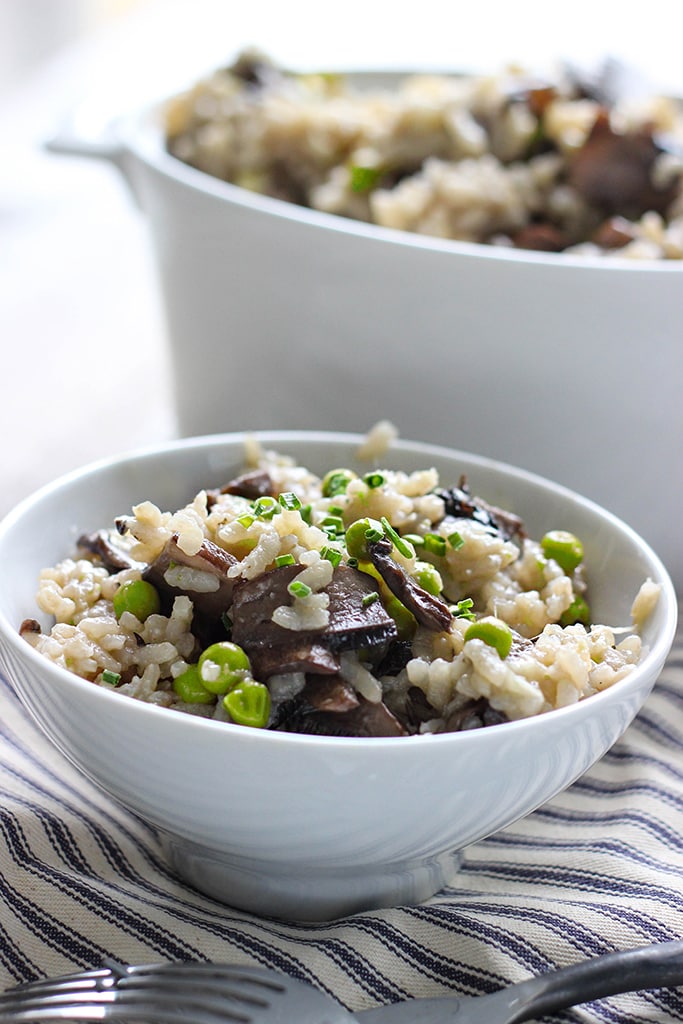 And you'll end up with this rich, creamy, earthy risotto which tastes like you lovingly slaved over it at the stovetop. No one will ever know the difference. Let's start cooking.
SLOW COOKER MUSHROOM RISOTTO RECIPE TIPS
I used portobello mushrooms for this recipe because they're my favorite but you can use others. Melt the butter and sauté your onions and mushrooms until the mushrooms cook down. It'll release a little liquid and that needs to be cooked off too. Towards the end, add in your garlic.
Then we add some arborio rice. This short-grain rice is usually what is used for risotto. I found it easily enough at the grain aisle. If you can't find any, sub another short grain. It won't taste entirely the same but it'll work.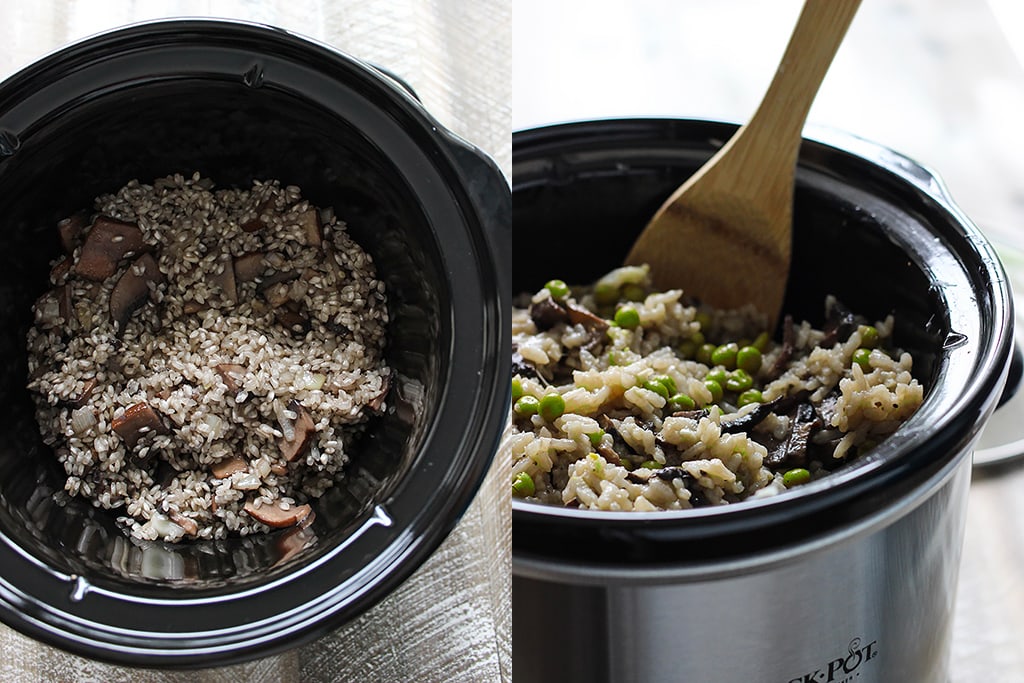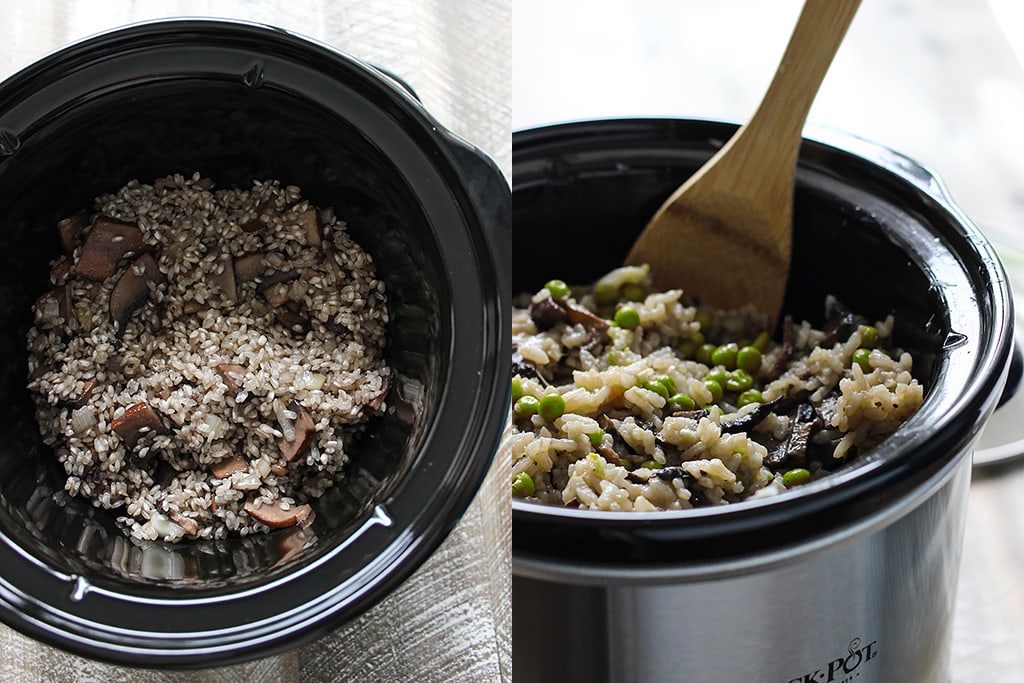 Mix it all together and let the uncooked rice absorb the creaminess. Then transfer it to a slow cooker. Spray your slow cooker with cooking spray if it isn't non-stick. Once the rice is added, pour in your chicken broth and add salt and pepper to taste. Then set it for an hour and a half on high.
Time may vary a little on your slow cooker so just eyeball it, and around the end of the time I suggested, see if the liquids have been absorbed by the rice and if the rice is al dente. I didn't try this on low heat because I'm not sure if slow cooking rice too long would make it mushy. If you do try it out on low, let us know how long it took you and the result!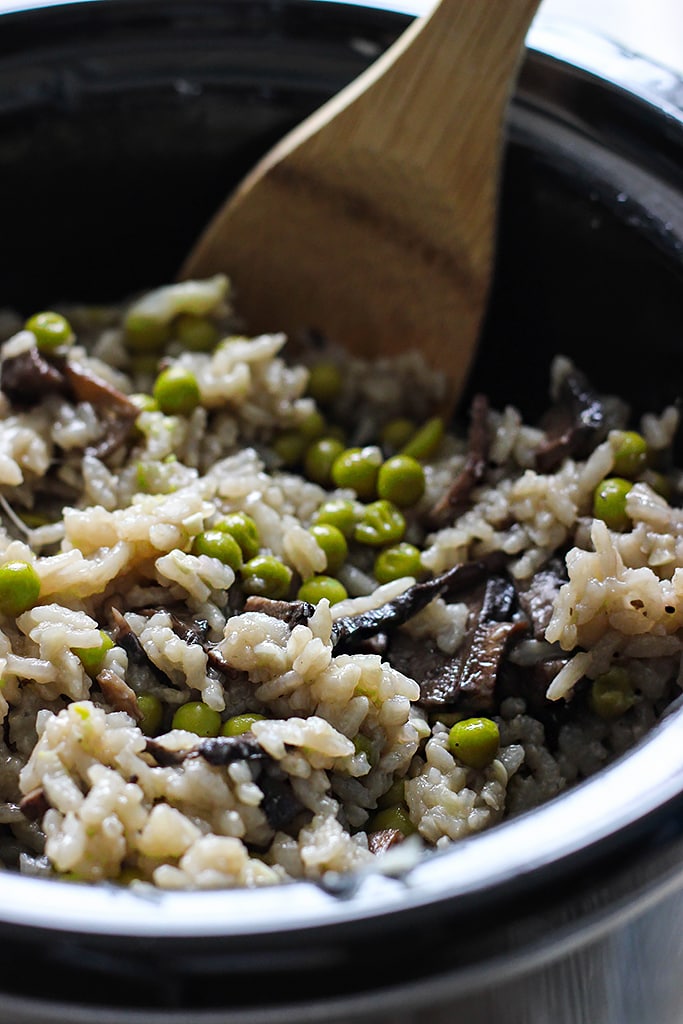 Once it's al dente, mix in the peas and shredded Parmesan cheese. You'll want to add the peas at the tail end or they might split. They're very fragile. On that same note, stir gently when mixing the peas!
And that's it! I served it with some lemon pepper salmon. Throw in a salad if that works for you. Enjoy!
MORE MUSHROOM RECIPES TO TRY
Did you make this recipe? Rate it!
♡ If you liked this recipe, giving it a star rating ★★★★★ in the comments below really helps! For more recipes, subscribe to my newsletter or follow me on Facebook, Instagram and Pinterest.
Print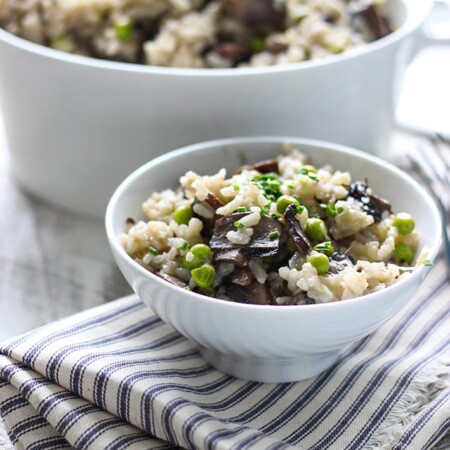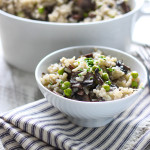 Slow Cooker Mushroom Risotto
---
Author:
Total Time: 2 hours
Yield: 8 1x
Description
Cheat the time over the stove with this slow cooker mushroom risotto. Enjoy a homecooked, rich, creamy and easy-to-make risotto.
---
4 tablespoons butter
8 oz. portabella mushrooms, thinly sliced
1 shallot/ 1/4 yellow onion, diced
1 teaspoon garlic, minced
1 3/4 cups Arborio rice
4 cups chicken broth
Salt and pepper to taste
1 cup peas
1/4 cup Parmesan cheese
---
Instructions
Melt the butter and cook mushrooms, shallots and garlic over medium high heat for 5 minutes or until mushrooms have browned and liquid has evaporated
Add in rice, stirring to coat for 2 minutes
Spray the slow cooker with cooking spray and add rice mixture
Pour in broth and season with salt and pepper to taste
Stir to combine and cook on high for 1 hour 30 minutes or until rice is tender and liquid is absorbed
Once it's cooked, stir in peas and Parmesan cheese and mix well
Dish and serve hot
Notes
Cooking times may vary a little depending on slow cooker brands. Some run extremely hot. For this recipe, I used Crock-Pot.
Prep Time: 15 mins
Cook Time: 1 hour 45 mins