Enjoy your favorite hibachi at home. Pair this hibachi chicken with some hibachi rice, noodles and veggies and the addictive yum-yum sauce.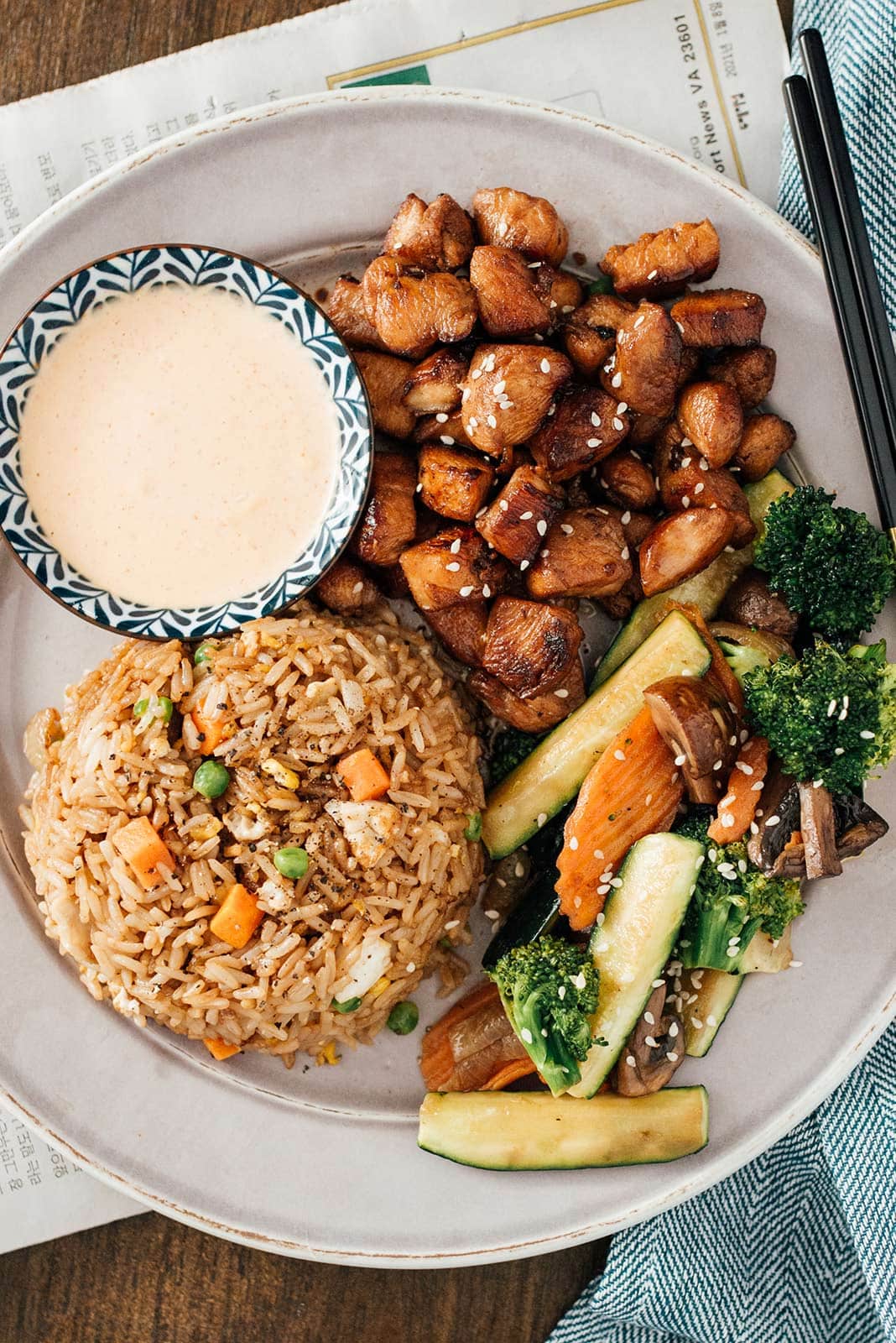 Over the years, I've gradually added each delicious component that makes a hibachi dinner to the blog, so you can cook your favorite parts at home. There's the hibachi fried rice paired with the buttery hibachi noodles and a side of hibachi vegetables to balance off the meal with your choice of protein. Today, for the protein, we'll be making some hibachi chicken.
These bite-sized chicken pieces are seared quickly over high heat to make some buttery, tender and juicy chicken with a delicious charred flavor. Dip it in the creamy yum-yum sauce to complete the experience. Five minutes of stir-frying is all it takes, so let's get started.
How To Make Hibachi Chicken (1 Min Video)
What Is Hibachi Chicken?
Hibachi is cooking the cooking of meat, vegetables, seafood, noodles, and rice over super-high heat on a flat and hot grill. These usually involve a fancy show with a hibachi chef at Japanese steakhouse restaurants like Kobe and Benihana.
Hibachi chicken are bite-sized chicken seared over high heat in butter, garlic, an Asian stir-fry sauce and finished with a drizzle of sesame oil.
To make this at home, you don't need a flat surface like the fancy hibachi grill. A good wok or cast iron pan will work just as well to achieve the same level of sear. If you don't own a wok or cast iron pan, you can get away with using a regular skillet but you won't get the same level of sear.
What You Need For Hibachi Chicken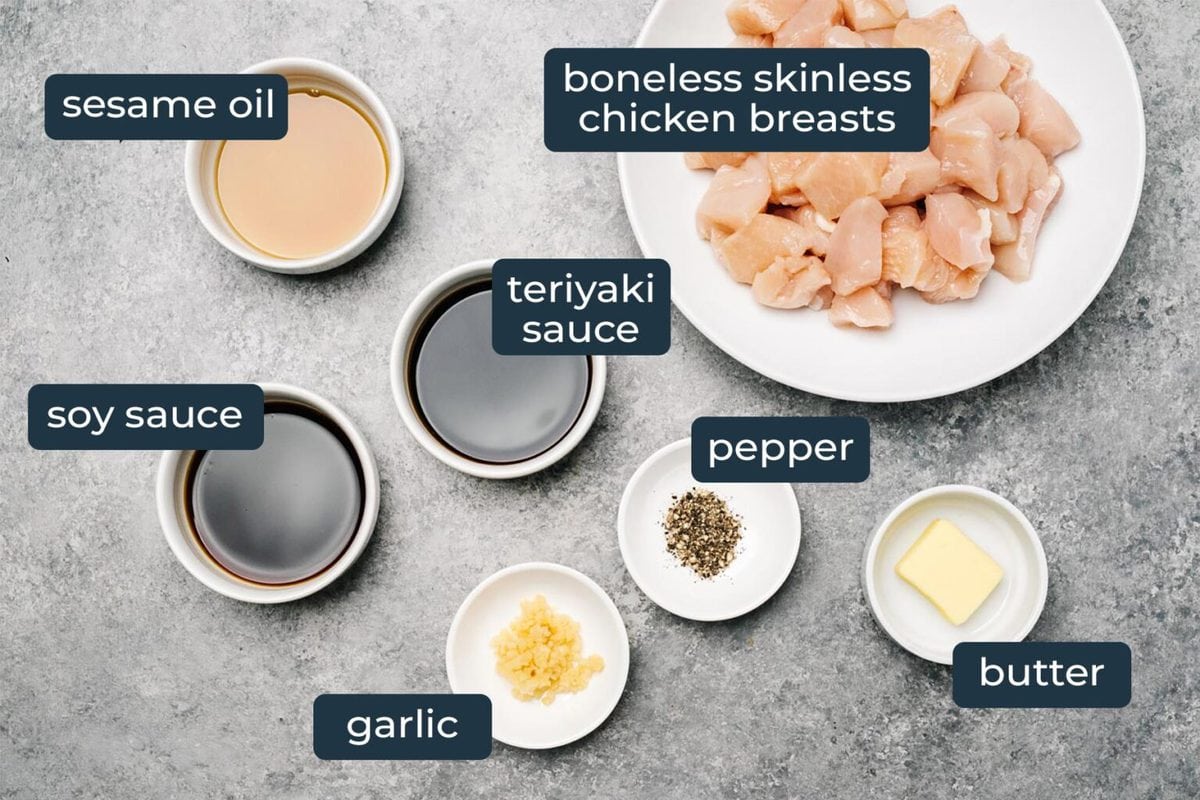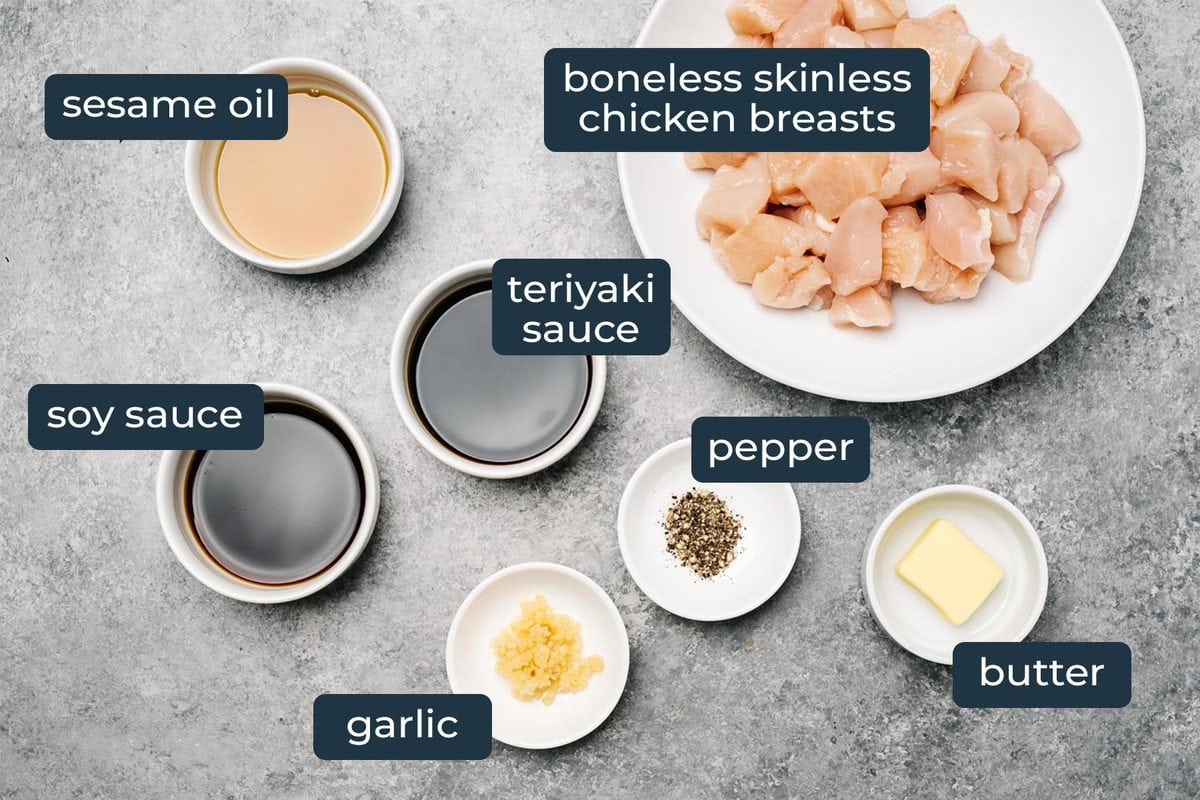 HIBACHI CHICKEN RECIPE TIPS
Chicken – I used boneless, skinless chicken breasts and cubed them into bite-sized pieces. You can use fresh or frozen, either will work.
Garlic – I like using fresh garlic in my stir-fries. It makes a HUGE difference. For a small amount of garlic, I prefer using a mini grater instead of a garlic press.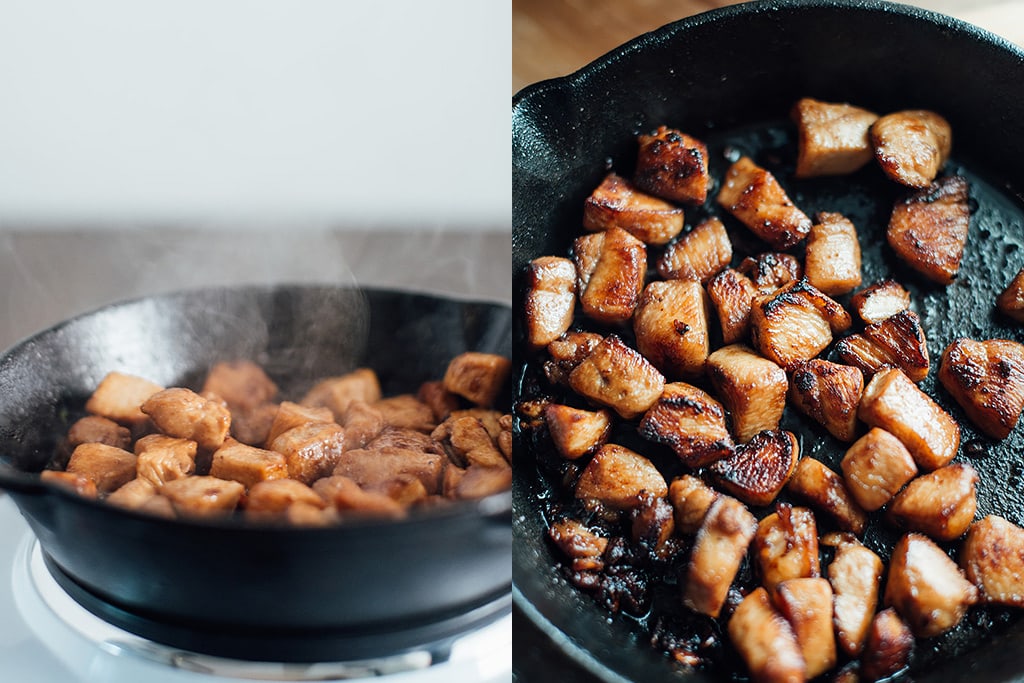 Sauces – You can substitute soy sauce for low sodium soy sauce. You don't need to add more salt to the stir-fry as there's plenty of sodium already from the soy sauce. My preferred brand of soy sauce is La Choy. For the other sauces, I use the Kikkoman brand of teriyaki sauce and Sun Luck mirin brand. Now I don't use teriyaki sauce enough at home to have a preferred brand so if you know of a better one, let me know in the comments below!

Try and find them at your local grocery store first, they might be by the ethnic aisle or with the soy sauces. It'll be cheaper and should only cost a couple of bucks there. If you want to try your hand at making teriyaki sauce from scratch, my good friend Caroline over at Pickled Plum has a good teriyaki sauce recipe.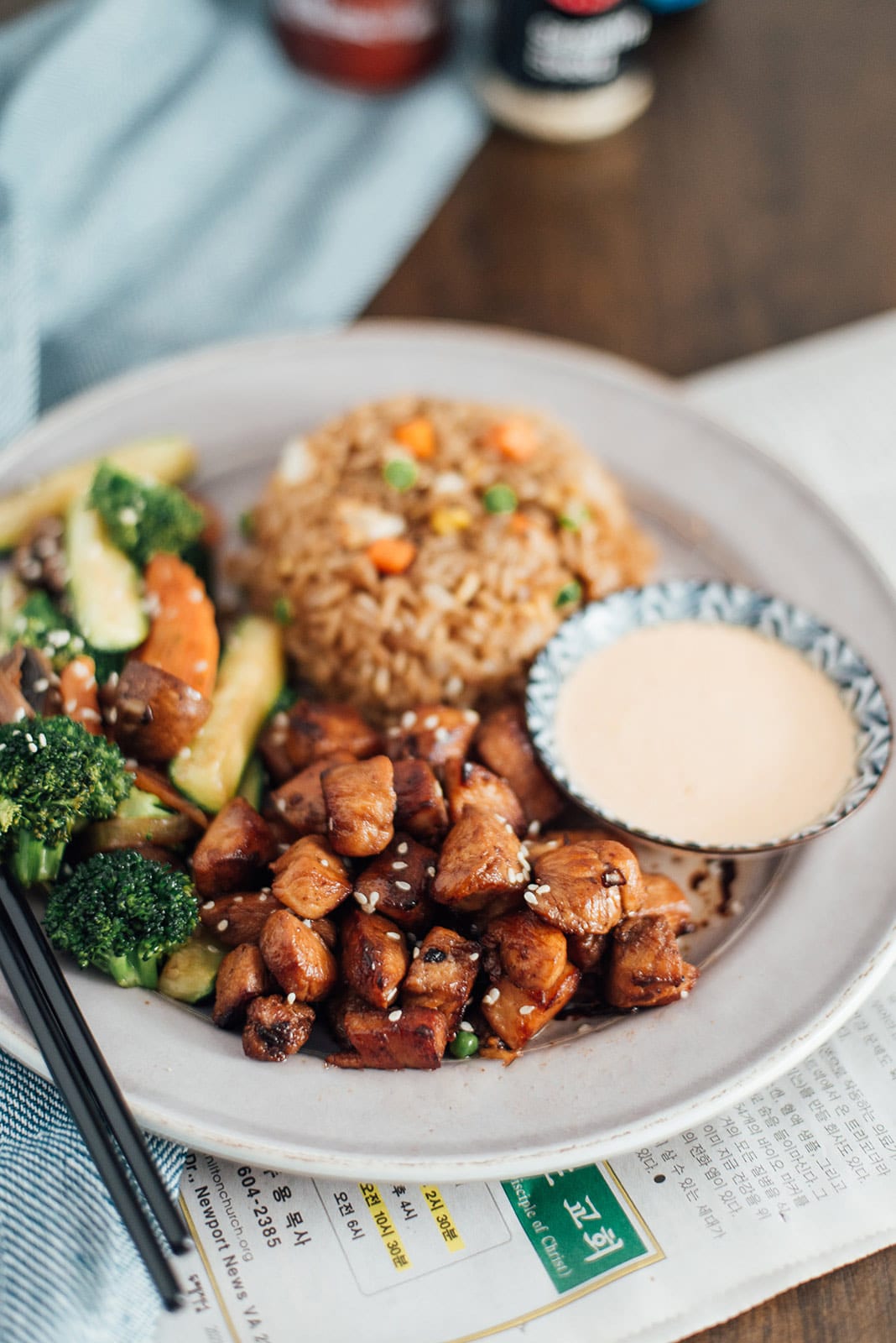 Sesame oil – A little goes a LONG way with this so just drizzle it at the end, about 1/4 teaspoon. This oil is generally not for cooking with but more of finishing oil to add some flavor. My go-to brand of sesame oil is Kadoya. Skip this if you don't like the taste.
Sear – You'll want to stir-fry this until it is seared and the sauce has caramelized into the meat. You'll need high heat to do this so I recommend prepping everything in advance. Keep tossing everything in the pan or wok until all the liquid is cooked off and your meat has a gorgeous sear. If you don't own a wok, a cast iron pan will work just as great for getting that delicious sear.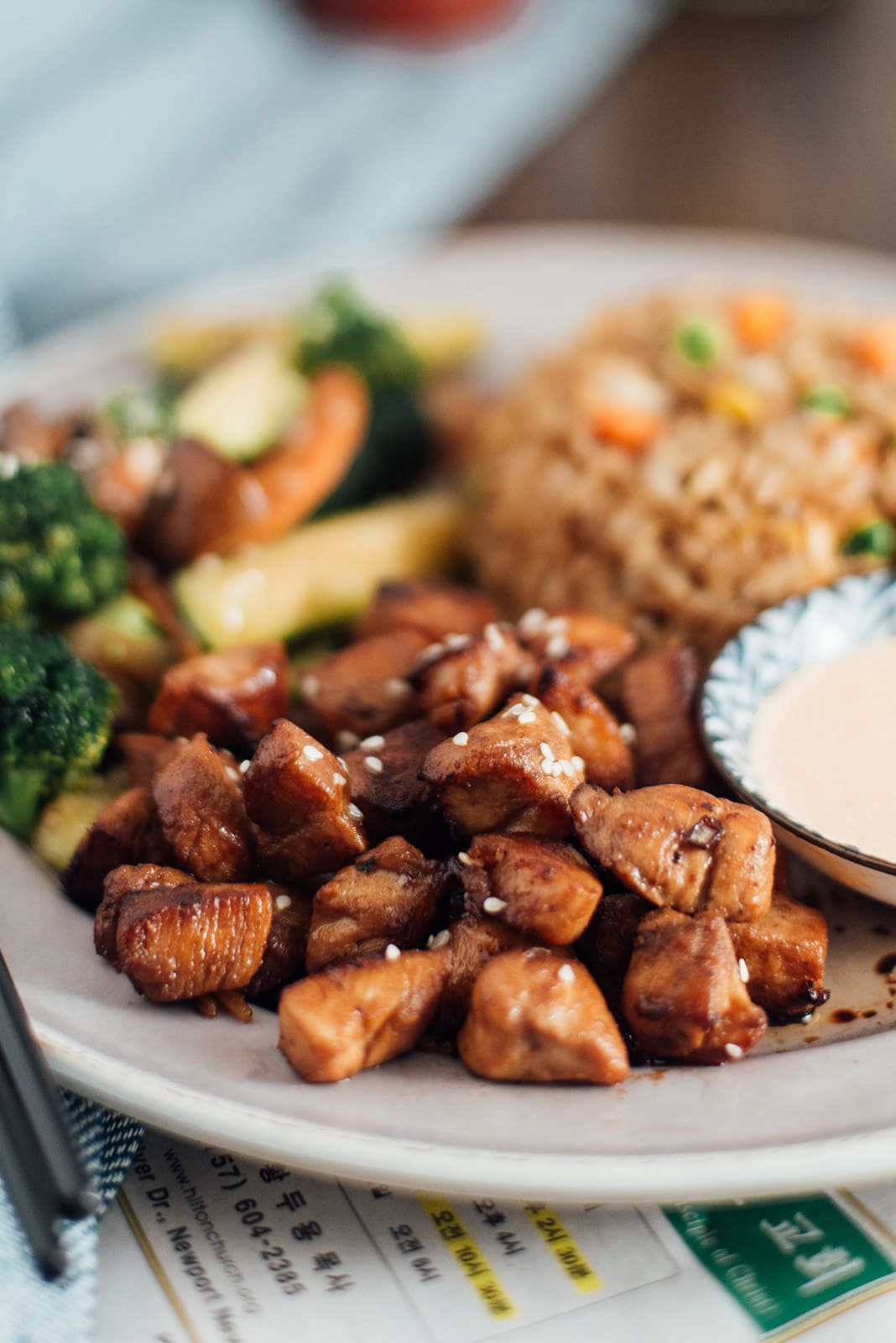 Yum yum sauce – This is the creamy mayo-based sauce they serve at hibachi places. I'll include the recipe to make it from scratch in the notes but you can also buy a bottle of it from your regular grocery store. I've used Terry Ho's Yum Yum sauce many times and love it. Check your local grocery store first before buying online though because it's much cheaper there.
And that's all there is to making hibachi chicken at home. It's a quick and simple affair once you have all the ingredients prepped and ready to go, which is usually the hard and fast rule for most stir-fries. Happy hibachi-ing!
MORE HIBACHI RECIPES TO TRY
Did you make this recipe? Rate it!
♡ If you liked this recipe, giving it a star rating ★★★★★ in the comments below really helps! For more recipes, subscribe to my newsletter or follow me on Facebook, Instagram and Pinterest.
Print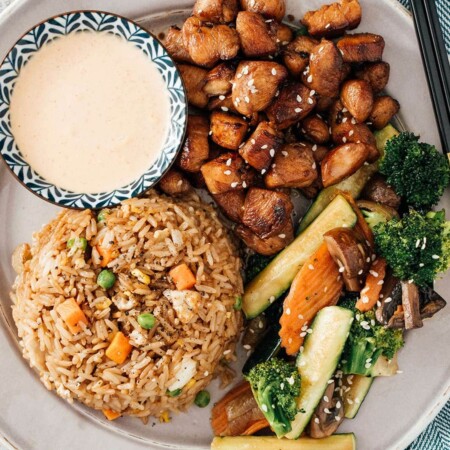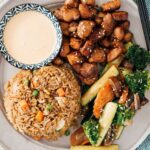 Hibachi Chicken
---
Author:
Total Time: 10 minutes
Yield: 2 1x
Description
Enjoy your favorite hibachi at home. Pair this hibachi chicken with some hibachi rice, noodles and veggies and the addictive yum-yum sauce.
---
1 lb. boneless skinless chicken breasts, cut into bite-sized pieces
1 tablespoon butter
1 teaspoon garlic, minced
1/4 teaspoon sesame oil (optional)
SAUCE
1 1/2 tablespoons soy sauce
1 1/2 tablespoons teriyaki sauce/mirin
Pepper to taste
---
Instructions
Combine the sauce ingredients and set aside.
Over medium-high heat, melt the butter and add the minced garlic. Saute until fragrant, about half a minute.
Add in chicken and toss to combine.
Pour in the sauce and stir to coat the chicken evenly.
Stir-fry for about 5 minutes until the sauce has cooked down and the chicken is seared.
Finish with a drizzle of sesame oil (optional) and dish and serve hot with hibachi rice, hibachi noodles, or hibachi vegetables.
Enjoy!
Notes
Yum Yum Sauce (4-6 servings)
1 cup mayonnaise
1 tablespoon butter, melted
1/2 tablespoon Sriracha sauce/ketchup
1/4 teaspoon paprika
1 teaspoon garlic powder
1 teaspoon onion powder
1/8 teaspoon cayenne pepper
1 tablespoon sugar
1 tablespoon mirin (optional)
1–2 tablespoons water, add until desired consistency
Prep Time: 5 mins
Cook Time: 5 mins