Want your favorite Japanese steakhouse hibachi vegetables at home? Cook up this quick and easy 20-minute recipe!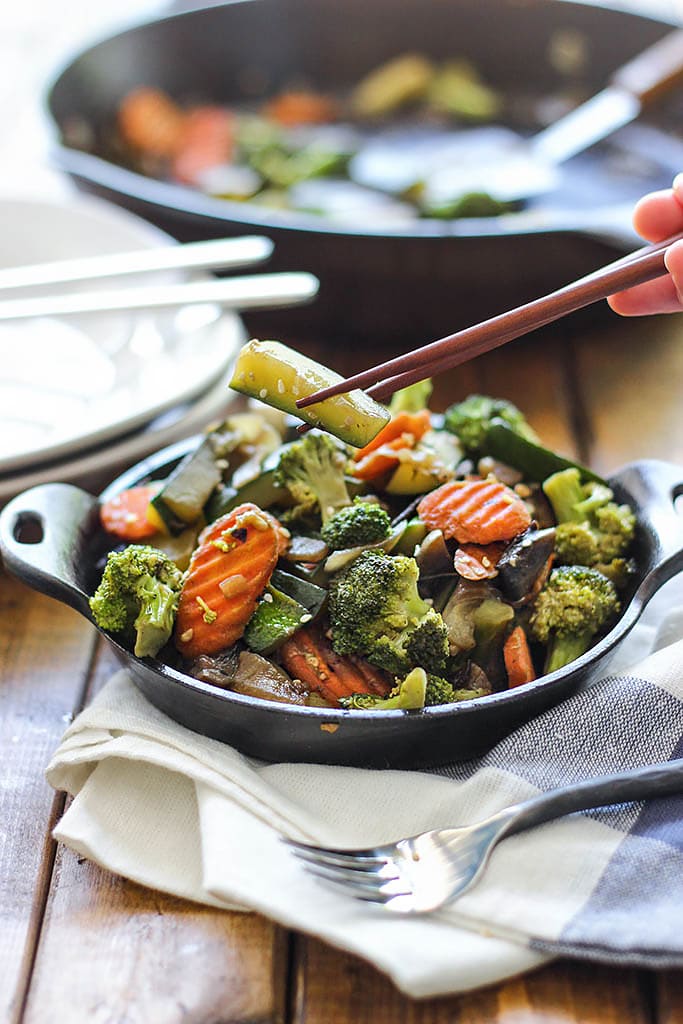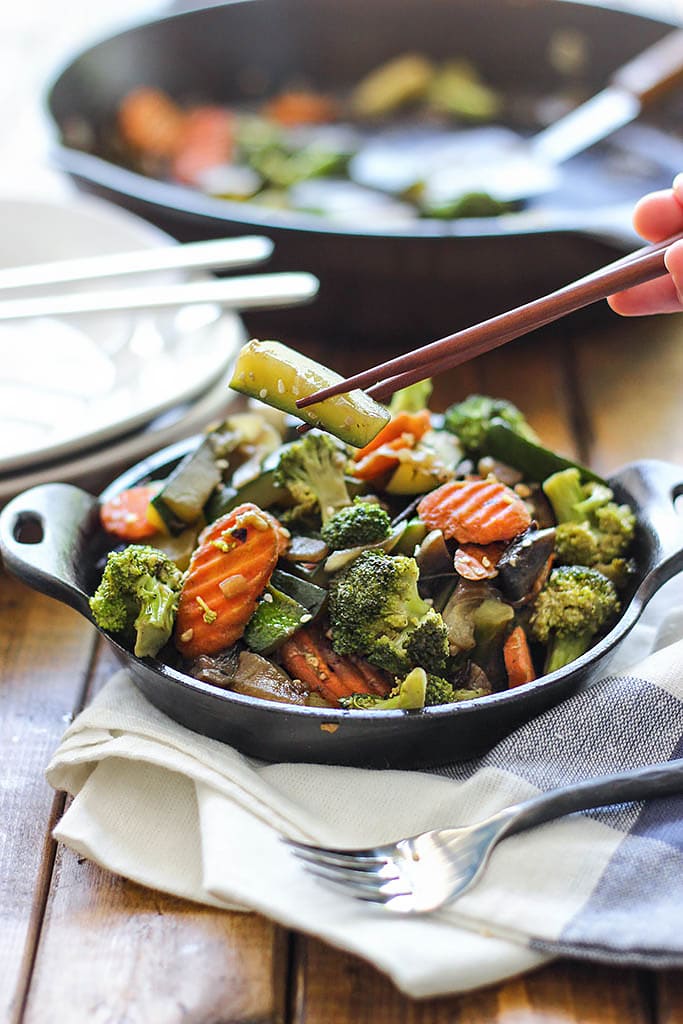 I've been meaning to post this for a while now. With hibachi rice and yum yum sauce already on the blog, and last year's hibachi noodles recipe, we need the veggies! I split up the hibachi series because despite how easy the chefs make it look, there's a lot of prep going on behind the scenes.
So take your pick, go for rice or noodles and make sure you have some yum yum sauce handy for the veggies! You can also pair it with the protein of your choice like hibachi steak, hibachi chicken, or hibachi shrimp.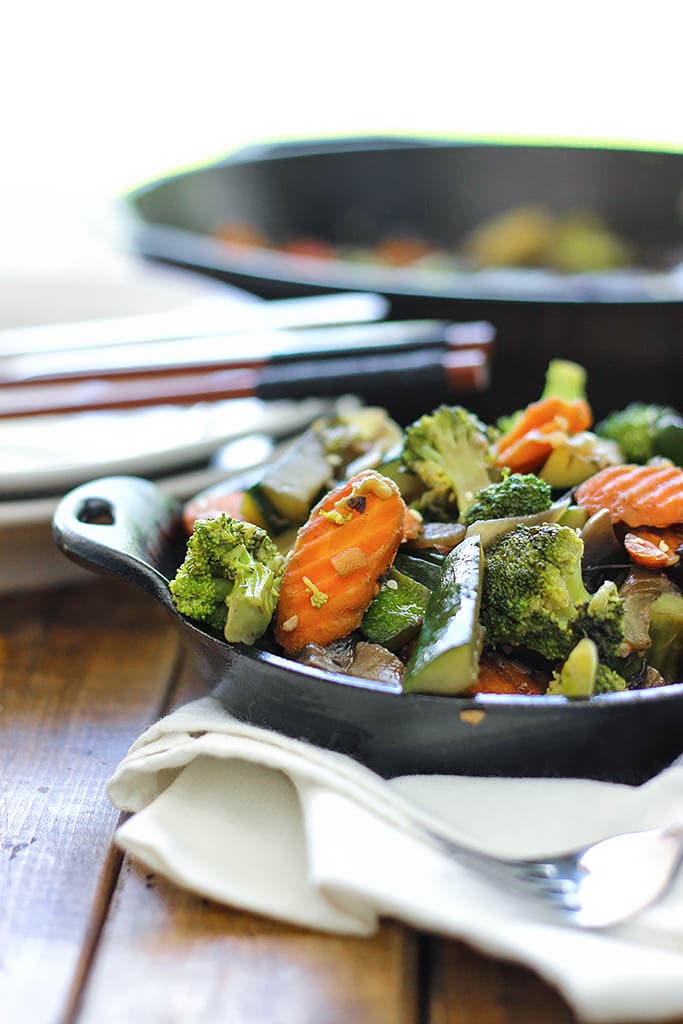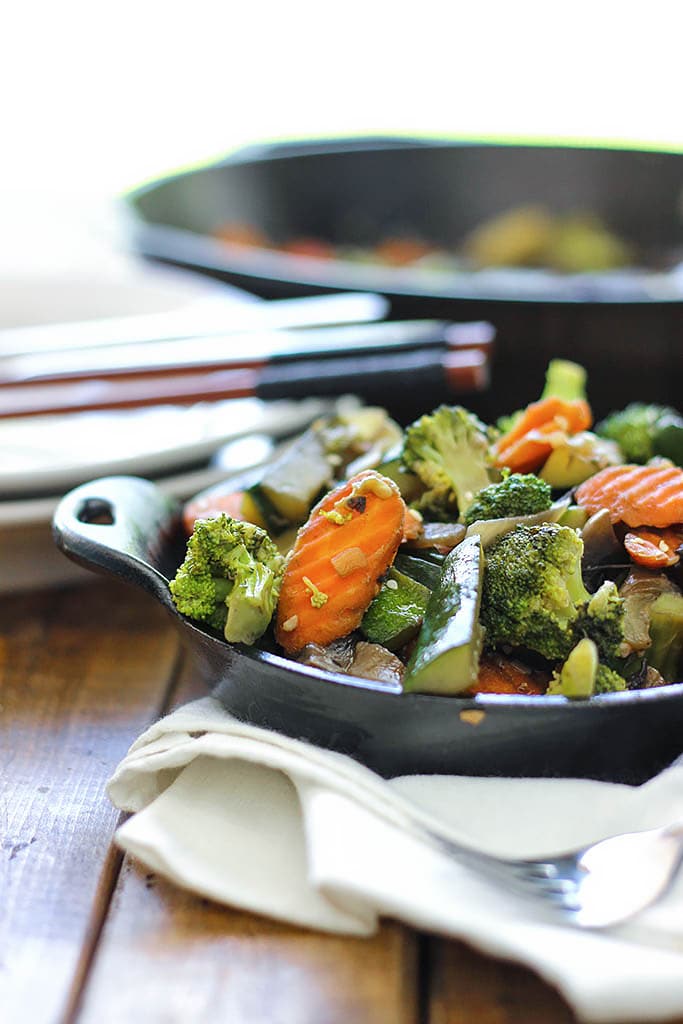 I do have the flat hot surface to work with similar to what they have at hibachi steakhouses if you count my griddle, but not everyone has one so I decided to do this in a skillet instead. A cast iron or regular non-stick skillet will work just fine but if you want to try the hot action of tossing on the griddle, be my guest!
At Kobe's Japanese Steakhouse, they usually have a mix of onions, garlic, carrots, broccoli, mushrooms and zucchini. As usual with the rest of my hibachi series, I'm basing this off on what I've observed, so it could be different at your local steakhouse. Let's get started.
How To Make Hibachi Vegetables (1 Min Video)
What You Need For Hibachi Vegetables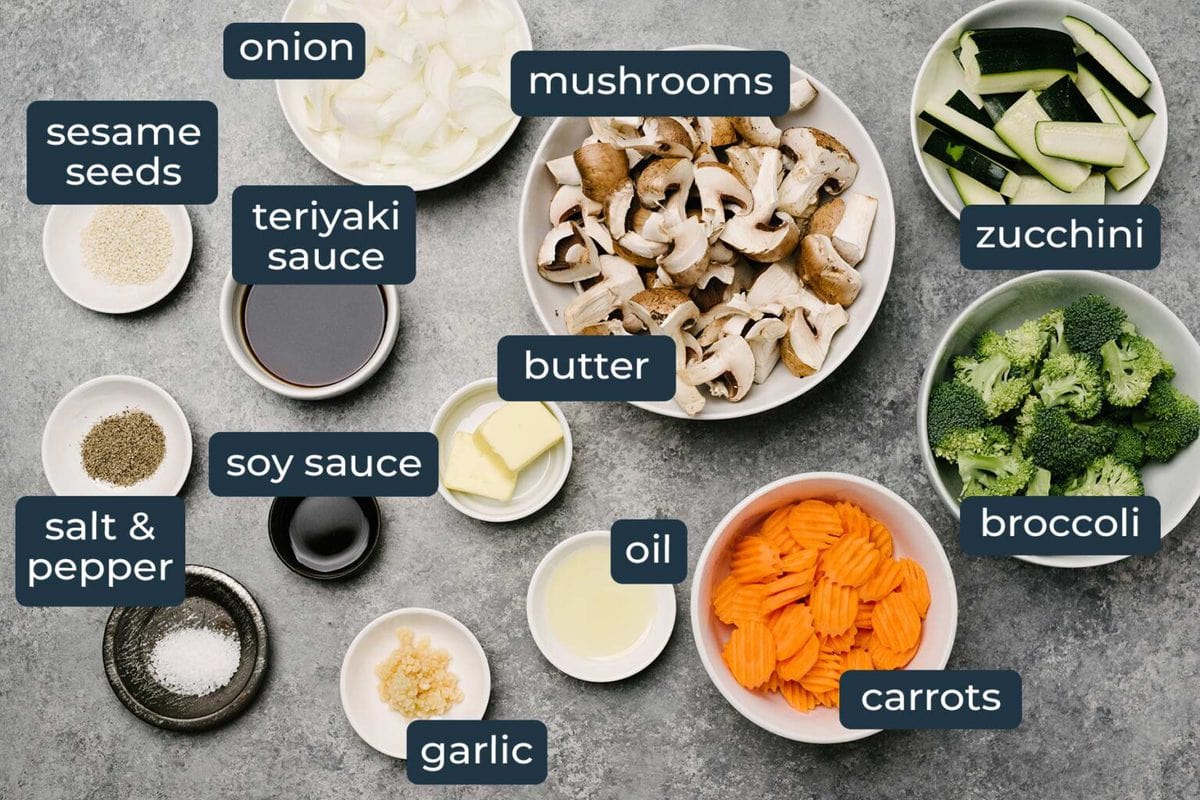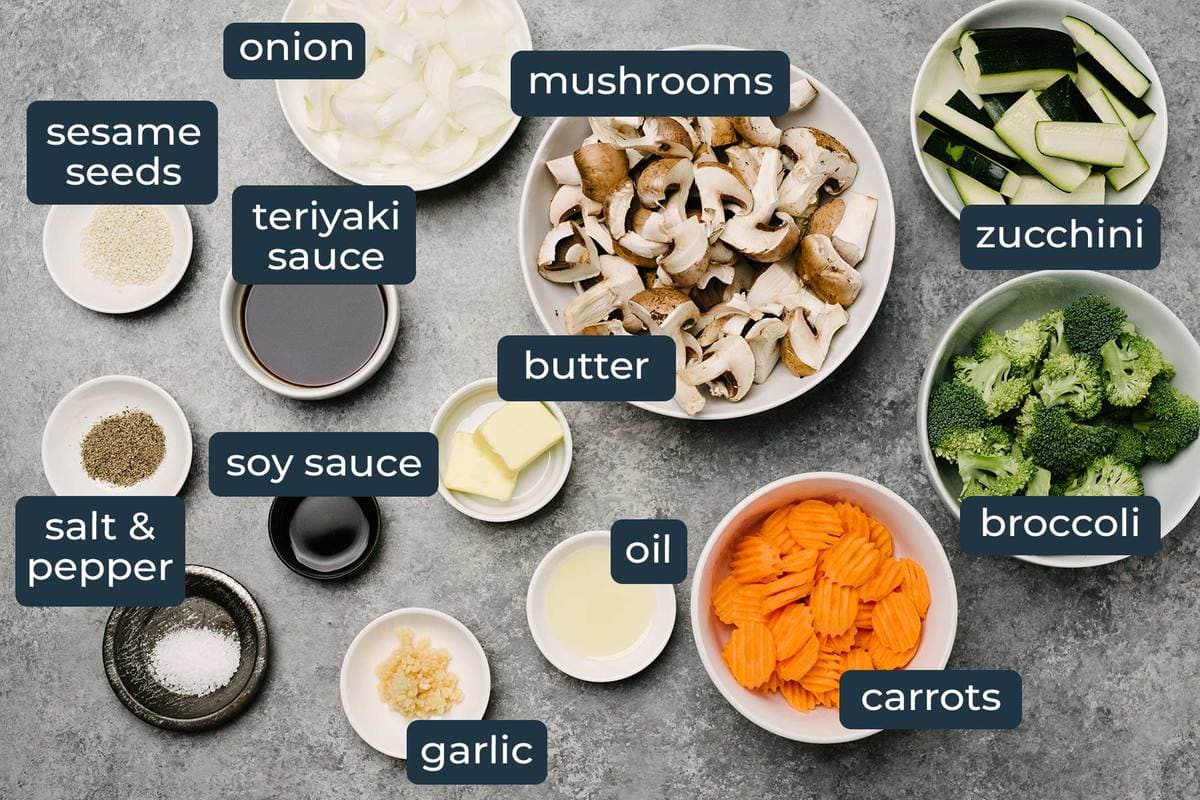 HIBACHI VEGETABLES RECIPE TIPS
I bought pre-sliced, crinkle-cut carrots to avoid the hassle of slicing them myself. You'll want the carrots thinly sliced so they soften quicker and keep pace with the rest of the veggies. This is the veggie you'll want to use as a benchmark for if the whole thing is done. When in doubt, check the carrots.
Now they usually dump all the veggies onto the grill in one go and let it cook off while handling the rice, noodles, or meat. So at the end of it all, everything will be super tender. If you like your broccoli crisper, add them in towards the end.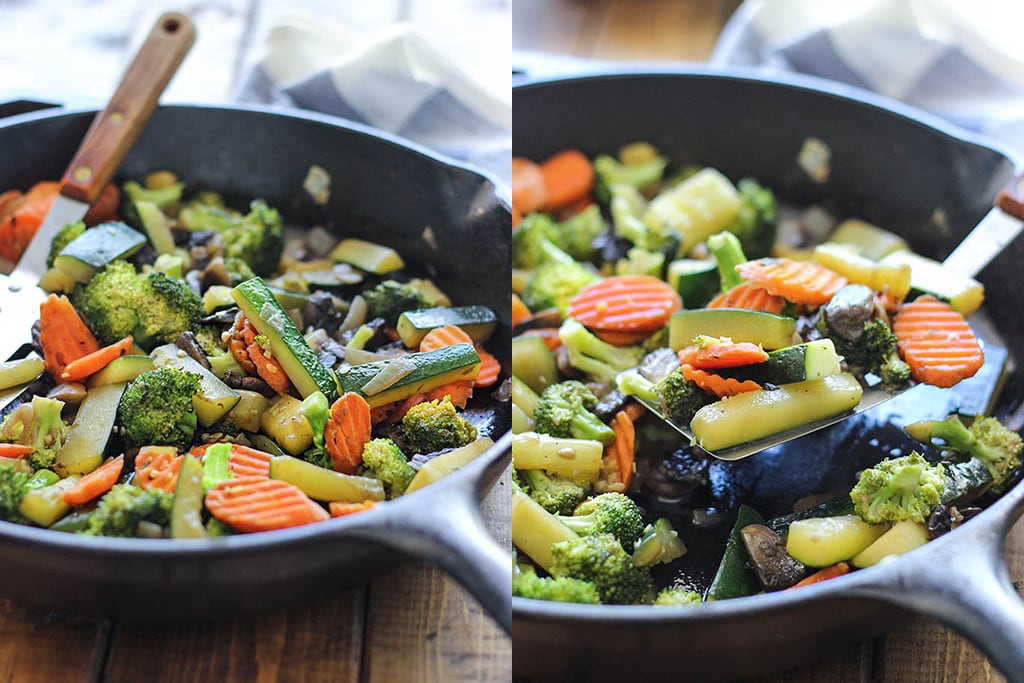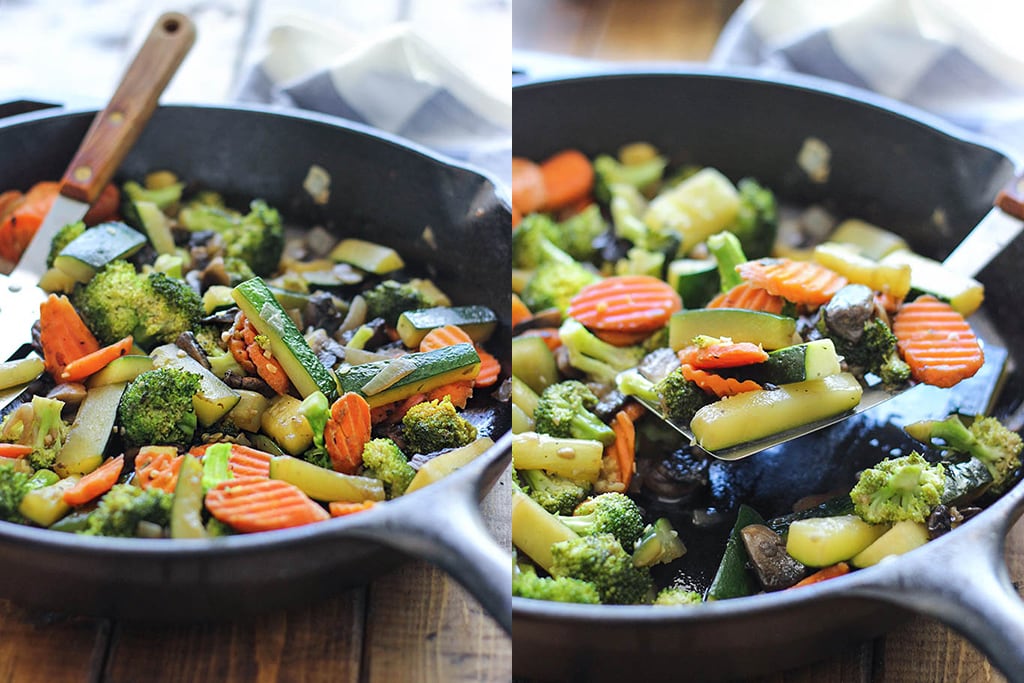 The same goes for mushrooms as they tend to shrink in size when cooked down. So if you prefer plump mushrooms, toss them in halfway through. You won't need any additional liquid because the juice from the mushrooms is enough to go around.
If you want a healthier option from butter, try substitute butter or leave it out altogether and substitute it with more oil. And if you want kids to like this, add a little bit of sugar, about a teaspoon or so should be enough.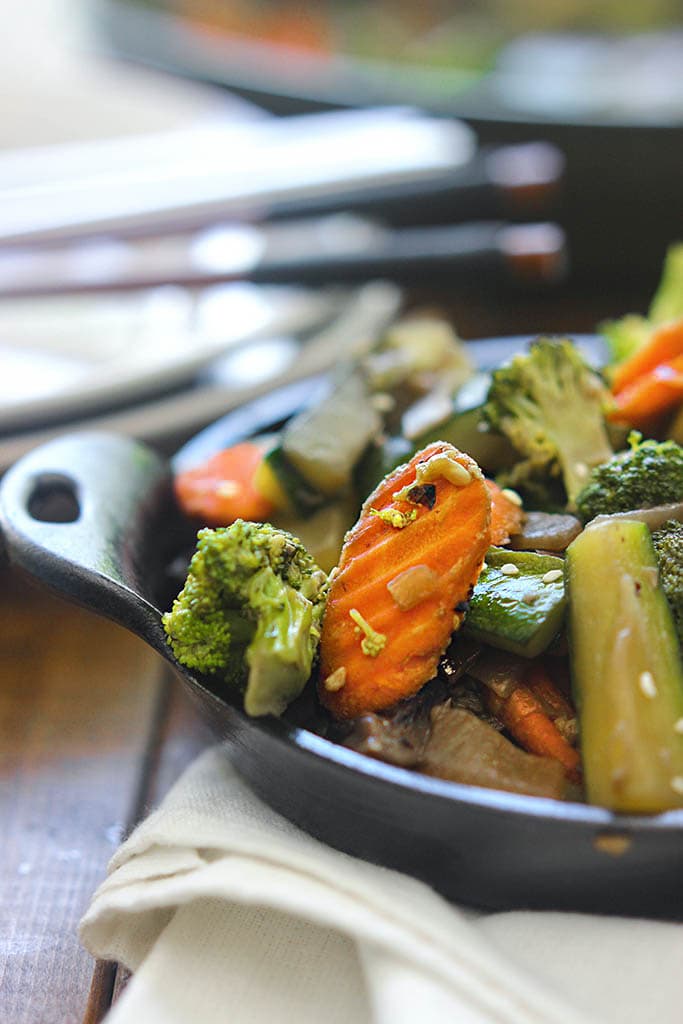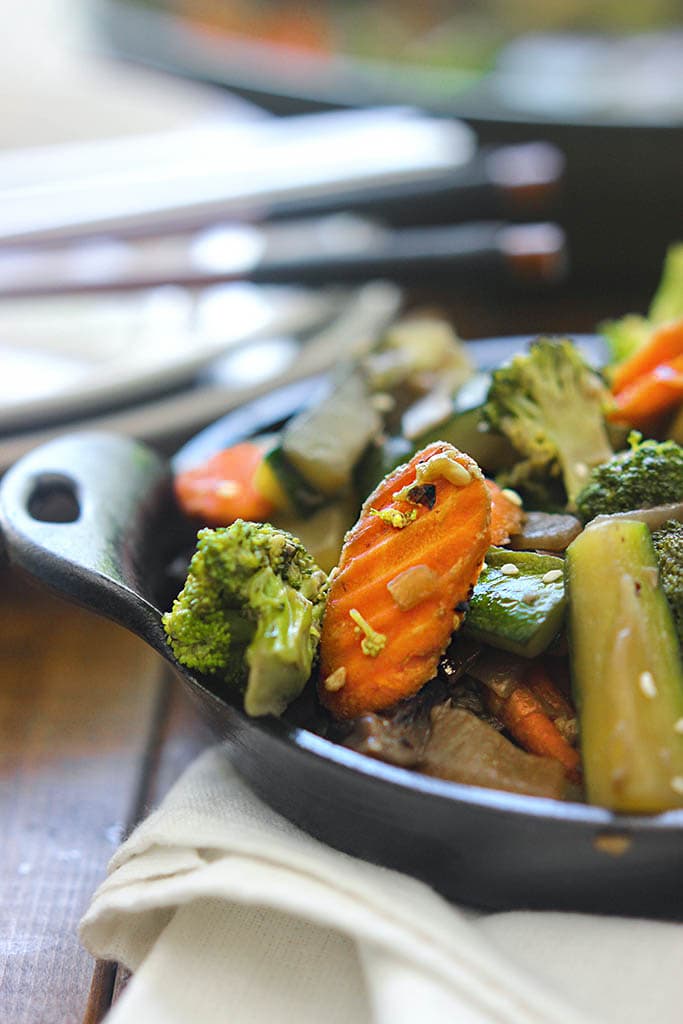 And that's all there is to it. Remember to let them cook awhile because despite how flashy the chefs look when they toss it around, they also let the veggies sit there for some time while dealing with other stuff! Good luck and happy eats!
MORE HIBACHI RECIPES TO TRY
Did you make this recipe? Rate it!
♡ If you liked this recipe, giving it a star rating ★★★★★ in the comments below really helps! For more recipes, subscribe to my newsletter or follow me on Facebook, Instagram and Pinterest.
Print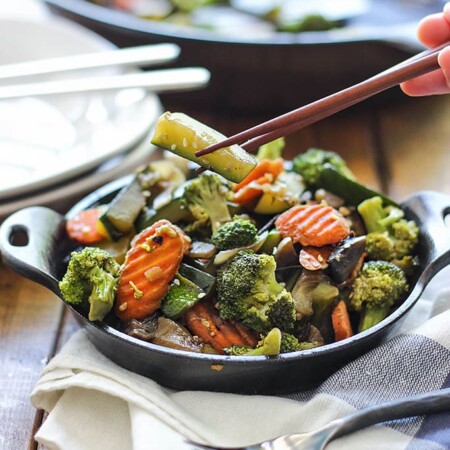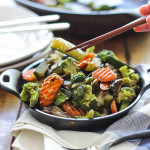 Hibachi Vegetables
---
Author:
Total Time: 20 mins
Yield: 4 1x
Description
Want your favorite Japanese steakhouse hibachi vegetables at home? Cook up this quick and easy 20-minute recipe!
---
2 tablespoons butter
1 tablespoon oil
1/2 tablespoon garlic, minced
1/2 medium sweet/yellow onion, roughly chopped
1 zucchini, cut into strips
1 cup carrots, sliced
2 cups broccoli florets
8 oz. mushrooms, quartered
1 tablespoon soy sauce
2 tablespoons teriyaki sauce
1/2 teaspoon sesame seeds (optional)
Salt and pepper to taste
---
Instructions
Over medium-high heat melt butter, add oil and saute garlic and onions for 2 minutes until soft.
Add zucchini, carrots, broccoli and mushrooms.
Pour in soy sauce, teriyaki sauce and season with salt and pepper to taste.
Cook for 10 minutes until tender.
Dish and serve hot sprinkled with toasted sesame seeds and hibachi rice or hibachi noodles.
Enjoy!
Prep Time: 10 mins
Cook Time: 10 mins