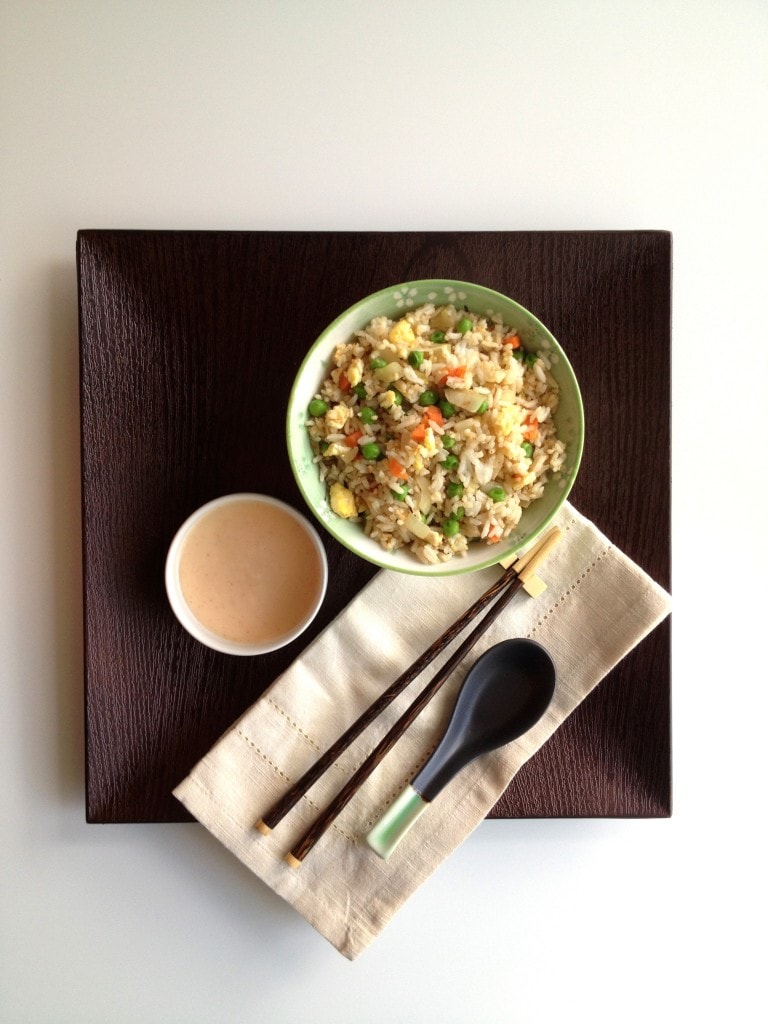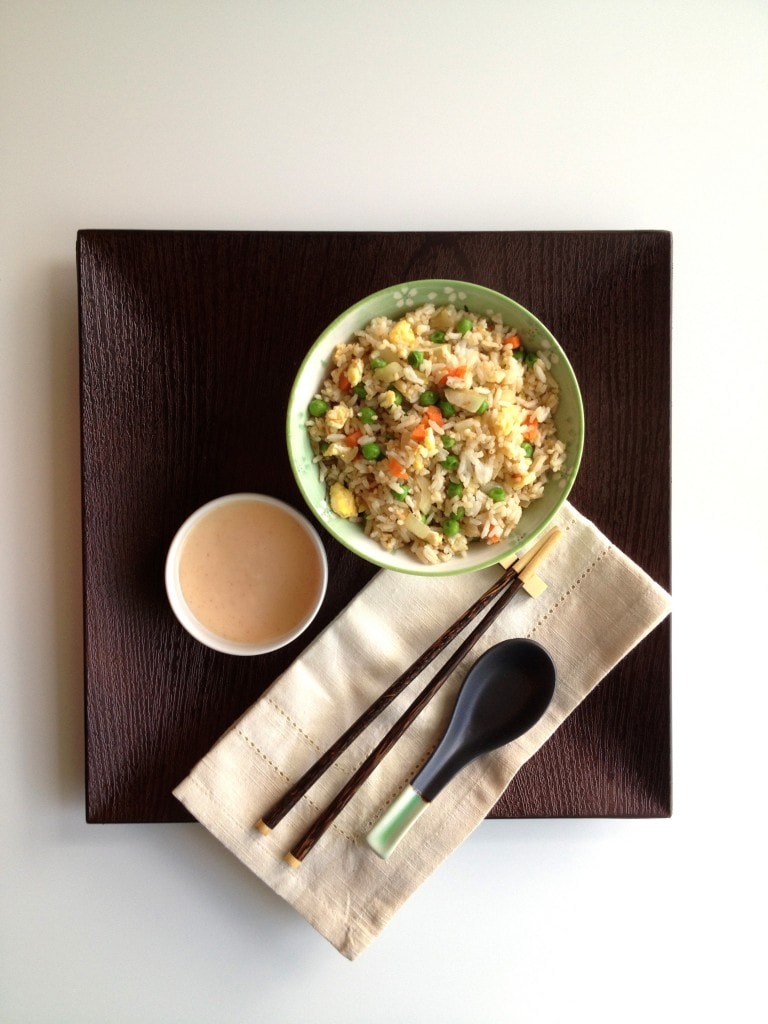 Hibachi is always fun for everyone. I for one have always loved group dining and cooking experiences such as steamboat also known as syabu syabu, and fondue. There's just something great about having your food cooked in front of you or cooking it yourself while enjoying the company. It works especially well for ambitious eaters such as yours truly who does not have the stomach capacity to match; the slow-paced eating gives you more time to settle so you can tuck in more! Now you know the depths of my food greed. Eyes bigger than her stomach, I've been told.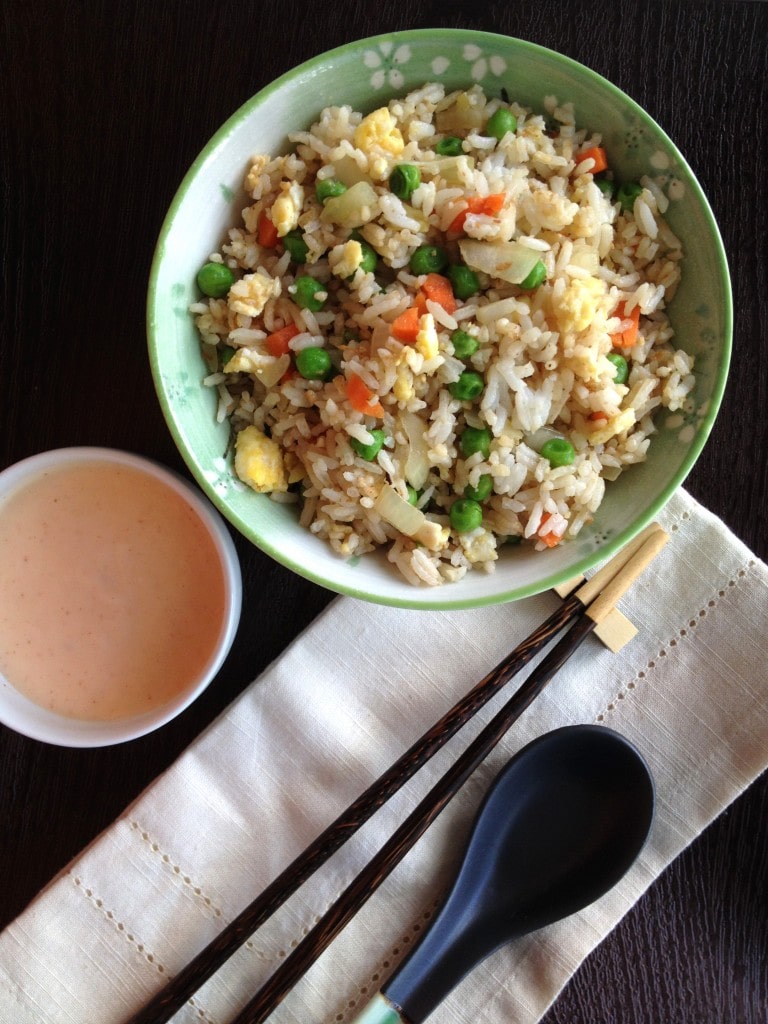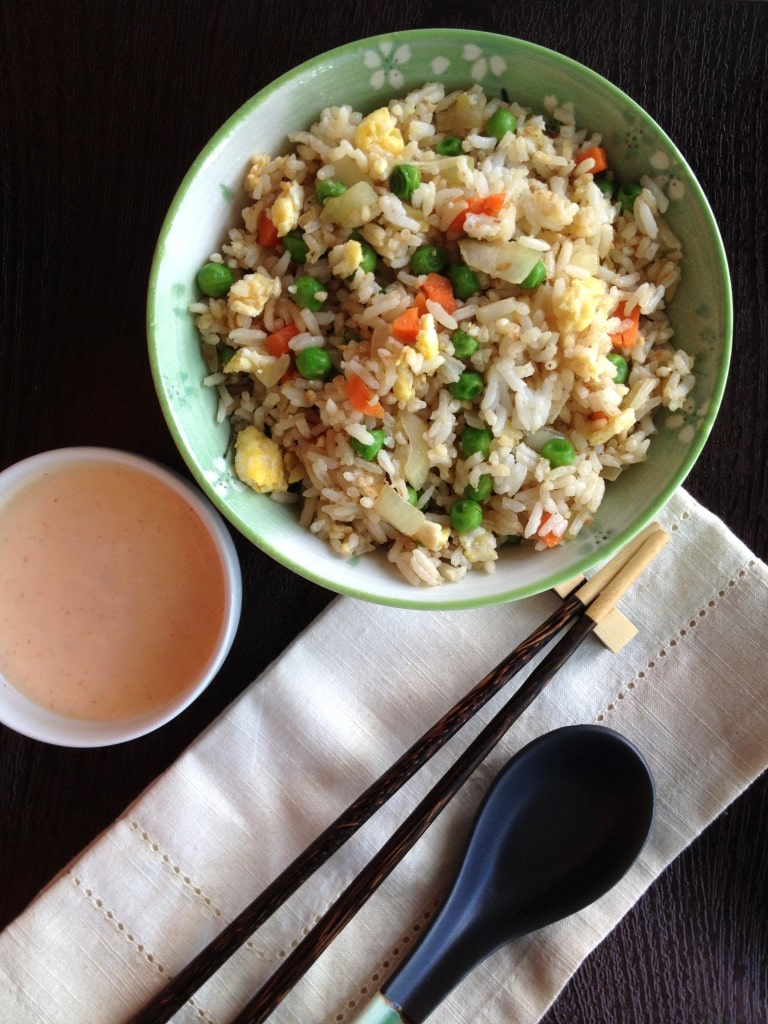 So today we have Hibachi-style fried rice and accompanying it is the mythical yum yum sauce which is crazy popular (who would have thought a mayonnaise based sauce would go well with Asian cuisine?). The fried rice makes an excellent base to throw in whatever meat you want: shrimp, chicken or beef but is also good as it is.
I use a wok for cooking any sort of fried rice or noodles based dish for the efficiency of having more room to work with. At high heat, you're going to be moving fast so you want more surface to toss things around without having to worry about them flying all over the kitchen. Less babying, more tossing! Tossing also makes you feel like a pro so a wok is good for the cook's self esteem. I also use a metal spatula because food doesn't stick to metal like it does to other materials and metal is easier for scraping up the good stuff stuck on the bottom.
Anyway, this is as close as I could get to the recipe. I hope it's close enough for you! Let me know how you like it.
Print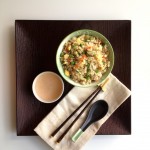 Hibachi-Style Fried Rice with Yum Yum Sauce
---
Author:

Prep Time:

5 mins

Cook Time:

10 mins

Total Time:

15 mins

Yield:

4

1

x
Scale
Ingredients
Fried rice
4 cups

cooked long grain rice

1/2 cup

onions, chopped

1 tablespoon

garlic, minced

2

eggs

1 cup

frozen peas and carrots

2 tablespoons

thin soy sauce

1 tablespoon

sugar

2 tablespoons

butter
Salt and pepper to taste
Yum Yum Sauce
1 cup

mayonnaise

1 tablespoon

melted butter

1/2 tablespoon

Sriracha sauce

1/4 teaspoon

paprika

1/8 teaspoon

cayenne pepper

1 tablespoon

sugar

1/4 cup

water
---
Instructions
Make sure the rice has cooled and break apart any lumps with your hands
Over medium high heat, crack the eggs in a wok and stir to scramble in 1 tablespoon of vegetable oil
Season with salt and use the spatula to dice the eggs into smaller pieces
Dish the eggs and set aside
Pour in 1 tablespoon of vegetable oil and saute the onions and garlic until the onions are translucent. Scrape up any brown bits left by the eggs with spatula and mix
Add the peas and carrots and stir to combine
Add the rice and eggs and toss to combine
Add butter, soy sauce and sugar coating the rice well with melted butter
Season with salt and pepper
Combine all the sauce ingredients and stir to mix well
Dish and serve the rice hot with the sauce
---