Try this one out if you're missing hibachi-style fried rice with yum yum sauce or simply don't want to spend that much money at a Japanese Steakhouse. With regular pantry staples, it's easy and cheap to recreate your favorite Japanese rice at home.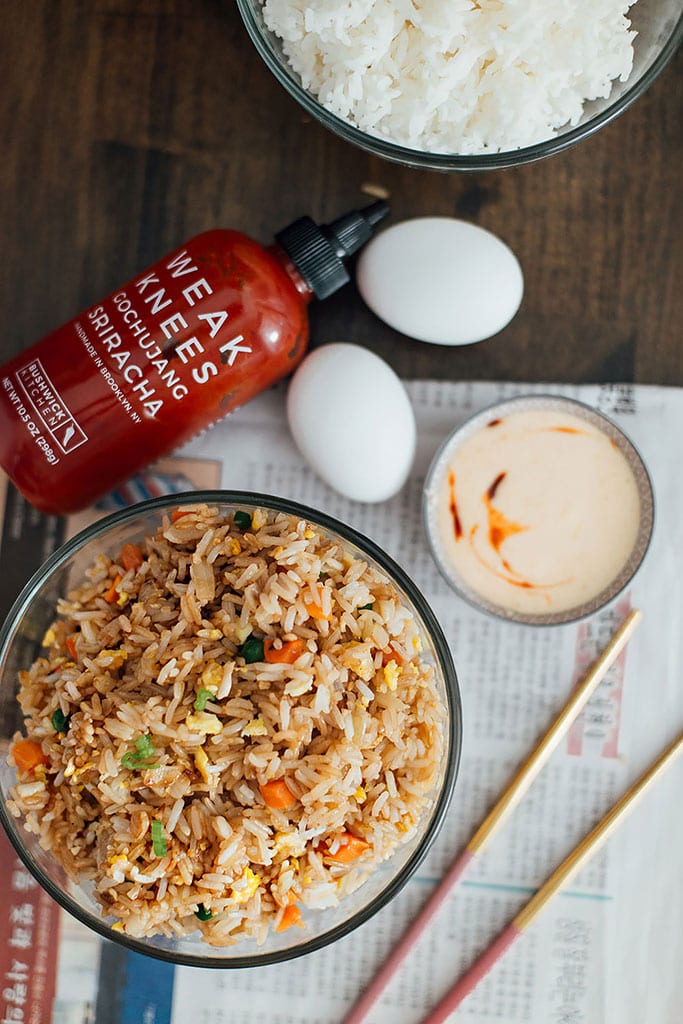 The Hibachi experience is always fun for everyone. I for one have always loved group dining and cooking like Korean BBQ and fondue. There's just something great about having your food cooked in front of you or cooking it yourself while enjoying the company.
It works especially well for ambitious eaters such as yours truly who doesn't have the stomach capacity to match. The slow-paced eating gives you time to settle so you can tuck in more food while enjoying a good conversation. And while we can't recreate the exciting group dining experience at home, we can recreate the flavors. So today we're cooking some hibachi-style fried rice with yum yum sauce.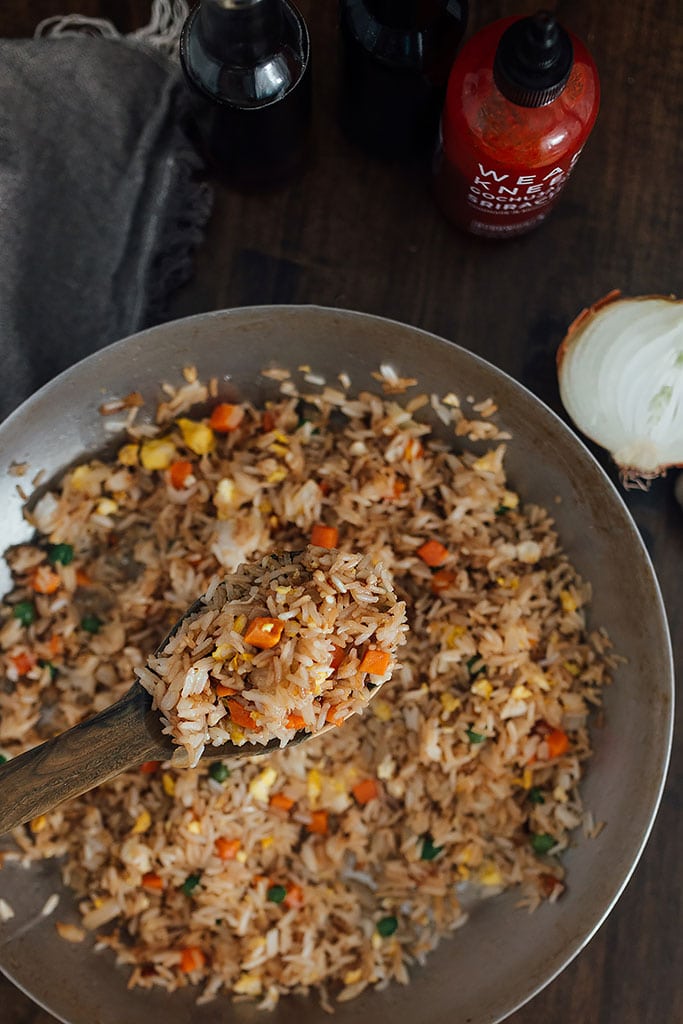 This recipe will take you to your favorite Japanese steakhouse with just a few simple pantry ingredients. There's no need to fork over the expense of a hibachi meal when you can make the rice, yum yum sauce, hibachi veggies, hibachi noodles, and the protein parts of hibachi steak or hibachi chicken at home. Let's get started.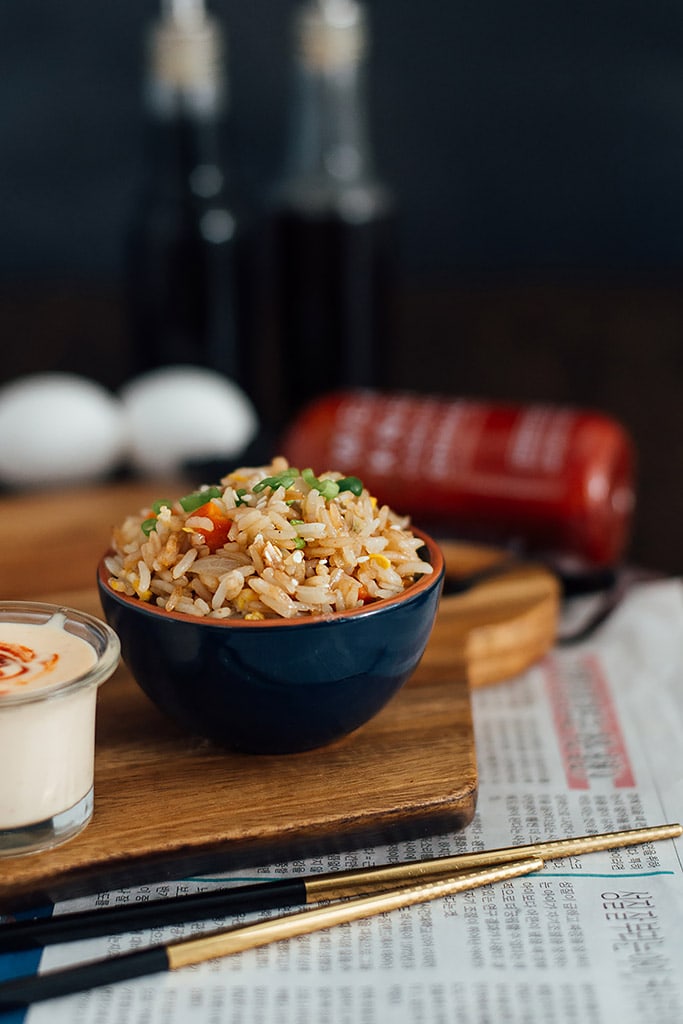 What Is Hibachi Rice?
Hibachi is cooking the cooking of meat, vegetables, seafood, noodles, and rice over super-high heat on a flat and hot grill. These usually involve a fancy show with a hibachi chef at Japanese steakhouse restaurants like Kobe and Benihana.
To make this at home, you don't need a flat surface like the fancy hibachi grill. A good wok or cast iron pan will work just as well to achieve the same level of sear.
Hibachi rice is white rice cooked with onions and garlic and a mix of veggies like peas and carrots. These are cooked with a generous dollop of butter to make it creamy and a little soy sauce to give it some Asian flavor. Then it is seasoned with a little sugar, salt, and pepper.
HIBACHI FRIED RICE RECIPE TIPS
Rice: Leftover, cold and refrigerated rice works best for fried rice. Each grain is beautifully separated as opposed to being stuck together in clumps when freshly cooked. This separation makes the sauce distribute more evenly. Long or short-grain white rice works, so does jasmine or basmati rice. You can cook the rice over the stovetop, maybe use the instant white rice (though I've never tried it before), or invest in a rice cooker and let it do the work for you. Just remember to rinse the rice a few times before cooking to remove the starch so it doesn't end up gummy.
Stir-frying: I use a wok for cooking any sort of fried rice or noodles for the efficiency of having more room to work with. At high heat, you're going to be moving fast so you want more surfaces to toss things around without having to worry about them flying all over the kitchen. Less babying, more tossing! Tossing also makes you feel like a pro, so a wok is good for the cook's self-esteem. If you don't have one and don't want to spend the money, any other pan will do as long as it all fits. Just be fastidious about mixing it all up while it cooks.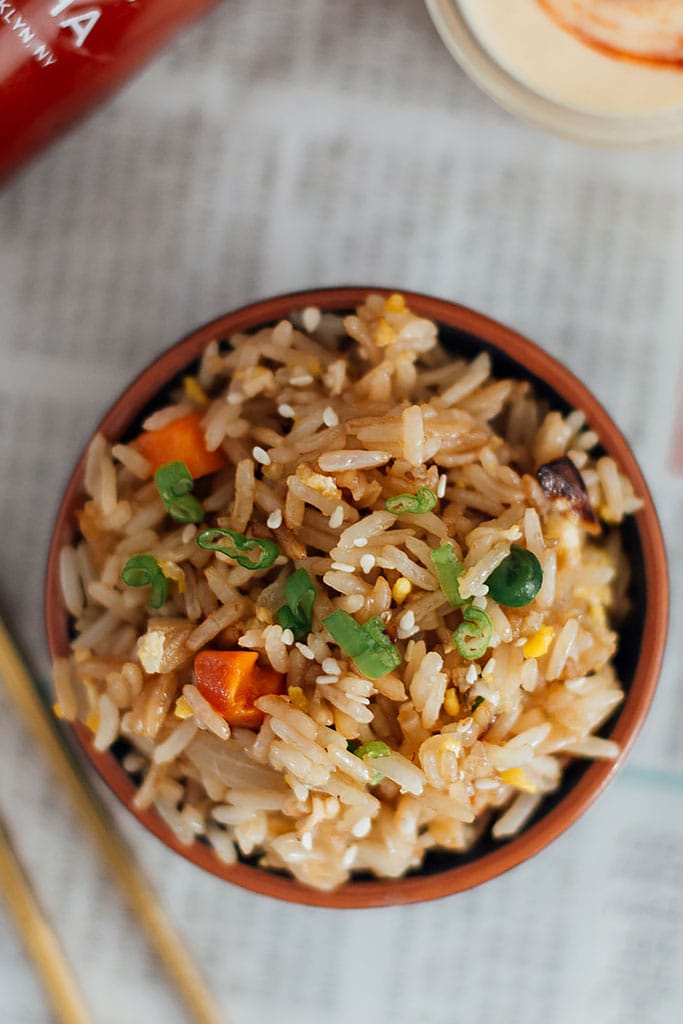 Butter: The butter gives this fried rice a creamy texture. This paired with some sugar is the magic that makes hibachi-style fried rice addictive and slightly different from your regular run-of-the-mill fried rice.
Veggies: I used regular frozen peas and carrots for this recipe but you can go for canned ones as well. You can also use frozen mixed vegetables that include corn, carrots, green beans, and peas.
Yum yum sauce: You can make this from scratch with the recipe or try out a store-bought yum yum sauce like this one. I've tried it out and it's pretty great and close to the real thing for me, so it's an option for folks looking for an even quicker meal. I suggest looking in your local grocery store first for it rather than buying it off Amazon since it's half the price there.
This is as close as I could get to the recipe. I hope it's close enough for you! Let me know how you like it in the comments below 🙂
MORE HIBACHI RECIPES TO TRY
♡ Did you make this recipe? Please give it a star rating below! For more quick & easy recipes, FOLLOW ME on Facebook, Instagram and Pinterest.
Print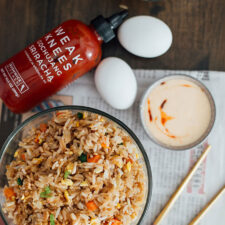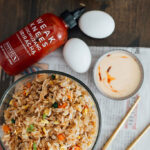 Hibachi-Style Fried Rice with Yum Yum Sauce
---
Author:

Total Time:

15 mins

Yield:

4

1

x
Description
Try this one out if you're missing hibachi-style fried rice with yum yum sauce or simply don't want to spend that much money at a Japanese Steakhouse.
---
Fried rice
4

cups

cooked white rice

1/2

medium yellow onion chopped

1 tablespoon

garlic, minced/ 2-3 cloves garlic/minced

2

large eggs

1

cup

frozen peas and carrots

2 tablespoons

soy sauce

1 tablespoon

sugar

2 tablespoons

butter
Salt and pepper to taste
Yum Yum Sauce
1

cup

mayonnaise

1 tablespoon

melted butter

1/2 tablespoon

Sriracha sauce

1/4 teaspoon

paprika

1/8 teaspoon

cayenne pepper

1 tablespoon

sugar

1/4

cup

water
---
Instructions
Make sure the rice has cooled and break apart any lumps with your hands.
Over medium high heat with some vegetable oil, crack the eggs into a wok and stir to scramble.

Season with salt and use the spatula to break the eggs into smaller pieces. Dish and set aside.
Add in another tablespoon of vegetable oil and sauté the onions and garlic until fragrant, about 1 minute.
Add the peas and carrots and stir to combine.

Add the cooked rice and eggs and toss to mix well.
Add butter, soy sauce and sugar, making sure to coat the rice well with the melted butter
Season with salt and pepper to taste.
Combine all the yum yum sauce ingredients and mix well.

Dish and serve the rice hot with yum yum sauce and some hibachi vegetables, hibachi chicken, or hibachi steak.
Prep Time:

5 mins

Cook Time:

10 mins
♡ Affiliate disclosure: As an Amazon Associate, I earn commissions from qualifying purchases from Amazon.com. You can learn more about it here.