Make the famous Japanese Hibachi steakhouse Yum Yum sauce at home with creamy, tangy, sweet and savory flavors for drizzling and dipping. Pair it with hibachi rice, noodles, steak, chicken, shrimp, or vegetables for the full hibachi experience.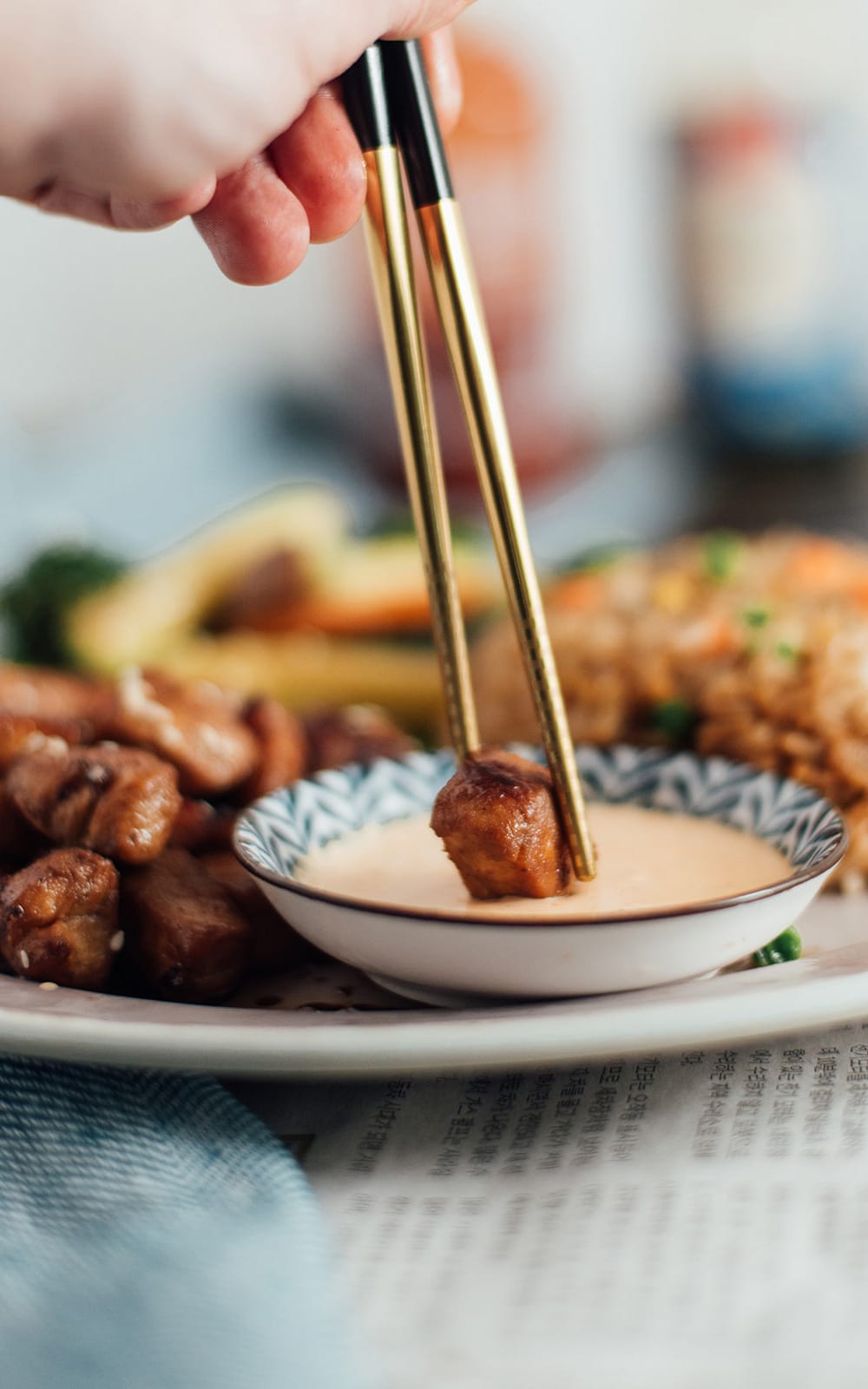 Today we're making the famous and addictive Yum Yum sauce commonly served as a dip at Japanese steakhouse grills. It's a pale orange-pink mayo-based sauce made creamy with some melted butter and flavored with Sriracha or ketchup, paprika, garlic and onion powder, sugar and a dash of cayenne. If you have any mirin lying around, I've also added some as an option to take the sauce to the next level.
It's really easy to make with pantry staples (aside from the mirin) but is just as good as the sauce at your favorite Japanese hibachi restaurant. Pair the delicious sauce with your hibachi noodles, hibachi rice, hibachi steak, hibachi chicken, hibachi shrimp, or hibachi vegetables. You can also use it for tacos, tempuras, or as an all-purpose drizzling sauce.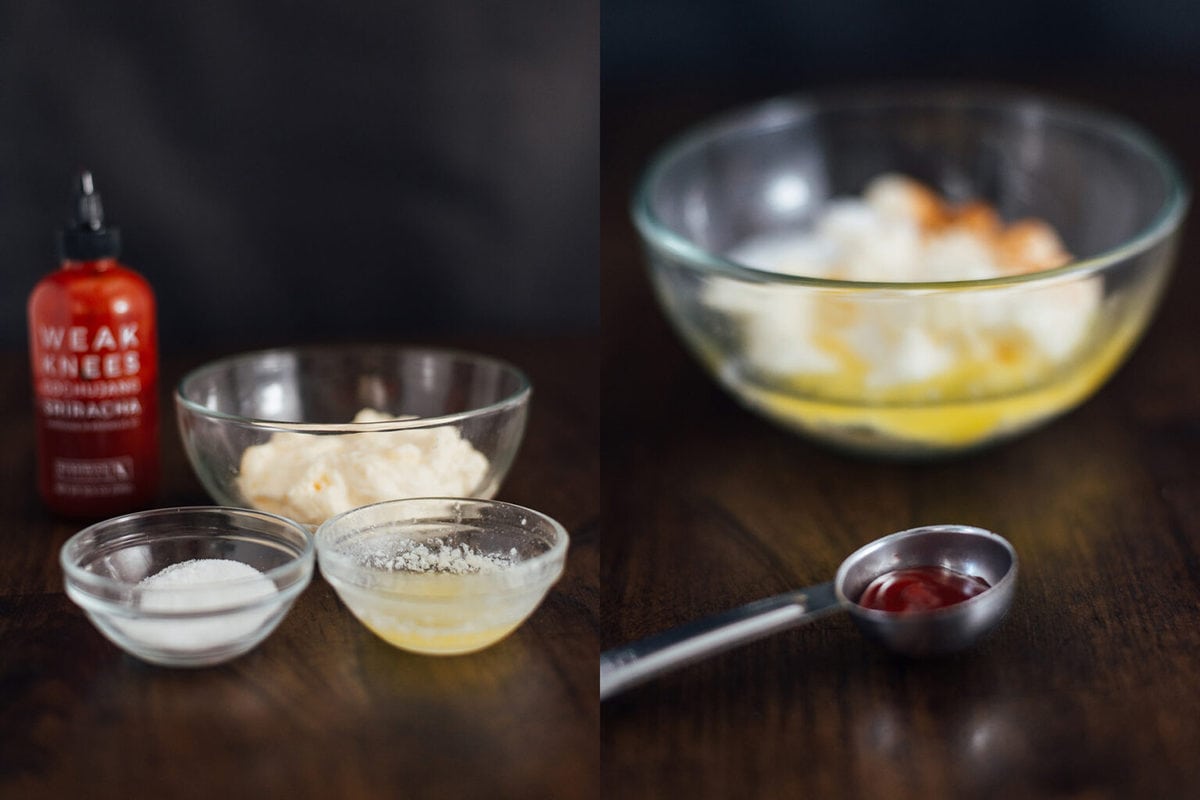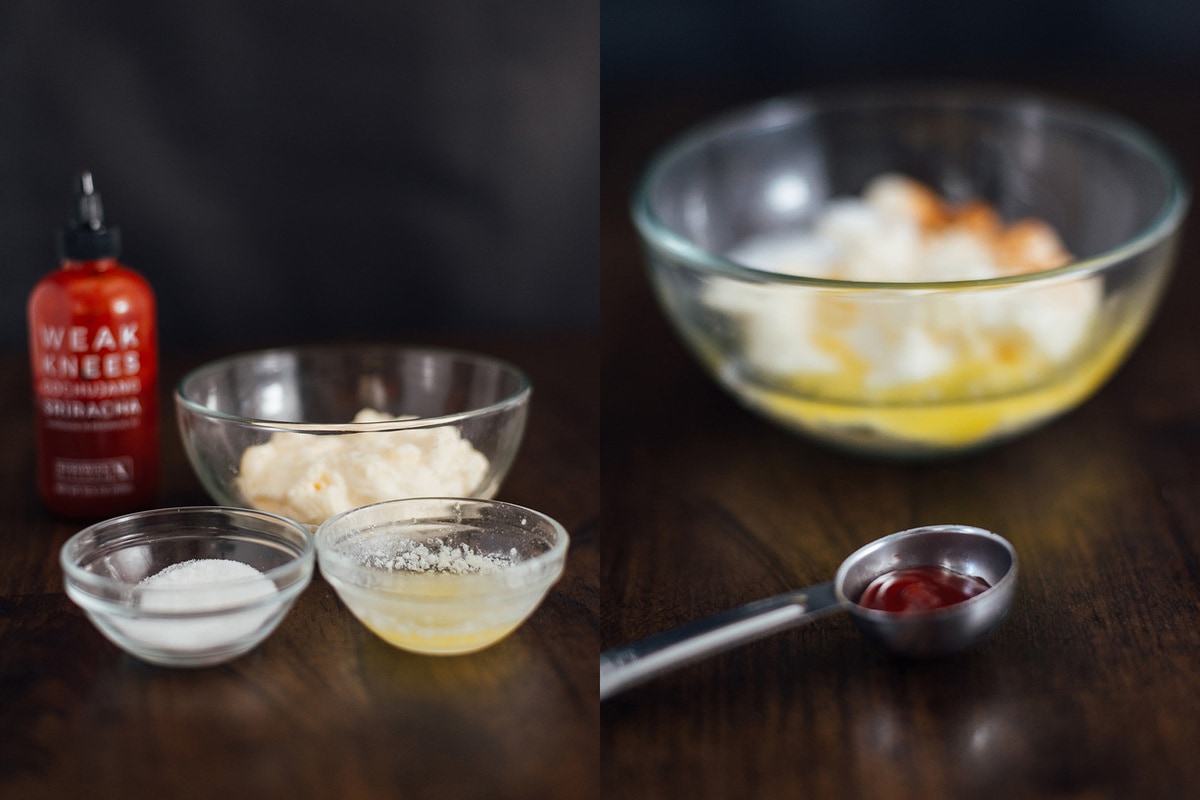 What is Yum Yum Sauce?
Yum Yum sauce is a pale orange-pink sauce also known as the famous mayo-based, creamy white sauce served as a dip for the meat, vegetables, seafood, noodles, and rice served at Japanese steakhouse restaurants like Kobe and Benihana. It's also known as Japanese seafood sauce, shrimp sauce and yummy sauce, which are all used interchangeably.
What You Need For Yum Yum Sauce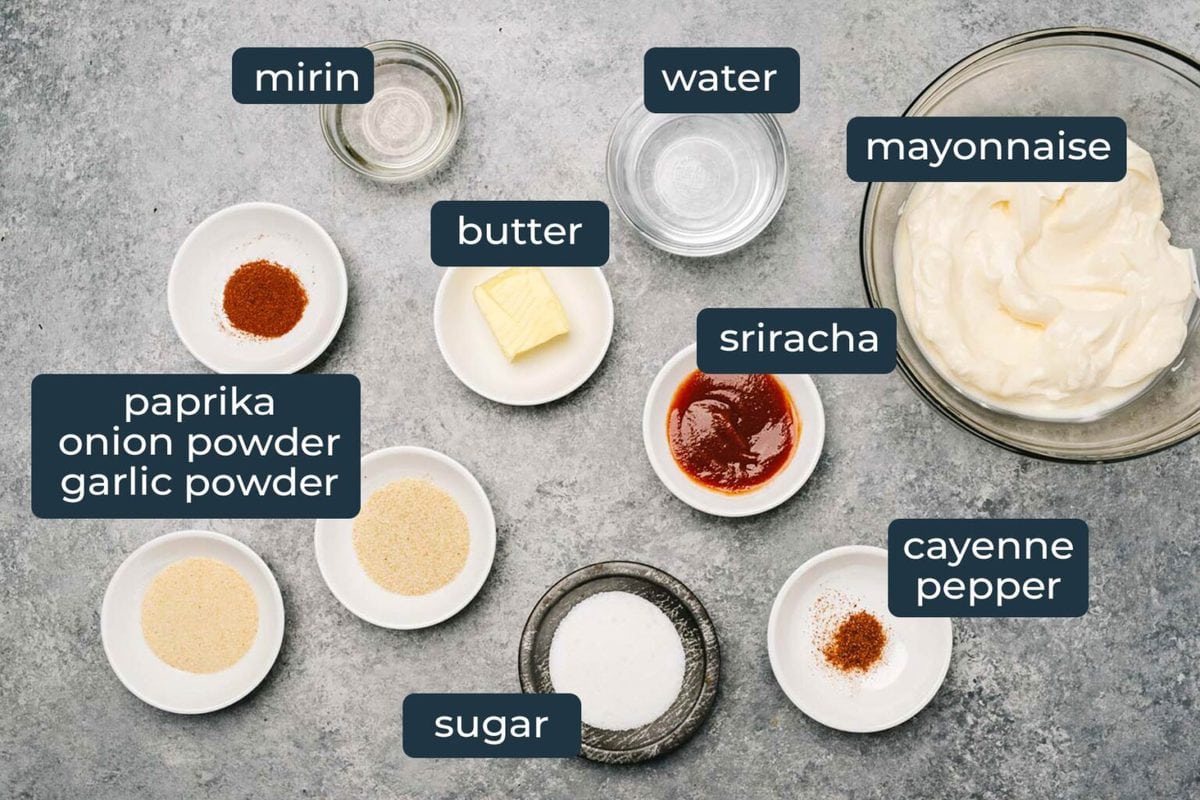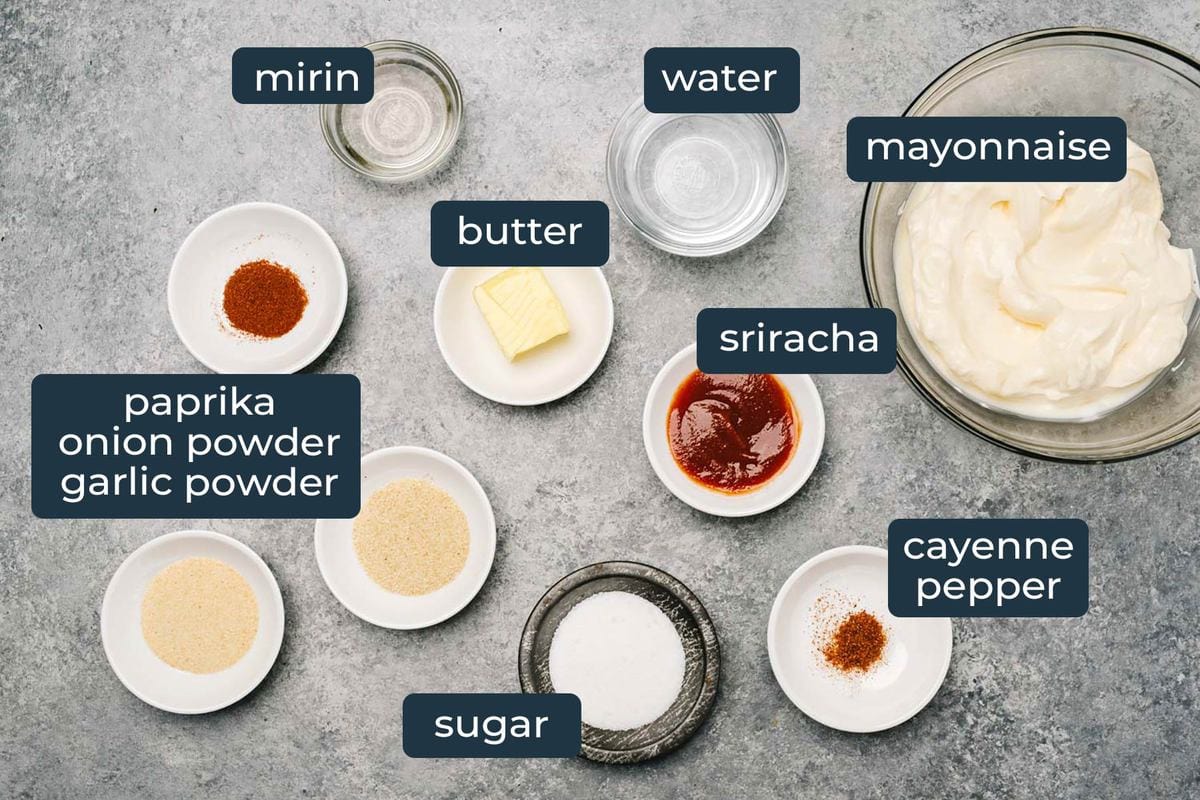 A Hibachi Steakhouse Favorite
This sauce may just be the secret to why the Hibachi experience is so addictive. Along with the copious amounts of butter they add to your rice, noodles and proteins, this creamy sauce makes everything even creamier and therefore, better. Some use it as a dip and some unceremoniously dump the whole sauce in with the rice and noodles and blend it all together. However you enjoy your Yum Yum sauce, it's an essential part of the American hibachi/teppanyaki experience so pair it with your hibachi rice, hibachi noodles, hibachi steak, hibachi chicken, hibachi shrimp and hibachi vegetables.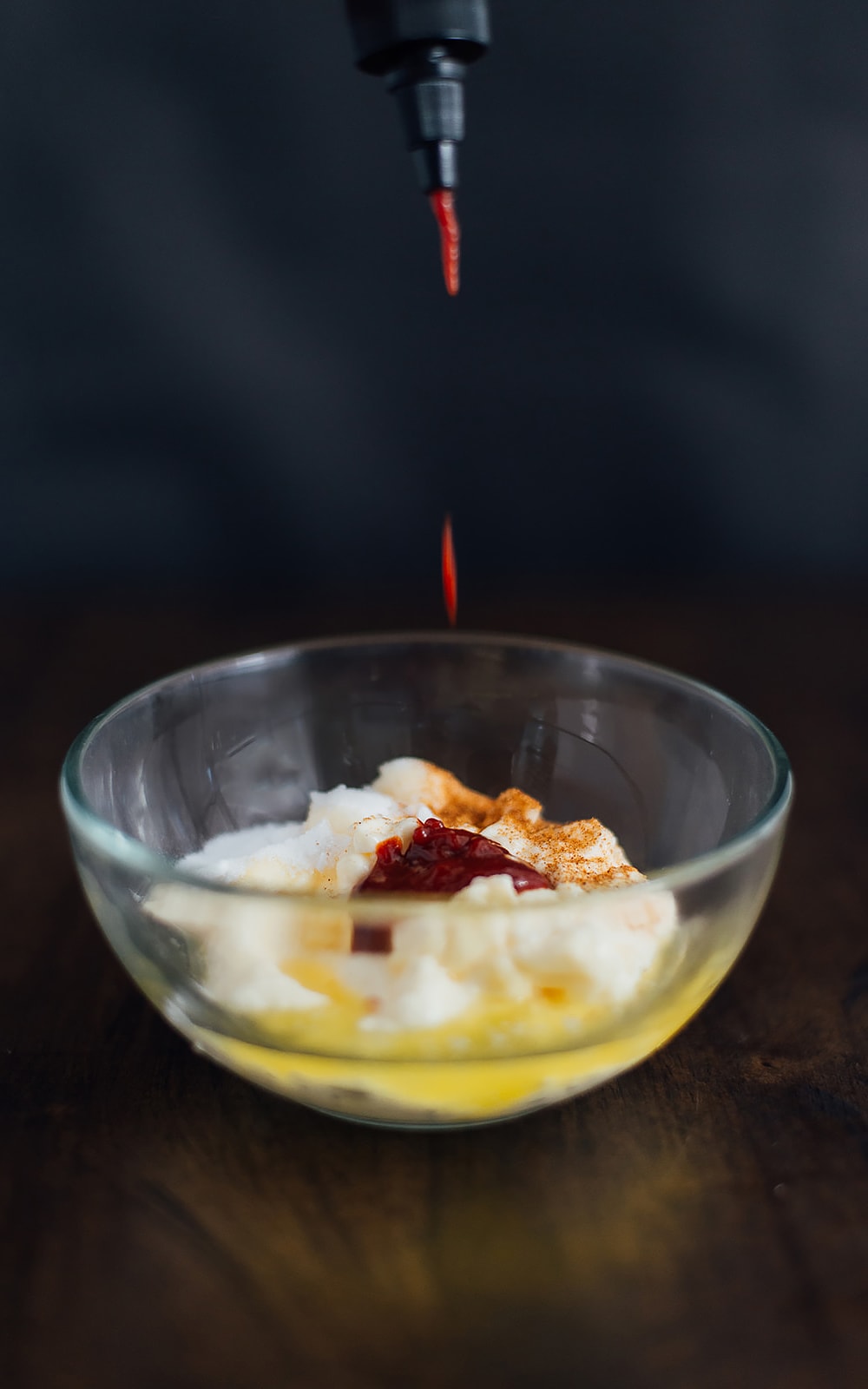 YUM YUM SAUCE RECIPE TIPS
Mayonnaise – I used Duke's mayo for the recipe but feel free to use your favorite brand.
Butter – Not a whole lot of butter is needed, just make sure it's melted so it blends in well with the sauce. 15 seconds in the microwave should be enough time to melt the butter.
Sriracha – I typically always have a bottle of Sriracha sauce lying around so I use this. The amount used in this recipe is not so much that it will make you breathe fire, but it will give the sauce a hint of heat. The creaminess of the mayo balances the heat out very well so you're left with more flavor than heat. Some recipes have used ketchup instead. You don't need a whole lot of either, just enough to give the sauce its pale pink color and a little more umami flavor.
Seasonings – Paprika, garlic and onion powder are essential to give the sauce more depth of flavor so it doesn't just taste like mayo.
Cayenne – 1/8 a teaspoon of cayenne is more for flavor and less for heat since the amount is so little.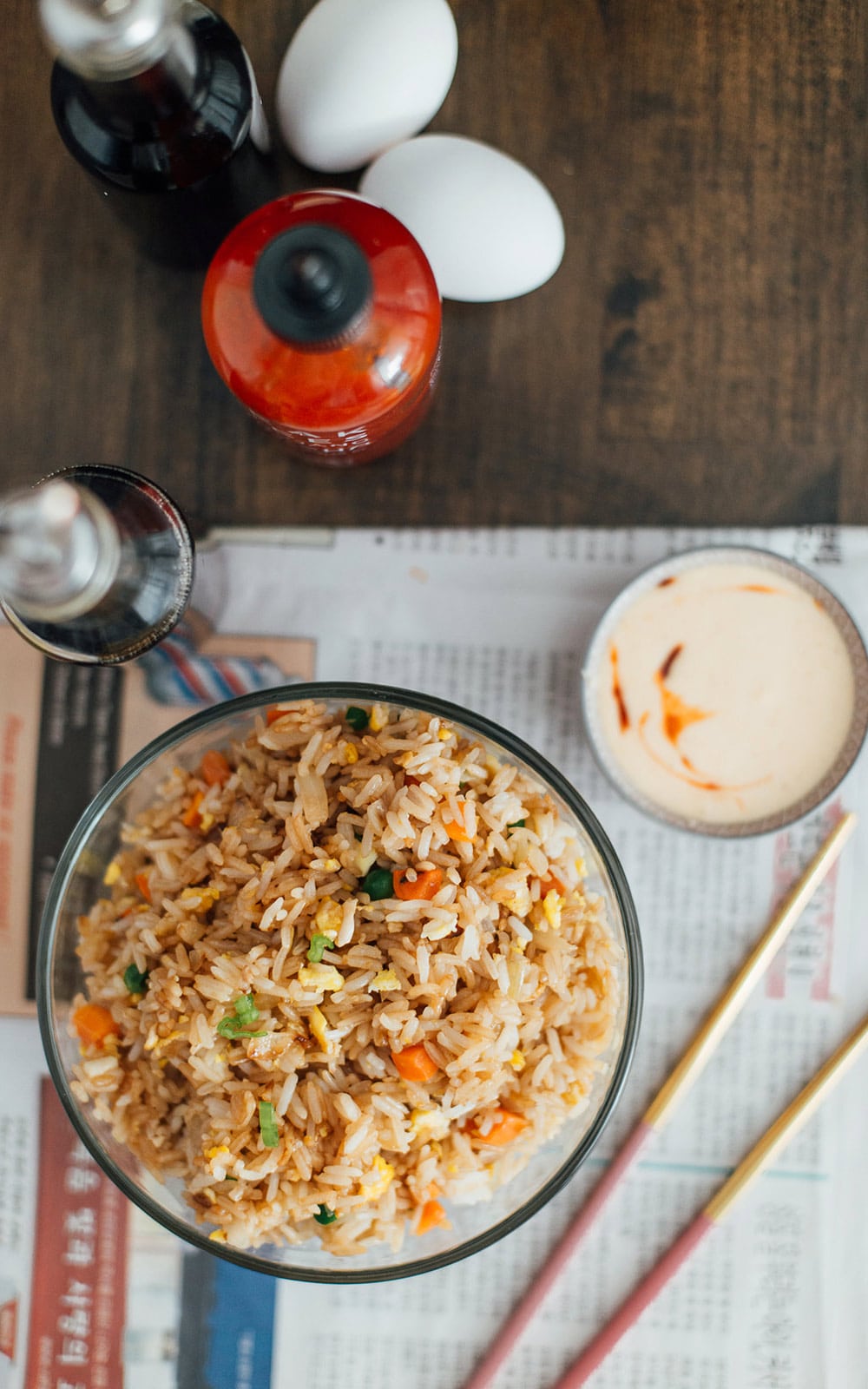 Sugar – This is essential for the sauce and part of the addictiveness behind it. I used regular white sugar for the recipe.
Mirin – While this is optional, this takes the sauce to the next level. Mirin is a sweet Japanese cooking wine and I've used it a lot for making hibachi steak, hibachi chicken and hibachi shrimp. If you don't have it on hand, you can substitute it with dry sherry.
Water – I used 2 tablespoons of water plus 1 tablespoon of mirin to get the desired consistency for the sauce. It should be thick enough to maintain its creaminess but not too thick that it drizzles from a spoon in globs.
Storing – This sauce should last 5-7 days stored in an airtight container in the fridge. I've made enough for 4-6 servings but scale up or down to suit your needs.
And that's about it. Enjoy your Yum Yum sauce and tell me in the comments what you paired it with!
HIBACHI RECIPES TO PAIR WITH YUM YUM SAUCE
Did you make this recipe? Rate it!
♡ If you liked this recipe, giving it a star rating ★★★★★ in the comments below really helps! For more recipes, subscribe to my newsletter or follow me on Facebook, Instagram and Pinterest.
Print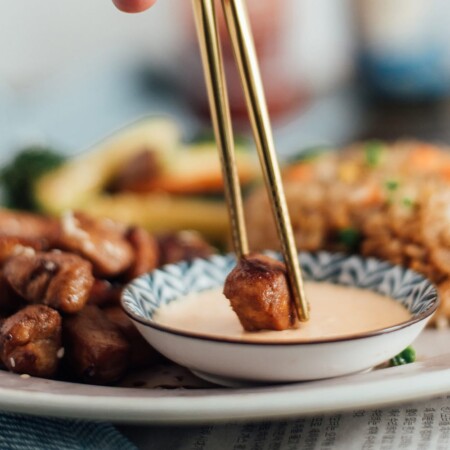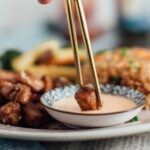 Yum Yum Sauce
---
Author:
Total Time: 5 minutes
Yield: 4-6 1x
Description
Make the famous Japanese Hibachi steakhouse Yum Yum sauce at home with creamy, tangy, sweet and savory flavors for drizzling and dipping.
---
1 cup mayonnaise
1 tablespoon butter, melted
1/2 tablespoon Sriracha sauce/ketchup
1/4 teaspoon paprika
1 teaspoon garlic powder
1 teaspoon onion powder
1/8 teaspoon cayenne pepper
1 tablespoon sugar
1 tablespoon mirin (optional)
1–2 tablespoons water, add until desired consistency
---