This warm, comforting baked mac and cheese is rich and creamy with a buttery and crunchy Parmesan-panko breadcrumb topping. It's the ultimate side dish that's sure to be a family favorite for the holidays or cookouts.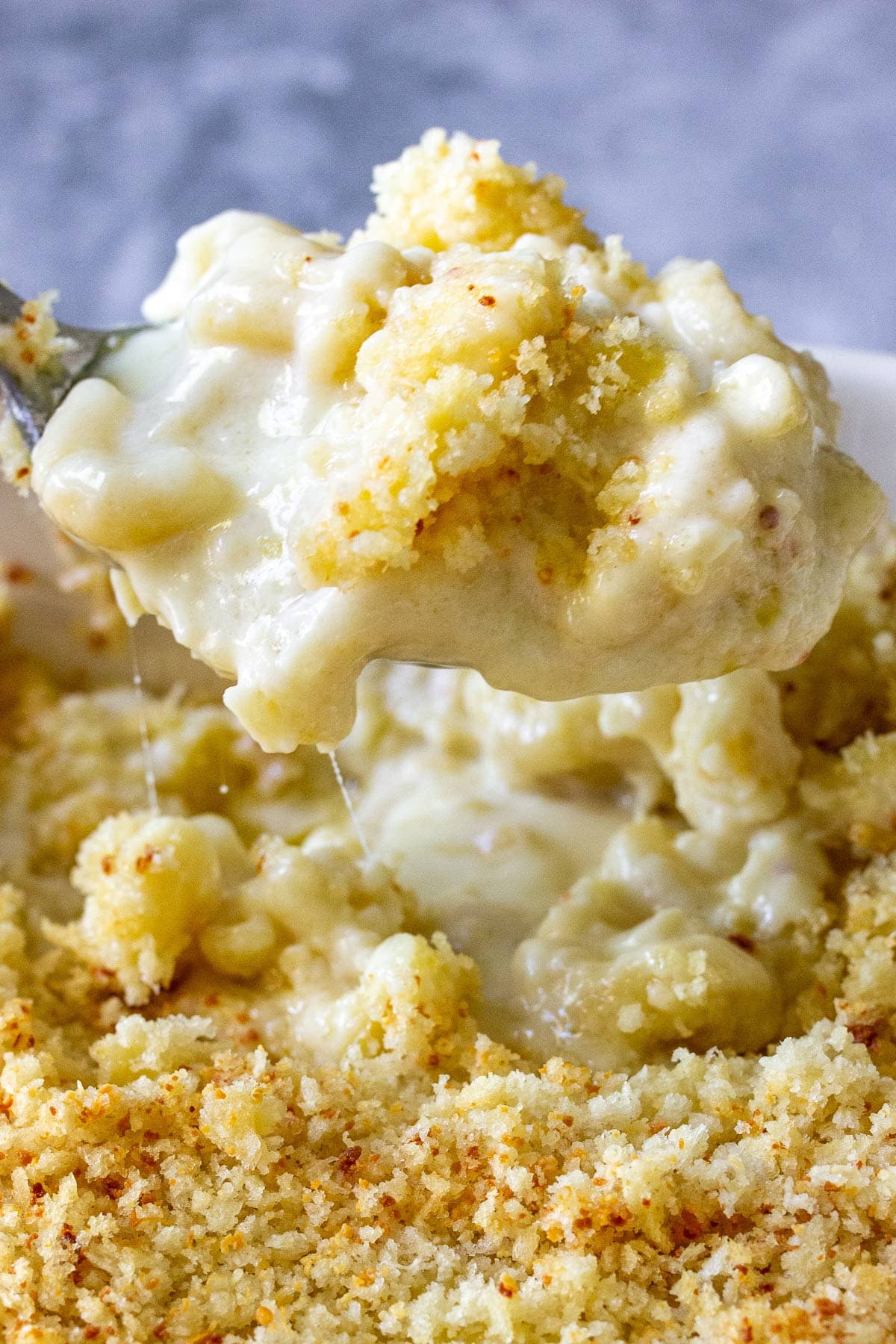 Today we're making some homemade baked mac and cheese with two types of cheese and a buttery breadcrumb layer. It's the perfect kid-friendly side dish you can keep as is, or dress up with various add-ins. Stay faithful to the recipe or mix and match your cheese to find your perfect cheese sauce.
Serve this macaroni and cheese with a slow-cooked pulled BBQ chicken sandwich, grilled steak, or these garlic butter steak bites. For more mac and cheese recipes, try chili mac and cheese, chipotle chili mac and cheese, bacon jalapeno mac and cheese, or the classic Velveeta mac and cheese. Let's start cooking!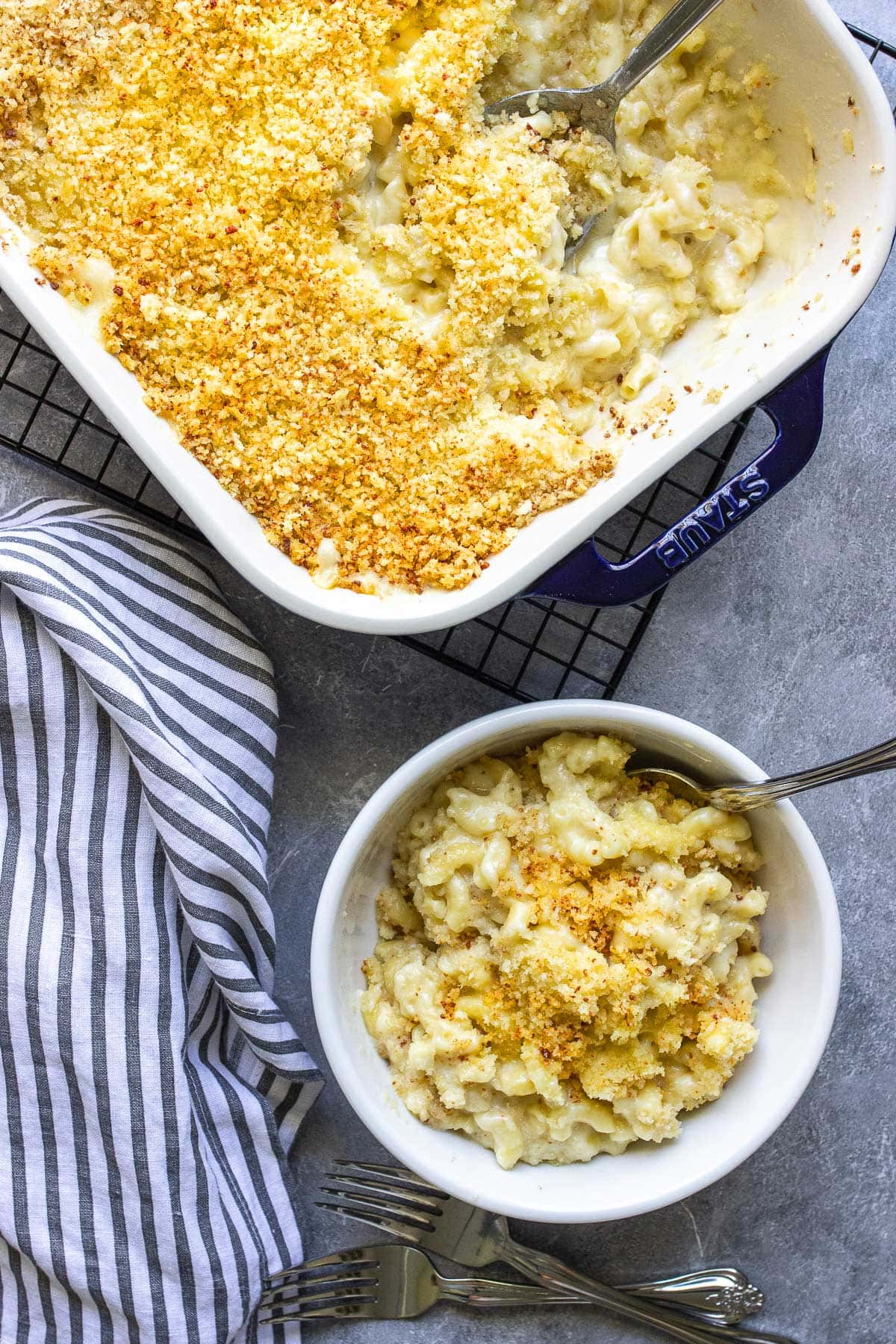 What Is A Roux?
A roux is a thickening agent for sauces. We will be making a white roux for this mac and cheese that should take about 3-5 minutes. The roux will have the consistency of cake frosting and the color of pancake batter. You'll want to whisk and cook the roux until the raw smell of flour is gone so your mac and cheese doesn't taste floury.
Avoid Bagged Shredded Cheese
There are two shortcuts you can't take while making mac and cheese from scratch. You can't rush the roux and you shouldn't use pre-shredded cheese. While the bagged cheese from grocery stores might seem convenient, they have anti-caking agents in them to keep them from clumping together in the bag. These affect how well they melt into sauces. Using pre-shredded cheese will throw off the texture of your mac and cheese quite a bit and you'll end up with a grainy and chalky cheese sauce.
I highly recommend investing in a box grater and grating your own cheese. It will be a labor of love so make sure you get the proper recognition and praise you deserve for the workout. This will be the bulk of your prep time in the recipe.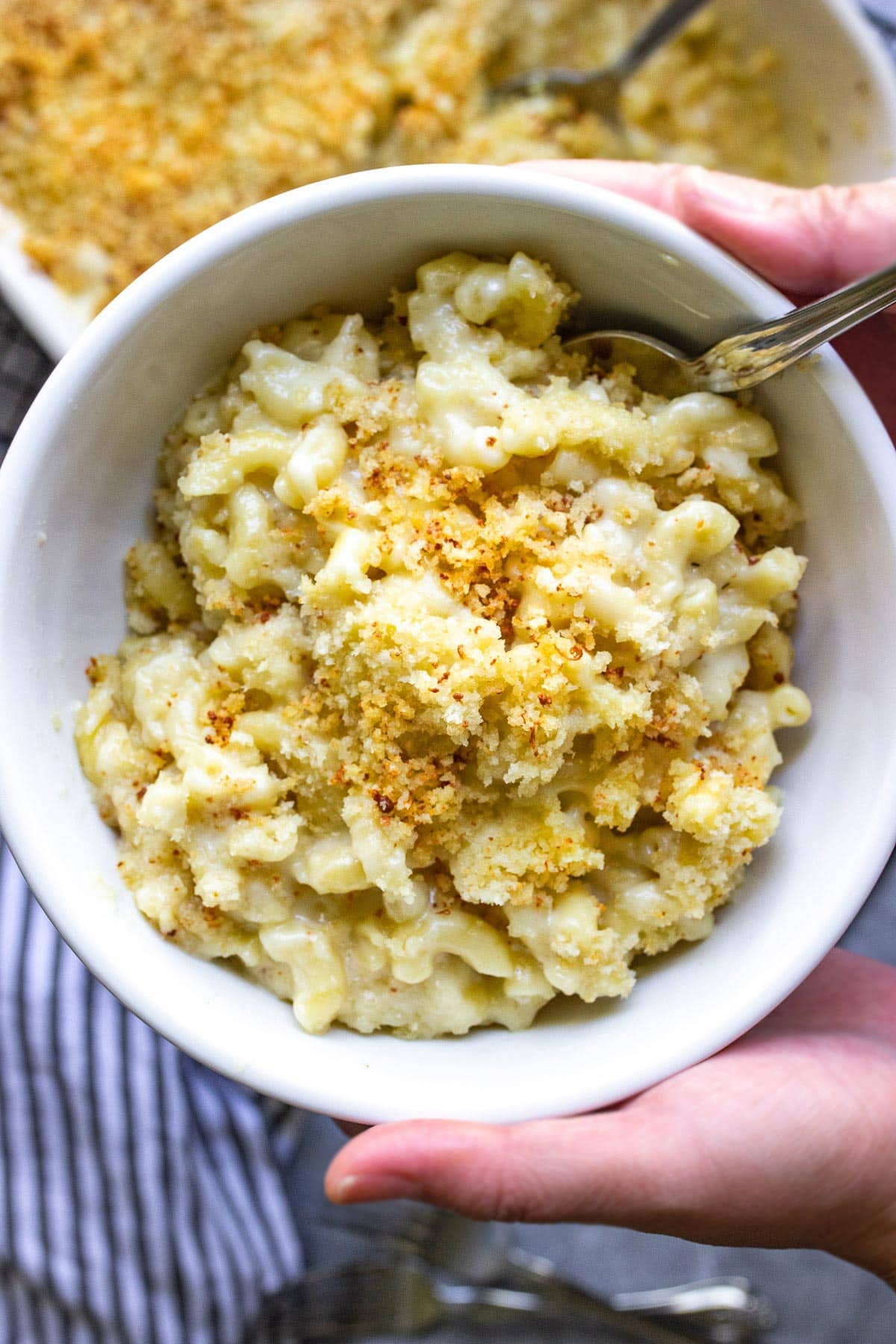 BAKED MAC AND CHEESE RECIPE TIPS
Pasta – Cook the pasta until just before al dente, about 1 minute shy of the package directions. Since the pasta will continue cooking in the oven, we don't want to overcook it and end up with soggy pasta. Starting the pasta just a little under al dente before baking will make sure it comes out perfectly al dente from the oven.
Roux – We make a roux with butter and flour then cook for 3-5 minutes whisking continuously until the raw flour smell is gone. Then we slowly add in the milk and heavy cream to make a bechamel sauce. Be patient as this is a critical step! I once tried rushing this and my mac and cheese ended up tasting floury.
Cheddar cheese – For best results, it's best to buy blocks of cheddar cheese and shred it yourself so the cheese melts smoothly into the sauce. The pre-shredded stuff is coated with anti-caking agents and won't melt as well. A box grater will come in handy for this. I used sharp cheddar but you can use mild, medium, sharp, or extra sharp.
Gruyere cheese – I used a block of Boar's head Gruyere cheese and grated it. It's a wonderful addition to your standard cheddar mac and cheese sauce because it melts like cheddar but has a rich, creamy, salty and nutty flavor.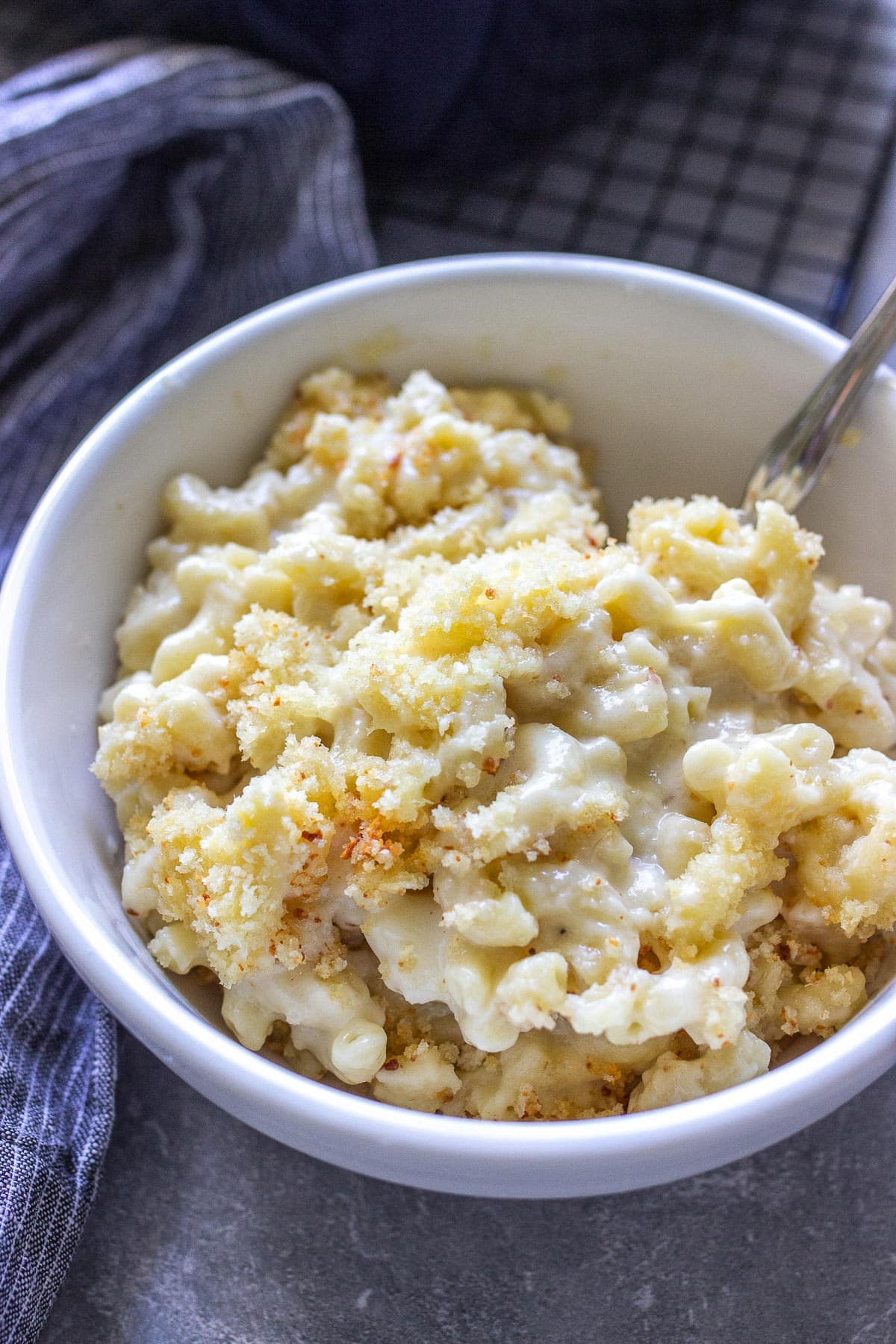 Cheese substitutions – Try experimenting with other cheeses like Parmesan, smoked gouda, Monterey Jack, Pepper Jack, Colby, Colby-Jack, Havarti, Fontina, or brie. Here's a great read on mixing and matching various cheeses in mac and cheese.
Breadcrumb crust – The buttered toasted panko breadcrumb layer adds a crunch factor to the casserole. If you're not a fan, you can skip the breadcrumb topping.
Reheating – The best way to reheat baked mac and cheese is in the oven by baking it at 350°F for about 20 minutes. Cover it in aluminum foil before baking to seal in the moisture. You can also do it over medium-low heat on the stovetop with some milk added in to bring back some creaminess. The microwave is probably the worst way to reheat since you risk a chance of the sauce separating into a pool of butter. If you do it in the microwave, reheat in short bursts of 30 seconds and stir in between so it heats up evenly and there's less chance of the sauce breaking.
Mac & Cheese Add-Ins
There are a ton of things you can add to mac and cheese. I've made several variations like bacon and jalapeno mac and cheese, chili mac and cheese and chipotle chili mac and cheese. Some fun ingredients you can use to elevate your mac and cheese are:
bacon
chorizo
sausage
ground beef/turkey/chicken
tuna
rotisserie chicken
ham
jalapenos
chipotle peppers
broccoli
peas
chili
mustard
buffalo sauce
smoked paprika
And that's about it. Enjoy your comforting bowl of mac and cheese and let me know what kind of cheese or add-ins you used in the comments below!
MORE MAC AND CHEESE RECIPES TO TRY
Did you make this recipe? Rate it!
♡ If you liked this recipe, giving it a star rating ★★★★★ in the comments below really helps! For more recipes, subscribe to my newsletter or follow me on Facebook, Instagram and Pinterest.
Print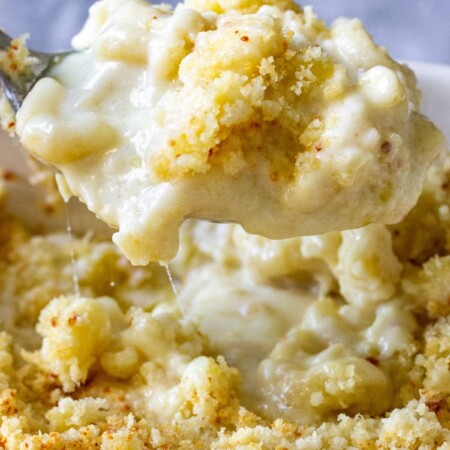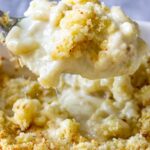 Baked Mac and Cheese
---
Author:
Total Time: 1 hour
Yield: 12 1x
Description
This warm, comforting baked mac and cheese is rich and creamy with a buttery and crunchy Parmesan-panko breadcrumb topping.
---
1 lb. elbow macaroni
4 tablespoons butter
1/3 cup flour
3 cups milk
1 cup heavy cream
4 cups (16 oz.) sharp cheddar cheese, shredded
2 cups (8 oz.) Gruyere cheese, shredded
Salt and pepper to taste
TOPPING
1 1/2 cups panko breadcrumbs
4 tablespoons butter, melted
1/2 cup Parmesan cheese, grated
OPTIONAL SEASONINGS
1 teaspoon garlic powder
1/4 teaspoon paprika
1 tablespoon Dijon mustard
---
Instructions
Cook the pasta until just before al dente, about 1 minute shy of the package directions.
Meanwhile, melt butter in a Dutch oven over low heat and add in flour. Whisk continuously for 3-5 minutes, until flour smell is gone and it smells a little nutty. 
Increase heat to medium-low and pour in milk and heavy cream in small increments, whisking continuously the whole time until all the lumps are gone. 
Simmer until sauce is bubbly and thick, about 5 minutes.
Mix the grated cheeses together. Add in 4 cups of the mixed cheese to the sauce in batches, whisking continuously until the cheese melts smoothly into the sauce. 
Season with salt and pepper to taste and add in optional seasonings.
Add in the cooked pasta and coat the pasta fully with the sauce.
In a 9×13 casserole dish, pour half of the pasta in a single layer.
Top with remaining 2 cups of mixed cheese and finish with the other half of pasta.
Make the topping layer by combining panko breadcrumbs, butter and Parmesan cheese.
Sprinkle over the casserole and bake uncovered at 350°F for 30 minutes, or until bubbly and the top is golden brown.
Dish and serve hot.
Enjoy!
Prep Time: 20 mins
Cook Time: 40 mins