Add some comfort to your table with some bacon jalapeno mac and cheese. This twist on the classic is full of yum!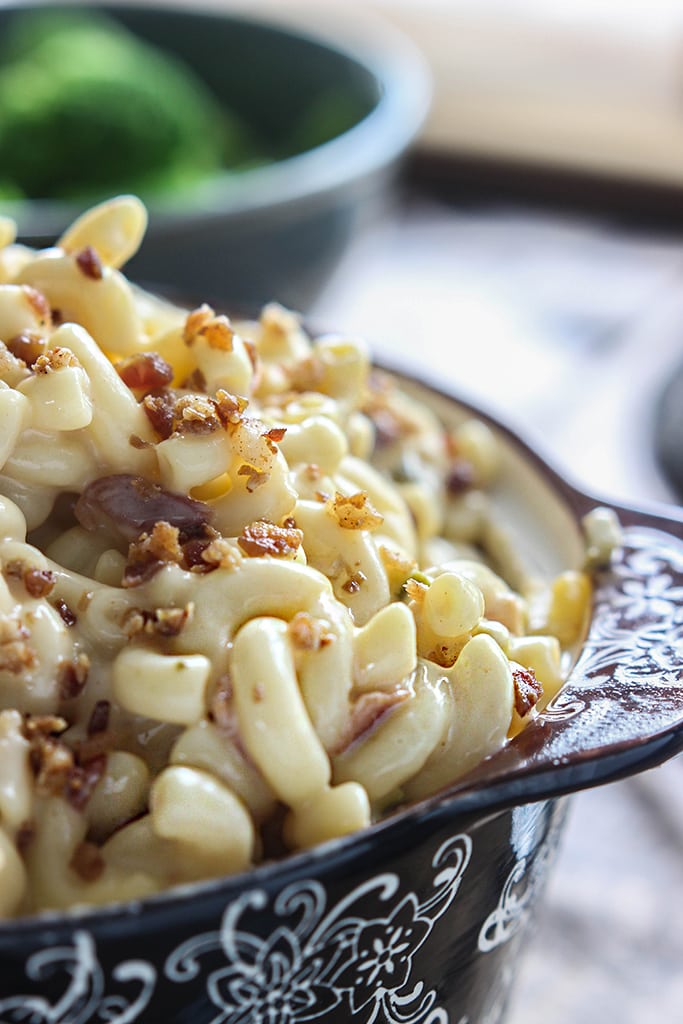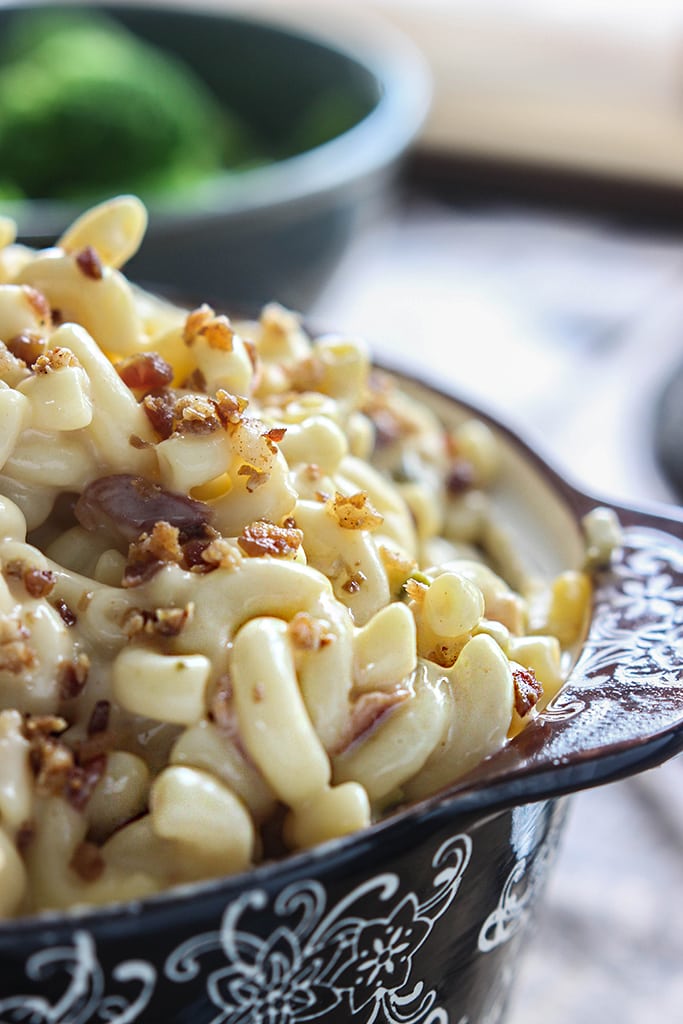 Remember how I said a while back that a bechamel sauce has plenty of uses? I've used it as a base in creamy cauliflower au gratin, a base for chowder, and as a base for chicken pot pie. And today we'll use it for another great thing: your humble mac and cheese. It's amazing like that!
So today we'll be making some comforting bacon jalapeno mac and cheese.
BACON JALAPENO MAC AND CHEESE TIPS AND TRICKS
For those that don't know what a béchamel sauce is, don't let the fancy name chase you away. It's just a white cream sauce made by mixing equal parts of butter and flour together and adding some milk. That's it! It really is that easy. The starch acts as a thickener for the milk to create a creamy, white sauce. Cook the butter and flour mixture (also known as a roux) for a bit to get rid of the floury taste and pour in the milk. Simmer for a while till it's nice and thick and creamy.
Then you add in freshly shredded cheese with some macaroni elbows and voila: mac and cheese. The choice of what kind of cheese you want to use is up to you: sharp cheddar, Pecorino Romano, Parmesan, Fontina, Gruyere, Monteray, white cheddar, Colby Jack, etc. I'll be using staples from my kitchen aka cheddar and Parmesan. No need to go visit the deli section for expensive cheese.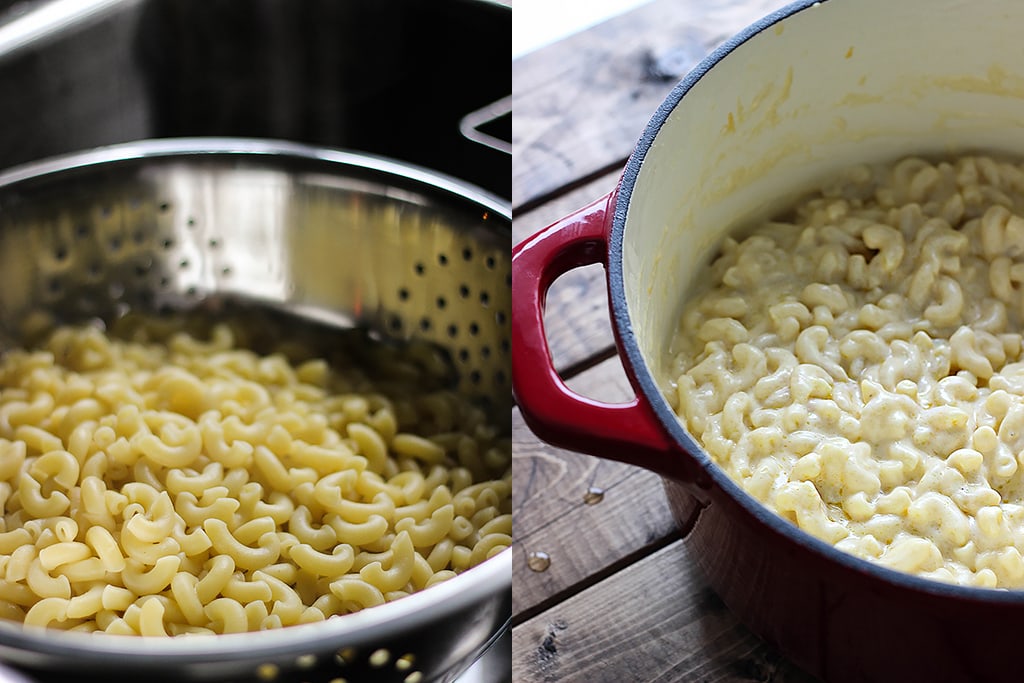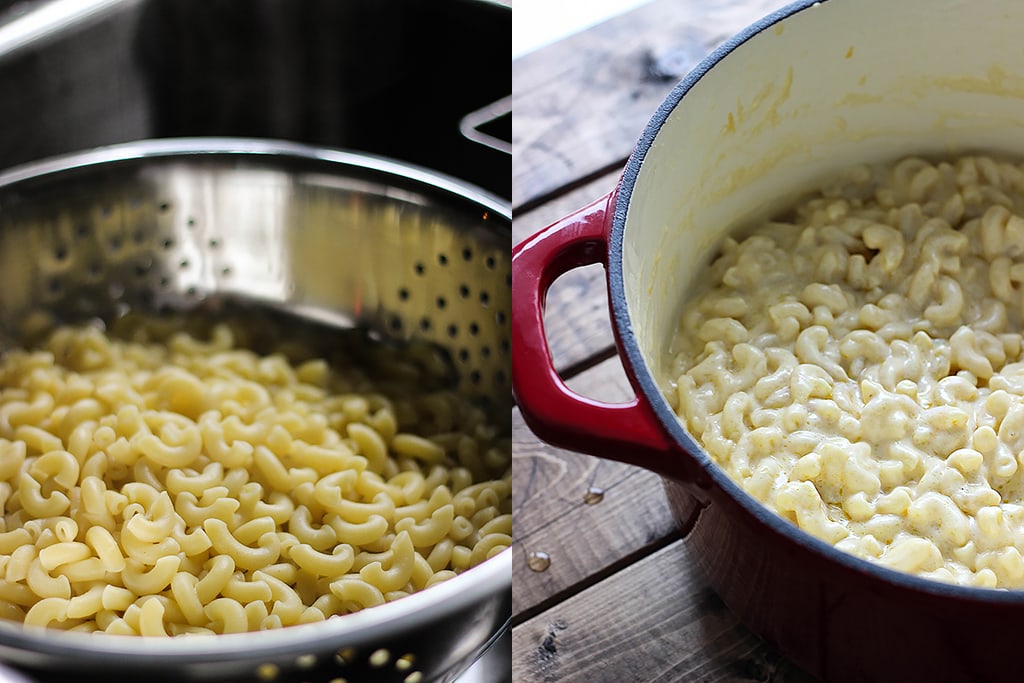 So this was supposed to be a recipe for classic mac and cheese but I ended up dressing it up some. It didn't have enough bite for me so I added a teaspoon of mustard. Then I tossed in about a cup of bacon bits and some diced jalapenos. Since it was a last-minute alteration, I only had pickled jalapenos but feel free to use fresh ones if you like. But yes, bacon and jalapenos. Wow, did it taste so much better.
If you're one for classics, stop just before the bacon and jalapenos. Otherwise, go my route or get creative! Some suggestions are broccoli mac and cheese, smoky mac and cheese, buffalo chicken mac and cheese, lobster mac and cheese…the possibilities are endless.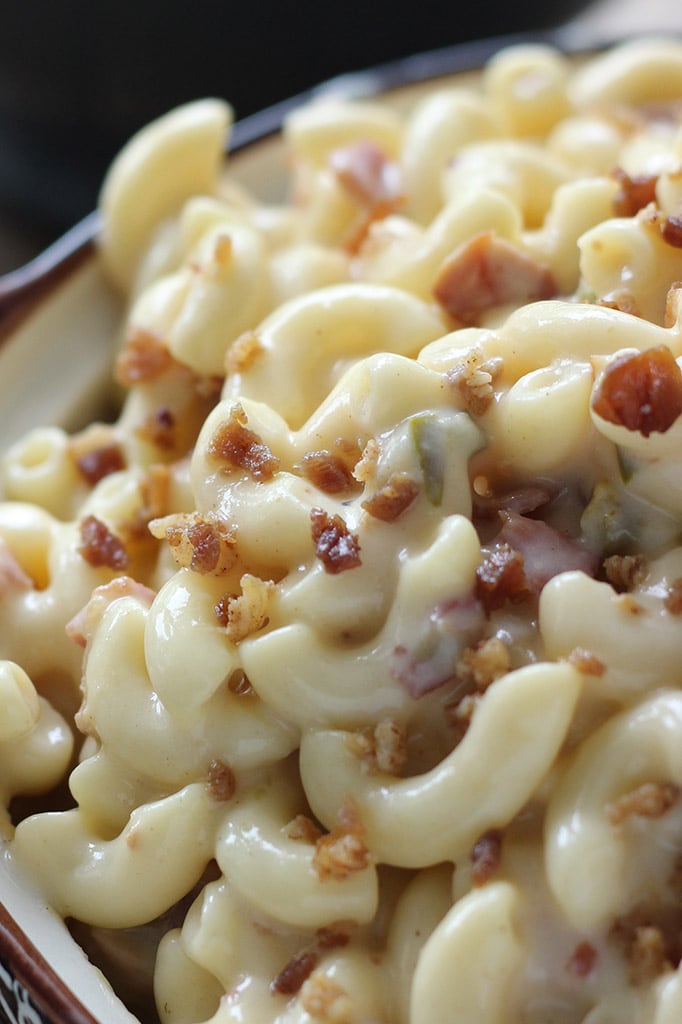 If you end up with leftovers, a great way to heat it up is to add a tablespoon or two of milk to each bowl to get the creaminess going again. Microwave or heat it up over the stovetop. Good as new.
MORE MAC AND CHEESE RECIPES TO TRY
Did you make this recipe? Rate it!
♡ If you liked this recipe, giving it a star rating ★★★★★ in the comments below really helps! For more recipes, subscribe to my newsletter or follow me on Facebook, Instagram and Pinterest.
Print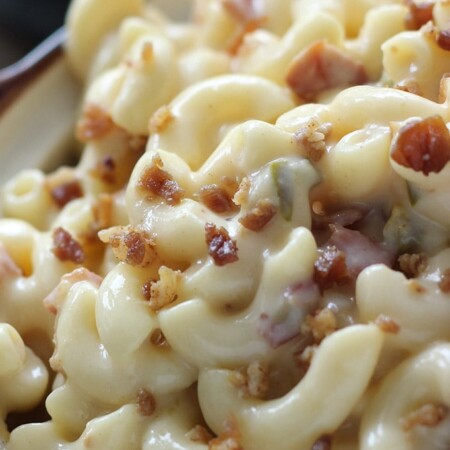 Bacon Jalapeno Mac and Cheese
---
Author:
Total Time: 30 mins
Yield: 6 1x
Description
Add some comfort to your table with some bacon jalapeno mac and cheese. This twist on the classic is full of yum!
---
BECHAMEL
8 tablespoons butter
1/2 cup flour
4 cups whole milk
Salt and pepper to taste
MAC AND CHEESE
3 cups sharp cheddar cheese, freshly grated
1 cup Parmesan cheese, freshly grated
1 teaspoon mustard
1 lb. elbow macaroni, cooked al dente
1 cup bacon bits
1 fresh jalapeno/2 tablespoons pickled jalapenos, diced
---
Instructions
BECHAMEL
Melt butter over medium heat.
Add in flour and stir to mix. Cook for about 2-3 minutes.
Pour in milk and whisk until smooth and blended.
Simmer until sauce has thickened and coats the back of a spoon, about 7-10 minutes.
Season with salt and pepper to taste.
MAC AND CHEESE
Stir in both of the cheeses in portions until melted. Add in mustard.
Add macaroni and stir to combine until fully coated and creamy.
Add in bacon bits and diced jalapenos and mix thoroughly.
Dish and serve hot.
Enjoy!
Notes
Scroll up to RECIPE TIPS for more useful tips, suggestions and ingredient substitutions.
Prep Time: 5 mins
Cook Time: 25 mins