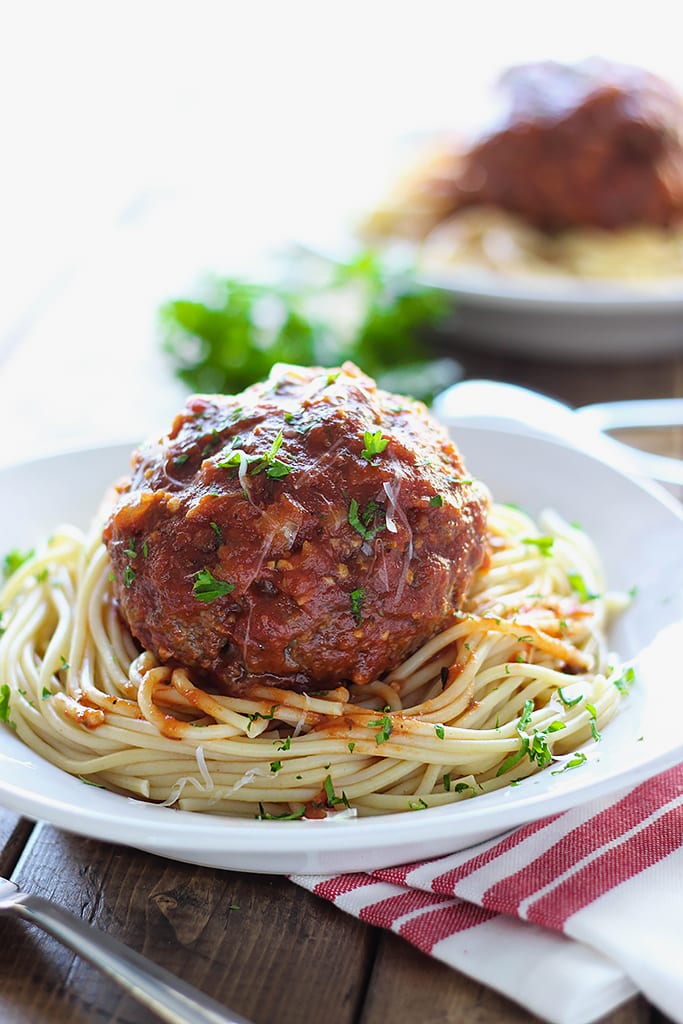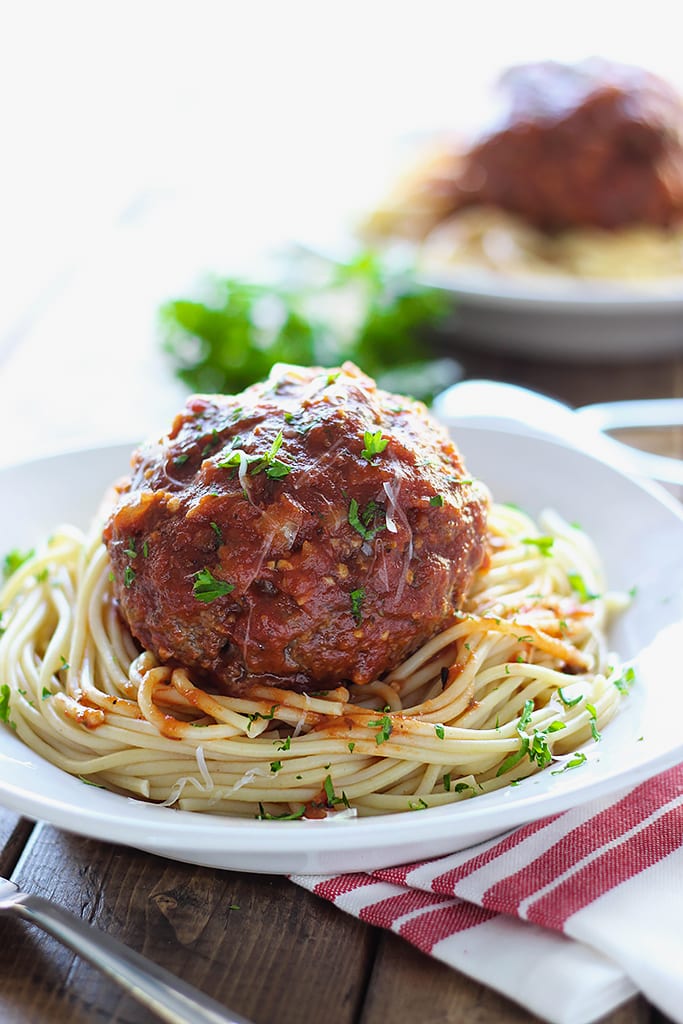 Hey, Valentine's Day is almost here! And by almost I mean a couple weeks from now! Since it takes awhile for my recipes to even get acknowledged by the Internets, I decided to post this way, way, way in advance so it can be found in time for Valentine's Day recipe seekers. And I'll be posting more Valentine's Day recipes over the next week.
I'm a little boring though. My interpretation of a romantic meal usually involves pasta in some form or other, so expect a lot of that. With some bread appetizers and maybe a soup?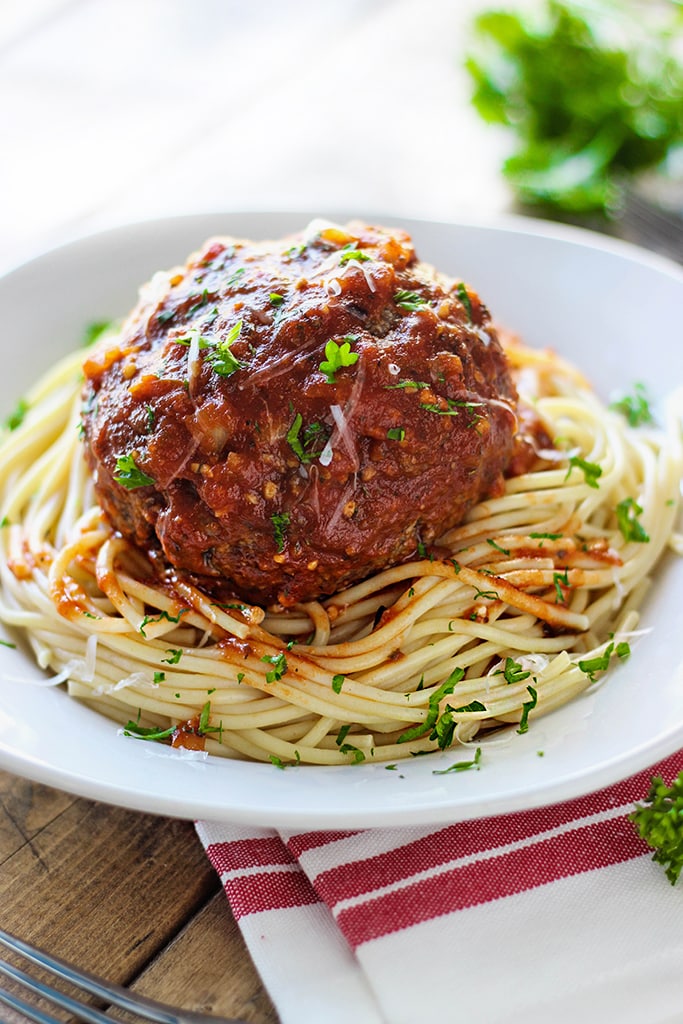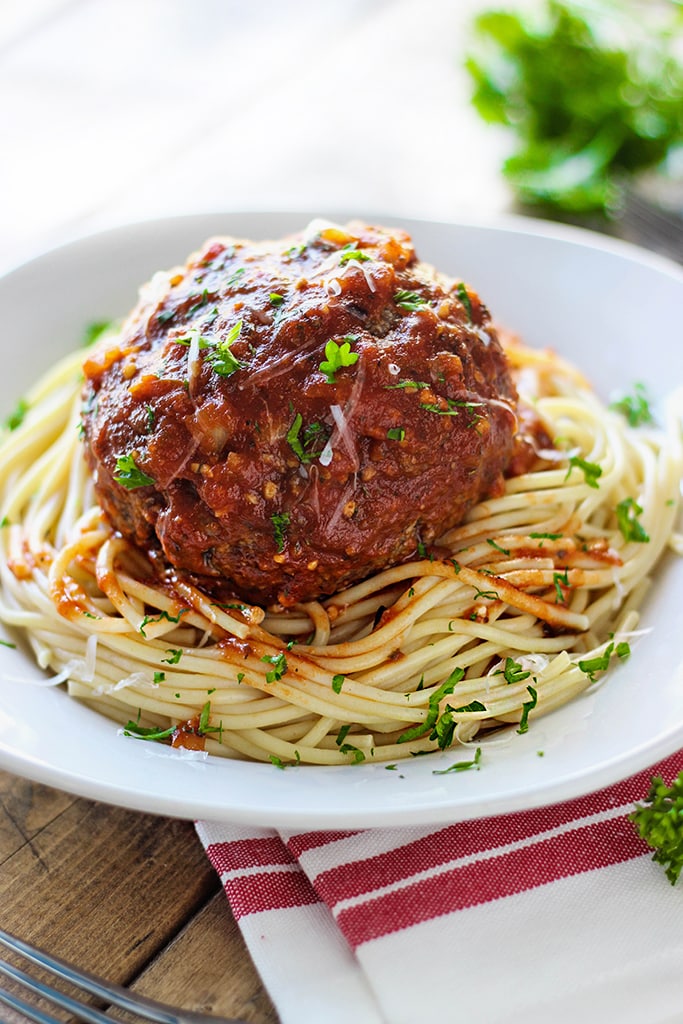 So today we have pasta in marinara sauce with a gigantic meatball. I saw a pic of this on Instagram one day and suddenly felt a need to make a giant meatball at least once in my life. Why not? Let's go big today.  If you're in the mood for the more classic and less blustering spaghetti and meatball, here's an old recipe of mine for you. Otherwise, stick with me and we'll go on a quest to make that humongous meatball. But wait. There's more! It is stuffed! With mozzarella! Yummmmmm.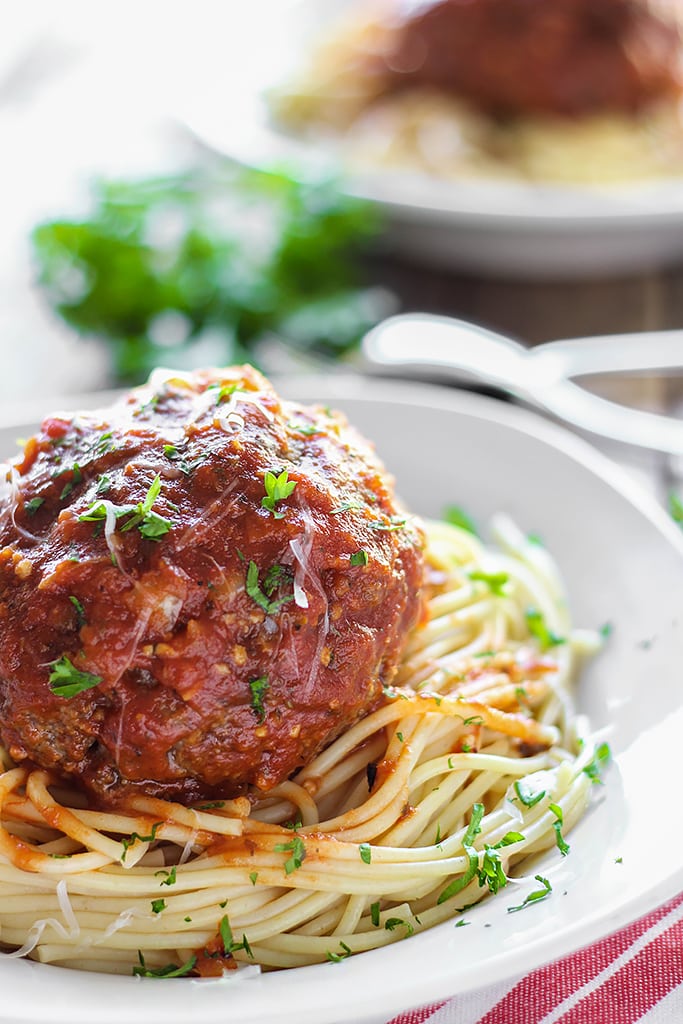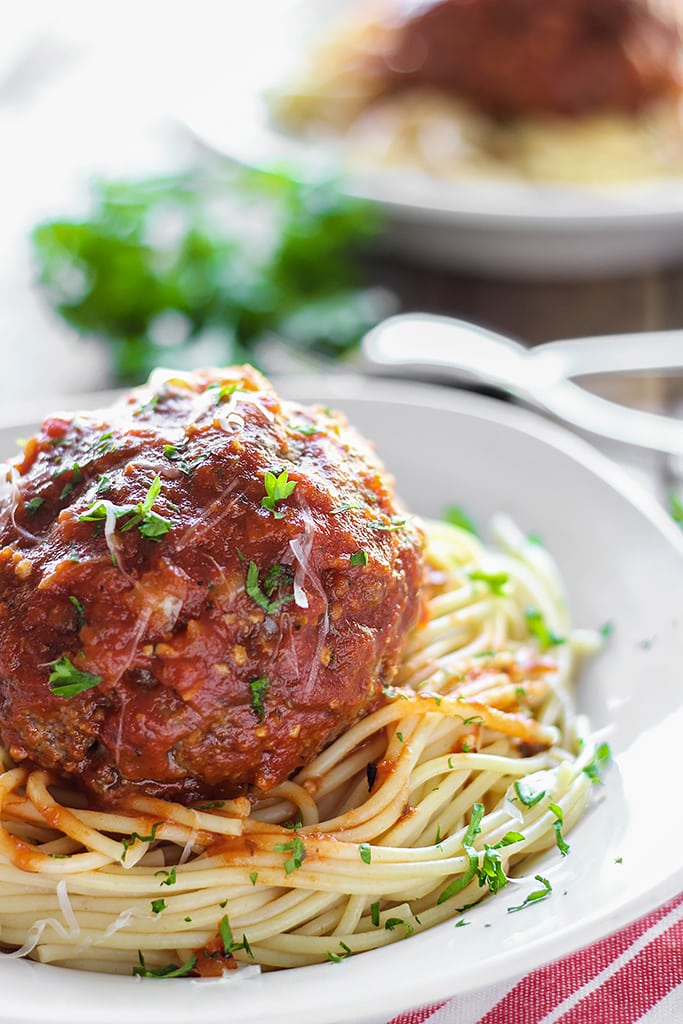 So while you're chipping away at the meatball and portioning it with each bite of pasta, you'll eventually be rewarded with the gooey, cheesy beating heart of melty, magical mozzarella. I love it! Take heed though. These are big portions, so ladies, you might have some leftovers. Men, not so much.
So we'll start by making the meatballs. Unfortunately store-bought meatballs don't come in fantastical sizes so we'll be making this one from scratch. It's okay, it's full of love and effort which makes it even more worthy as a Valentine's Day entree.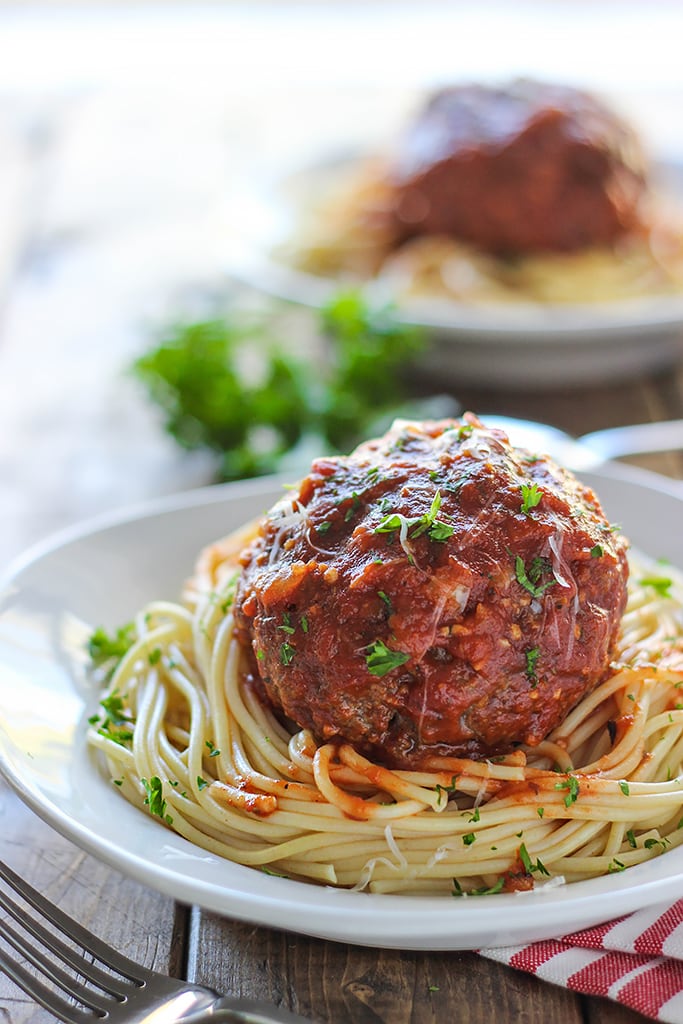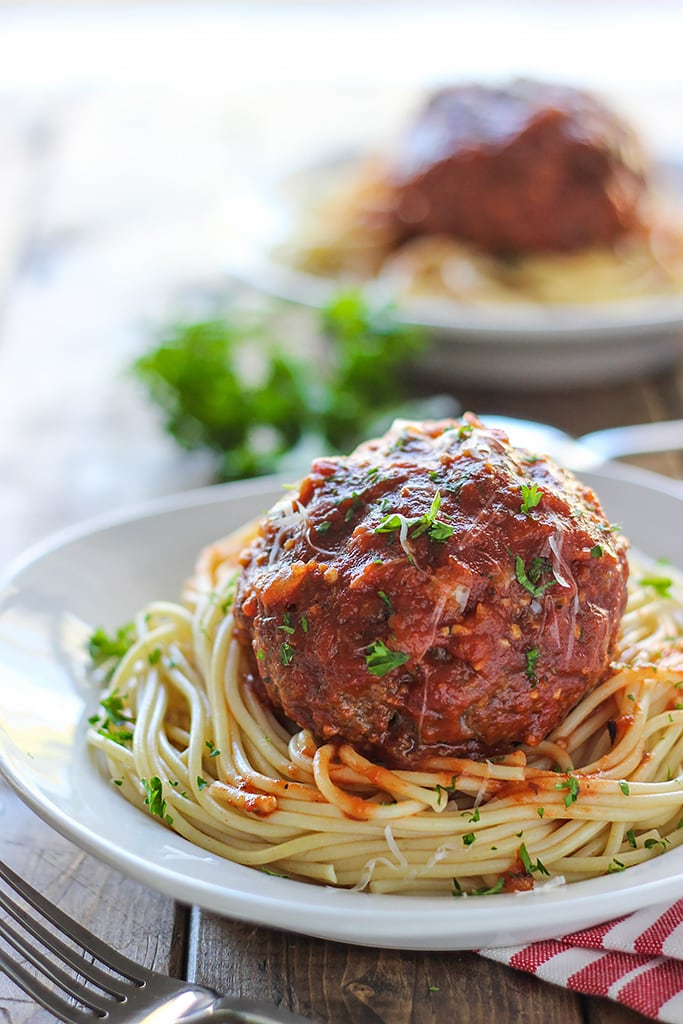 The meatballs are easy. Get some lean ground beef so there's not so much fat when you're baking the meatballs. Mix in some garlic, Italian breadcrumbs, Worcestershire sauce, Parmesan cheese (more cheese please!) and an egg to bind it all together. Cube your mozzarella and gently push each cube into the center of each meatball. Now I used fresh mozzarella but apparently it wasn't the melty kind so make sure you get the melty kind! I've heard string cheese works well. Lesson learned. I didn't specify how much mozzarella cheese you'll want in there, it's completely up to you on how big a cheesy center you want. Just make sure to completely cover it up again with the meatball mixture.
Once you've inserted the cheesy center, pack it together again so it's nice and tight and won't fall apart. Smooth over the cracks in the meatballs as best as you can. You want your meatballs packed so tightly they won't even think about falling apart. This is very important since the bigger the meatball, the easier it falls apart. Then we bake. Also to note is the bigger the meatball, the longer it needs to bake. And at a relatively low heat so the outside doesn't cook too much before the insides even manage to get warm. So low and slow. The time could vary based on your oven but a good guideline is to use a meat thermometer and wait for the insides to reach 160 degrees.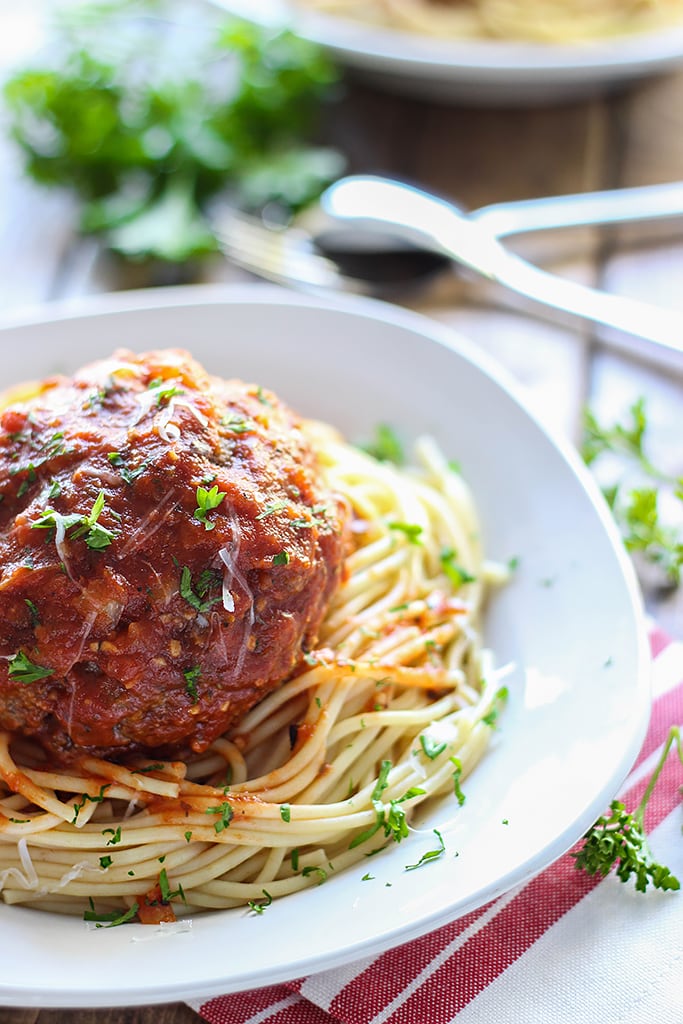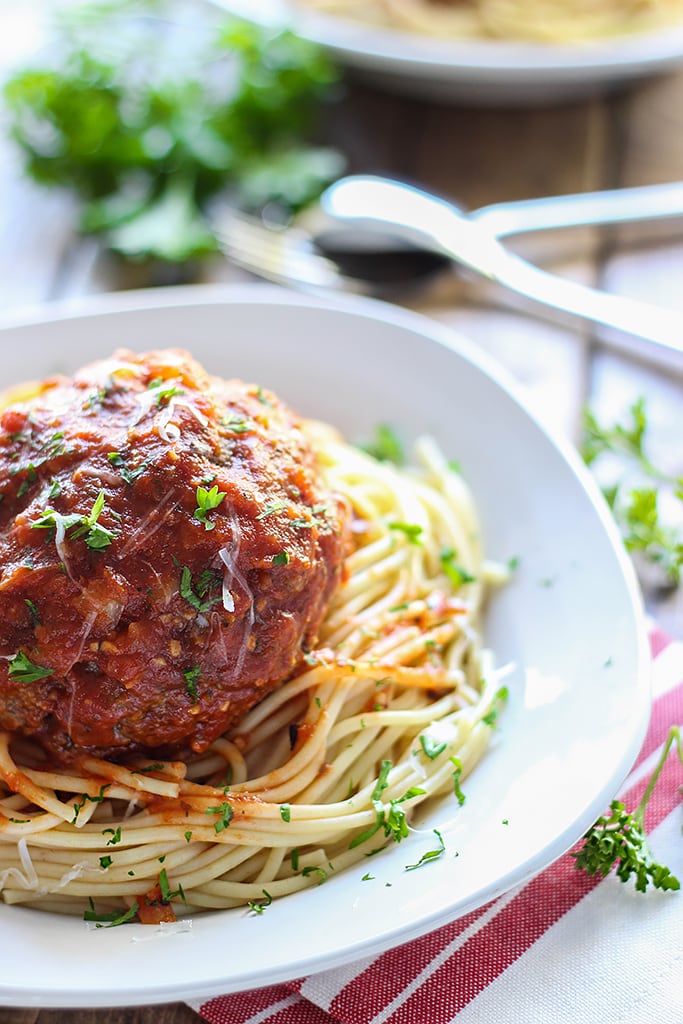 At this point you should already be cooking your pasta and starting up your marinara sauce. If you don't mind the store-bought kind, we can stop here. Heat it up so it's nice and warm. If you want something  a little special, you could use this recipe as a guideline. I would say half of it (2 cups) is good enough for two servings. Or use your own marinara recipe if you have a favorite.
Once the meatballs have cooled slightly, add them to the sauce to coat them up. Do this gently so it doesn't break apart. Then arrange a meatball in the center of each bed of pasta (it will help to make a small well in the middle so they don't go rolling off into the horizon) and top with the leftover marinara sauce. Sprinkle with some Parmesan cheese, dried or freshly grated, some parsley and you're ready to have your romantic meal!
Print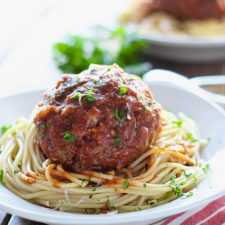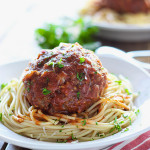 Mozzarella Stuffed Meatball Pasta
---
Author:

Prep Time:

5 mins

Cook Time:

30 mins

Total Time:

35 mins

Yield:

2

1

x
1/2

lb. spaghetti, cooked al dente

2 cups

marinara sauce, store-bought or homemade
Parmesan cheese for serving
Parsley for serving
Meatballs:
1

lb. lean ground beef

1 teaspoon

garlic, minced

1

egg, beaten

1 teaspoon

Worcestershire sauce

1/4 cup

Italian breadcrumbs

1/4 cup

dry Parmesan
Salt and pepper to taste
Mozzarella, cubed
---
Instructions
Meatballs:
Combine all the meatballs ingredients in a mixing bowl except for the mozzarella cheese and mix together with your hands
Divide mixture into two. Form two giant meatballs
Insert a cube of mozzarella cheese into the center of each meatball
Pack meatballs back into shape firmly and smooth any cracks
Bake at 400 degrees F for 25-30 minutes or until a meat thermometer reads 160 degrees
Remove and allow to cool on a cooling rack
Pasta:
Over medium high heat, heat up or make your favorite marinara sauce in a wide saucepan
Carefully add meatballs to the sauce, spooning some of the sauce on top
Dish the spaghetti and place each meatball on top
Ladle with remaining marinara sauce and sprinkle with Parmesan cheese and parsley
Serve hot
♡ Affiliate disclosure: As an Amazon Associate, I earn commissions from qualifying purchases from Amazon.com. You can learn more about it here.