Hearty, earthy and meaty. This delicious and creamy mushroom Alfredo with fettuccine is the perfect dinner for two pasta lovers.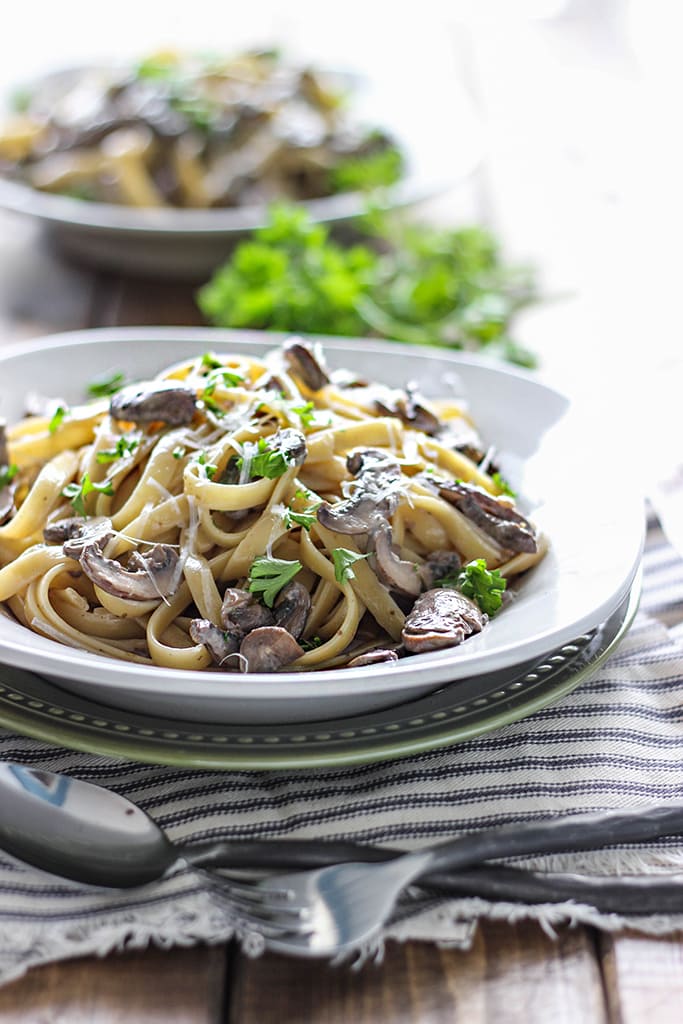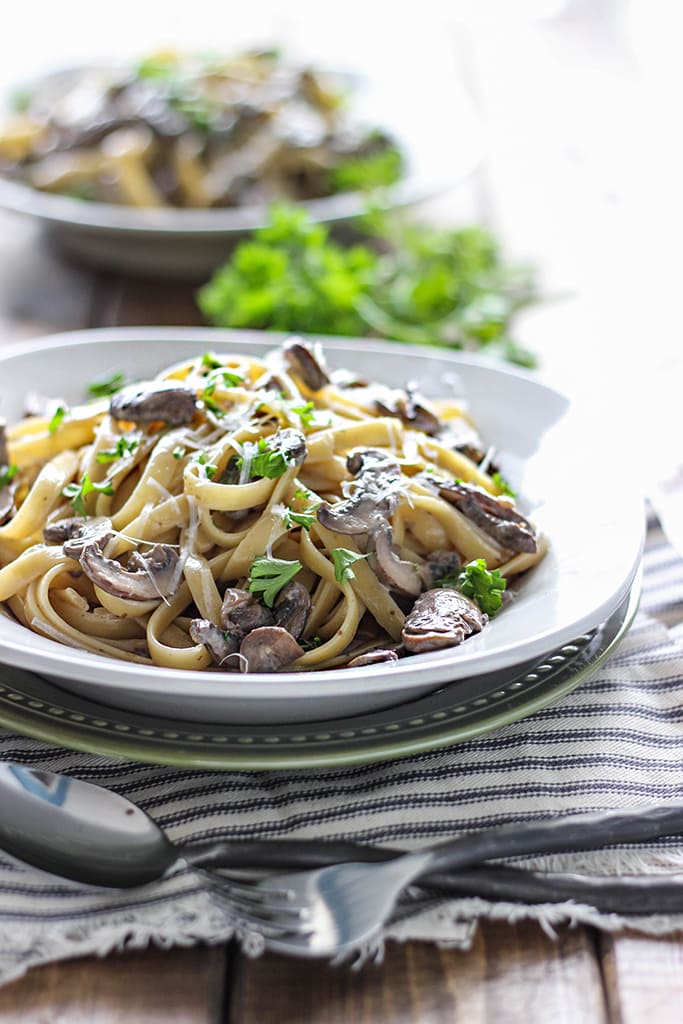 Today we are making some easy, creamy mushroom Alfredo with fettuccine pasta. Here's yet another great idea for Valentine's Day. Or if you're just in the mood for some good pasta! I know it looks like beef stroganoff but I guess all pasta with mushrooms in them end up having a stroganoff look.
This one's a simple creamy sauce infused with the earthiness of mushrooms. I used portobello mushrooms because they're my favorite kind but if you prefer others go ahead and substitute. Shiitake or cremini, anything goes. One thing I love about portobello? How rich and meaty it is. It's a great substitute for meat.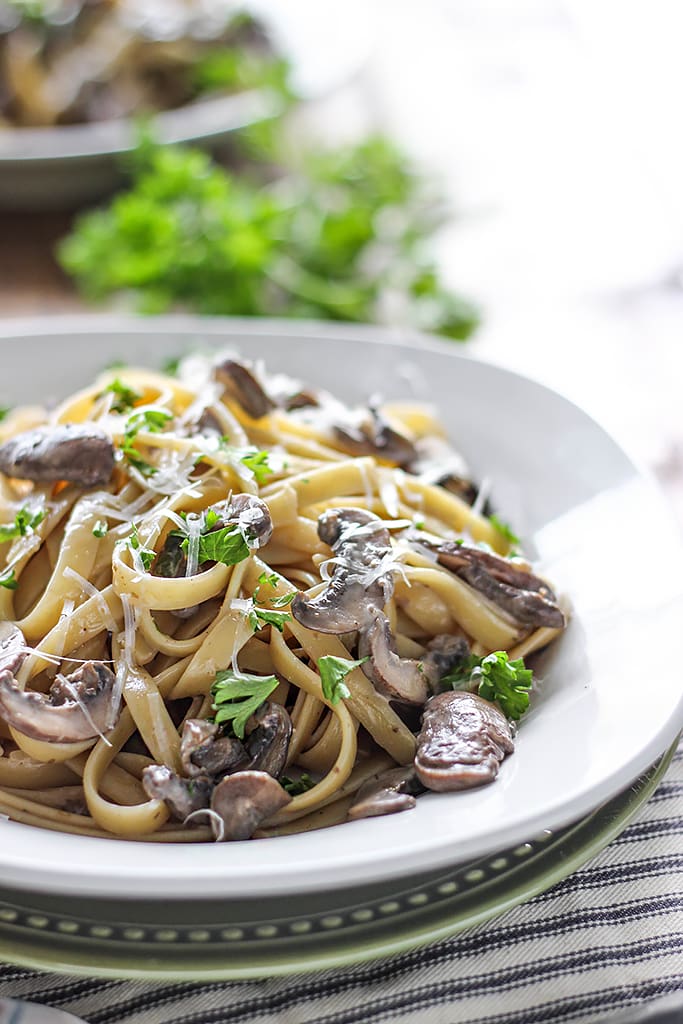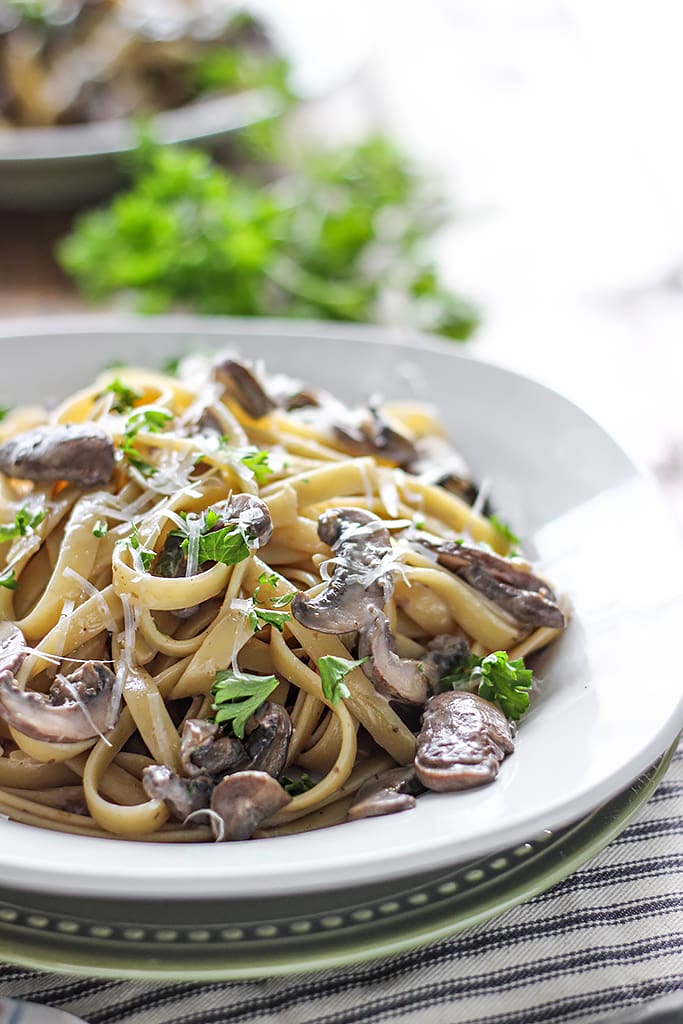 This one is absolutely delicious. You won't miss the usual chicken that goes with the classic Alfredo dish because portabella mushrooms are so meaty and such a treat. It's a really good combination. I've always loved mushrooms so if this sounds like you, this recipe will be great for you.
It's creamy, hearty and chock full of mushrooms. There's gonna look like a ton of mushrooms for just two people but as always, they will shrink once cooked down, I promise you. I even included a pic to show you just how much they cooked down! So let's start cooking!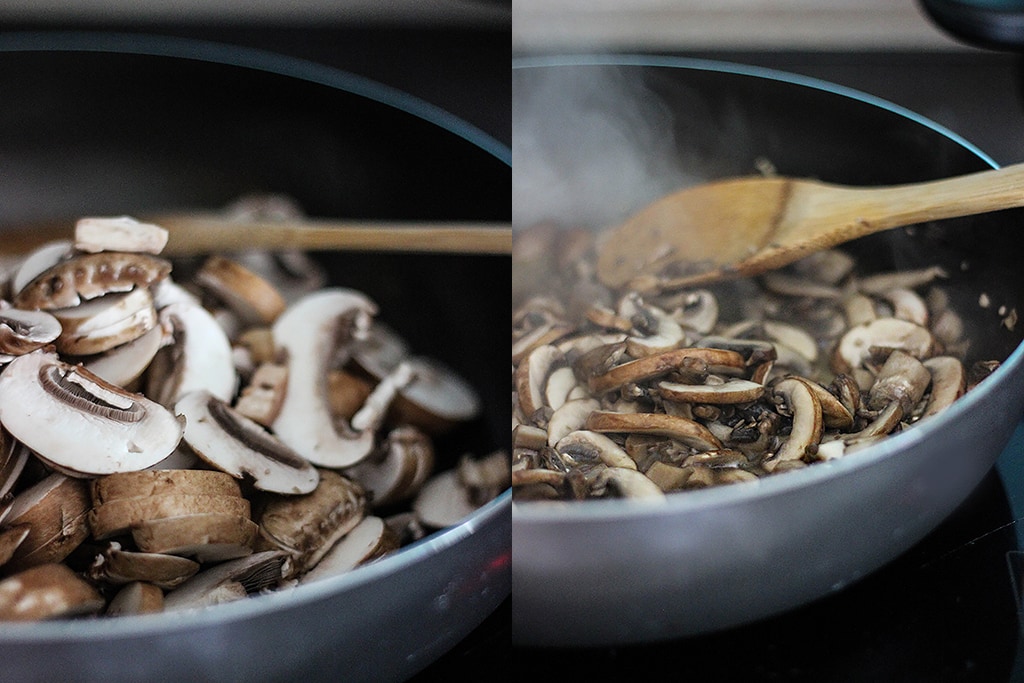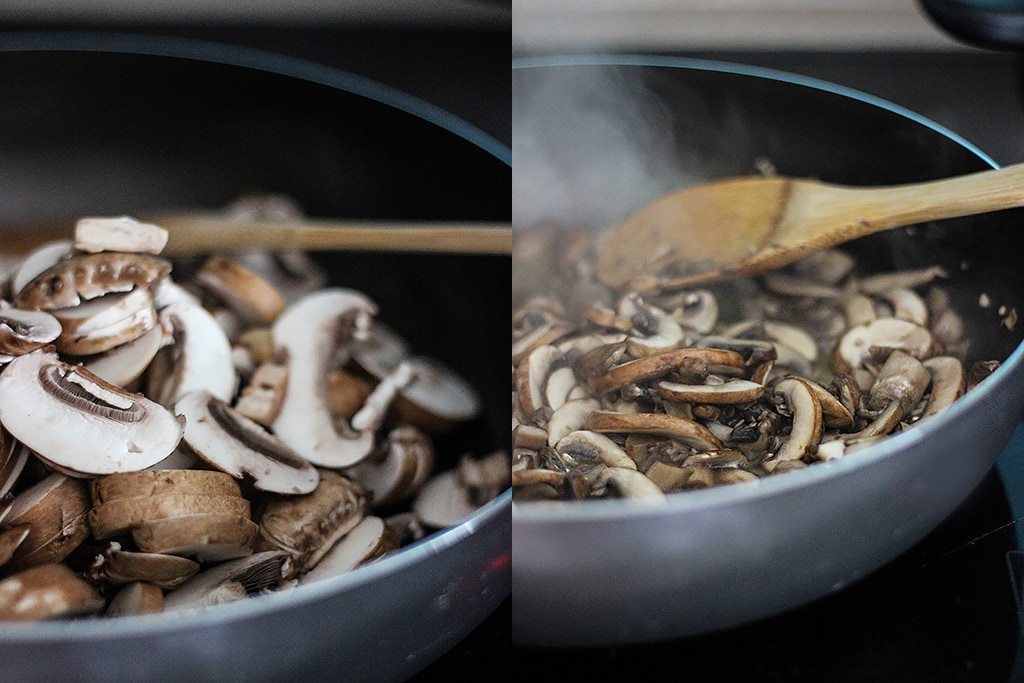 MUSHROOM ALFREDO TIPS AND TRICKS
This recipe is so easy to make because it uses your basic pantry ingredients of butter, heavy cream, and cheese to make a rich and thick Alfredo sauce. I went and used a shortcut with this recipe and skipping the traditional roux for a simple cream sauce.
But if you prefer the classic way of doing this, try combining this recipe with this Alfredo sauce. Otherwise, let's make some mushroom Alfredo!
So what we're doing is sauteing the mushrooms and garlic in some butter until they release their juices and cook down. If you want to keep it somewhat healthy, use olive oil or butter substitutes. This step, and slicing the mushrooms is the bulk of the preparation and cooking. You can actually skip some time by buying the mushrooms pre-sliced.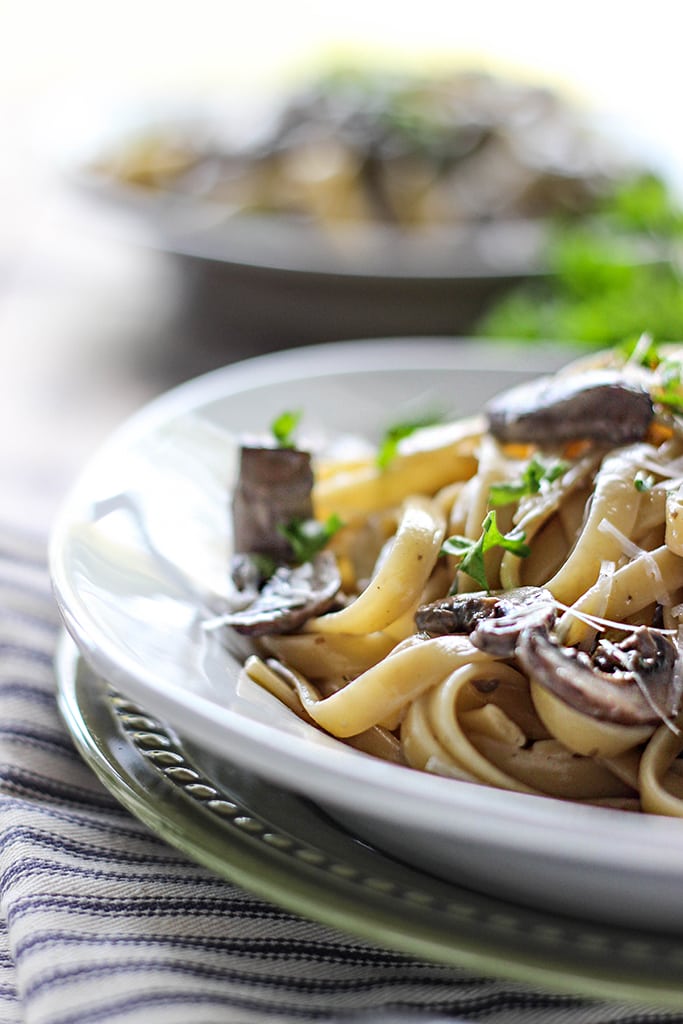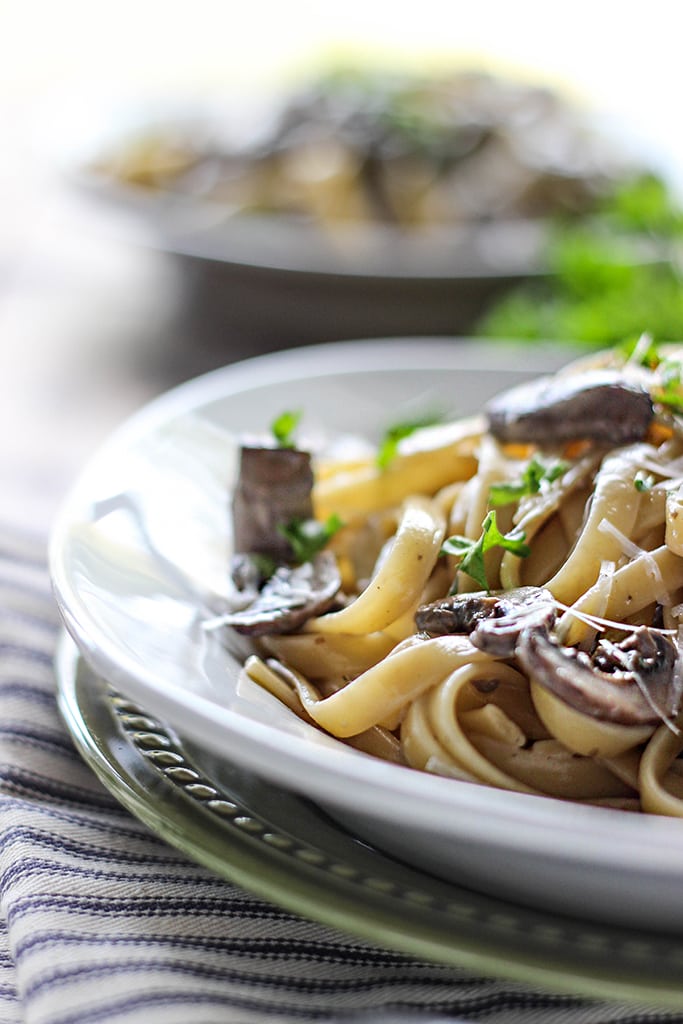 Then we add some balsamic vinegar, parsley, thyme and sage, and some wine (optional). Pour in some heavy cream and chicken or vegetable stock to make a mushroom sauce. While it's nice and hot on the stove, add in freshly grated Parmesan cheese and there you have it.
Add in your cooked pasta and toss to mix it well. My measurements are for a light cream sauce. If you want it even heavier/creamier, just add more heavy cream and Parmesan cheese at this stage and simmer until it thickens a little. It won't take too long.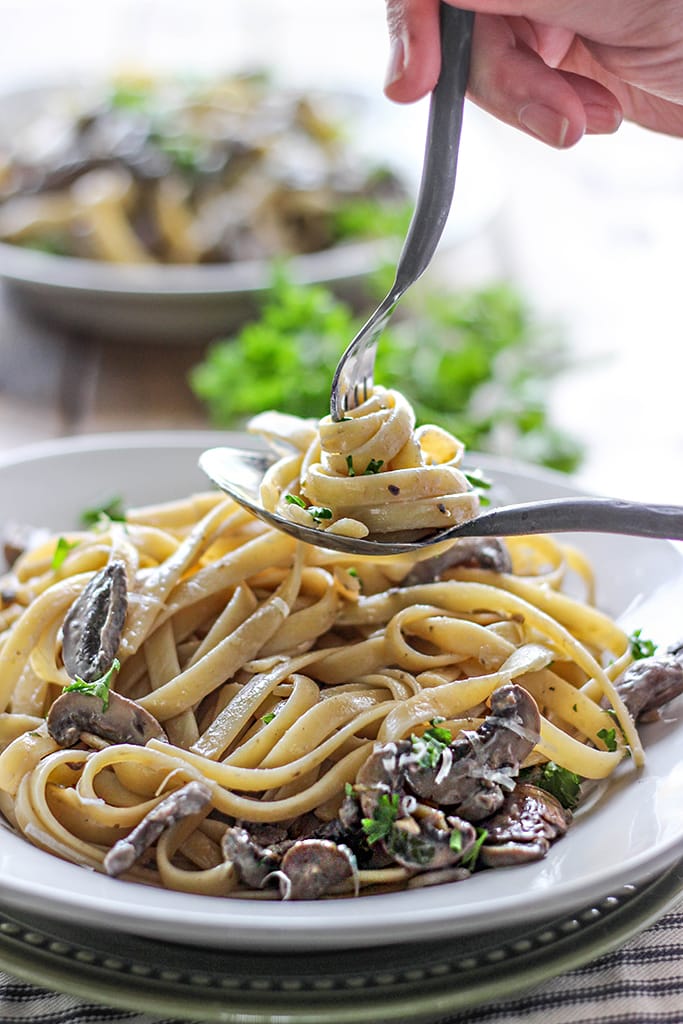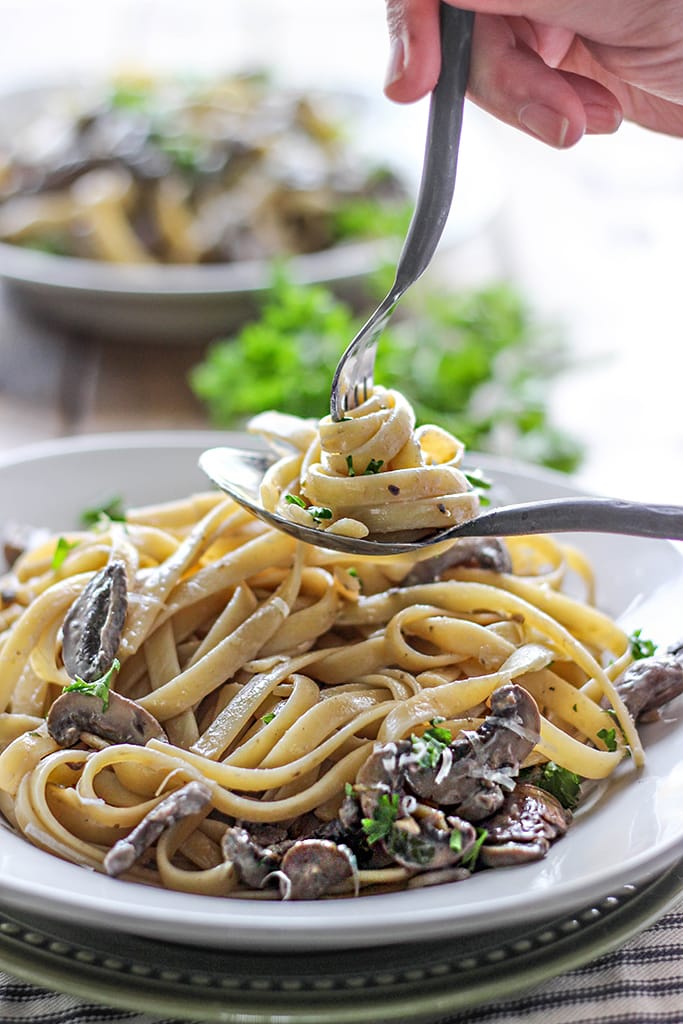 And that's it! Happy cooking! Enjoy digging in and your pasta. For sides, try out some garlic bread or garlic knots or a simple salad.
MORE VEGETABLE PASTA RECIPES TO TRY
Did you make this recipe? Rate it!
♡ If you liked this recipe, giving it a star rating ★★★★★ in the comments below really helps! For more recipes, subscribe to my newsletter or follow me on Facebook, Instagram and Pinterest.
Print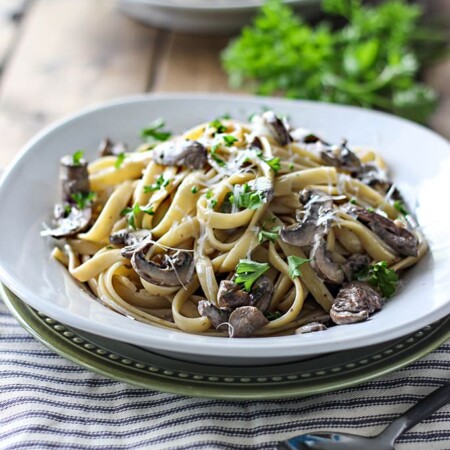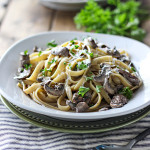 Mushroom Alfredo
---
Author:
Total Time: 30 mins
Yield: 2 1x
Description
Hearty, earthy and meaty. This delicious and creamy mushroom Alfredo with fettuccine is the perfect dinner for two pasta lovers.
---
1/2 lb. fettuccine, cooked al dente
2 tablespoons butter
1 teaspoon garlic, minced
16 oz. portobello mushrooms, sliced
1/2 tablespoon balsamic vinegar
1 tablespoon fresh parsley, chopped
1/4 teaspoon dried thyme
1/4 teaspoon dried sage
1/3 cup white wine (optional)
1/2 cup heavy cream
1/2 cup chicken/vegetable broth
1/2 cup Parmesan cheese, freshly grated
Salt and pepper to taste
---
Instructions
In a dutch oven over medium-high heat, melt the butter and sauté garlic and mushrooms until the mushrooms cook down and the liquid evaporates, about 5-7 minutes.
Add balsamic vinegar and sprinkle with parsley.
Season with thyme and sage.
Pour in wine (optional), heavy cream, chicken broth, Parmesan cheese, and salt and pepper to taste.
Stir to mix and simmer until sauce has thickened, about 8 minutes.
Add in cooked pasta and toss to coat in the sauce well.
Dish and serve hot sprinkled with more fresh parsley and Parmesan cheese.
Enjoy!
Prep Time: 10 mins
Cook Time: 20 mins