This tortellini Alfredo spinach casserole has all the comfort you need and it's easily made with a couple of store-bought ingredients!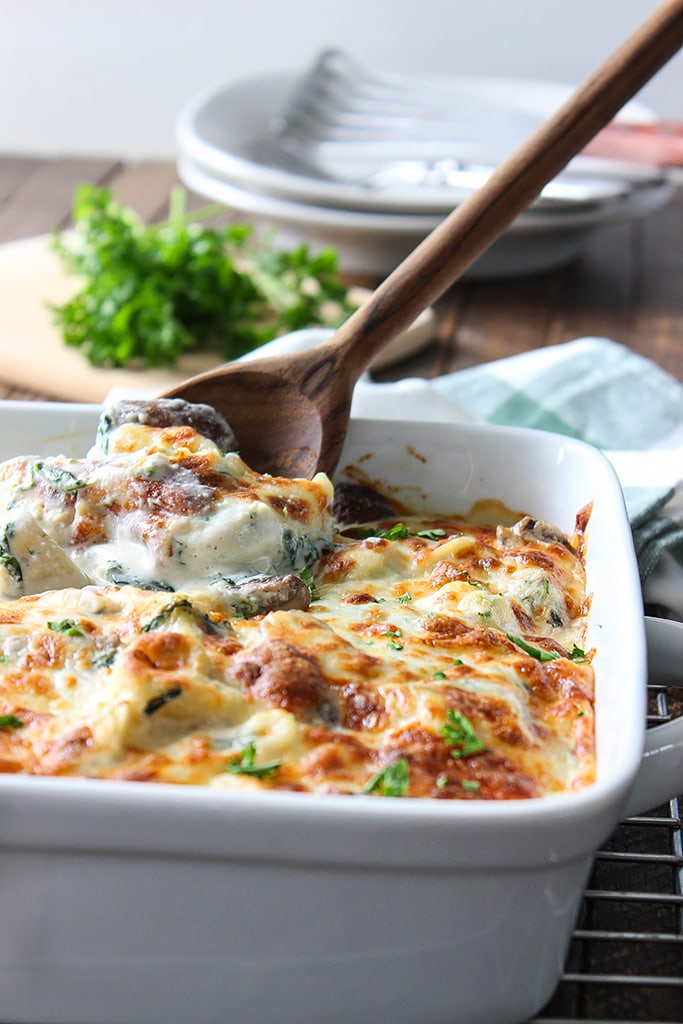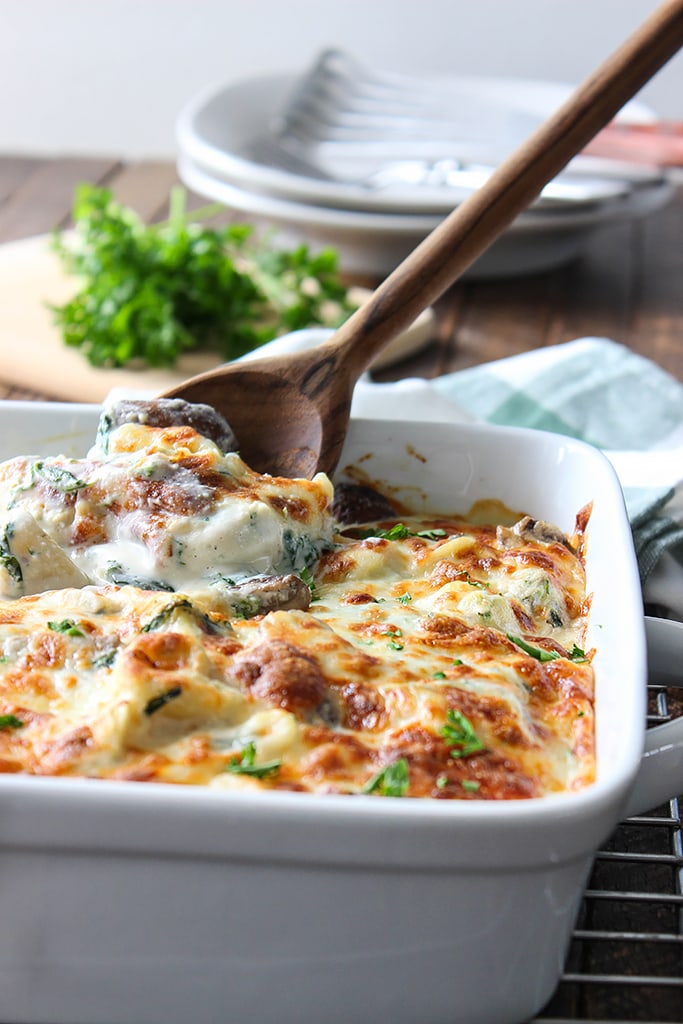 I know I've done a ton of pasta-related stuff lately. For those that don't follow the blog regularly, I've been posting spinach and three cheese manicotti and lasagna roll-ups. But they're so good for these upcoming cold days and everyone loves a good Alfredo.
So today I've tweaked my chicken Alfredo pasta bake to make it more vegetarian friendly and for those who love tortellini. The great thing about this variation is you can skip the cooking time for the pasta because you don't have to cook the tortellini beforehand.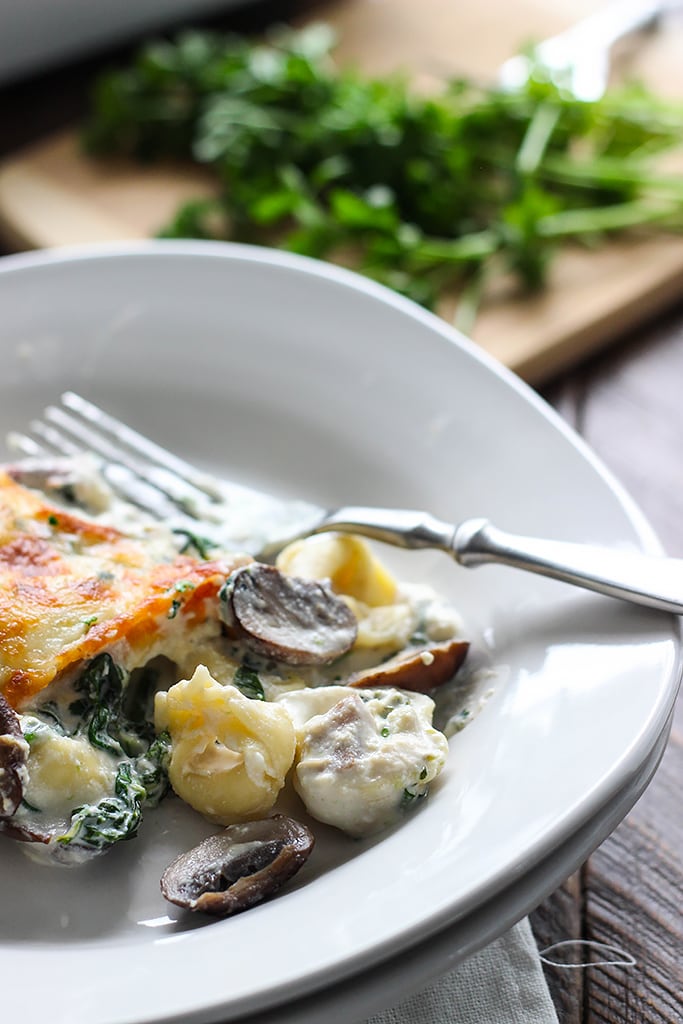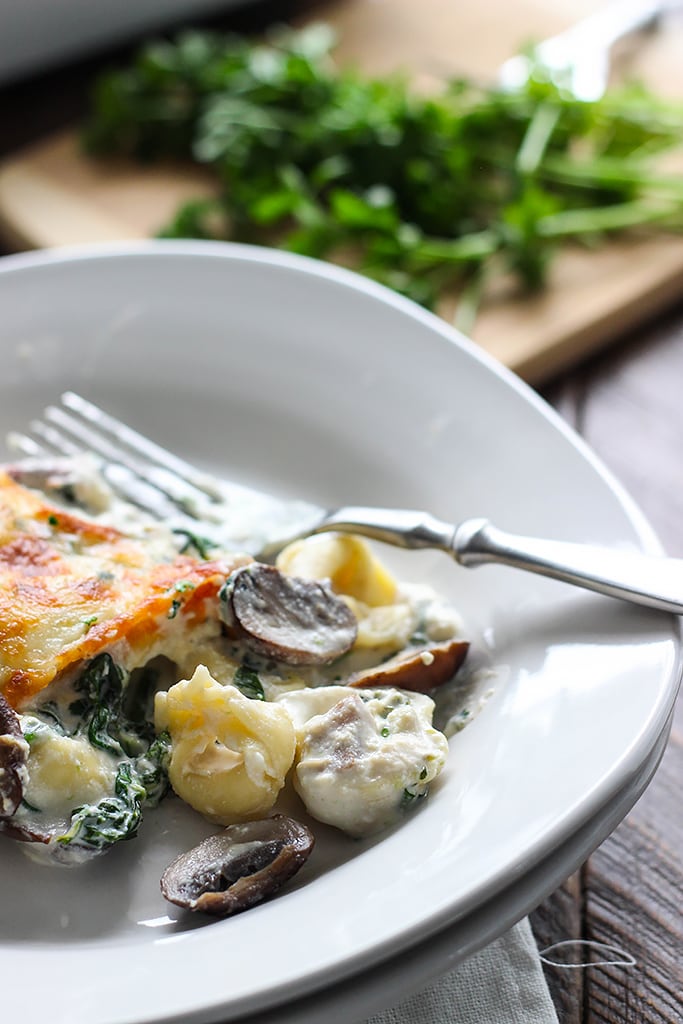 This tortellini Alfredo spinach casserole has spinach, tons of meaty, baby portabella mushrooms and a ton of melty, creamy cheese. Smothered in a creamy Alfredo sauce mixed with ricotta cheese and topped with a mozzarella cheesy top, this casserole should comfortably feed about 8-10 people.
It's super, super-rich, so have a light side ready to balance it out! The best part about this bubbly, warm casserole is all you need to make it are simple, store-bought ingredients. No fancy pasta makers or 20-minutes of sauce making. Let's start cooking.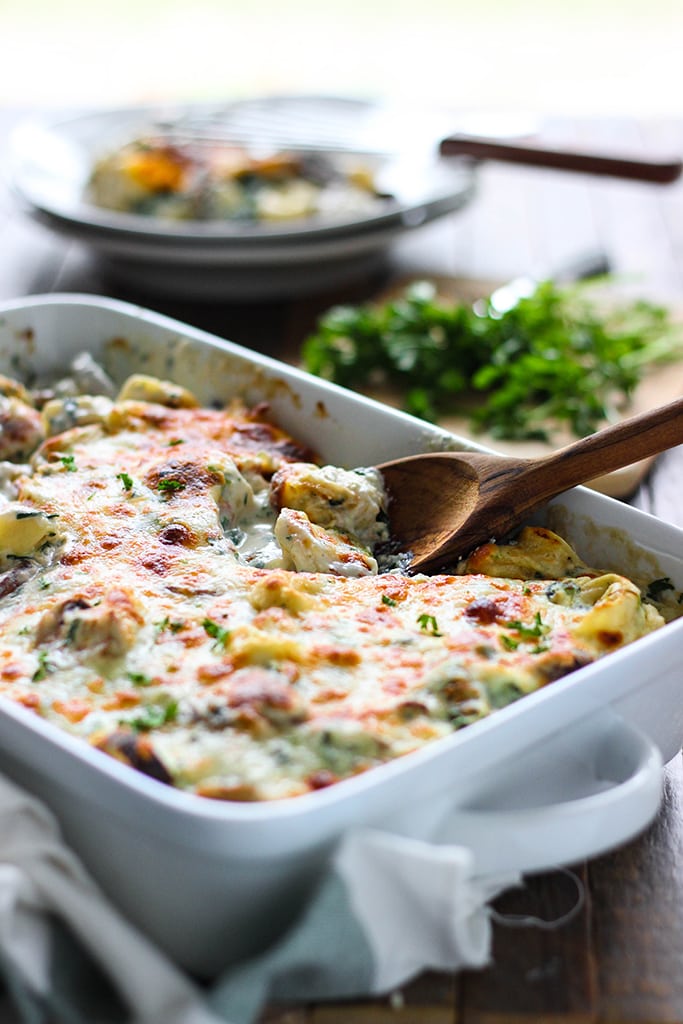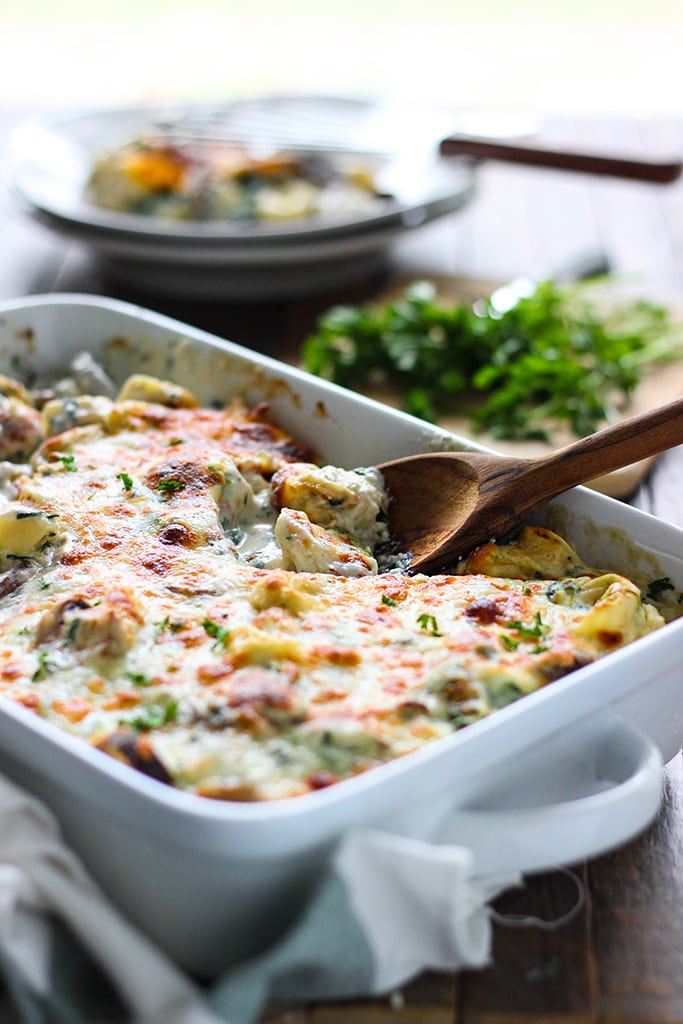 TORTELLINI ALFREDO SPINACH CASSEROLE RECIPE TIPS
This was the first time I've played around with frozen tortellini and the package said 4 minutes was all it took to cook. So applying the same no-boil concept I used with my spinach and artichoke ravioli bake, I decided it had plenty of time to cook in the oven and did not need pre-boiling. You'll want a bag of frozen ravioli, which I found pretty easily in the frozen section. Thaw it just a little in the fridge so they don't stick together.
Cook the frozen spinach in the microwave and while you're doing that, start chopping the mushrooms. It'll look like a lot of mushrooms but don't worry. They'll cook down and shrink in size along the way, leaving plenty of room for the pasta.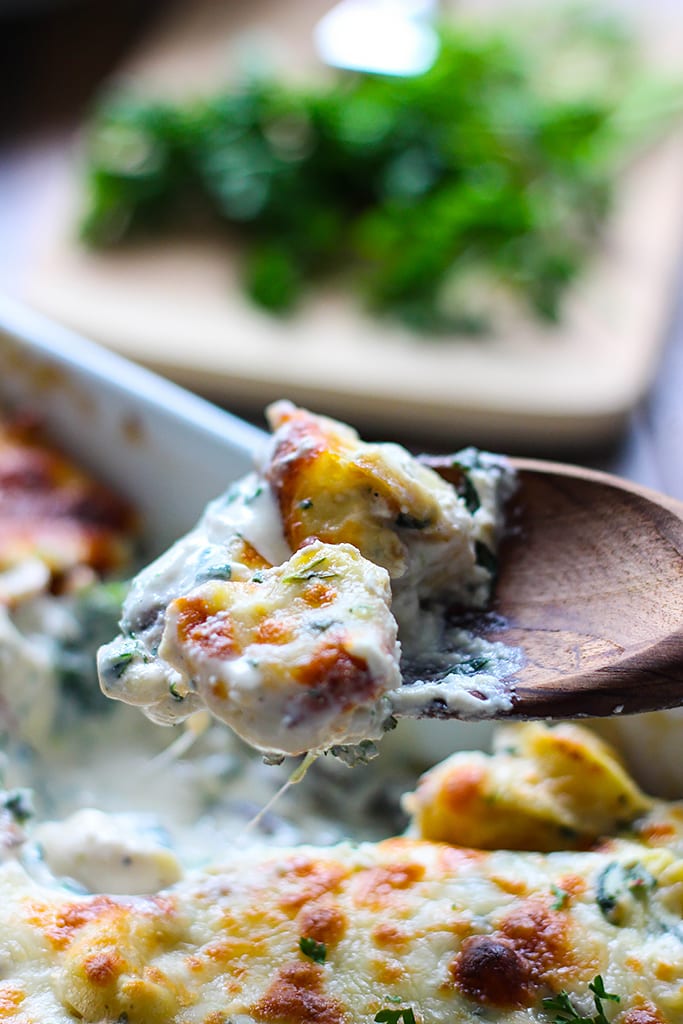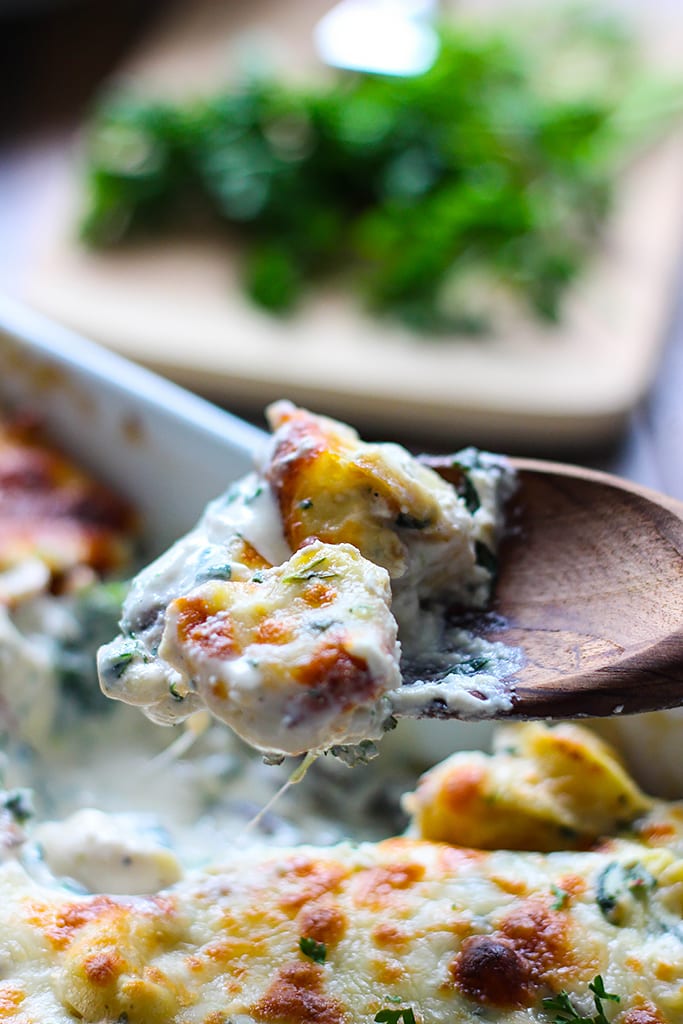 We'll be sauteing the mushrooms on the stove beforehand because they tend to release some liquid once cooked and we don't want that diluting the casserole. It's the same reason we'll use a mesh strainer or something similar to squeeze out as much liquid from the cooked spinach as possible. Long story short: excess liquid = bad!
It's easy from here on out. Mix the slightly thawed tortellini with the Alfredo sauce (you can use store-bought or make your own) and add the cooked mushrooms and spinach and some sour cream. Season it too. You probably won't need much salt because the Alfredo sauce will take care of that.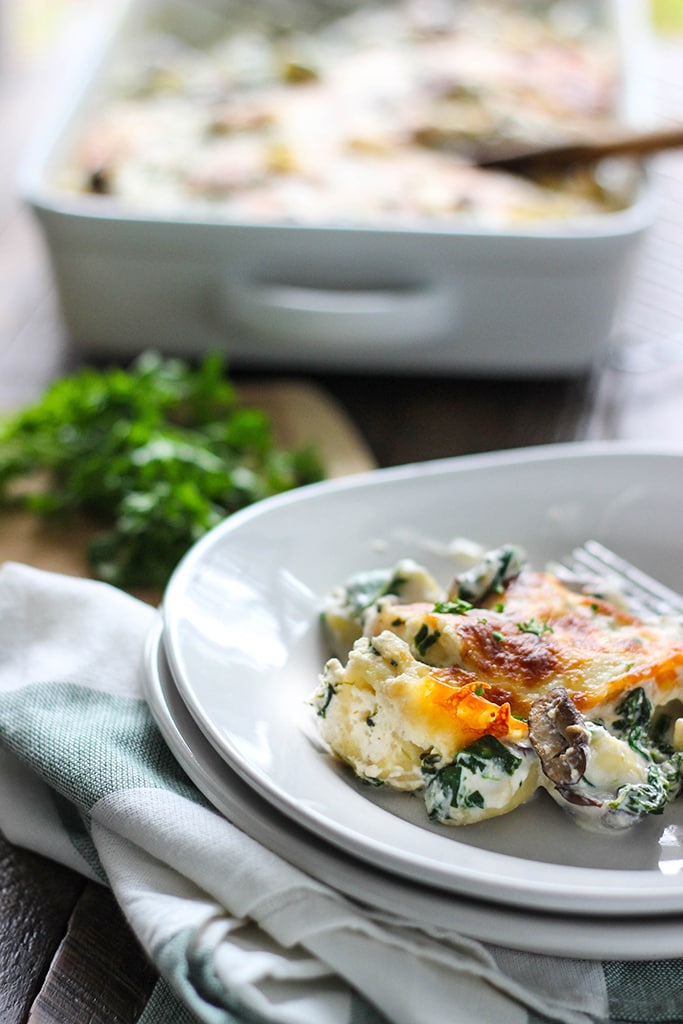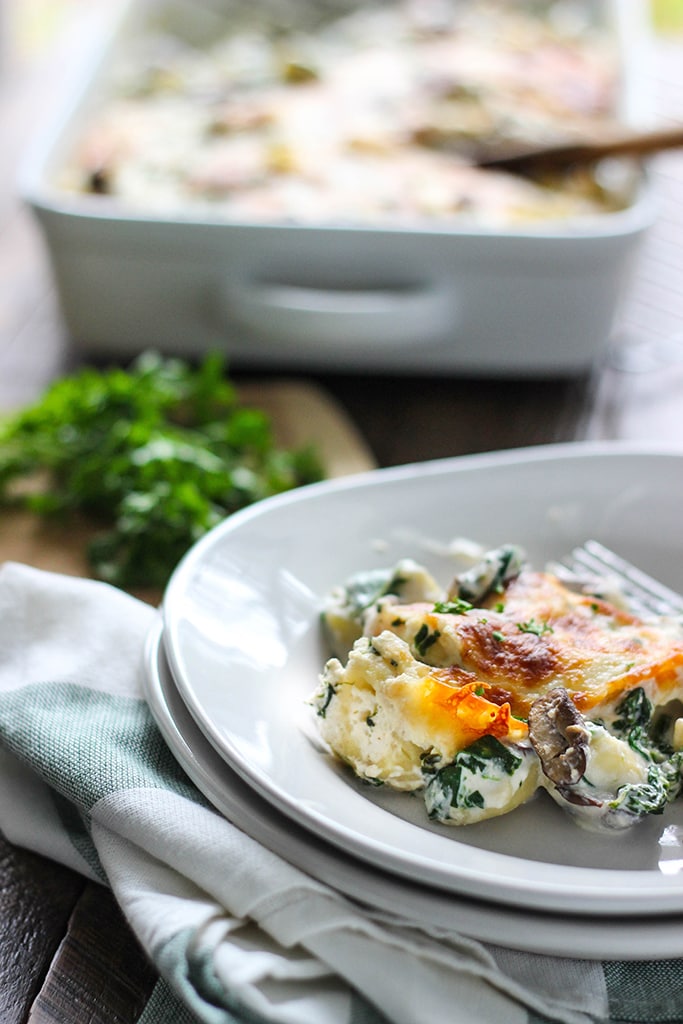 Then we make the ricotta mix with good quality ricotta cheese (I used the Galbani brand it makes a HUGE difference!), garlic, egg, Parmesan and parsley. Then we mix the ricotta mixture with the tortellini mixture. It'll make squishy, cheesy noises and you'll start feeling guilty but that's okay. Once in a while, right? Not every day!
Pour the pasta mixture into a 9×13 casserole dish and top with mozzarella cheese. You don't need to cover this while baking so just bake it for 30 minutes or so and get the cheese on top to brown by finishing off with a quick broil on the top rack.
Once that's done, it's ready to serve. Happy eating and let me know how you liked it in the comments below.
MORE VEGETABLE PASTA RECIPES TO TRY
Did you make this recipe? Rate it!
♡ If you liked this recipe, giving it a star rating ★★★★★ in the comments below really helps! For more recipes, subscribe to my newsletter or follow me on Facebook, Instagram and Pinterest.
Print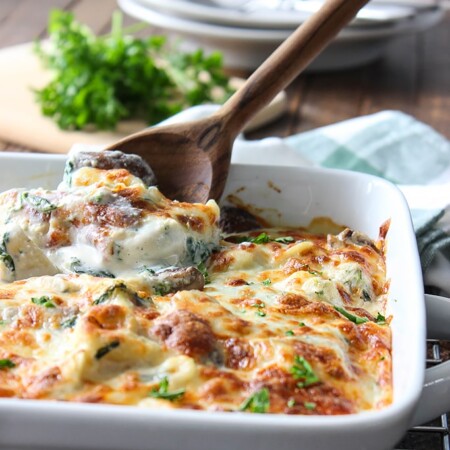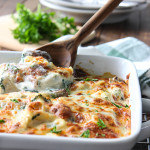 Tortellini Alfredo Spinach Casserole
---
Author:
Total Time: 50 mins
Yield: 8–10 1x
Description
This tortellini Alfredo spinach casserole has all the comfort you need and it's easily made with a couple of store-bought ingredients!
---
19 oz. frozen cheese tortellini
10 oz. frozen chopped spinach
16 oz. baby Bella mushrooms, cleaned and sliced
1 1/2 cups Alfredo sauce
8 oz. sour cream
15 oz. ricotta cheese
1 teaspoon garlic, minced
1 large egg, beaten
1/4 cup Parmesan cheese, shredded
1 tablespoon fresh parsley, chopped
Salt and pepper to taste
1 1/2 cups mozzarella cheese, shredded
---
Instructions
Cook the spinach according to package directions and drain any excess liquid.
Meanwhile, saute mushrooms in some oil over medium-high heat until mushrooms cook down, about 5 minutes. Drain any excess liquid.
Mix the frozen tortellini with Alfredo sauce, cooked mushrooms and spinach, sour cream and salt and pepper to taste.
Combine ricotta, garlic, egg, Parmesan and parsley and mix thoroughly.
Add the ricotta mixture to the tortellini mix and stir to combine.
Place pasta in a 9×13 casserole dish and top with mozzarella cheese.
Bake at 350°F for 30 minutes or until bubbly.
Broil at 450°F for 2-3 minutes or until cheese starts to brown.
Dish and serve hot.
Prep Time: 15 mins
Cook Time: 35 mins