Lasagna roll ups serve all the flavors of a classic lasagna into delicious individual-sized portions that are easier and less time-consuming to make.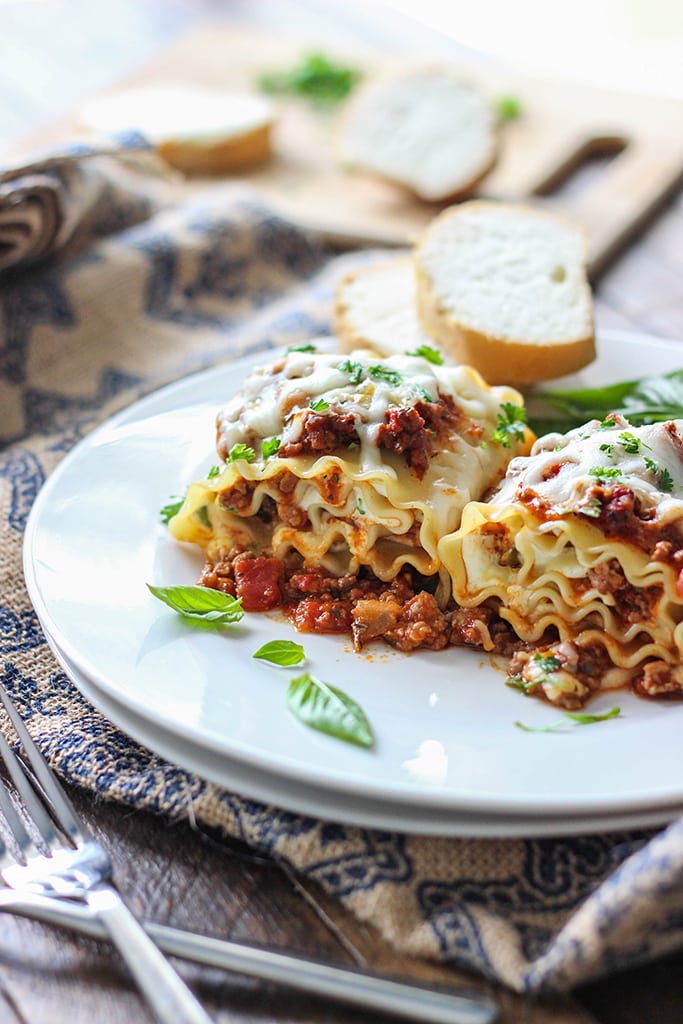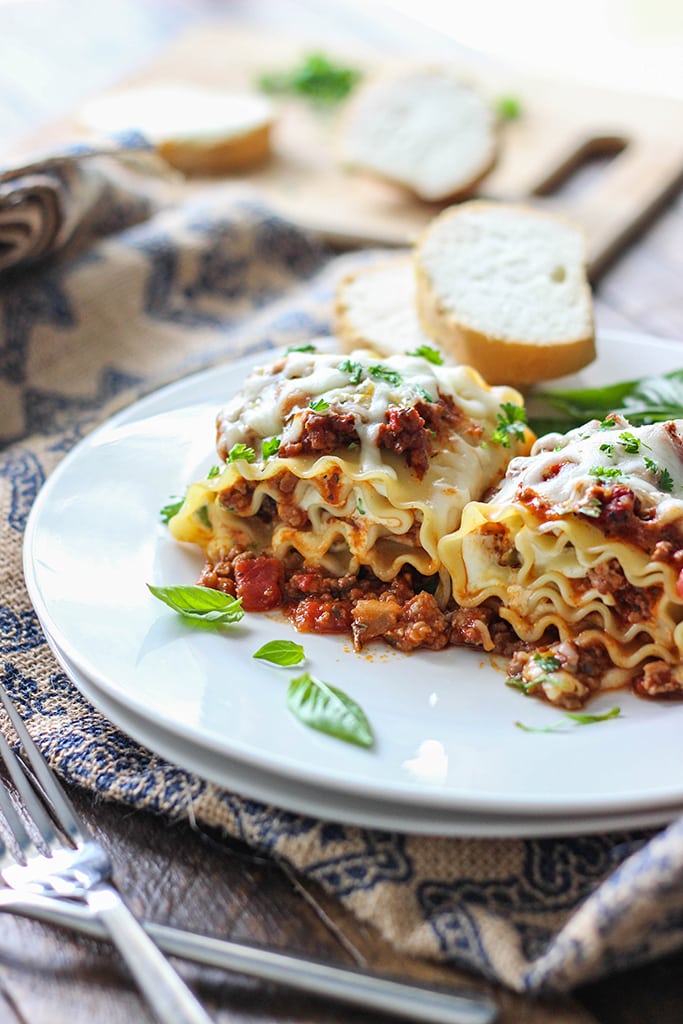 Today we're making some meaty and cheesy lasagna roll ups which are a fun twist on the classic lasagna, without the hassle and time-consuming process. They are easier to make, bake faster and you don't need to focus on complicated lasagna layers. It's a great way to enjoy all the classic much-loved flavors of a traditional lasagna without spending hours making it.
These roll ups are fancy enough for date night but also great for a casual weeknight dinner with the family. They're deliciously stuffed with a ground beef and Italian sausage homemade meat sauce topped with a cheesy layer of ricotta, mozzarella and Parmesan cheese, then smothered with even more of the rustic meat sauce. These fun little roll ups are great for portion control, freezes well, and can be made ahead of time.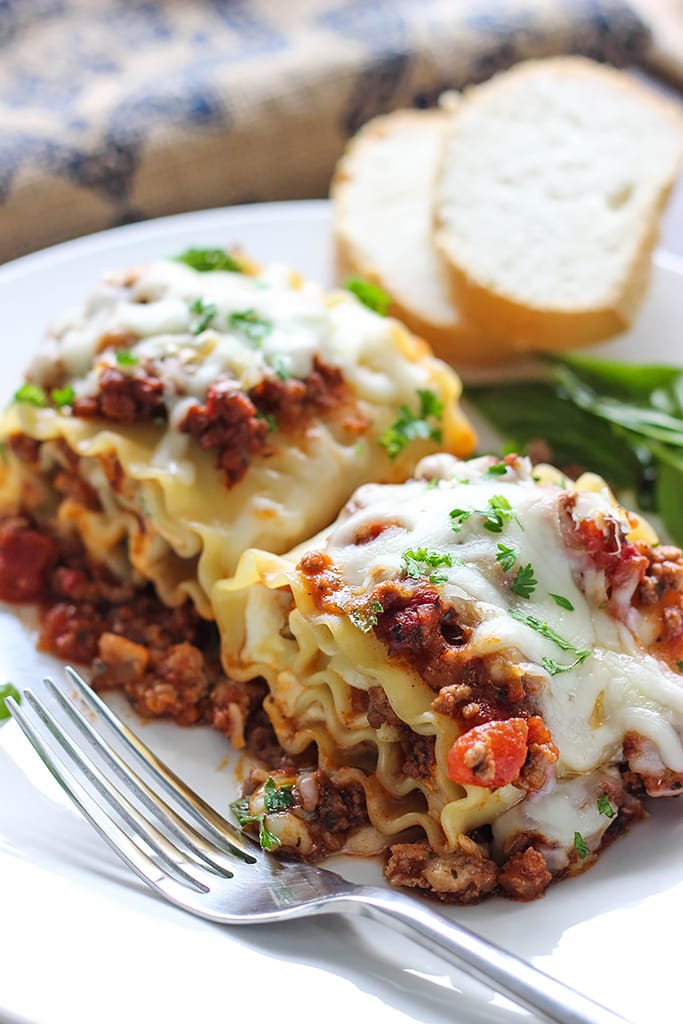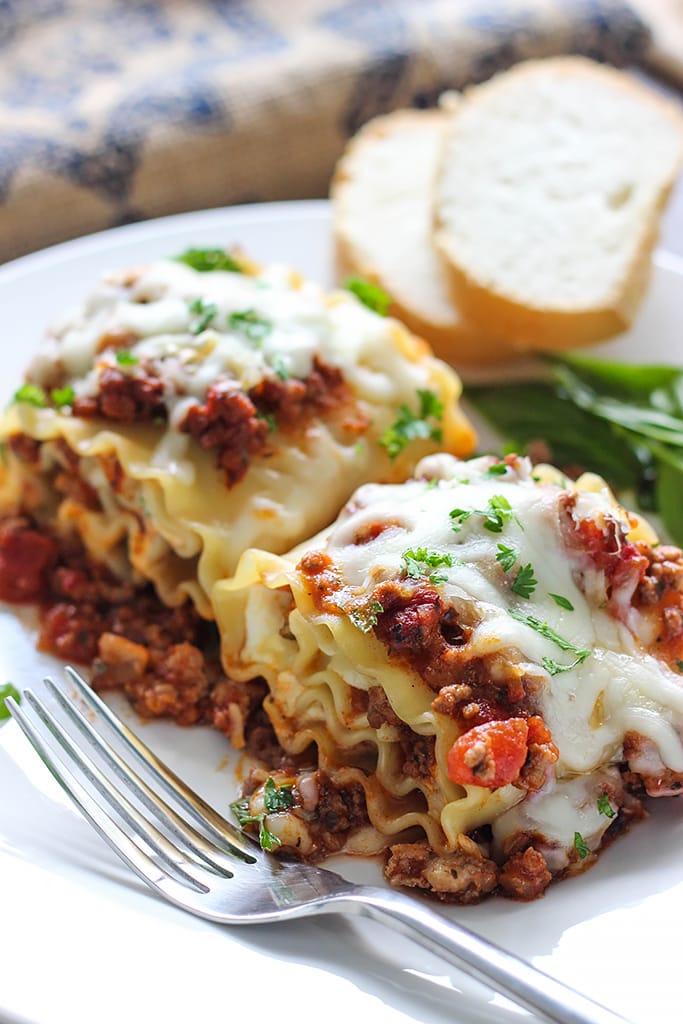 Serve with some homemade garlic bread or garlic knots for a starter and dig in! For more Italian-inspired dinners, try out this spinach and three cheese manicotti, homemade spaghetti sauce, creamy sun-dried tomato and spinach pasta, meatball pasta bake, or some slow cooker spaghetti bolognese. Let's start cooking!
LASAGNA ROLL UPS RECIPE TIPS
Start by boiling the lasagna noodles according to the package directions. I used a little olive oil in the water to stop the noodles from sticking together while cooking. My biggest fear throughout the whole thing was having noodles clump up together or break apart while trying to separate them. A little bit of oil in the water and a quick rinse under cold water later should take care of this. While the noodles are cooking, we can start making the meat mixture.
Brown the ground beef and Italian sausage in a non-stick pan over medium-high heat. You'll want to break up any clumps so you have a nice smooth sauce. I've come to rely on a meat smasher to do this. Once it's cooked, remove any rendered fat and remove the beef mixture from the pan.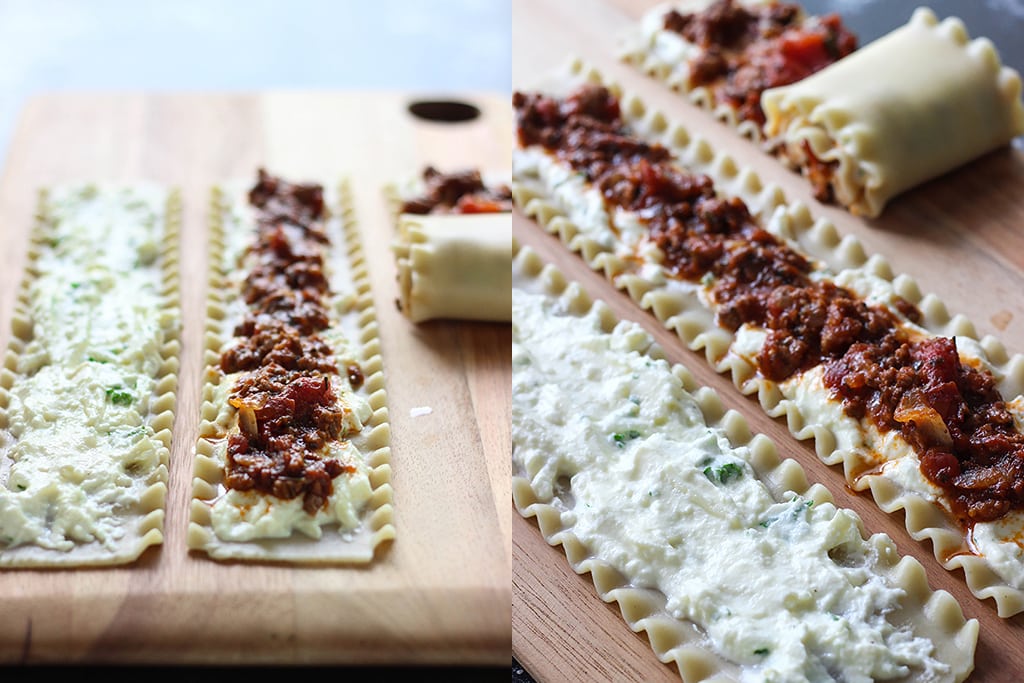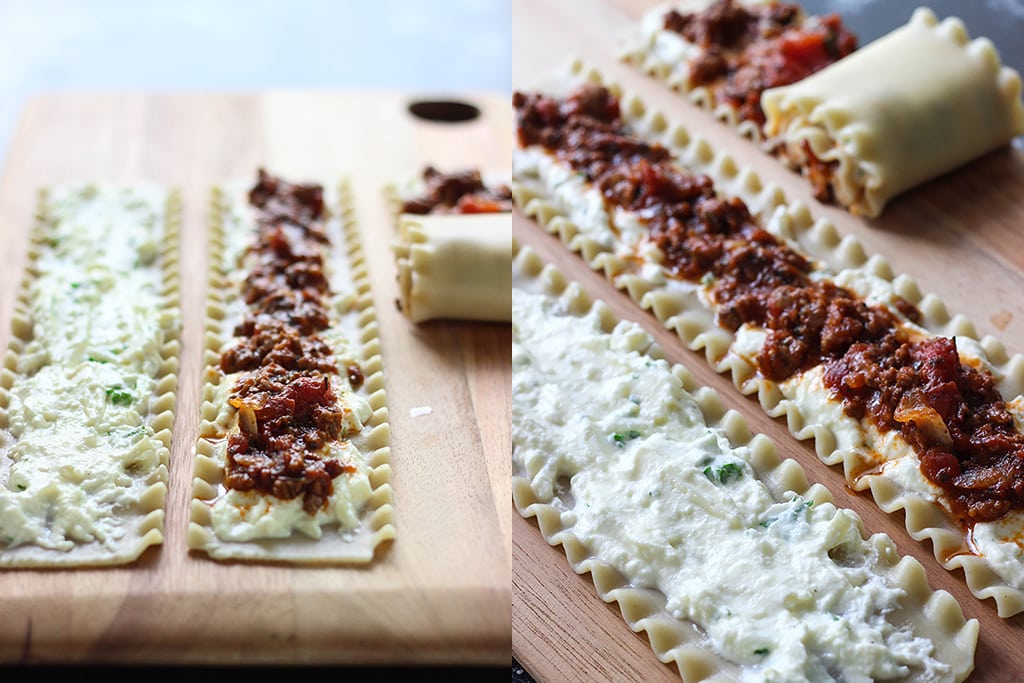 Saute your onions and garlic until translucent and add the meat back into the pan. Add your marinara sauce, stewed tomatoes, seasonings, Worcestershire sauce, beef bouillon cube, sugar and salt and pepper to taste. I like to add a little sugar to my marinara sauce to balance out the acidity of the tomatoes. Make sure to break up the tomatoes in the sauce as well.
Do a taste test and adjust the seasoning to your liking then lower the heat and let the meat sauce simmer while you start the ricotta mixture. I'd like to stress that you shouldn't skimp on good quality ricotta cheese as it can make or break a lasagna. Get some good ricotta! Combine all the ingredients in the cheese mixture and set aside.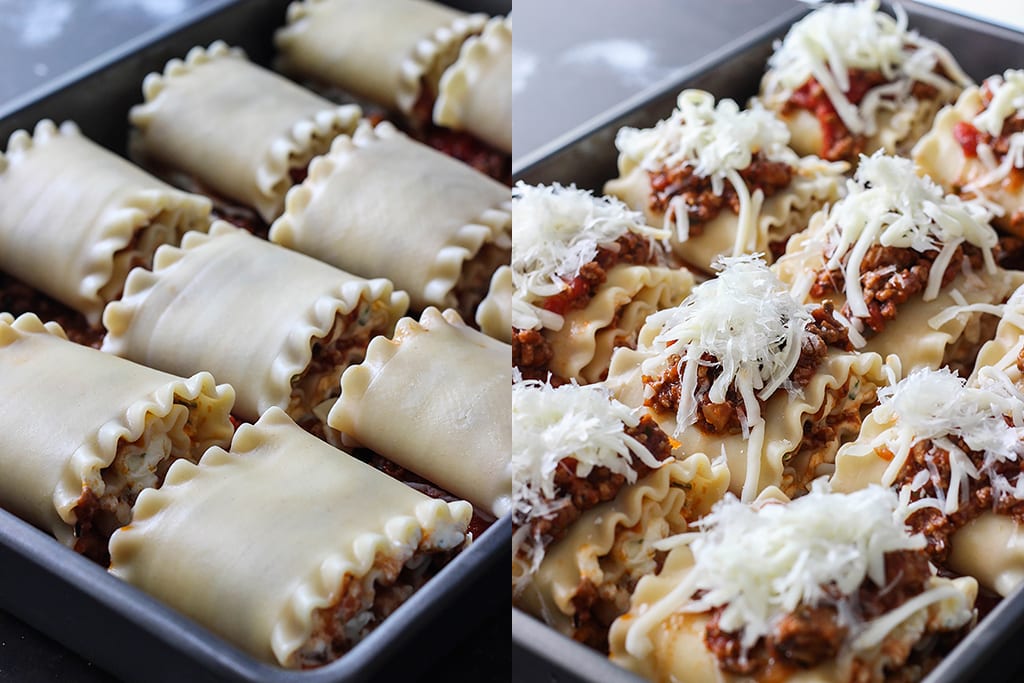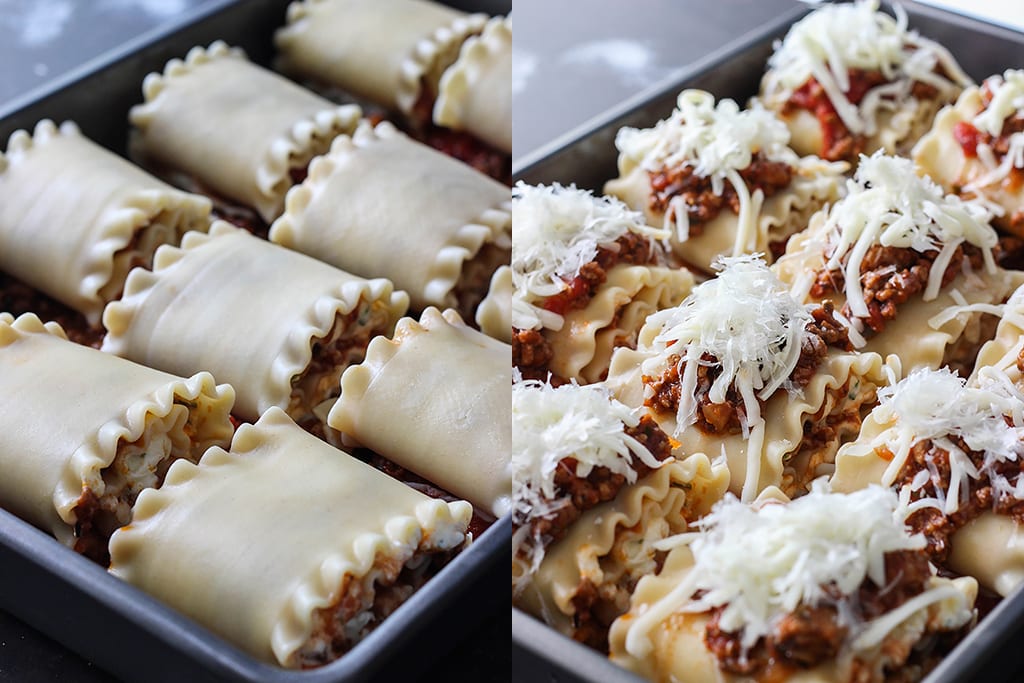 By now, your noodles should be cooked. Drain them and rinse them under cold water. Rinsing them will stop them from sticking together and also stop the cooking process which works out great since it will cook more in the oven and you don't want soggy noodles.
After rinsing, I used a paper towel-lined plate to line up three noodles, covered it with another paper towel and lined up three more noodles until they were all stacked. I found this the best way to stop them from sticking together while preserving precious counter space.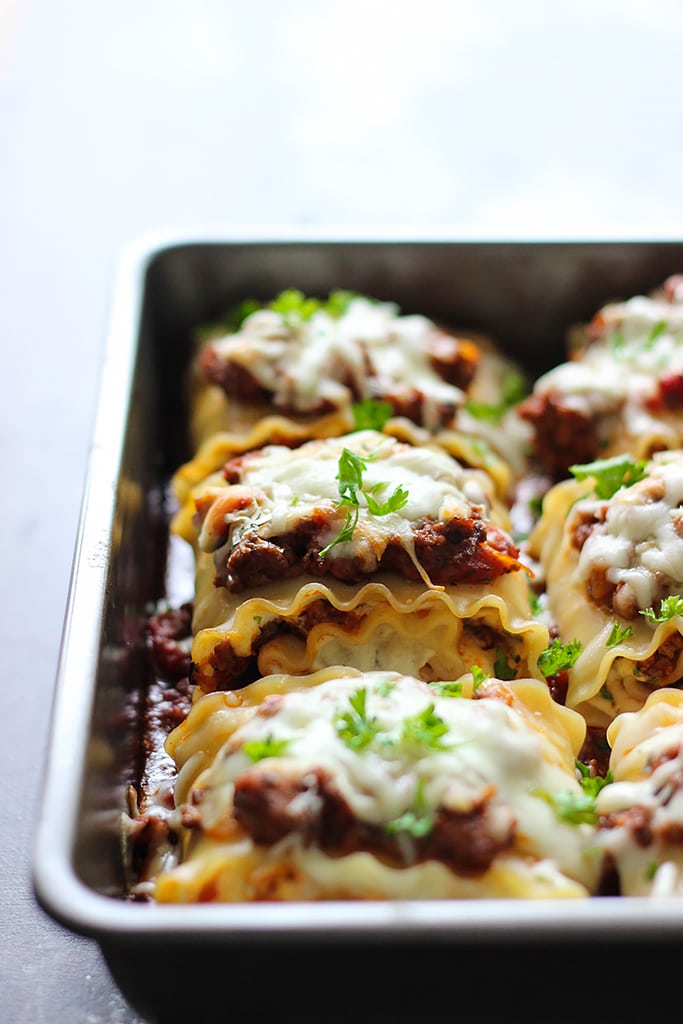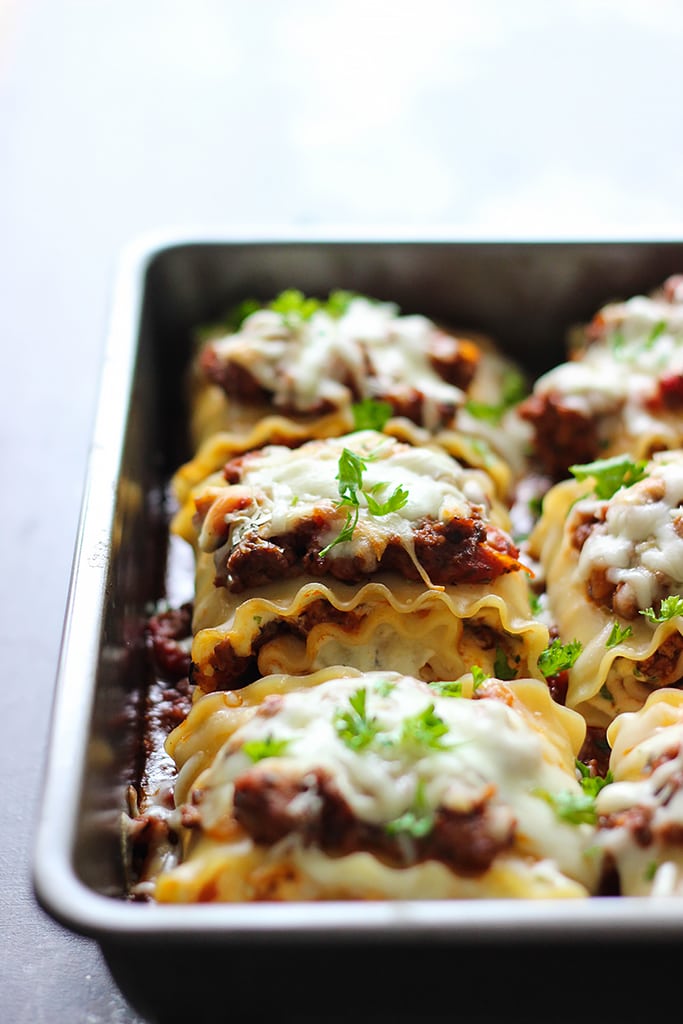 Here's where we'll start rolling. I lined up three noodles on a chopping board and prepped them in batches of three. Spread a thin layer of the cheese mixture on each lasagna noodle from end to end. You should allot about 1/4 cup of the cheese mixture to each noodle. It was easier to use the back of a spoon to spread them out. Then top with about two tablespoons of the meat sauce. Spread them out again from end to end.
Make sure not to overstuff the noodles as the fillings will spill out from the sides once you roll. One thing I found out was to focus more of the filling on the first half of the noodles where you'll start rolling. Rolling them up will end up spreading the filling towards the end of the noodle so it all works out. Just remember to roll them up gently and don't apply too much pressure.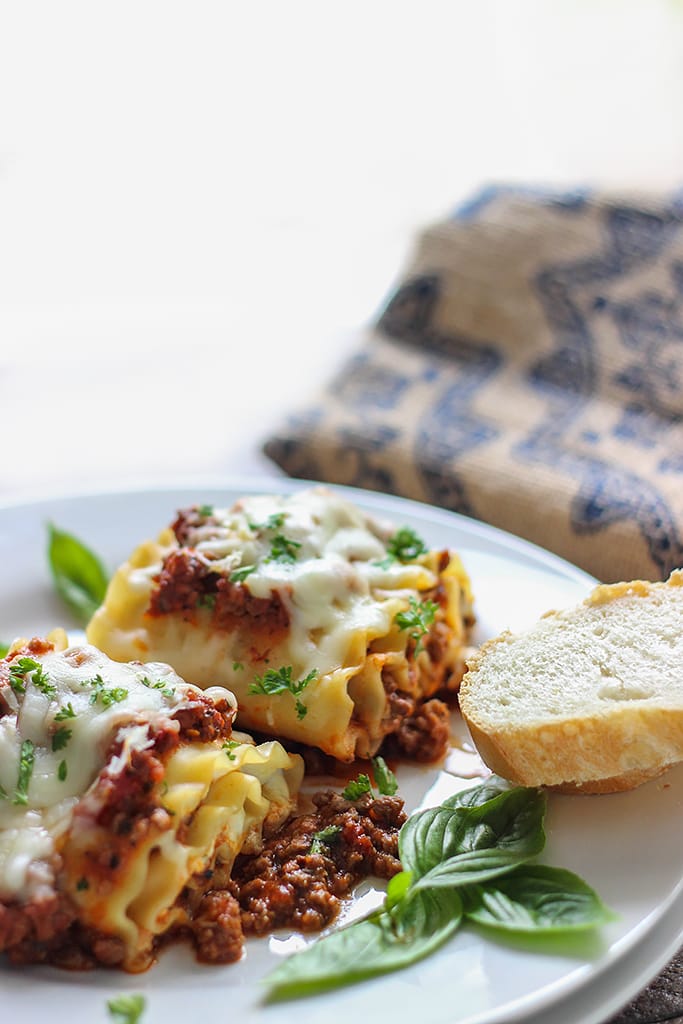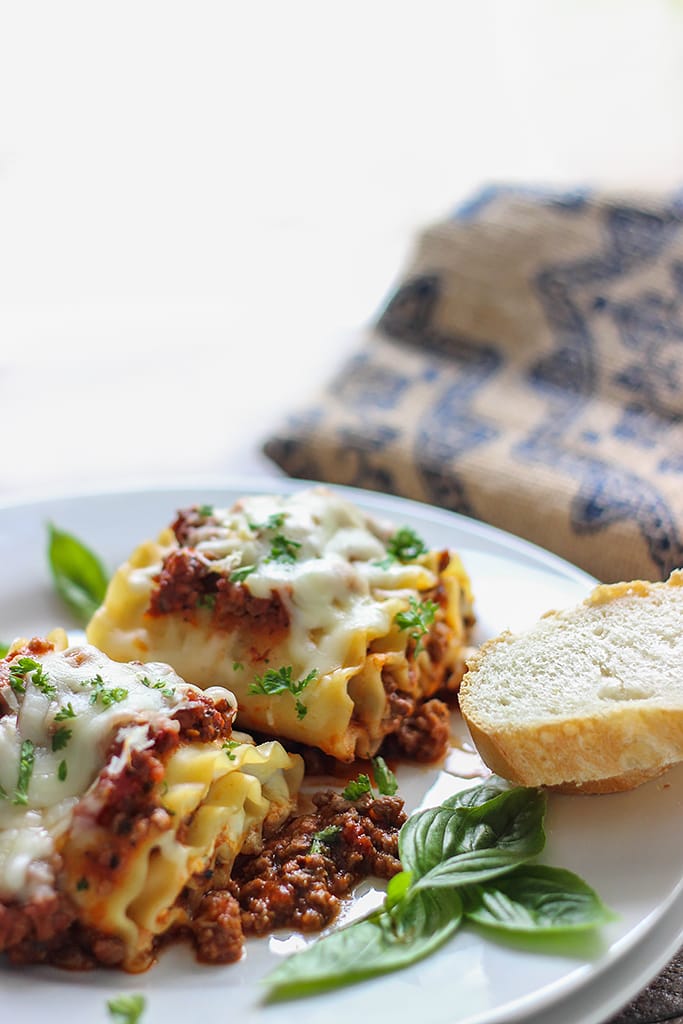 It's okay if you're messy, I made mine super neat so folks could see what they were getting instead of having big red blobs of food. Also, follow the natural way the lasagna wants to roll with how much stuffing it has and don't force them into super tight rolls.
All 12 roll ups should fit nicely in a standard-sized baking pan. I tried fitting them into a 9×13 casserole dish but it was way too tight. Spread two cups of the meat sauce on the bottom of the pan and then arrange your rolled up lasagna noodles seam side down. I ended up having rows of three-by-fours. Top each noodle with the remaining meat sauce, it should be about one tablespoon per noodle. Then finish up with leftover mozzarella and Parmesan cheese spread out among the noodles. Feel free to add more cheese on top if you want an even cheesier layer.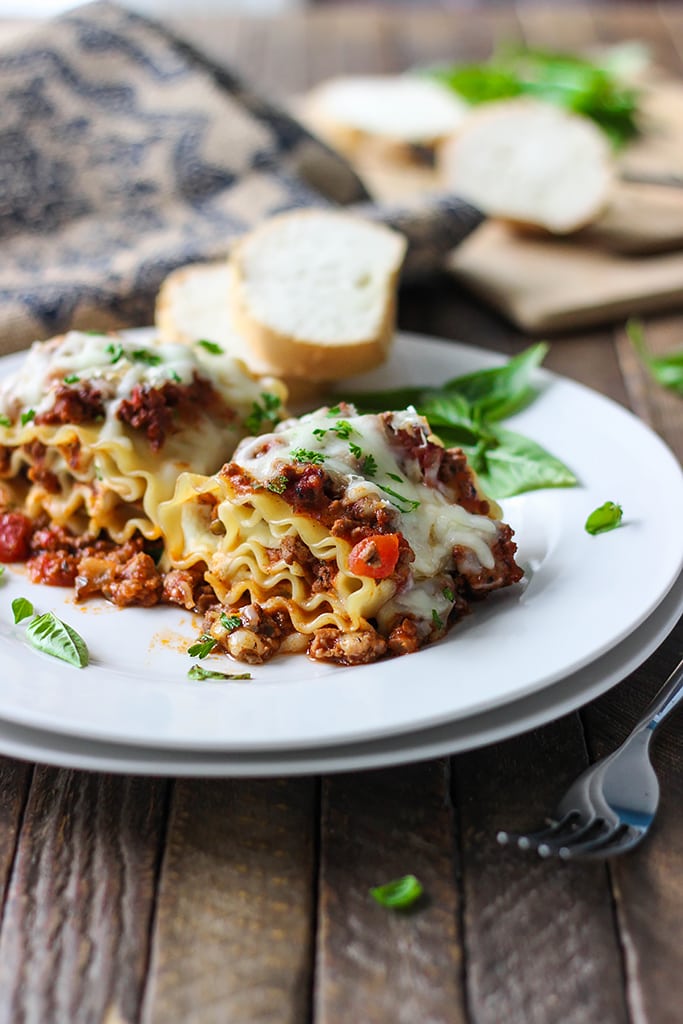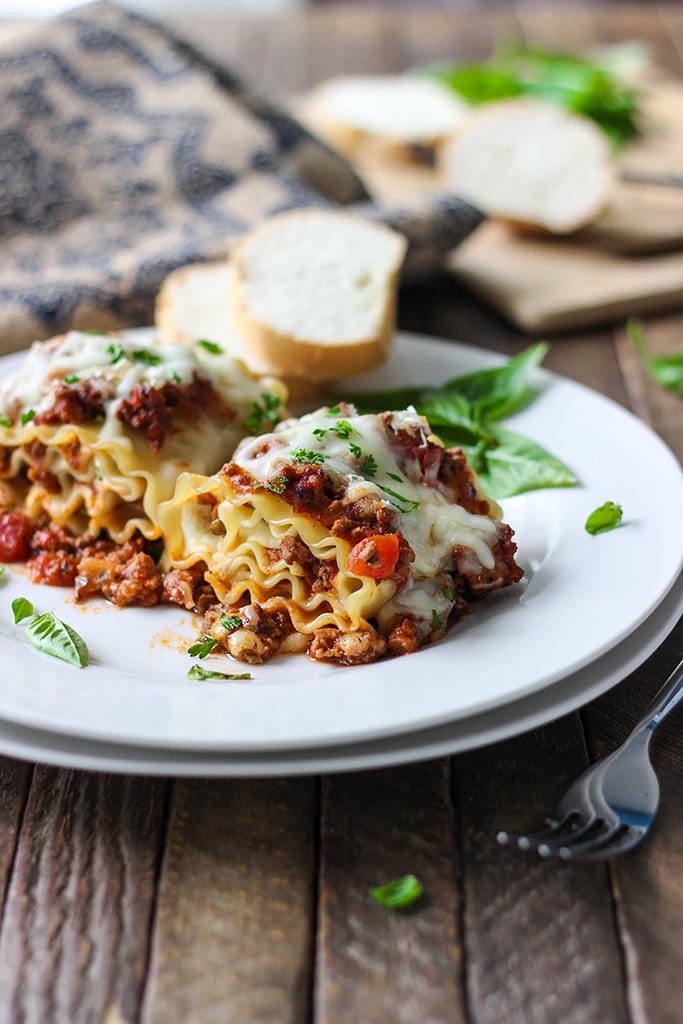 Bake it uncovered at 350 degrees F for 30 minutes and you're pretty much done. Serve them hot with some garlic knots and a salad!
PS: I've combined the quantity of cheese needed under 'cheese mixture' so you can add it easily to your shopping list. But take note that the mozzarella and Parmesan cheese are divided. Only some of it goes in the actual cheese mixture and the remainder is used to top the noodles before baking.
MORE PASTA RECIPES TO TRY
Did you make this recipe? Rate it!
♡ If you liked this recipe, giving it a star rating ★★★★★ in the comments below really helps! For more recipes, subscribe to my newsletter or follow me on Facebook, Instagram and Pinterest.
Print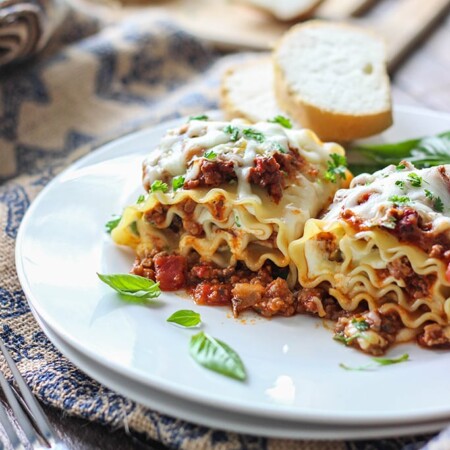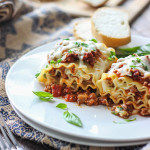 Lasagna Roll Ups
---
Author:
Total Time: 1 hour
Yield: 12 roll ups 1x
Description
Lasagna roll ups has all the flavors of a classic lasagna served in delicious individual-sized portions that are quicker and easier to make.
---
12 lasagna noodles, cooked al dente
MEAT SAUCE
1 lb. ground beef
1/2 lb. ground Italian sausage
1/2 medium yellow onion, diced
2 cloves garlic, minced
1 (24 oz.) jar marinara sauce
1 (15 oz.) can stewed tomatoes
1 tablespoon Italian seasoning
1 teaspoon red pepper flakes
1 tablespoon Worcestershire sauce
1 beef bouillon cube
2 tablespoons sugar
Salt and pepper to taste
CHEESE MIXTURE
15 oz. ricotta cheese
1 large egg, beaten
2 1/2 cups mozzarella cheese, shredded and divided
1 cup Parmesan cheese, shredded and divided
2 tablespoons fresh parsley, chopped
Salt and pepper to taste
---
Instructions
Over medium-high heat in a Dutch oven, brown the beef and Italian sausage until cooked, breaking up any clumps. Drain any fat, remove meat and set it aside.
In the same pot, saute onions and garlic in some oil until soft, about one minute. Add meat back into the pot.
Pour in marinara sauce and add stewed tomatoes, seasonings, crumbled beef bouillon cube, sugar, salt and pepper to taste. Stir to combine and break up the stewed tomatoes. Lower heat to medium-low and simmer. 
Mix ricotta cheese, egg, 1 cup mozzarella cheese, 1/2 cup Parmesan cheese, parsley and salt and pepper to taste in a large mixing bowl.
Make your roll ups by evenly spreading 1/4 cup of the cheese mixture from end to end of each cooked lasagna noodle.
Top with 2 tablespoons of the meat sauce spread evenly onto each lasagna noodle. Roll each noodle up gently taking care not to apply too much pressure so you don't squeeze out the filling.
Spread 2 cups of meat sauce in an even layer in a baking pan and gently arrange roll ups, seam side down. Cover each noodle with remaining meat sauce, about 1 tablespoon per noodle.
Top noodles with the remaining 1 1/2 cups of mozzarella cheese and 1/2 cup of Parmesan cheese and bake at 350°F for 30 minutes.
Dish and serve hot with sides like homemade garlic bread or garlic knots.
Enjoy!
Notes
Scroll up to RECIPE TIPS for more useful tips, suggestions and ingredient substitutions.
Prep Time: 20 mins
Cook Time: 40 mins