Get into full spring mode with this creamy sun-dried tomato and spinach pasta! Easy and ready in 30 minutes.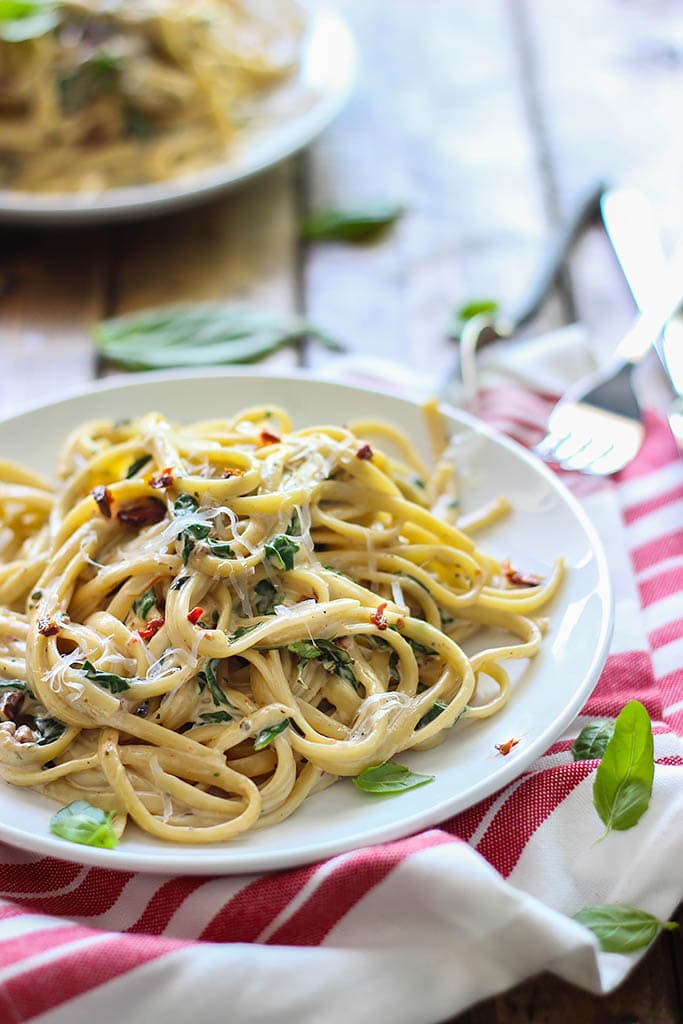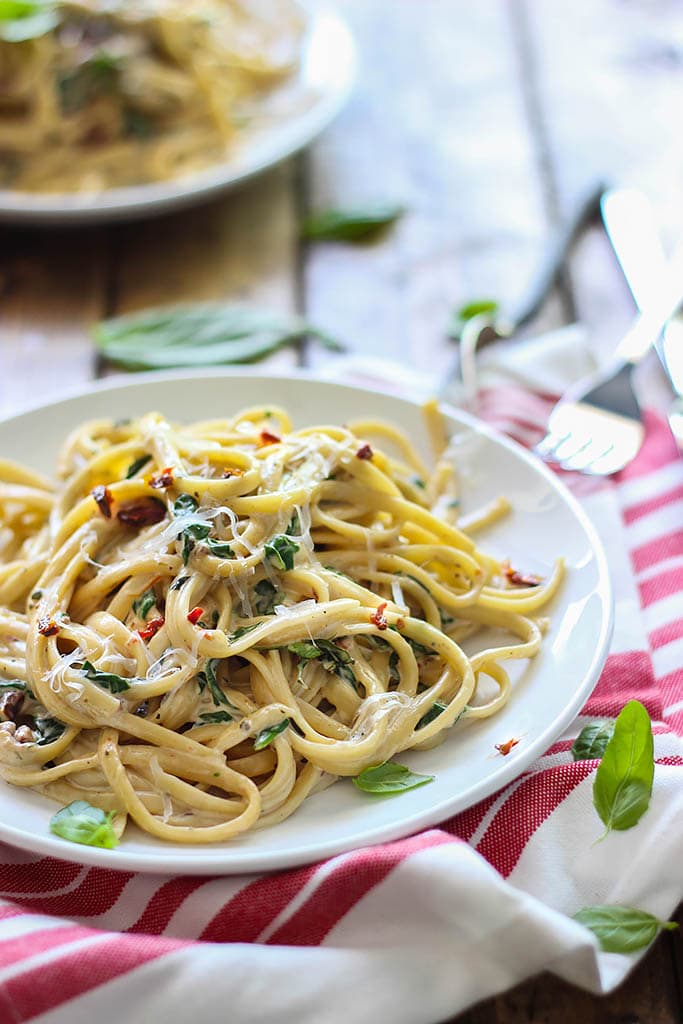 Spring is here and it seems the right time to bring this creamy pasta to the table. It has sun-dried tomatoes and lots of fresh baby spinach but this creamy vegetarian pasta is anything but boring!
So today we're making a creamy sun-dried and tomato spinach pasta full of fresh, vibrant ingredients. This recipe is a fun one, just in time for sunshine and happy times. Let's start cooking.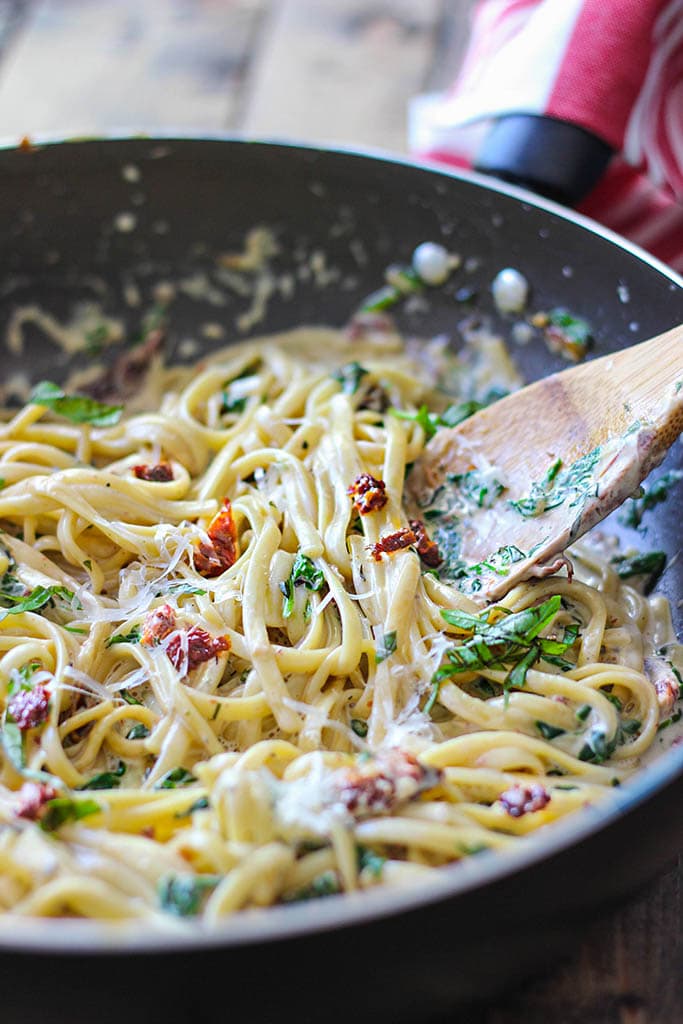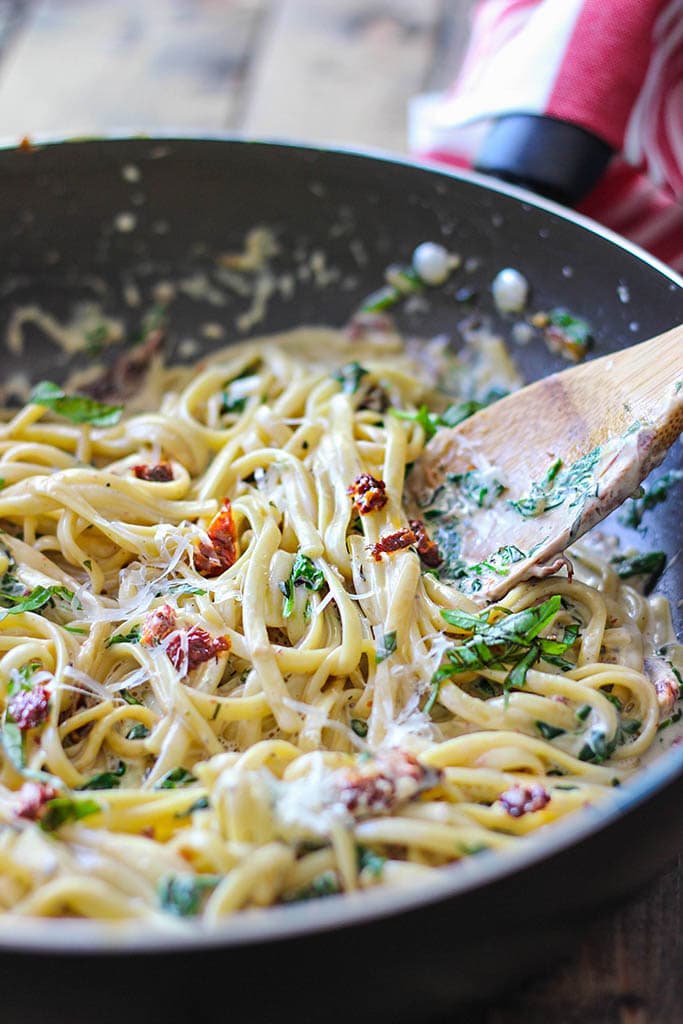 CREAMY SUN-DRIED TOMATO AND SPINACH PASTA RECIPE TIPS
Now you can use just about any pasta you want, I just happened to want linguine for mine. Spaghetti, fettuccine, ziti, rigatoni, whatever you like. Just use half a pound of it, which is usually half a box.
I used julienne cut sun-dried tomatoes in oil. Drain the oil and chop them up some more so they stretch well in the pasta. Once you start sauteing it, you'll get this lovely aroma. So stick your nose close to the pan so you don't miss it 😉 I used about half a cup of chopped sun-dried tomatoes but if you want to add more, feel free. Get it to your taste, this recipe is very versatile.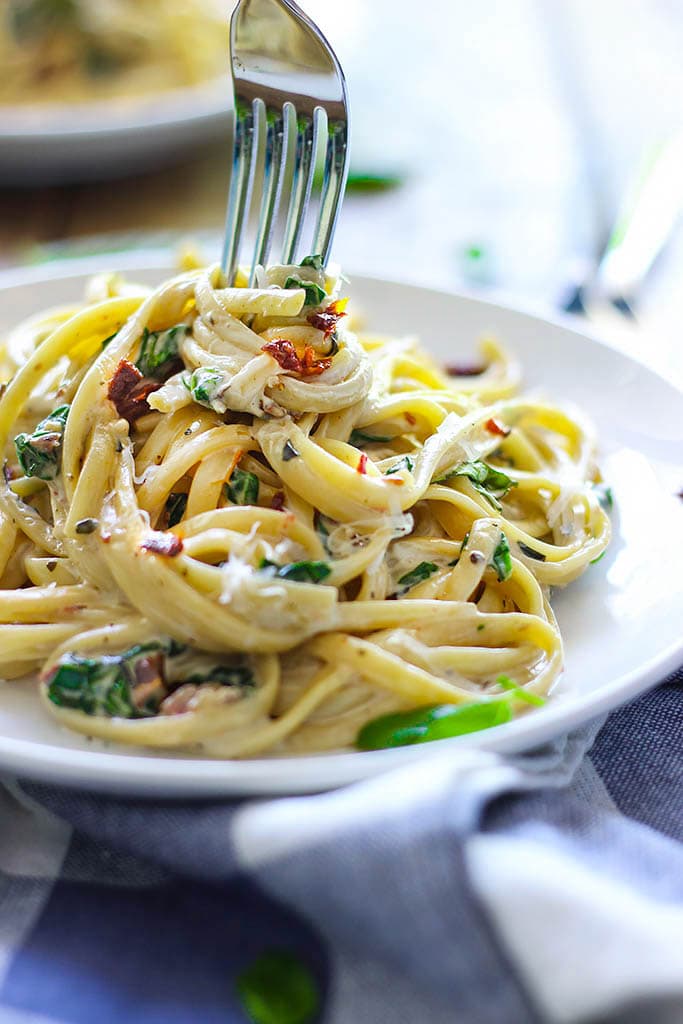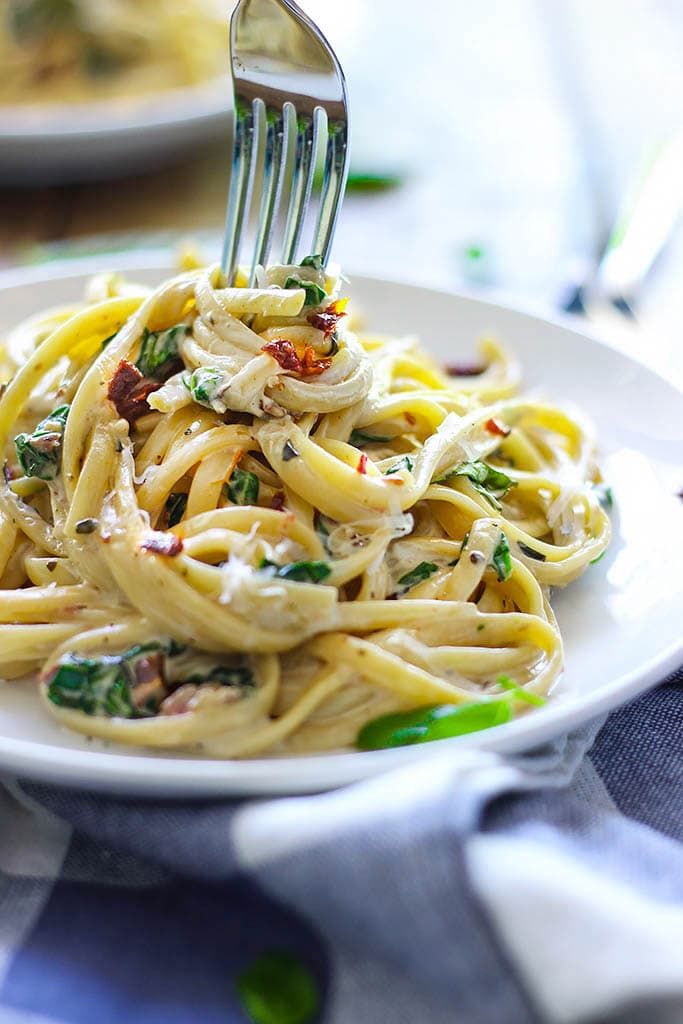 Reserve some pasta water, we'll use that to add some volume to the cream sauce which is mostly just heavy cream and freshly grated Parmesan cheese. Call it a pseudo-Alfredo sauce if you will.
I roughly chopped up the baby spinach to make it easier to cook since we're adding it in last. Don't worry about the water content, the baby spinach doesn't seem to add much of that so your pasta sauce won't be watered down.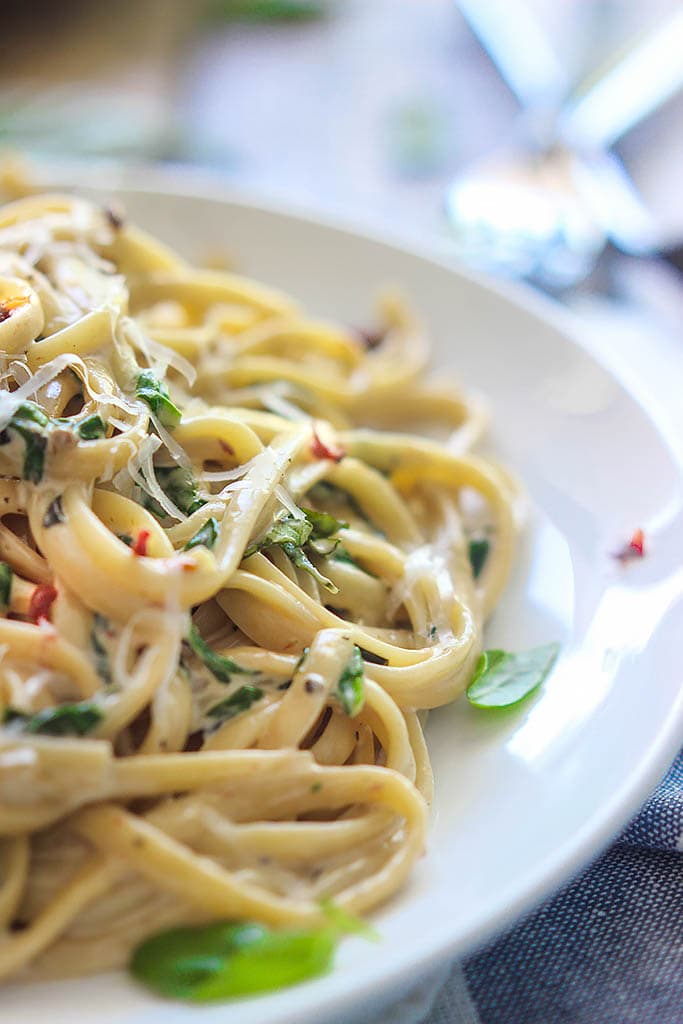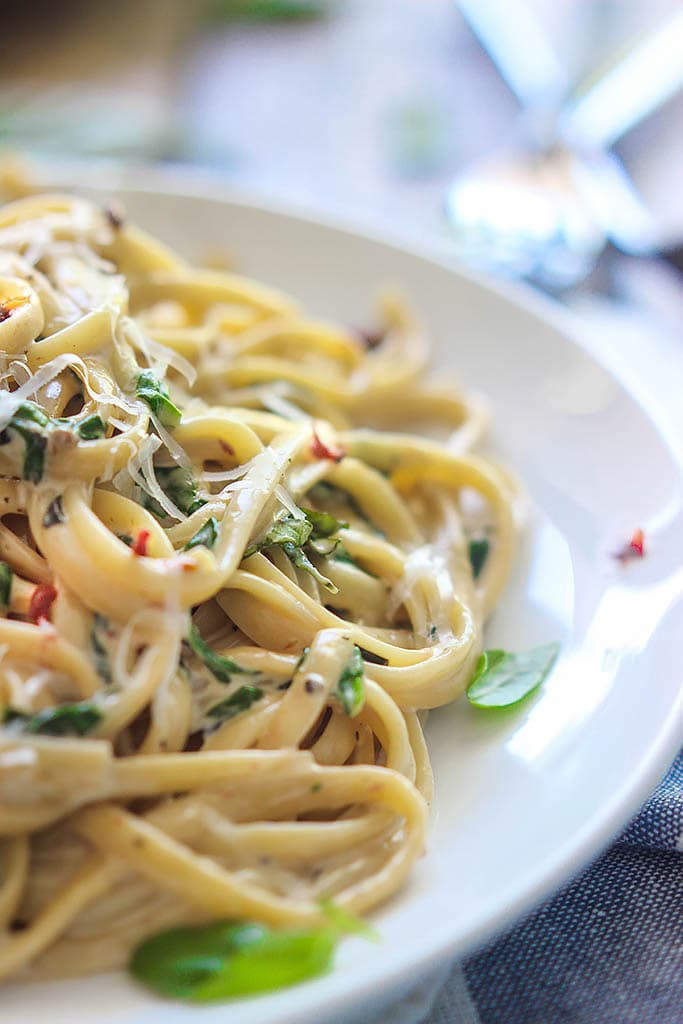 As usual, I'll stress on using freshly grated Parmesan cheese so it melts smoothly into the cream sauce. The pre-shredded stuff just won't melt as beautifully. So buy a block of Parmesan and use any grater you have handy. I love my microplane for stuff like this. It makes grating so much easier. I used to hate grating stuff on my box grater, but not anymore!
We'll also be adding some fresh basil for a true Italian flavor and some Italian seasoning. If you want a little kick, there's also the option to add in some red pepper flakes.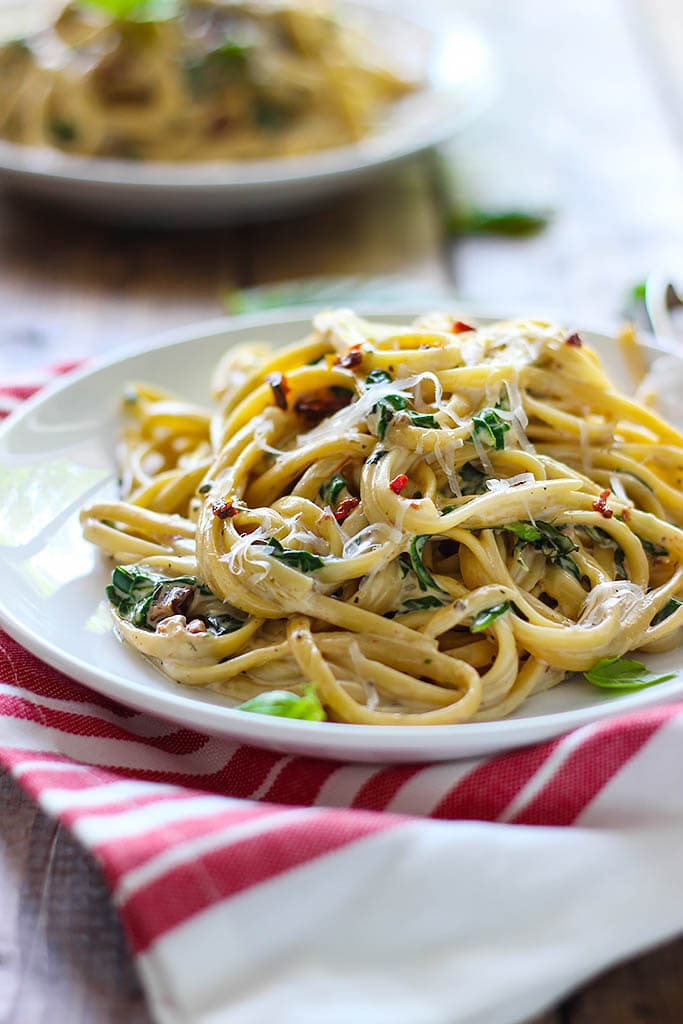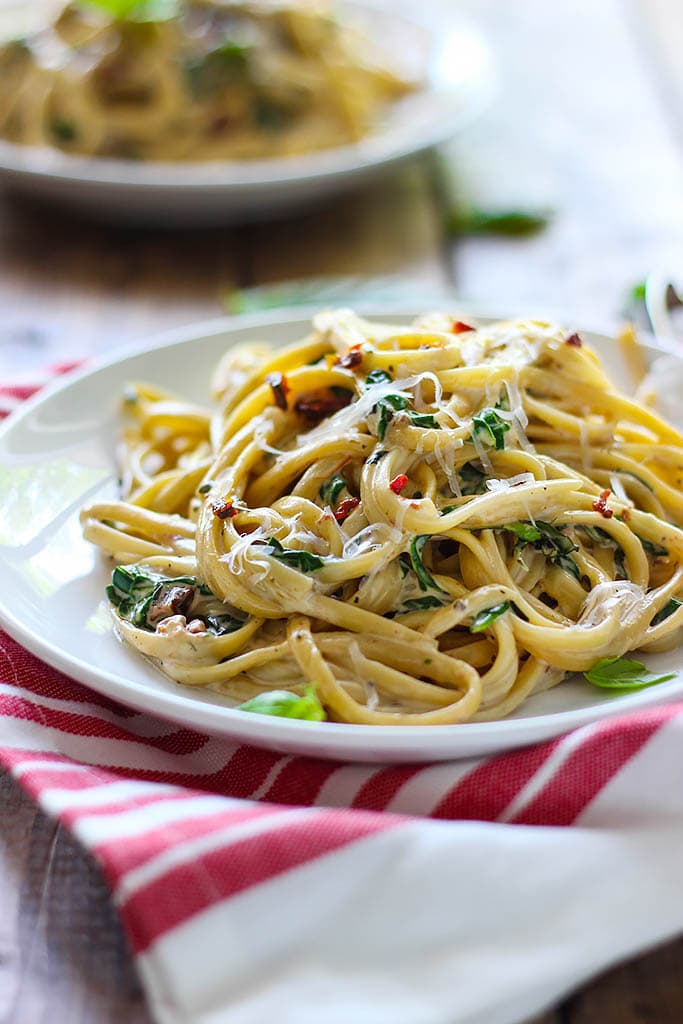 This is a vegetarian pasta but if you want to convert it to non-vegetarian try some creamy Tuscan chicken pasta, Tuscan sausage pasta, or this creamy garlic Tuscan shrimp.
And that's all there is to it. Happy cooking! Let me know how you liked it, what substitutions you made and what you paired it with in the comments below!
MORE VEGETABLE PASTA RECIPES TO TRY
Did you make this recipe? Rate it!
♡ If you liked this recipe, giving it a star rating ★★★★★ in the comments below really helps! For more recipes, subscribe to my newsletter or follow me on Facebook, Instagram and Pinterest.
Print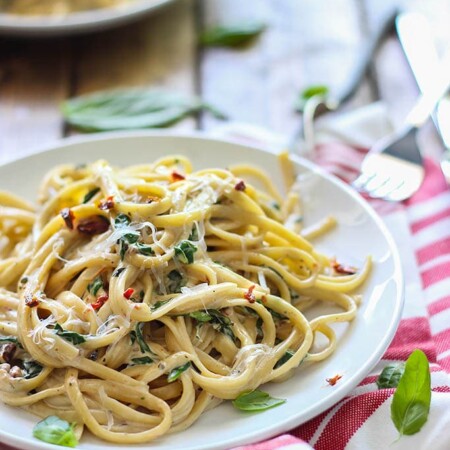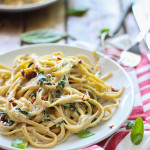 Creamy Sun-Dried Tomato and Spinach Pasta
---
Author:
Total Time: 30 mins
Yield: 2 1x
Description
Get into full spring mode with this creamy sun-dried tomato and spinach pasta! Easy and ready in 30 minutes.
---
1/2 lb. linguine, cooked al dente
1 teaspoon garlic, minced
1/2 cup sun-dried tomatoes, diced
1/4 cup pasta water
1 cup heavy cream
3/4 cup Parmesan cheese, freshly grated and divided
1 tablespoon fresh basil, chopped
1/4 teaspoon Italian seasoning
2 cups fresh baby spinach, chopped
1/2 teaspoon red pepper flakes (optional)
Salt and pepper to taste
---
Instructions
Over medium-high heat, saute garlic in some oil until fragrant.
Add the sun-dried tomatoes and saute for 2 minutes.
Pour in the pasta water and simmer for 1 minute.
Reduce heat to medium-low and pour in heavy cream.
Add in 1/2 cup freshly grated Parmesan cheese, stirring to mix until the cheese melts into the sauce.
Toss in basil, Italian seasoning, and baby spinach and simmer gently until the spinach has cooked down.
Season with salt and pepper to taste.
Add the pasta into the sauce and toss to combine.
Top with remaining Parmesan cheese.
Dish and serve hot.
Enjoy!
Prep Time: 10 mins
Cook Time: 20 mins