This spinach and three cheese manicotti is perfect for Italian food-loving vegetarians. Enjoy the perfect comfort food this fall with spinach and cheese stuffed manicotti smothered in marina sauce.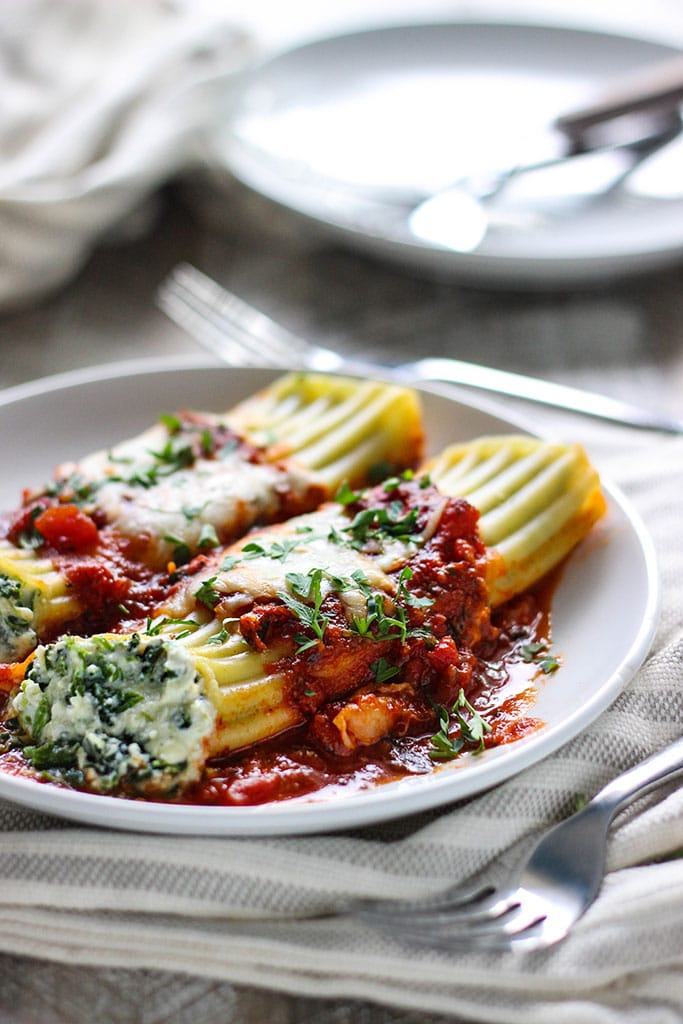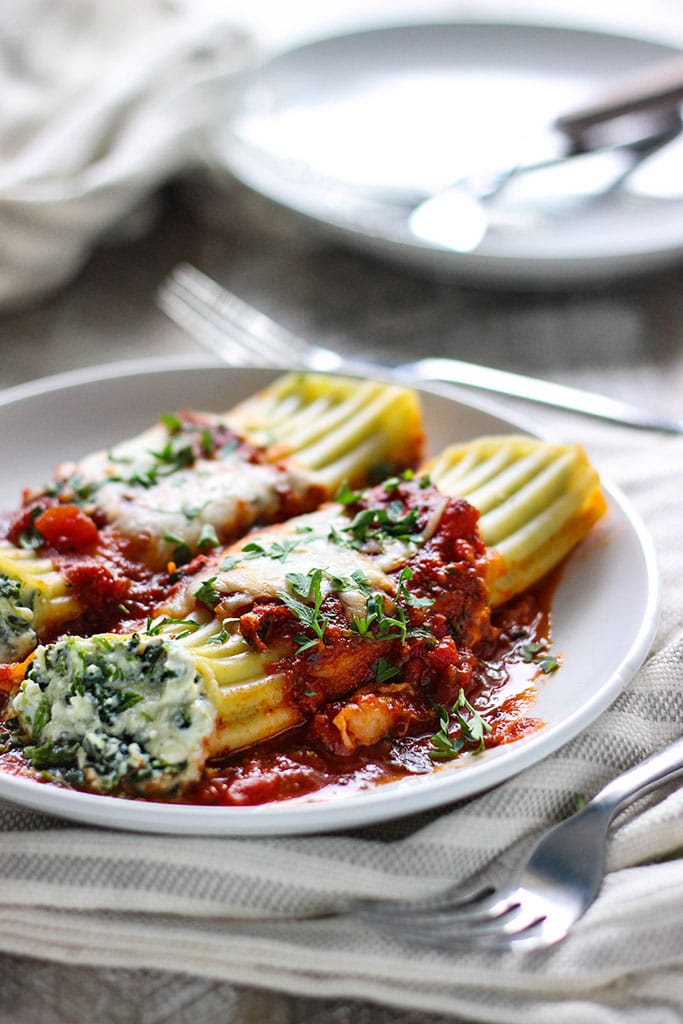 I've been wanting to try manicotti for a while now, so here we go.  I love the idea of creamy and rich spinach and three cheese ricotta stuffing served with marinara and topped with more melty cheese. Since making these lasagna roll-ups, I've been looking for an excuse to use more ricotta cheese. And here's the perfect recipe for it. It was delicious!
Paired with your favorite marinara sauce, this one really spells comfort food. So for vegetarians or those just wanting to cut back on red meat, here's a great dish for pasta night. Serve them with some homemade garlic bread or garlic knots and enjoy!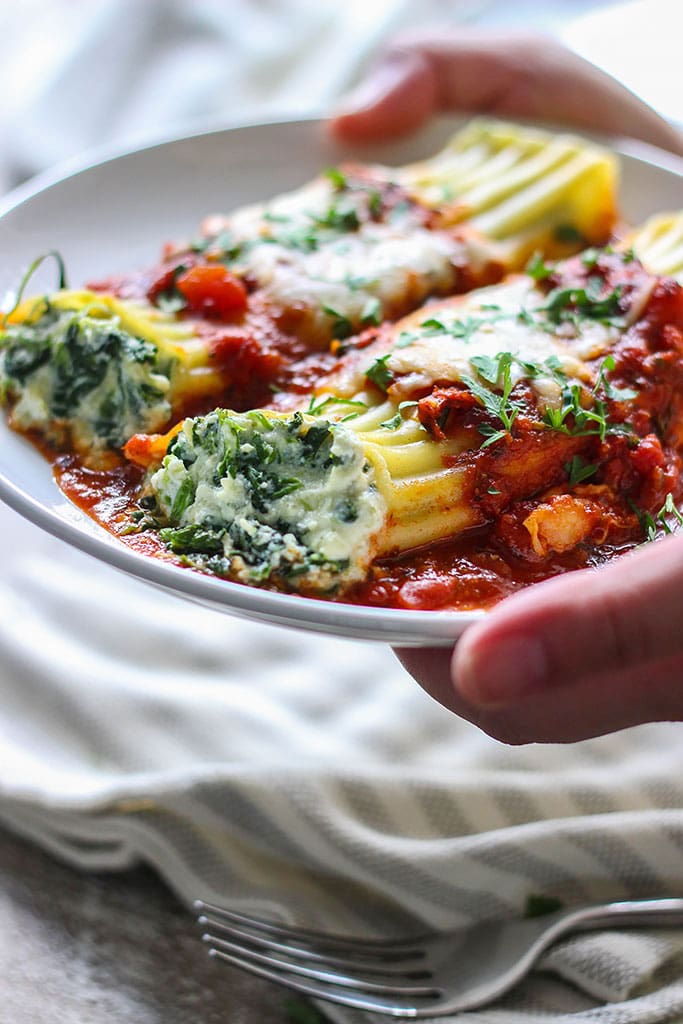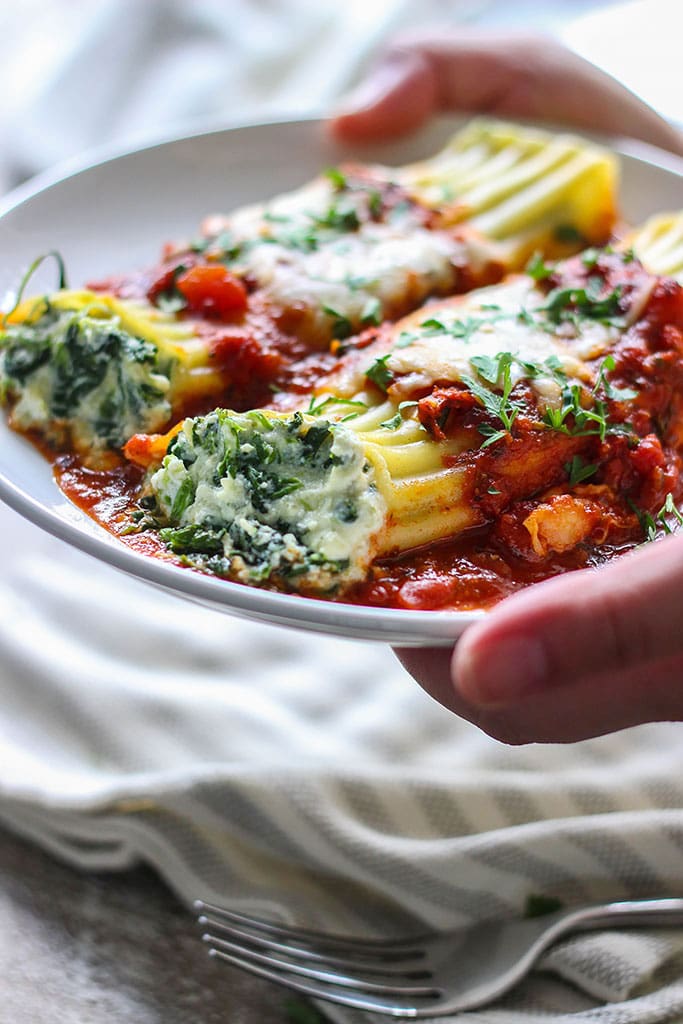 It's pretty much as straightforward as it looks. I'd say this would be for intermediate cooks or at least those who have some experience piping (first timer here). Instead of trying to stuff the manicotti shells with a spoon, I took to putting it all in a Ziploc bag and snipping a corner off to mimic a piping bag.
It worked out pretty well, even with my inexperienced hands, but might deter some new to cooking. If you're a baker though, this should be child's play for you. So let's start cooking!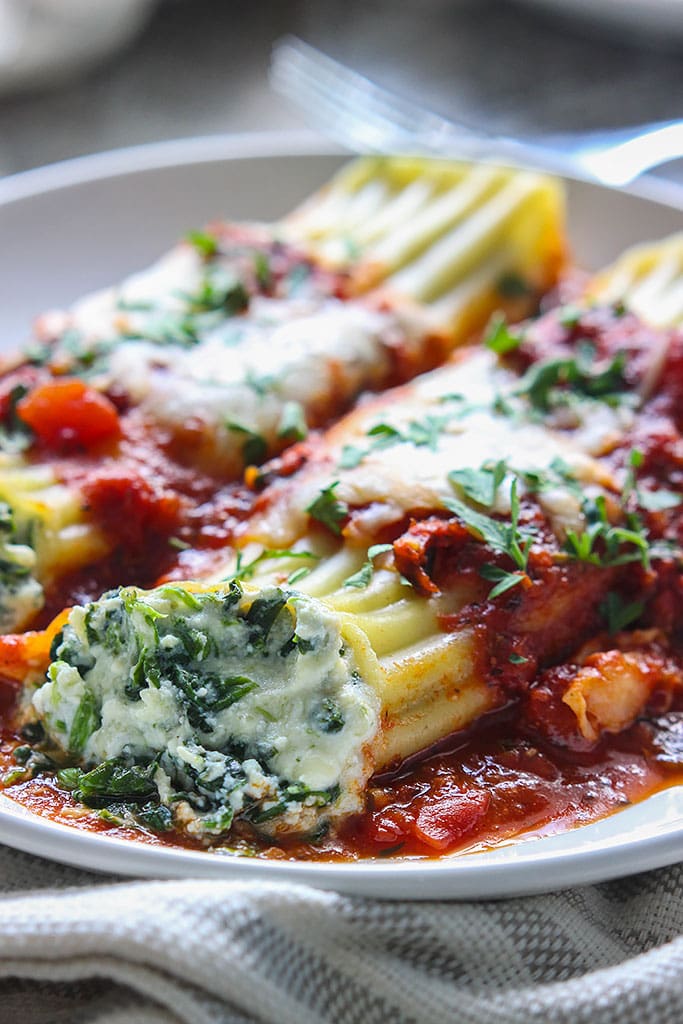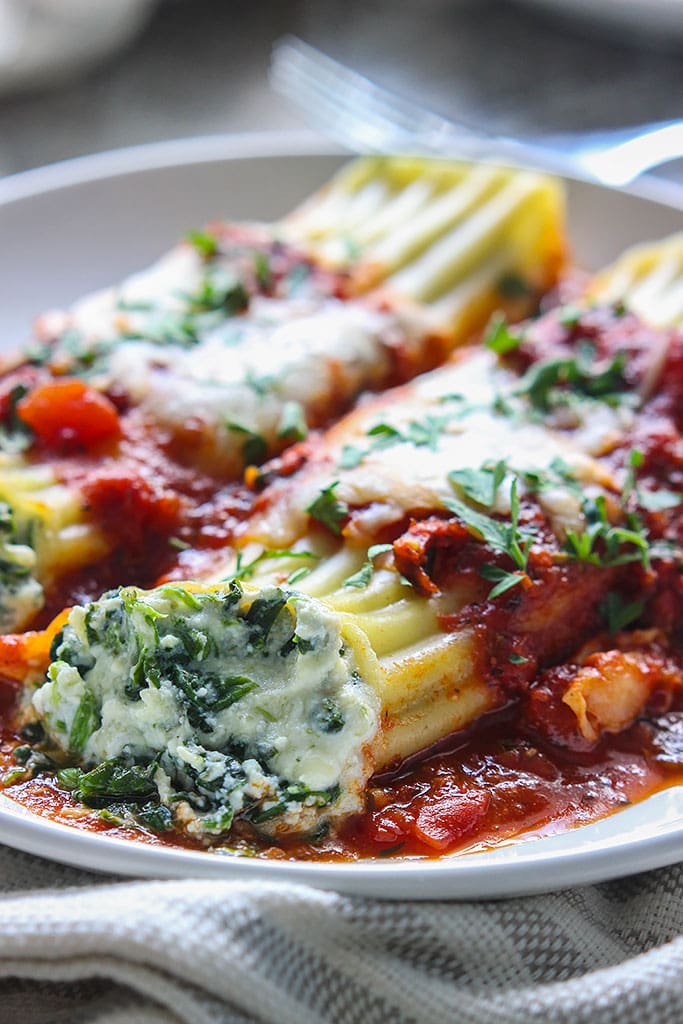 SPINACH AND THREE CHEESE MANICOTTI RECIPE TIPS
I used about 10 manicotti shells for this one. The 8 oz. box I got had about 14 but with the amount of ricotta mixture I used, I only managed to overstuff about 10 of them. I figured it's better to overstuff 10 shells than to under stuff 14 shells, so I went with that reasoning. It sucked a little because I hate wasting but I saw no reason to open up another tub of ricotta just for four more shells.
So we start by bringing a 6 qt. dutch oven to a boil. I added in some olive oil so the shells wouldn't stick together. Not much is needed, just half a teaspoon or so. Cook the shells according to the package directions and be very gentle with them so they don't tear. Some of the shells tore when I transferred it from the pot to a colander to drain.
The shells will also expand once it's cooked so keep that in mind when you're looking for a container to bake them in. A 9×13 casserole dish didn't work for me so I ended up just baking them on a baking sheet. I also found it easier to separate and dish them out this way. In the end, it's okay if they look messy, they will taste just as delicious. It was just a tad more stressful for me since I had to make sure they ended up looking nice for pics.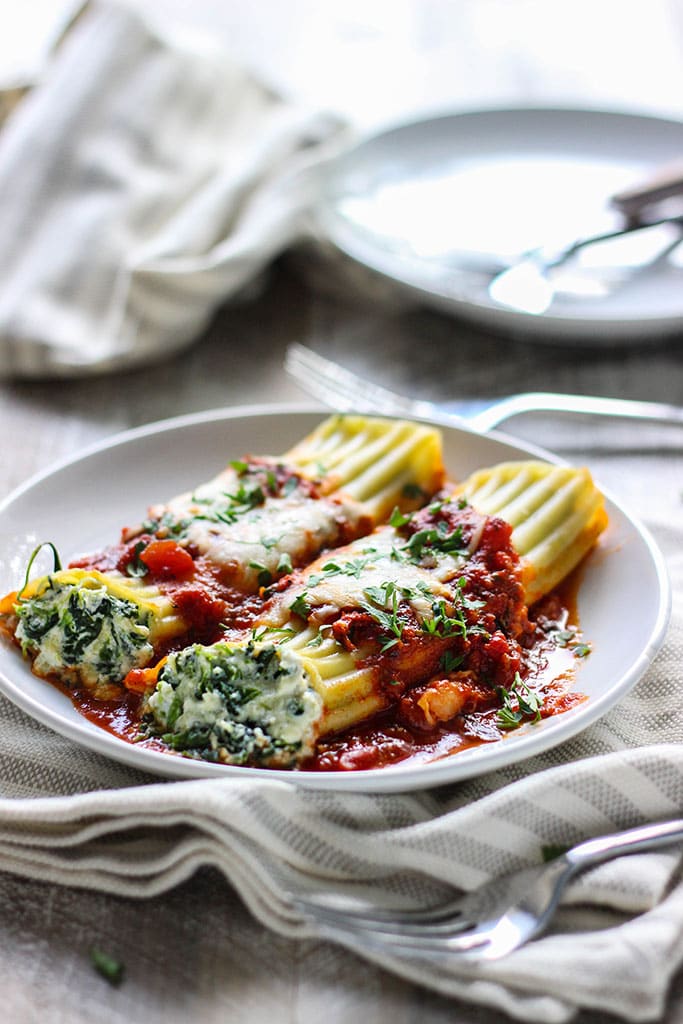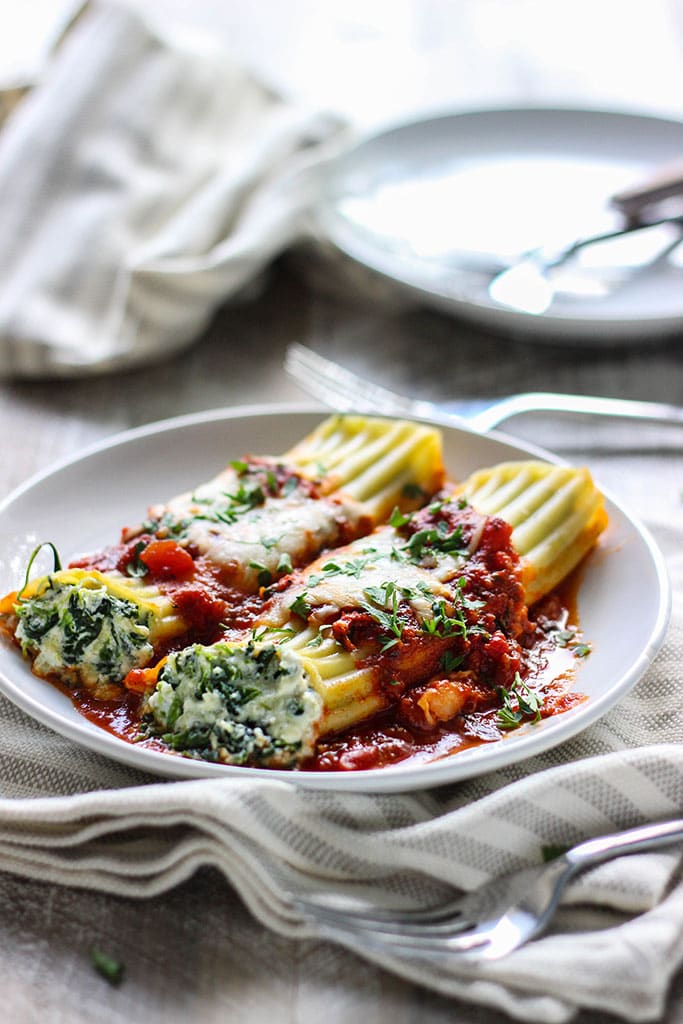 Back to instructions, while the pasta is cooking, you can steam your frozen spinach according to package directions or start cooking down your fresh spinach. Either way, once they're cooked, drain any excess liquid on a mesh strainer and use the back of a spoon to squeeze as much out as you can.
You'll want to do this so the ricotta mixture doesn't end up watered down. So while the pasta is cooking, start mixing your ricotta filling, which doesn't take too long at all.
Once the pasta is cooked, carefully drain it in a colander and run the shells under cold water so they don't stick together. Tip: Once the shells are cooked, try using the plastic trays they came in to hold each one and to stop them from sticking together and flattening out!
Load a one-quart Ziploc bag with half the ricotta mixture, seal the end and snip off a corner to act as your piping bag. I filled up the bag in batches of two because I found it unwieldy on a full bag. Squeeze in the ricotta mixture from one end while tilting the shell at a 45-degree angle so it slides down to the center. Fill up the other end until full and push both ends in gently to pack them tightly.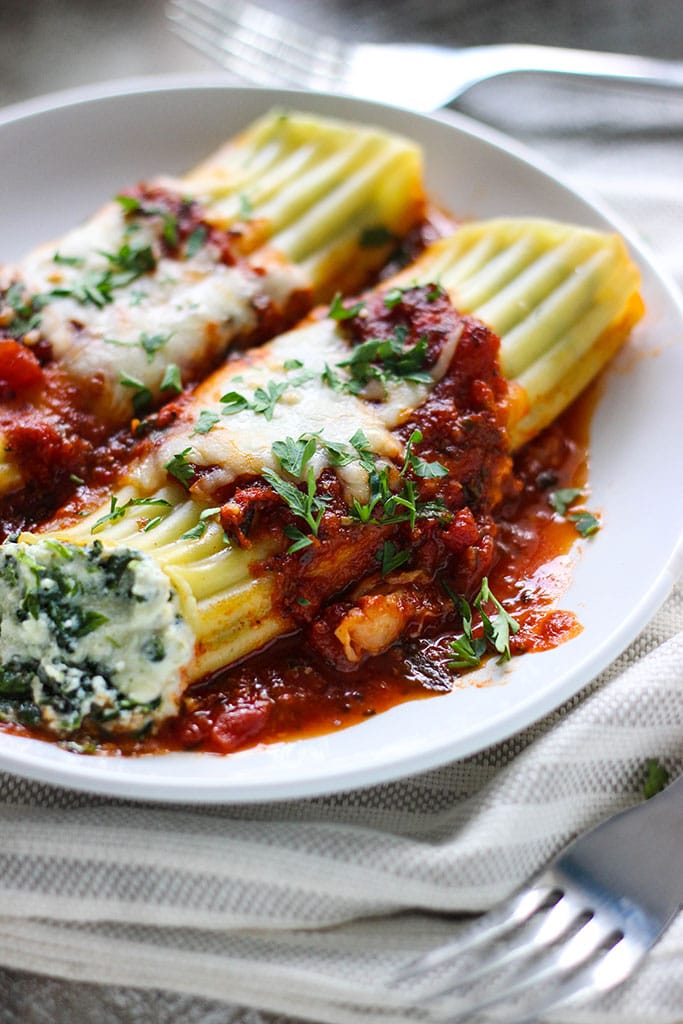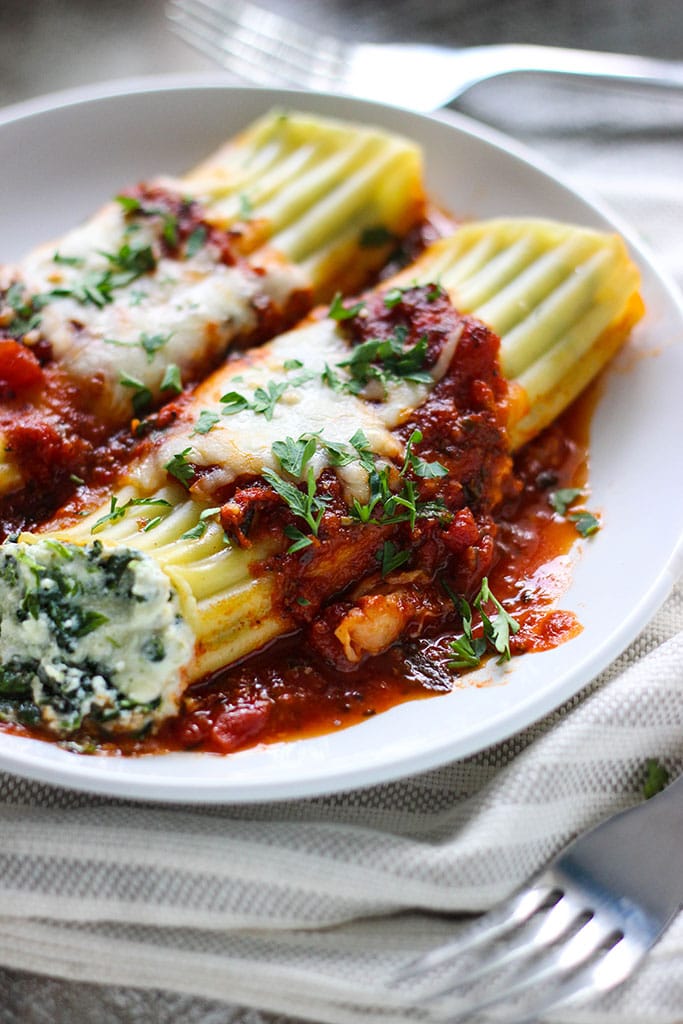 Spread one cup of your marinara sauce on the bottom of a baking dish evenly. You can use store-bought marinara sauce straight from the jar if you don't mind, or use your favorite recipe if you have one.
I made a couple of changes to the marinara sauce to the way I usually like it which is with a little sugar to balance out the acidity, some Worcestershire sauce and beef bouillon cubes to beef it up a little and a few Italian herbs and some red pepper flakes. Either way, go with super easy or customize it to your liking!
Arrange the stuffed ricotta shells on the baking sheet as you go until they're all done. Top the shells with remaining marinara sauce and mozzarella and bake at 350°F for 30 minutes.
And that's it! Happy eating!
MORE VEGETABLE PASTA RECIPES TO TRY
Did you make this recipe? Rate it!
♡ If you liked this recipe, giving it a star rating ★★★★★ in the comments below really helps! For more recipes, subscribe to my newsletter or follow me on Facebook, Instagram and Pinterest.
Print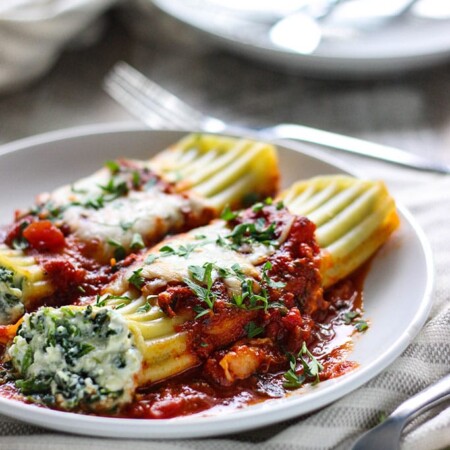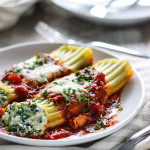 Spinach and Three Cheese Manicotti
---
Author:
Total Time: 55 mins
Yield: 10 manicotti 1x
Description
This spinach and three cheese manicotti is perfect for Italian food-loving vegetarians. Enjoy the perfect comfort food this fall with spinach and cheese stuffed manicotti smothered in marina sauce.
---
1 box (8 oz.) manicotti shells, cooked al dente
24 oz. marinara sauce
Filling:
10 oz. frozen/fresh spinach, cooked and drained
15 oz. ricotta cheese
1 large egg, beaten
1 1/2 cups mozzarella cheese, shredded and divided
1/2 cup Parmesan cheese, shredded
Salt and pepper to taste
---
Instructions
Cook manicotti shells in and spinach according to the package directions.
Combine spinach, ricotta cheese, egg, 1 cup of mozzarella cheese, Parmesan cheese and salt and pepper to taste and mix well.
Stuff each cooked manicotti shell with the filling mixture.
In a baking dish, spread 1 cup marinara sauce on the bottom evenly.
Arrange stuffed manicotti over sauce.
Top with remaining sauce and leftover 1/2 cup of mozzarella.
Bake at 350°F for 30 minutes.
Dish and serve hot.
Enjoy!
Prep Time: 15 mins
Cook Time: 40 mins