These oven-baked buttermilk chicken strips are a healthier alternative to fast food or frozen chicken nuggets for the kids!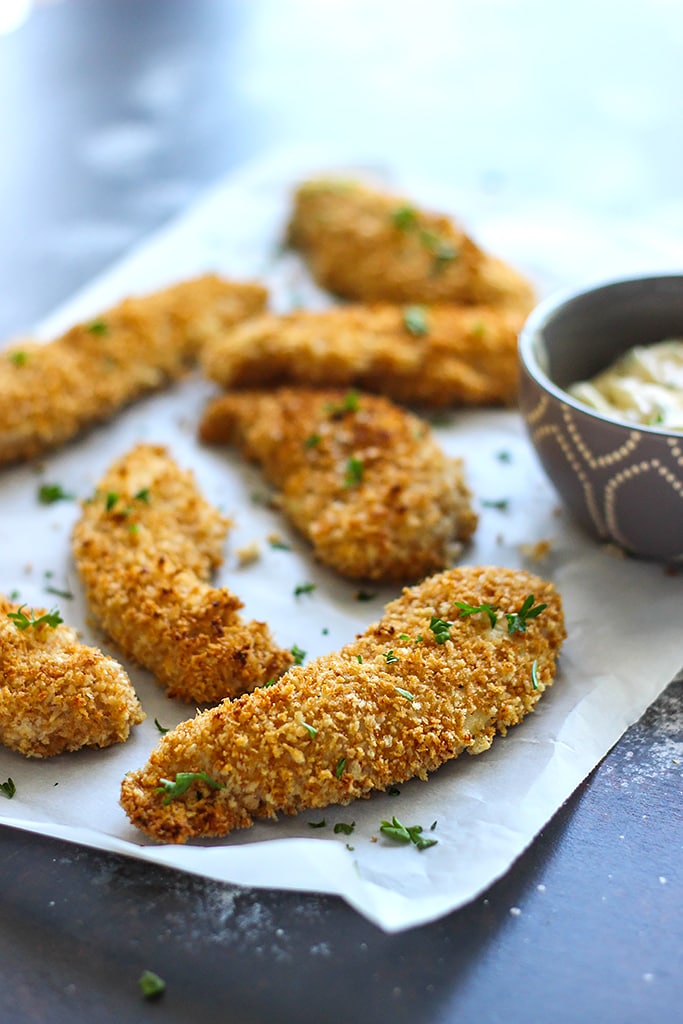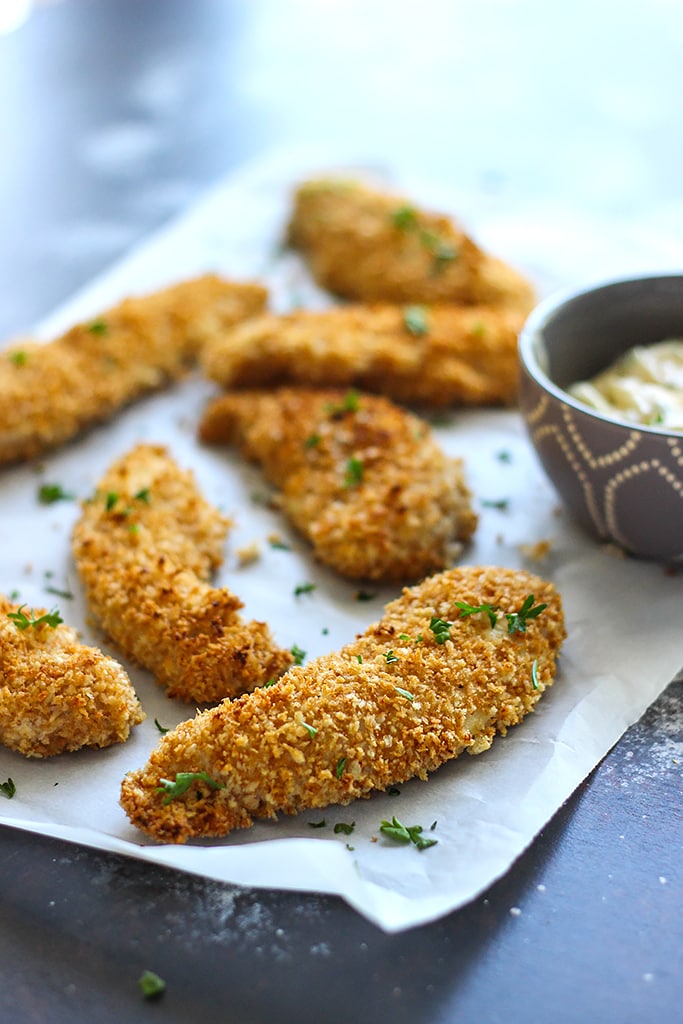 Today we're making a relatively simple recipe of buttermilk chicken tenders that should be popular with the kids. Think of this as a healthier alternative to fast food or frozen chicken nuggets for the little ones. They're pretty crispy for being baked and versatile enough seasoning-wise. So today we're going to be making some oven-baked buttermilk chicken strips which are crispy breaded chicken tenders marinated in a buttermilk mixture.
I've had some moderate success with this technique of breading and baking in the oven in the past. I made some baked Parmesan crusted chicken that turned out pretty good. And it works for seafood as well like this panko crusted tilapia. But my main gripe about baking stuff was the uneven browning, particularly for chicken.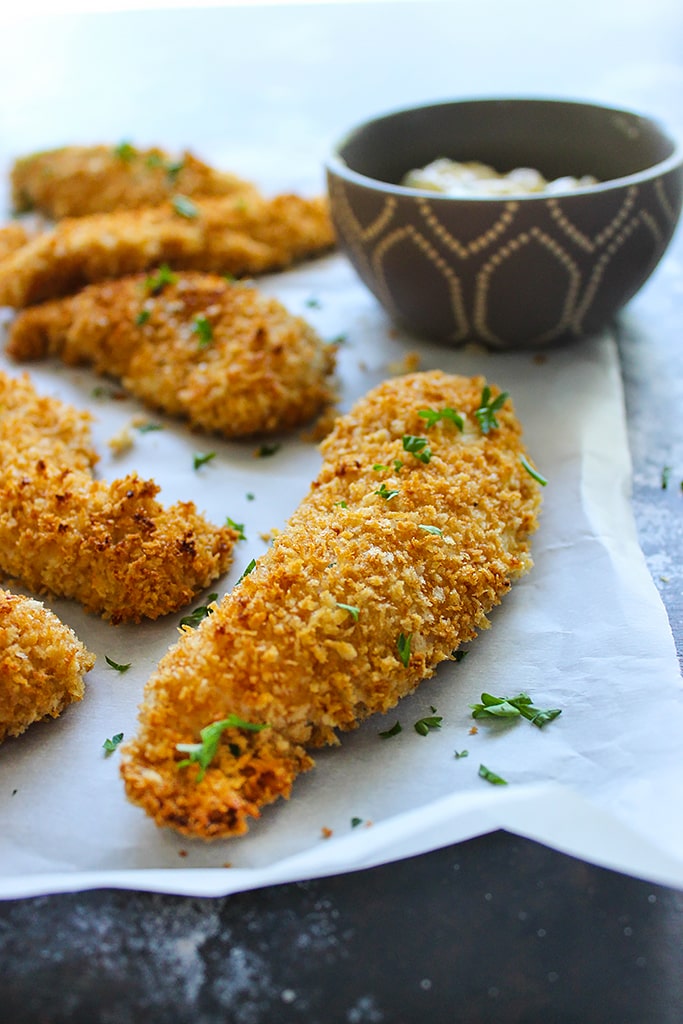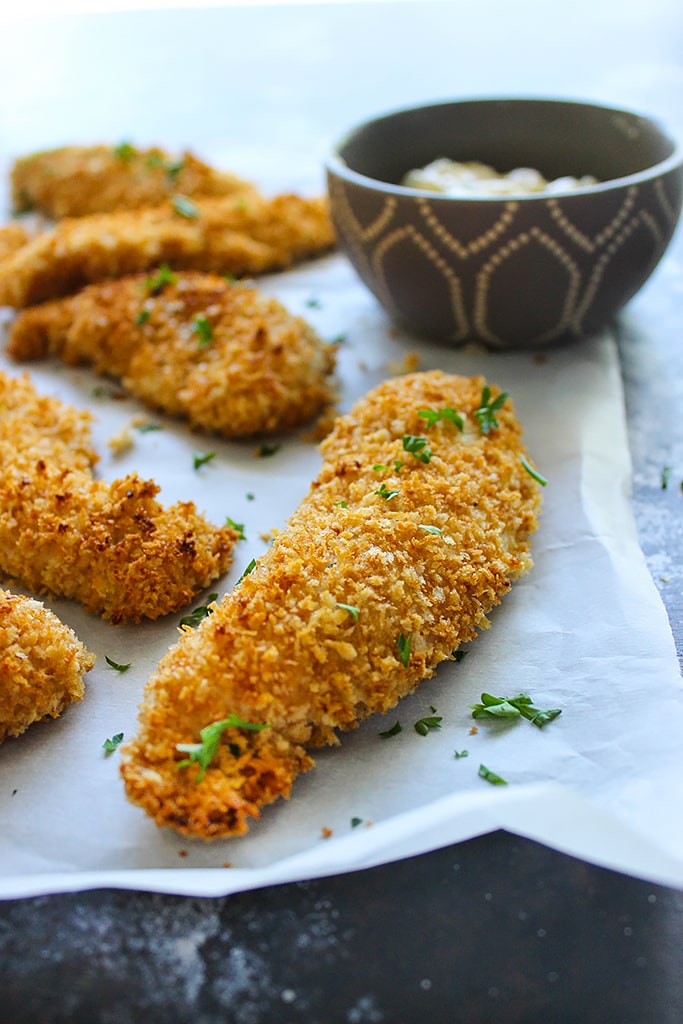 So today we'll be addressing that with a little hack, which is toasting the bread crumbs prior to breading for even browning. I'm pretty happy with the results. The toasting is done without any oil in the pan until it's evenly browned, so it's still healthy.  Pretty nice hack if you ask me. Let's begin!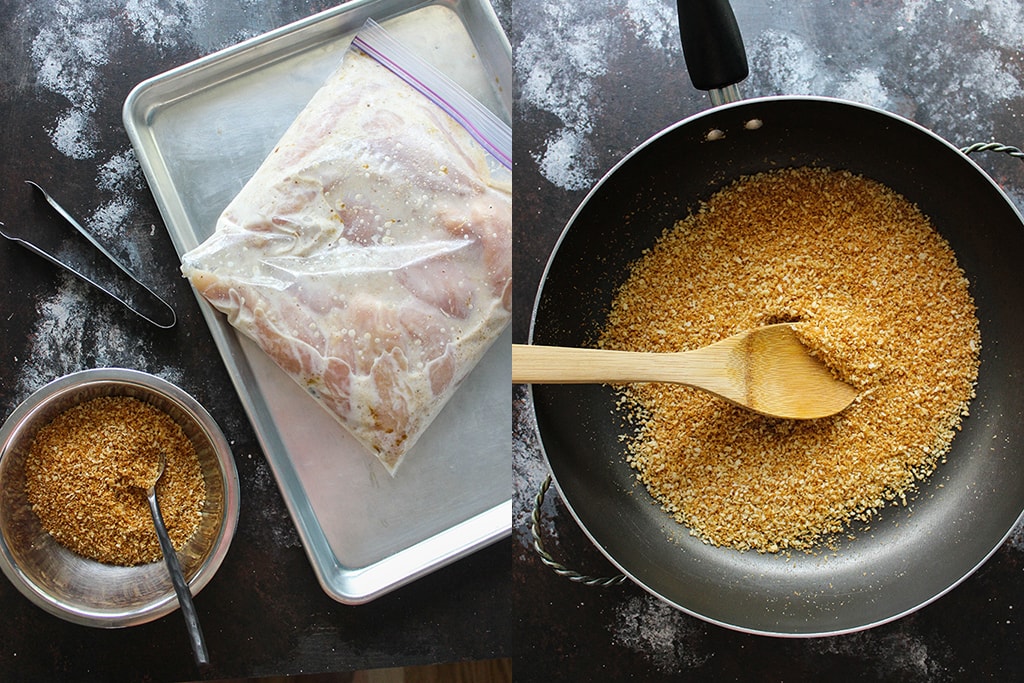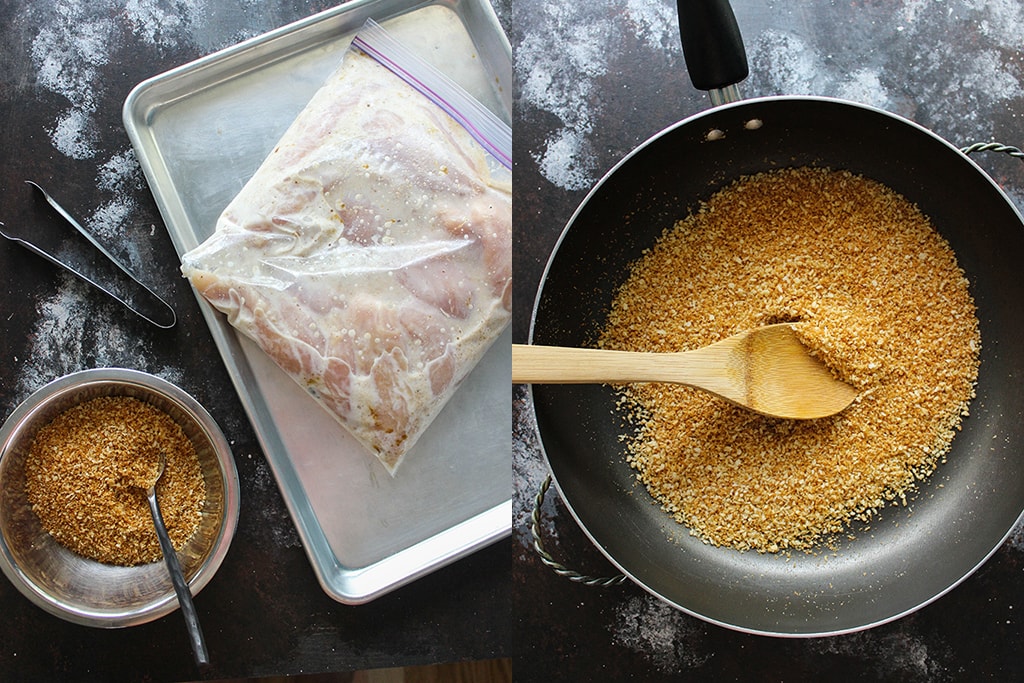 OVEN-BAKED BUTTERMILK CHICKEN STRIPS RECIPE TIPS
Start by defrosting your chicken tenders for the buttermilk marination. I used about 3 lbs. of chicken tenders but feel free to scale down if you don't have that many mouths to feed. I figured if you're going to be doing all that breading, might as well do it in a big batch and since we're baking it all anyways, the huge baking sheets can accommodate plenty.
The marinade is just some buttermilk mixed with a little vegetable oil, some garlic, ground cumin, maple syrup and salt and pepper to taste. It's a technique from Nigella Lawson I wanted to try out. She used this with drumsticks which should be marinated overnight to tenderize them more. But since we're dealing with chicken tenders, we can significantly reduce the marination time. Chicken tenders don't need as much tenderizing!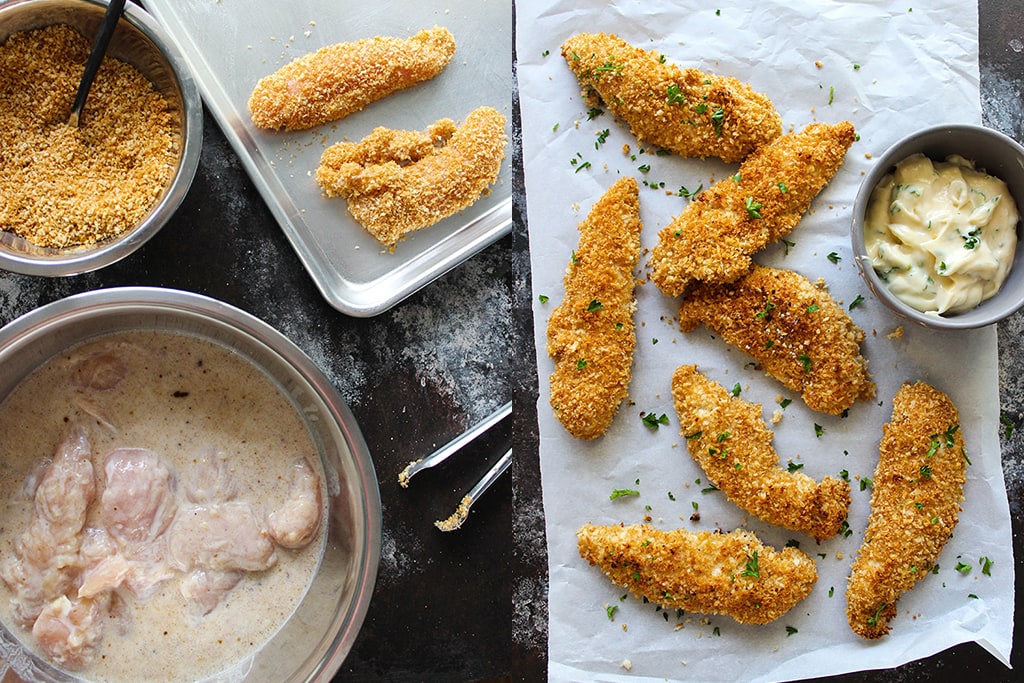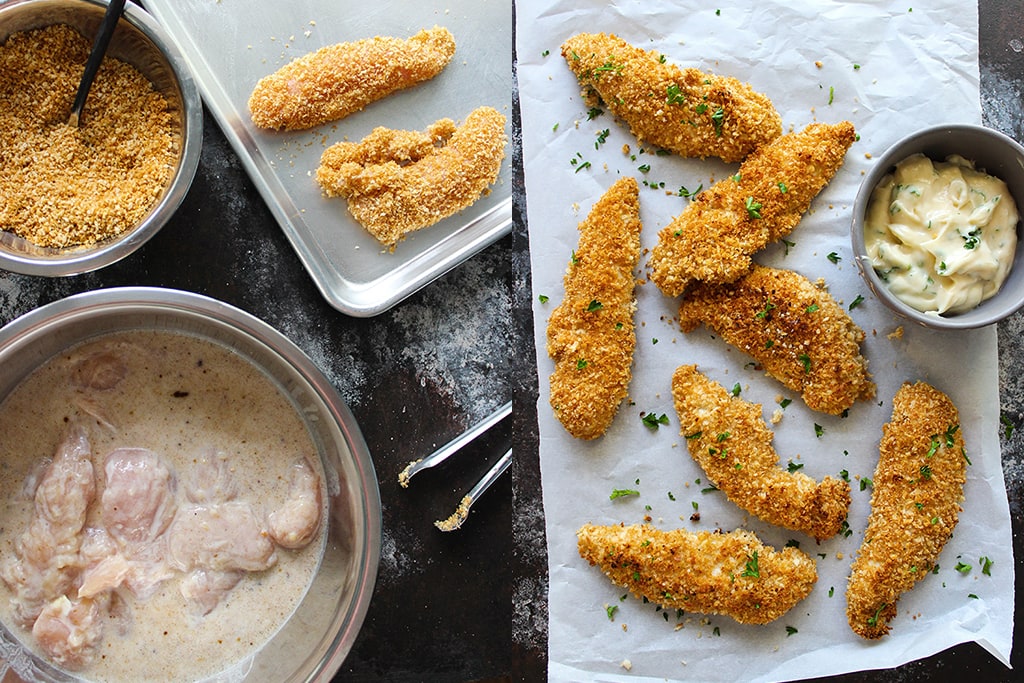 Let it marinate in the fridge for 30 minutes. While you're doing this, we can start toasting the bread crumbs. I used panko bread crumbs because they're airy and flaky with a good texture that's perfect for crunch. The toasting of the bread crumbs should take about 5 minutes and you don't need any oil for this, just a hot pan. It'll take a while for them to start browning and you won't notice anything for the first few minutes. But once you notice some browning on the bottom of the pan, start stirring it up to even up the browning and don't stop stirring. After this, it'll brown super, super fast so you'll need to be on your game.
Make sure to stir constantly to avoid some bread crumbs being burnt. You should end up with a relatively even browning but there will be some stubborn pale strays. Once you're done browning the bread crumbs, remove them from the pan because they will keep browning with the residual heat. Season the bread crumbs with salt and pepper to taste. Now you can opt to keep it simple with just a basic seasoned bread crumb mixture, or you can go crazy adding in spices like smoked paprika, garlic powder, onion powder, or whatever seasoning your kids like.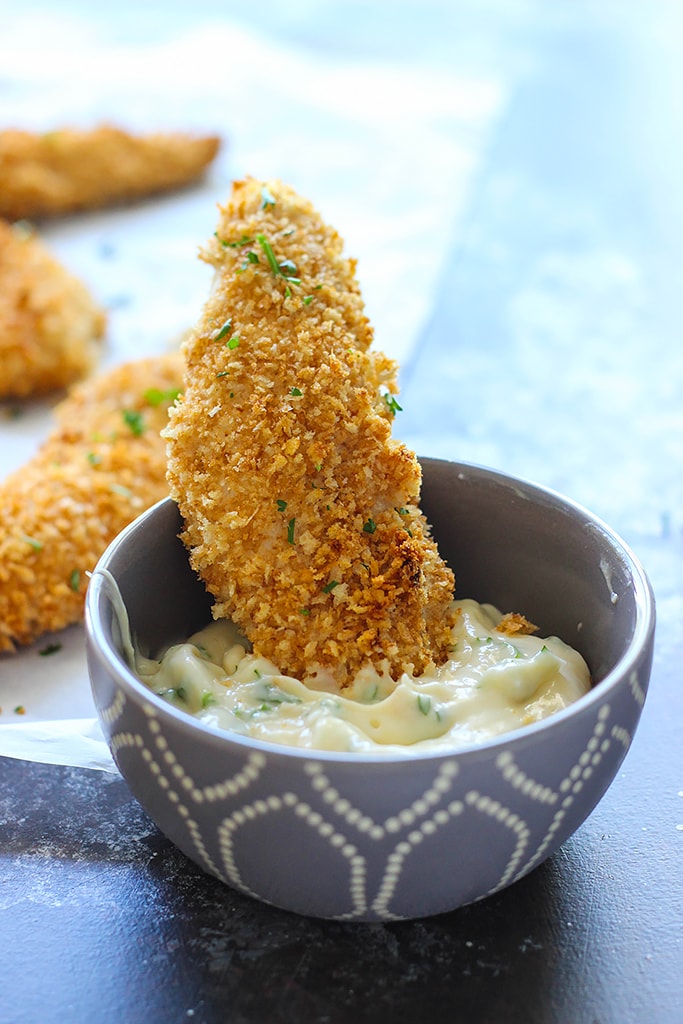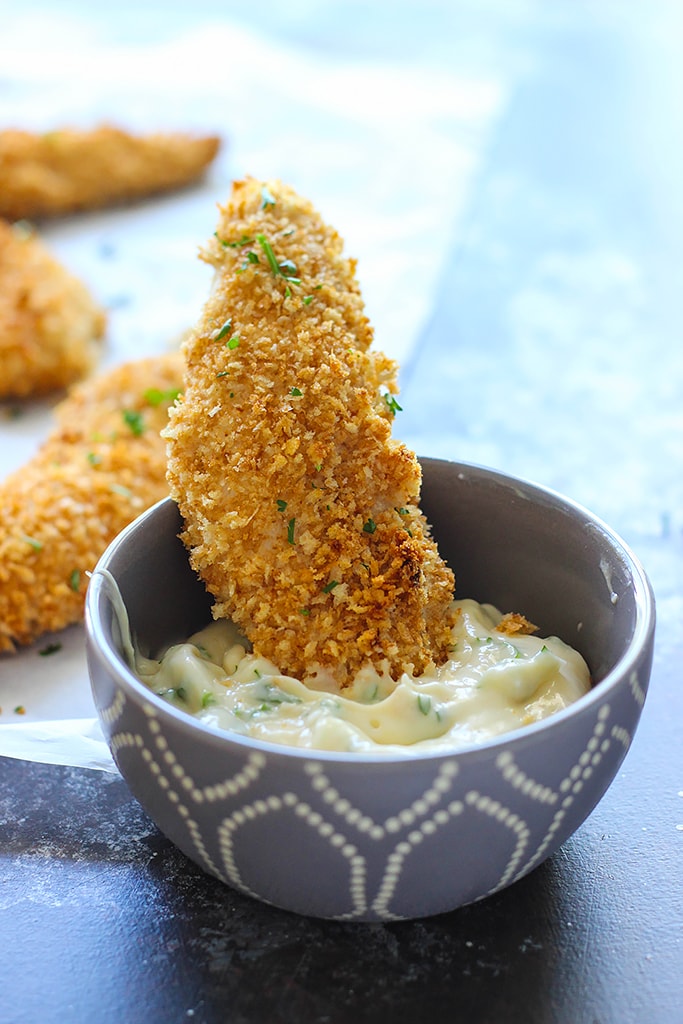 Now we do the breading. Use some tongs to remove the chicken tenders from the marinade and shake off any excess marinade. You'll want to shake the excess off so you don't get the bread crumbs soggy. They won't stick on as well. Toss them in the bowl of browned bread crumbs and heap the bread crumbs onto them with a spoon. I found it easier to pat in any excess bread crumbs with the back of the spoon. Between the tongs and spoon, your hands won't ever have to get dirty! I kid you not. No messy battered hands. The breading took up the majority of the prep stage, but again, if you decide to downsize for a smaller batch, it shouldn't take too long at all.
Line them up on a greased baking sheet and spray them with some olive oil spray. I personally felt the spraying didn't do much but I did it anyway just in case. It took me about two baking sheets for the entire three pounds of chicken tenders and I ended up with about 20 chicken tenders.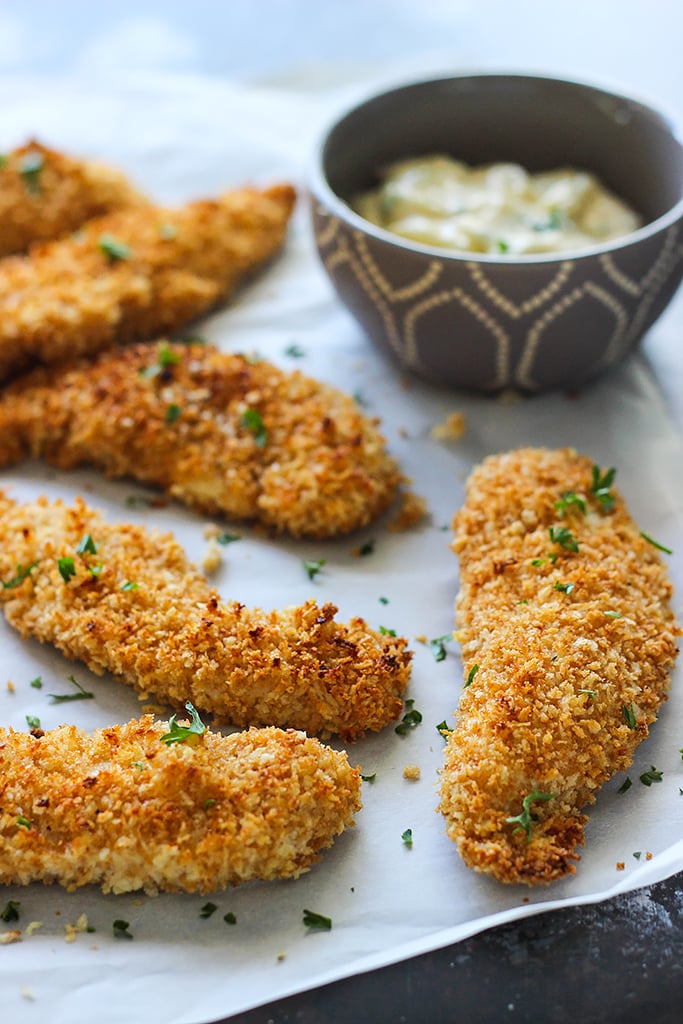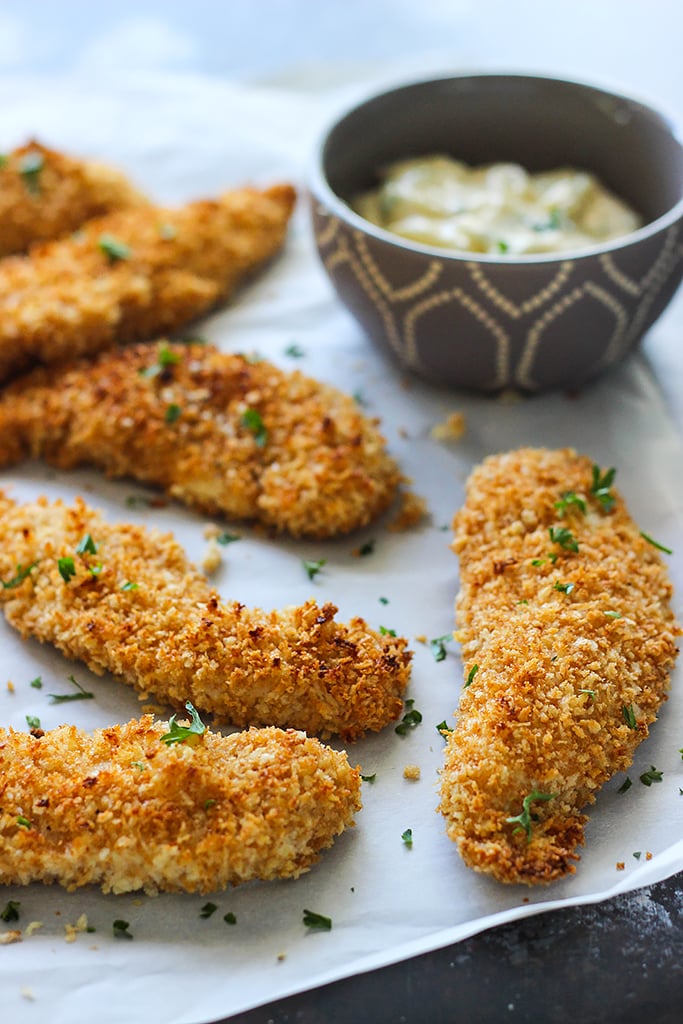 Let them bake for 15 minutes or until the chicken is cooked through. Cut one chicken strip in half to check for doneness if you're not sure. Once they're out of the oven, let them sit a while to settle. This step is important because fresh from the oven, the breading will still be hot and steamy and will fly off the chicken. It needs time to cool down and crisp up.
Then, serve it with your choice of dipping sauce. I decided to pair it with a simple honey mustard mayo dip but hey, even ketchup works! Or if you're feeling tropical, try out this chilled pineapple dip 😉 These chicken strips go great with sides like potato salad or baked mac and cheese.
Let me know how you like these in the comments below and what sauce you paired them with. Enjoy 🙂
MORE BAKED CHICKEN RECIPES TO TRY
Did you make this recipe? Rate it!
♡ If you liked this recipe, giving it a star rating ★★★★★ in the comments below really helps! For more recipes, subscribe to my newsletter or follow me on Facebook, Instagram and Pinterest.
Print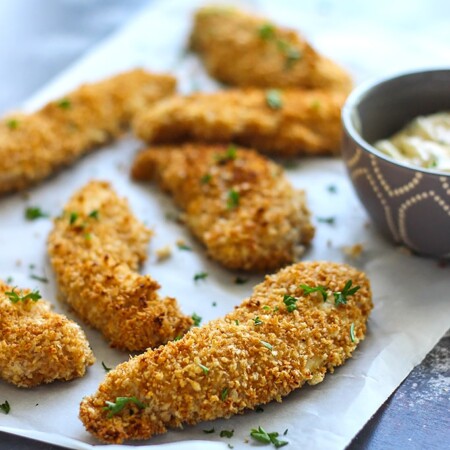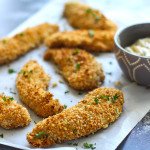 Oven-Baked Buttermilk Chicken Strips
---
Author:
Total Time: 35 mins
Yield: 18–20 strips 1x
Description
These oven-baked buttermilk chicken strips are a healthier alternative to fast food or frozen chicken nuggets for the kids!
---
3 lb. chicken tenders
2 1/2 cups Italian bread crumbs/panko bread crumbs
Salt and pepper to taste
Olive oil spray
MARINADE
2 cups buttermilk
1/4 cup olive oil
1 teaspoon garlic, minced
1 teaspoon ground cumin
1 tablespoon maple syrup
Salt and pepper to taste
---
Instructions
Combine the marinade ingredients and marinate the chicken tenders in the fridge for 30 minutes.
Over medium-high heat, toast the bread crumbs in a dry pan for 5 minutes until golden brown. Stir constantly. Once brown, remove from heat and season with salt and pepper to taste or any other seasonings you prefer (garlic powder, onion powder, smoked paprika, sage, Italian seasoning, etc.)
Using tongs, shake off any excess marinade from chicken tenders and dredge through bread crumbs. Pat in the bread crumbs to coat thoroughly.
Grease two baking sheets and start lining up your chicken tenders, spacing them evenly.
Spray your chicken tenders with olive oil spray.
Bake at 375°F for 15 minutes or until chicken is cooked through.
Let it sit until breading has settled before digging in.
Enjoy!
Notes
Scroll up to RECIPE TIPS for more useful tips, suggestions and ingredient substitutions.
Prep Time: 15 mins
Cook Time: 20 mins