This crispy baked Parmesan crusted chicken is juicy on the inside with a crunchy coating of butter, panko breadcrumbs, parmesan and parsley. Serve it with some veggies, with a salad, or over a bed of pasta.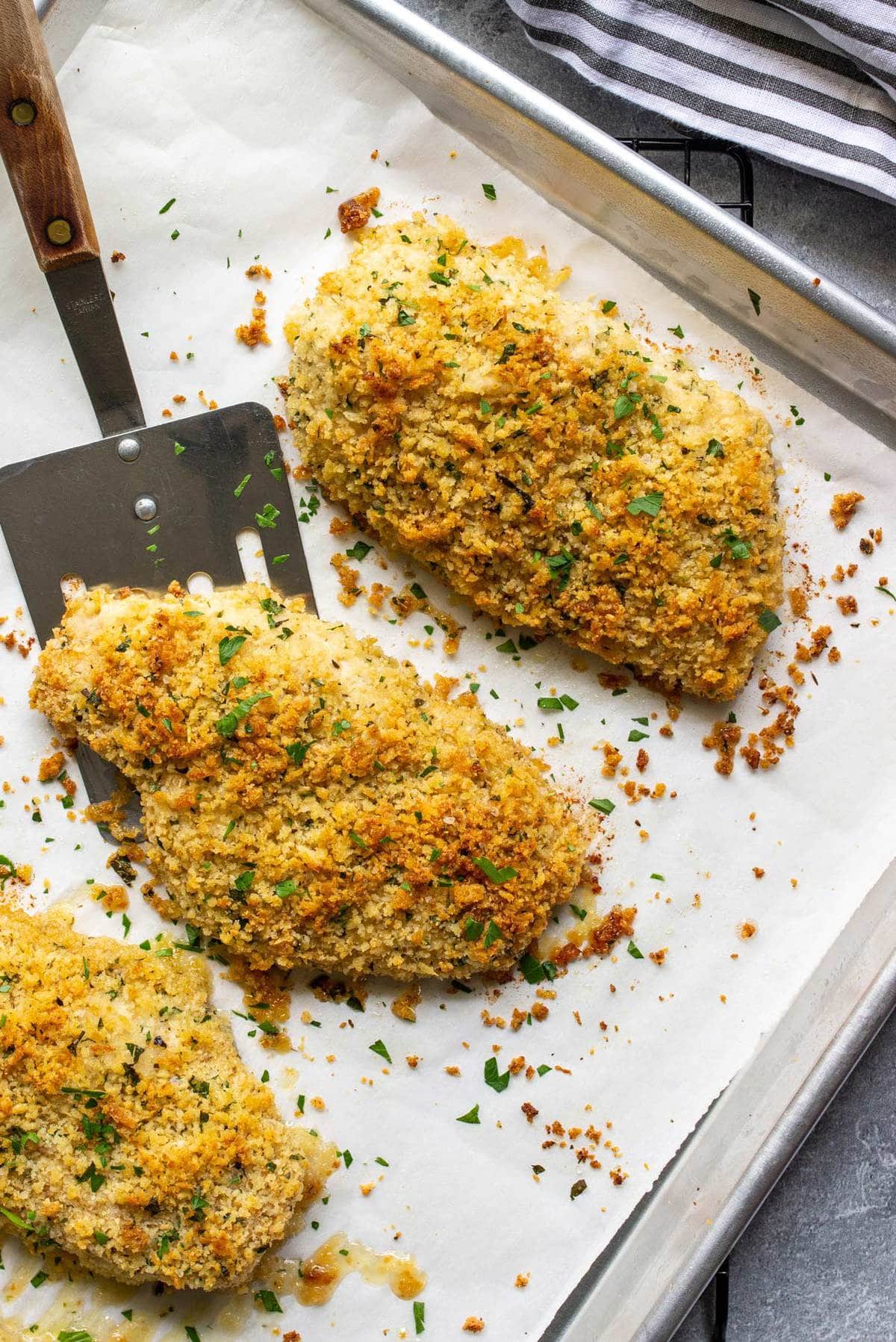 Today we're making some baked Parmesan crusted chicken. We'll be dipping the chicken breasts in some melted butter, coating them with a seasoned panko-Parmesan breadcrumb mix then baking until they come out golden and crunchy. It's a healthier way to enjoy the crunch factor that comes with fried chicken without the guilt and heaviness of fried food.
I went with an easy breading method by using melted butter instead of a flour-dusting and egg wash. The butter gradually gets absorbed into the breadcrumbs, which adds more flavor to the crust – and you can smell the delicious buttery scent while it's baking. You can still use the traditional method of breading but give this method a try.
This is a delicious 30-minute recipe for a quick weeknight dinner using pantry staples. It's a great, kid-friendly alternative to chicken nuggets. Serve it as is with a side of veggies, over a salad, or with some pasta. For more baked chicken ideas, try easy oven-baked chicken, garlic butter baked chicken breasts, or some buttermilk chicken strips. Let's start baking.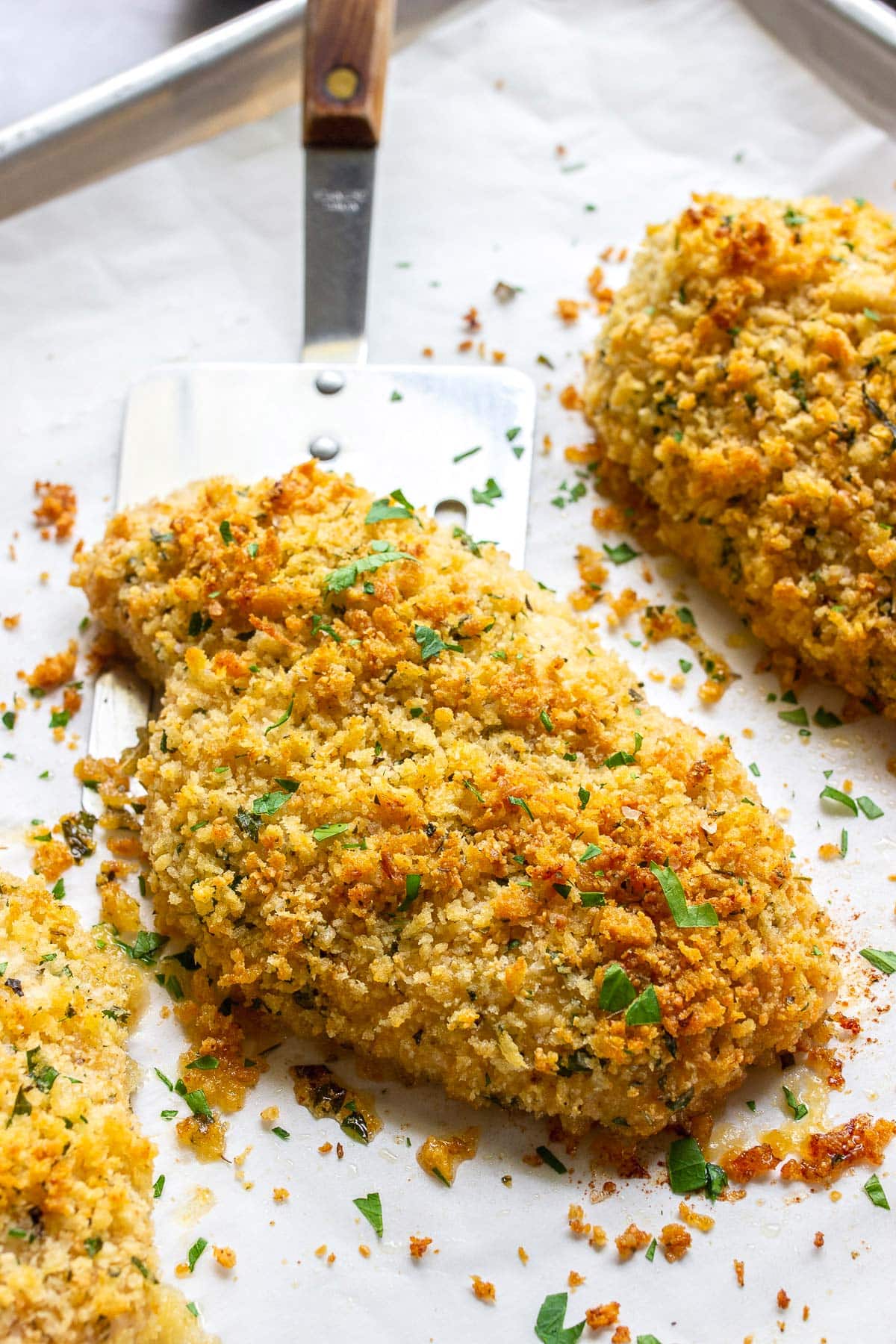 BAKED PARMESAN CRUSTED CHICKEN RECIPE TIPS
Chicken breasts – Be sure to pound them to an even thickness so they cook evenly in the oven. A mounded center usually means the ends will be drier by the time the thicker part finishes cooking. You can use a meat mallet or a rolling pin and place the chicken breasts between some plastic wrap, parchment paper, or in a Ziploc bag. Some brands of frozen individually wrapped chicken breasts like Purdue also come pre-pounded if you don't mind frozen chicken and want to skip this step.
Breading – I used a combination of melted butter and olive oil as the glue for the breading. The butter gradually mixes in with the breadcrumbs to give them more flavor. If you're used to or prefer the traditional method, you can dust the chicken with flour, dip it in an egg wash and finish with the breadcrumbs. I like using shallow mixing bowls for my breading and spoon the breadcrumb mix onto the chicken then pat it in with the back of the spoon to adhere to the chicken. The chicken will look sparsely breaded and a little underwhelming immediately after breading but we will fix that later. Finish breading all 4 chicken breasts, transfer them to a baking sheet, spoon the leftover breadcrumbs on top of each chicken breast and then pat it in with your fingers.

Butter – I like using Land O Lakes half sticks for the butter. The half sticks are exactly 4 tablespoons or 1/4 cup.
Paprika – I mixed paprika in with the butter and olive oil to flavor the chicken that way. You could add the paprika to the panko mixture instead.
Panko breadcrumbs – Panko breadcrumbs are light and airy with a crunchy texture compared to regular breadcrumbs that are more grainy and sandy. You can also substitute with crushed cornflakes for something with a similar texture.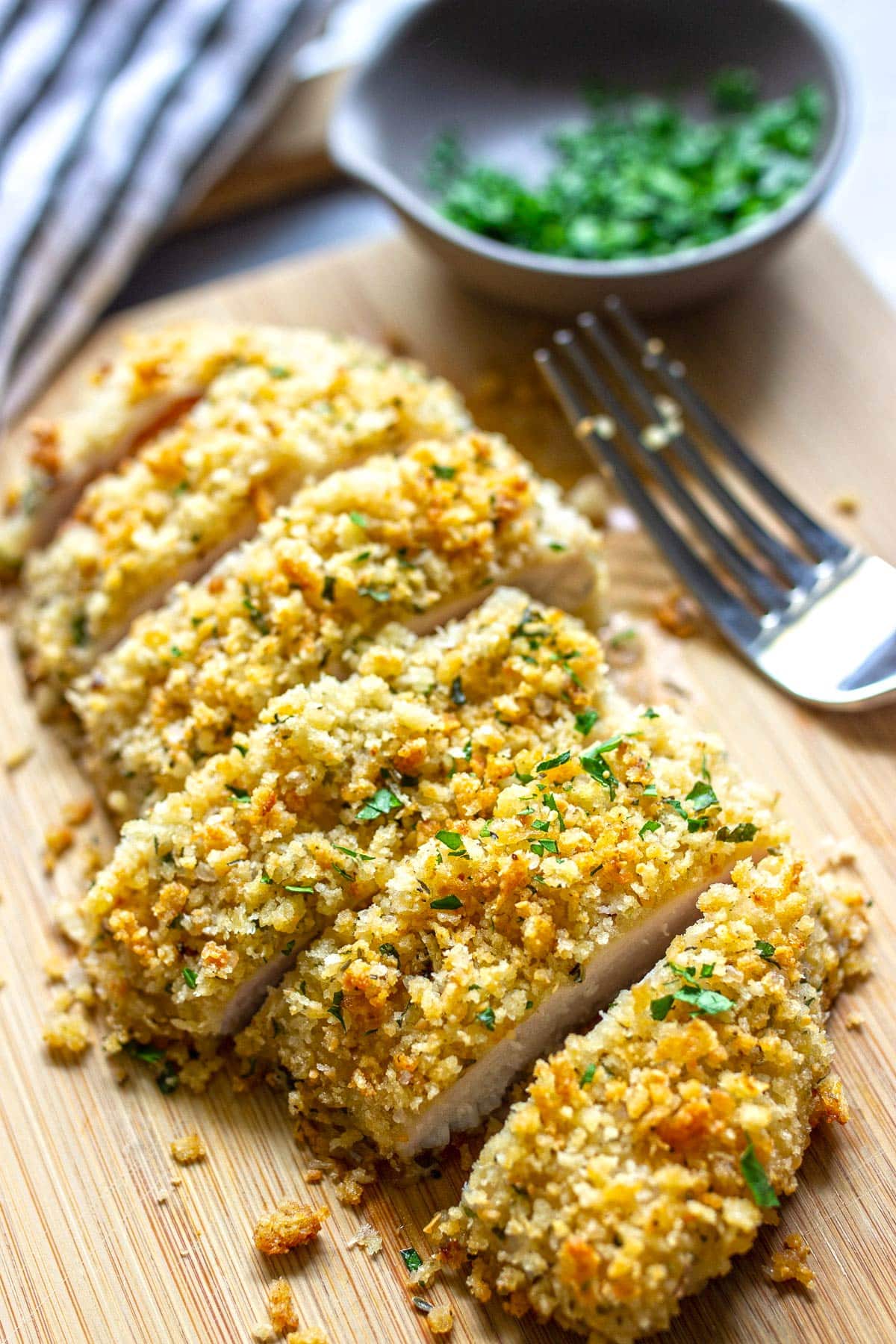 Italian seasoning – You can substitute this with other herbs like dried or fresh thyme, basil, oregano and rosemary.

Parmesan cheese – We're using grated Parmesan cheese instead of shredded because grated Parmesan cheese distributes evenly in the breading.
Parsley – I used freshly chopped parsley but you can also use parsley flakes.

Salt – I like to use coarse sea salt because it's more forgiving than your average table salt and you can be generous with the seasoning.

Baking – Bake with either a baking sheet lined in parchment paper or foil, or in a 9×13 casserole dish.

Serve with – You can serve it as is with some sides like broccoli, green beans, or asparagus and pair it with a second side like mac and cheese, mashed potatoes, potato salad,  or creamy risotto. This also goes great over a bed of pasta or salad.

Pan-fry it – Pan-fry it in some oil over medium heat until the breadcrumbs are golden brown and the chicken's internal temperature is 165 ºF. This should take about 4-5 minutes per side.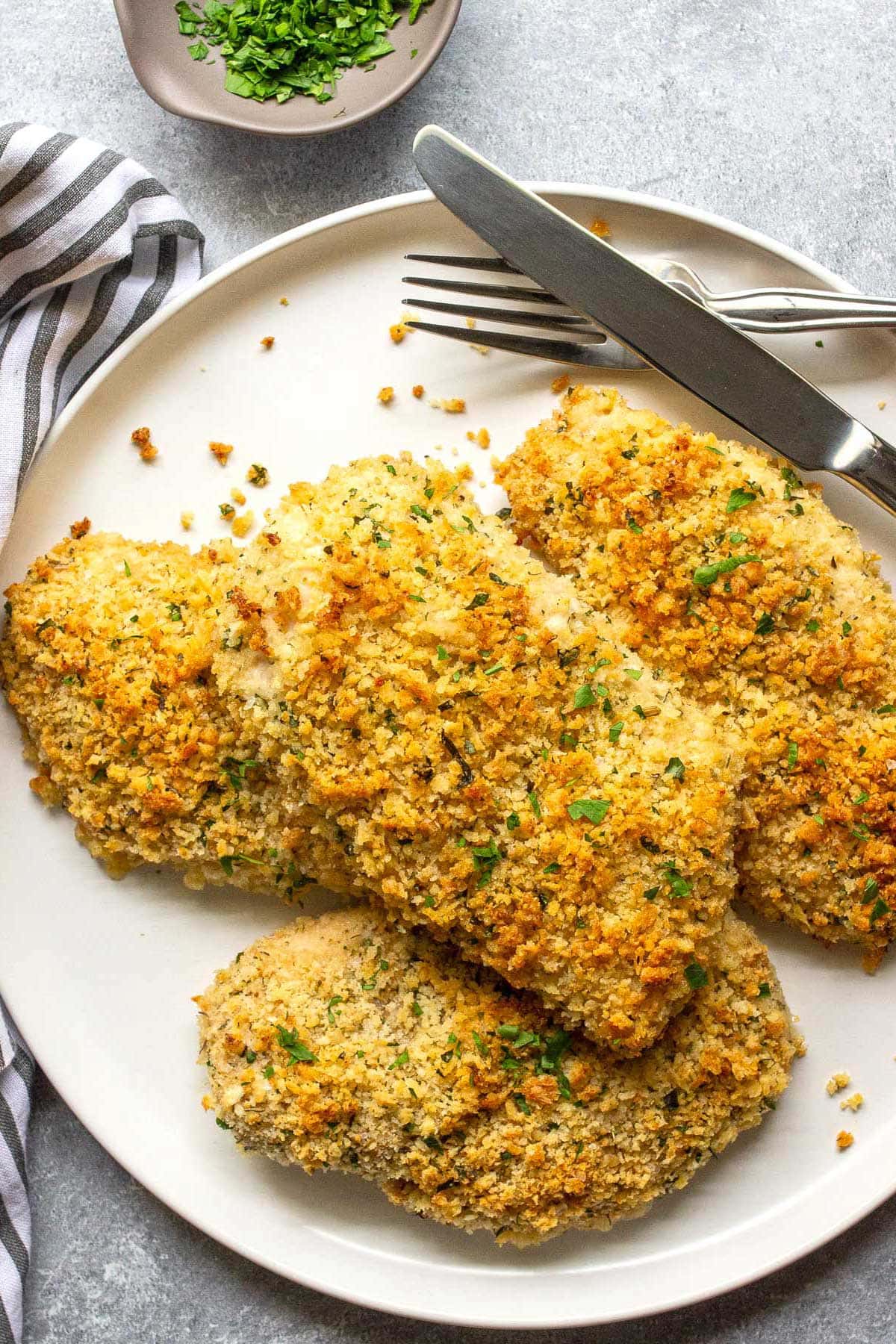 Customize It
Seasonings – Add more seasonings to the panko mix like smoked paprika or red pepper flakes.
Breading – You can do the breading in the more traditional way by using flour and egg wash, or by substituting the melted butter with mayo or mustard. These should still work as 'glue' for your panko crust.
Lemon juice – A splash of lemon juice before serving will really brighten up the flavor.
And that's about it. It's a great way to enjoy crispy chicken without the calories of frying. Let me know how you liked it, what substitutions you made and what you paired it with in the comments below. Enjoy!
MORE BAKED CHICKEN RECIPES TO TRY
♡ If you liked this recipe, giving it a star rating ★★★★★ in the comments below really helps! For more recipes, subscribe to my newsletter or follow me on Facebook, Instagram and Pinterest.
Print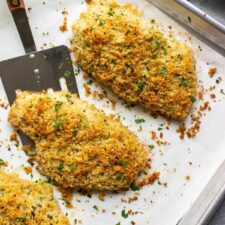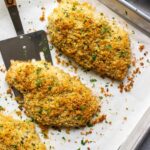 Baked Parmesan Crusted Chicken
---
Author:

Total Time:

30 minutes

Yield:

4
Description
This crispy baked Parmesan crusted chicken is juicy on the inside with a crunchy coating of butter, panko breadcrumbs, parmesan and parsley.
---
4

boneless, skinless chicken breasts (

5

–

8

oz. each)

4 tablespoons

butter, melted

1 tablespoon

olive oil

1/4 teaspoon

paprika

1

cup

panko breadcrumbs

1 teaspoon

garlic powder

2 teaspoons

Italian seasoning

1/3

cup

Parmesan cheese, grated

1 tablespoon

fresh parsley, chopped / parsley flakes

1/2 teaspoon

coarse sea salt

1/4 teaspoon

black pepper
---
Instructions
Pound the chicken to 1/2″ thickness using a meat mallet or rolling pin.
Combine melted butter, olive oil and paprika in a shallow bowl. In another shallow bowl, combine panko breadcrumbs, garlic powder, Italian seasoning, Parmesan cheese and parsley. Do a taste test and adjust breadcrumb seasoning to taste.
Dip the chicken in the butter, then dredge through the seasoned breadcrumbs. Pat in any excess breadcrumbs for maximum coverage.
Transfer chicken to a baking tray lined with foil or parchment paper and spray the top of the chicken with cooking spray.
Bake at 425°F for 18-20 minutes or until the crust is golden brown and internal temperature reads 165°F.
Remove and let it rest for 5 minutes before serving.
Enjoy!
Prep Time:

10 mins

Cook Time:

20 mins
♡ Affiliate disclosure: As an Amazon Associate, I earn commissions from qualifying purchases from Amazon.com. You can learn more about it here.