These no-boil slow cooker mashed potatoes are a great way to make homemade creamy mashed potatoes during Thanksgiving and Christmas while saving precious stovetop and oven space for the main dishes.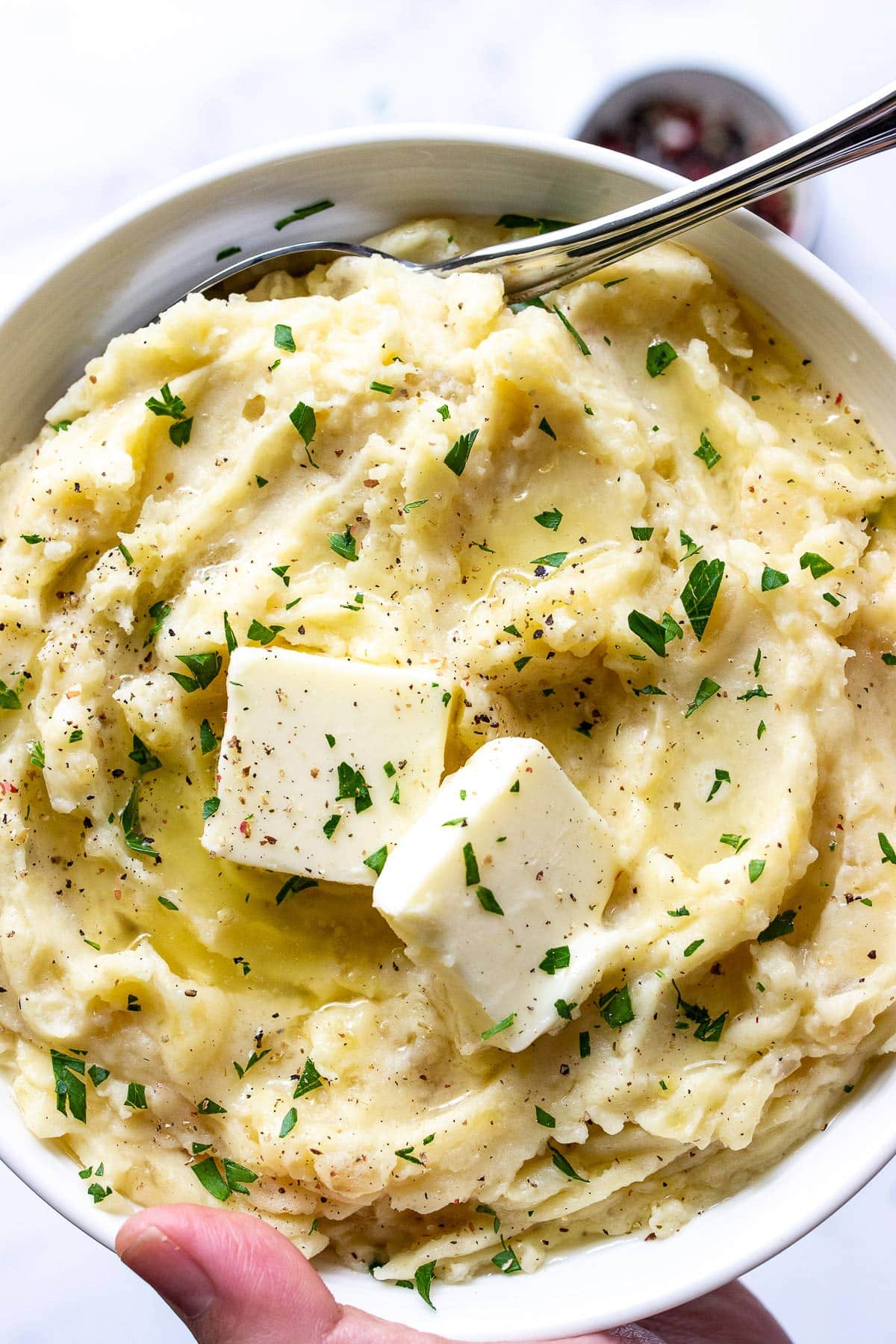 This recipe really shines during Thanksgiving and Christmas when the stovetop and oven are full of turkey, stuffing, green bean casserole, sweet potato casserole and sauces. The slow cooker makes it so you can still enjoy homemade mashed potatoes when space is at a premium during these stressful cooking days.
Because it's a no-boil method, you don't need to boil the potatoes in advance or add any broth to the slow cooker. Just toss your peeled and cut raw potatoes in the slow cooker, add some melted butter and slow cook for 4 hours.
Adding sour cream makes it creamy and rich so you don't need to add any milk or heavy cream later. It's a simple, foolproof method and a great hands-off way to get mashed potatoes on your holiday table so you can focus on the main culinary attractions. And if you have any leftovers, make them into mashed potato puffs! So let's start cooking.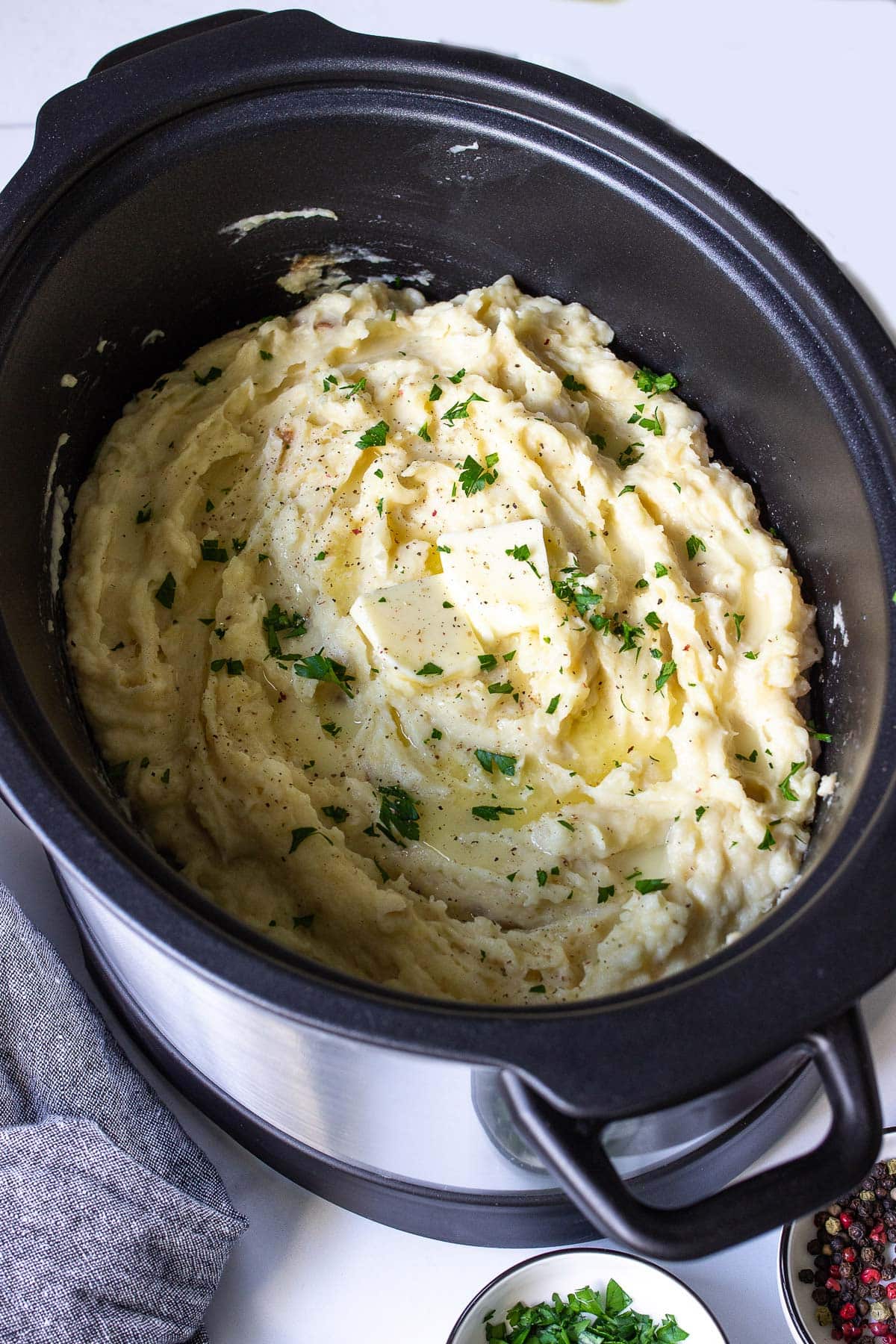 SLOW COOKER MASHED POTATOES RECIPE TIPS
Which potatoes to use – I used Yukon gold potatoes for this recipe but you can also use red potatoes. I choose to peel my skins but you can leave them on if you prefer your mash with potato peels.
I haven't tried this with russet potatoes but from what I read, russets tend to turn brown in the slow cooker and aren't a good fit for this recipe.
Cutting the potatoes – Cut the potatoes into 1″ chunks because the smaller the pieces, the faster they cook.
Garlic – I used garlic powder for this recipe but you can use 3-4 fresh garlic cloves and mince them for a stronger garlic texture and flavor.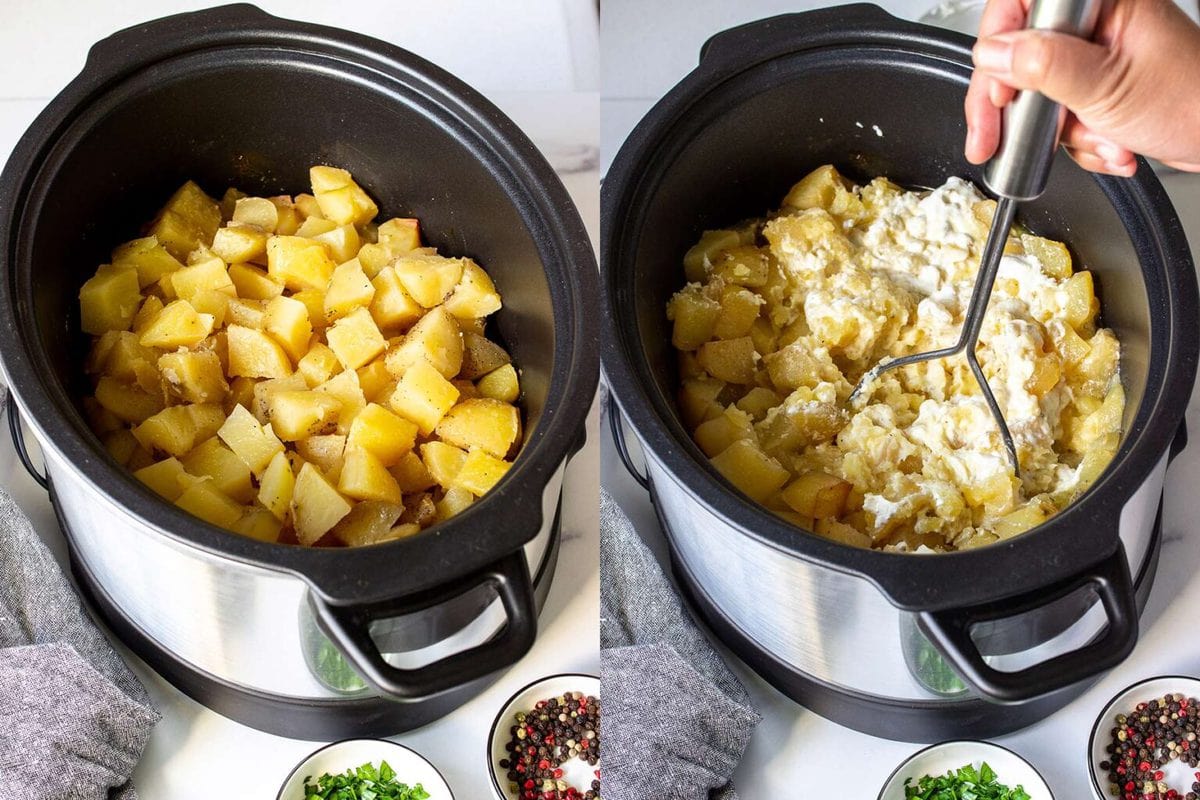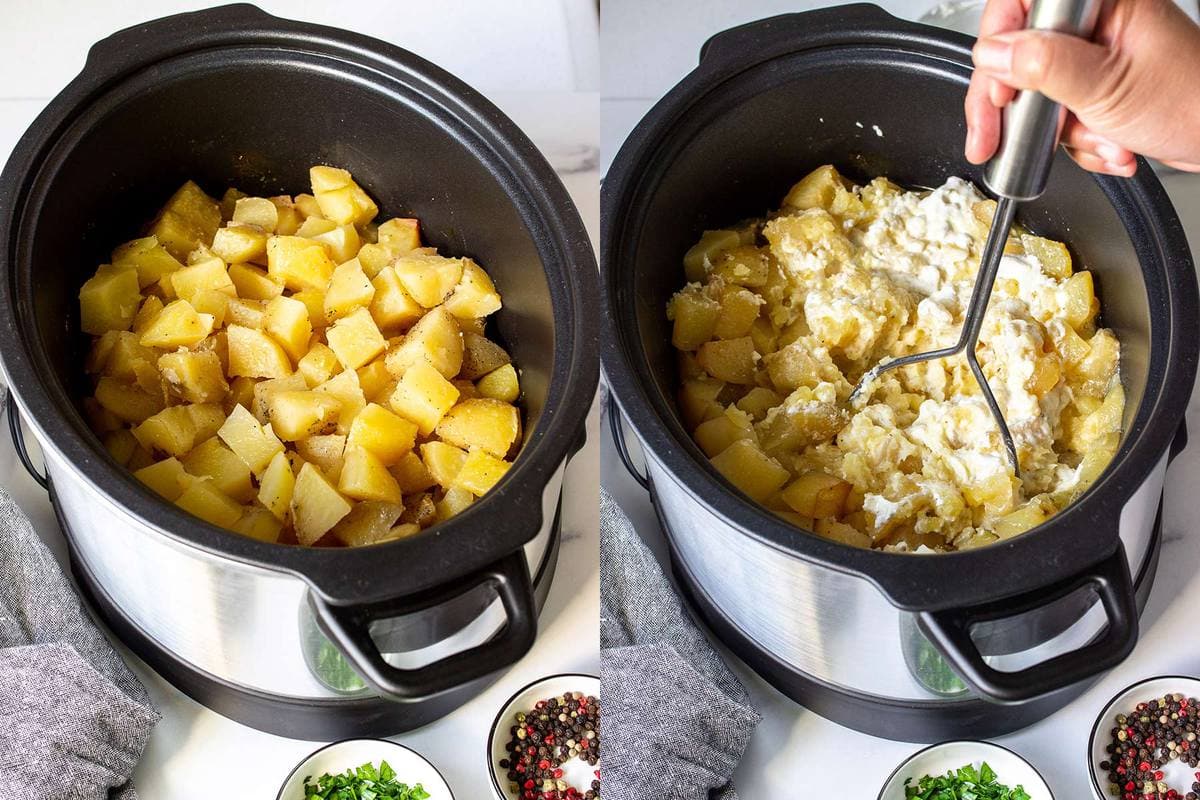 Mashing it up – You can mash it right in the slow cooker if you don't have a non-stick insert or a potato masher that's safe for non-stick cookware. If your slow cooker model does have a non-stick insert and you have a metal potato masher, transfer everything to a large mixing bowl and mash it up there.
Add some milk or heavy cream – If you feel you need it even creamier, add a little milk or heavy cream during the mashing stage.
Add some cream cheese – Change the flavor a little with some cream cheese and chives.
Load it up – Make it loaded mashed potatoes with bacon bits, chives and cheddar cheese.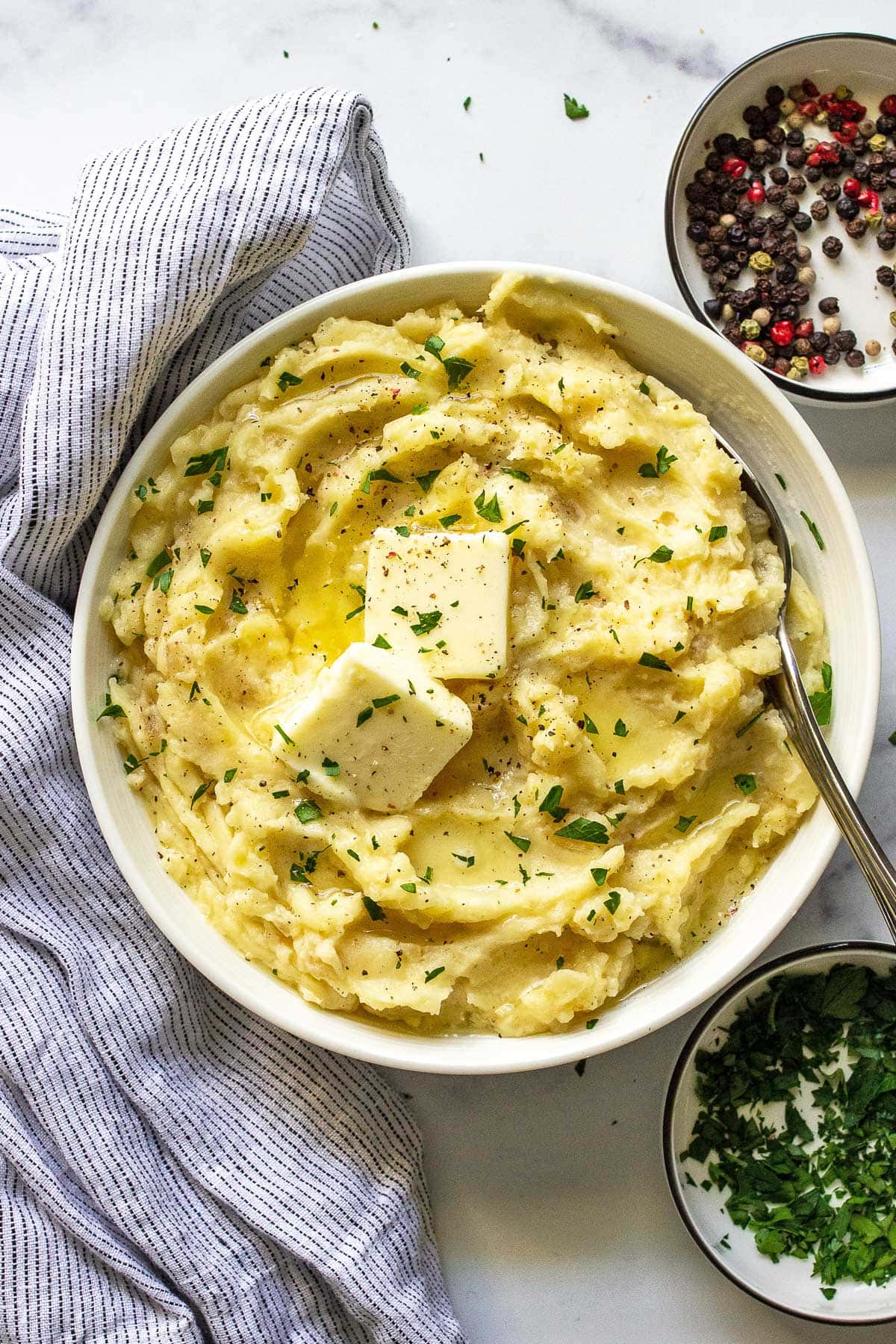 Longer cooking times – I've heard you can slow cook mashed potatoes for 6-8 hours on low but might turn a little brown if your slow cooker runs too hot. My potatoes that were touching the edges of the slow cooker started turning a little brown at about the 4-hour cooking mark, so if you decide to go low and slow, keep an eye on it.
Prep in advance – If you're short on time, you can peel and dice the potatoes the day before. Store them in water in the fridge up to 24 hours in advance to prevent any browning.
Keep them warm – You can keep them warm for up to 3 hours in the slow cooker before serving.
And that's about it! Enjoy your holiday feast and try out some holiday recipes of mine like sweet potato casserole, carrot souffle, mashed potato puffs, or sweet potato stacks.
MORE POTATO RECIPES TO TRY
Did you make this recipe? Rate it!
♡ If you liked this recipe, giving it a star rating ★★★★★ in the comments below really helps! For more recipes, subscribe to my newsletter or follow me on Facebook, Instagram and Pinterest.
Print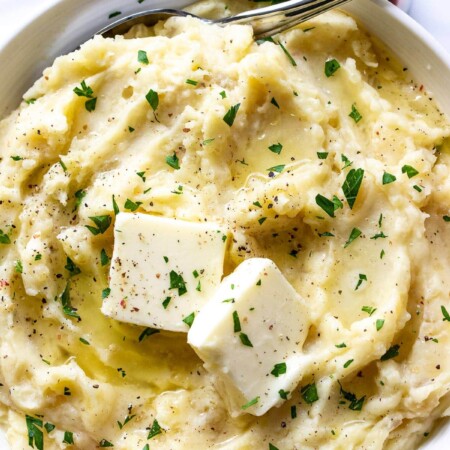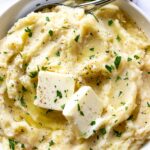 Slow Cooker Mashed Potatoes
---
Author:
Total Time: 4 hours 15 minutes
Yield: 8–10 1x
Description
These no-boil slow cooker mashed potatoes are a great way to make homemade creamy mashed potatoes during Thanksgiving and Christmas while saving precious stovetop and oven space for the main dishes.
---
5 lb. Yukon gold/red potatoes
1 teaspoon garlic powder
1 teaspoon onion powder
1/2 cup butter, melted
Salt and pepper to taste
8 oz. sour cream
Fresh parsley or chives to garnish (optional)
---
Instructions
Peel the potatoes and cut into 1″ chunks.
Mix the potatoes, garlic powder, onion powder, melted butter,  and salt and pepper to taste in a 6 qt. slow cooker.
Cover and cook on high for 4 hours.
Add the sour cream and mash the potatoes until smooth and creamy.
[Optional step] Fold with parsley or chives before serving.
Dish and serve hot.
Enjoy!
Prep Time: 15 mins
Cook Time: 4 hours