Work some magic on your mashed potatoes with mashed potato puffs! These loaded potato puffs will breathe some new life into your leftover mashed potatoes!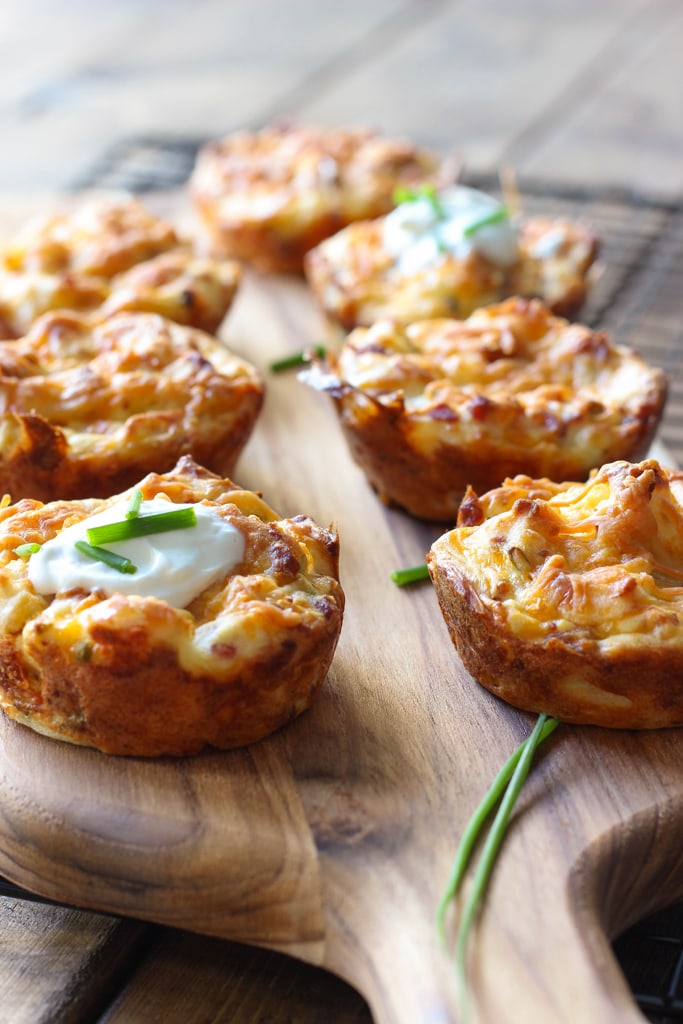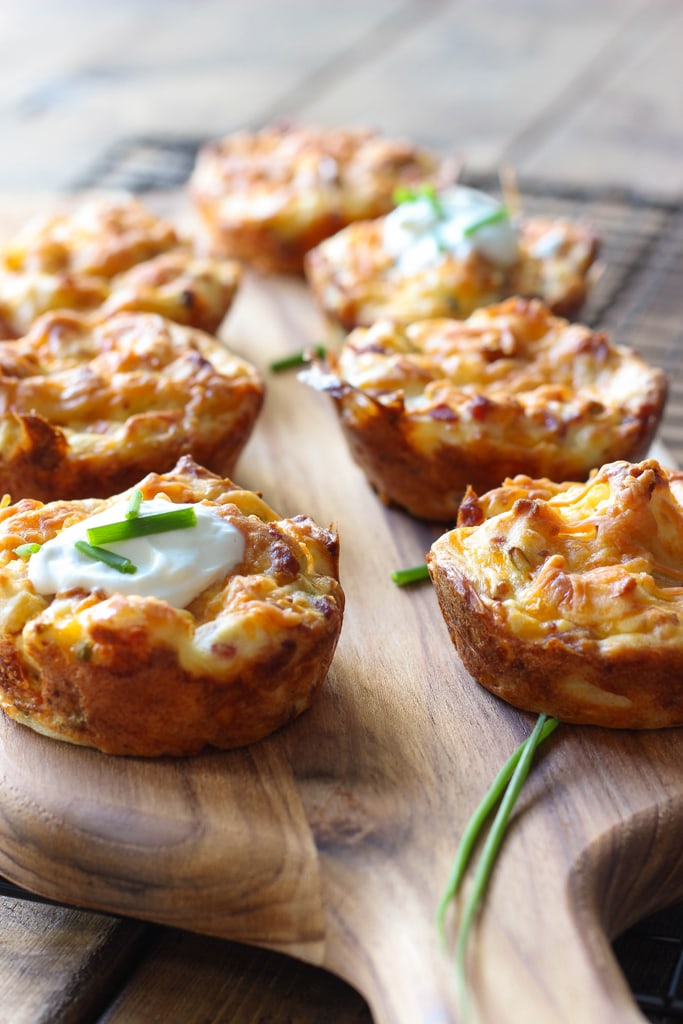 I'm a little weird. Come Thanksgiving or Christmas, while everyone's looking forward to turkey and stuffing, I'm looking forward to mashed potatoes and gravy. And it's not so much the mashed potatoes themselves because I find them rather plain when they're not drowned in gobs and gobs of gravy. It's the gravy. I'm a gravy hog.
While other people's plates will be a colorful assortment of everything on the table, mine would be 1/4 assortment and the rest of the plate invaded by mashed potatoes which you wouldn't even recognize because it's drowned in a lake of gravy. And I put extra gravy on my turkey just in case. If the gravy is almost gone, all you have to do is look on my plate to find it.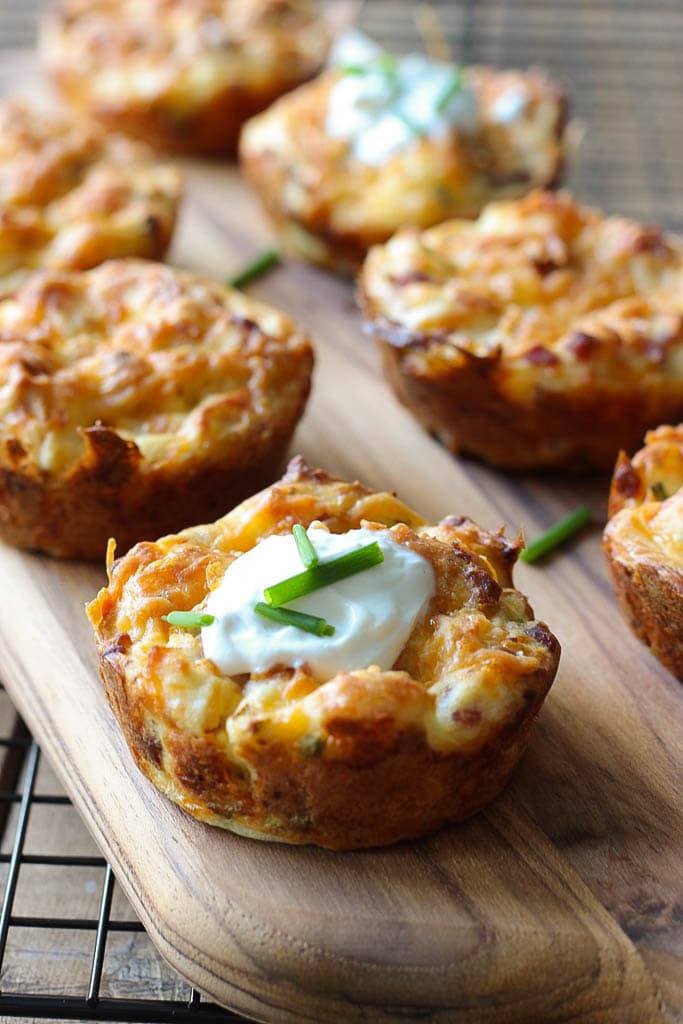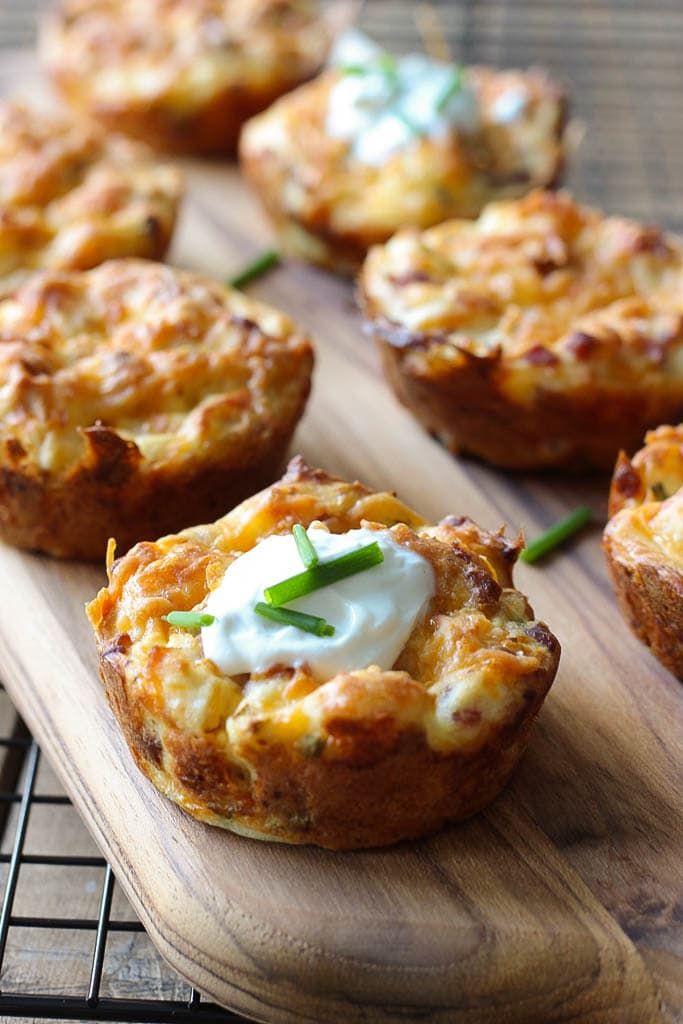 So without gravy, let's try and breathe some new life into mashed potatoes. Let's add texture. By adding some eggs, we'll puff it up in the oven so you'll get crispy, puffy mashed potatoes on the outside, but creamy and soft mashed potatoes on the inside.
And we'll beef up the mashed potatoes by loading them up with tons of cheese, bacon bits and chives. Then once it's all said and done, we'll eat the puffs with sour cream. Think of this as a mashed potatoes version of my hash brown egg nests recipe that went viral.
HOW TO MAKE MASHED POTATO PUFFS (1 MIN):
These. are. DELICIOUS. Crispy on the outside, fluffy on the inside. I can't get enough of them. Here's a warning: you should probably make two batches to avoid family feuding! The more leftover mashed potatoes you have the better. These are so good you should make mashed potatoes just to make them. I've actually done this and carried these puffs proudly to potlucks. And you can actually cheat by using instant mashed potatoes. No one would know the difference.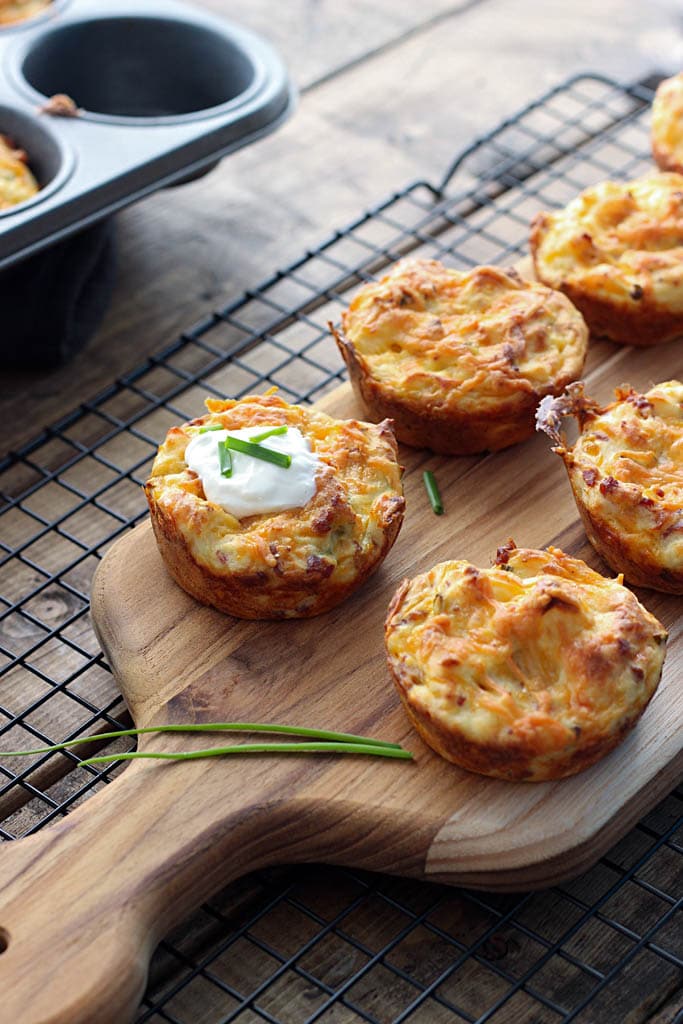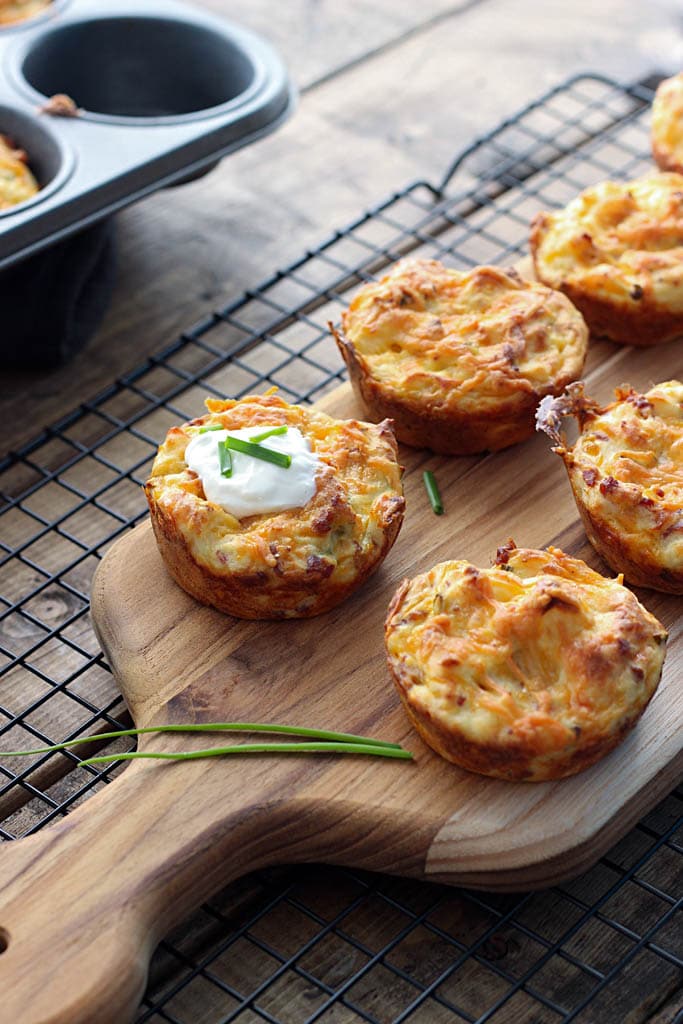 Okay, onto some technique. When you mix it all together, it'll look a little mushy. But have faith. It'll work some puff magic in the oven and lose that mushy, flat, lifeless form. Have faith in the puff magic. It'll happen.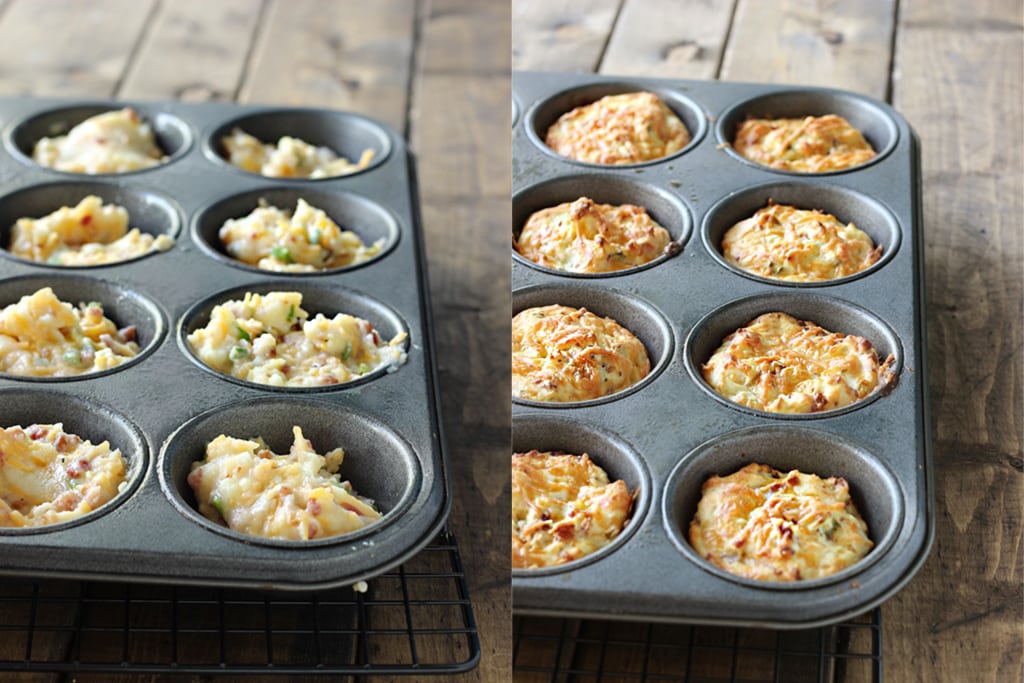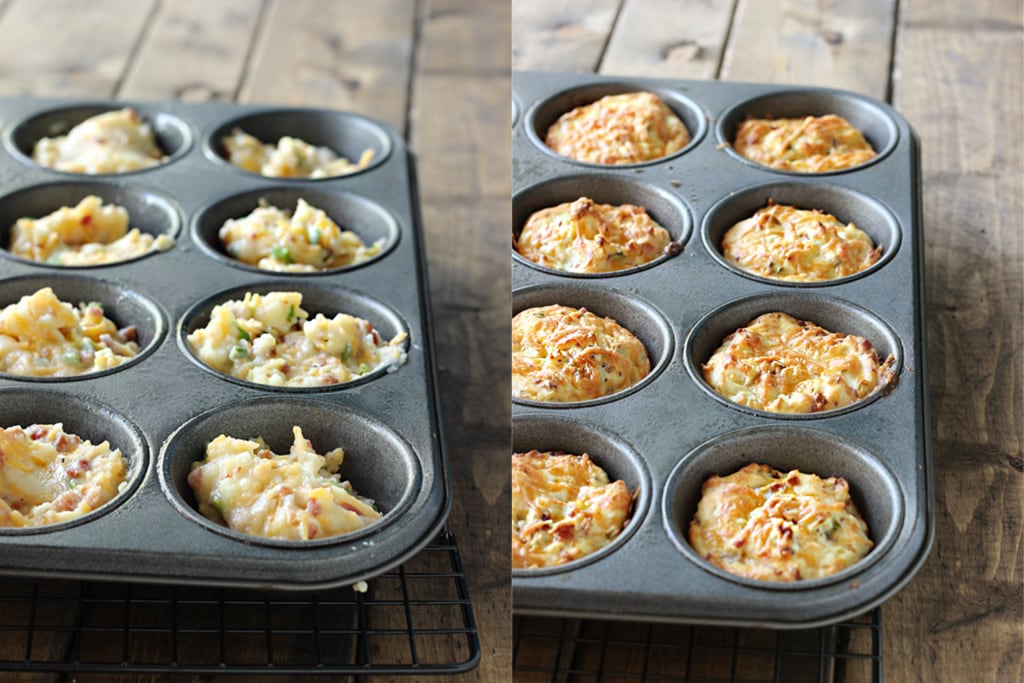 So mix, mix, mix, which is pretty easy and then mound it into a greased muffin tin (I used a regular sized non-stick one). The messier you mound in the mashed potatoes, the more texture it'll have later. So no worrying about how pretty it'll look. Mound it in messily! Then we top with some yummy Parmesan cheese and bake for 30 minutes. If you want to make them even smaller and bake a teeny tiny army of mini potato puffs, then you can use mini muffin pans but bake them 10 minutes or so less. Or you could use brownie bar pans and make fun tightly packed square potato puffs.
Not too bad for mashed potatoes without gravy!
Want something crispy on the outside with soft, fluffy and creamy mashed potatoes on the inside? Try out these loaded mashed potato balls. For another creative way to serve potatoes in a muffin tin, try these garlic Parmesan sweet potato stacks.
♡ Did you make this recipe? Please give it a star rating below! For more quick & easy recipes, FOLLOW ME on Facebook, Instagram and Pinterest.
Print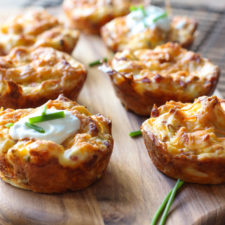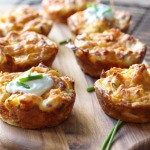 Mashed Potato Puffs
---
Author:

Prep Time:

10 mins

Cook Time:

30 mins

Total Time:

40 mins

Yield:

12

1

x
Description
Work some magic on your mashed potatoes with mashed potato puffs! These loaded potato puffs will breathe some new life into your leftover mashed potatoes!
---
2 cups

mashed potatoes

3

large eggs, beaten

1 cup

cheddar cheese, shredded

1/4 cup

bacon bits

1/4 cup

chives, chopped
Pepper to taste

1/4 cup

Parmesan cheese, shredded
---
Instructions
Combine mashed potatoes, eggs, cheddar cheese, bacon bits and chives.
Season with pepper if needed.
Grease a muffin pan and mound a heaping spoonful into each cup.
Sprinkle each cup with Parmesan cheese.
Bake for 30-35 minutes at 400°F or until golden brown.
Cool for 5 minutes and dish and serve warm with sour cream.
♡ Affiliate disclosure: As an Amazon Associate, I earn commissions from qualifying purchases from Amazon.com. You can learn more about it here.