These garlic Parmesan sweet potato stacks are a great way to serve sweet potatoes differently for the holidays. With crispy brown edges and soft tender centers, fresh rosemary, garlic, butter and Parmesan!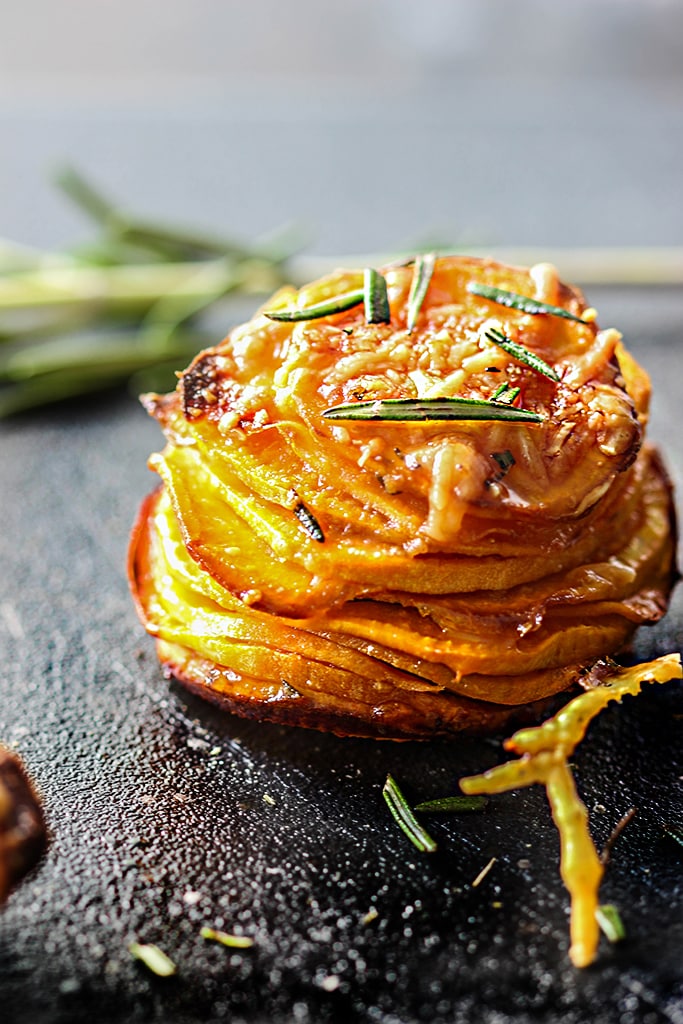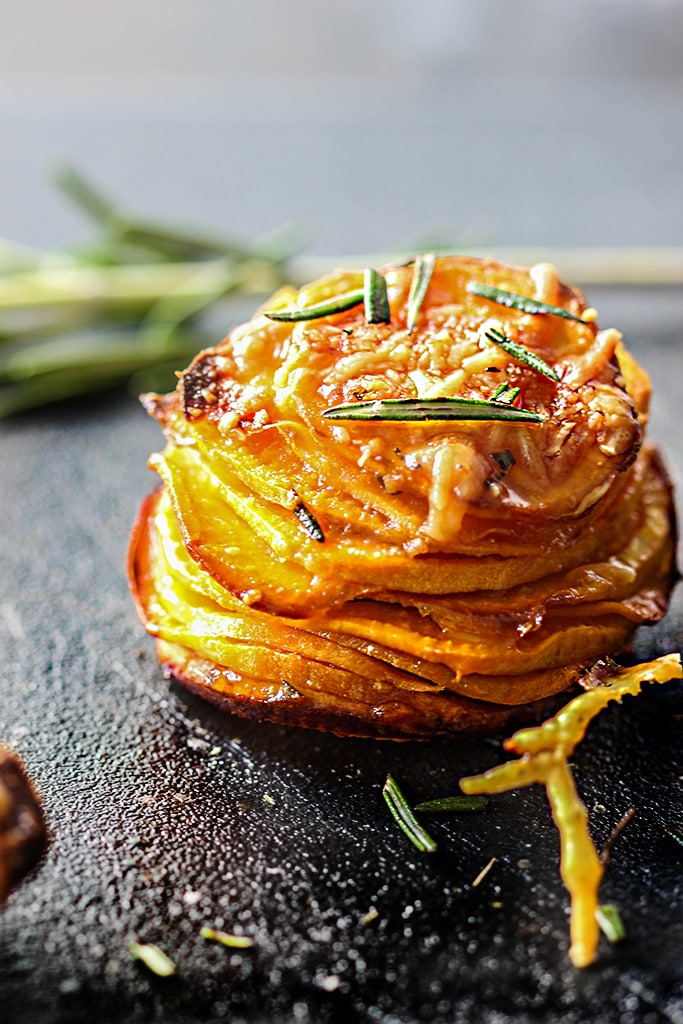 Impress your guests with these unique sweet potato stacks that are made in the muffin pan. Made with simple ingredients like sweet potatoes, butter, garlic, rosemary and Parmesan cheese, these stacks transform the humble sweet potato into a unique side dish you can add to your Thanksgiving or Christmas menu.
The sweet potatoes are sliced into thin rounds and tossed in melted butter, Parmesan cheese, garlic seasoning and fresh rosemary. Then we stack them in a muffin pan (be as messy as you want) and top with more Parmesan cheese. As it bakes, the edges of the potato stacks crisp up while the center is buttery and tender. Brush generously with more melted butter and top with some fresh rosemary before serving this holiday.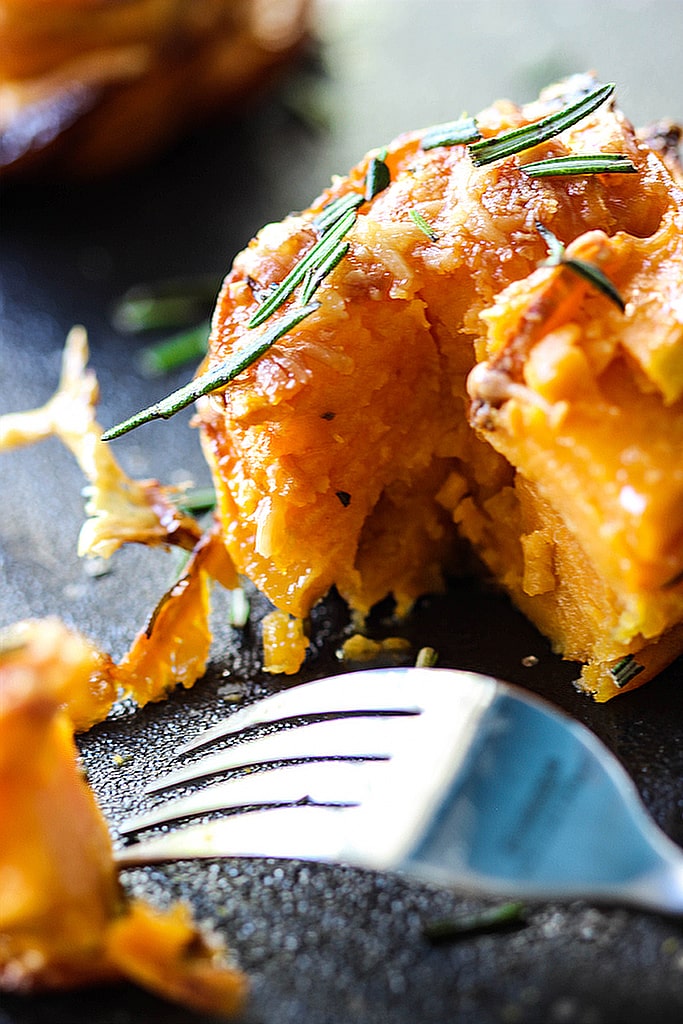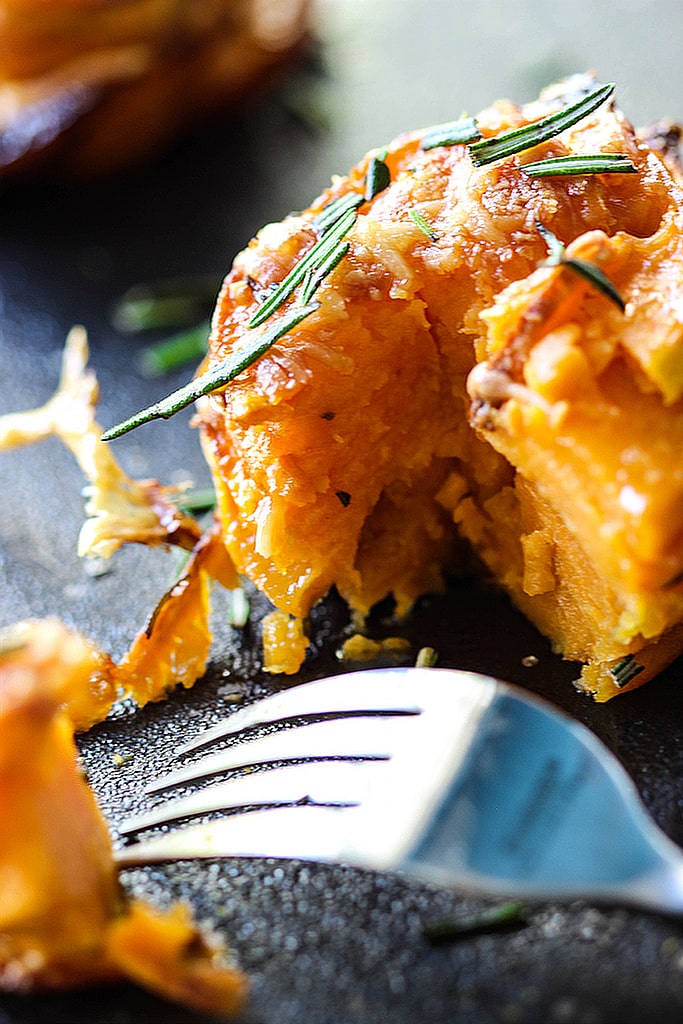 It's different from your classic sweet potato casserole but is sure to be a hit during the holidays, just like these mashed potato puffs which is a great way to use leftover mashed potatoes and hash brown egg nests. Let's start cooking.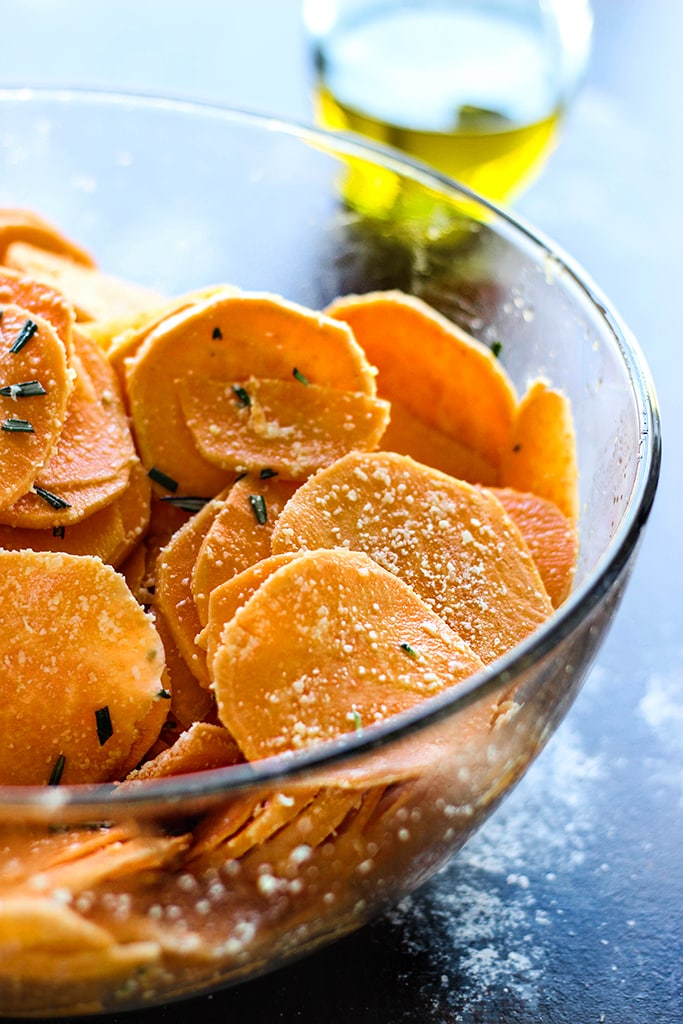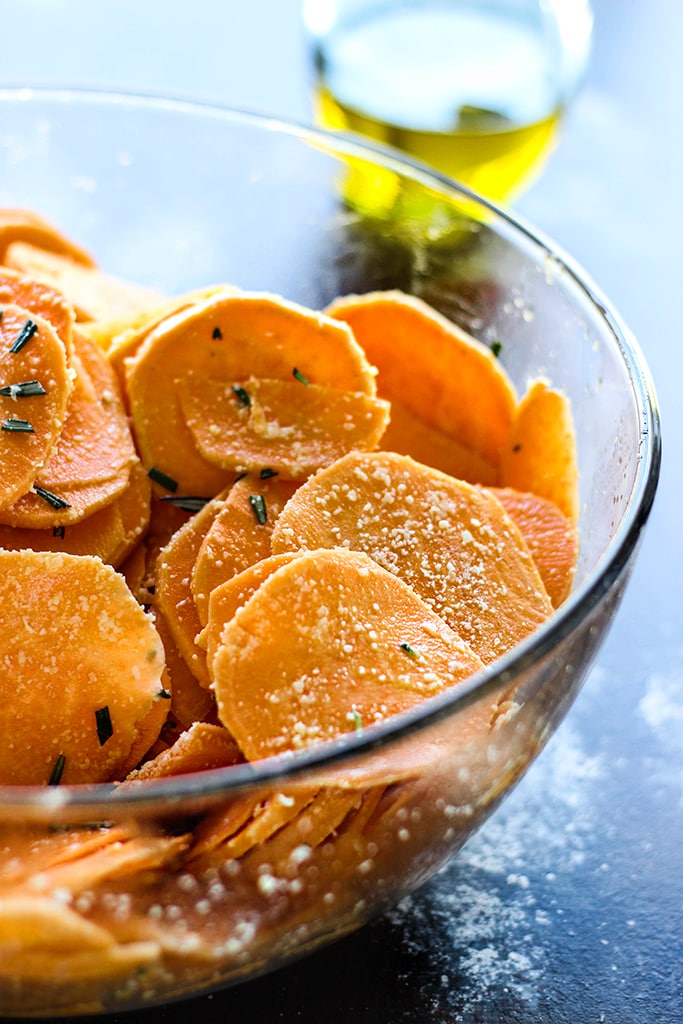 GARLIC PARMESAN SWEET POTATO STACKS RECIPE TIPS
You'll want around 5-6 large sweet potatoes which ended up about 5 pounds for me. Peel them and slice them into rounds as thin as you can without hurting yourself. Be careful and take your time! This was the bulk of the preparation for me. Put them in a large mixing bowl that's big enough for you to toss them around later and let's move on to the butter mix.
Melt the butter and combine it with olive oil, garlic powder and salt and pepper to taste. Pour it all over the potato slices and mix it up. Then add some Parmesan cheese and freshly chopped rosemary to the bowl. Yum, rosemary smells so good. This little scented treat should cheer you up after sweating all over the potato prep. Mix it all up! I used a spatula but you can use your hands as well. If you chose to use your hands, make sure you grease a muffin pan with non-stick spray first, so you won't have to wash your hands in between.
Now grab the slices and stack them in your hands. Press them into the muffin wells until you have stacks that are towering well over the lip. It'll all shrink later. You'll want an impressive height to begin with so your stacks don't look underwhelming later. And remember, the messier the stacks, the better they look!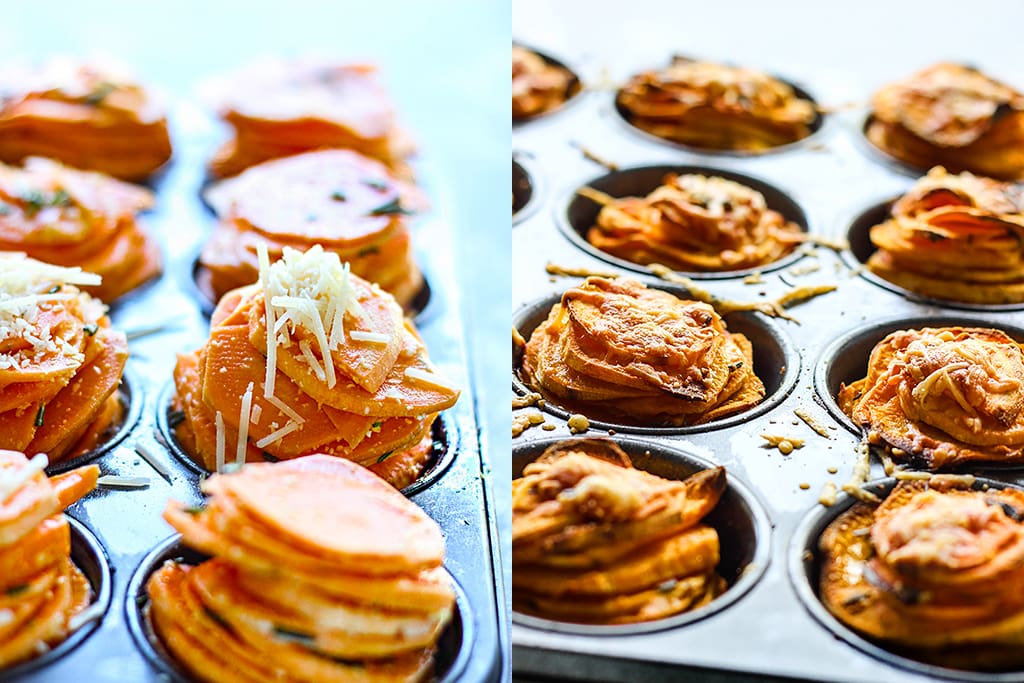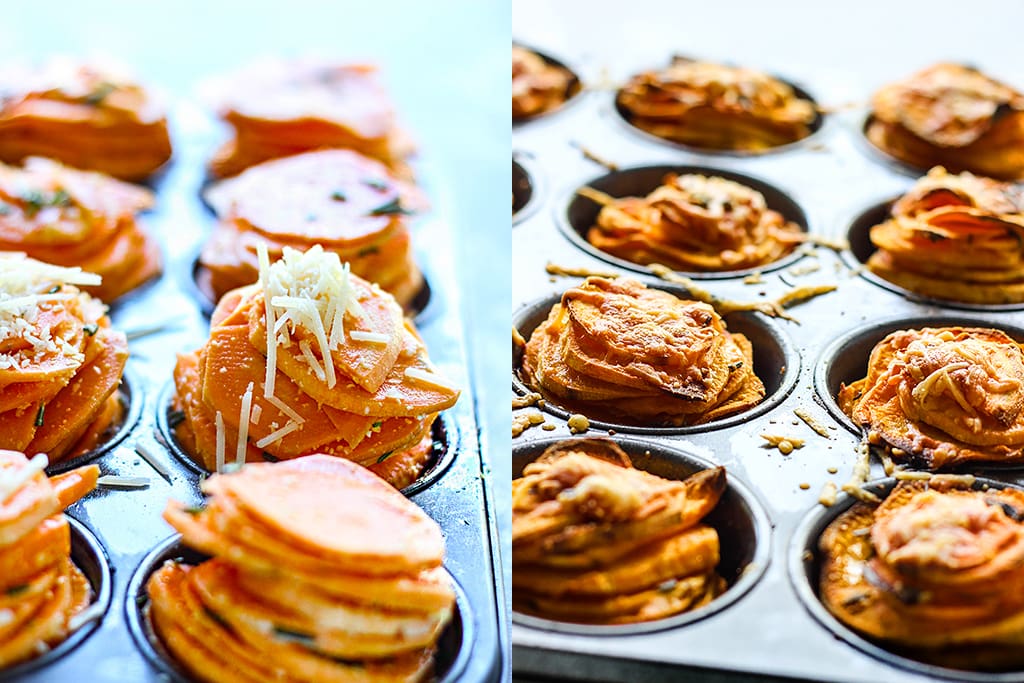 One of my potatoes was slightly larger than the others in width and couldn't fit in the wells so I just stacked them on a baking sheet. If you've used up your muffin wells and have more stacks you can make, just put the remainder on a baking sheet.
I ended up with 14 stacks. Or you just use a baking sheet from the get-go, just be careful that your stacks don't collapse while moving them around in the oven. The purpose of a muffin tin is merely to keep them stable during the baking stage.
Top with some shredded Parmesan cheese and bake at 375 degrees F for an hour. Check around the 50-minute mark. You'll want the tops to be nice and browned but the middle to be fully cooked and tender.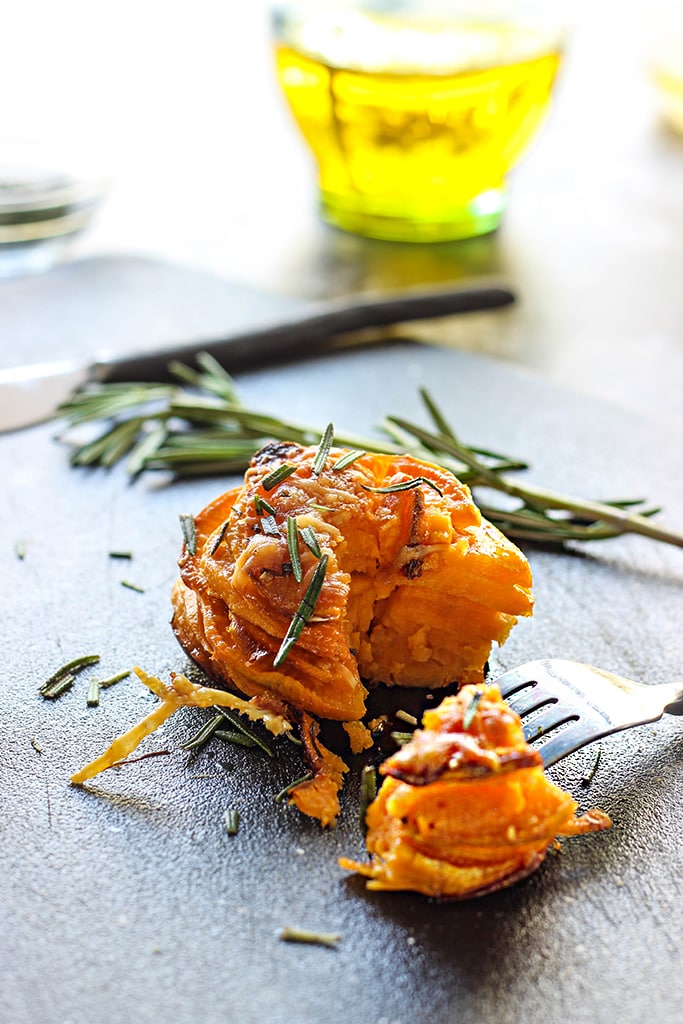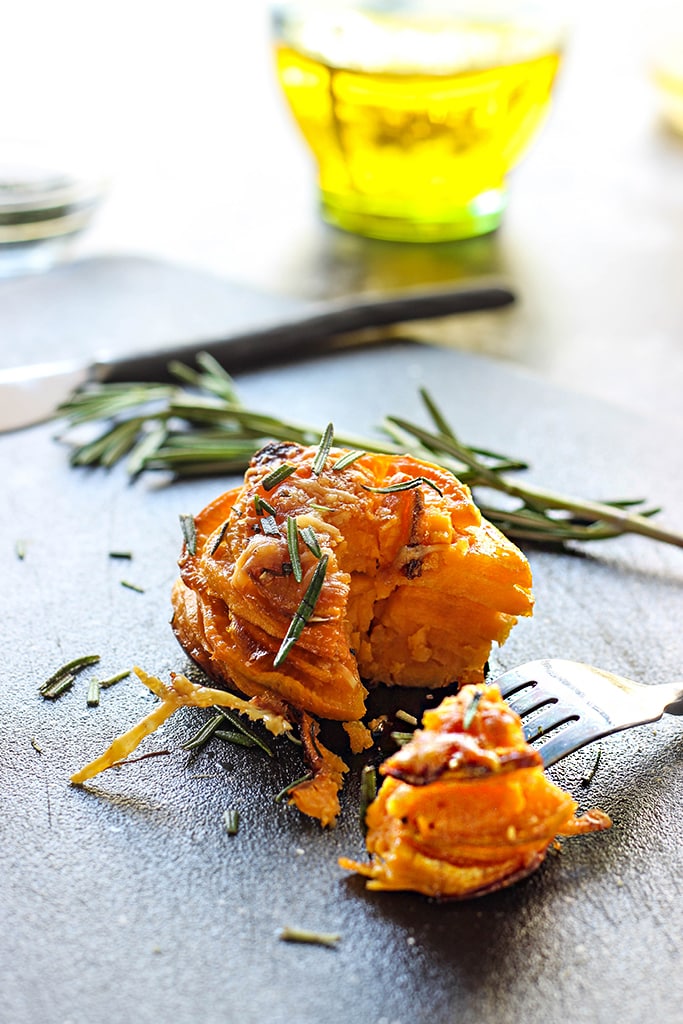 Let them cool for a while once they're all done in the oven so they don't fall apart when you remove them. I've found that removing things or cutting stuff fresh from the oven makes them fall apart easier. So give them room to cool down and solidify (for lack of a better word) before scooping or cutting.
They'll also look a little dry coming out of the oven so once you scoop them out, brush them up with the leftover tablespoon of melted butter and sprinkle with fresh rosemary to serve!
And that's it! Enjoy!
MORE POTATO RECIPES TO TRY
Did you make this recipe? Rate it!
♡ If you liked this recipe, giving it a star rating ★★★★★ in the comments below really helps! For more recipes, subscribe to my newsletter or follow me on Facebook, Instagram and Pinterest.
Print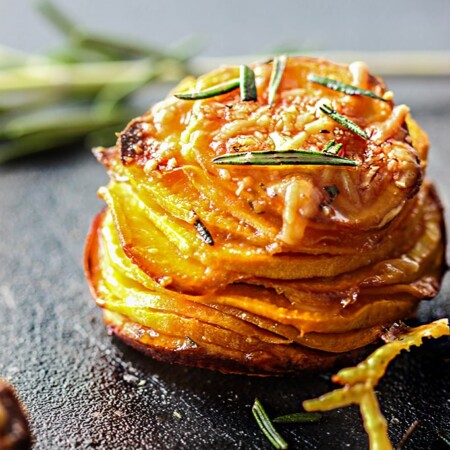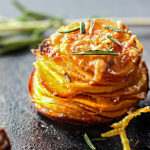 Garlic Parmesan Sweet Potato Stacks
---
Author:
Total Time: 1 hour 15 mins
Yield: 12–14 stacks 1x
Description
Try these garlic Parmesan sweet potato stacks with crispy brown edges, soft tender centers and fresh rosemary, garlic, butter and Parmesan!
---
3 tablespoons butter, melted and divided
2 tablespoons olive oil
1/2 teaspoon garlic powder
Salt and pepper to taste
1/4 cup Parmesan cheese, grated
2 tablespoons fresh rosemary, chopped
5–6 large sweet potatoes (about 5 lb.), peeled and cut into thin rounds
1/4 cup Parmesan cheese, shredded
---
Instructions
Combine 2 tablespoons of melted butter, olive oil, garlic powder and salt and pepper to taste in a large mixing bowl.
Add sweet potato slices and toss to coat.
Add grated Parmesan cheese and fresh rosemary and toss to combine.
Spray a regular muffin pan with nonstick cooking spray and stack sweet potato slices in the muffin wells.
Top stacks with shredded Parmesan cheese.
Bake in the middle rack for 60 minutes at 375 degrees F or until tops are browned and the middle is tender.
Let stacks cool for 5 minutes. Remove with a spoon.
Brush stacks with leftover melted butter and serve hot.
Enjoy!
Notes
If your slices are too wide for a muffin pan, stack them on a regular baking sheet.
Add more melted butter/olive oil as needed.
Prep Time: 15 mins
Cook Time: 60 mins