Loaded mashed potato balls are so crispy on the outside but soft, fluffy and creamy on the inside. Impress your guests at potlucks, parties and holiday dinners!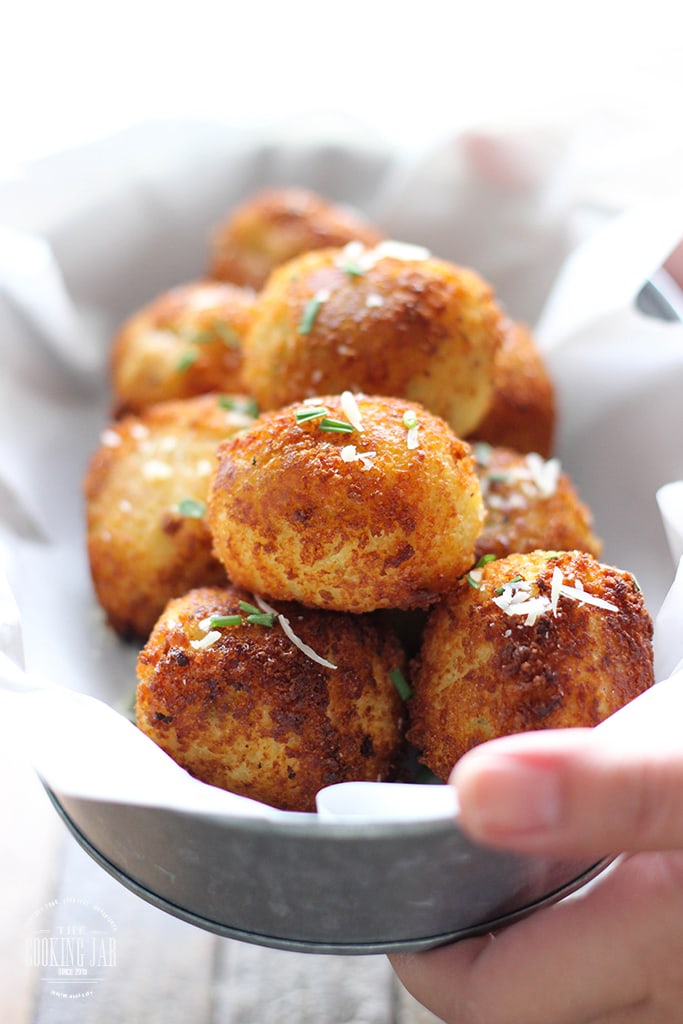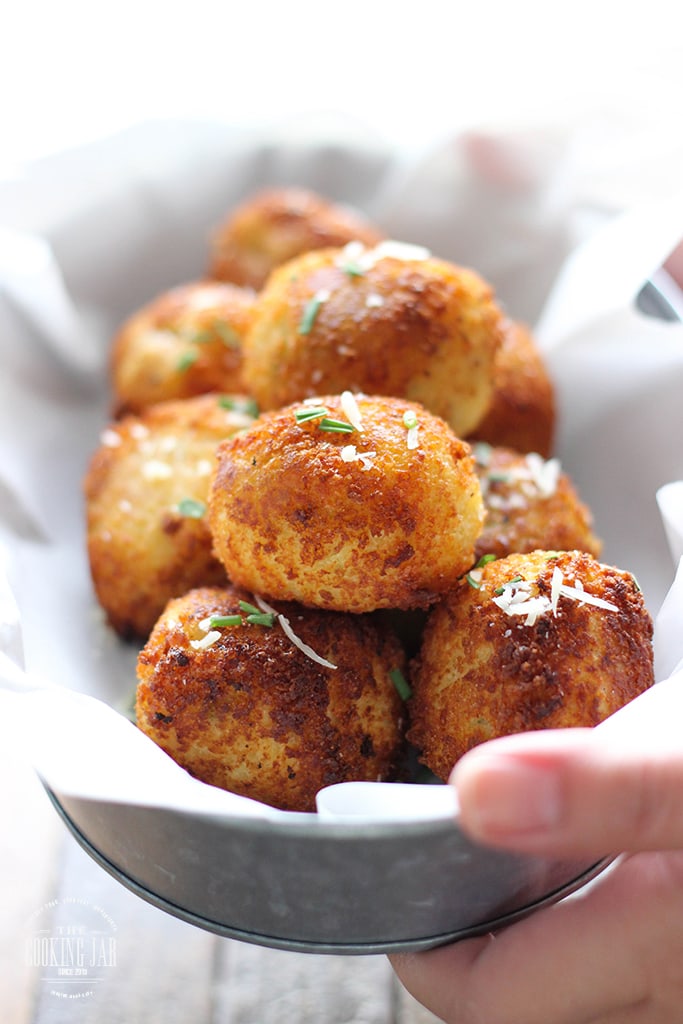 If you've ever had something that's crispy on the outside but so fluffy and soft on the inside, you'll understand just how tasty these are. It's like having ice cream with your hot apple pie. Hot and cold. Crispy and soft. Extremes like these are so much fun. We're taking mashed potatoes, made exclusively for this purpose, or leftover mashed potatoes and mixing them with cheddar cheese, bacon bits and chives. That there will be the fluffy. Then we're dredging them in a Parmesan-spiked panko bread crumb mixture. This will be the crunch. Crispy yet creamy. Happiness awaits!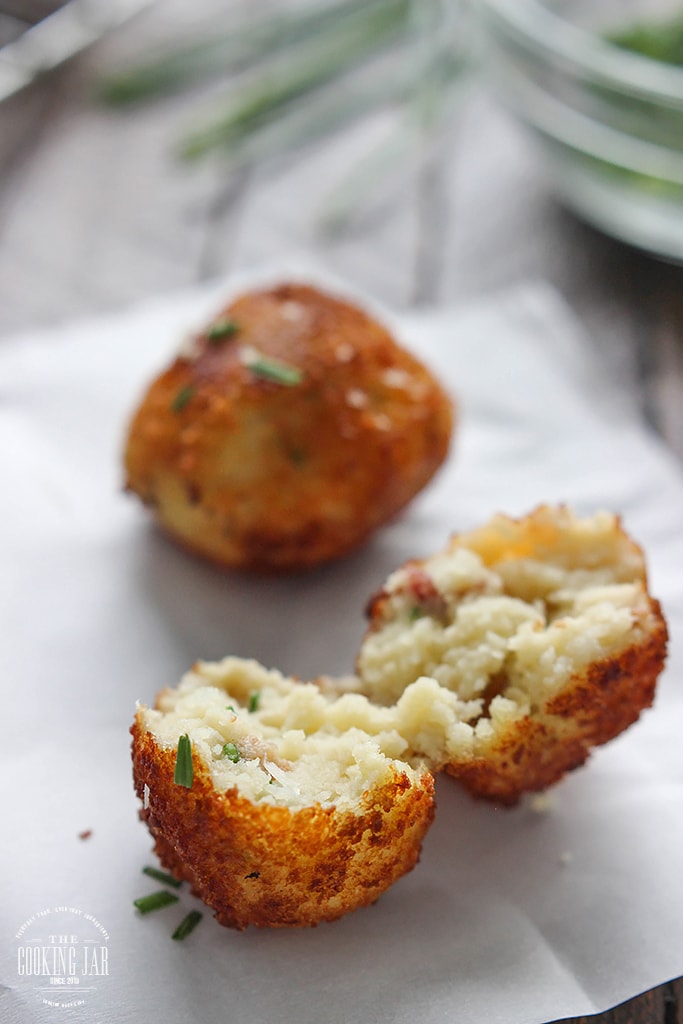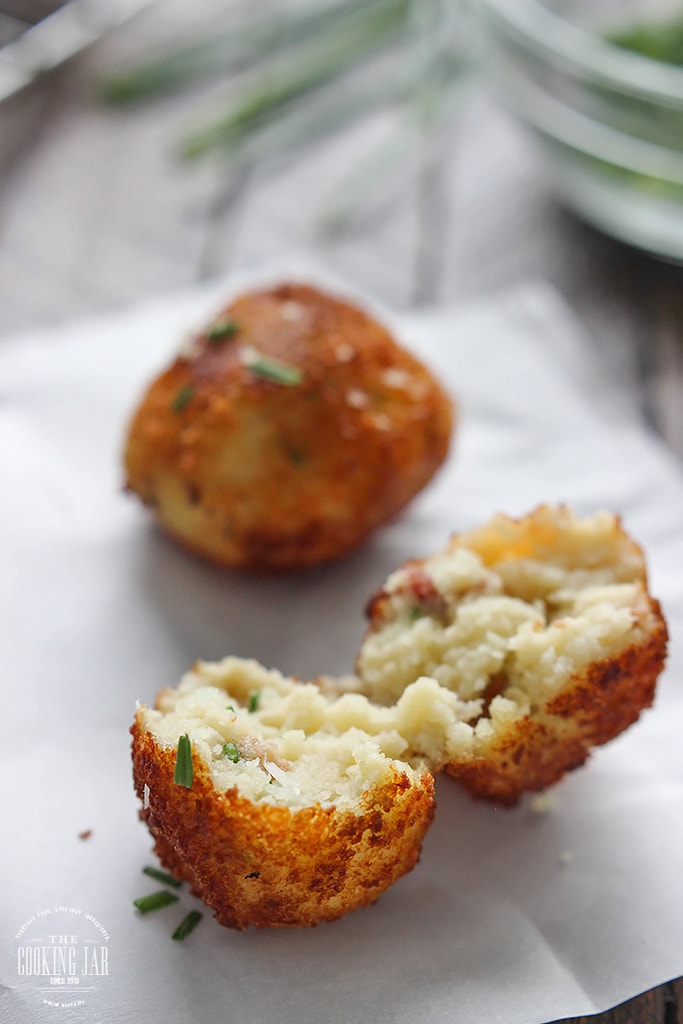 I've made them before with tuna, which you can also sub with salmon in these tuna croquettes. These loaded mashed potato balls are a lot easier to make though, by virtue of how small they are. There's less awkwardness during the egg dipping stage while your mashed potato mixture melts in your hands because it's excessively big and unwieldy. We'll use the magic of a spoon. You don't even have to get your hands dirty while breading! I've refined the technique a little for minimum fuss. So besides the hassle of breading, you can make these relatively easy and show them off at potlucks, parties and holiday dinners. Let's begin!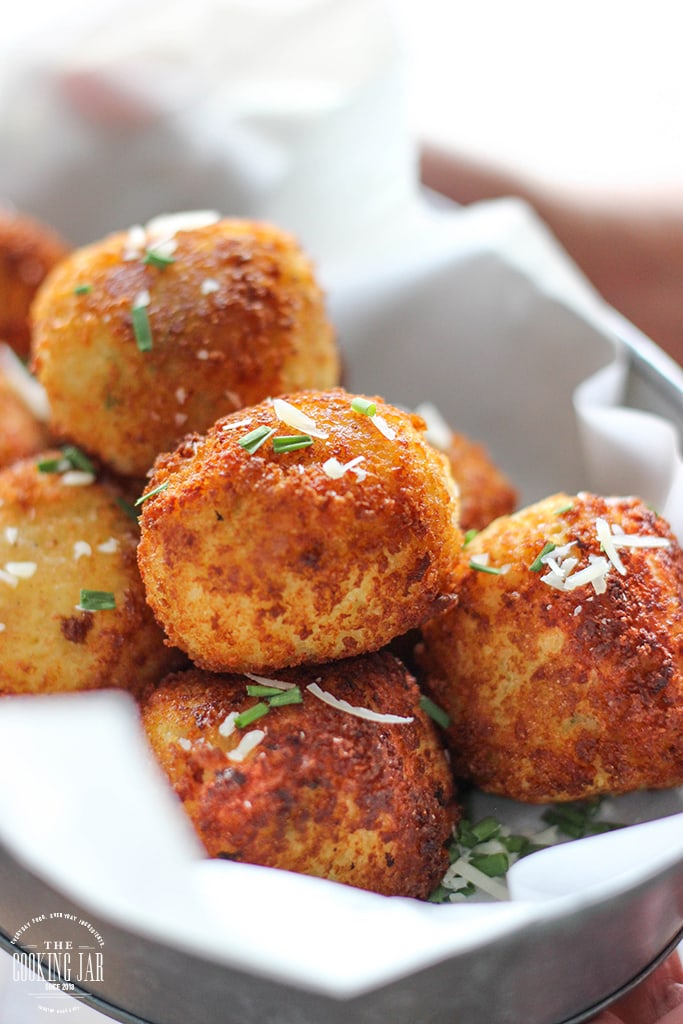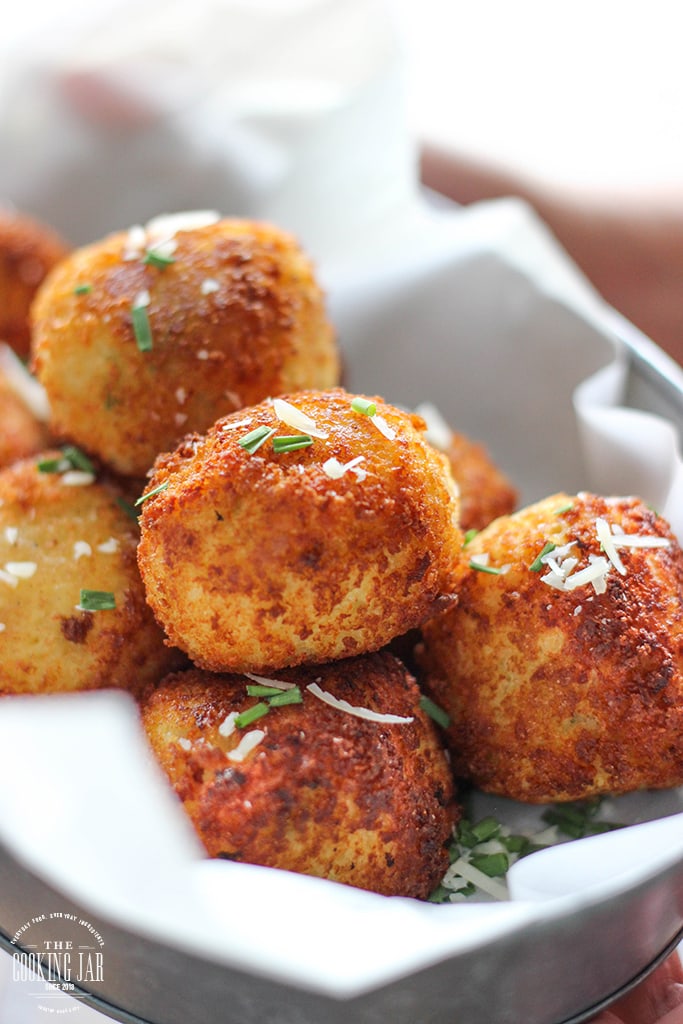 LOADED MASHED POTATO BALLS RECIPE TIPS
As I said earlier, you can use leftover mashed potatoes or make mashed potatoes just for this. This even works with instant mashed potatoes if you feel like cheating a little. Just make sure to chill them beforehand so they are easier to handle and won't fall apart in your hands. Once they're ready, mix them up with cheddar cheese, bacon bits, chives and pepper to taste. This part is easy.
Then we'll make them into balls. Just as I did with my meatballs, I used an ice cream scoop to make uniform balls. You should get about 24 balls for 3 cups of mashed potatoes. Dusting your hands with flour before rolling them into balls really helps with the sticking. Pat them gently at first into ball-sized shapes before rolling them gently in your palms to finish them off. Do this until you finish making all the balls. We'll be doing this stage by stage so there's less hand washing in between. If your hands get coated with too much mashed potatoes, a trick I learned was to get more flour and rub them in your hands over the sink. The flour will help clump them all up and get them off your hands. You want minimal hand washing during the ball forming stage because your hands should be dry so the potatoes don't stick.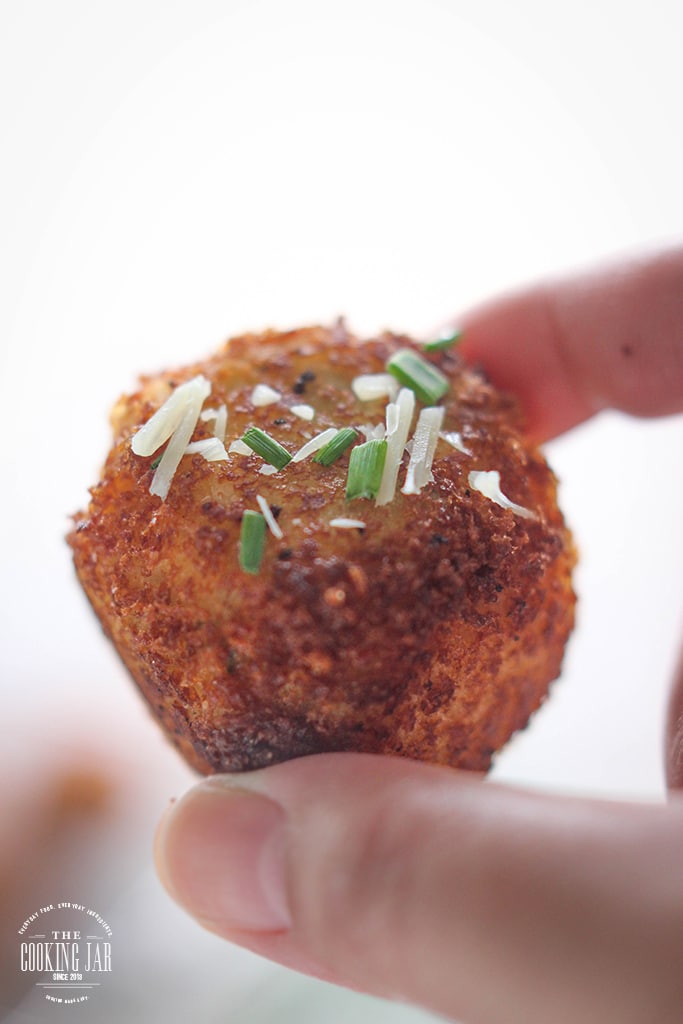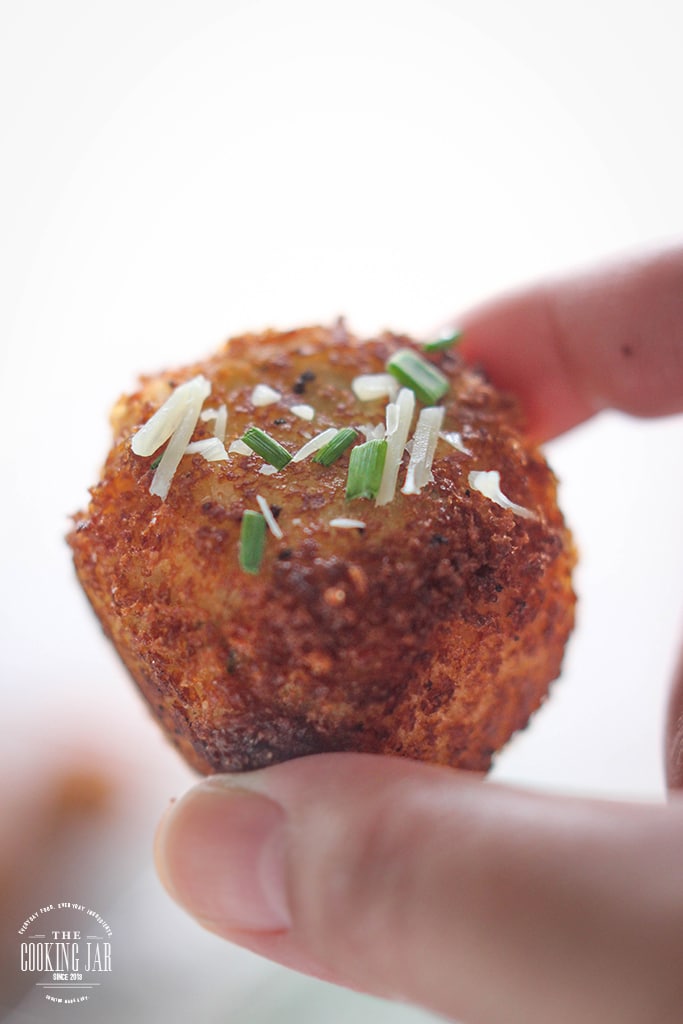 The hard part is over! Now onto the breading stage. You'll want one bowl with beaten eggs and one bowl with the Parmesan panko mixture. Each bowl is equipped with a handy spoon so your hands don't get dirty. I used panko bread crumbs because they're crispier and flakier than the regular kind. They don't show as much in the pictures because I tested making these overnight and frying them up the next day. The panko breading will look soggy if you prep in advance but it'll still be crispy once fried. It just won't be as flaky. When I say flaky, I mean something like these coconut shrimp. You'll be able to see the difference between making it the day before and frying it up immediately. Regardless of how it looks, both ways are still crispy so it all comes down to how busy you are and how much you care about appearances. For the Parmesan, I used the dry kind in the shaker so it blends in nicely with the bread crumbs.
Back to the breading stage, drop a ball in the egg mixture. This is the glue we'll use to get the bread crumbs to stick. Depending on your bowl size, only the bottom will be coated with the egg mixture so flip it over and around with the spoon until all sides are fully coated. Now use the spoon to pick it up and tilt it at the edge of the bowl to remove any excess egg. You'll want to do this because too much egg drippings into the bread crumb mixture will clump it all up which doesn't make it stick.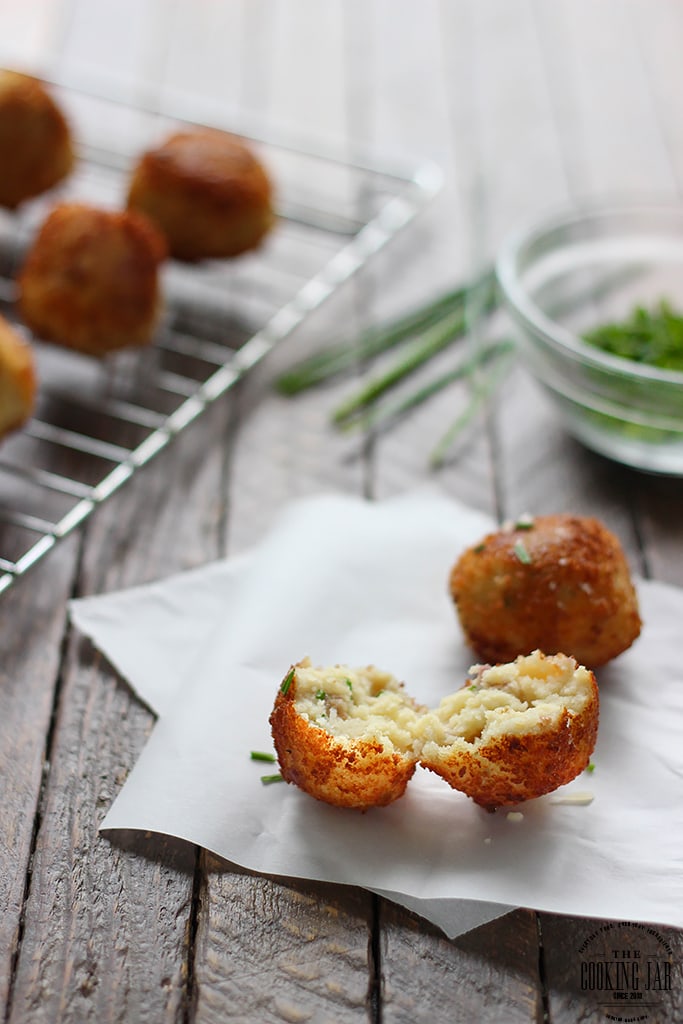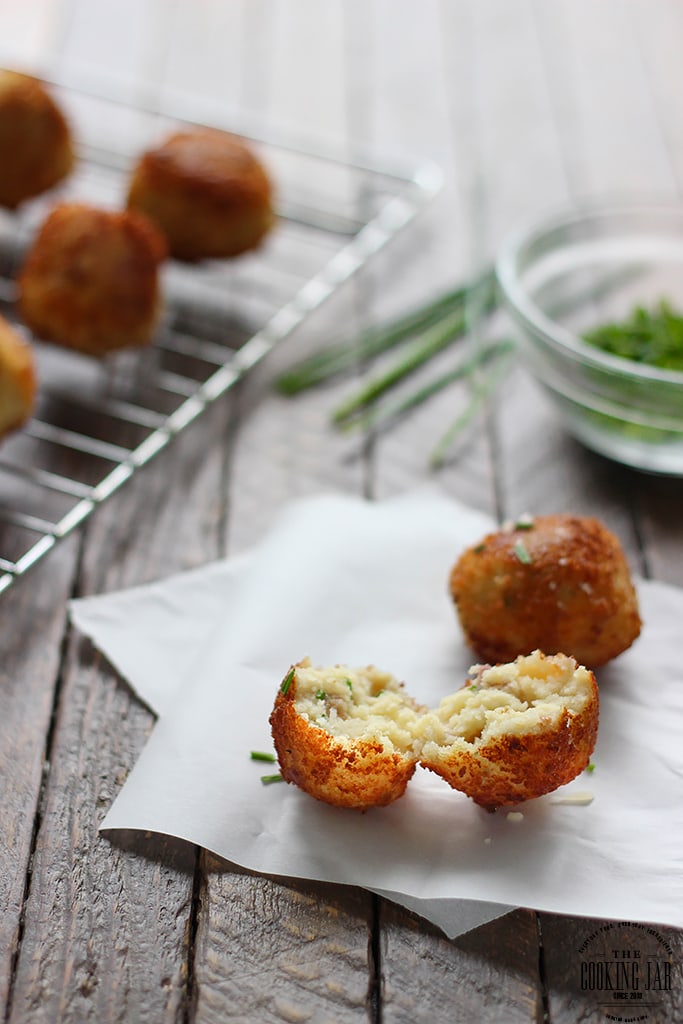 Drop the ball in the bread crumb mixture and use the bread crumb spoon to heap it all over until fully coated. Use the back of the spoon to pat it in. You can also choose to pat in any excess bread crumbs with your hands after this without getting your hands clumpy with breading. That's one ball down! The breading stage is what will take up the bulk of your time so don't worry about how long this is taking. Do this for the rest of the balls and we're onto the frying stage. Make sure your oil is hot before frying so the breading doesn't come off and stick to the pan. It'll strip all that breading right off. Pan fry in batches or deep fry if you want to. I just coated the bottom of the pan with oil and rolled them around to brown them evenly. The important thing to remember is to be gentle when frying, they're still fragile and an accidental stabbing will ruin your perfect balls.
If you're not a fan of frying, you can choose to bake these. I baked the tuna croquettes so I know it can be done. I estimate about 5-10 minutes or until browned. If you feel baking them doesn't brown them as much, you can also choose to toast the panko bread crumbs in a pan over medium-high heat until they are browned before breading them. No oil is needed, just heat them up in the pan and move them around until evenly browned. Mix it with the Parmesan and use that for the breading. Then bake it!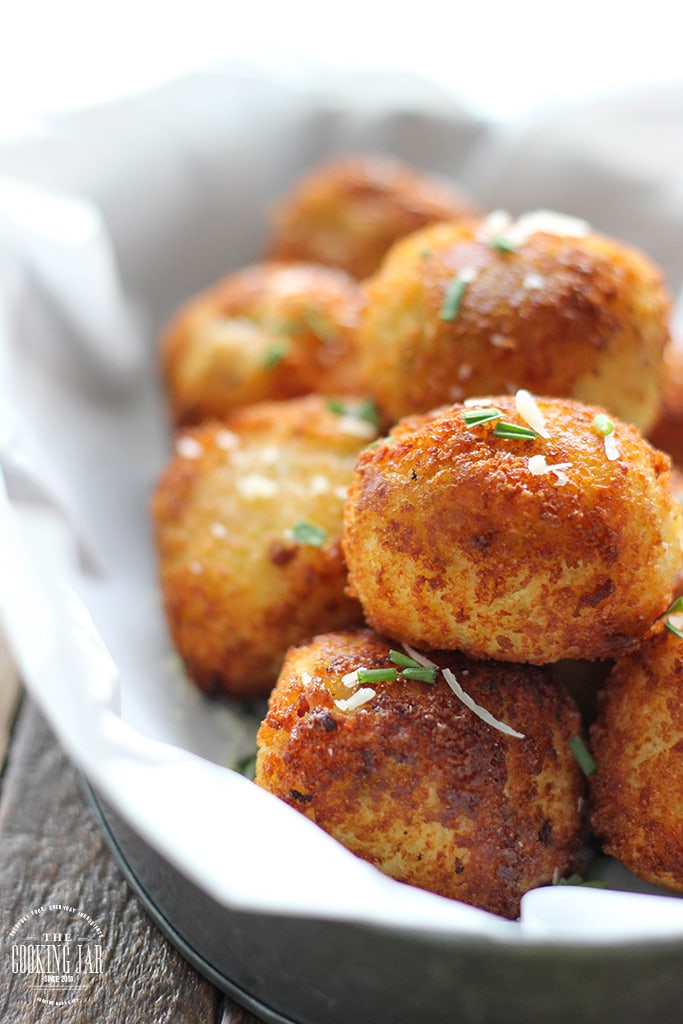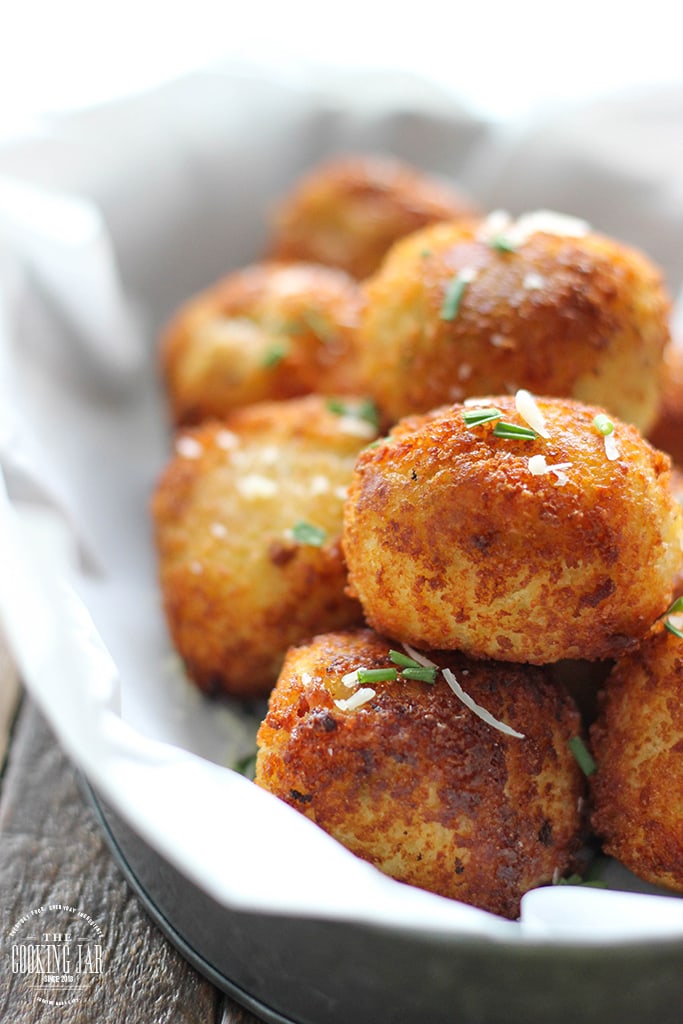 One more thing. You can also stuff these balls with a cube of cheese in the middle for a nice cheesy center. Substitute the shredded cheddar cheese in the mixture for a cube of cheddar cheese in the middle. Or if you want melty cheesy strings, use a cube of mozzarella!
That's about it. Happy eats everyone!
MORE POTATO RECIPES TO TRY
Did you make this recipe? Rate it!
♡ If you liked this recipe, giving it a star rating ★★★★★ in the comments below really helps! For more recipes, subscribe to my newsletter or follow me on Facebook, Instagram and Pinterest.
Print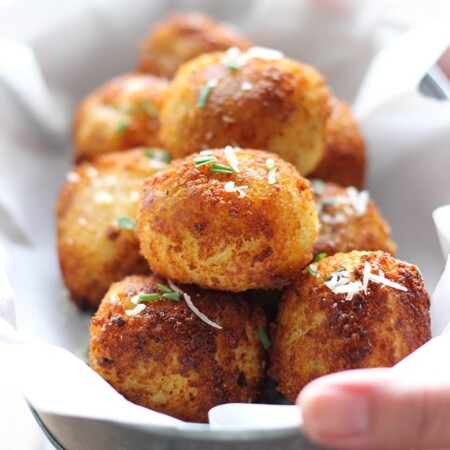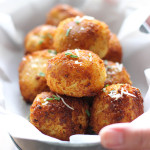 Loaded Mashed Potato Balls
---
Author:
Total Time: 30 mins
Yield: 24 balls 1x
Description
Loaded mashed potato balls are so crispy on the outside but soft, fluffy and creamy on the inside. Impress your guests at potlucks, parties and holiday dinners!
---
Filling:
3 cups chilled mashed potatoes
1 cup cheddar cheese, shredded
1/2 cup bacon bits
1/4 cup chives, chopped
Pepper to taste
Breading:
1/2 cup flour
2 medium eggs, beaten
1 1/4 cup panko bread crumbs
1/2 cup Parmesan cheese, shredded
---
Instructions
Combine the filling ingredients and mix well.
Prepare the breading stations with one bowl of flour, one bowl of beaten eggs and one bowl of panko bread crumbs mixed with Parmesan cheese.
Dust your hands with flour and use an ice cream scoop to measure the balls.
Pat them gently to form them into balls and roll them in the palm of your hands to get them perfectly round.
Immediately dust them with flour and set aside. Repeat until you have 24 flour-dusted balls.
Drop a ball into the egg mixture and use a spoon to flip it over until fully coated.
Lift the ball with the spoon and tilt the spoon at the edge of bowl to drain off any excess egg.
Drop it in the panko mixture and use another spoon to dredge it fully. Pat in any excess bread crumbs. Set aside and repeat with remaining balls.
Fry in batches in hot oil over medium-high heat until golden brown on all sides, about 3 minutes. Drain on paper towels.
If baking, bake at 400 degrees F for 5-10 minutes or until browned.
Dish and serve hot.
Enjoy!
Prep Time: 20 mins
Cook Time: 10 mins