This is the best creamy potato salad for barbeque and grilling, potlucks and as a family favorite, delicious summertime staple. With tender potatoes, crunchy veggies and eggs in a tangy and creamy dressing!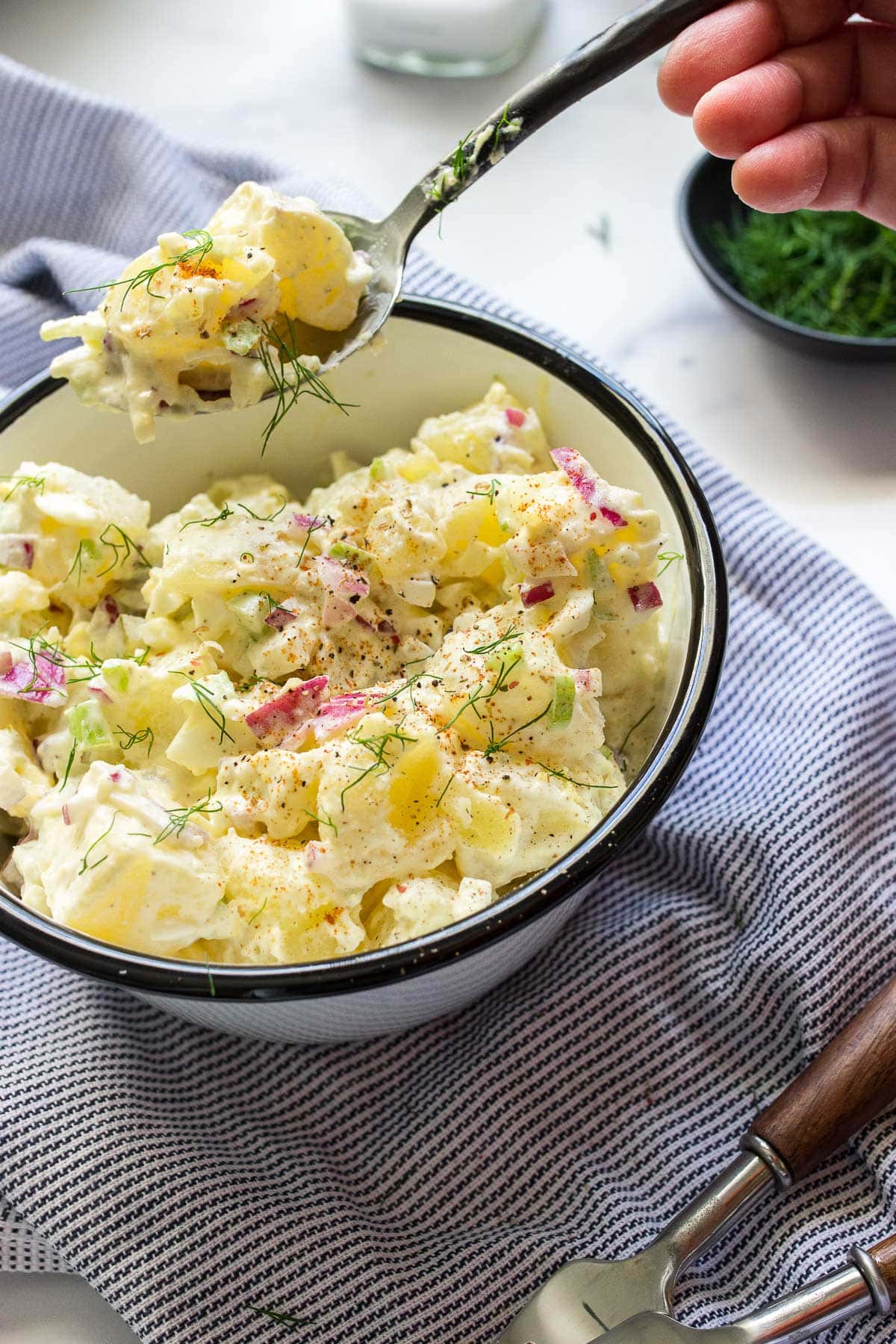 Today we're making my version of the best creamy potato salad which you can bring to your next cookout or backyard BBQ. This recipe includes yellow potatoes, a creamy mayonnaise and sour cream mixed dressing, hard-boiled eggs, crunchy celery and red onions, dill pickle relish and some yellow mustard to add some bite.
That said, a favorite potato salad can be a very personal thing so there's always room to leave out ingredients you don't like or add some more stuff like paprika and fresh herbs to put your own spin on it. And while we're talking about potatoes, here are a few fun things to make with them. Mashed potato puffs are a holiday family favorite for repurposing leftover mashed potatoes.
Sweet potato stacks are a great way to make rosemary-infused potatoes in a muffin pan and loaded mashed potato balls are a crispy-on-the-outside but soft-on-the-inside impressive appetizer to share. If you like super crispy potatoes, these crispy garlic Parmesan smashed potatoes are next level on the crispy factor. But back to the potato salad, let's make the recipe!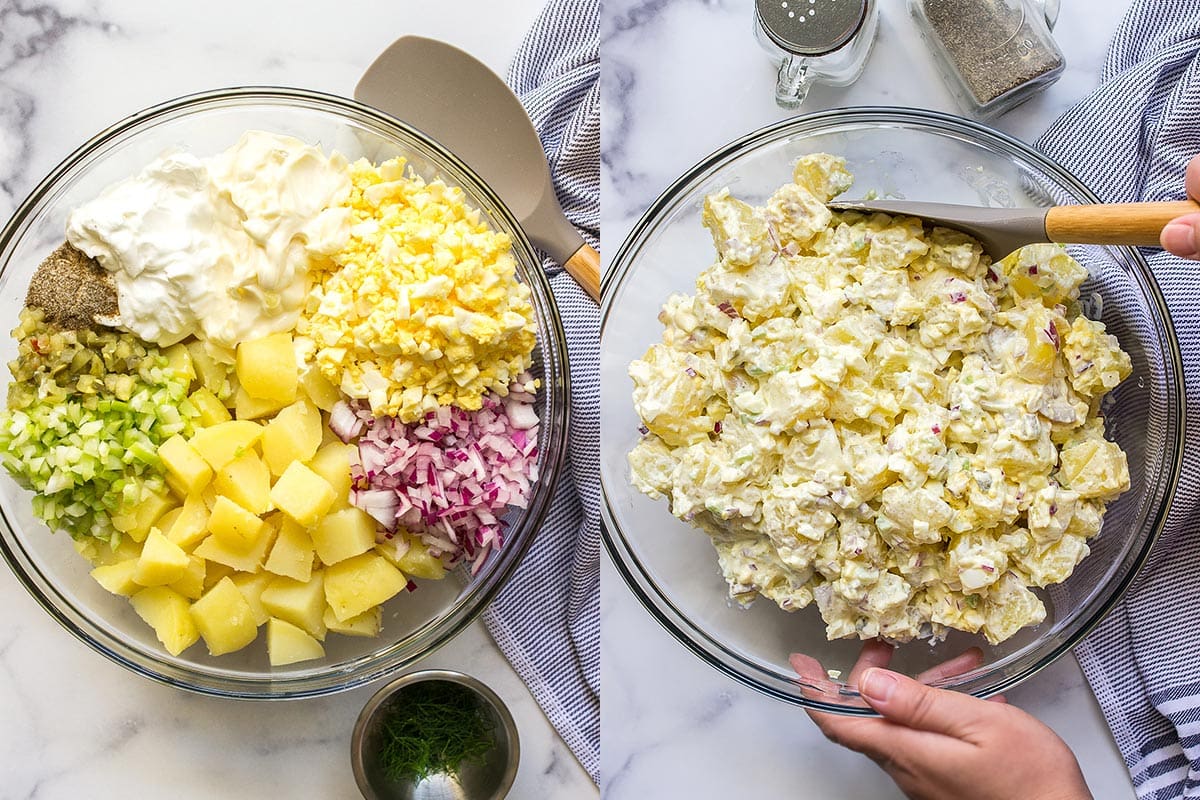 BEST CREAMY POTATO SALAD RECIPE TIPS
Salt – Add some salt to the cooking water to thoroughly season the potatoes while cooking. You'll only need to add a teeny bit more later when making the potato salad.

Potato skins – If you are going for red potatoes and keeping the skin on, skip the step of peeling the skin away. I went with boiling some Yukon gold potatoes with the skin on and pinching them away after they've cooled down but this takes some practice. If you're used to and prefer peeling the potatoes beforehand, go with that instead.

Potatoes – I boiled the potatoes whole to keep them from breaking down too much while cooking. This will increase the cooking time a little. You'll know the potatoes are done cooking when you can push a fork easily through the center. If you want to cut down on cooking time, peel the skins and cut them into quarters.
Mayo and sour cream – I use Duke's mayo but feel free to use your favorite brand. I like mixing my mayo with some sour cream to add some extra creaminess and flavor.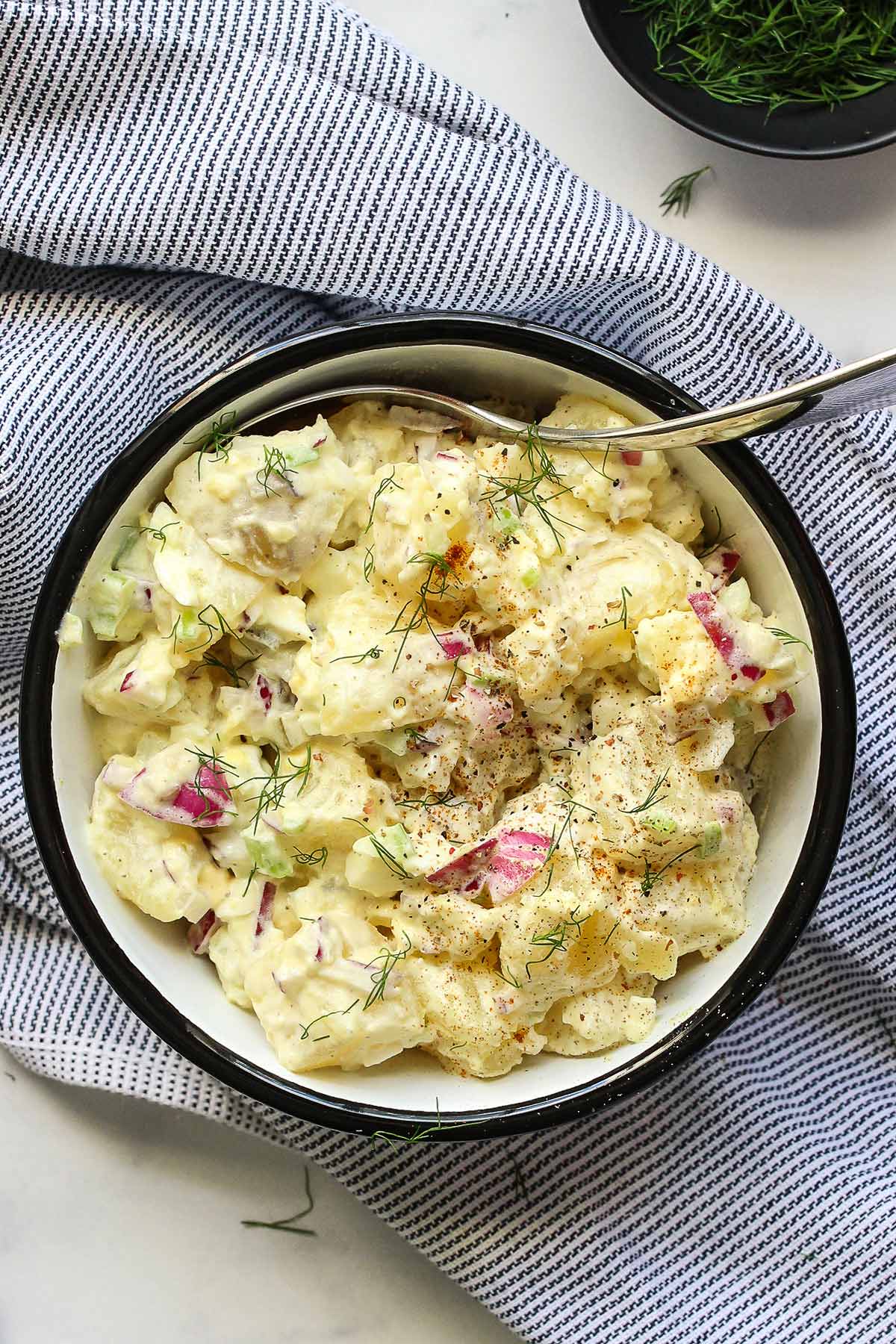 Celery and red onions – These add a lovely crunch factor to the salad so try not to skip them.

Relish – The recipe calls for regular dill pickle relish but if you want some sweetness, switch this up with sweet pickle relish. If you're not a fan of pickles, you can also leave this out.

Hard-boiled eggs – I use this handy egg cooker to hard-boil my eggs. It takes out the guesswork and is easy to clean up.

Add some herbs – I added some fresh dill for some brightness. You can leave it out or substitute it with other fresh herbs like parsley, or chives.

Mix gently – Once you're combining it with the rest of the ingredients, stir gently so you don't mash the potatoes down with too much force.

Customize It!
Load it up – Add some Parmesan cheese, bacon bits and chives, or green onions to make a loaded potato salad.
What to Serve with Creamy Potato Salad
Pair this potato salad with delicious sides like mac and cheese or some skillet corn. Bring it with these other salads like Italian pasta salad, German potato salad, or this bacon ranch pasta salad to your next cookout. You can also have it as a side for sandwiches like this slow cooker BBQ chicken sandwich or some sloppy Joes.
And that's about it. Let me know how you liked it, what substitutions you made, or what you paired it with in the comments below.
MORE POTATO RECIPES TO TRY
Did you make this recipe? Rate it!
♡ If you liked this recipe, giving it a star rating ★★★★★ in the comments below really helps! For more recipes, subscribe to my newsletter or follow me on Facebook, Instagram and Pinterest.
Print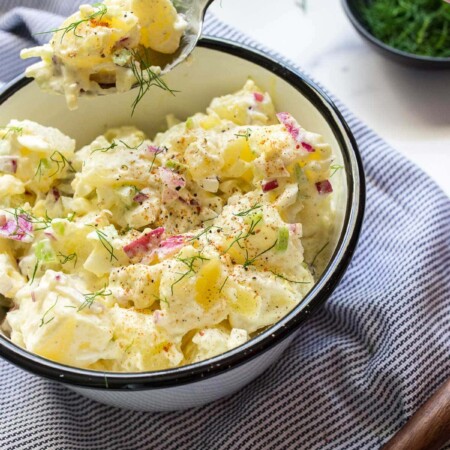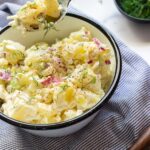 The Best Creamy Potato Salad
---
Author:
Total Time: 40 minutes
Yield: 6-8 1x
Description
This is the best creamy potato salad for barbeque and grilling, potlucks and as a family favorite, delicious summertime staple.
---
2.5 lbs. Yukon gold or red potatoes
1 tablespoon apple cider vinegar
1/2 cup mayonnaise
1/2 cup sour cream
1 tablespoon yellow mustard
1/2 medium red onion, diced
2 celery stalks, diced
1/4 cup dill pickle relish (optional)
2 tablespoons fresh dill, chopped (optional)
1 teaspoon celery seed
4 hard-boiled eggs, peeled and chopped
Salt and pepper, to taste
---
Instructions
Scrub the potatoes clean and bring the potatoes in a pot of salted water to boil over medium-high heat. 
Once boiling, reduce heat to medium-low and cook the potatoes for 25-30 minutes or until potatoes are easily pierced with a fork.
Set up an ice bath and add the cooked potatoes to cool down.
Once cool, peel by gently pinching the skin away and chop potatoes into bite-sized chunks.
Add to a mixing bowl and drizzle with apple cider vinegar.
Add mayonnaise, sour cream, mustard, red onions, celery, relish, dill, celery seed, eggs and salt and pepper to taste in the mixing bowl. Stir gently to combine.
Chill for at least 30 minutes before serving.
Enjoy!
Notes
Load it up – Add some Parmesan cheese, bacon bits and chives, or green onions to make a loaded potato salad
Scroll up to RECIPE TIPS for more useful tips, suggestions and ingredient substitutions.
Prep Time: 15 mins
Cook Time: 25 mins