Italian pasta salad is the perfect summer side dish with pasta, salami, cheese, fresh veggies and herbs tossed in an Italian vinaigrette.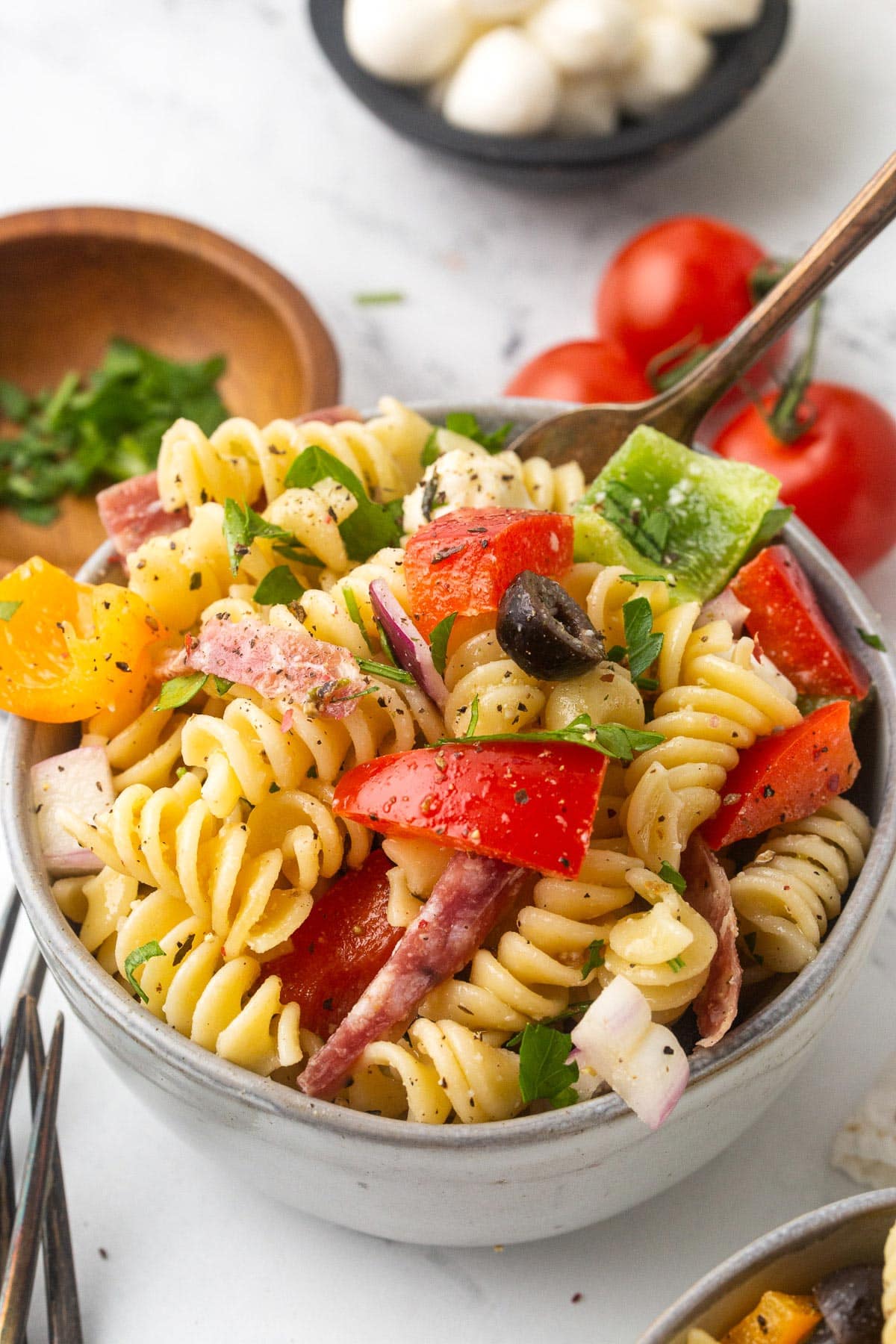 Today we're making a refreshing and vibrant chilled pasta salad that's a great side dish for summer cookouts, barbeques and potlucks. This Italian pasta salad is made from rotini pasta with its tight spirals ready to soak up all the tangy and herbed Italian dressing, whether store-bought or homemade.
This is a pasta salad full of flavor with salami, juicy tomatoes, black olives, crunchy red onions, three types of bell peppers, fresh mozzarella pearls, Parmesan cheese and Italian parsley. It's fresh, colorful and great for a quick lunch on a hot day or for sharing with friends and family at backyard parties.
There's a lot of slicing and dicing involved but it's worth it in the end with all the contrasting flavors, textures and colors with every bite loaded full of flavor. Relax and lean into it with an Italian playlist on Spotify and enjoy yourself! For more great pasta salad ideas to bring to your next cookout, try this creamy potato salad, the boldly flavored bacon ranch pasta salad, a warm German potato salad, or this classic tuna pasta salad.
Ingredients in Italian Pasta Salad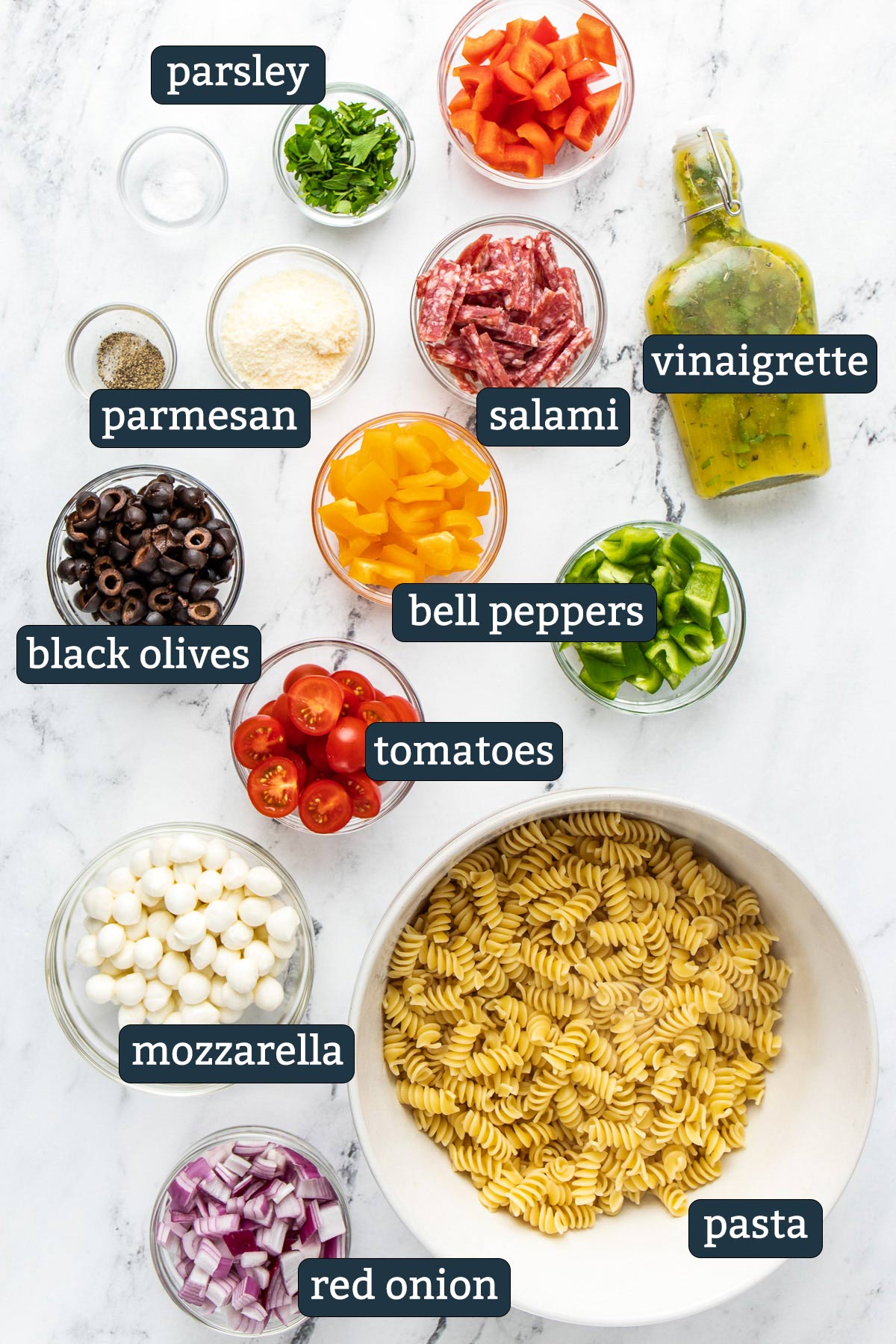 How To Make Italian Pasta Salad (1 Min Video)
ITALIAN PASTA SALAD RECIPE TIPS
Pasta – Use regular or tri-color rotini pasta or substitute it with fusilli.
Salami – I used hard salami but you can also use genoa salami or soppressata. Some recipes even use pepperoni or summer sausage.
Mozzarella – Use fresh mozzarella pearls or balls, also known as bocconcini. Pearls will be smaller in size than the bite-sized balls, so cut the balls in half before adding them to the salad. If you can't find any pearls or balls, fresh sliced mozzarella will work just as well if you dice them up. I used the BelGioioso brand of mozzarella pearls.
Italian vinaigrette – Use the store-bought vinaigrette or make some yourself. See the notes in the recipe for how to make homemade Italian vinaigrette. The store-bought kind will taste slightly punchier and have a more viscous consistency while the homemade dressing will taste more like the stuff you find at Italian restaurants.
Tomatoes – Cherry or grape tomatoes both work for the recipe. I used 1 pt. of grape tomatoes which is 16 oz. or 2 cups worth.
Black olives – I used a can of large pitted black olives and sliced them up myself but you can find pre-sliced canned black olives to save yourself the work.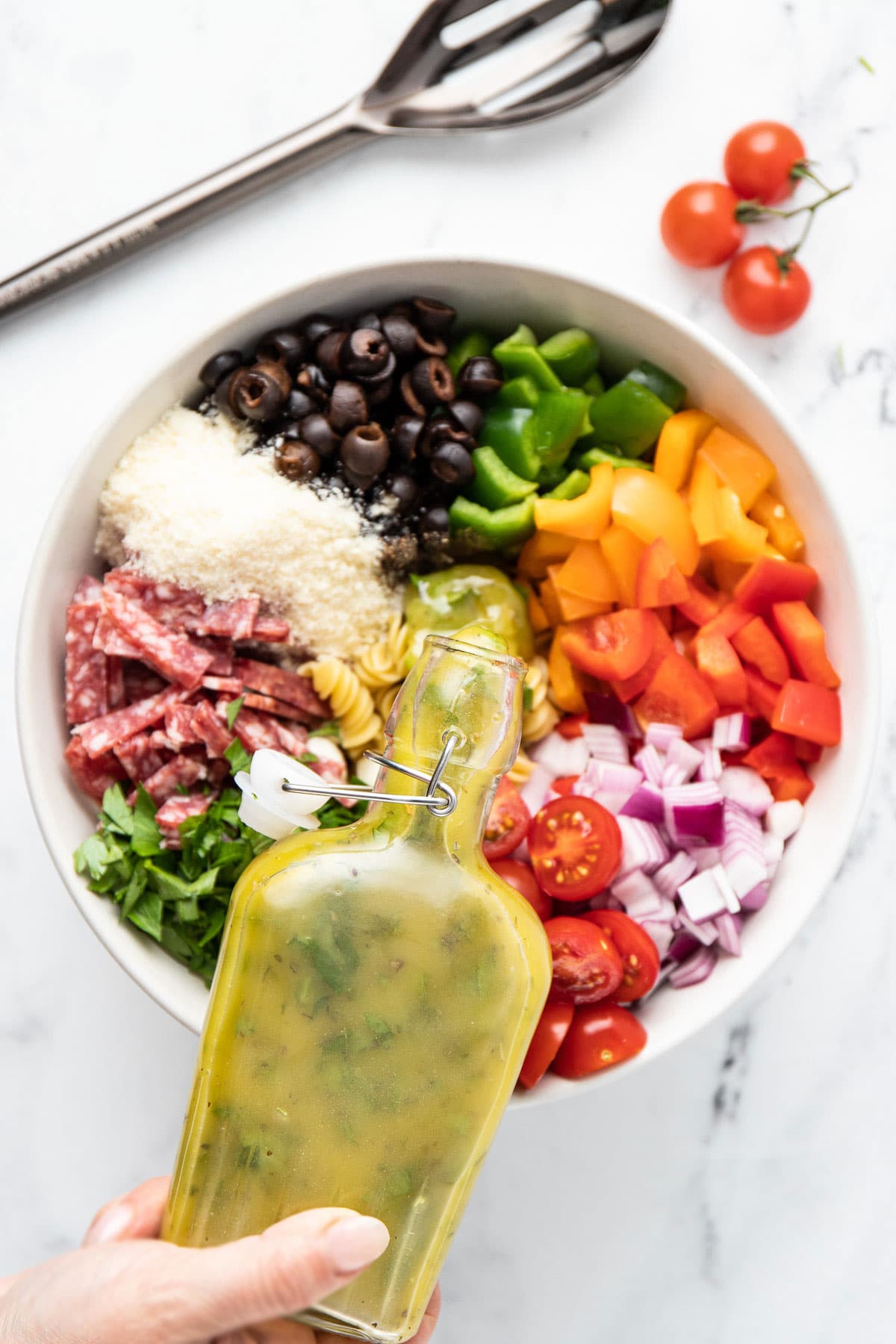 Bell peppers – This salad is all about vibrant colors, flavors and textures so I went with three kinds of bell peppers. There are also subtle differences in taste between the colors of bell peppers. Green peppers, which are considered not yet ripe, are slightly bitter and peppery. Yellow, orange and red bell peppers are fully ripened and taste sweet and fruity with red being the sweetest and juiciest.
I ended up buying a pack of mixed bell peppers and using half of each color, but you can also substitute them with mini sweet peppers. If you're looking for ideas on what to do with the other halves of the bell peppers, try out this healthy sheet pan sausage and veggies or egg white muffin breakfast cups.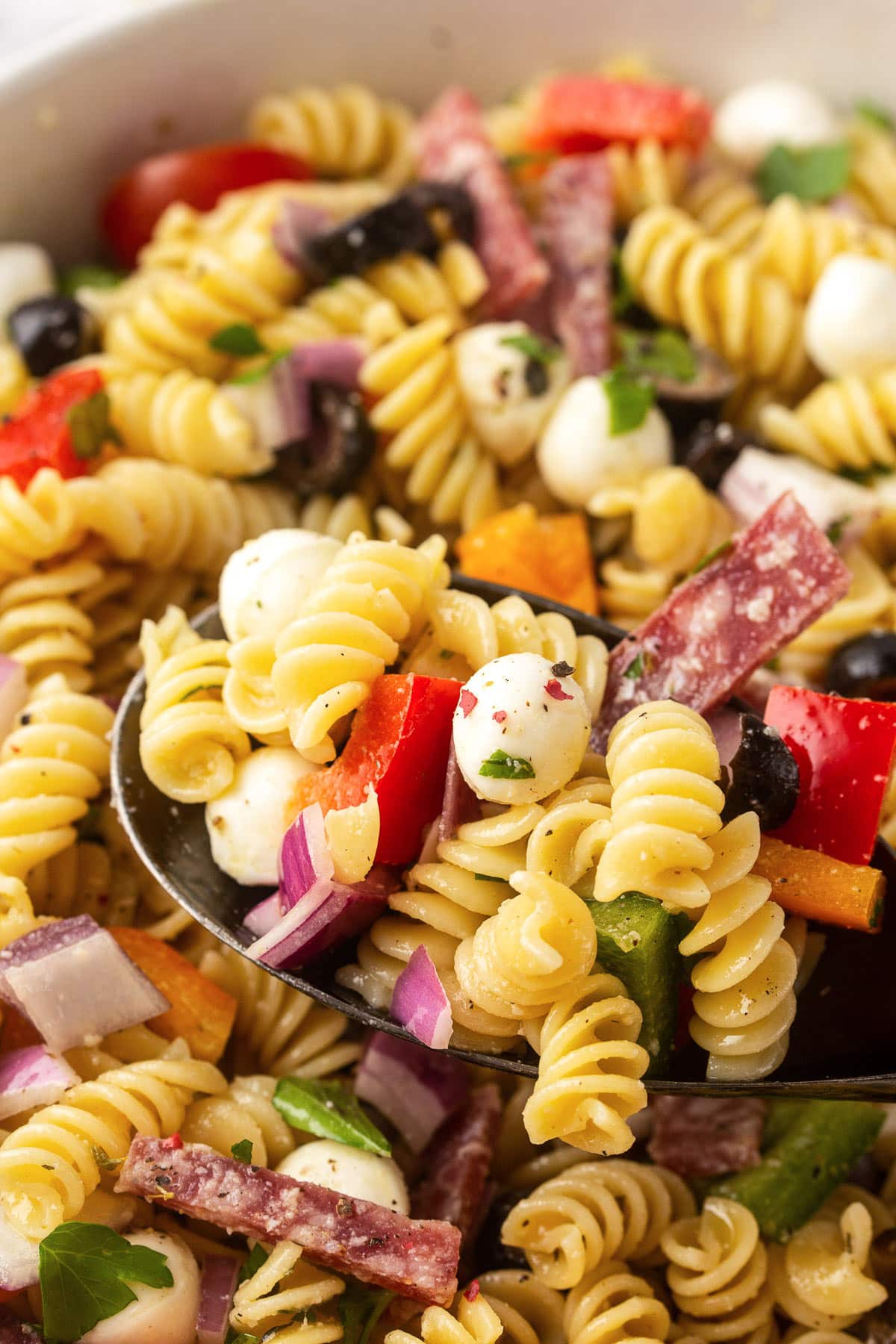 Herbs – Flat Italian leaf parsley works best for the salad. You can also add freshly chopped basil to the salad for more fresh herbs. A handy way to keep parsley fresh in the fridge is by using a herb pod; mine can usually keep up to 3 weeks in it.
Parmesan – Use grated Parmesan but if you prefer shredded Parmesan in your salad, use that instead. A microplane comes in handy to grate a block of Parmesan but you can also find freshly grated Parmesan in the stores. The brand I use when I feel like being lazy is BelGioioso.
Storing – The pasta salad can store for up to 3-4 days in the fridge.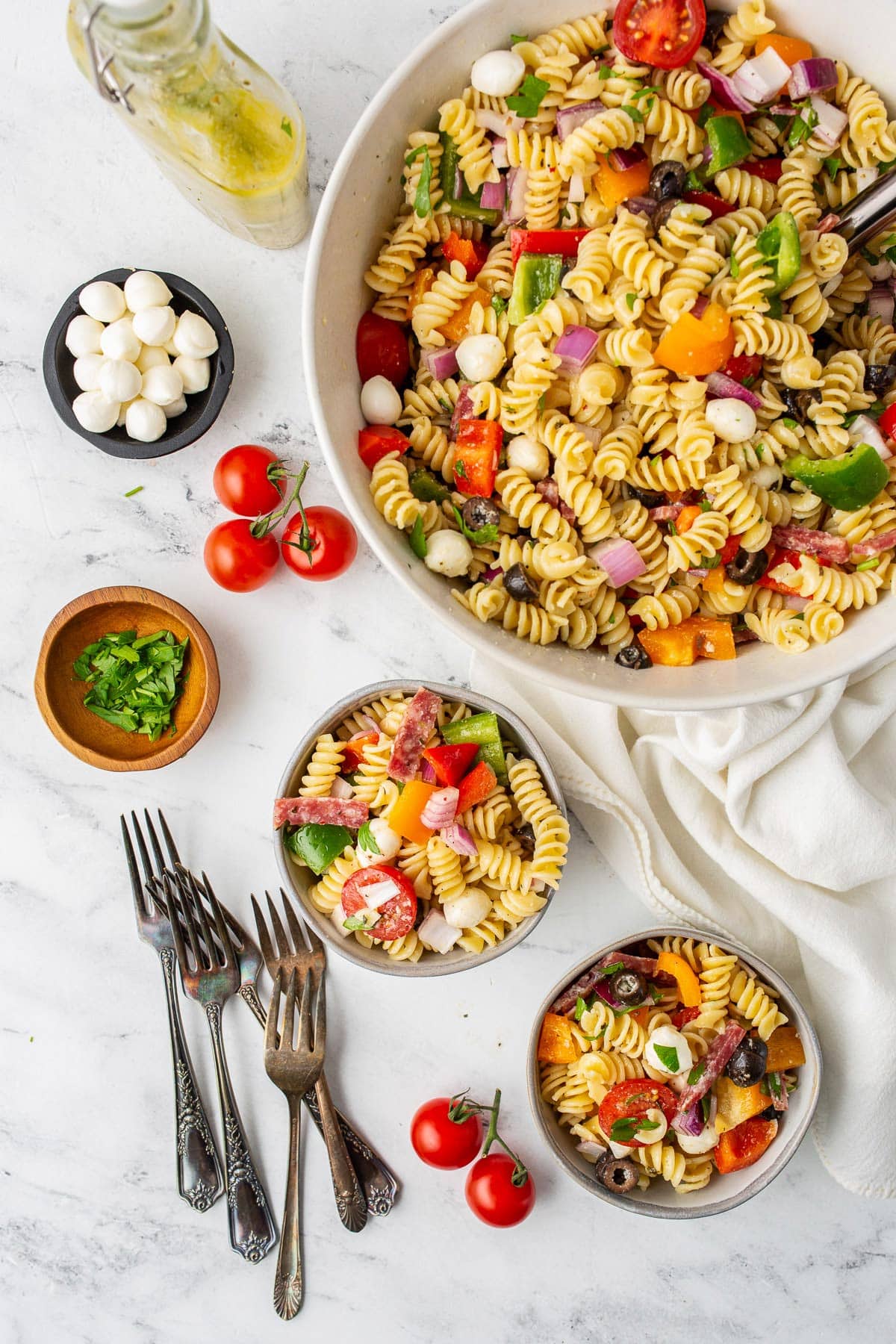 Customize It!
Add more flavor – Add a few dashes of red pepper flakes or some pepperoncini peppers to spice things up.
And that's about it. Enjoy the vibrant, crisp and fresh flavors of this Italian pasta salad and let me know how you liked it in the comments below!
MORE SALAD RECIPES TO TRY
Did you make this recipe? Rate it!
♡ If you liked this recipe, giving it a star rating ★★★★★ in the comments below really helps! For more recipes, subscribe to my newsletter or follow me on Facebook, Instagram and Pinterest.
Print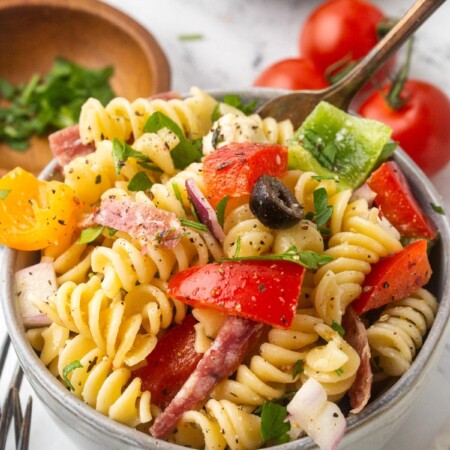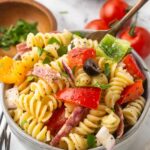 Italian Pasta Salad
---
Author:
Total Time: 30 minutes
Yield: 8 1x
Description
Italian pasta salad is the perfect summer side dish with pasta, salami, cheese, fresh veggies and herbs tossed in an Italian vinaigrette.
---
1 box (16 oz.) rotini pasta
4 oz. salami, cut into strips
8 oz. fresh mozzarella pearls or halved mozzarella balls
1 cup Italian vinaigrette (see notes for homemade)
1 pt. (16 oz.) cherry tomatoes / grape tomatoes, halved
1 (6 oz.) can large pitted black olives, sliced
1/2 medium red onion, diced
1/2 red bell pepper diced
1/2 orange bell pepper, diced
1/2 green bell pepper, diced
2 tablespoons fresh Italian parsley, chopped
1/4 cup Parmesan cheese, grated
Salt and pepper to taste
---
Instructions
Bring a pot of salted water to a boil and cook the pasta according to the package directions. Drain and rinse under cold water.
Meanwhile, prepare all the other ingredients and combine them with the cooked pasta in a large mixing bowl. Toss to mix well.
Cover and refrigerate for at least an hour before serving.
Enjoy!
Notes
HOMEMADE ITALIAN VINAIGRETTE
1 cup olive oil
1/4 cup white wine vinegar
1/4 cup lemon juice
3 garlic cloves, minced
2 teaspoons fresh parsley, chopped
2 teaspoons Italian seasoning 
1 tablespoon honey /sugar
2 teaspoons Dijon mustard 
Salt and pepper to taste
Prep Time: 20 mins
Cook Time: 10 mins