This 6-ingredient slow cooker buffalo chicken dip is a creamy and spicy mix of chicken, buffalo sauce, ranch, sour cream and cheddar cheese. Just throw everything in the crock pot and come back a few hours later to a bubbly and addictive dip.
Today we're making some slow cooker buffalo chicken dip, which is an appetizer version of the much-loved buffalo wings, reinvented into tiny scoopable bites. This tangy and spicy dip is perfect for bringing to cookouts, game days, parties, or potlucks with the convenience of transporting and keeping it warm in a handy little 3 qt. slow cooker.
This dip has finely shredded chicken smothered in a hot and creamy dip made from melted cream cheese, cool ranch dressing, sour cream, cheddar cheese and spicy buffalo sauce. The slow cooker is all about convenience and you're letting it do all the hard work. This recipe makes a big batch of bubbly dip that goes great with tortilla chips or crunchy celery sticks and baby carrots. Serve it as is or top it with fresh chopped green onions or blue cheese crumbles.
Ingredients in Slow Cooker Buffalo Chicken Dip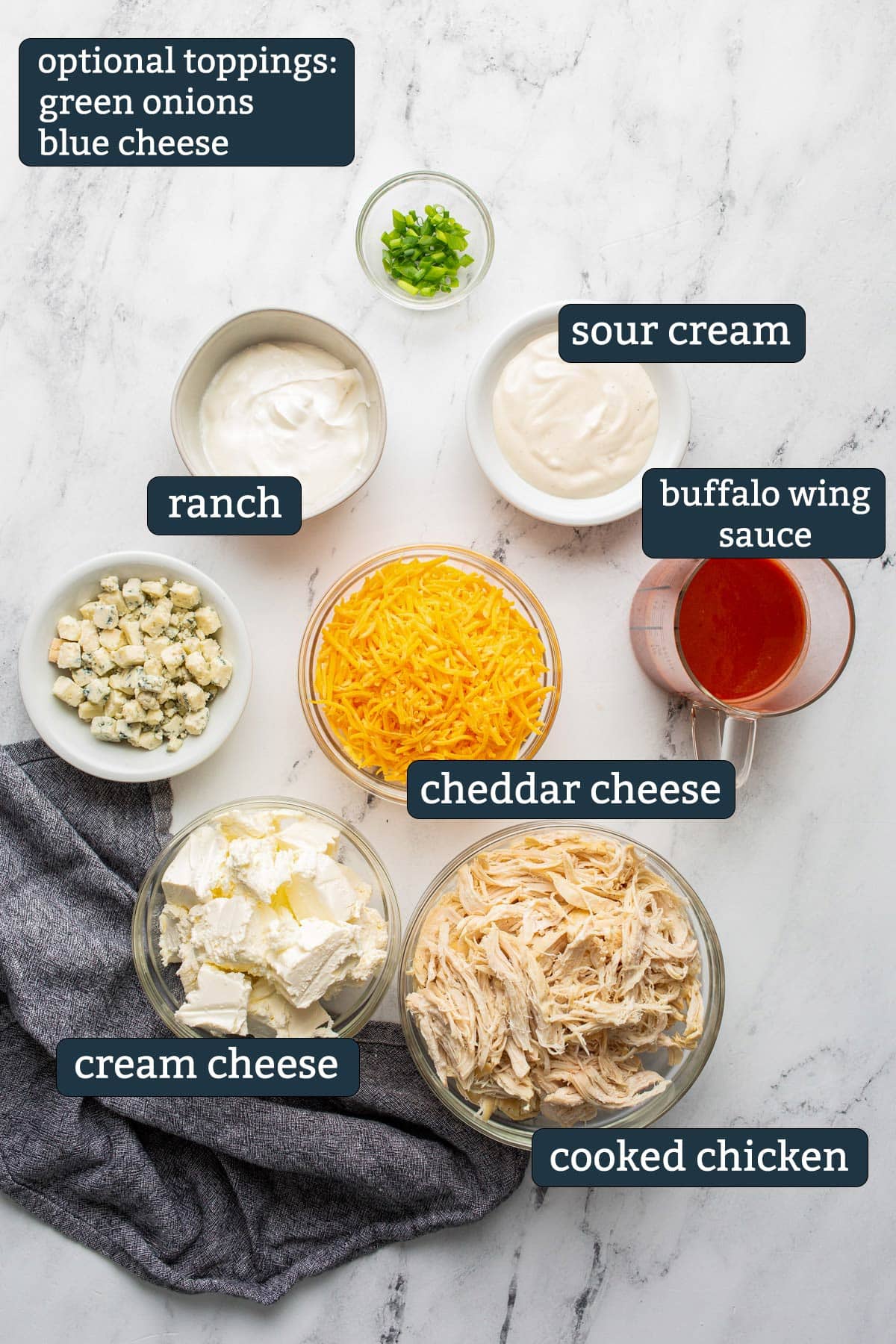 What's The Difference Between Frank's Hot Sauce and Buffalo Wing Sauce?
Hot sauce is typically made from salt, vinegar and hot peppers. Buffalo wing sauce is a little tamed down in heat because it's made from a combination of hot sauce, butter and a few seasonings. The butter works to mellow out the heat and makes the sauce creamier.
When recipes use Frank's hot sauce, they usually include some melted butter, Worcestershire sauce and garlic powder to get the signature buffalo wing sauce flavor you're used to in wing houses. Recipes using buffalo wing sauce instead usually don't need more than what's in the bottle.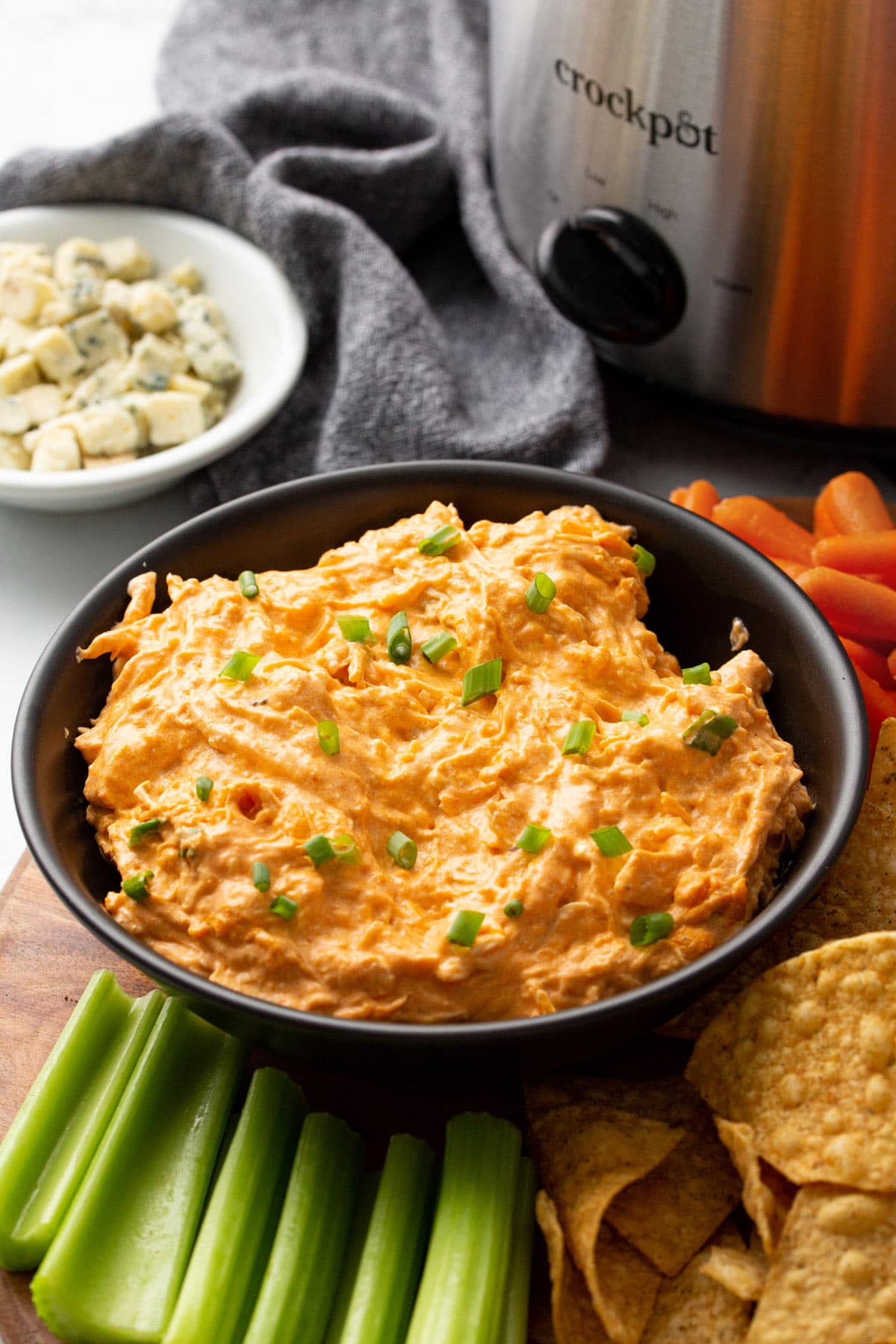 SLOW COOKER BUFFALO CHICKEN DIP RECIPE TIPS
Buffalo sauce – I used Frank's Buffalo Wing Sauce for this recipe. You can use the original hot sauce if you prefer a spicier dip but it won't be as creamy. The main difference between the two is the inclusion of butter in the buffalo wing sauce to tone down the heat.
Rotisserie chicken – I used rotisserie chicken and deboned and shredded it to make things easy, but you can use any kind of cooked chicken you have on hand. I ended up using almost all of the rotisserie chicken to get 4 cups of shredded chicken.
Shredding – Heating up the chicken before shredding helps tremendously as opposed to shredding it straight out of the fridge or at room temperature. 30 seconds in the microwave is enough time to get it warm enough to shred easily. Ideally, you will want finely shredded chicken so it melts into the dip.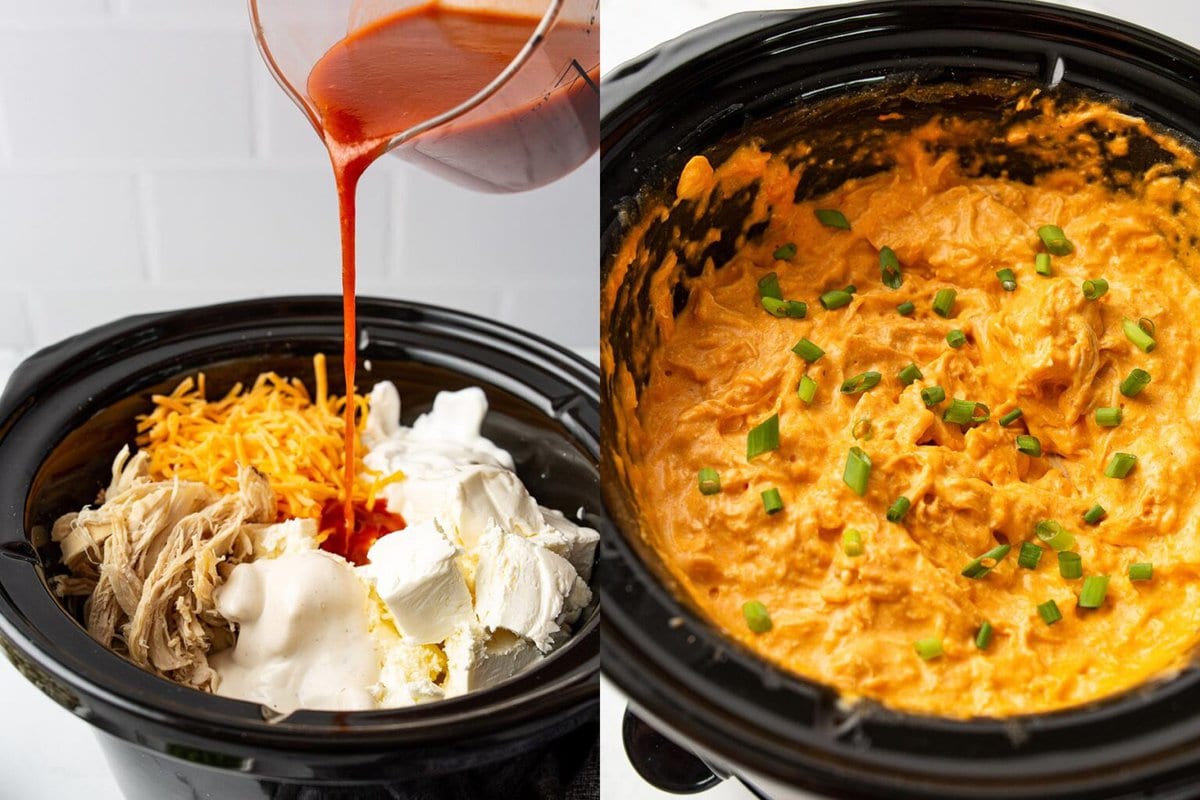 Cream cheese – I used two blocks of cream cheese and cut them into cubes. The recipe works best if the cream cheese is softened so it melts easier in the slow cooker. Let it sit out at room temperature for about 15-30 minutes to soften it up. Cube the cream cheese while it's hard though so it's less messy.
Cheddar cheese – The recipe uses 1 1/2 cups of sharp cheddar cheese where 1 cup goes into the dip with the option of the other 1/2 cup for a cheesy top. I skipped the option of the cheesy top for the photos to focus more on the actual consistency of the dip. You can also make the dip cheesier with a full 2 cups of cheese by adding 1 1/2 cups into the mix and topping with the remaining 1/2 cup.
Dip consistency – I like my dip with a generous amount of shredded chicken in it, so I used 4 cups of chicken. If you prefer a higher cream cheese-to-chicken ratio, try 2 cups of chicken and add on from there.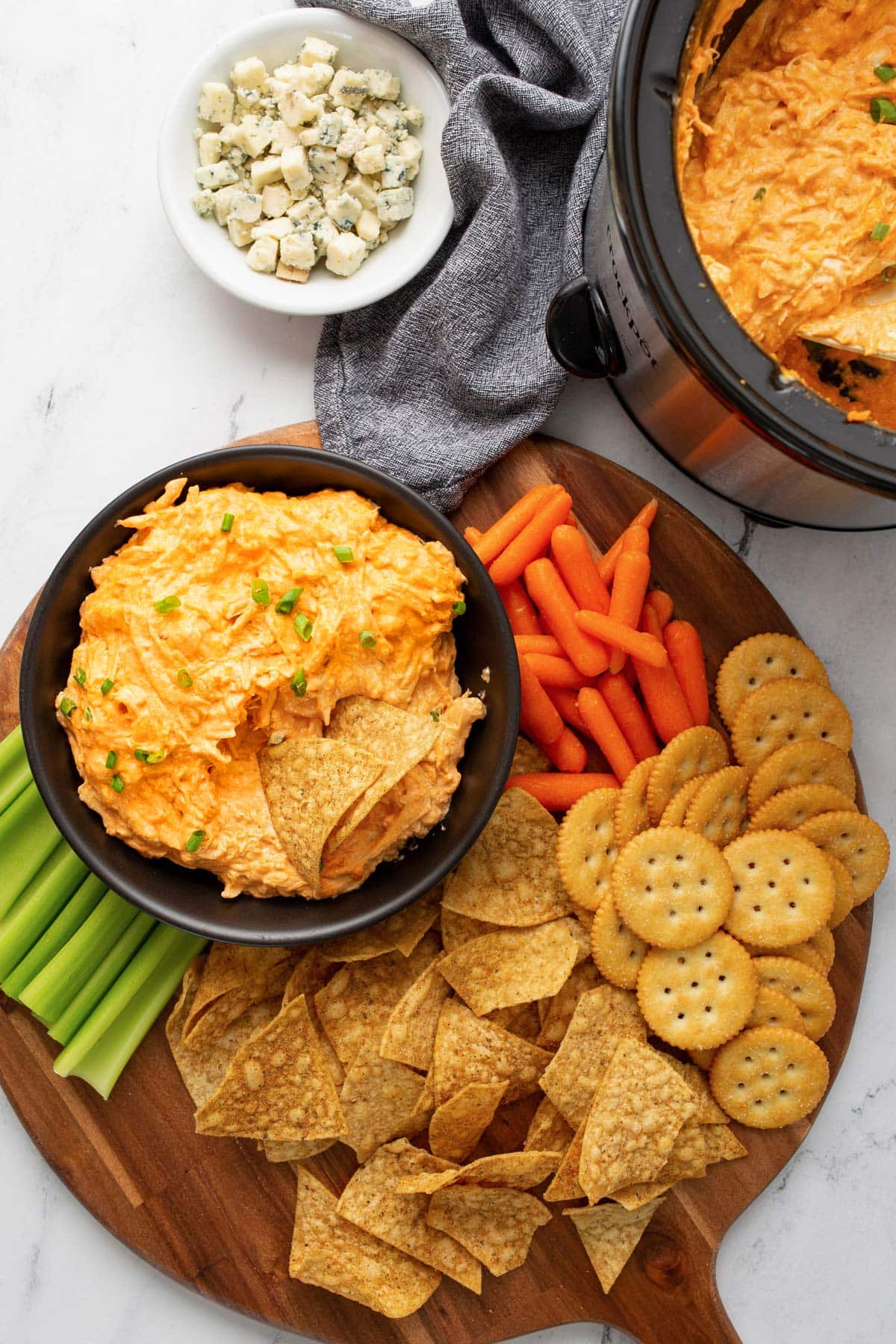 Cook time – I cooked this on low to reduce the chances of ending up with an oily dip. If cooking on high, there's a risk of the oil separating from the cheese but if you don't mind this, 1-2 hours on high is enough time to cook everything.
You don't need to simmer it in the slow cooker for very long since the chicken is already cooked. Most of the cooking time is just to melt the cheese and marry the flavors together. The dip is ready to serve when the cheddar cheese has fully melted and there are no more cream cheese chunks.
Green onions – Use a sharp knife when slicing the green onions as they get a little slimy if bruised too much. The green onion garnish is optional so skip this if you want.
Keeping it warm – Switch the slow cooker to warm while entertaining.
Reheating – About 30 seconds in the microwave is enough time to heat up a small individual serving of the dip. Increase time as needed with more servings and stir halfway through.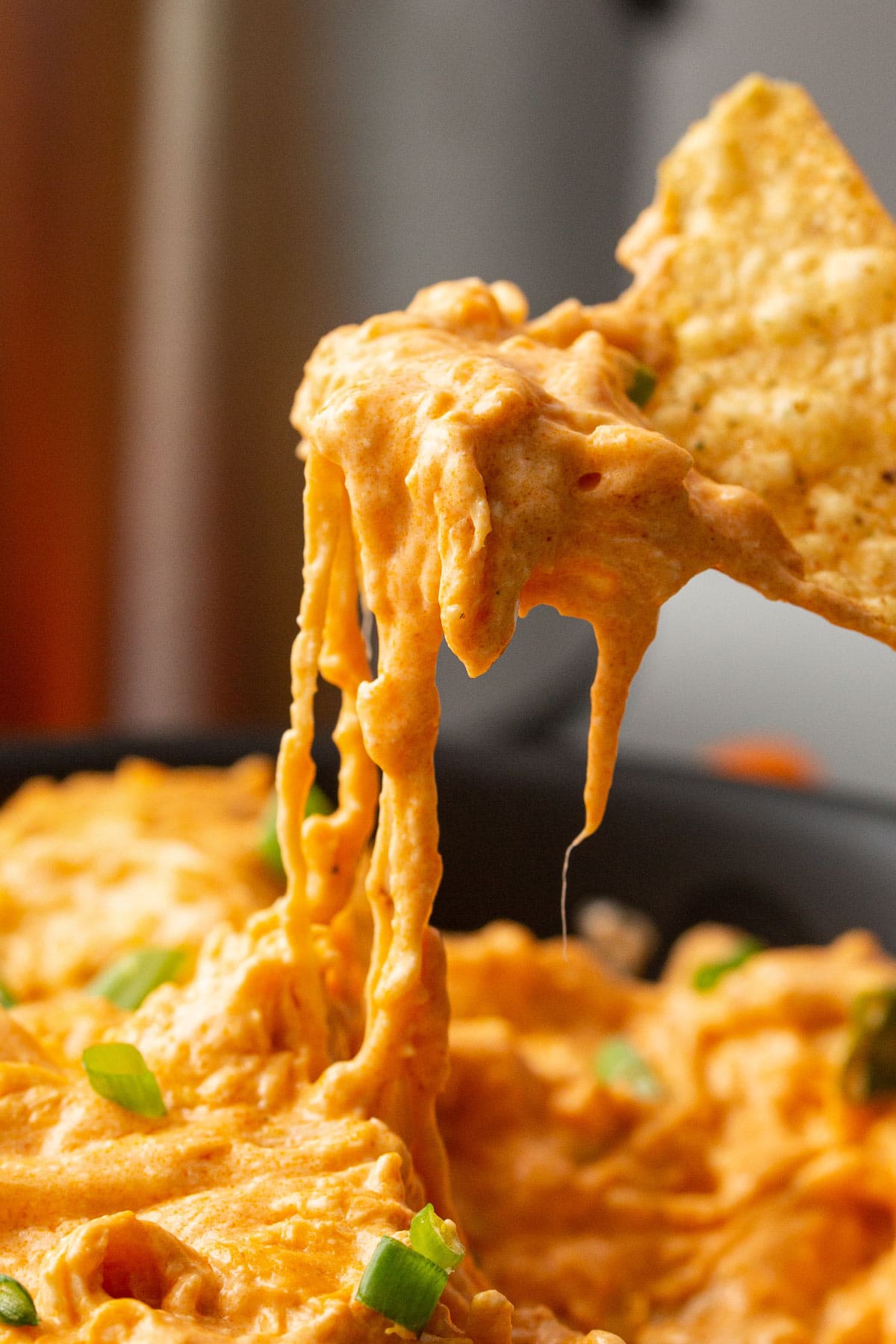 Stove-top method – In a pot over medium heat, combine everything and simmer until the chicken is heated through and the cheese has melted.
Oven method – Bake at 350°F for 20-25 mins or until cheese has melted. If you have a cheesy top, broil at 450°F for 3-4 minutes until the cheese has browned. You can also use this oven-baked recipe for buffalo chicken dip.
Storing – The dip keeps well in the fridge for up to 3-4 days. Reheat by microwaving in 30-second increments until warmed through.
Customize It!
Add more heat – This dip is about as spicy as mild Buffalo wings. If you want to turn up the heat to hot, add a few shakes of cayenne powder.
And that's about it. Enjoy sharing the dip and have fun. Let me know how you liked it in the comments below!
MORE DIP RECIPES TO TRY
Did you make this recipe? Rate it!
♡ If you liked this recipe, giving it a star rating ★★★★★ in the comments below really helps! For more recipes, subscribe to my newsletter or follow me on Facebook, Instagram and Pinterest.
Print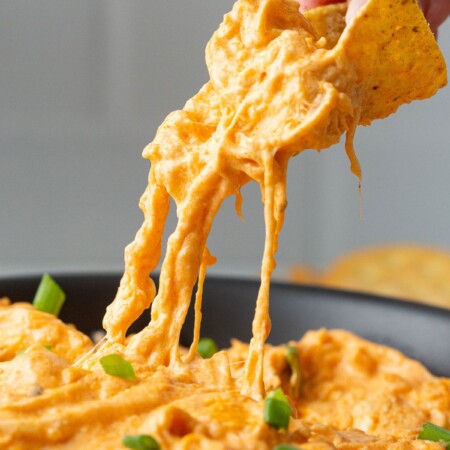 Slow Cooker Buffalo Chicken Dip
---
Author:
Total Time: 2 hours 10 minutes
Yield: 8–10 1x
Description
This 6-ingredient slow cooker buffalo chicken dip is a creamy and spicy mix of chicken, buffalo sauce, ranch, sour cream and cheddar cheese.
---
4 cups cooked chicken, shredded (about 1.5 lbs.)
1 cup buffalo wing sauce
2 (8 oz.) blocks cream cheese, cubed and softened
1/2 cup ranch dressing
1/2 cup sour cream
1 1/2 cups cheddar cheese, shredded and divided
2 green onions, sliced (optional)
Blue cheese crumbles (optional)
---
Instructions
Add chicken, buffalo sauce, cream cheese, ranch, sour cream and 1 cup of cheddar cheese to a 3 qt. slow cooker.
Cook on LOW for 2-3 hours until hot and bubbly. Give it a good stir every once in a while to help the cheeses melt.
[Optional cheesy top] Top with the remaining 1/2 cup of cheddar cheese, cover and cook for another 15 minutes or until the cheese on top has melted.
Dish and serve hot with tortilla chips, crackers, or veggies and top with optional sliced green onions or blue cheese crumbles.
Enjoy!
Notes
Rotisserie chicken is great for this recipe. A normal-sized store-bought rotisserie chicken should give you a little over 4 cups of shredded chicken meat.
If you're short on time, you can cook this on HIGH for 1-2 hours, but it will be a little oily from the cheese separation.
This is a thick and chunky dip. If you feel the dip is too thick for you, add a splash of milk to thin it out until it's your desired consistency.
Add more heat – This dip is about as spicy as mild Buffalo wings. If you want to turn up the heat to hot, add a few shakes of cayenne powder.
Scroll up to RECIPE TIPS for more useful tips, suggestions and ingredient substitutions.
Prep Time: 10 mins
Cook Time: 2 hours