Seriously easy and seriously yummy. This homemade slow cooker spinach and artichoke dip feeds a crowd of ten!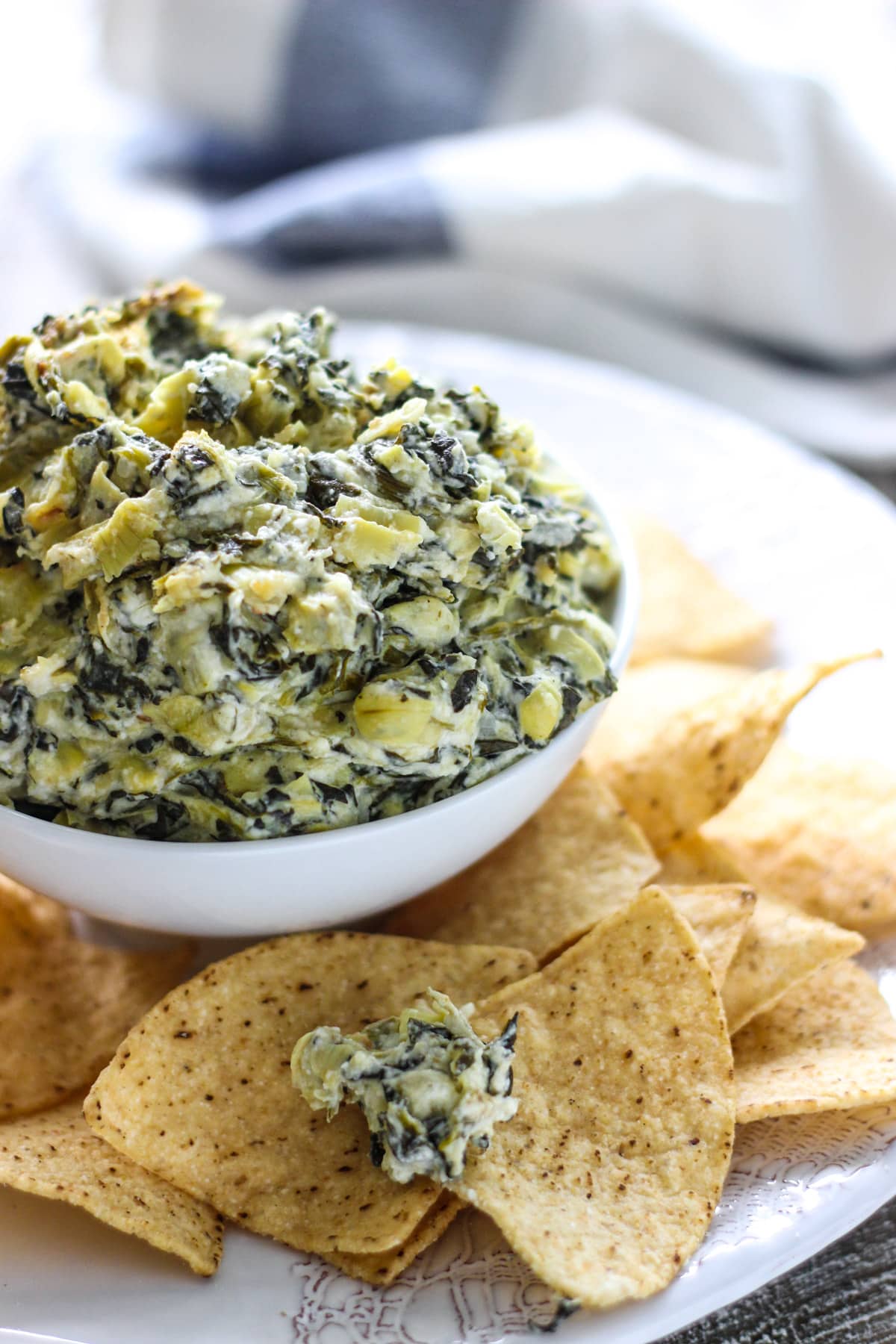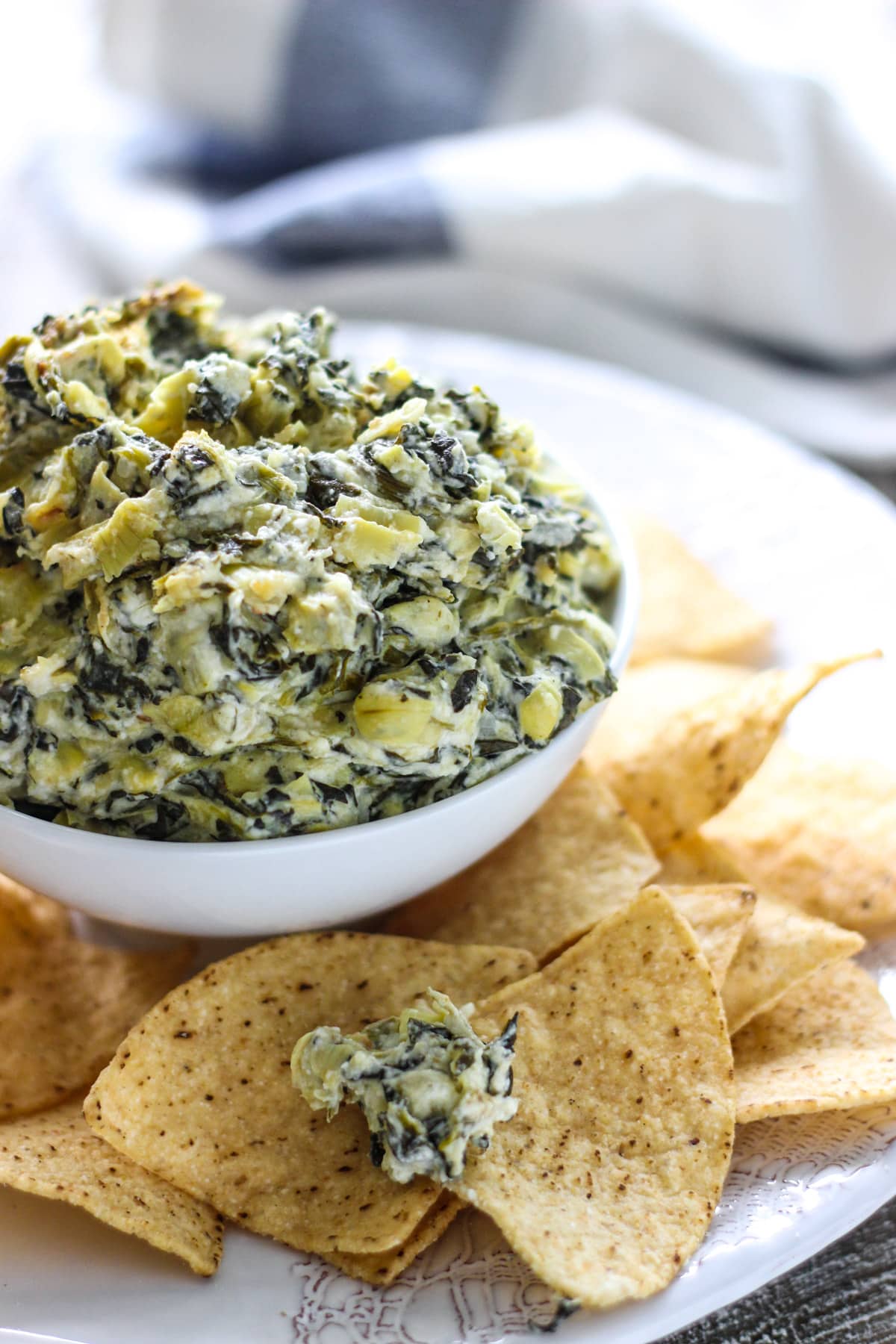 Everyone loves dips. We were crazy for this million dollar dip and thoroughly enjoyed the meaty 3-ingredient cream cheese sausage dip. Let's not forget the dependable and crowd favorite buffalo chicken dip or its slow cooker version, the feisty jalapeno popper dip, or the cheesy Velveeta Rotel sausage dip. These are all great dips to bring to Super Bowl parties, game days, potlucks, family get-togethers, or work and holiday gatherings.
So today we're making slow cooker spinach and artichoke dip that you'll be able to transport in the slow cooker and keep warm. I get it all the time at Applebees in their 2 for $20 menu and I think it's about time I take a stab at making it at home. It turned out great and was so, so very yummy.
It's super-rich and creamy and full of cheeses to compliment spinach and artichoke. Serve them with bread, chips, or crackers and everyone will love you at that potluck! So let's get started.
SLOW COOKER SPINACH AND ARTICHOKE DIP RECIPE TIPS
I used a standard 3-quart crockpot and it was just the right size. This should serve about 8-10 people depending on how many ambitious dippers you have in your crowd.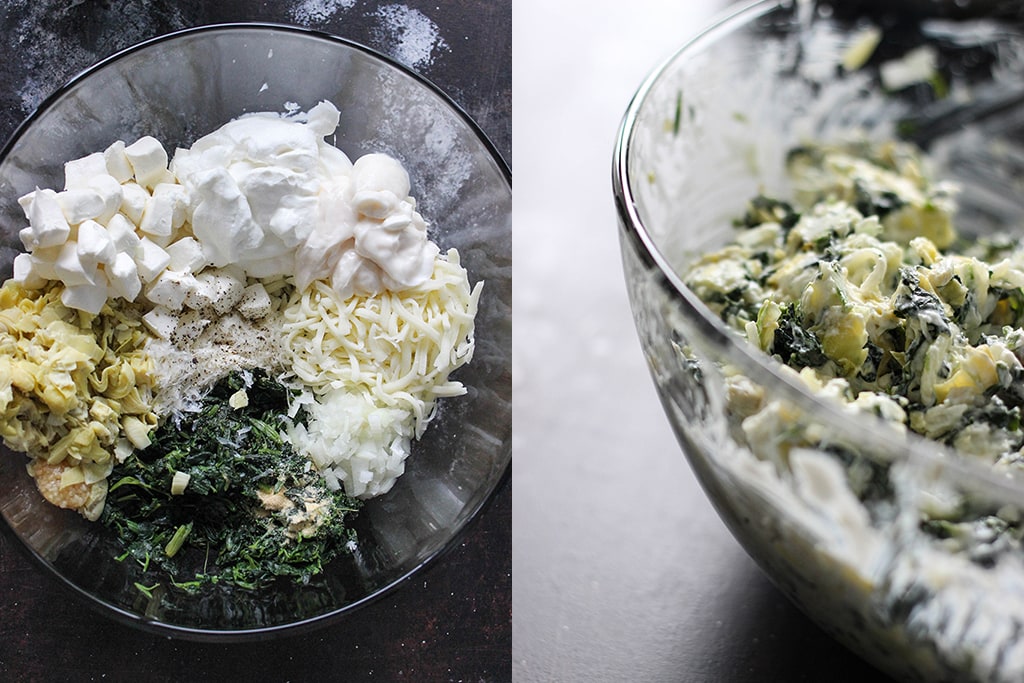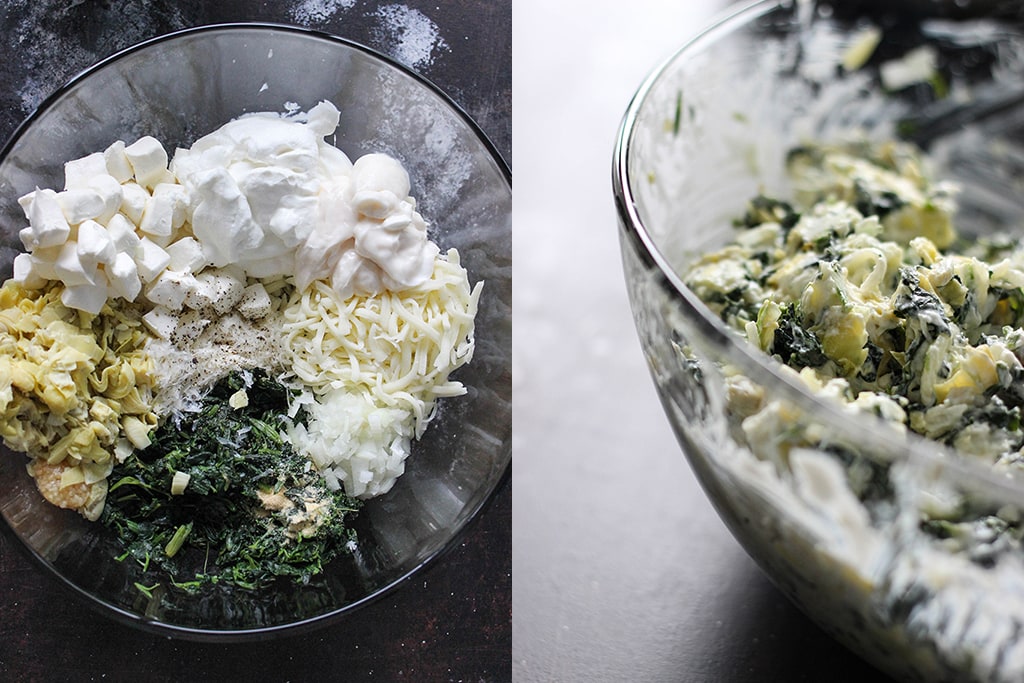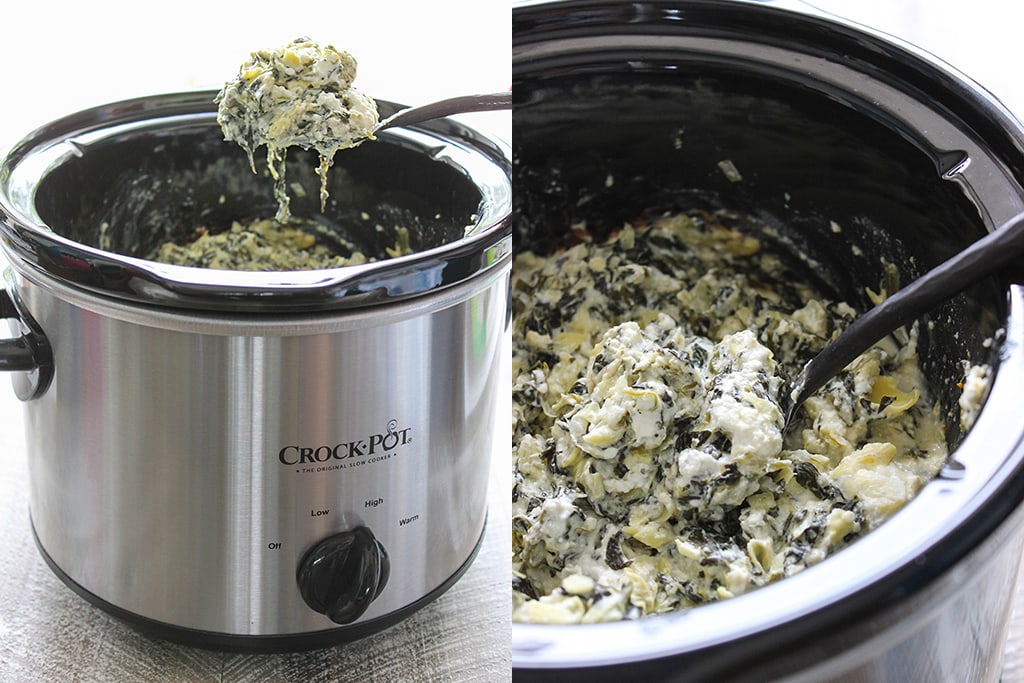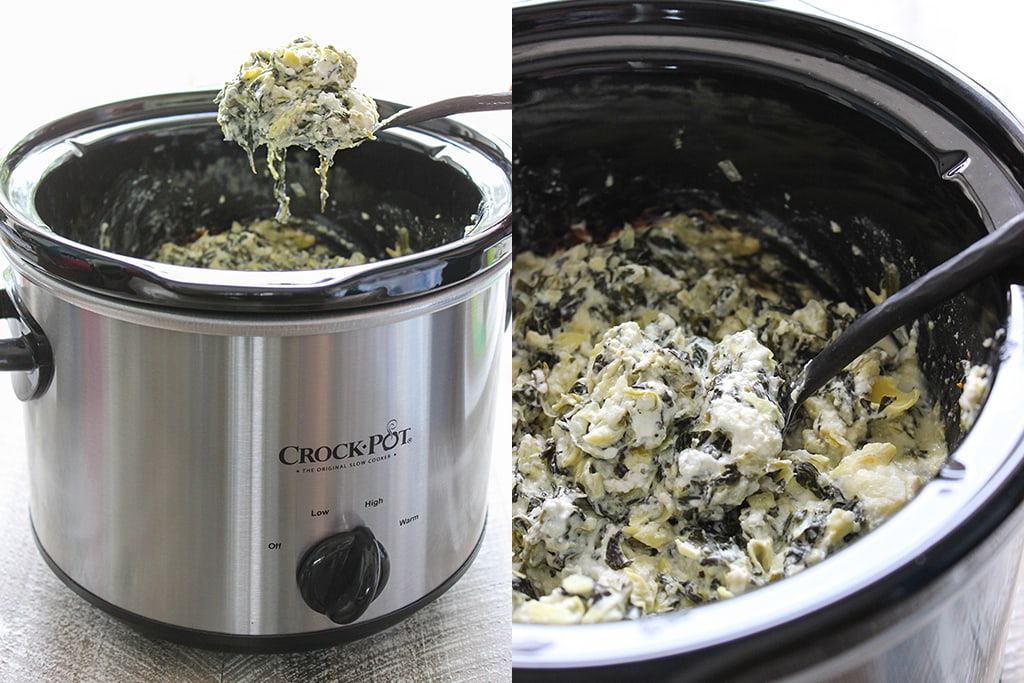 You'll want to spray your slow cooker with non-stick spray before starting just in case. I was a little apprehensive about slow-cooking cheese on a high setting since I've had stuff curdle before but it worked out okay. I guess I can attribute that to the short cooking time.
You can use fresh or frozen chopped spinach. I chose to go with frozen to minimize the bulk that comes with fresh spinach leaves. If you do use frozen, make sure to squeeze out any excess water in a colander so the dip isn't watered down. You can sub Asiago cheese for mozzarella if you want. I've also seen recipes that use feta cheese instead of mozzarella so pick your favorites.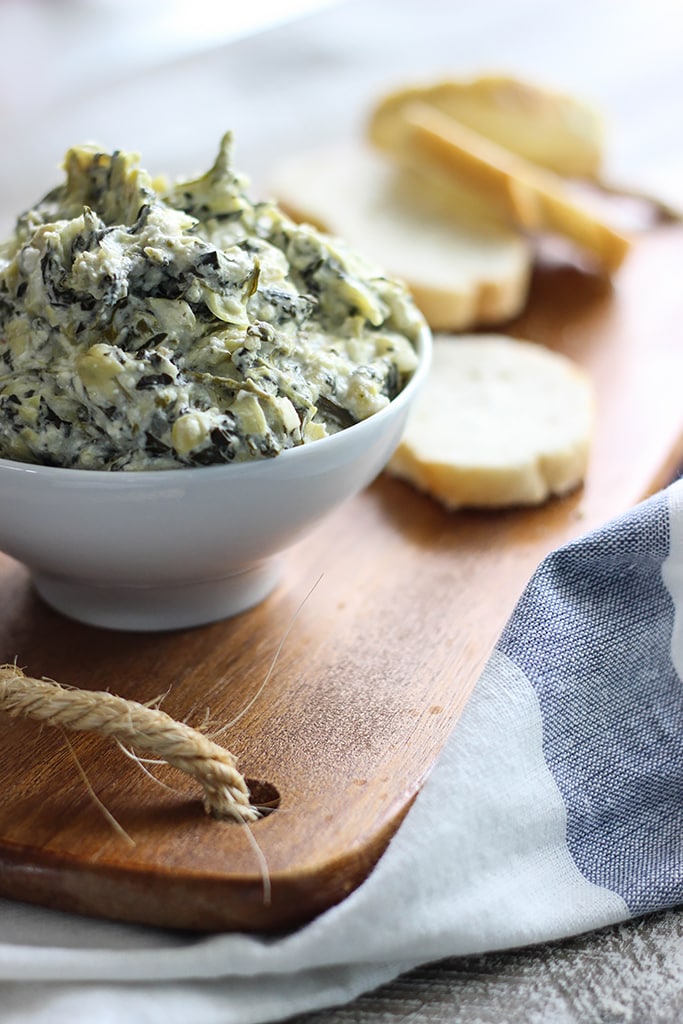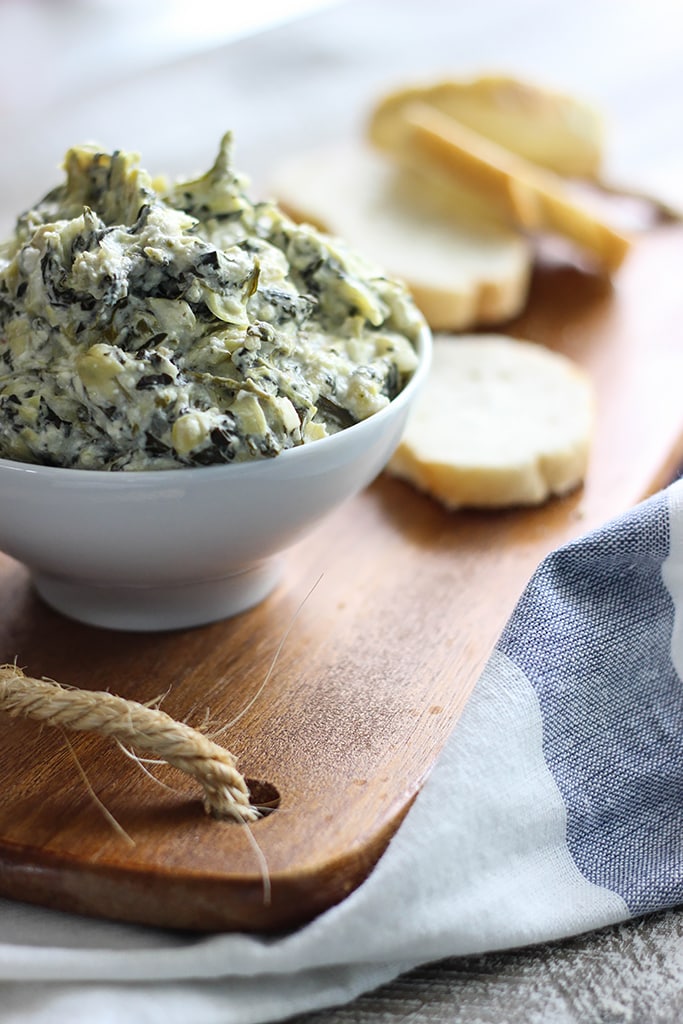 There's a little bit of dicing needed for the artichoke hearts, onion, and garlic, but that's about it. The last thing you'll need your knife for is cubing the cream cheese and then it's onto the mixing. Mix everything in a large bowl. Everything! Take everything and just mix, mix, mix! This is about as easy as it gets for instructions for a recipe. Just make sure you mix well so everyone gets a fair share of the full flavor.
Then you transfer all of it to the slow cooker and start cooking it on high for 2 hours. At this point, you can go watch tv, clean up the kitchen, or cook something else…just don't peek! I read somewhere that each time you lift the lid you lose about 20 minutes of cooking time! So just let it be and around the 1-hour mark, the kitchen will start smelling really good.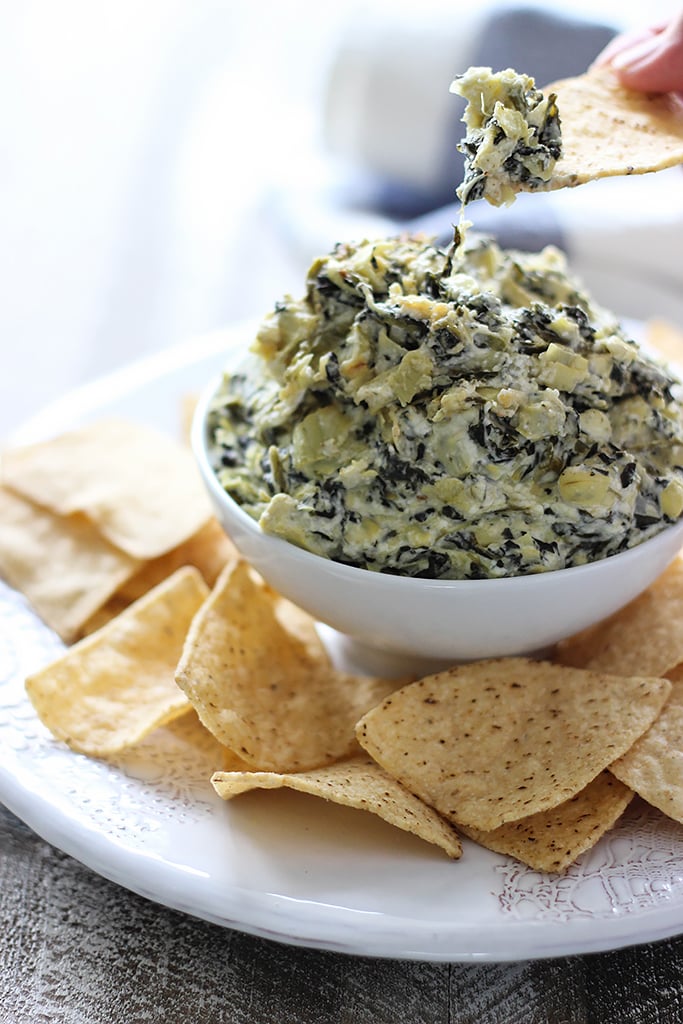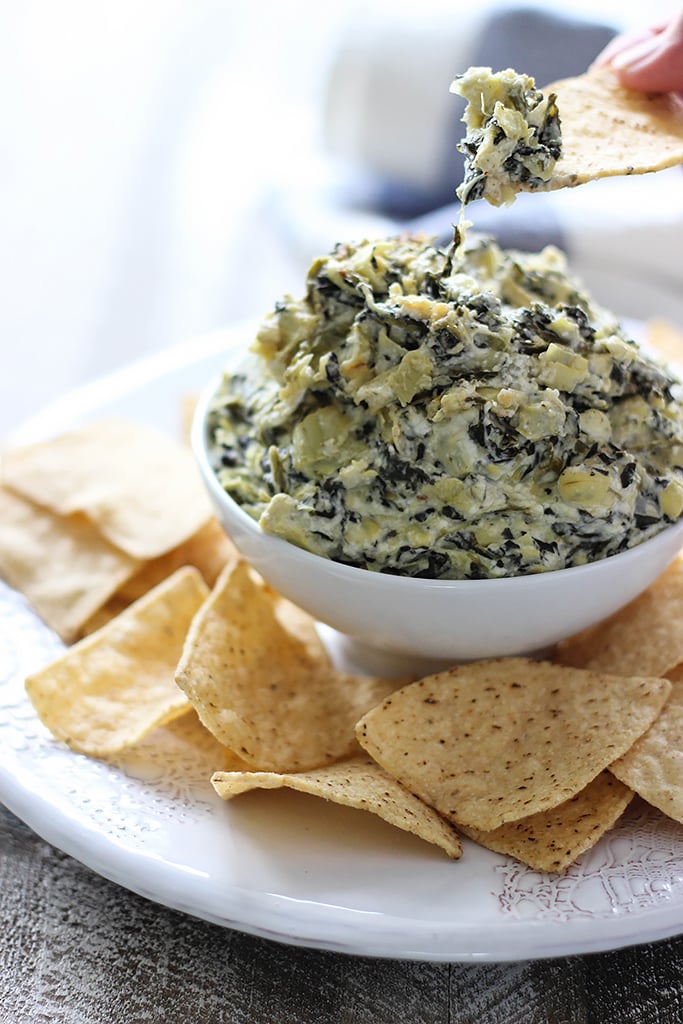 If the dip is too thick for your liking, add some warm milk or heavy cream in small increments and stir until it's the way you like it.
And that's all there is to it. Dish out the chips, slice up your baguettes, prep your appetizer platter and you're ready to serve. Enjoy and let me know how you liked it in the comments below!
MORE DIPS TO TRY
Did you make this recipe? Rate it!
♡ If you liked this recipe, giving it a star rating ★★★★★ in the comments below really helps! For more recipes, subscribe to my newsletter or follow me on Facebook, Instagram and Pinterest.
Print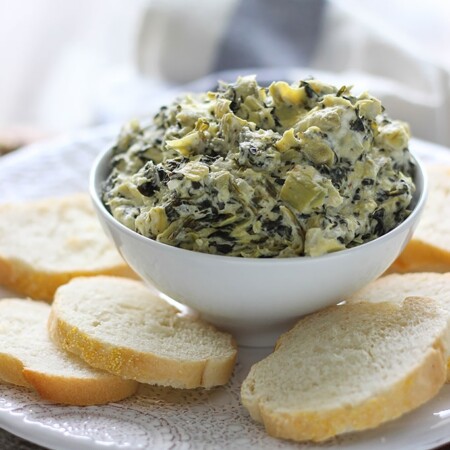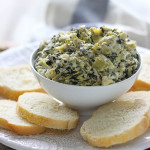 Slow Cooker Spinach and Artichoke Dip
---
Author:
Total Time: 2 hours 15 mins
Yield: 10 1x
Description
Seriously easy and seriously yummy. This homemade slow cooker spinach and artichoke dip feeds a crowd of ten!
---
10 oz. frozen chopped spinach, thawed and drained/fresh baby spinach, chopped
14 oz. artichoke hearts, diced
1/2 medium yellow onion, diced
1 teaspoon garlic, minced
1 cup mozzarella/Asiago cheese, shredded
1/4 cup Parmesan cheese, shredded
8 oz. cream cheese, cubed
8 oz. sour cream
1/2 cup mayonnaise
1/4 teaspoon garlic powder
Salt and pepper to taste
1/4 cup milk/heavy cream (optional)
---
Instructions
Combine all ingredients in a large mixing bowl. Stir to mix well.
Spray the slow cooker with non-stick spray and transfer everything to the slow cooker.
Cook on high for 2 hours or until cheese has melted.
If the dip is too thick, stir in milk/heavy cream little by little until it's the way you like it.
Keep warm for serving with chips, bread, or crackers.
Enjoy!
Prep Time: 15 mins
Cook Time: 2 hours