Avoid the calories of deep-frying with these oven-baked Old Bay buffalo wings. Here's a healthier way to enjoy hot and crispy wings, without the mess and guilt of being fried.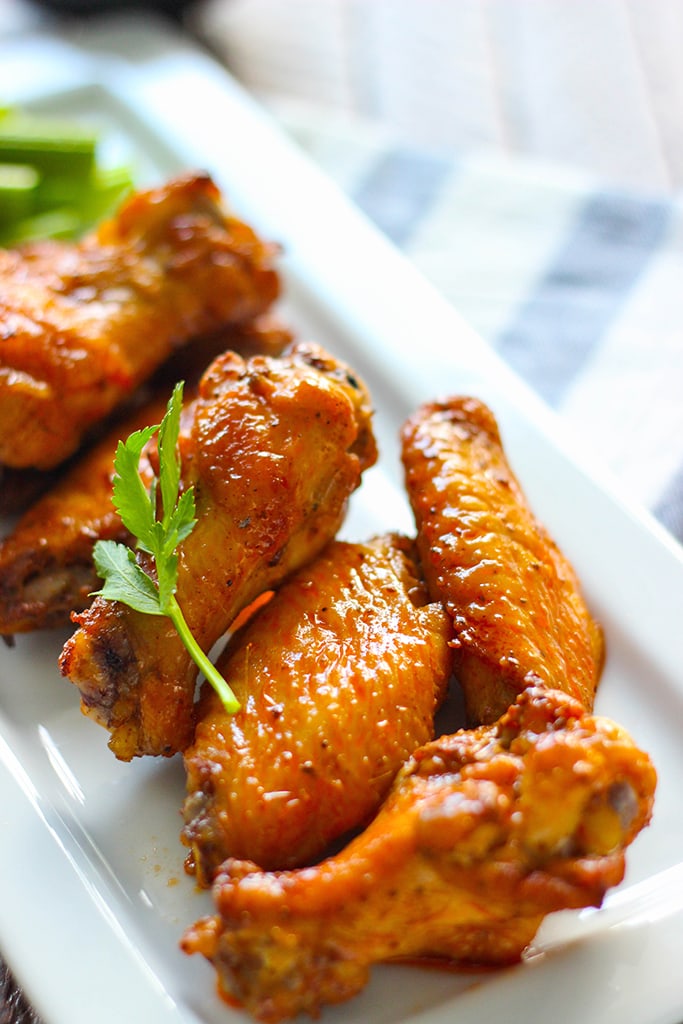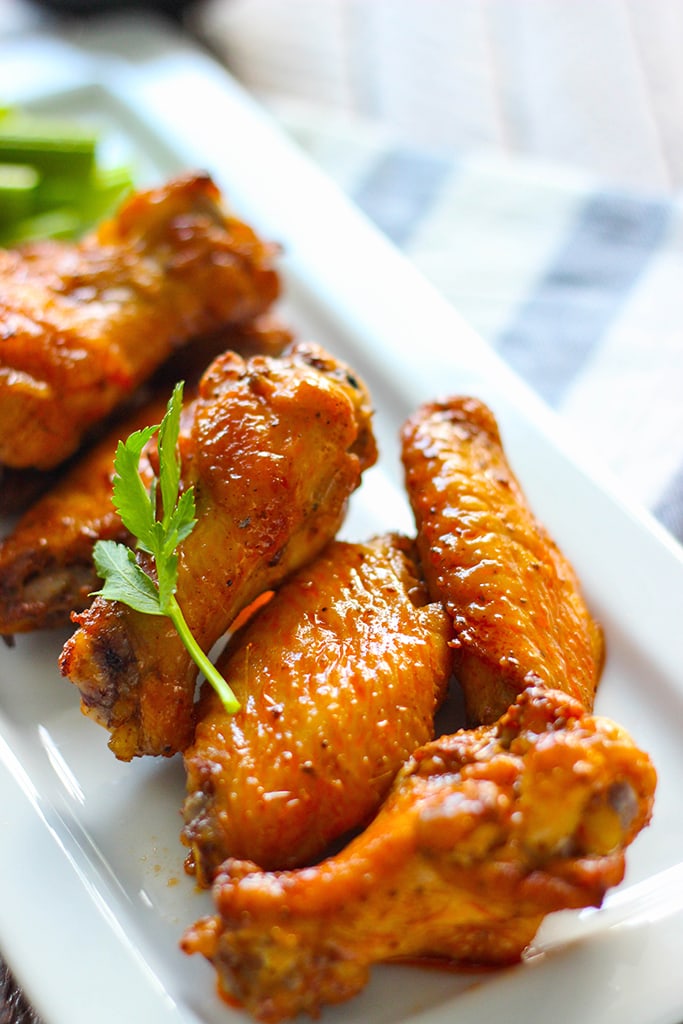 Remember how we used a little Old Bay seasoning in our cheddar bay biscuits last week? Today we're going to use it again for some oven-baked Old Bay buffalo wings. It's been a long time since I made wings. I think it's as far back as the grilled Sriracha hot wings I made last year. I'd say it's due!
These wings are lovingly marinated overnight and then baked for 30-45 minutes before it's tossed in a buttery hot sauce. And while 45 minutes sounds like a long time, it's mostly hands-off time which means you can go do other things and in 45 minutes, your wings are ready. Sounds good? Let's start!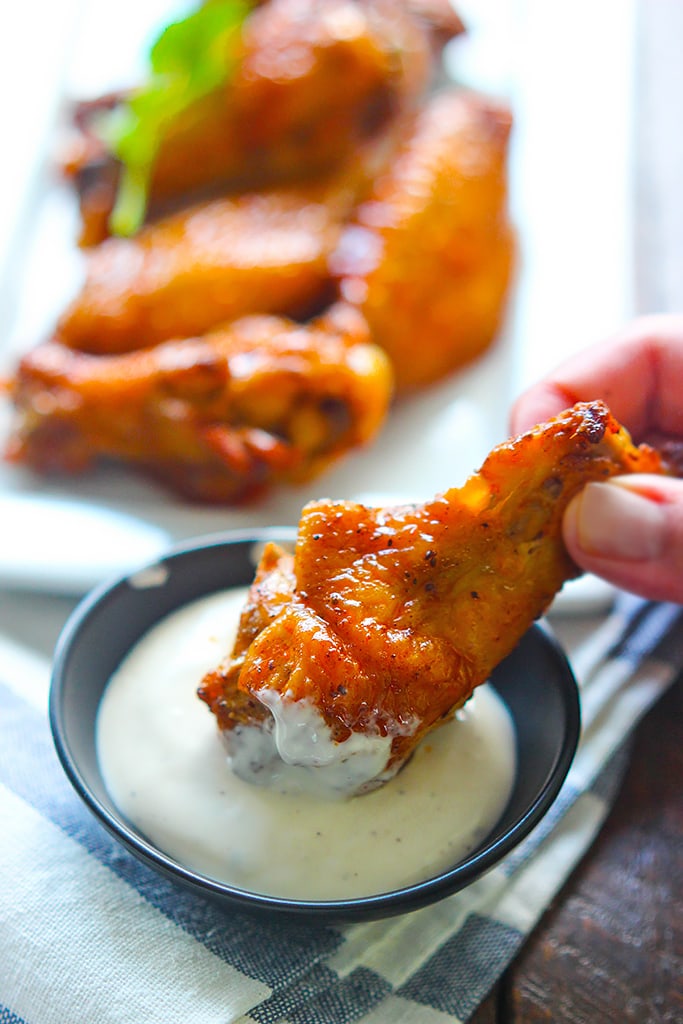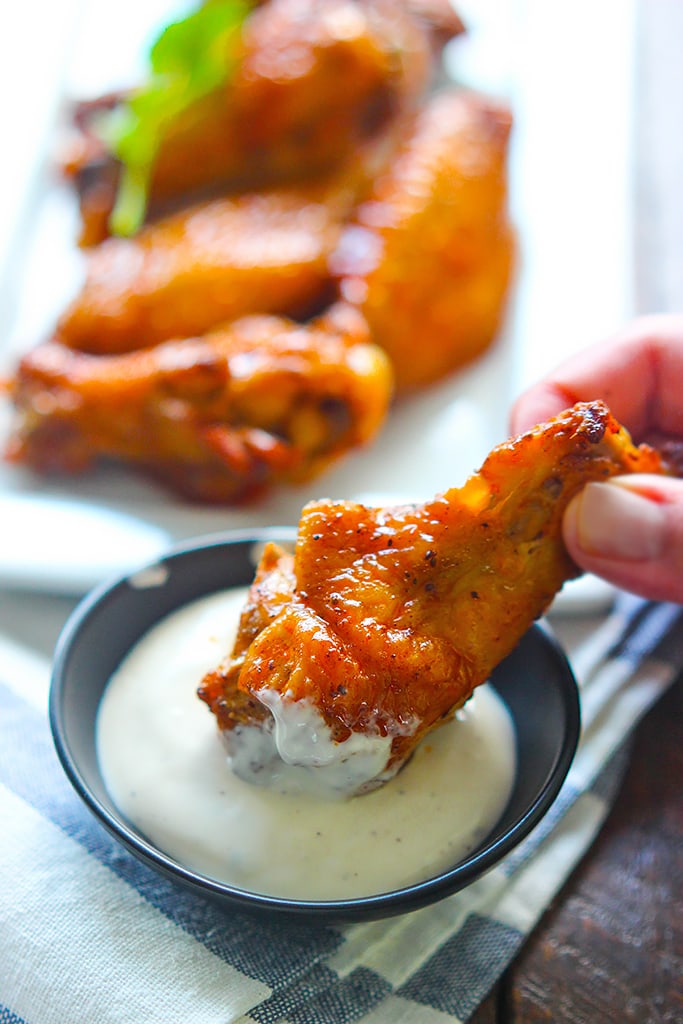 I used about 2 pounds of chicken wings. This should give you about 12-15 wings. You can go for wingettes, drummettes, a combination of both, or the full wing if you want. The prep time takes all of 5 minutes at the beginning of the marination stage. Simply combine some Old bay seasoning with baking powder and salt and pepper to taste. You won't need a lot of salt if any because the Old Bay is pretty salty on its own.
I like to marinate stuff in Ziploc bags. You can massage the marinade into meats easily this way. Tuck away the wings in the fridge for overnight marination and this stage is pretty much done.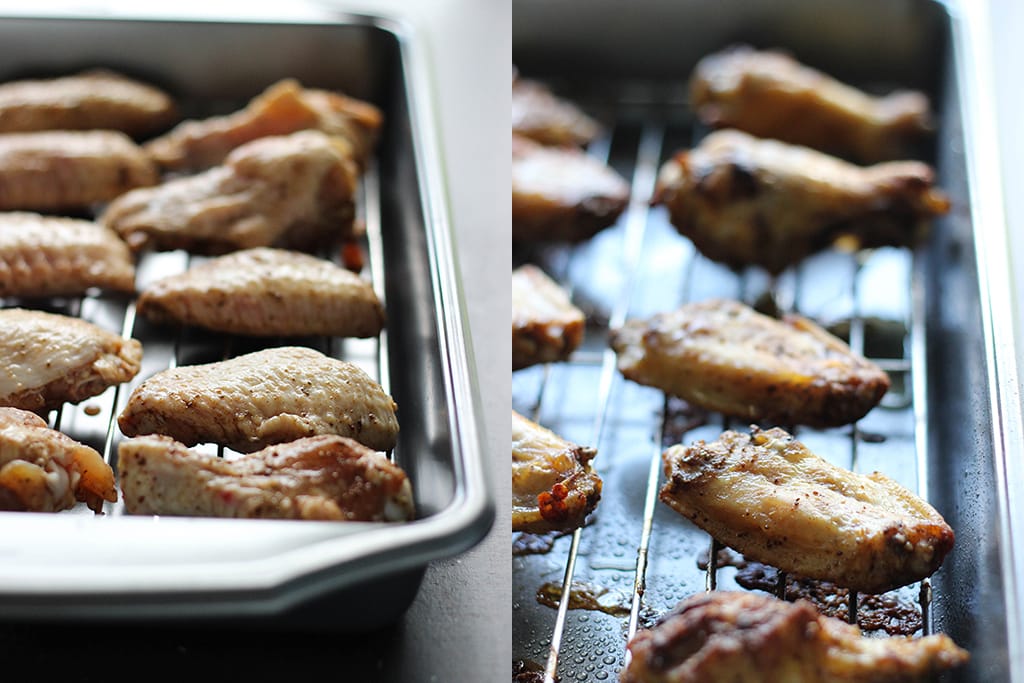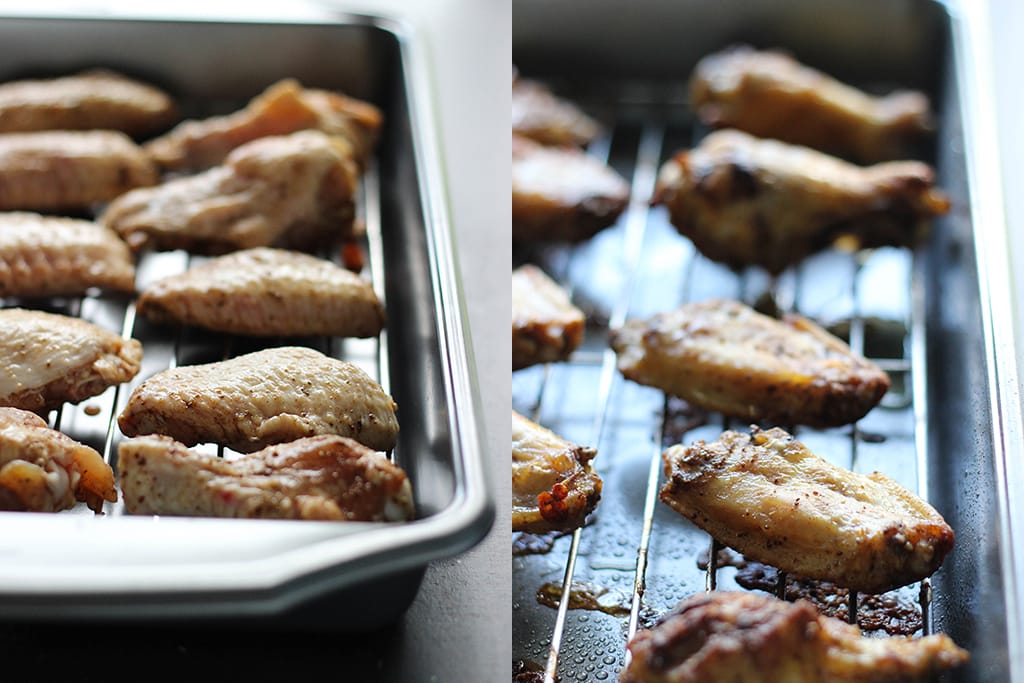 The next day, we'll get ready to bake it. Now anything chicken with skin will render fat that tends to pool up and make things very soggy. You want crispy wings so I solved that by placing the wings on a cooling rack nestled on a baking sheet. This way, the fat can melt and collect at the bottom of the pan and stay away from the wings. There are other methods but this is a simple fix. Try not to overcrowd your wings to ensure maximum crispiness.
So we'll do that and bake at 425 degrees F for 30-45 minutes in the middle rack. Check on it at the 30-minute mark to see if they're good enough for you. They should have an internal temperature of 165 degrees F when using a meat thermometer. Don't forget to turn the wings over halfway to crisp up the other side. Once they're cooked, if you want them even crispier, broil them on the top rack for 2-3 minutes. This will be a bit messy with oil bouncing off everywhere but it's worth it!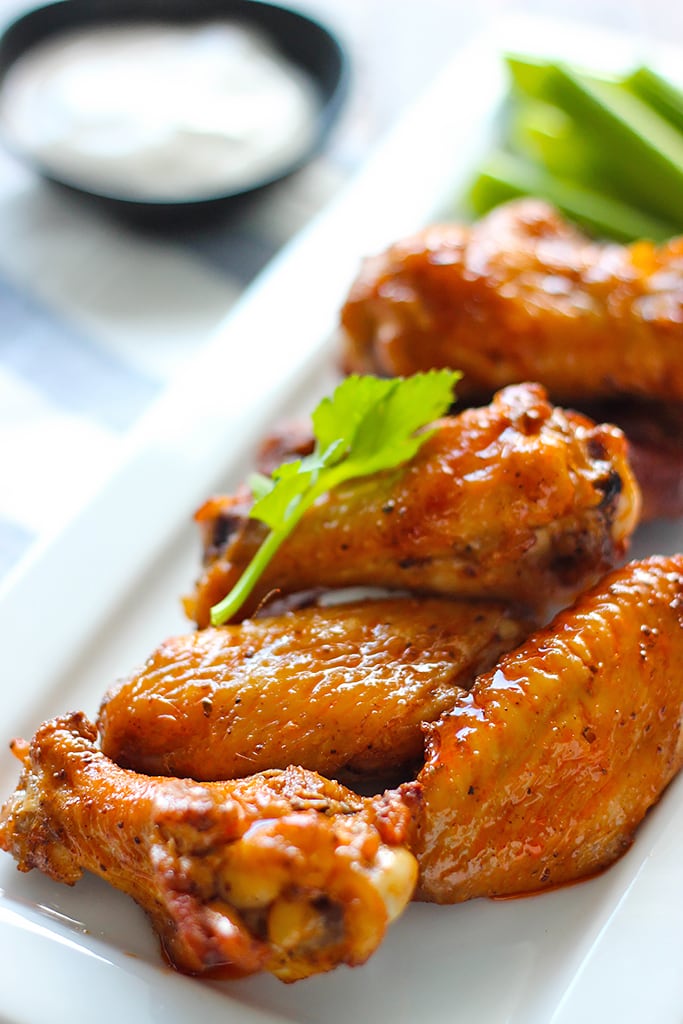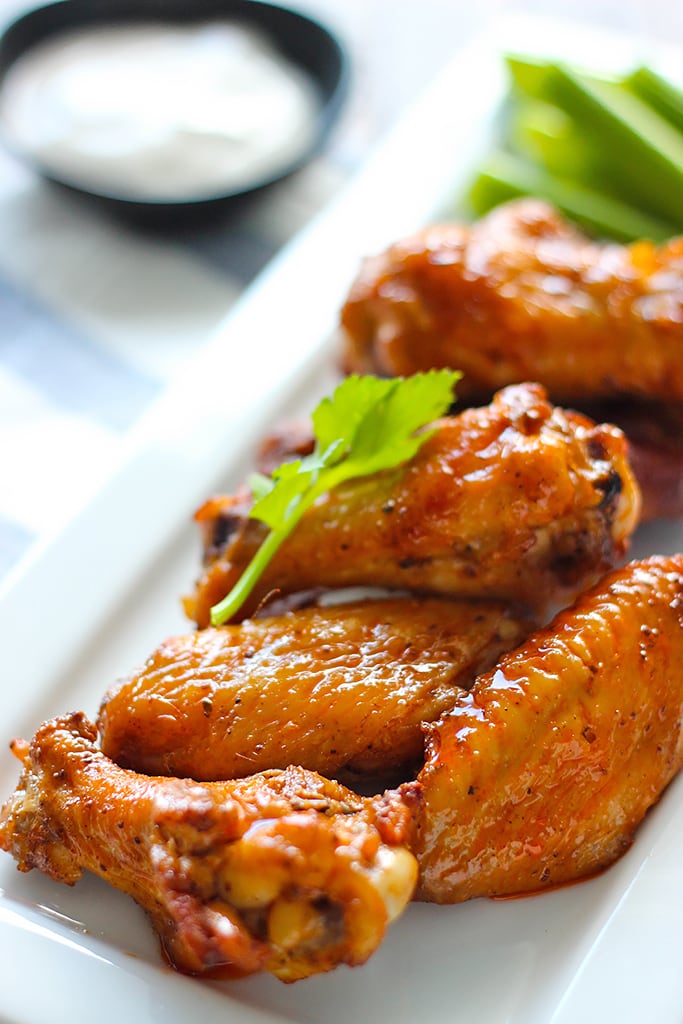 Then it's the second prep stage where you mix hot sauce with the rest of the stuff to make a good buffalo sauce. This literally takes less than 5 minutes. Once the wings are cooked, toss them in the sauce to coat them and get ready to serve! If you want a super thick coating on your wings, you can reduce the sauce over the stovetop before tossing. Feel free to add more hot sauce if you like them even spicier.
Dish them up with some celery sticks and ranch or blue cheese sauce. If you need even more wings for a big group, double the ingredients and use two baking sheets.
PS: Want to put your Old Bay seasoning to good use? How about some soups? Try out a creamy spicy chicken and corn chowder or an old-fashioned one-pot chicken noodle soup.
Did you make this recipe? Rate it!
♡ If you liked this recipe, giving it a star rating ★★★★★ in the comments below really helps! For more recipes, subscribe to my newsletter or follow me on Facebook, Instagram and Pinterest.
Print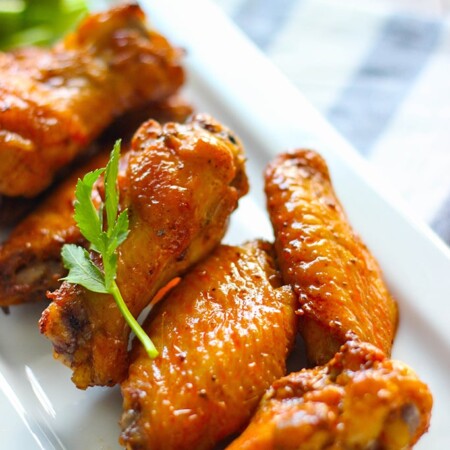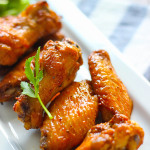 Oven-Baked Old Bay Buffalo Wings
---
Author:
Total Time: 55 mins
Yield: 12–15 wings 1x
Description
These oven-baked Old Bay buffalo wings are truly delicious. An easy recipe to make some buffalo wings at home!
---
2 lb. chicken wings
1 tablespoon Old Bay seasoning
1 teaspoon baking powder
Salt and pepper to taste
Buffalo Sauce:
1/2 cup Frank's hot sauce
4 tablespoons butter, melted
1 teaspoon Worcestershire sauce
1/8 teaspoon garlic powder
Salt to taste
---
Instructions
Mix the Old Bay seasoning with baking powder and salt and pepper to taste.
Marinate the wings for 30 minutes with the Old Bay seasoning mix.
Place a cooling rack on a baking sheet and line up the wings to let the fat render below the wings.
Bake the wings at 425°F for 30-45 minutes or until browned and crispy, flipping the wings over halfway through the cooking time. Broil on the top rack if needed for an extra 2-3 minutes for more crispiness.
Combine ingredients for the buffalo sauce in a large mixing bowl.
Toss the wings in the sauce until evenly coated.
Dish and serve warm with carrots, celery sticks, ranch, or blue cheese dressing.
Enjoy!
Prep Time: 10 mins
Cook Time: 45 mins