Try this baked honey balsamic chicken recipe with tender, juicy chicken coated in a sweet and tangy flavor-packed sauce. Serve with sides like rice or mashed potatoes to soak up all that sauce and veggies like broccoli, asparagus, or green beans for a filling dinner.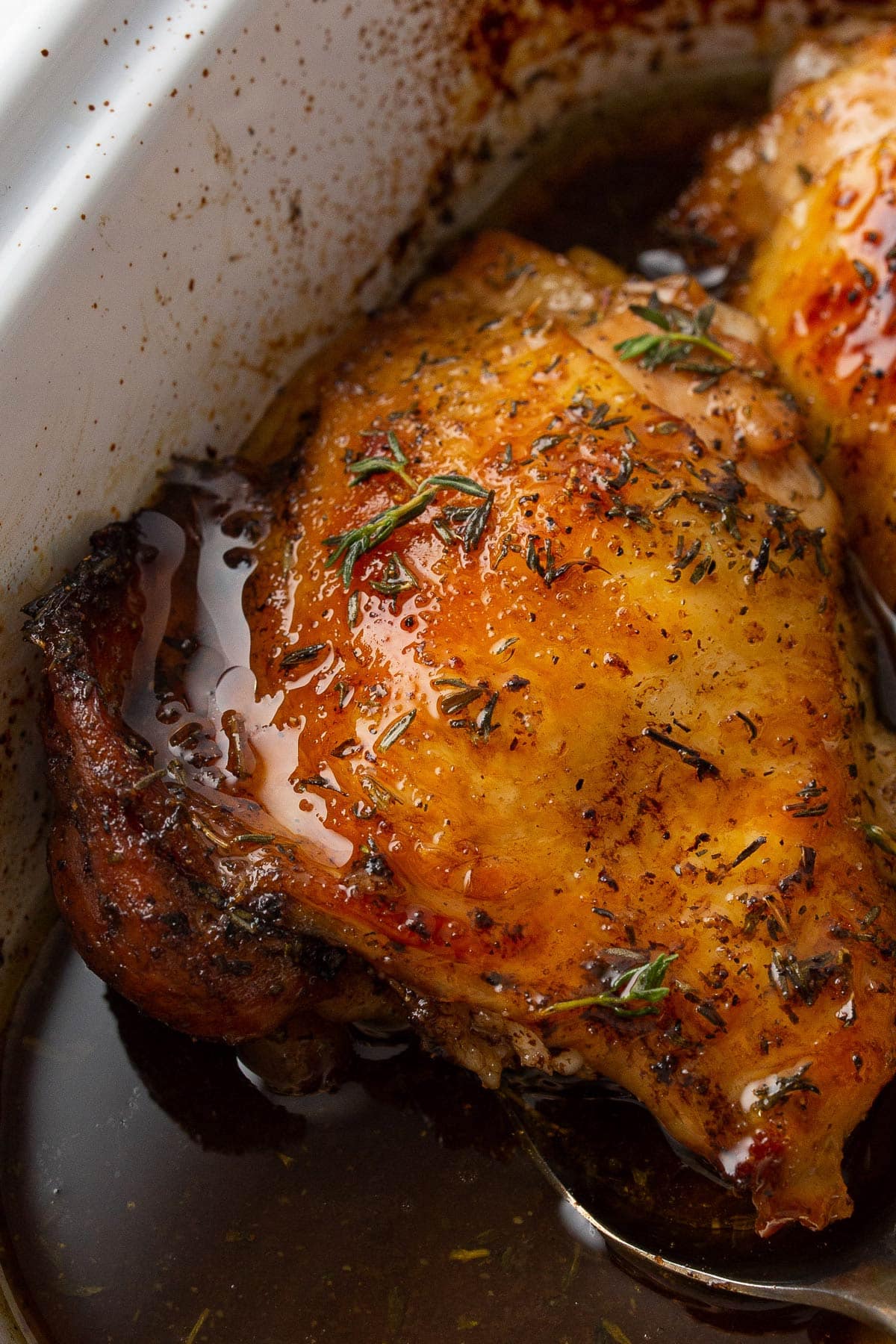 Today we're making some baked honey balsamic chicken which is a quick and easy answer to simple, fool-proof weeknight dinners. The chicken is fall-off-the-bone juicy with deliciously crisp chicken skins thanks to the use of bone-in, skin-on chicken thighs or drumsticks in this recipe. However, if you're not a fan of thighs or anything with bones in them, you can also make this recipe with the humble chicken breast.
The chicken is marinated in a simple sauce of balsamic vinegar, honey, olive oil, garlic powder and thyme, baked until succulent then broiled until the skins are slightly charred. There's a ton of sauce to go around to soak up the rice or mashed potatoes you pair it with. Add veggies like asparagus, broccoli, or green beans for a well-balanced meal.
For other chicken thigh recipes, try air fryer maple chicken thighs, baked honey mustard chicken, honey lemon chicken, or slow cooker honey garlic chicken.
Ingredients in Baked Honey Balsamic Chicken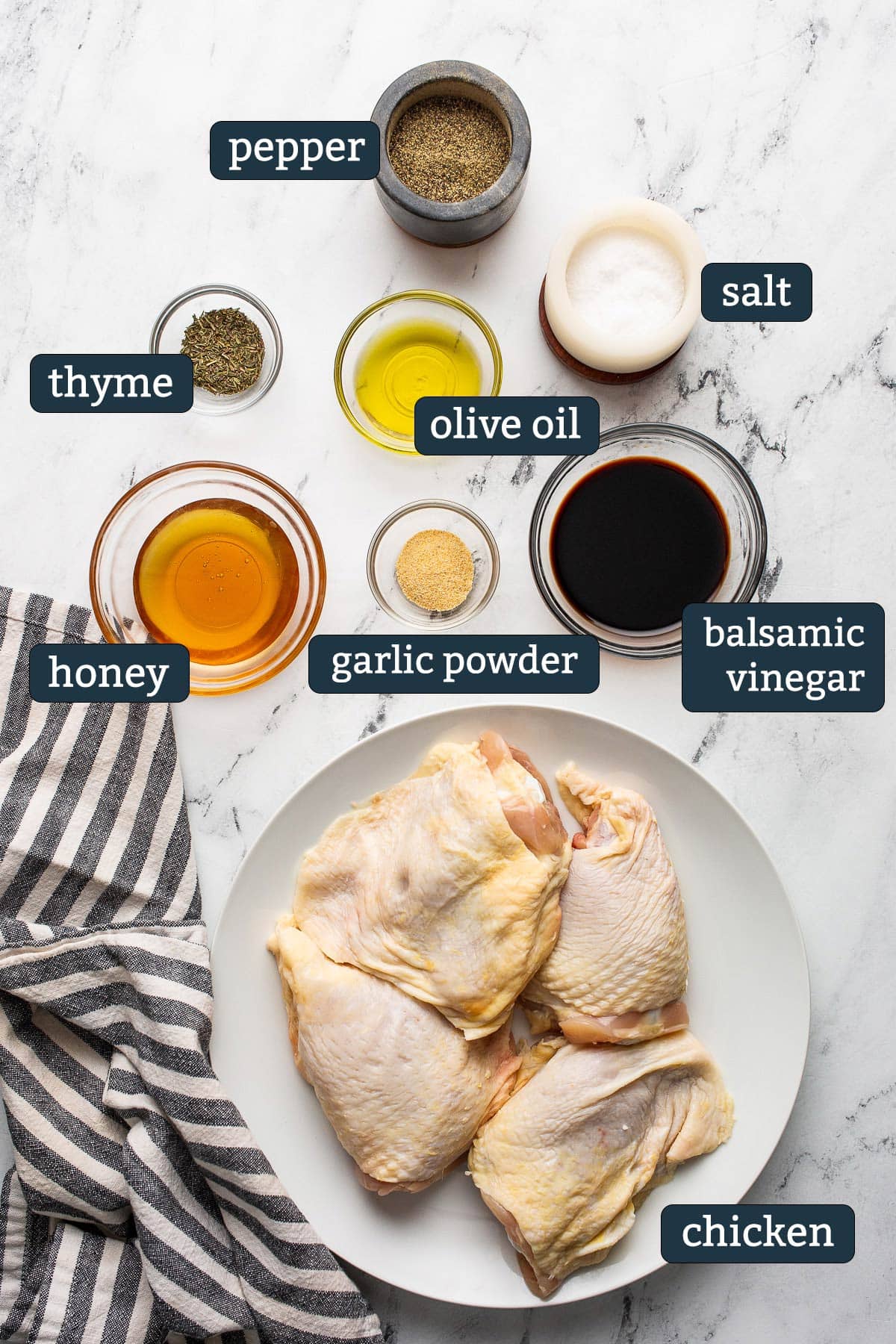 BAKED HONEY BALSAMIC CHICKEN RECIPE TIPS
Chicken – I used bone-in, skin-on chicken thighs but boneless thighs, wings, or drumsticks can be used as well. The sauce will also work with chicken breasts – just adjust the cooking times as breasts take less time to cook than thighs. Your best bet would be to check with a meat thermometer or cut the chicken to see if the meat is no longer pink and if the juices run clear.
Salt – I like to use coarse sea salt because it's more forgiving than average table salt and you can be generous with the seasoning. It will also be easier to massage into the chicken while seasoning.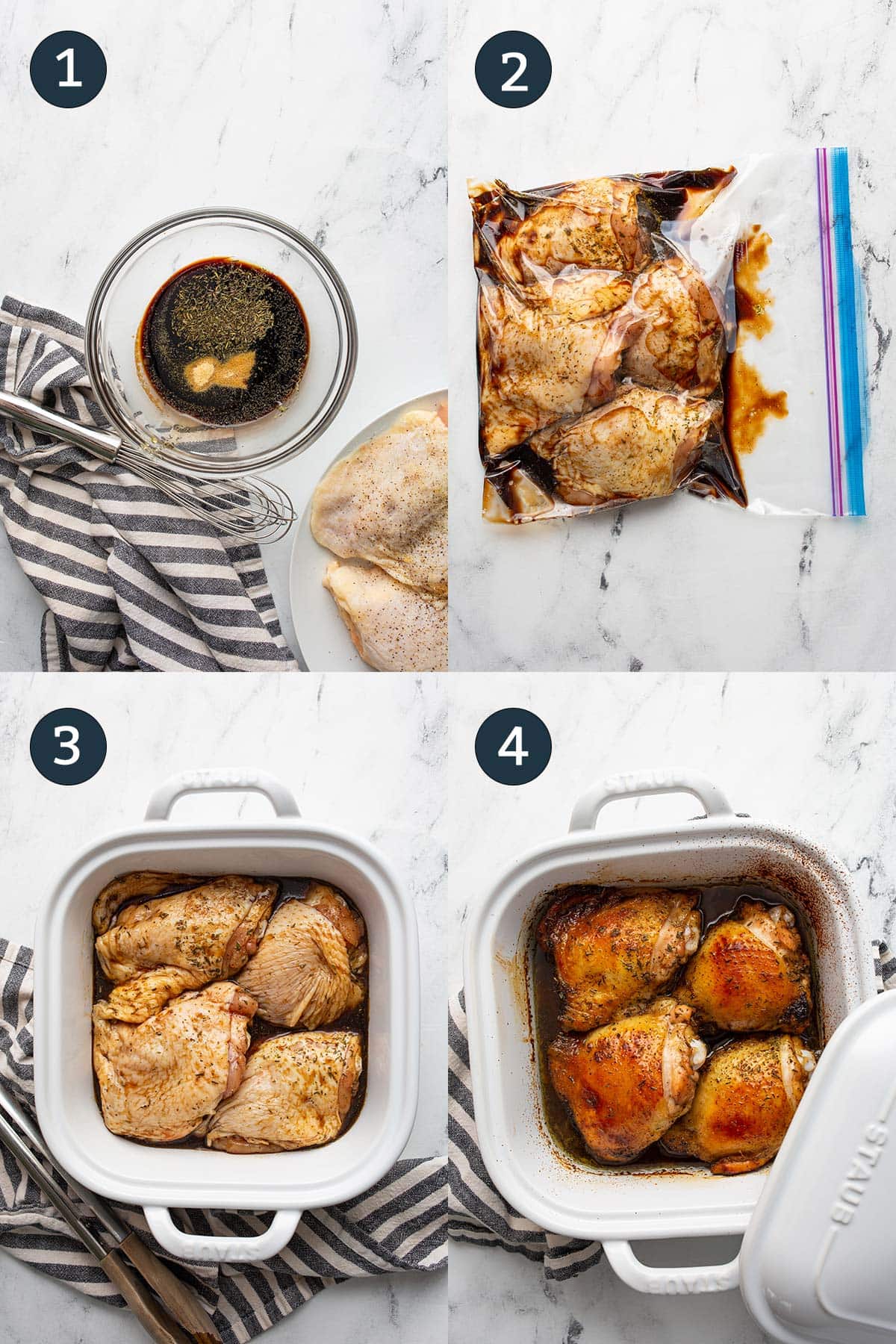 Marination – Skip marinating if you're short on time but I recommend marinating the chicken for at least 30 minutes for more flavor. You'll get the best results if marinated overnight. If you don't like using the marinade as a serving sauce, divide the sauce into two and use half to marinate and the other half for pouring over the chicken before baking.
Baking – You'll want, at the very minimum, a 9×9 baking dish to bake this. There's going to be a lot of sauce to dish out later so a baking sheet will not work. You can also bake this recipe in an oven-safe skillet.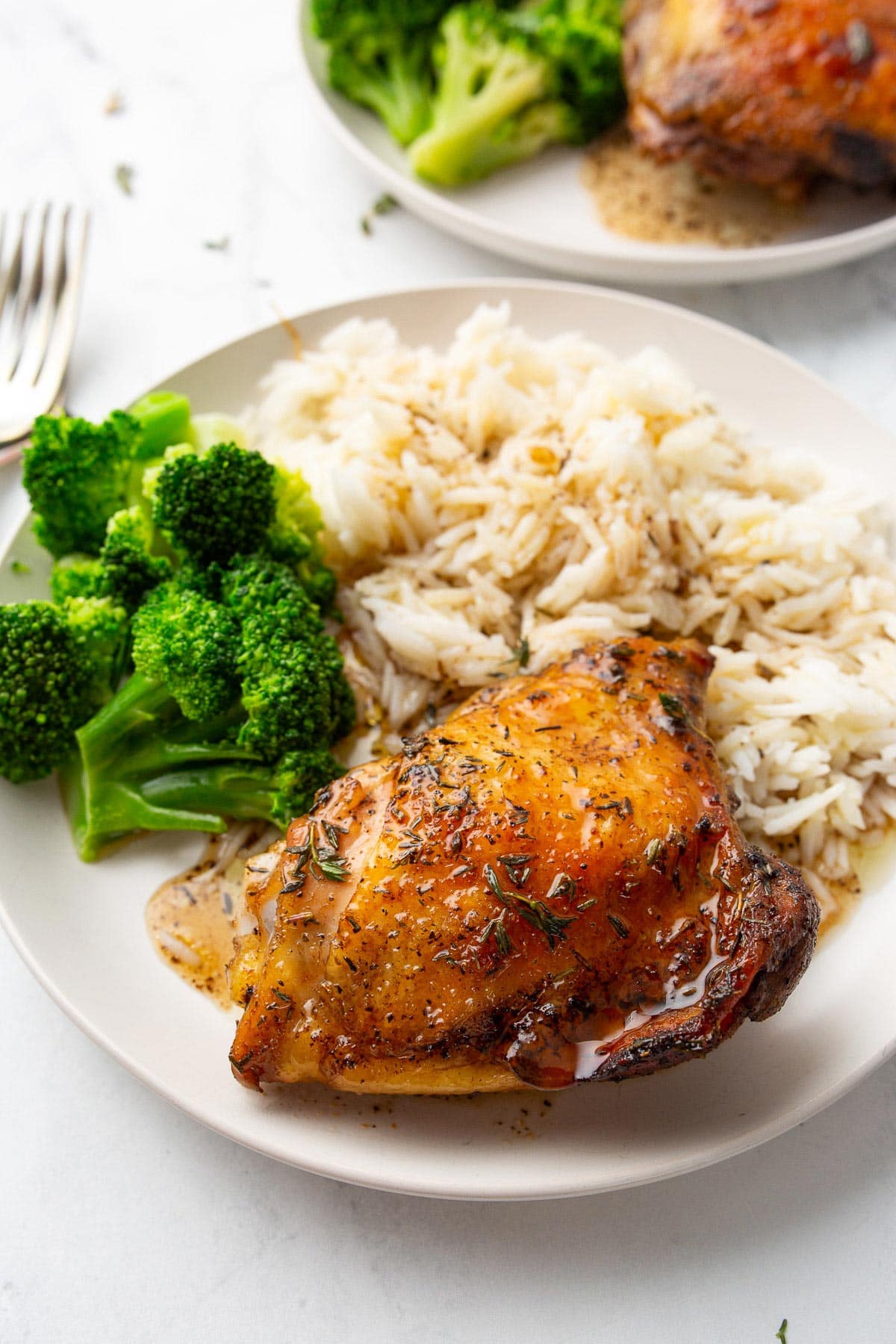 Balsamic vinegar – 1/4 a cup of balsamic vinegar may sound like a lot and overpowering. The chicken won't be overwhelmed with a sourness because the honey balances it out. I wanted more sauce so I didn't it cook down to thicken it. If you prefer a thicker sauce though, bring it to a boil in a saucepan and add a cornstarch slurry.
Honey – You can substitute honey with agave.
Olive oil – I only used a tablespoon of olive oil since I used chicken thighs with skin. The skin will render its own fat while baking so you really don't need much oil, if any. If you're using thighs or breasts with no skin, you might want to add an extra tablespoon of olive oil to the sauce.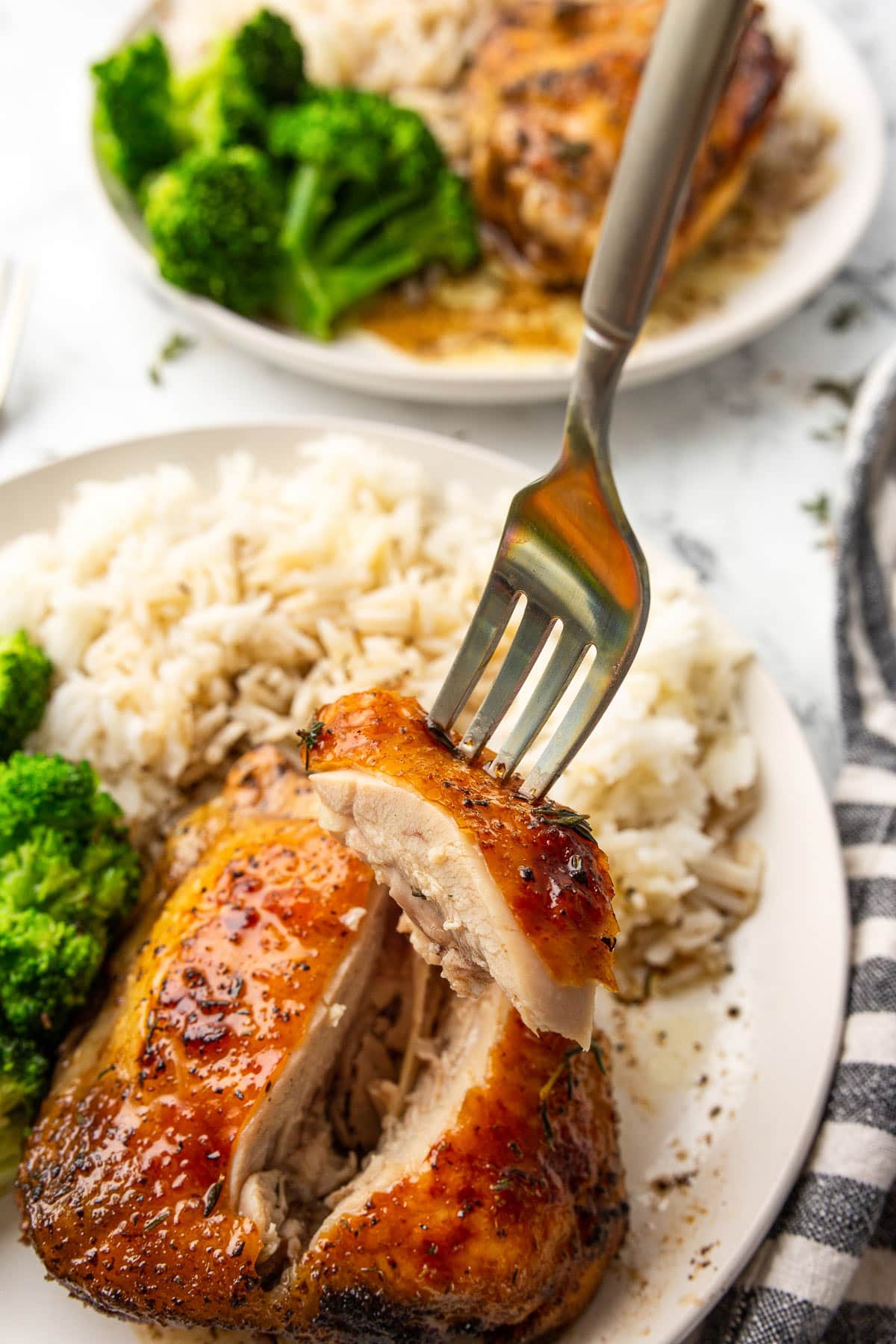 Garlic – For a fresher option and more flavor, substitute garlic powder with one or two medium cloves of minced garlic.
Herbs – I used dried thyme but feel free to use fresh thyme. You can also add more herbs like fresh or dried rosemary.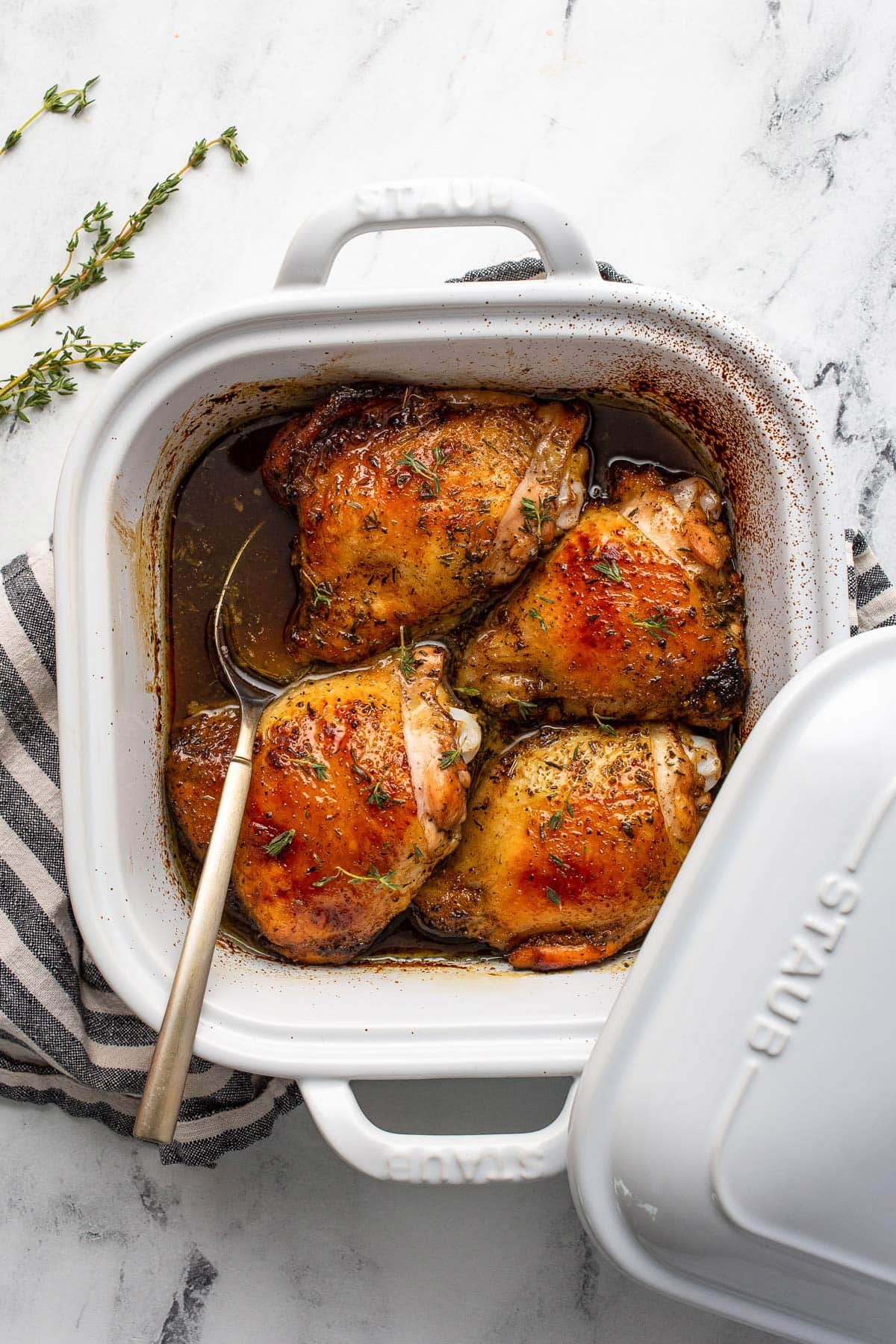 Storing – Keep the chicken in an airtight container for up to 3 days in the fridge.
Reheating in the oven – Place leftover chicken in a baking dish with some of its sauce. Cover with foil and bake at 350°F for 15 minutes or until the chicken is warmed through with an internal temperature of 165°F. Remove foil then broil for a couple of minutes to get your skins crispy again.
Reheating in the air fryer – Preheat your air fryer to 350°F and air fry for 3-5 minutes until warmed through.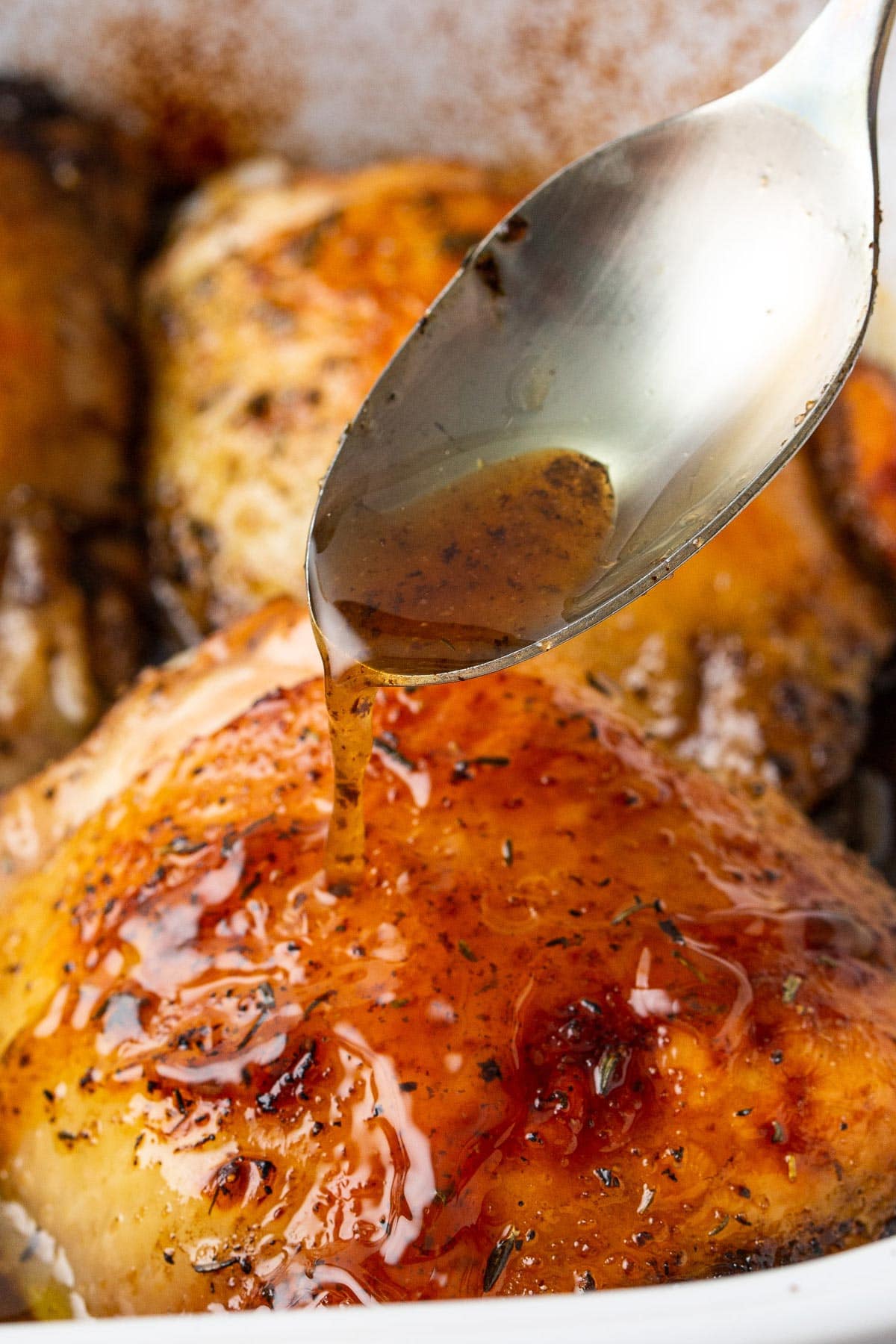 Customize It!
Add some heat – Add a little kick with a few dashes of red pepper flakes.
What to Serve with Baked Honey Balsamic Chicken
This chicken has a lot of sauce so serve it with some rice or mashed potatoes. Balance out the meal with a side of greens like green beans, broccoli, or asparagus.
And that's about it. For more balsamic recipes, try balsamic glazed salmon and slow cooker balsamic roast. Enjoy your chicken and let me know how you liked it, what substitutions you made, or what you paired it with in the comments below!
MORE BAKED CHICKEN RECIPES TO TRY
Did you make this recipe? Rate it!
♡ If you liked this recipe, giving it a star rating ★★★★★ in the comments below really helps! For more recipes, subscribe to my newsletter or follow me on Facebook, Instagram and Pinterest.
Print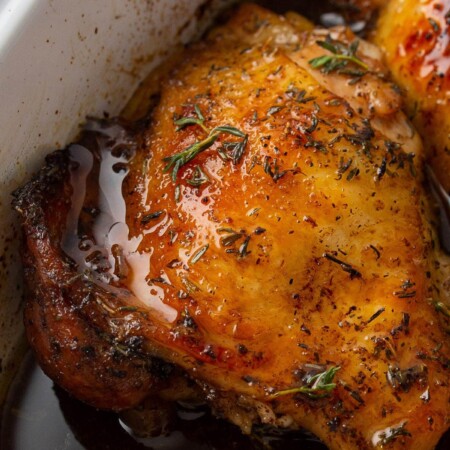 Baked Honey Balsamic Chicken
---
Author:
Total Time: 40 minutes
Yield: 4 1x
Description
Try this baked honey balsamic chicken recipe with tender, juicy chicken coated in a sweet and tangy flavor-packed sauce.
---
4 chicken thighs / chicken breasts, about 2 lbs.
Salt and pepper, to taste
SAUCE
1/4 cup balsamic vinegar
1/4 cup honey
1 tablespoon olive oil
1/2 teaspoon garlic powder
1/2 teaspoon dried thyme
---
Instructions
Make the sauce by combining balsamic vinegar, honey, olive oil, garlic powder and thyme then whisking until smooth.
Season the chicken with salt and pepper to taste. Make sure to rub the seasoning in well.
Marinate the chicken in the sauce for 30 minutes up to a few hours, or overnight.
Arrange the marinated chicken in a baking dish or oven-safe skillet. Pour the remaining marinade on the chicken (see notes if you prefer not to cook with the marinade).
Bake at 375° F for 35 to 40 minutes or until a meat thermometer reads 165°F.
[For crispy skins] Broil the chicken for 2-3 minutes or until skins are golden brown and slightly charred.
[For a thicker sauce] Strain the sauce and bring to a boil in a pot. Add a cornstarch slurry to thicken the sauce to your desired consistency and spoon over the chicken before serving.
Let the chicken rest for 5 minutes then dish and serve hot with the sauce.
Enjoy!
Notes
Spoon/baste the chicken with the sauce a few times while it bakes for more flavor, if desired.
If you're opposed to using the marinade as a serving sauce, you can divide the sauce into two and use half to marinate and the other half for pouring over the chicken before baking.
Oven temperatures may vary, so adjust baking time as needed.
Scroll up to RECIPE TIPS for more useful tips, suggestions and ingredient substitutions.
Prep Time: 5 mins
Cook Time: 35 mins