Enjoy the sweet and savory sauce loved by millions with this slow cooker honey garlic chicken. With juicy fall-off-the-bone chicken plus veggies and potatoes thrown in, this 15-minute preparation recipe is an easy and complete one-pot meal.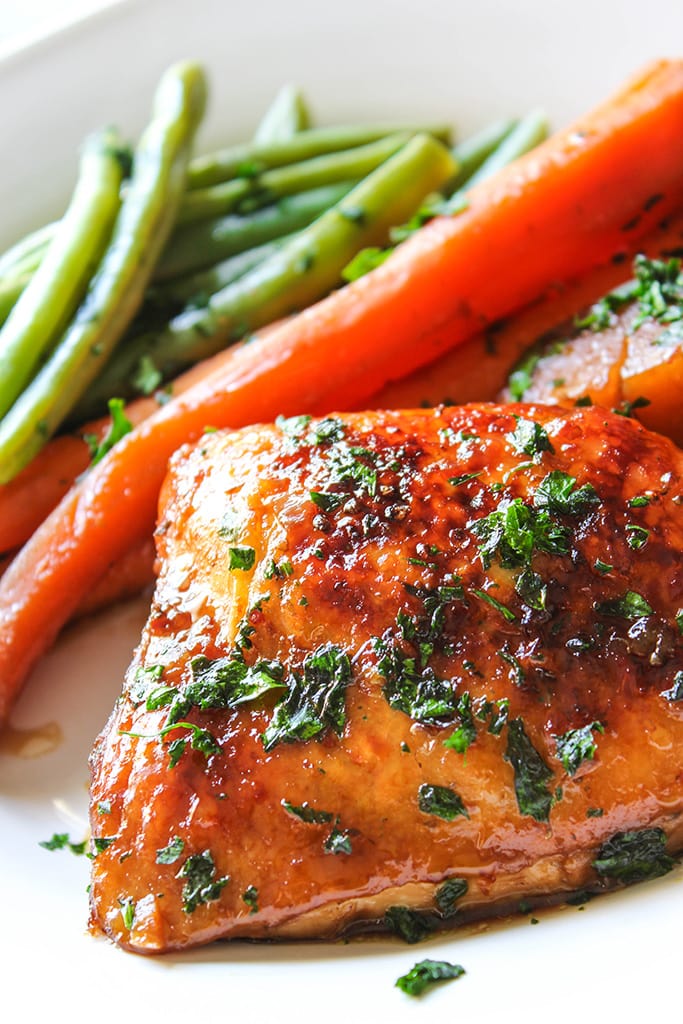 Some time back I did a yummy shrimp version of the famous honey garlic sauce from some crispy honey garlic chicken. This sauce is loved by millions and rightly so because it is so, so simple but very, very flavorful. So today we'll be making some slow cooker honey garlic chicken with carrots, green beans and potatoes for that complete one-pot meal.
Use bone-in, skin-on flavorful chicken thighs for that delicious dark meat, or try it with chicken breasts if you prefer white meat. You can go with bone-in and skin-on or boneless and skinless chicken thighs or breasts, either way works. Feel free to leave out some veggies you don't like or swap the green beans with asparagus. Or leave out the veggies completely if you only want the chicken. There are many ways to enjoy this. So let's get started.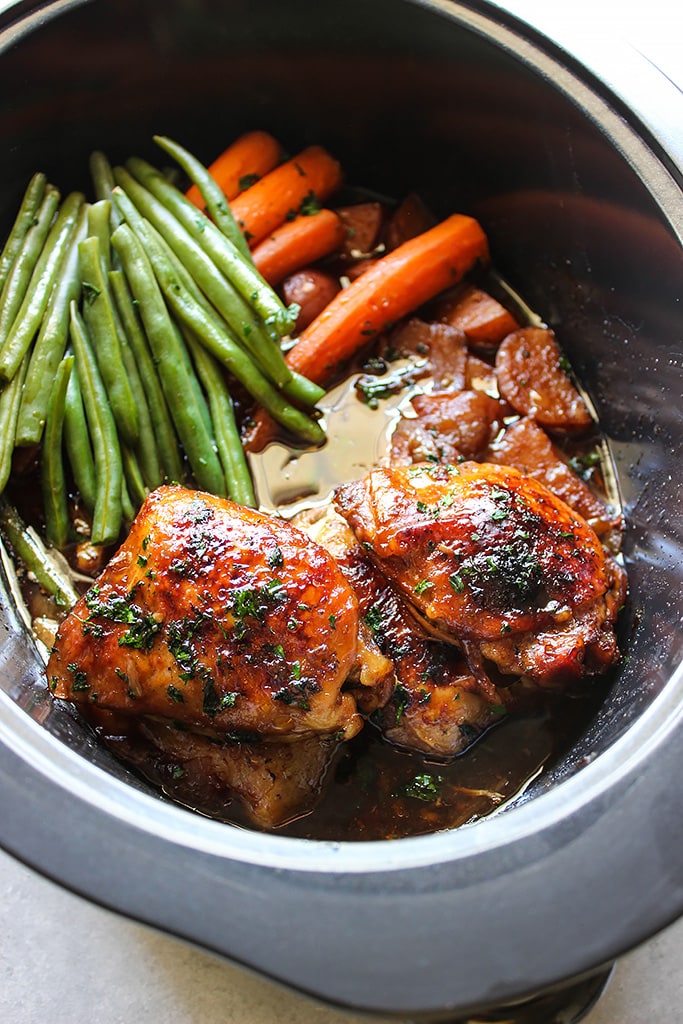 SLOW COOKER HONEY GARLIC CHICKEN RECIPE TIPS
Meat – You can switch up the chicken thighs with bone-in, skin-on chicken breasts or go with boneless, skinless chicken thighs/breasts. The skin from the chicken will render some fat into the slow cooker and dilute the sauce, so expect to have to cook it down a little if you go with the skin-on route. If you're using frozen chicken, defrost it completely and drain all excess liquid. Make sure to pat the chicken dry with paper towels before cooking so you don't dilute the sauce.
Sauce – Use cornstarch slurry (cornstarch plus cold water) to thicken the sauce in the slow cooker. In this recipe, we put it in about 45 minutes before it finishes cooking but you can also do this on the stovetop once it's all cooked. A cornstarch slurry is the quickest way to thicken the sauce compared to regular flour or cooking it down through evaporation. If you don't have cornstarch and don't want it in your kitchen, cooking it down over the stovetop will work but just takes longer.
Rendered Fat – If you want to remove the rendered fat from the sauce before thickening it, use a fat separator.
Vegetables – If you don't want the hassle of peeling regular carrots, you can switch them with baby carrots. The same goes for the red potatoes and baby potatoes. You can also switch green beans with asparagus. Or you can leave out of the vegetables completely if you only want to cook the chicken.
Crispy chicken skin – It's impossible for the chicken skin to crisp up in the slow cooker, so a way to get them crispy is to broil them in the oven or a toaster oven for a couple of minutes. Baste the chicken skin with some sauce and broil chicken at 450 degrees F for 3-4 minutes or until nice and browned.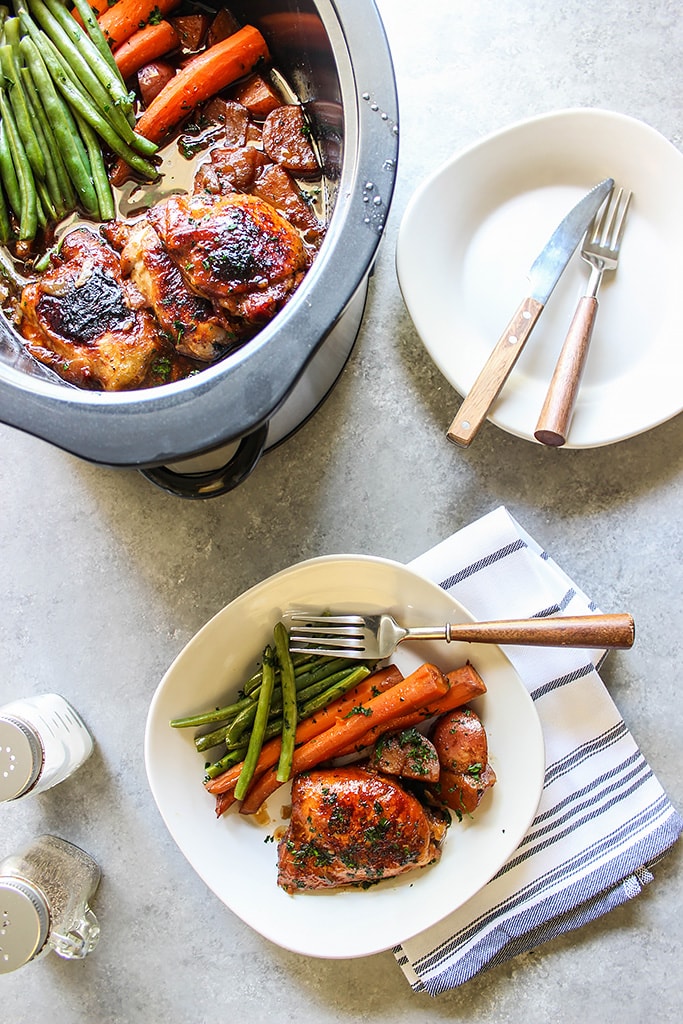 And that's it. This simple, one-pot meal is easy from start to finish. If you want to explore more honey garlic chicken choices, try out this honey garlic chicken skillet. Enjoy it with some green beans or asparagus and some mashed or scalloped baked potatoes.
Enjoy and happy cooking!
MORE SLOW COOKER CHICKEN RECIPES TO TRY
Did you make this recipe? Rate it!
♡ If you liked this recipe, giving it a star rating ★★★★★ in the comments below really helps! For more recipes, subscribe to my newsletter or follow me on Facebook, Instagram and Pinterest.
Print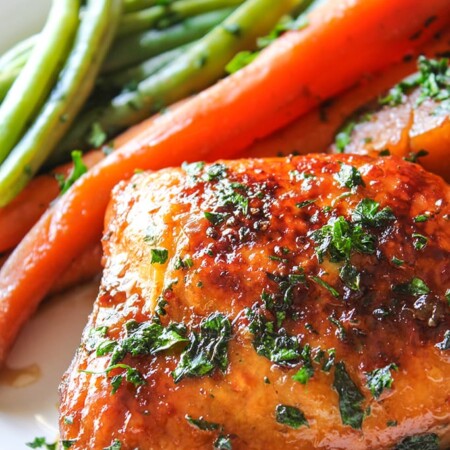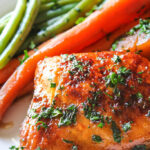 Slow Cooker Honey Garlic Chicken
---
Author:
Total Time: 4 hours 15 minutes
Yield: 4 1x
Description
Enjoy the sweet and savory sauce loved by millions with this juicy slow cooker honey garlic chicken complete one-pot meal.
---
2 lbs. bone in, skin on chicken thighs
1 medium yellow onion, roughly chopped
1 lb. baby red potatoes, quartered
1 lb. carrots, peeled
1/2 lb. green beans, ends trimmed off
1 tablespoon cornstarch mixed with 2 tablespoons cold water (optional for thicker sauce)
Fresh parsley (optional for garnish)
Honey Garlic Sauce:
1 tablespoon garlic, minced/1/2 tablespoon garlic powder
1/3 cup honey
1/2 cup low sodium soy sauce
---
Instructions
Combine the sauce ingredients and pat the chicken dry with paper towels.
 Fill the bottom of a 6 qt. slow cooker with all the vegetables except for the green beans.
Top with chicken and pour sauce over the chicken.
Cook on high for 4 hours or on low for 6-8 hours.
Around 45 minutes before the end of the cooking time, add in the cornstarch slurry to the sauce and stir to mix (optional, see notes).
Add in green beans and cook for another 30 minutes or until the green beans are tender and the sauce has thickened.
For a crispy skin, broil the chicken thighs 450 degrees F for 2-3 minutes (optional).
Dish and serve hot sprinkled with optional fresh parsley for garnish.
Notes
The sauce will be slightly diluted if you do not use a cornstarch slurry. If you are okay with this, enjoy! If not, you can cook the sauce down in a saucepan over the stove top until thickened to your desired consistency.
To add some kick to the sauce, try some red pepper flakes or smoked paprika to taste and/or some lime juice.
Prep Time: 15 mins
Cook Time: 4 hours