Enjoy this light, easy and healthy slow cooker white chicken chili with chunks of tender chicken, green chilies and creamy white beans in a warm and comforting broth. Pair it with your favorite toppings like fresh cilantro, lime wedges, shredded cheese, sour cream, avocado, diced tomatoes, or hot sauce.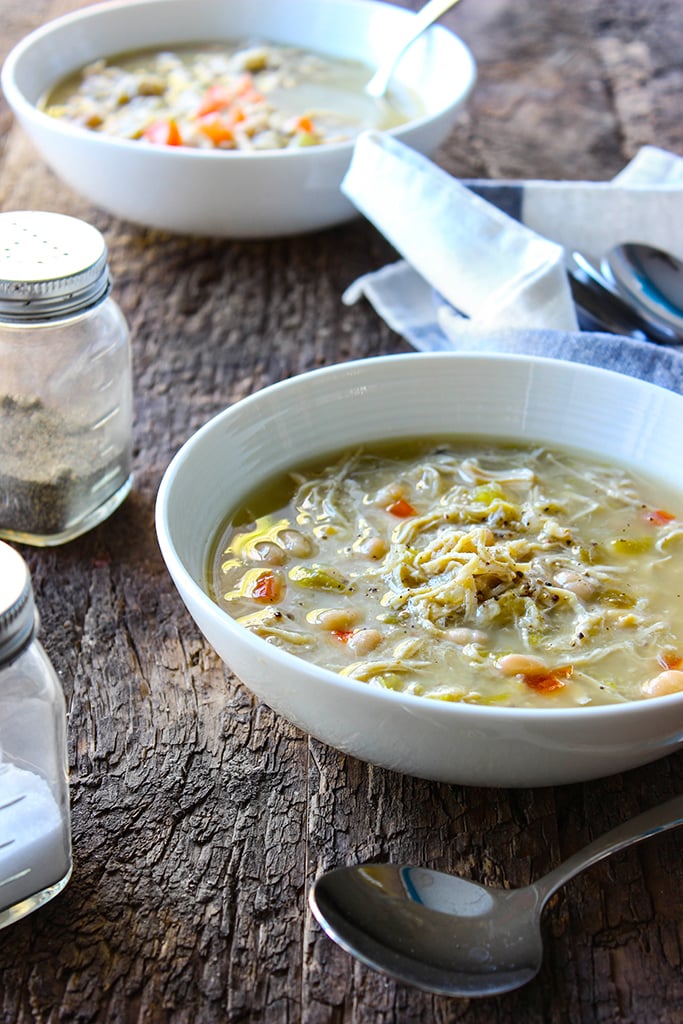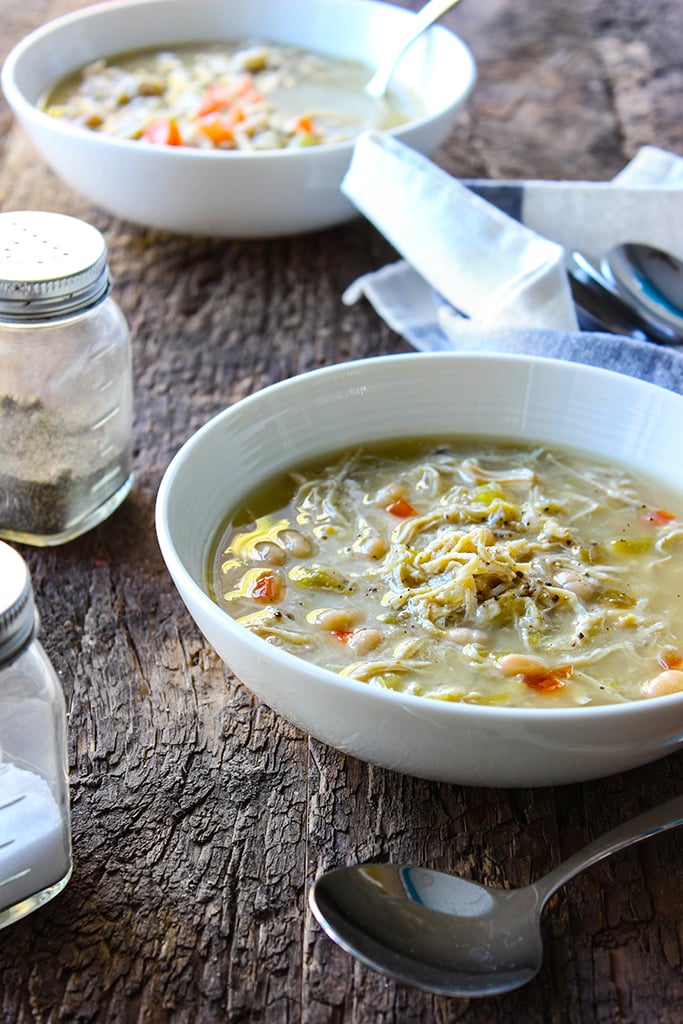 Today we'll be doing more slow cooking! This soup is filling, hearty, warm and super flexible with your favorite toppings. Try it with cilantro, lime, shredded cheese, sour cream, avocado, tomatoes, or hot sauce.
The great thing about this one is despite looking creamy, no cream or dairy is used. Instead, we used a little trick of thickening the soup with an extra can of mashed beans! So it's pretty healthy for a comforting slow cooker soup.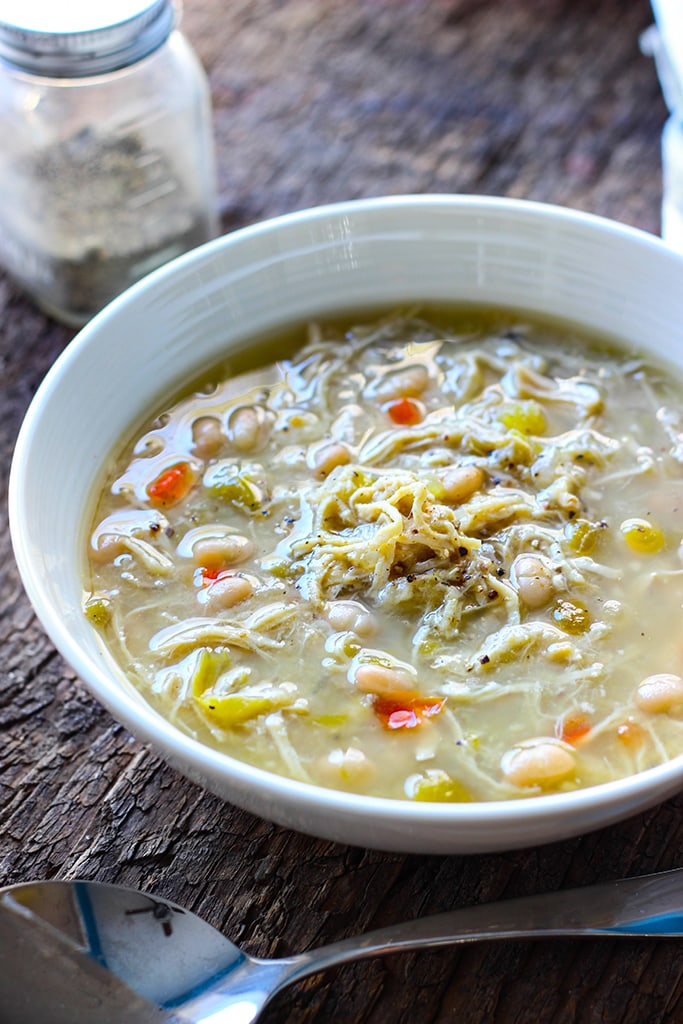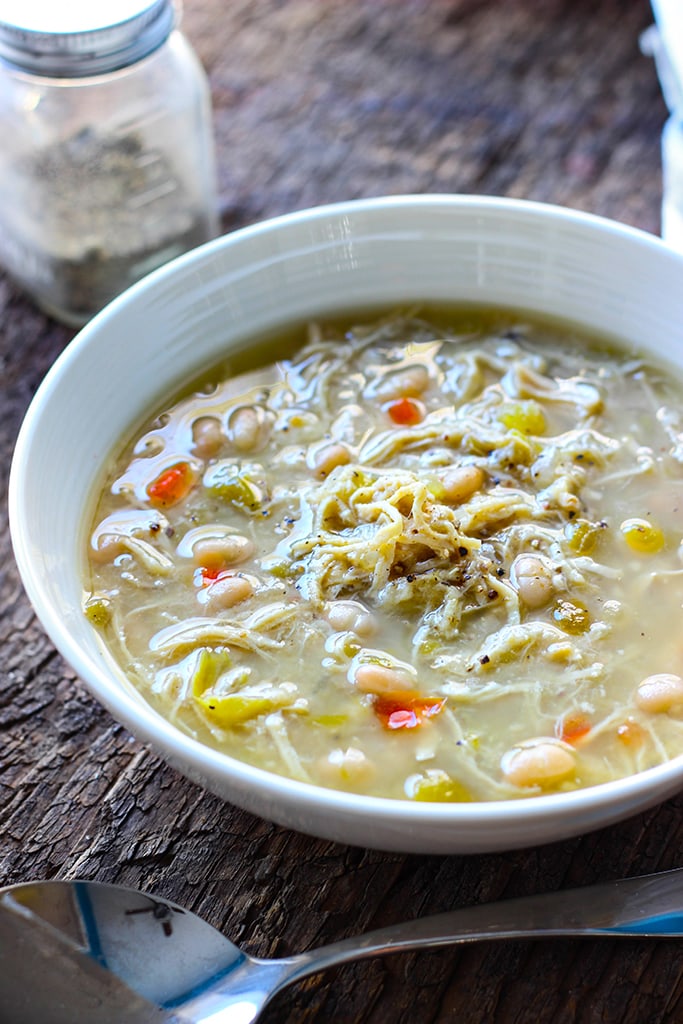 So here we have tender pulled chicken simmering on a bed of celery, onions and green chilies and seasoned with oregano and cumin. Toss in some navy or cannellini beans and call it a wholesome meal.
You can opt to shred the chicken once it's cooked long and slow or chop it up into bite-sized pieces. It all depends on how you want your chicken. I went a little crazy with the shredding, kinda wished I didn't. Just keep in mind you can also shred it into big chunks. And lastly, feel free to add some heat with red pepper flakes or some cayenne. Let's start cooking.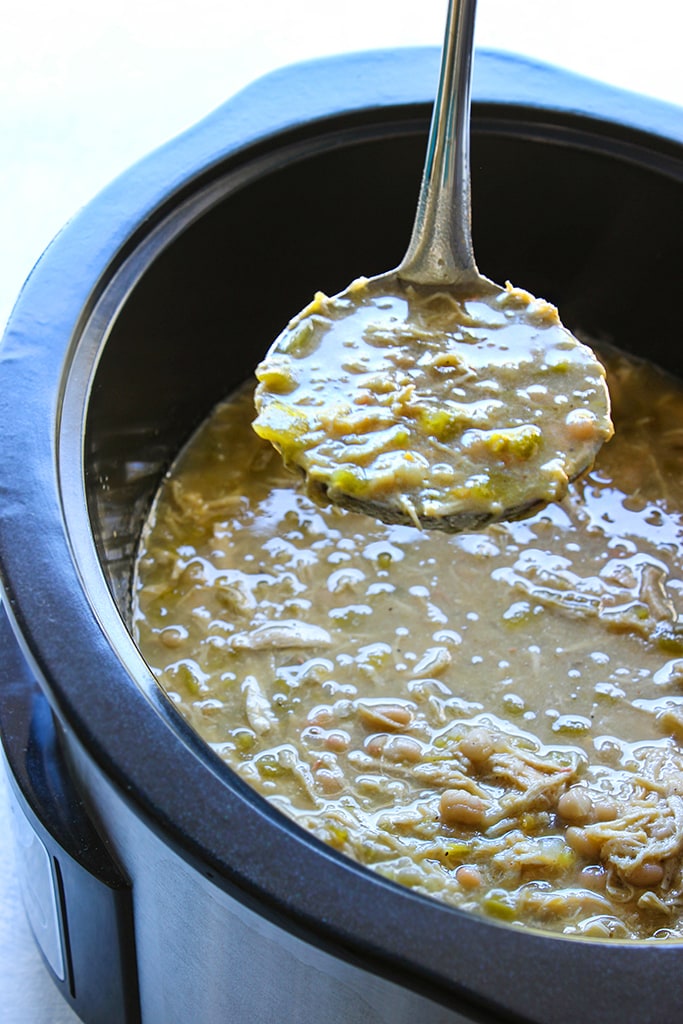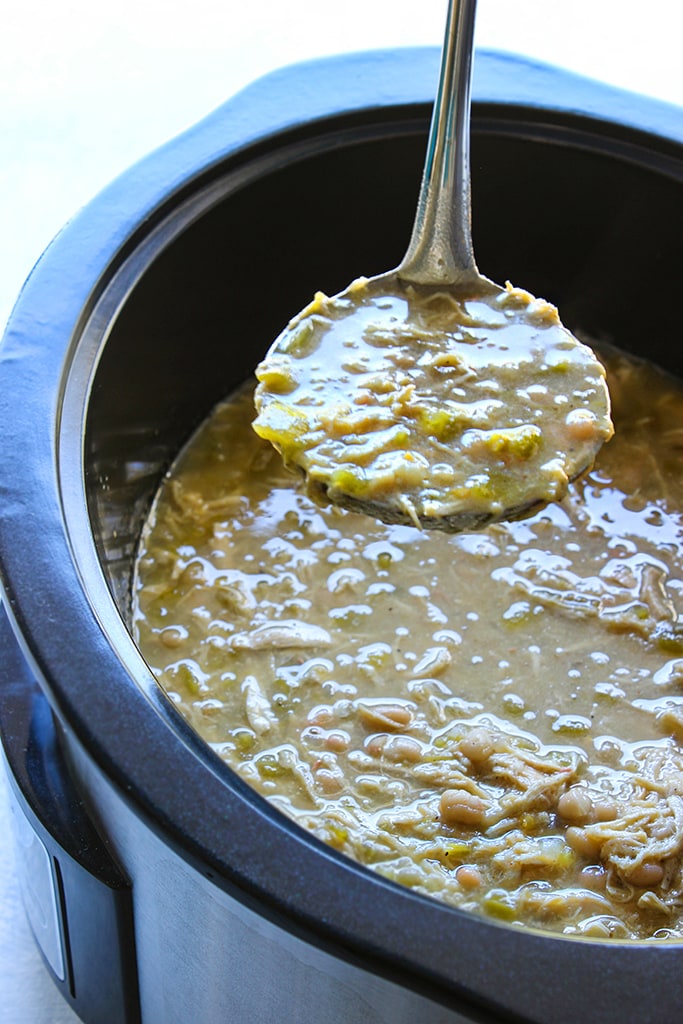 SLOW COOKER WHITE CHICKEN CHILI RECIPE TIPS
We begin by mixing up all of the ingredients except for the second can of beans into the slow cooker. You'll want to add the second can of beans in later so they don't turn into mush during the slow cooking and retain their shape. The first can of beans will be mashed or pureed and mixed in with the broth while the other can will be on standby till everything is cooked.
I mashed half a can of beans with a fork and pureed the other half with a food processor to see which turned out better. I'll have to say pureeing it made it blend more easily with the broth and there were fewer leftover bits like split skins. So if you have a food processor, it's worth the extra washing to use it. Otherwise, you can still make do with a simple bowl and fork. Just do a thorough job with the mashing!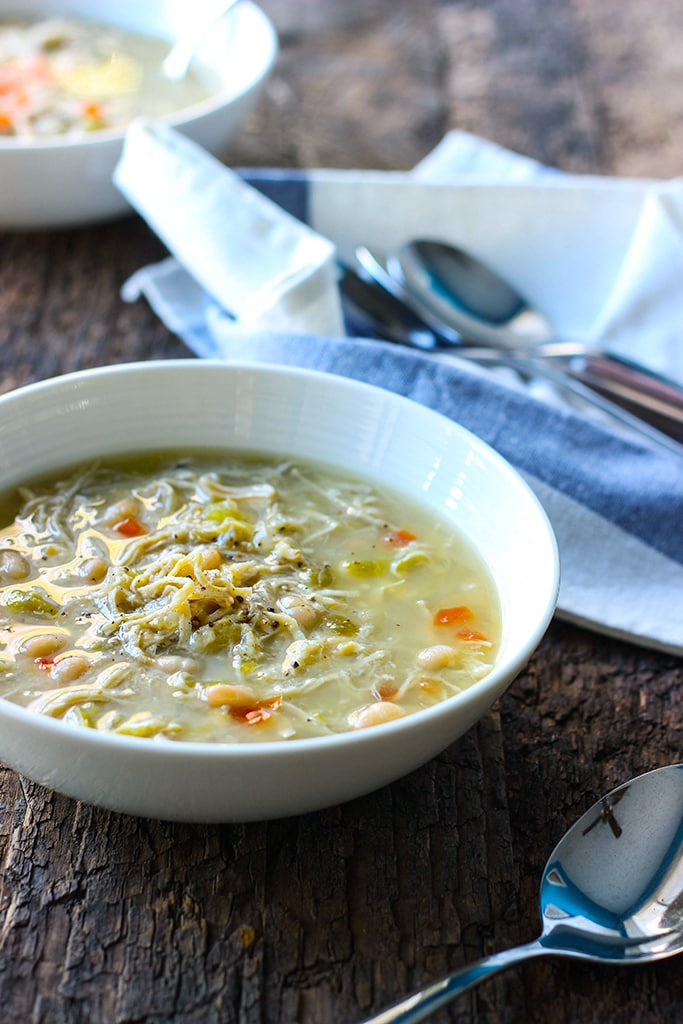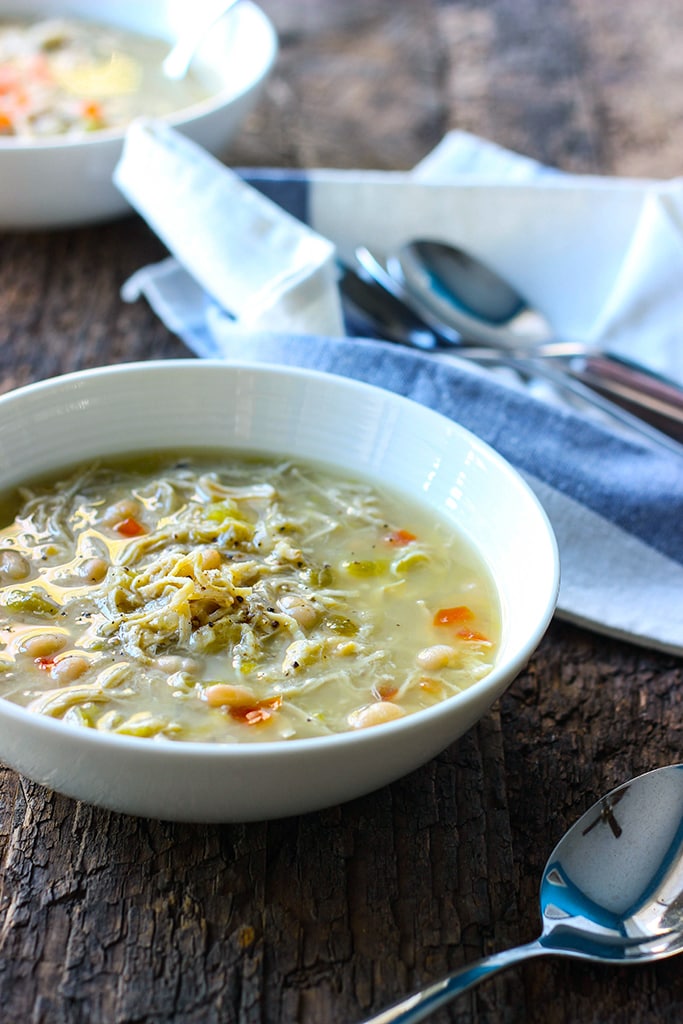 You can use chicken breasts or chicken thighs, just make sure it's skinless for the slow cooker. Chicken skin tends to render fat in the slow cooker and it's not pretty. It'll end up diluting your wonderful soup big time. Also, 4 chicken breasts/thighs will give you a lot of meat. If you want a more balanced liquid to chicken ratio, try it with 3 pieces instead.
Lastly, feel free to add in other stuff you might like. Canned, frozen or fresh corn will work well to add more flavor. The green chilies I used here were from the El Paso brand. I found mine in the same aisle you find taco shells and stuff. I find they really did not add any heat at all so if you want more of a kick, try tossing in some jalapenos/poblanos/cayenne/chili powder or chili flakes.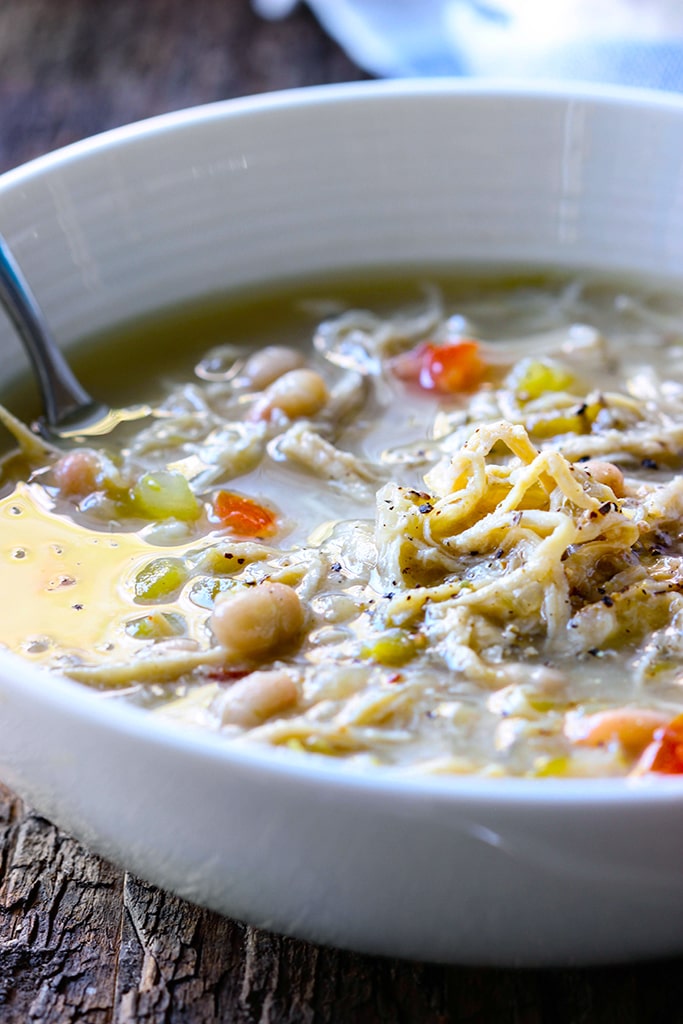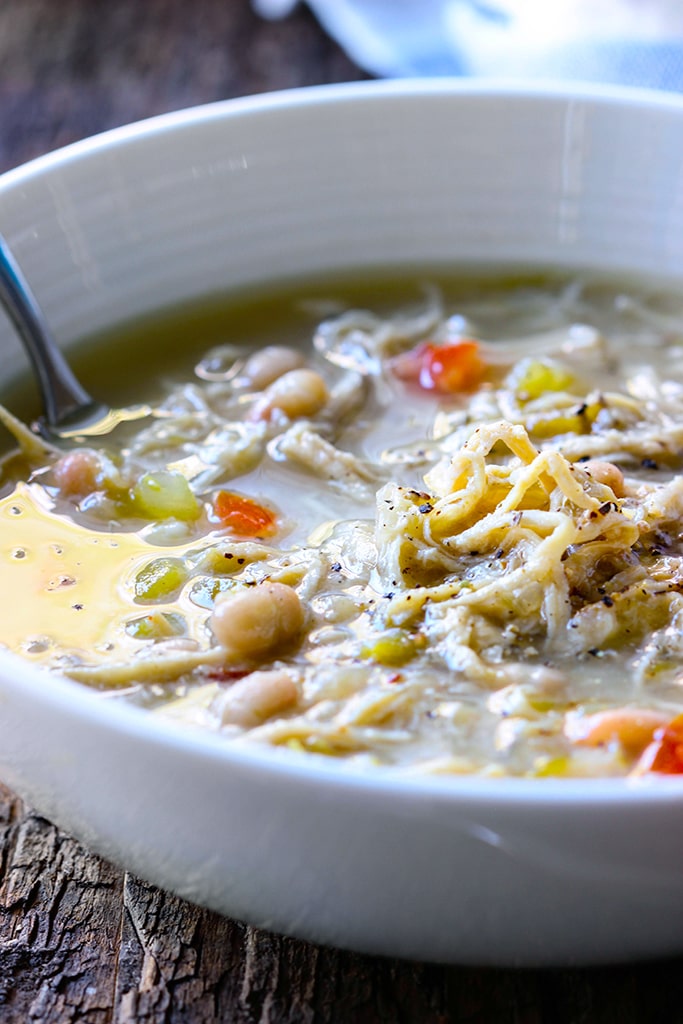 Then we start slow cooking! Cook it on high for 4 hours or low for 6. You can cook it up to 8 hours on low but the chicken will fall apart more during the shredding stage instead of staying in pieces. Just don't go any longer than that! Chicken can overcook and get tough.
Once it's cooked, do a taste check and season with salt and pepper to taste. Add in the other can of beans and stir gently to mix! And you're ready to serve. Pair a hot bowl of this with cilantro, lime, shredded cheese, sour cream, avocados, tomatoes or hot sauce. Or go bread dipping!
Happy eats!
MORE SLOW COOKER SOUPS AND STEWS TO TRY
Did you make this recipe? Rate it!
♡ If you liked this recipe, giving it a star rating ★★★★★ in the comments below really helps! For more recipes, subscribe to my newsletter or follow me on Facebook, Instagram and Pinterest.
Print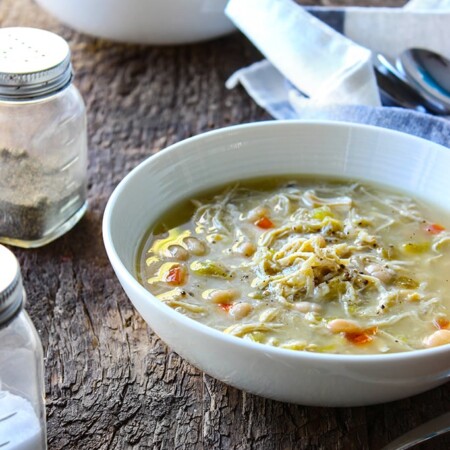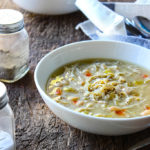 Slow Cooker White Chicken Chili
---
Author:
Total Time: 6 hours 10 mins
Yield: 6-8 1x
Description
This light and healthy slow cooker white chicken chili has tender chicken, green chilies and creamy white beans in a warm, comforting broth.
---
4 boneless, skinless chicken breasts/thighs
1/2 medium yellow onion, diced
1 teaspoon garlic, minced
2 stalks celery, diced
2 cans (4 oz.) green chilies, chopped
1 teaspoon oregano
2 teaspoons cumin
Red pepper flakes/cayenne powder/chili powder to taste (optional)
1 bay leaf
4 cups chicken broth
Salt and pepper to taste
2 cans (16 oz.) navy/cannellini beans, drained
---
Instructions
Combine the chicken, onions, garlic, celery, green chilies, oregano, cumin and bay leaf in a 6 qt. slow cooker. Stir to mix.
Puree or mash 1 can of beans and mix it with the chicken broth. Add it to the slow cooker. Season with salt and pepper.
Cook on high for 4 hours or low for 6 hours.
Remove chicken and shred it into bite-sized pieces with two forks. Add pulled chicken back into the soup and remove the bay leaf.
Do a taste check and add more seasonings if needed.
Stir in the other can of beans, cover and cook until warmed through, about 10 minutes.
Dish and serve hot with optional toppings of chopped cilantro, lime wedges, shredded cheese, sour cream, avocado, diced tomatoes or hot sauce.
Enjoy!
Prep Time: 10 mins
Cook Time: 6 hours