This comforting slow cooker creamy tortellini soup is packed with Italian sausage, tomatoes, cheese tortellini and baby spinach. It's an easy fall favorite when you're craving something warm and hearty.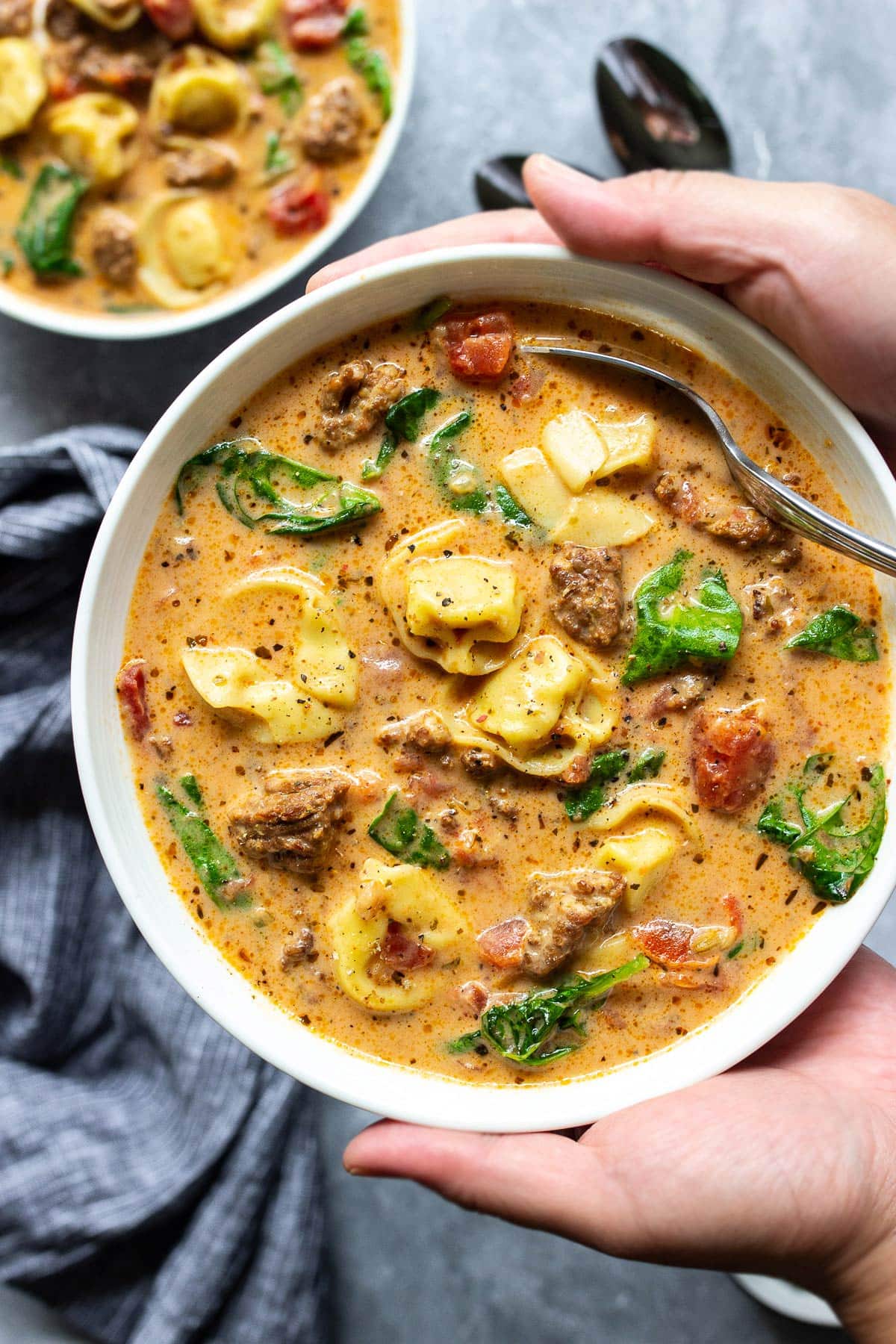 Today we're making a cozy slow cooker creamy tortellini soup that's an easy family favorite and kid-friendly too. It's loaded with crumbly Italian sausage, herbed diced tomatoes, pillowy soft cheese tortellini, fresh spinach and flavored with fresh onions and garlic.
This creamy soup is pure comfort food and a great way to feed an entire family. Serve with some garlic bread, garlic knots, or some warm crusty bread you can tear off and dip with. For other slow cooker soups, try this Pasta e Fagioli, a classic beef stew, or this cream cheese and potato soup.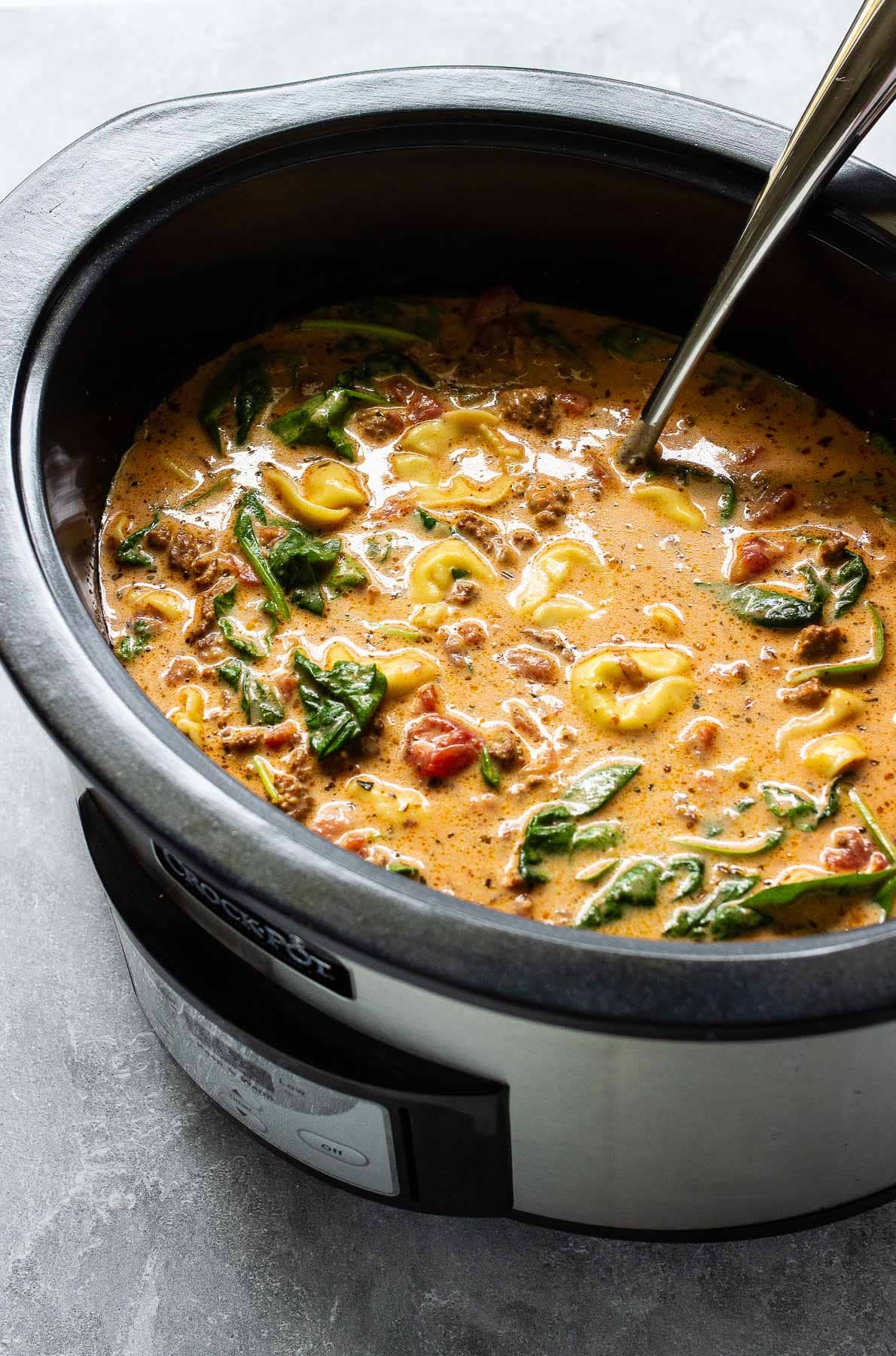 SLOW COOKER CREAMY TORTELLINI SOUP RECIPE TIPS
Sauteing – You can add the onions, garlic, sausage, tomato paste and seasoning directly in the slow cooker and skip sauteing. I do recommend this step though as it brings out even more flavor and a little crunch from the browned sausage.
Substitute Italian sausage – I used mild ground Italian sausage but hot Italian sausage will also work. If you're not a fan of Italian sausage, you can substitute it with ground chicken, turkey, or beef.
If you prefer more substance to bite into, try some boneless, skinless chicken breasts or thighs and shred them later. Alternatively, you can cut the chicken into bite-sized pieces and cook it that way as well to save time on the shredding.
Diced tomatoes – I used a blend with basil, garlic and oregano and drained the cans. If you want every bit of tomato flavor you can get in your soup, skip the draining.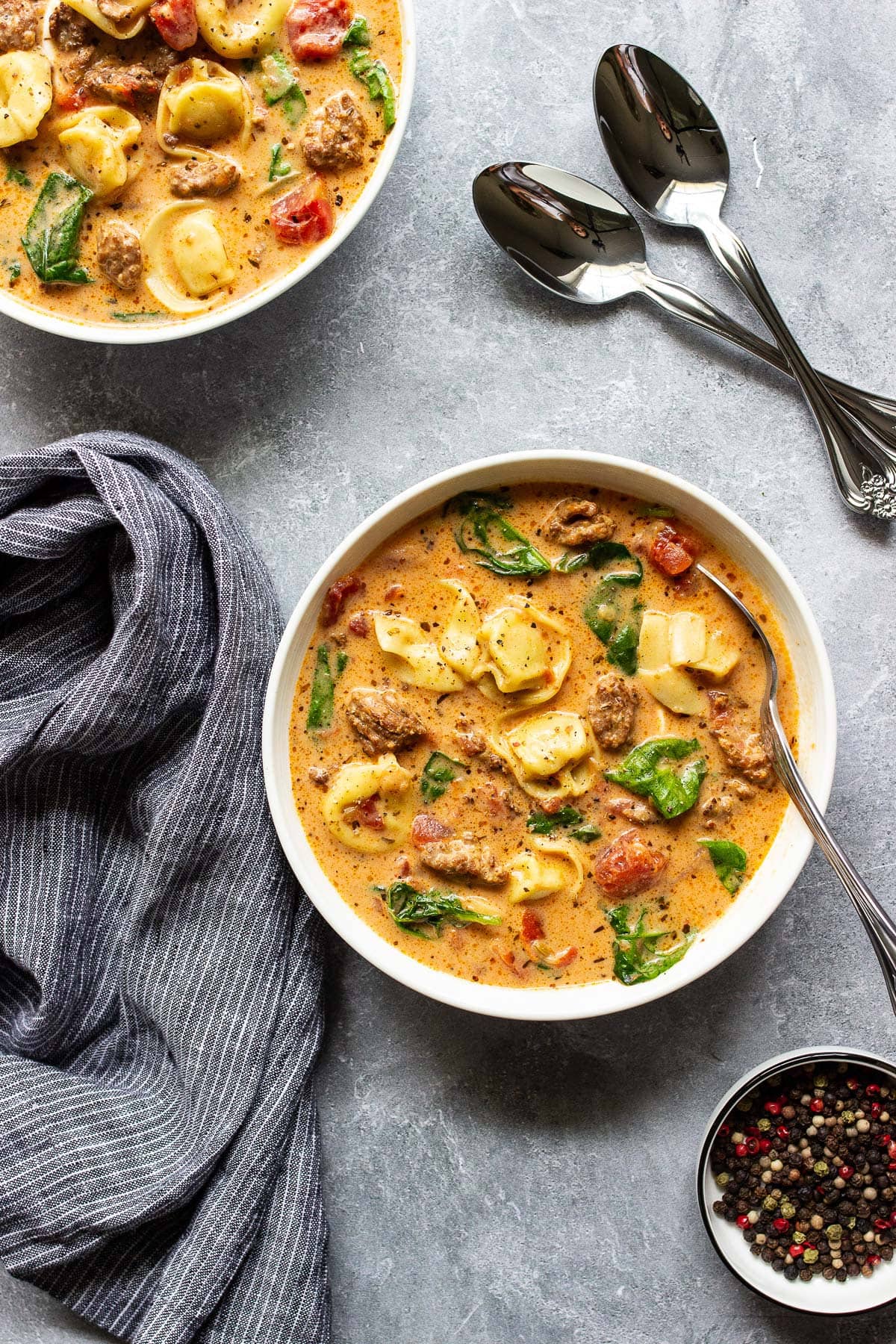 Tomato paste – I use Cento tomato paste that comes in a tube as it keeps and stores better than the ones in the can.
Tortellini – I used frozen tortellini for this recipe but you can also use dried or refrigerated fresh tortellini as well. Just adjust the cooking time for fresh tortellini as it cooks much faster.
The tortellini is done cooking once it puffs up and floats to the surface. We add this towards the end because tortellini does not require much cooking time at all and keeping it in the slow cooker for hours will make it mushy.
Spinach – When adding in the spinach, press the leaves down until completely submerged so they can wilt in the soup. We add this in at the end because if you cook spinach too long it will be tough and leathery. You want soft, wilted spinach in your soup.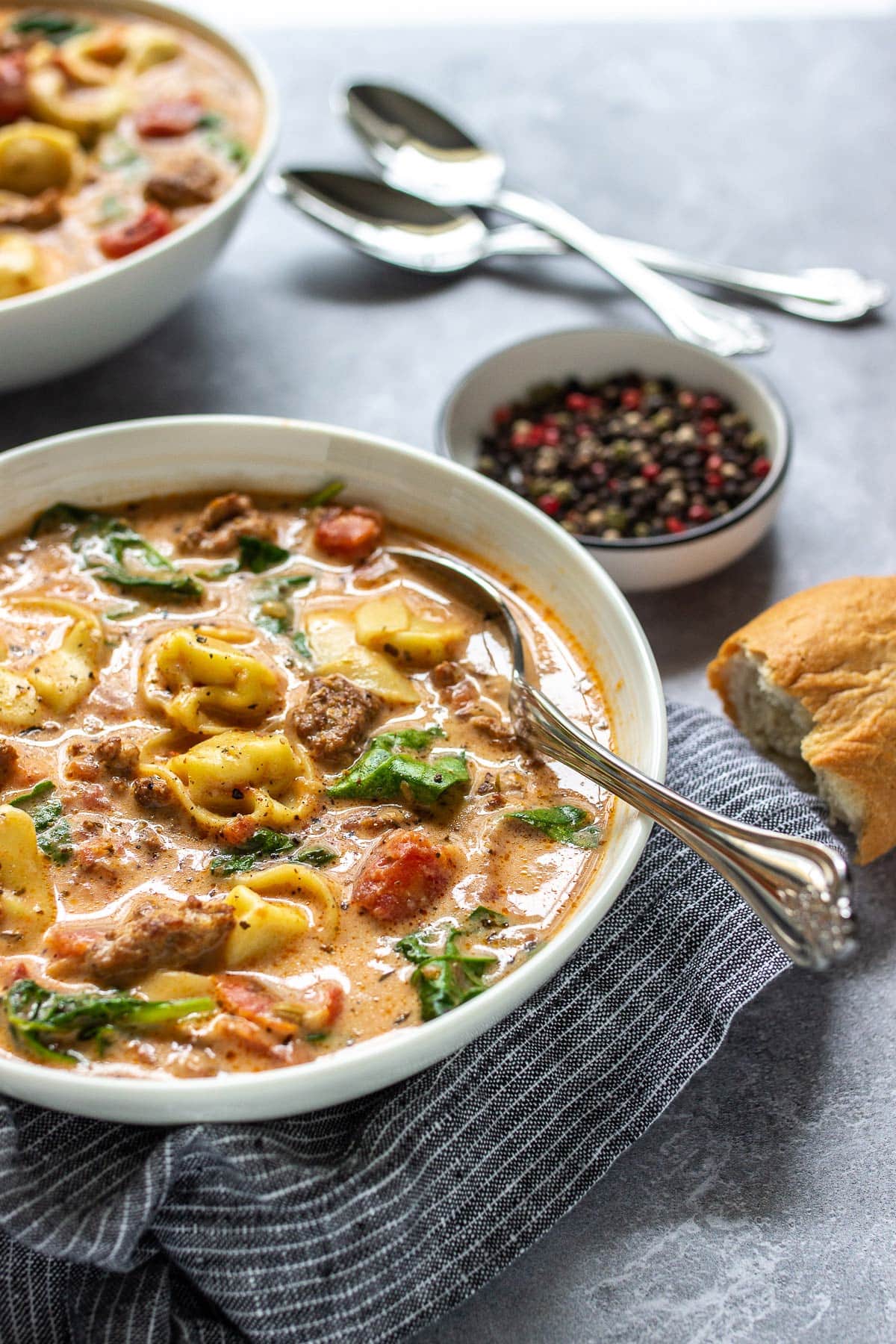 Crank up the flavor – Add even more flavor with bacon or chorizo.
Herb it up – Season with a few dashes of Italian seasoning, basil, or oregano to add some herbs to the soup.
Add more veggies – If you feel like adding more veggies, you can add chopped celery and carrots.
Substitute heavy cream – You should be able to use half and half or evaporated milk in place of heavy cream.
And that's about it. Have fun digging in and stay warm! For more meals with Italian sausage try this cheesy hot Italian sausage pasta bake, slow cooker Italian meatballs, a cheesy ravioli lasagna, these date night lasagna roll-ups, or a bowl of lasagna soup. Enjoy and happy cooking!
MORE SLOW COOKER SOUPS AND STEWS TO TRY
Did you make this recipe? Rate it!
♡ If you liked this recipe, giving it a star rating ★★★★★ in the comments below really helps! For more recipes, subscribe to my newsletter or follow me on Facebook, Instagram and Pinterest.
Print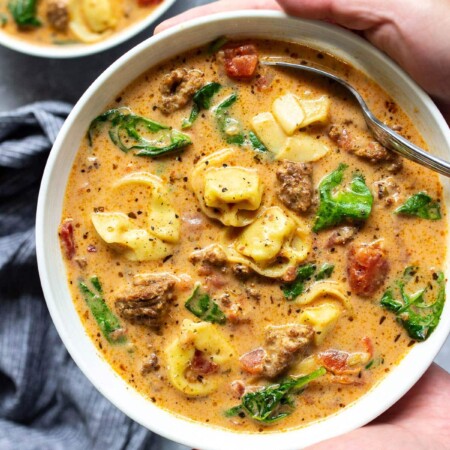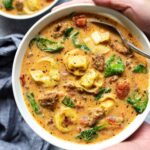 Slow Cooker Creamy Tortellini Soup
---
Author:
Total Time: 4 hours 10 minutes
Yield: 8–10 1x
Description
This warm and comforting slow cooker creamy tortellini soup is packed with Italian sausage, tomatoes, cheese tortellini and baby spinach.
---
1 medium yellow onion, diced
2 cloves garlic, minced
1 lb. ground Italian sausage
2 tablespoons tomato paste
1 tablespoon Italian seasoning
1/3 cup all-purpose flour
4 cups beef broth
2 (14.5 oz) cans diced tomatoes, drained
Salt and pepper to taste
20 oz. frozen/fresh cheese tortellini, about 4 cups
3 oz. fresh baby spinach, tightly packed (about 3 cups)
1/2 cup Parmesan cheese, grated
1 cup heavy cream
---
Instructions
Over medium-high heat in a skillet, saute onions and garlic until fragrant, about 2 minutes.
Add in Italian sausage, tomato paste and Italian seasoning and cook until sausage is slightly browned. Transfer meat mixture to a 6 qt. slow cooker.
Whisk the flour with the beef broth and pour over the meat mixture.
Add in diced tomatoes and season with salt and pepper.
Stir to mix and cook on high for 3-4 hours or low for 4-6 hours.
Do a taste test and add more salt and pepper if needed.
Add in tortellini, spinach, Parmesan cheese and heavy cream and stir to mix.
Cook on high for another 10 minutes or until tortellini is cooked through.
Dish and serve hot with crusty bread.
Enjoy!
Prep Time: 10 mins
Cook Time: 4 hours