Lasagna takes a new form in this warm and hearty lasagna soup. With all the flavors you love in lasagna and TONS of cheese!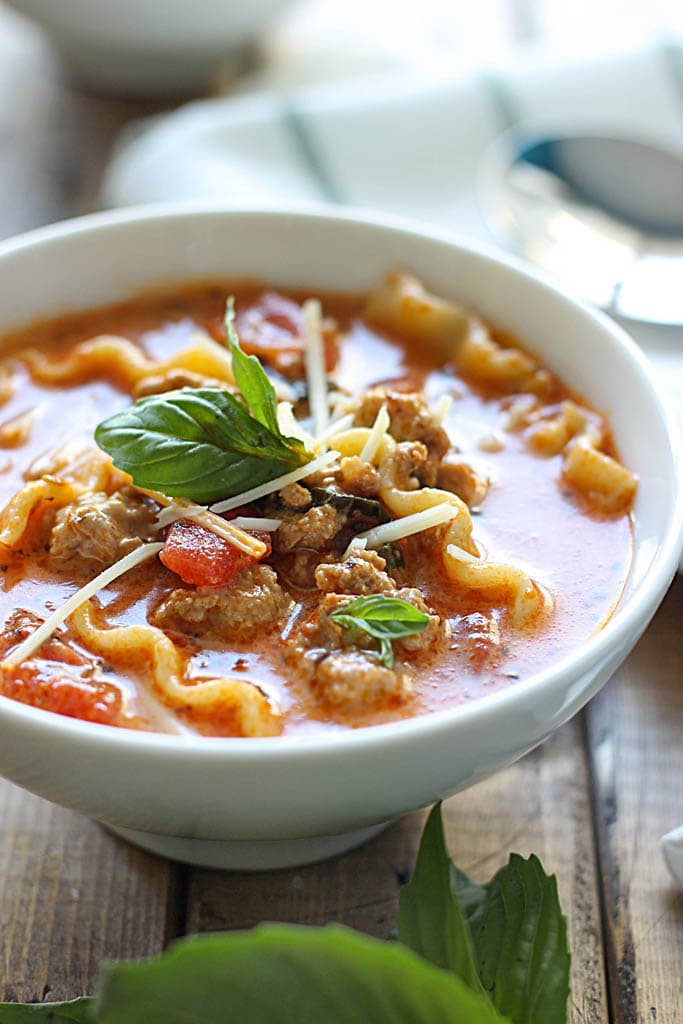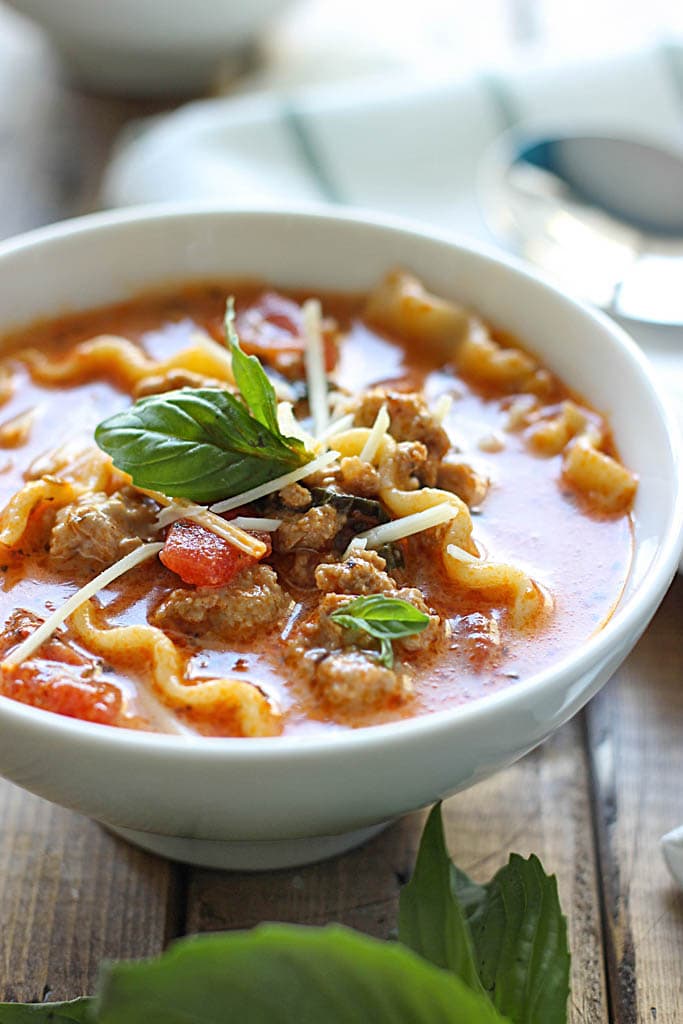 This lasagna soup has all the flavors you love about lasagna in a warm, comforting bowl of soup. I don't know about you but I love a good lasagna. This soup has all the signature flavors of lasagna with layers of pasta and crumbled Italian sausage in a rustic, herbed tomato-based broth mixed with plenty of cheese.
But how do lasagna noodles work in a soup when they can't even fit in a pot? As with most modern-day recipes, there's always a workaround that deviates from classical cooking methods. So in this recipe, we're breaking them up into little bite-sized pieces!
This creamy lasagna in soup form brings hearty warmth to your dinner table. Pair it with some crusty bread to tear off and dip with and you're set. Much like this slow cooker creamy tortellini soup, this lasagna soup is the perfect answer to chilly days. So let's start cooking.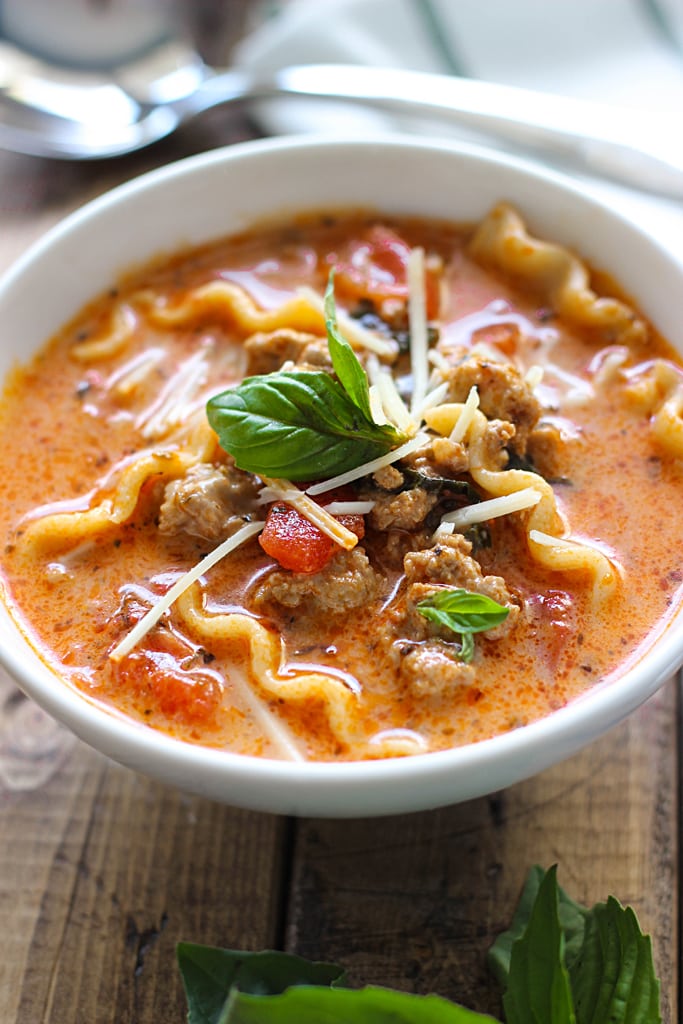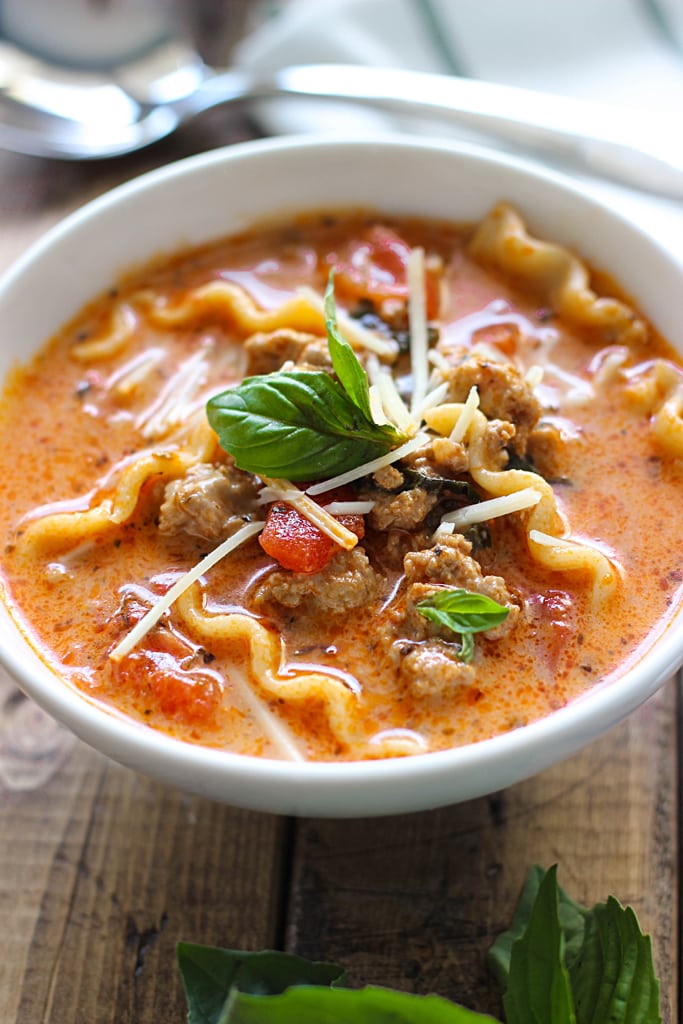 LASAGNA SOUP RECIPE TIPS
Garlic – I used fresh garlic but you can substitute it with some garlic powder. If using fresh garlic, I find the fastest way to mince it is with a garlic press or mini grater.
Italian sausage – I used mild Italian sausage but if you want a little spice, you can go with hot Italian instead. You won't need any oil to brown it as it will eventually render and cook in its own fat. Make sure to break up any clumps so it distributes evenly in the pasta bake. The quickest way to do this is to use a meat masher once the sausage has fully browned. Drain any fat rendered so your soup isn't oily.
Tomato paste – I use Cento tomato paste that comes in a tube as it keeps and stores better than the ones in the can.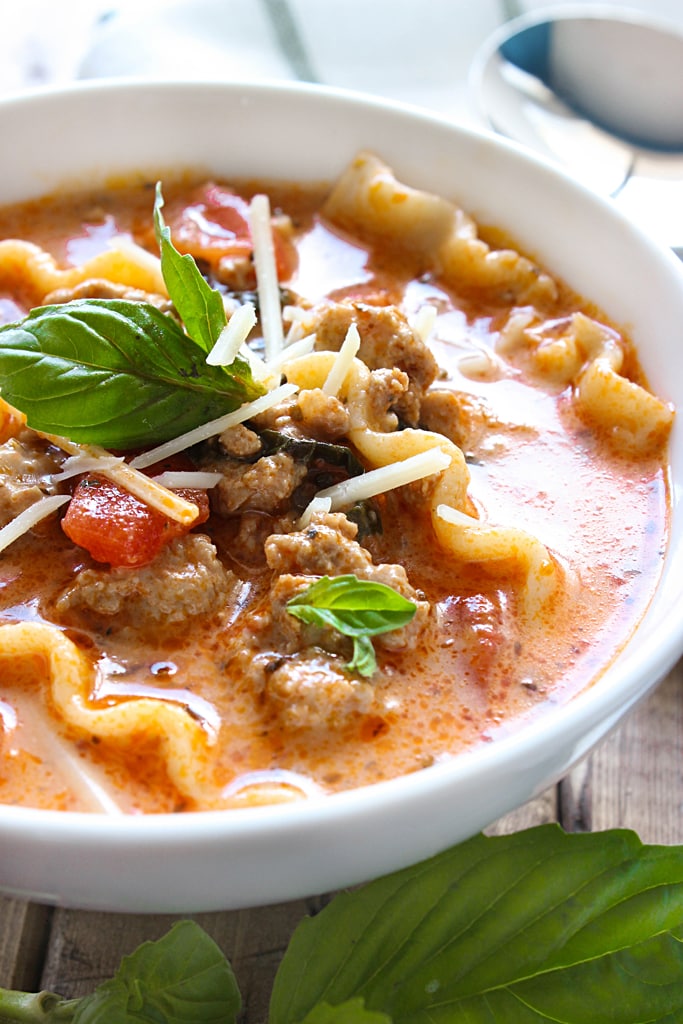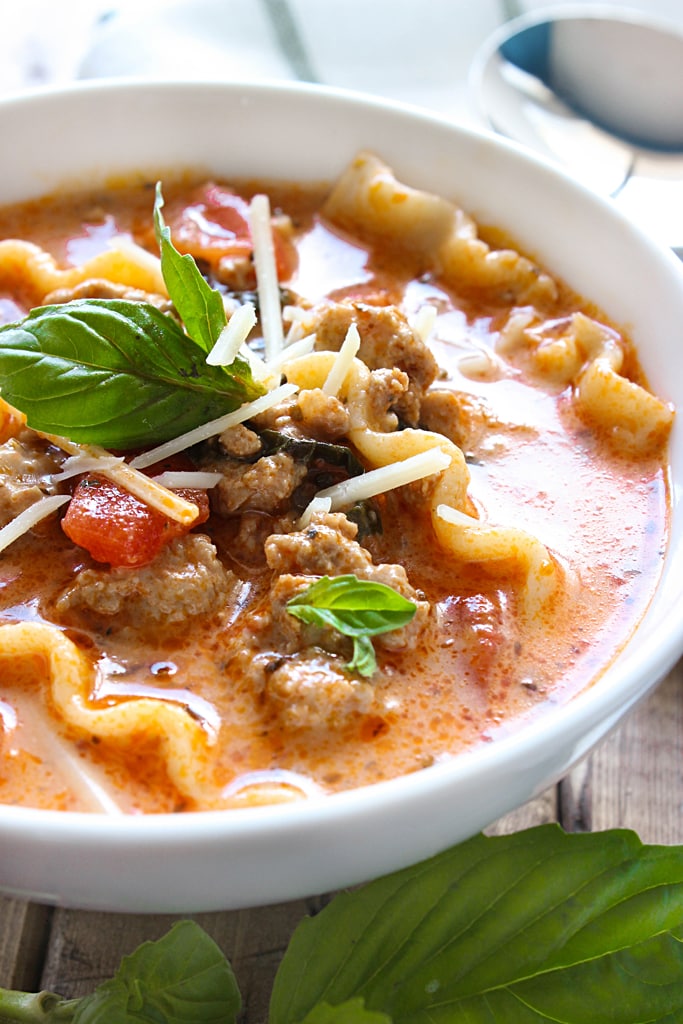 Diced tomatoes – I like using Hunt's diced tomatoes with basil, garlic and oregano for more flavor but you can use regular diced tomatoes or fire-roasted tomatoes.
Sugar – I added a little sugar to balance out the tartness from the tomatoes but you can skip this.
Pasta – I used regular lasagna noodles and broke them up into bite-sized chunks before cooking them according to the package directions. Once drained, I drizzled a little olive oil to stop them from sticking before adding them to the soup. When adding to the soup, add them a couple at a time and do a stir so they don't stick together and clump.
Cheesy toppings – You can sprinkle mozzarella and broil or microwave to melt the cheese before serving. Add a dollop of ricotta or cottage cheese before serving.
And that's about it. Enjoy your lasagna soup and happy eating!
MORE ITALIAN SAUSAGE RECIPES TO TRY
Did you make this recipe? Rate it!
♡ If you liked this recipe, giving it a star rating ★★★★★ in the comments below really helps! For more recipes, subscribe to my newsletter or follow me on Facebook, Instagram and Pinterest.
Print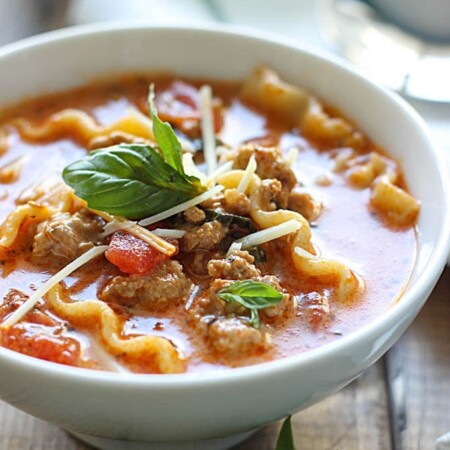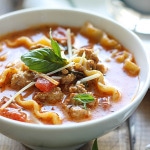 Lasagna Soup
---
Author:
Total Time: 35 mins
Yield: 6 1x
Description
Lasagna takes a new form in this warm and hearty lasagna soup. With all the flavors you love in lasagna and TONS of cheese!
---
1/2 large yellow onion, diced
1 teaspoon garlic, minced
2 bay leaves
1 lb. ground Italian sausage
2 tablespoons tomato paste
5 cups chicken broth
1 can (15 oz.) diced tomatoes
1 tablespoon Italian seasoning
1 tablespoon sugar
Salt and pepper to taste
6 uncooked lasagna noodles, broken into bite-sized squares
1/2 cup fresh basil, finely chopped
1/2 cup Parmesan cheese, grated
1/4 cup heavy cream
More cheese please:
1 cup mozzarella, shredded
A dollop of ricotta cheese for serving
---
Instructions
Over medium-high heat, saute onions, garlic and bay leaves until soft, about 2 minutes.
Add sausage and tomato paste and stir to combine, breaking it up any lumps. Cook until sausage has browned, about 5 minutes.
Pour in chicken stock and add diced tomatoes, Italian seasoning, sugar and salt and pepper to taste.
Reduce heat to medium-low and simmer until slightly reduced, about 10 minutes.
Meanwhile, cook the lasagna noodles in a separate pot until al dente. Drain and toss with olive oil so they don't stick together.
Add lasagna noodles to the soup, a couple at a time and stir at intervals so they don't stick together.
Add fresh basil, Parmesan cheese and heavy cream.
Dish and serve hot topped with a dollop of ricotta/cottage cheese (optional) and more basil.
More cheese please:
Top the bowls with mozzarella and broil or microwave to melt the cheese just before serving.
Prep Time: 10 mins
Cook Time: 25 mins