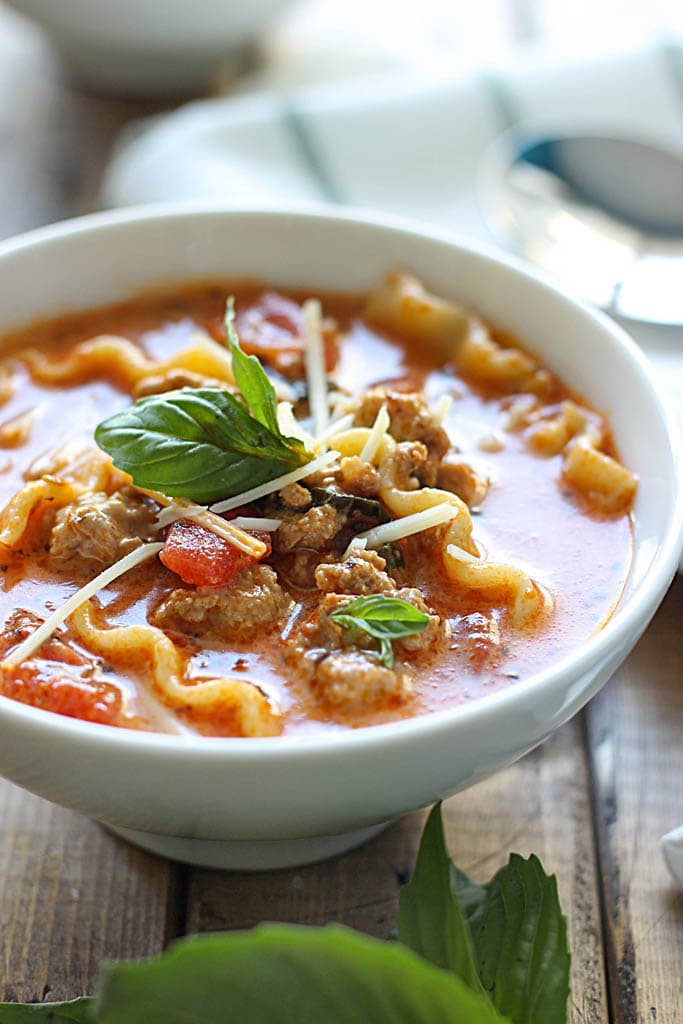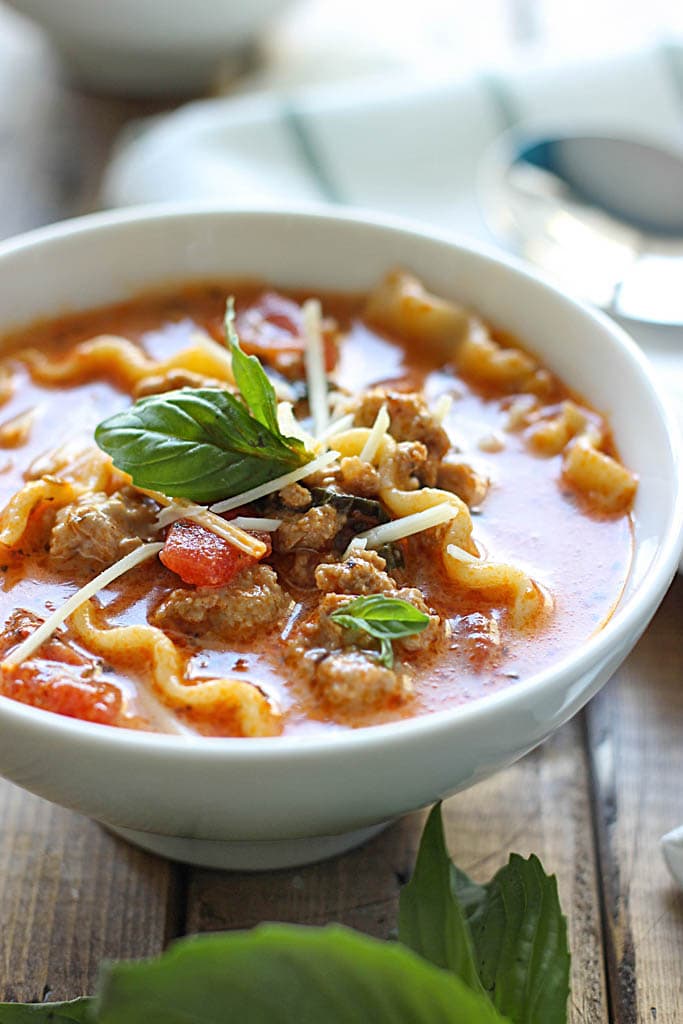 Here's a fun soup to warm you up. I don't know about you but I love a good lasagna. This is a deconstructed version of it which is then reconstructed into soup. I'm not normally into the deconstructed fads or foods but I really want to try this one out because a big bowl of lasagna…in a soup? Bring it on! It's the perfect answer to cold months where you can nestle a bowl of this in your warm, comfort spot at home.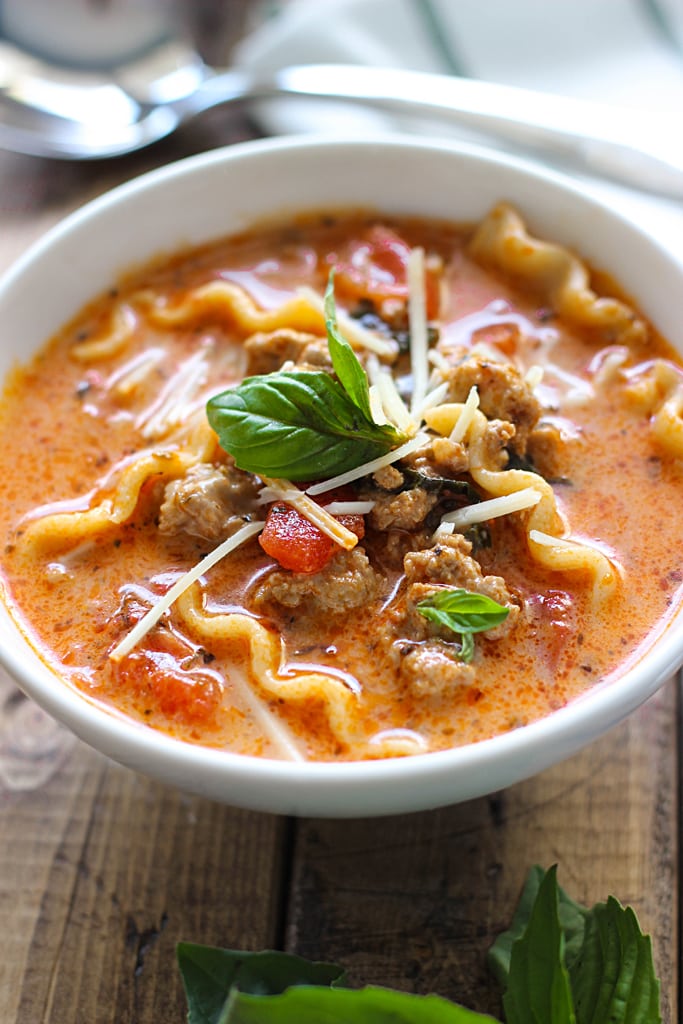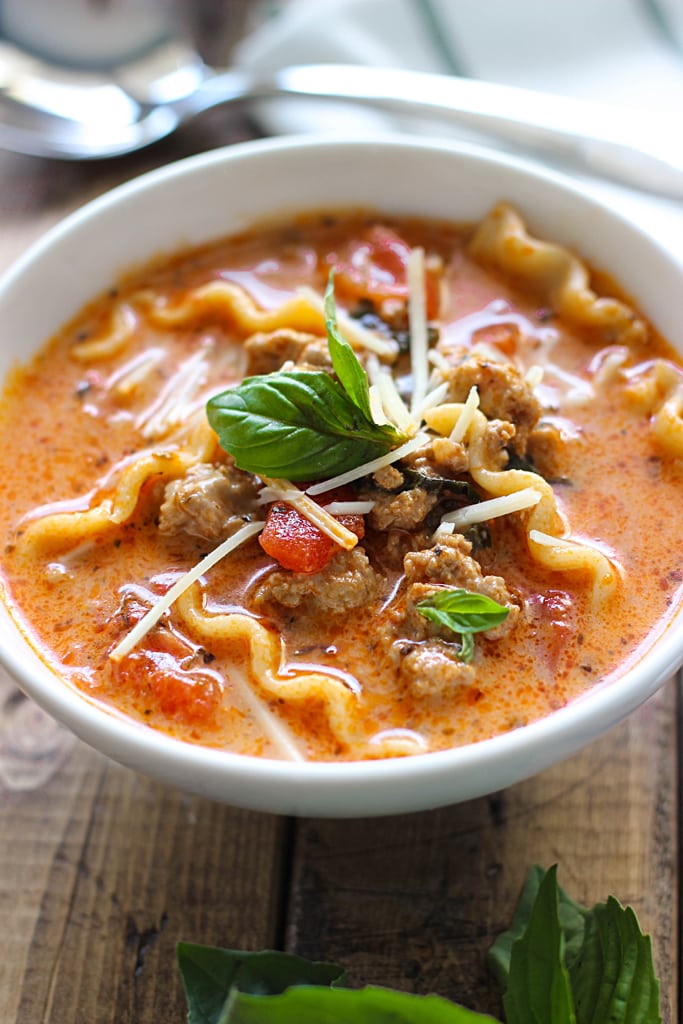 It has all the flavors you love from lasagna. Italian sausage, tomatoes and cheese with the freshness of basil and yes, it still has lasagna noodles! But how does lasagna noodles work in a soup? It can't even fit in a pot, you say. As with most modern day recipes, there's always a workaround that deviates from classical cooking methods, but still works. We break it up in to little pieces! Little bite-sized pieces that is, so you're not sitting there chewing on an over-sized lasagna sheet looking like a cow chewing cud with a matching 'Meh' expression.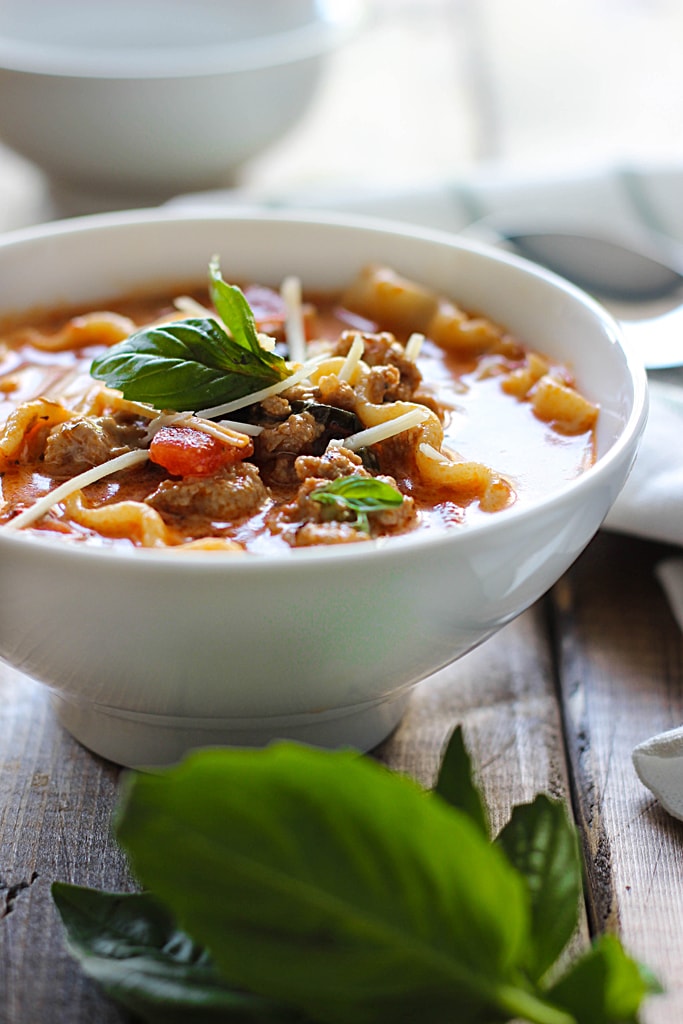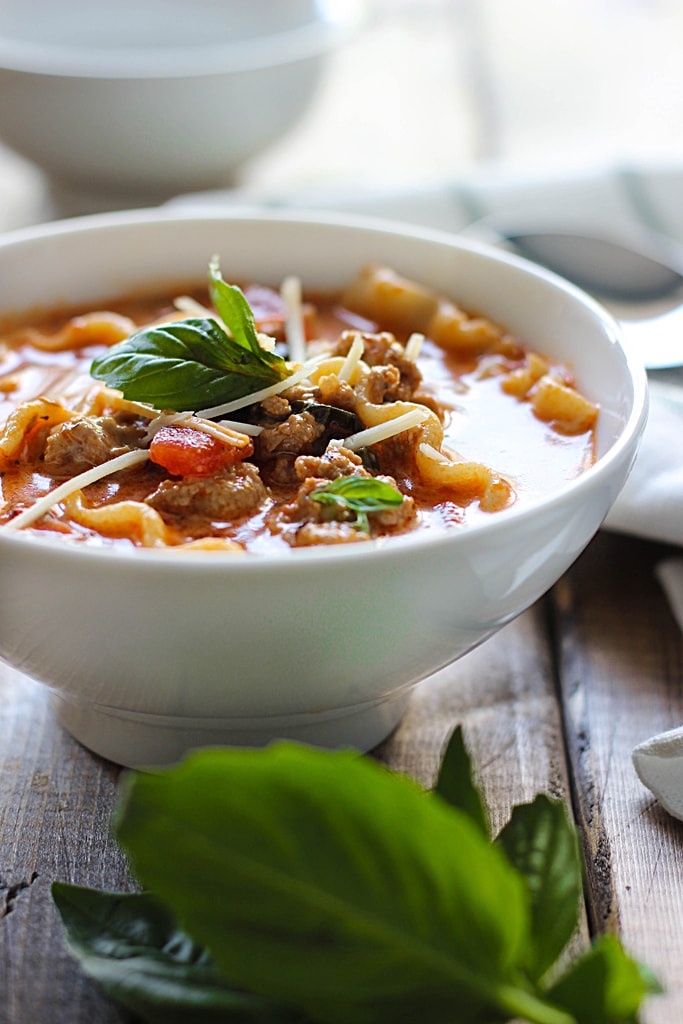 I've been seeing this floating around on Pinterest for months and I really want to see what all the fuss is about. So here's my take on it.
It's pretty easy. Sauté a couple of things and some Italian sausage then pour in the broth and some tomato goodness. Then you simmer for a bit, add some heavy cream for creaminess, toss in some cheese and herbs and done! My soup looks a little on the oily side because I decided not to drain the fat rendered from the Italian sausage. Either way works, draining or not, it doesn't taste oily at all.
Just be careful when you cook the lasagna noodles and then later mix it in with the soup. I broke them up into squares prior to cooking them. Then I dropped them in a couple of pieces at a time and stirred to get them fully soaked so they didn't fuse together while cooking. And after you drain it, mix it in some olive oil so it doesn't stick together while waiting to join the soup. Not too much, just enough to keep them from banding together into stubborn clumps.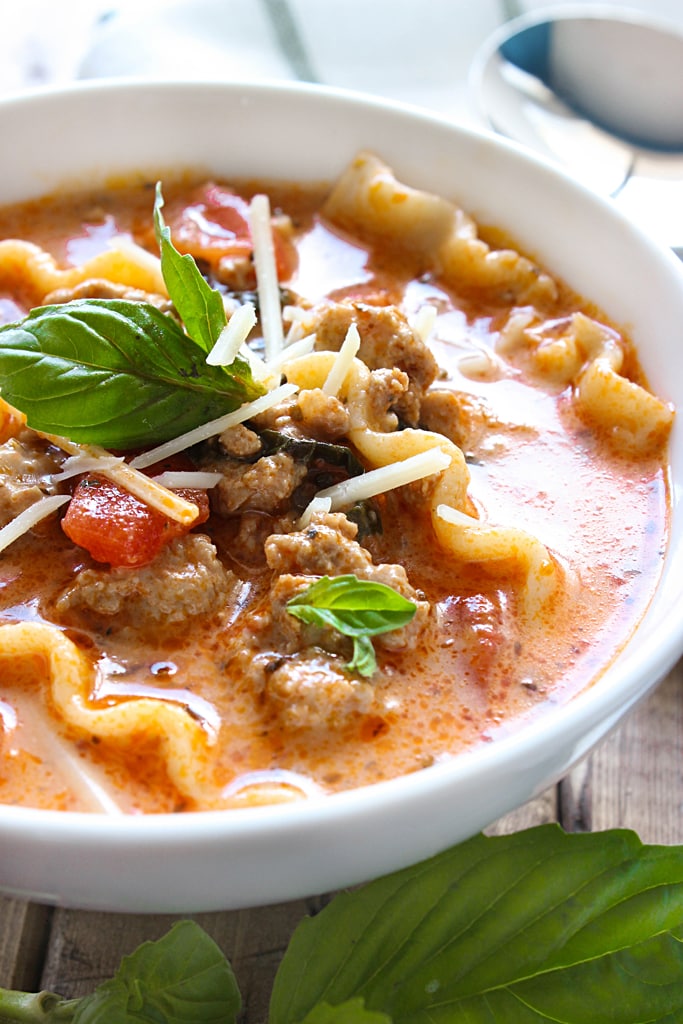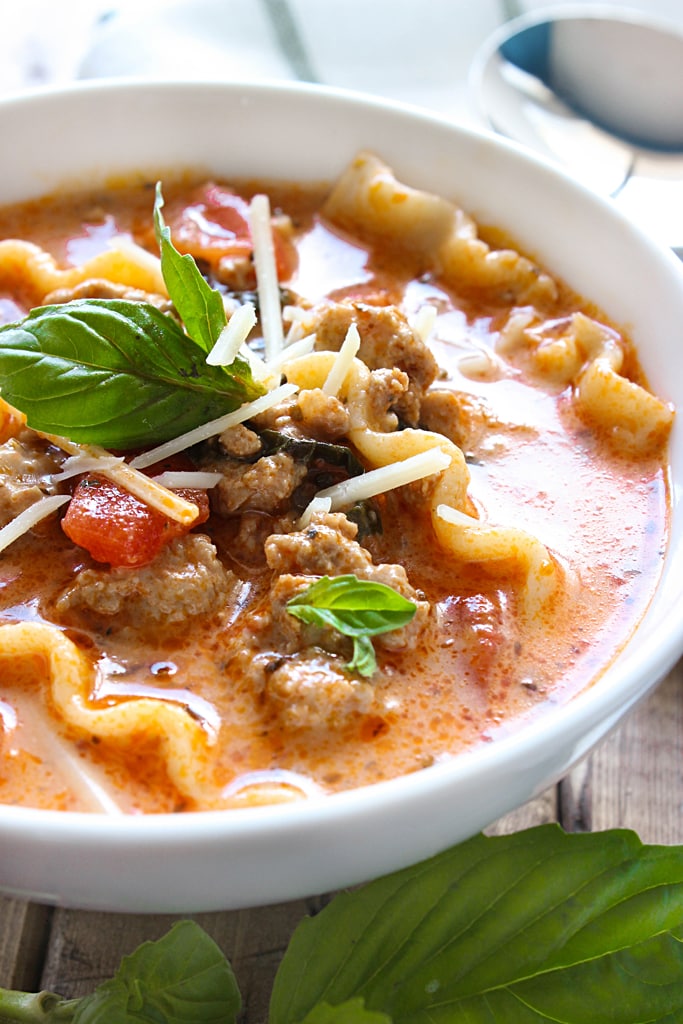 Must fight down the urge to toss in tons of melty cheese on top to have the cheesy french onion soup effect. But if you still want to…go for it! You can top a bowl with mozzarella and more Parmesan then broil it at 400 degrees F until the cheese has melted or browned slightly or simply microwave it to melt the cheese. And if you want even MORE cheese, add a dollop of ricotta cheese before serving.
Use fresh basil if you can. My basil plant was thriving in the spring and summer then kind of gave up the will to live this month. So I'm just sucking it up and buying them from the grocery store because fresh basil beats dried hands down. Love the scent. Love the taste. Love basil. Adding it to the soup will really bring out the Italian flavors. Freshness!
Let's eat!
Print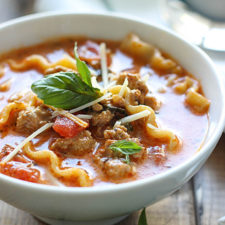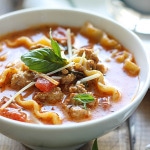 Lasagna Soup
---
Author:

Prep Time:

10 mins

Cook Time:

25 mins

Total Time:

35 mins

Yield:

4

1

x
1/2

yellow onion, diced

1 teaspoon

garlic, minced

2

bay leaves

1

lb. hot or sweet Italian sausage, casings removed

5 cups

chicken broth

2 tablespoons

tomato paste

1

can (15 oz.) fire roasted tomatoes

1 tablespoon

Italian seasoning

1 tablespoon

sugar
Salt and pepper to taste

6

lasagna noodles, broken into bite-sized squares

1/2 cup

fresh basil, finely chopped

1/2 cup

Parmesan cheese, shredded

1/4 cup

heavy cream
More cheese please:
1 cup

mozarella
Ricotta for garnish
---
Instructions
Over medium high heat, saute onions, garlic and bay leaves until soft, about 2 minutes
Add sausage and stir to combine, breaking it up. Cook until sausage is browned, about 5 minutes. Drain excess fat
Pour in chicken stock and add tomato paste and tomatoes, cover and bring to a boil
Uncover and simmer until slightly reduced, about 10 minutes
Meanwhile, cook the lasagna noodles until al dente while waiting. Drain and toss with olive oil so they don't stick together
Season the soup with Italian seasoning, sugar and salt and pepper to taste. Remove bay leaves
Drop in lasagna noodles a couple at a time and stir at intervals so they don't stick together
Add fresh basil, Parmesan cheese and heavy cream
Dish and serve hot topped with a dollop of ricotta cheese (optional) and more basil
More cheese please:
Top the bowls with mozarella and Parmesan and broil or microwave to melt the cheese just before serving.
♡ Affiliate disclosure: As an Amazon Associate, I earn commissions from qualifying purchases from Amazon.com. You can learn more about it here.