A cheesy hot Italian sausage pasta bake with a spiced savory and sweet marinara sauce, hot Italian flavors and plenty of cheese.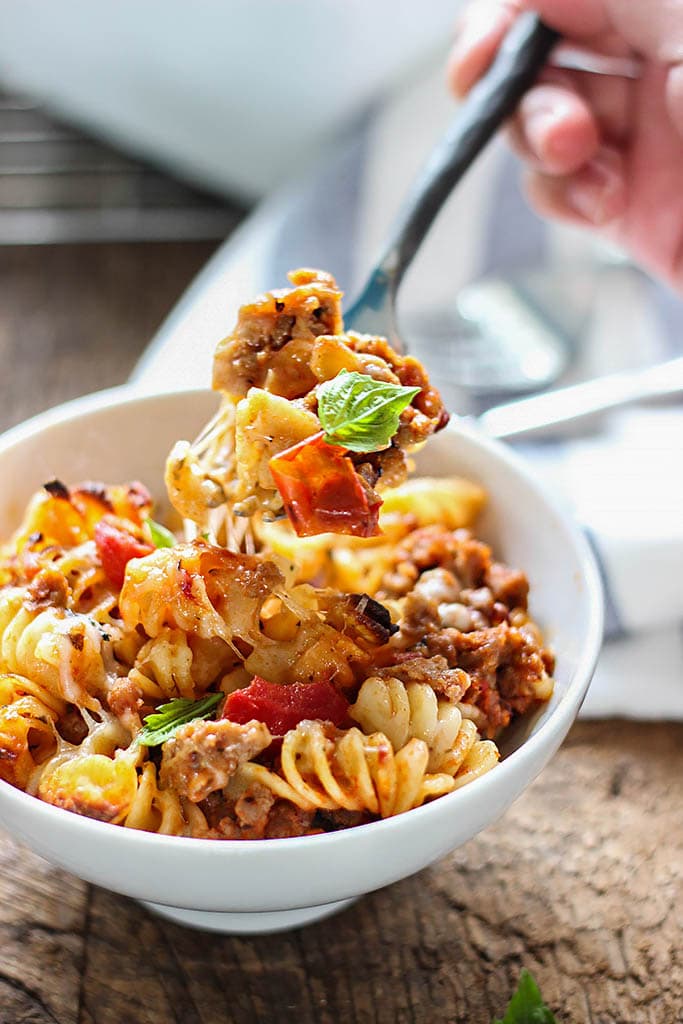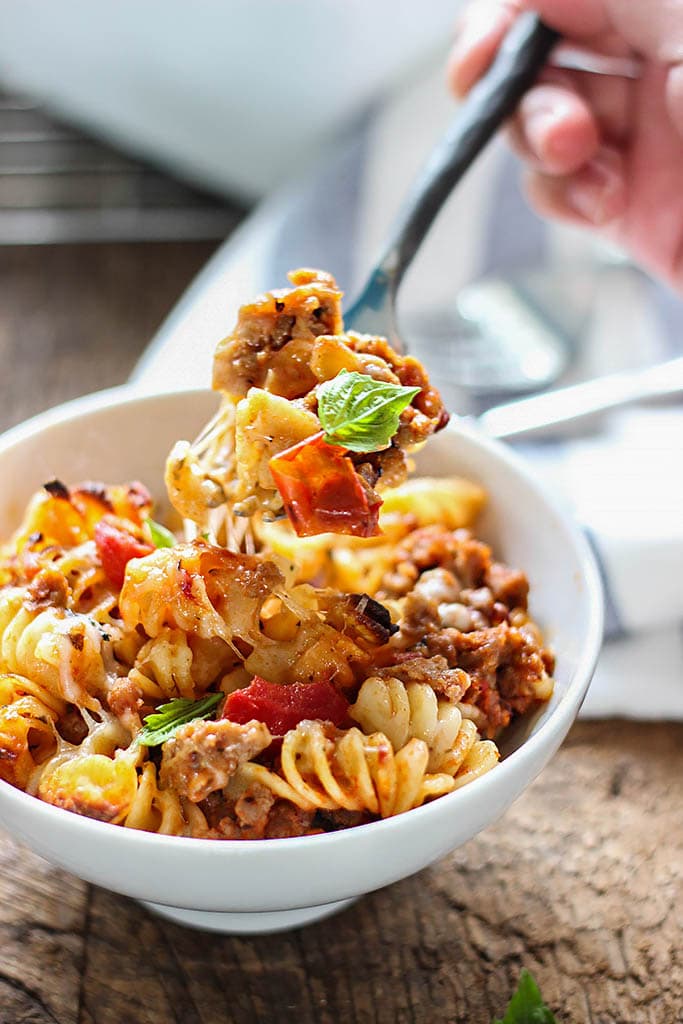 This pasta bake takes its flavor cues from the lasagna soup I posted last year. I loved the clumps of spicy, hot meat so much, I decided to make a pasta bake out of it. And what's a pasta bake without some cheese? So there's just enough cheese to have some cheese string action going but feel free to add more 😉
It's pretty easy with a few simple ingredients. There's not as much cheese as my chicken Alfredo pasta bake, but it's still a good one to try out, especially if you love the flavors of hot Italian sausage. So let's start cooking!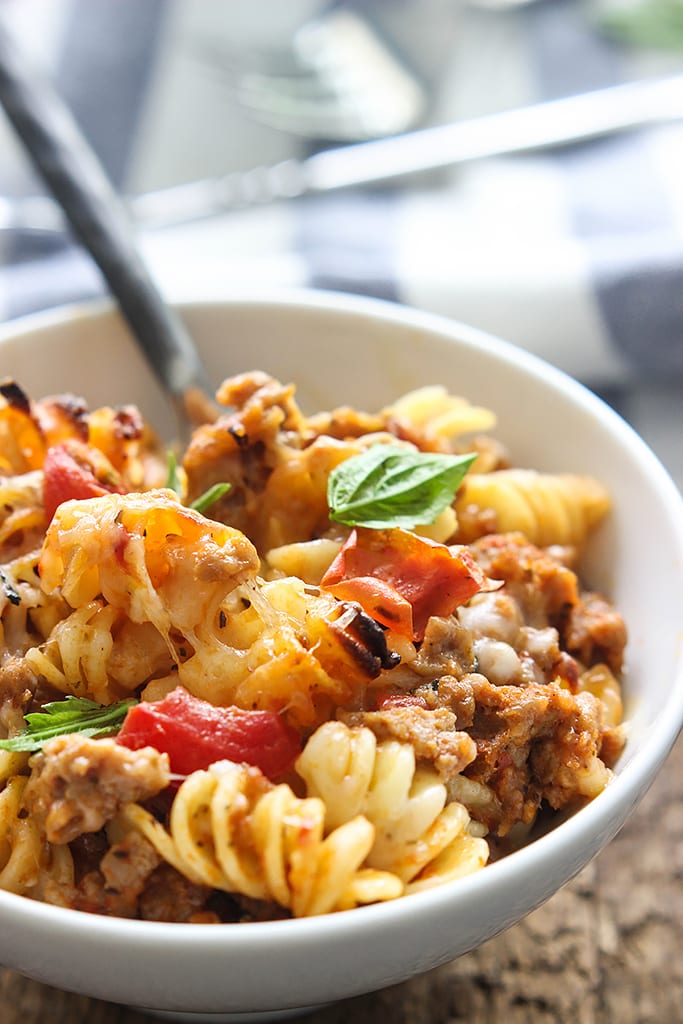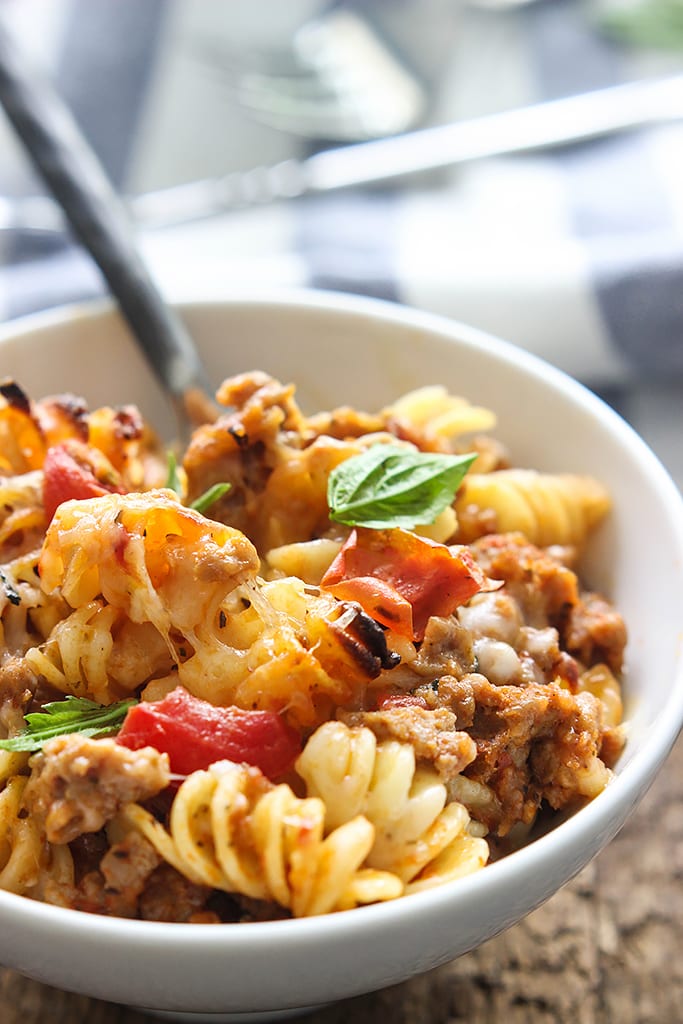 CHEESY HOT ITALIAN SAUSAGE PASTA BAKE TIPS AND TRICKS
There's not much prep involved besides removing the meat from the casings. I ended up cutting off all the ends of the sausages, lifting up the casing with my fingers, then using some kitchen scissors to cut through lengthwise. Once you're done, don't forget to retrieve the leftover meat from the ends you chopped off!
Then we saute the garlic and the meat. At this point, you'll have tubes of tightly packed meat. You can either get down and dirty and break them up with your hands before cooking or break them up in the pan. I decided to do it in the pan. This was the most time-consuming part for me. In the end, I had a death grip on a wooden spoon and was stabbing at the clumps. In hindsight, I could have also used a fork or a potato masher. Whatever works for you!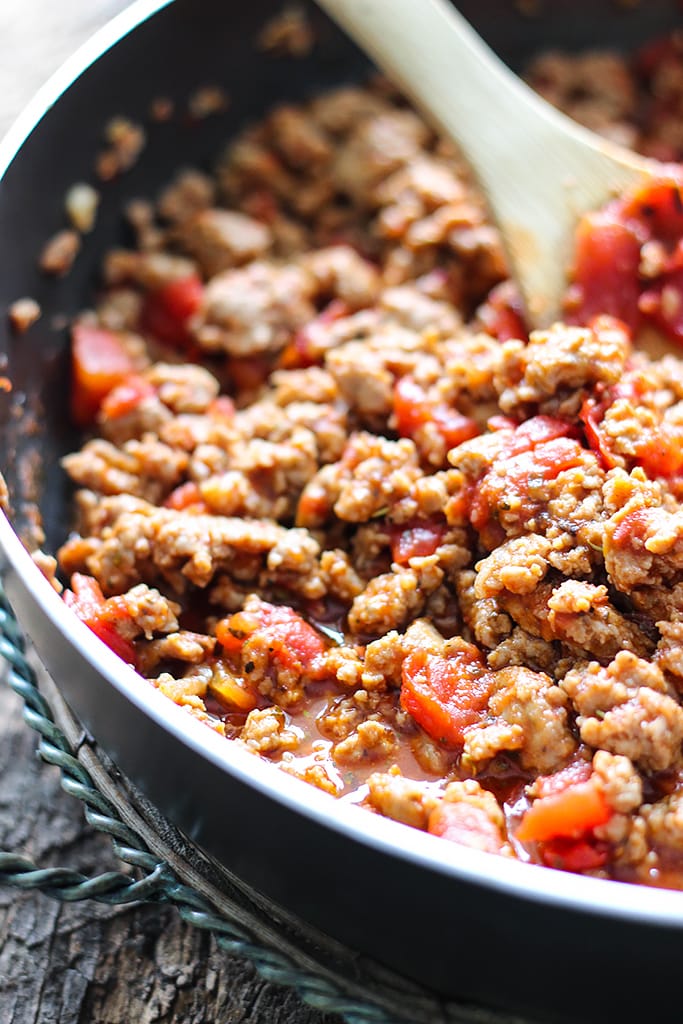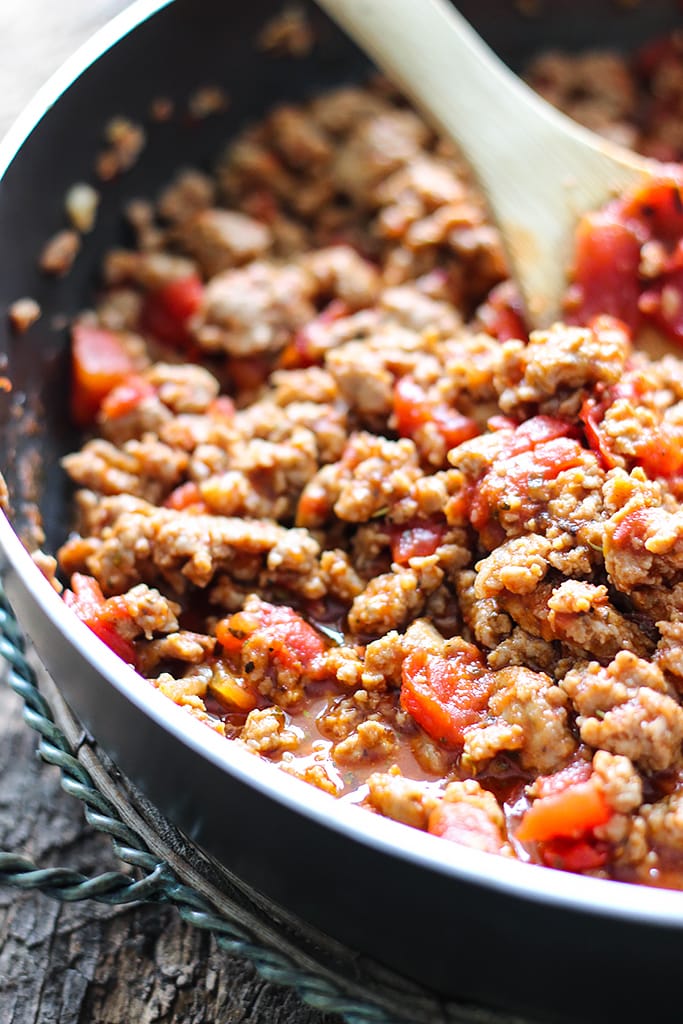 It's okay to end up with a few small, manageable lumps so don't work yourself too hard. Cook your pasta while browning the meat. I felt like spirals today so I used that but you can use other types like penne, ziti, or rigatoni. Let it cook until just before al dente. This means that if instructions call for 10 minutes, do it about 8-9 minutes. You want it soft but still a little chewy. The pasta will continue cooking in the oven so we don't want to overcook it and have a soggy mess. It's the same reason we rinse the pasta under cold water to stop the cooking process.
After the meat has browned, we add our seasonings. I used some fire-roasted tomatoes and a cup of marinara sauce. I wanted it saucy but not too saucy. Just enough to get something going there. Toss in seasonings and you should end up with something like the prep pic above.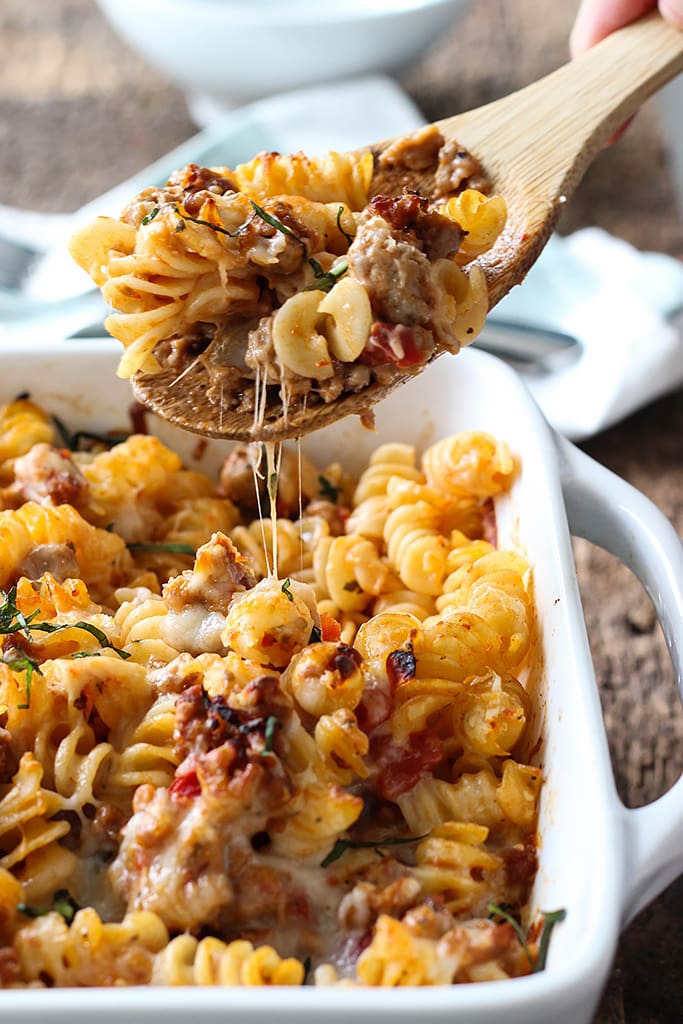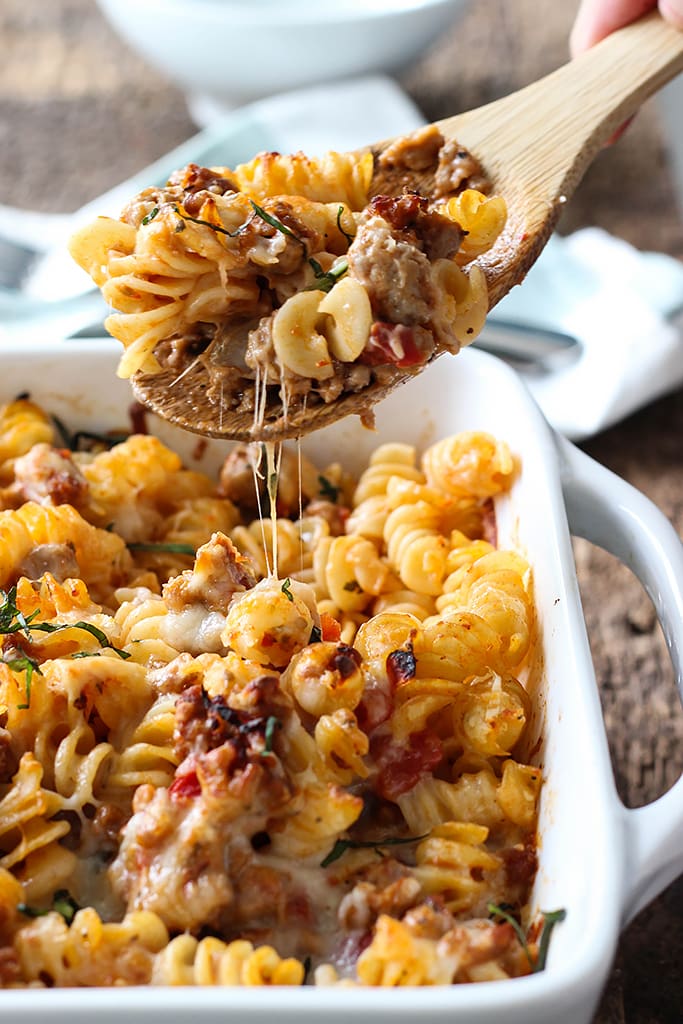 Mix up the meat with the pasta and add in your cheeses. There are two types here: mozzarella and Parmesan. You could also try an Italian cheese blend. Then we transfer it to a casserole dish and top it with more mozzarella. Baking time! I baked it for 30 minutes uncovered. After it's done, broil it a little too brown the mozzarella on top.
And you're done!
Feel free to add in any veggies you might like; zucchini will work here and so will spinach. Or add some freshly chopped basil for more Italian flavors. Happy eating!
♡ Did you make this recipe? Please give it a star rating below! For more quick & easy recipes, FOLLOW ME on Facebook, Instagram and  Pinterest.
Print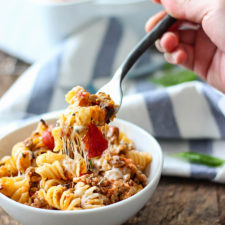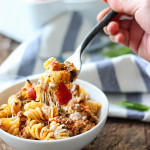 Cheesy Hot Italian Sausage Pasta Bake
---
Author:

Prep Time:

5 mins

Cook Time:

40 mins

Total Time:

45 mins

Yield:

8

1

x
Description
A cheesy hot Italian sausage pasta bake with a spiced savory and sweet marinara sauce, hot Italian flavors and plenty of cheese.
---
16

oz

. pasta

1 teaspoon

garlic, minced

2

lb

. hot Italian sausage, casings removed

1

cup

marinara sauce

15

oz

. fire-roasted tomatoes

1 tablespoon

Italian seasoning

2 tablespoons

sugar

2 tablespoons

Worcestershire sauce

2 1/2

cups

mozzarella cheese, shredded and divided

1/2

cup

Parmesan cheese, shredded
Salt and pepper to taste
---
Instructions
Cook the pasta till just before al dente.
Drain and rinse under cold water to stop the cooking process.
Over medium-high heat, saute garlic until fragrant.
Add sausage and stir to break up lumps. Cook until sausage is browned, about 5 minutes. Drain any excess fat.
Add in marinara sauce, tomatoes, Italian seasoning, sugar and Worcestershire sauce and stir to combine. Simmer for 2 minutes.
Combine the pasta with the meat sauce, 1 1/2 cups mozzarella and Parmesan cheese. Stir to mix.
Spoon pasta mixture into a 9×13 casserole dish.
Top with remaining mozzarella cheese.
Bake at 350 degrees F for 30 minutes.
Broil at 450 degrees F for 2-3 minutes or until the cheese starts to brown.
Dish and serve hot.
♡ Affiliate disclosure: As an Amazon Associate, I earn commissions from qualifying purchases from Amazon.com. You can learn more about it here.