A cheesy hot Italian sausage pasta bake with a spiced savory and sweet marinara sauce, hot Italian flavors and plenty of cheese.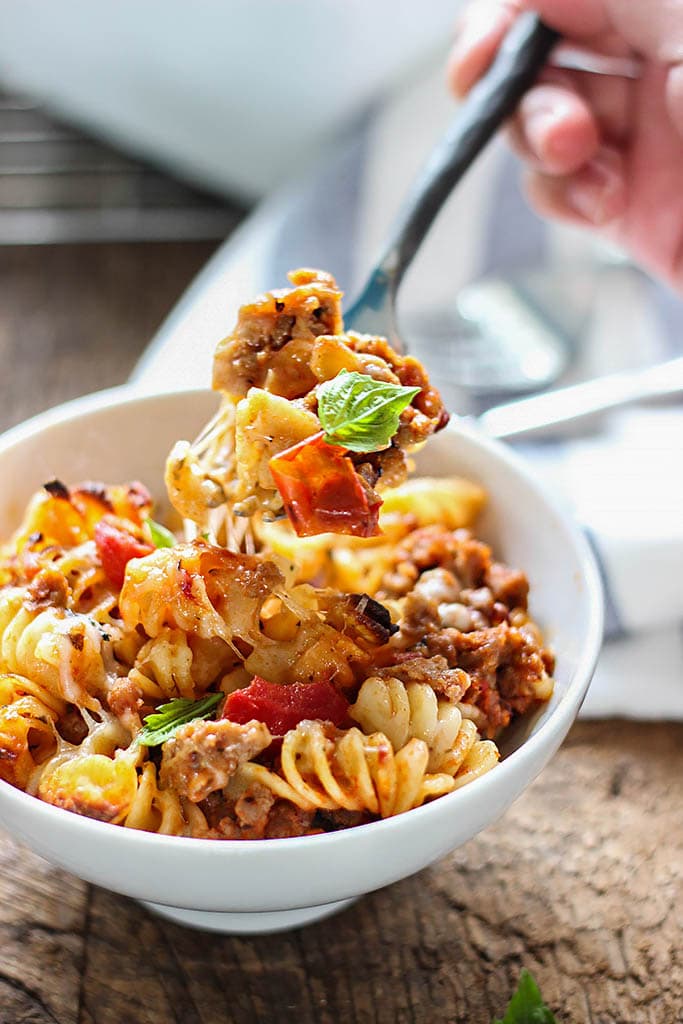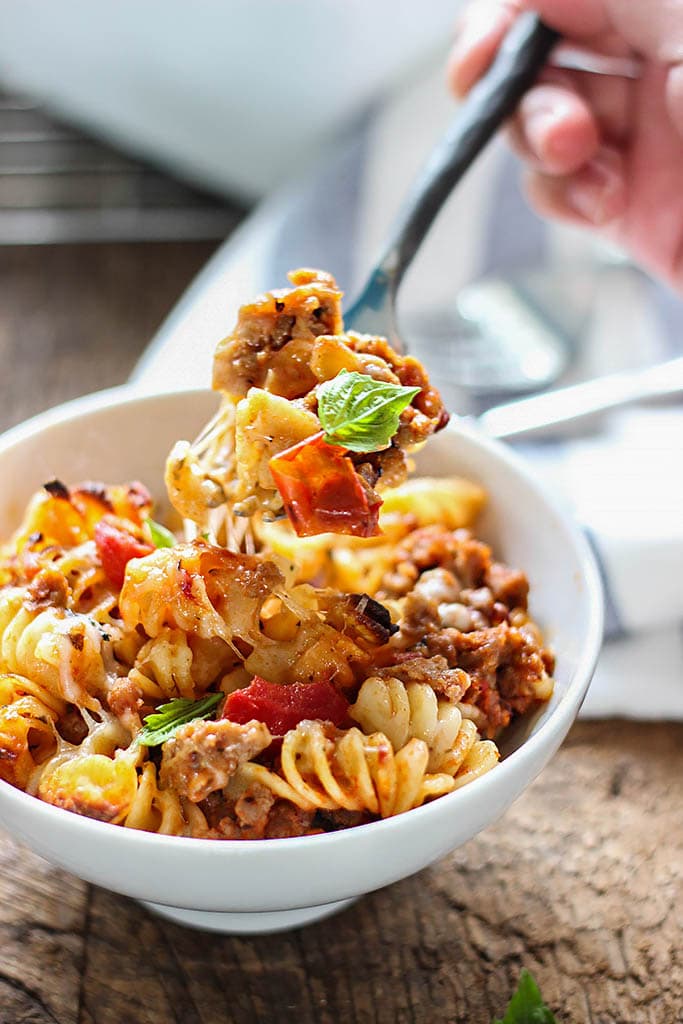 This pasta bake takes its flavor cues from the lasagna soup I posted last year. I ended up loving the spiced flavors of hot Italian sausage so much, I decided to make a pasta bake out of it. And what's a pasta bake without some cheese? So there's just enough cheese to have some cheese string action going but feel free to add more 😉
It's pretty easy with a few simple ingredients. There's not as much cheese as my chicken Alfredo pasta bake, but it's still a good one to try out, especially if you love the flavors of hot Italian sausage. So let's start cooking!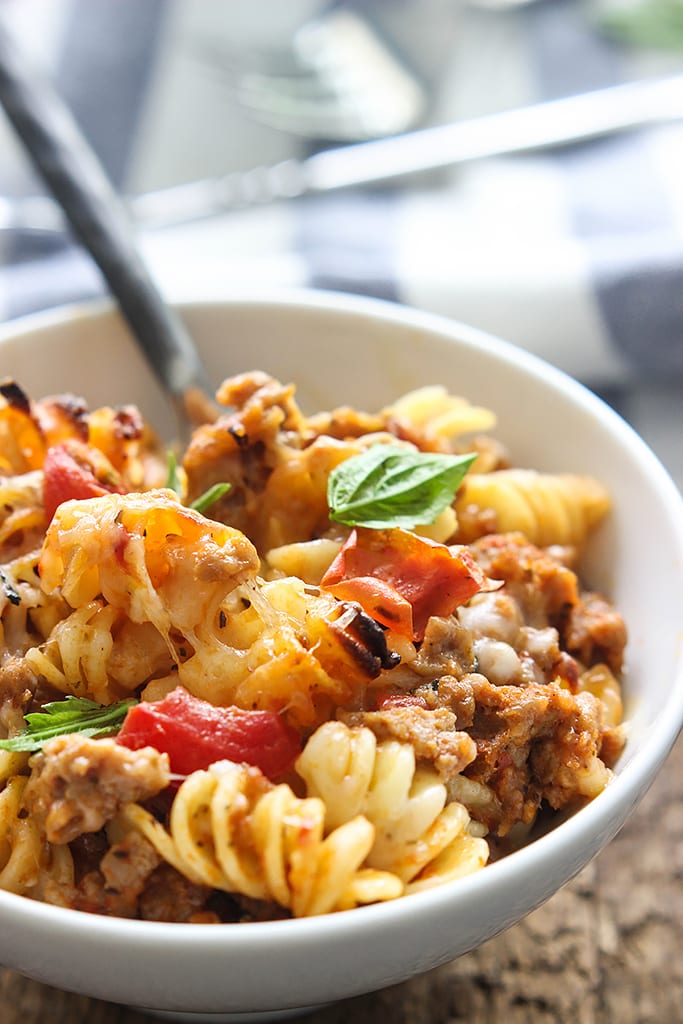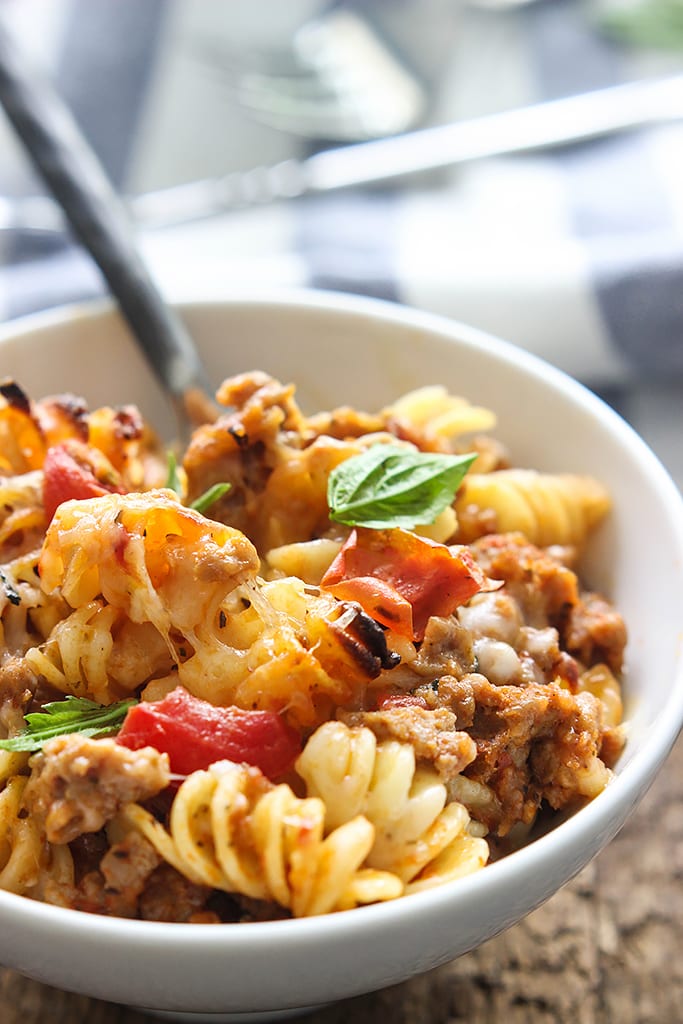 CHEESY HOT ITALIAN SAUSAGE PASTA BAKE RECIPE TIPS
Pasta – You can use any kind of pasta you like. So pick a favorite! I went with rotini but you can use shells, elbows, tube-type pasta, or farfalle. Try to cook the pasta until just before al dente. This means that if instructions call for 10 minutes, do it about 8-9 minutes. You want it soft but still a little chewy. The pasta will continue cooking in the oven so we don't want to overcook it and have a soggy mess. It's the same reason we rinse the pasta under cold water to stop the cooking process.
Italian sausage – I used hot Italian sausage but if you're not a fan of spicy food, you can use mild/sweet Italian instead. You won't need any oil to brown it as it will eventually render and cook in its own fat. Make sure to break up any clumps so it distributes evenly in the pasta bake. The quickest way to do this is to use a meat masher once the sausage has fully browned.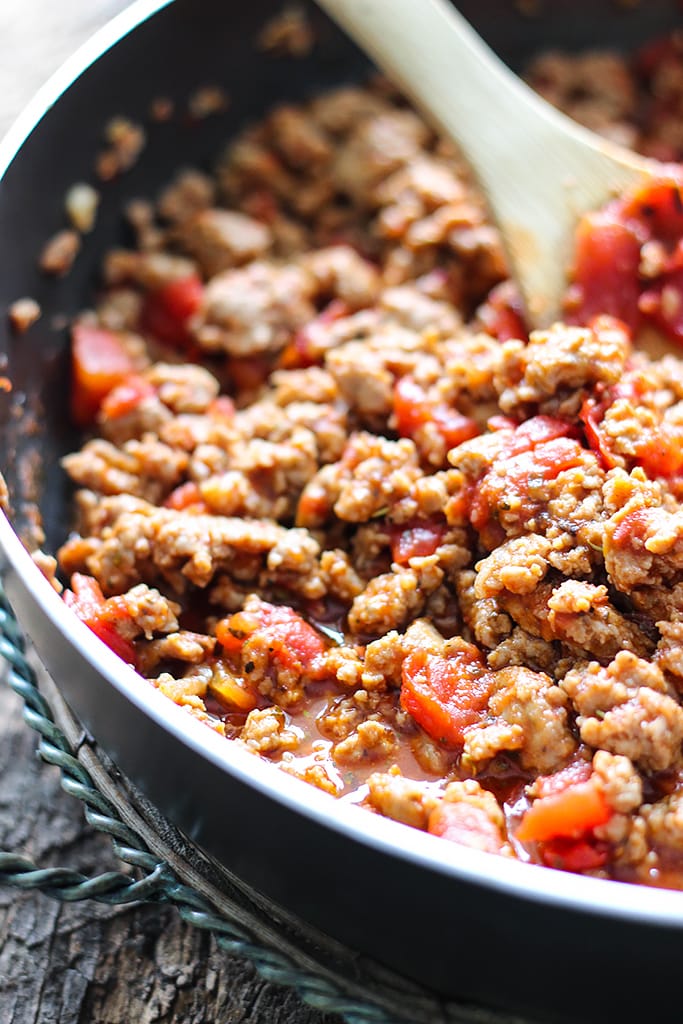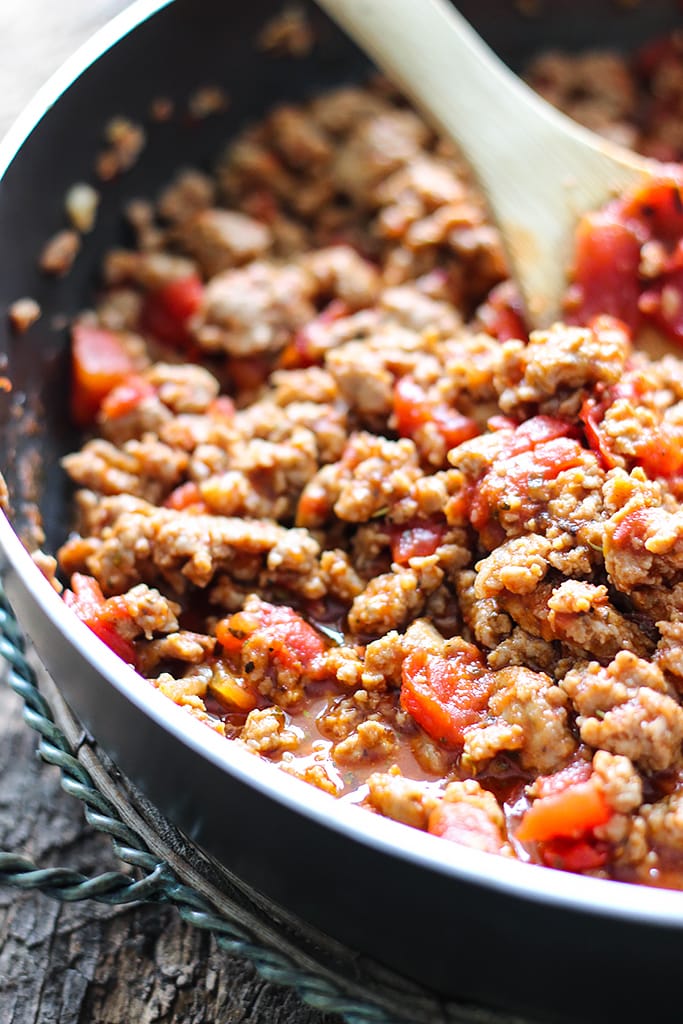 Garlic – I used fresh garlic but you can substitute it with some garlic powder. If using fresh garlic, I find the fastest way to mince it is with a garlic press or mini grater.
Diced tomatoes – For this recipe, I used fire-roasted diced tomatoes but you can also use regular diced tomatoes or a herbed blend of basil, garlic and oregano.
Sugar – I typically like to add a little bit of sugar to balance out the tartness of tomatoes but you can skip this if you like.
Cheese – I used both mozzarella and Parmesan cheese but you could also try an Italian cheese blend. If you prefer sharper flavors and don't care about melty cheese, you could also try cheddar cheese instead.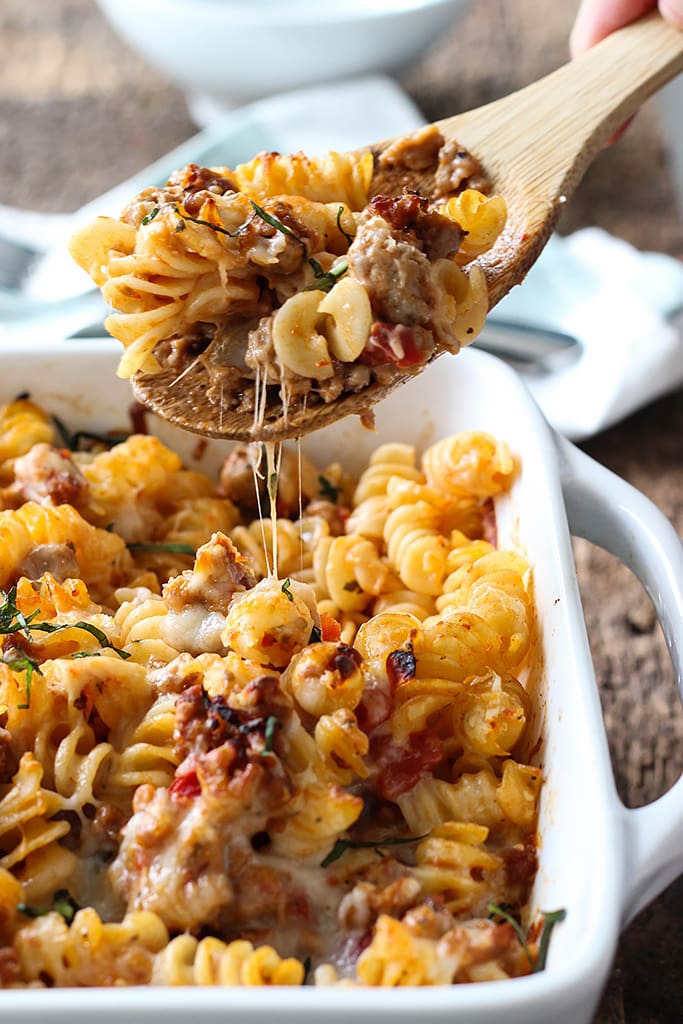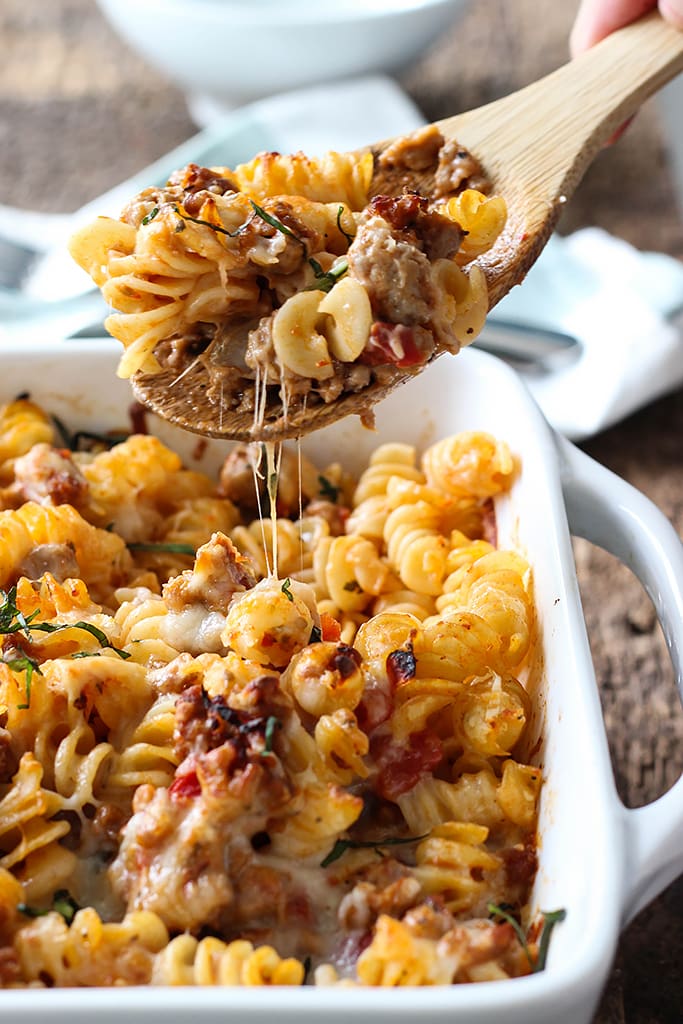 Broiling – Broil it a little after baking the casserole to get a slightly browned cheesy top layer. Any pasta or sausage on the top will also get a little crunchy!
Crank up the flavor – Add more flavor with smoked paprika or red pepper flakes.
Add veggies – Feel free to add in any veggies like zucchini, broccoli, or spinach. Just mix it in with the pasta and bake.
Add fresh herbs – You can also add some freshly chopped basil or parsley.
And that's about it. Serve it on its own or add some classic pasta appetizers like homemade garlic bread or garlic knots. Enjoy and let me know how you liked this in the comments below!
MORE ITALIAN SAUSAGE RECIPES TO TRY
Did you make this recipe? Rate it!
♡ If you liked this recipe, giving it a star rating ★★★★★ in the comments below really helps! For more recipes, subscribe to my newsletter or follow me on Facebook, Instagram and Pinterest.
Print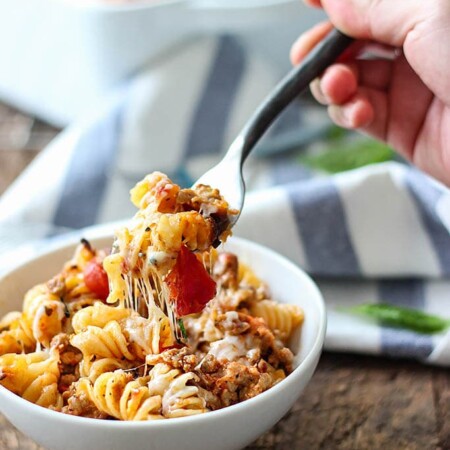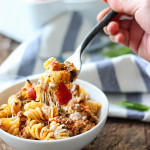 Cheesy Hot Italian Sausage Pasta Bake
---
Author:
Total Time: 45 mins
Yield: 8 1x
Description
A cheesy hot Italian sausage pasta bake with a spiced savory and sweet marinara sauce, hot Italian flavors and plenty of cheese.
---
16 oz. pasta
1 teaspoon garlic, minced
2 lb. ground hot Italian sausage
1 cup marinara sauce
15 oz. fire-roasted tomatoes
1 tablespoon Italian seasoning
2 tablespoons sugar
2 tablespoons Worcestershire sauce
2 1/2 cups mozzarella cheese, shredded and divided
1/2 cup Parmesan cheese, shredded
Salt and pepper to taste
---
Instructions
Cook the pasta till just before al dente. Drain and rinse under cold water to stop the cooking process.
Over medium-high heat, saute garlic until fragrant.
Add sausage and stir to break up any lumps. Cook until sausage is browned, about 5 minutes. Drain any excess fat.
Add in marinara sauce, tomatoes, Italian seasoning, sugar and Worcestershire sauce and stir to combine. Simmer for 2 minutes.
Combine the pasta with the meat sauce, 1 1/2 cups mozzarella and Parmesan cheese. Stir to mix well.
Spoon pasta mixture into a 9×13 casserole dish.
Top with remaining mozzarella cheese.
Bake at 350°F for 30 minutes.
Broil at 450°F for 2-3 minutes or until the cheese starts to brown.
Dish and serve hot.
Enjoy!
Prep Time: 5 mins
Cook Time: 40 mins