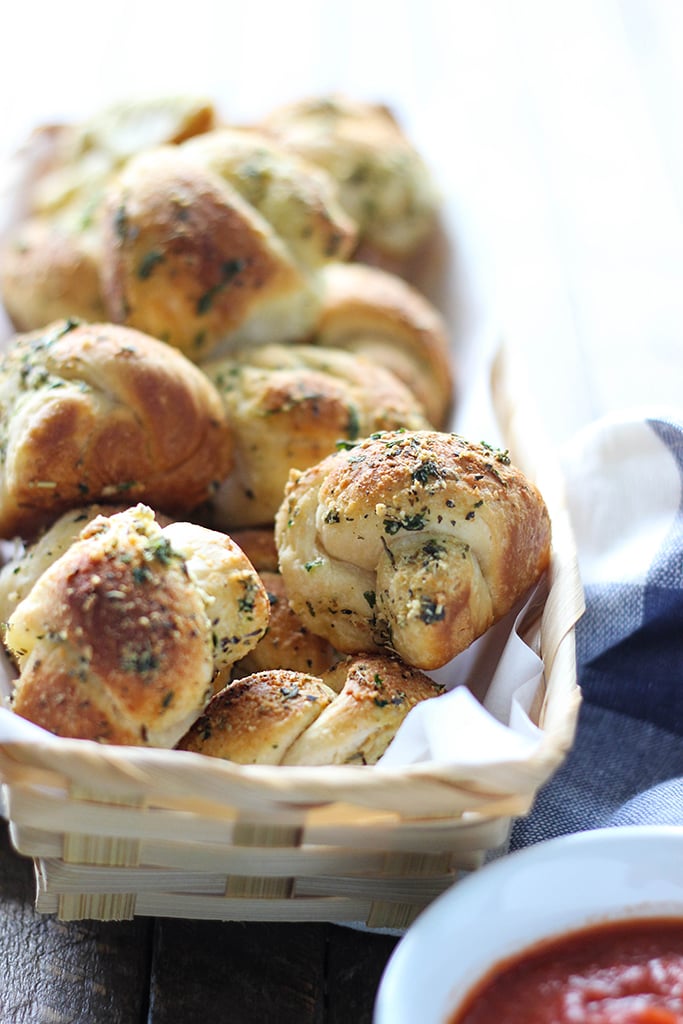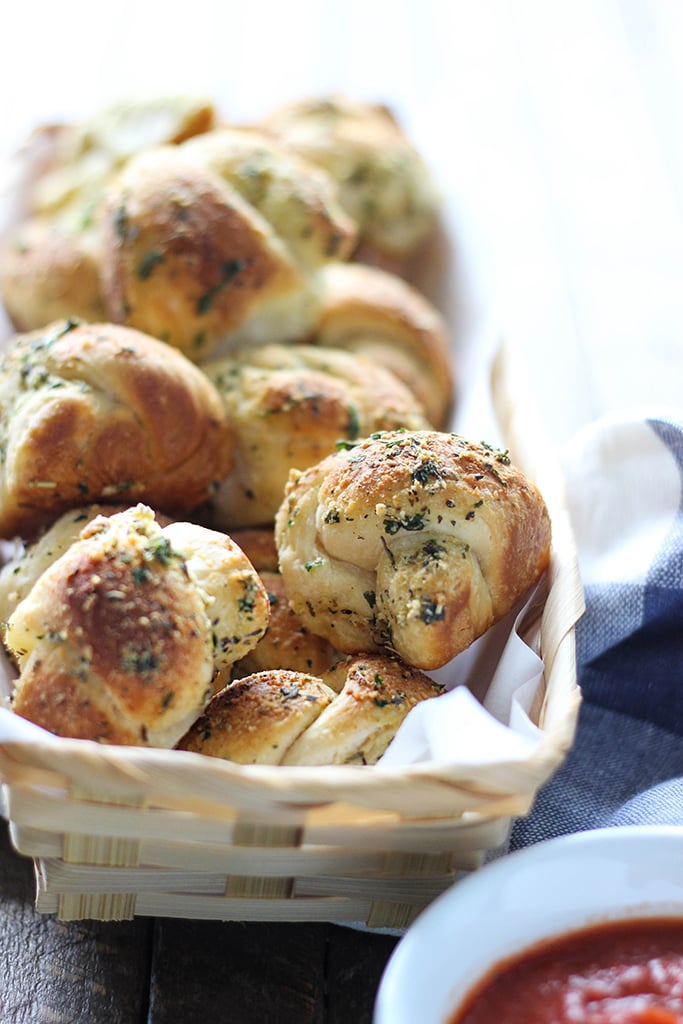 I wanted something fun and easy this week. And even though I suck at all things baking, this really looked doable. Even for me. So that should say something about how easy it is!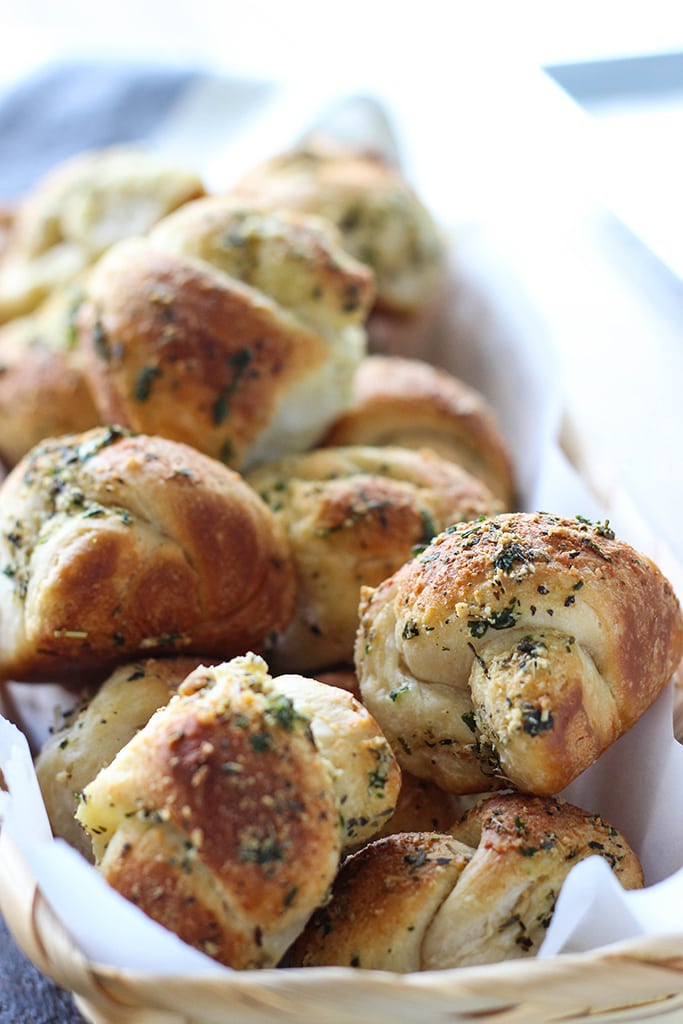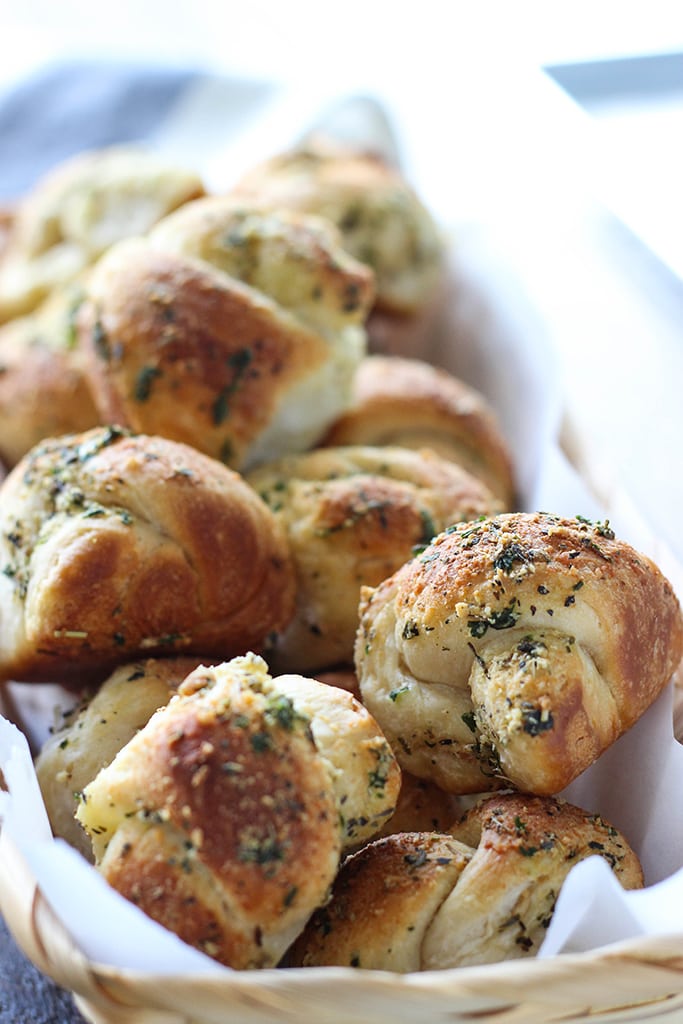 We all love garlic knots and more so when there's some marinara sauce to dip it into. So today we'll be making some easy Parmesan garlic knots. Don't run away just yet! It's not from scratch. If it was, I'd be right there running with you. There's an easy cheat method where you and yeast can still keep each other at arms length.
Interested? Let's go!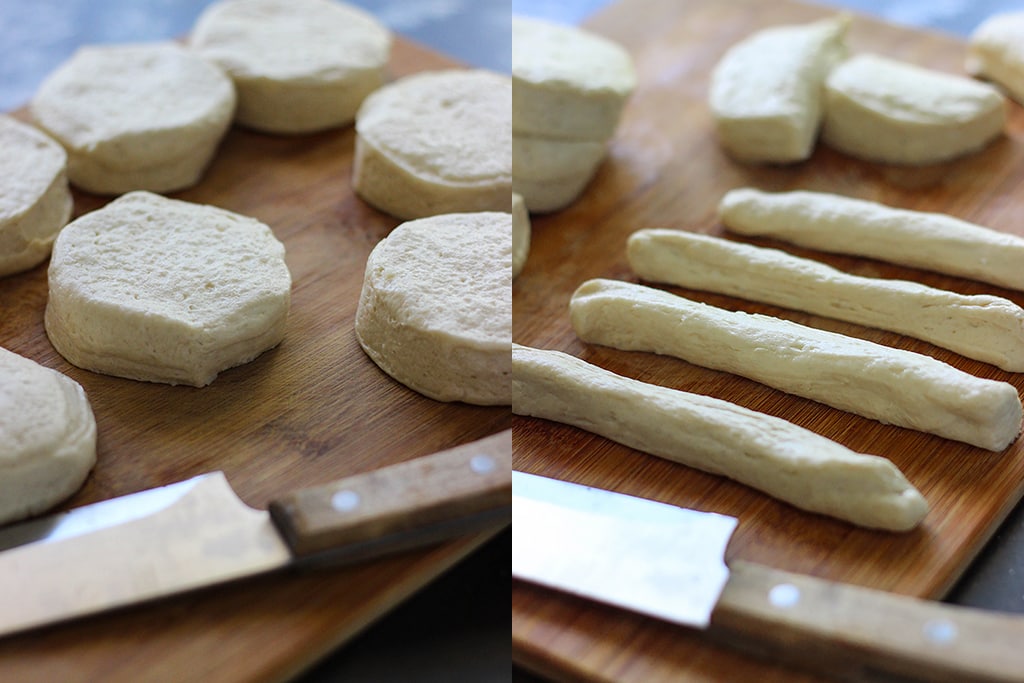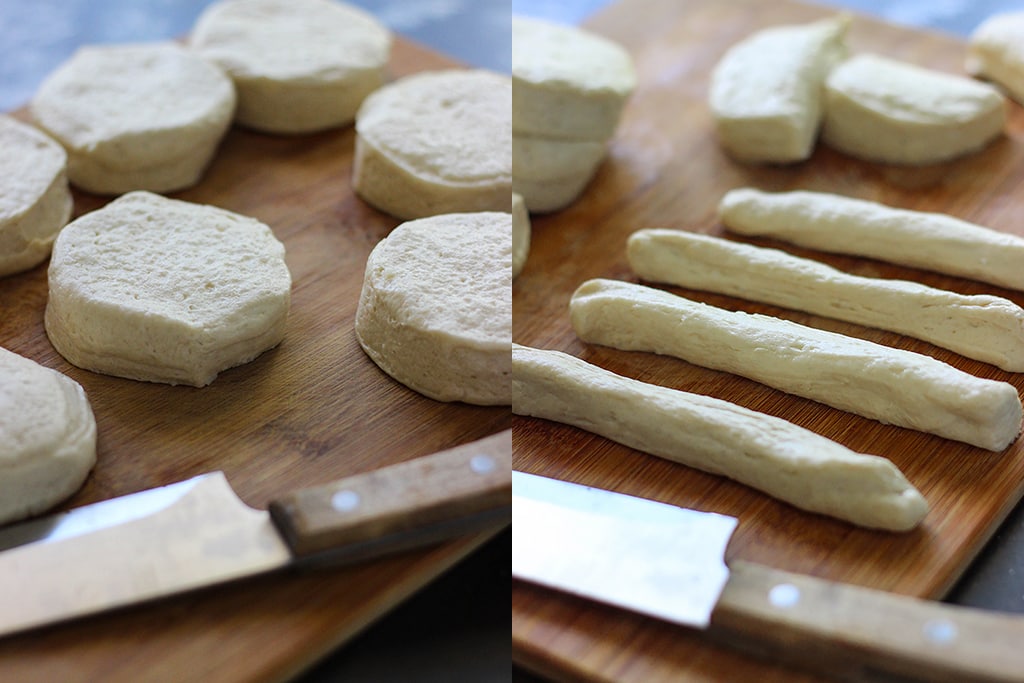 So I promised an easy cheat. It's called refrigerated buttermilk biscuits. You know, the ones in the tubes that are sometimes reaaaaallly hard to pop open. That's usually the case with me but for some reason this time round, it popped for me on the first try. I didn't even mangle anything inside! Proof that this was meant to be.
So we use a tube of these. You can find them near the dairy aisle. We just need one of them. Then some olive oil, a little butter, dried Parmesan (the stuff in the green shaker), garlic powder, Italian seasoning, fresh parsley and some salt.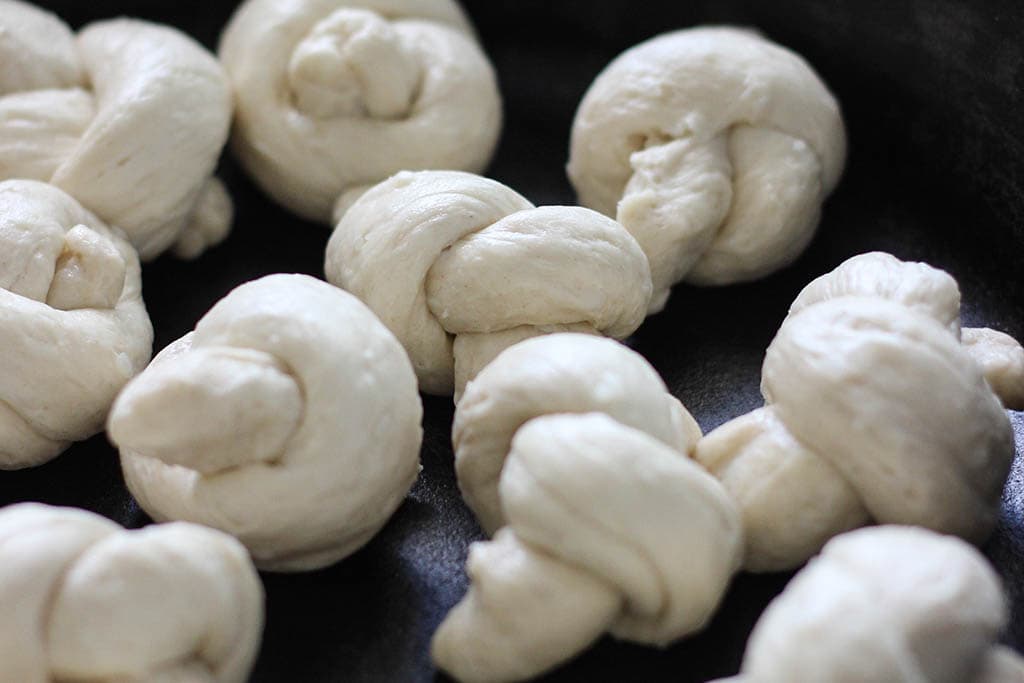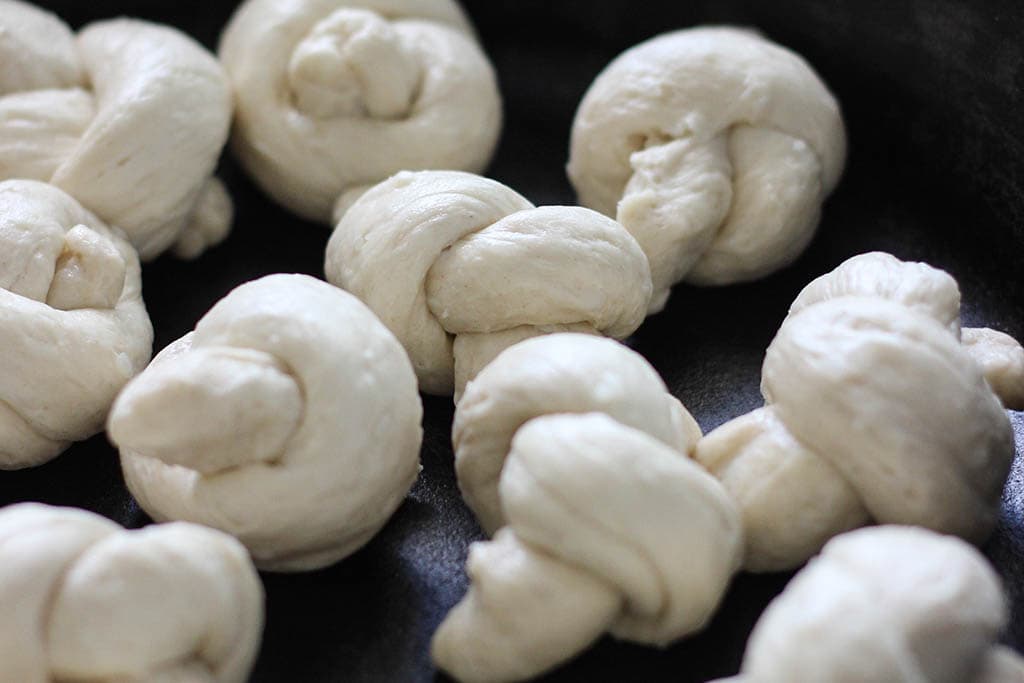 So pop open your tubes (good luck!) and you should end up with little round and flat pieces of dough. They're kinda neat. I got 8 in my tube. Cut each one in half so you'll end up with 16 halves. Then roll each half into about 6″ ropes of dough. You can roll them longer, just as long as they're long enough to tie into knots.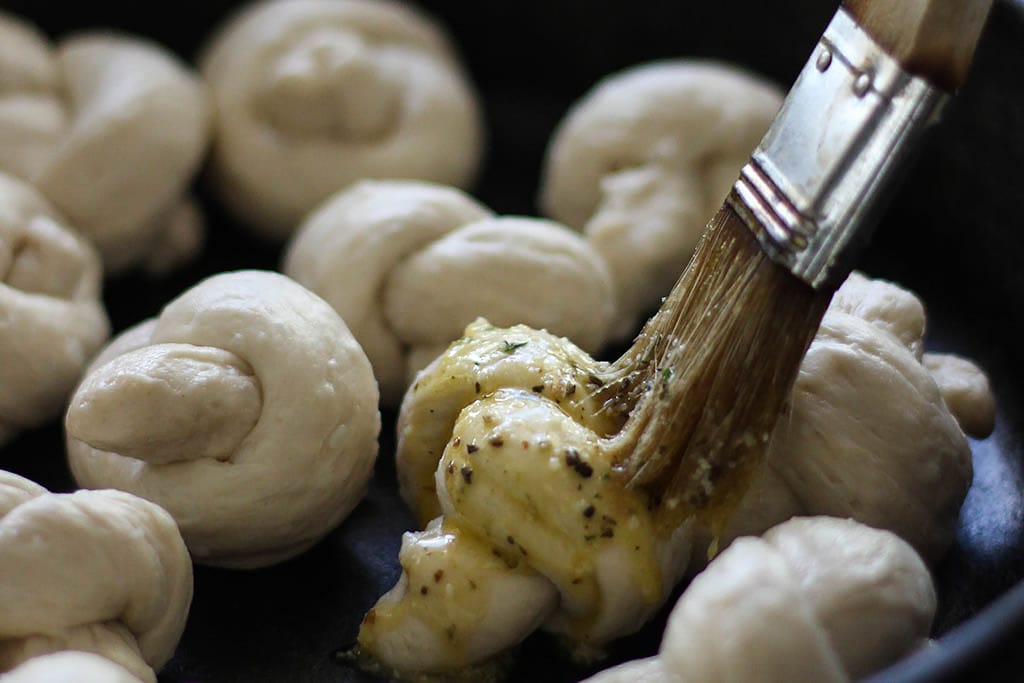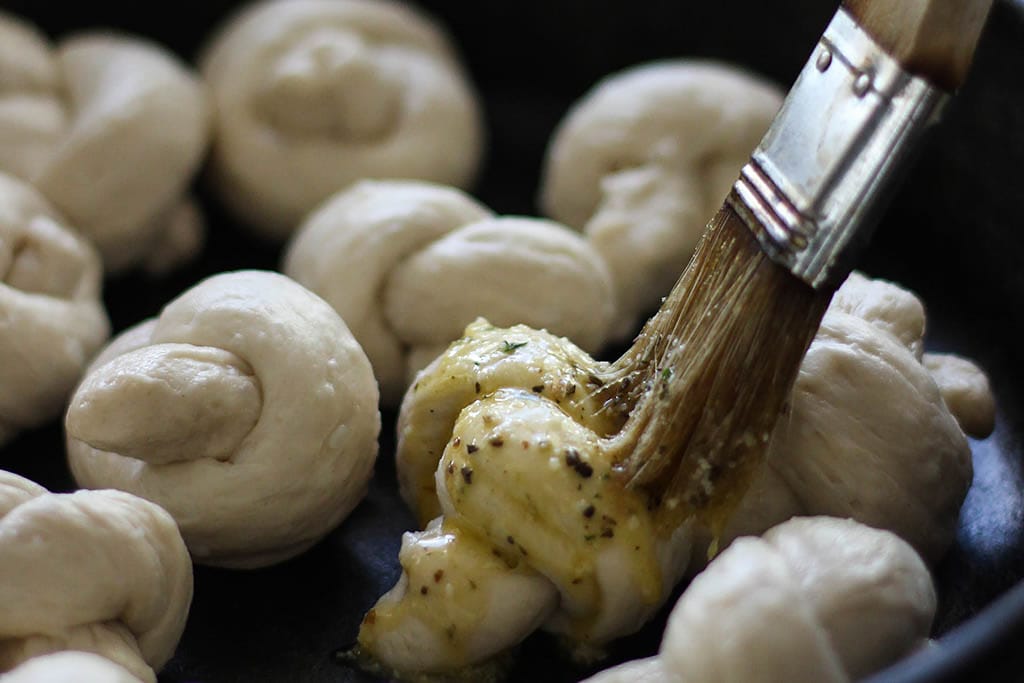 The knotting part is actually really fun. I messed up the first one but got into it after that. If your roll isn't long enough, it's okay to pull and stretch the end that will tuck into the knot. After the first one, I was knotting like a pro. This is where being a girl or boy scout comes in handy (kidding!).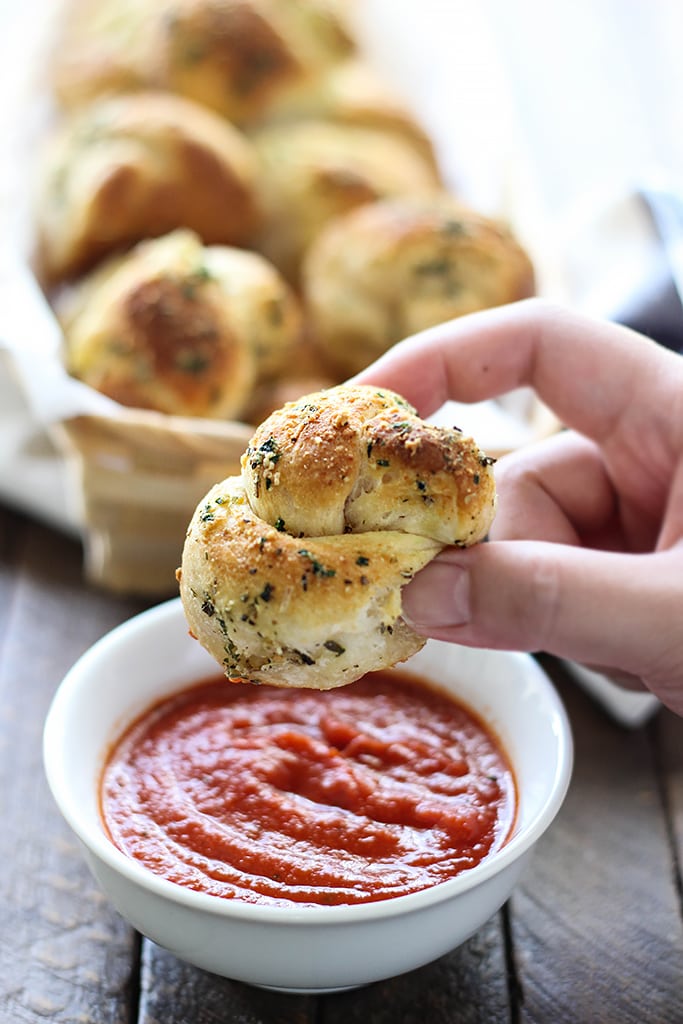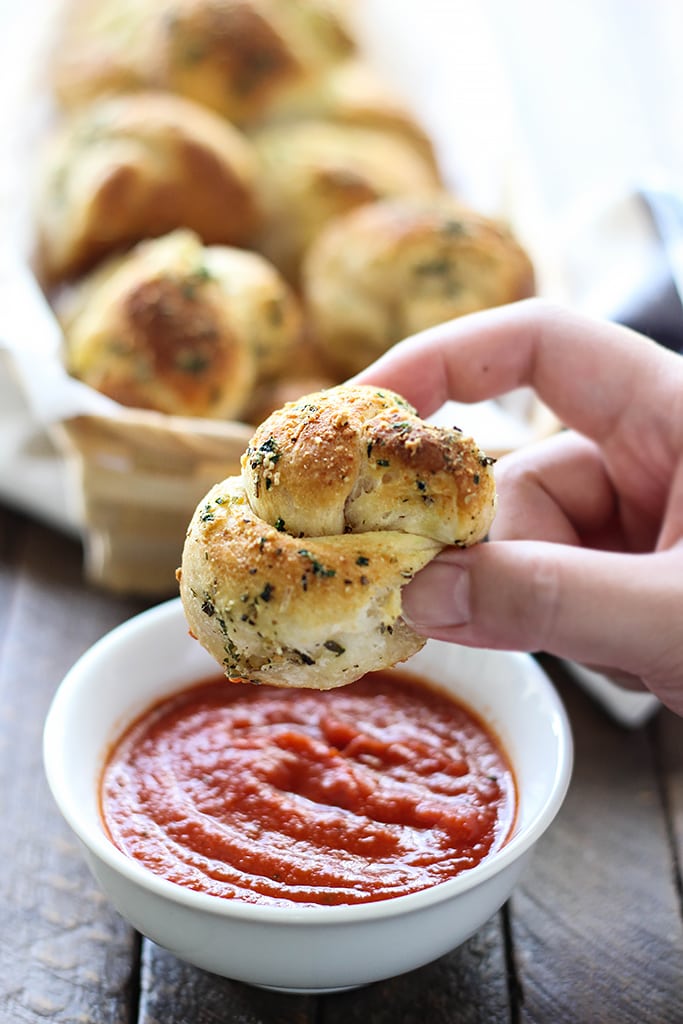 Then line them up on a greased baking sheet. Leave some room between knots because I know they look tiny and insignificant now but I promise you they will blow up in size once cooked. The first time round I tried this out, I wanted to do it in a skillet. You know, be a rebel. And while there was enough room for them to blow up in a 10″ skillet, the sides were so close together they didn't cook evenly.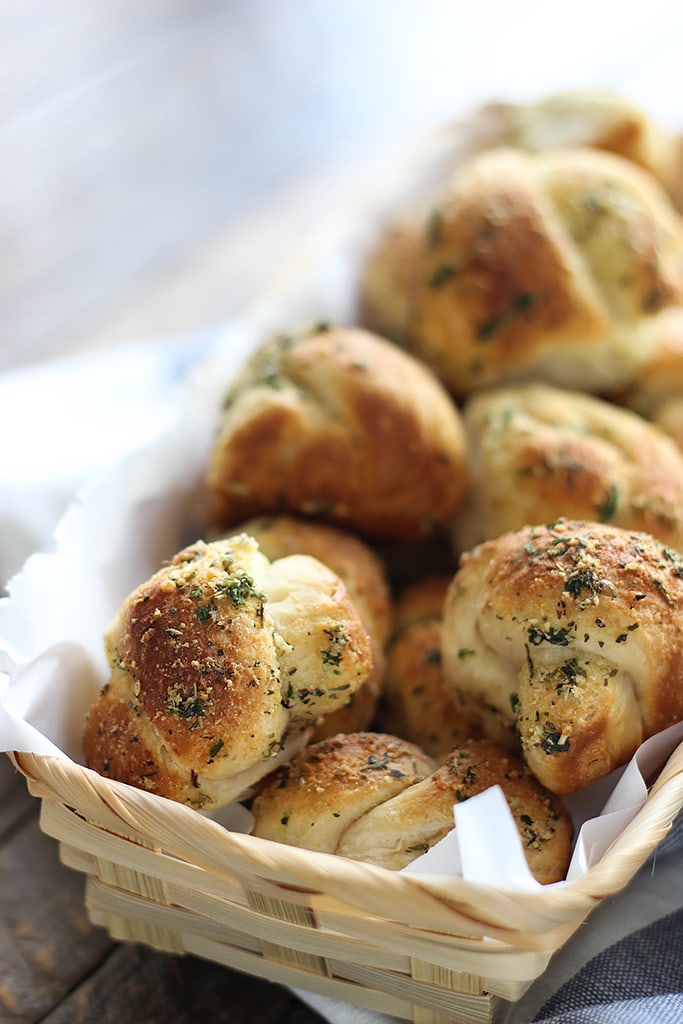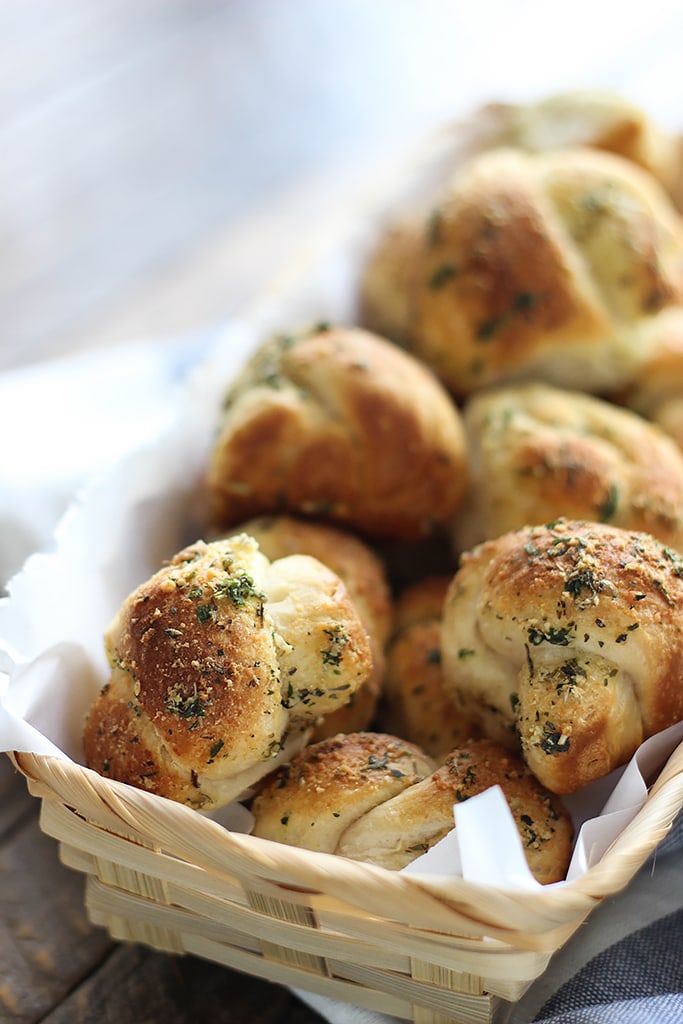 So the second time round I used a baking sheet like normal people and everything worked out. Moral of the story: use a baking sheet!
Brush the tops with the melted butter mix and be generous. You should end up with some leftover butter mix so keep it, we'll be brushing them again later after it bakes. Then we bake for 15-17 minutes or until it's golden brown. This may vary a little depending on your oven, so keep an eye on it after the 15 minute mark. Once it's cooked, brush them again with the butter mix. It'll be slightly drier after its time in the oven so a little butter rejuvenation is in order. If you don't have enough liquid left in your butter mix to go around, add a little olive oil or more butter if you're feeling feisty.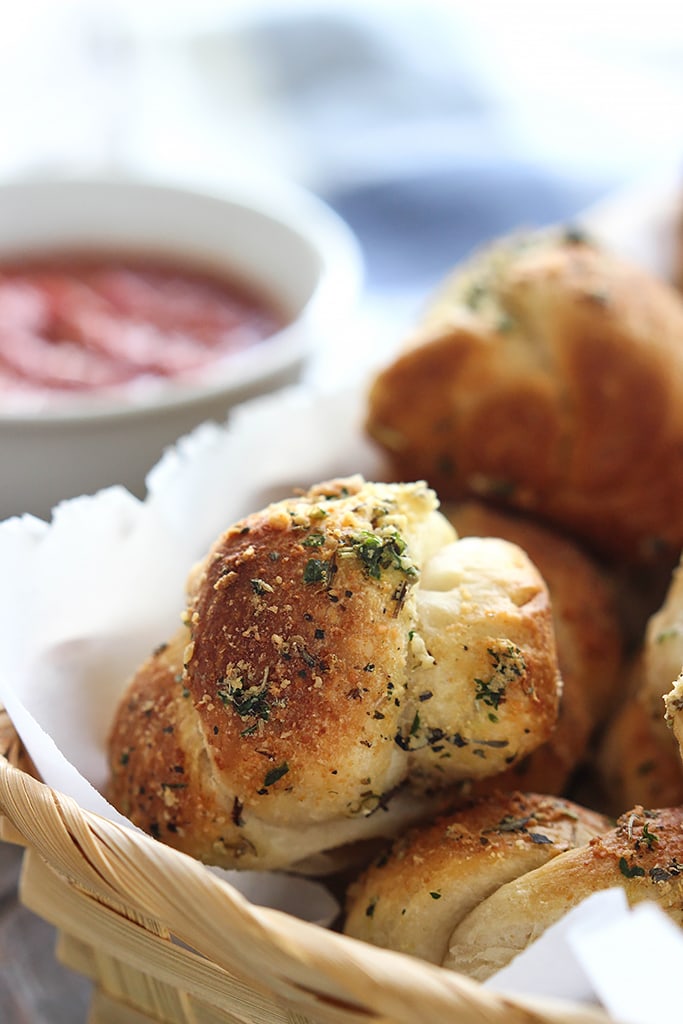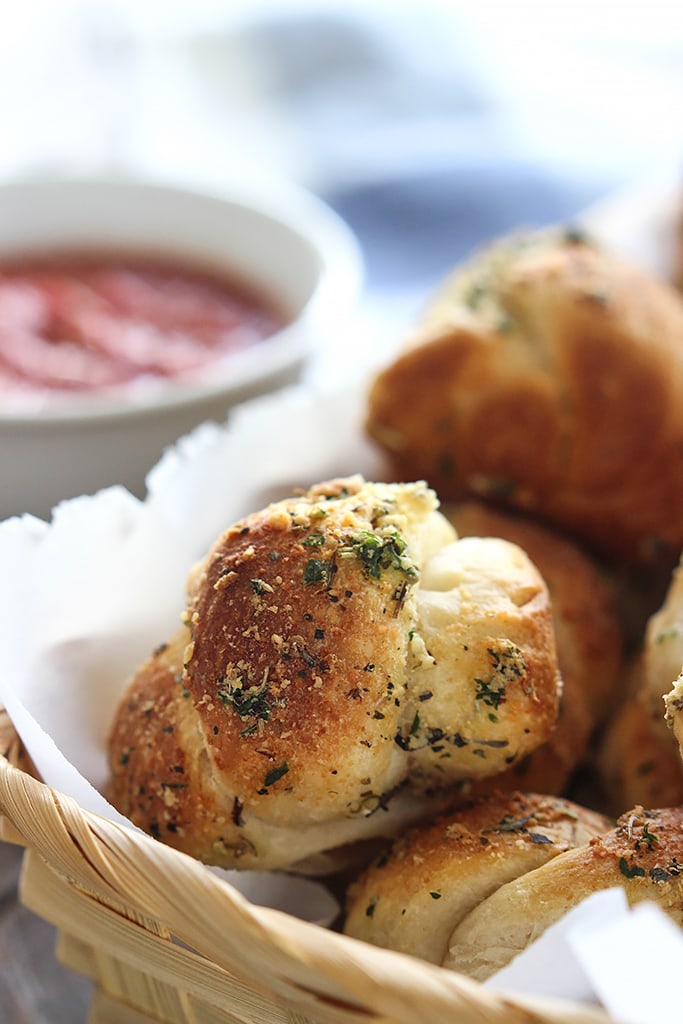 And that's it! Break out a bowl of marinara sauce and serve proudly.
Print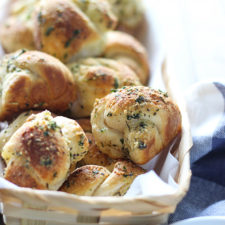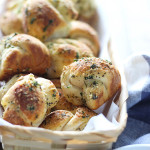 Parmesan Garlic Knots
---
Author:

Prep Time:

10 mins

Cook Time:

17 mins

Total Time:

27 mins

Yield:

16

knots

1

x
1

(16 oz.) tube refrigerated buttermilk biscuits

3 tablespoons

olive oil

2 tablespoons

butter

2 tablespoons

dried Parmesan

1 teaspoon

garlic powder

1 tablespoon

Italian seasoning

1 tablespoon

fresh parsley, chopped
Salt to taste
Marinara sauce
---
Instructions
Combine olive oil, butter, dried Parmesan, garlic powder, Italian seasoning, parsley and salt to taste. Microwave for 30 seconds until butter melts. Stir to mix well
Cut the biscuits into halves and roll out each half into a rope, about 6-8 inches long
Tie each rope into a knot. Stretch it out more if needed
Grease a baking sheet and line up the knots, leaving some space between each one
Brush the knots with the butter mixture. Save leftover mixture
Bake at 400 degrees F for 15-17 minutes or until golden brown
Brush the tops with leftover butter mixture
Dish and serve hot with marinara sauce
Nutrition per garlic knot: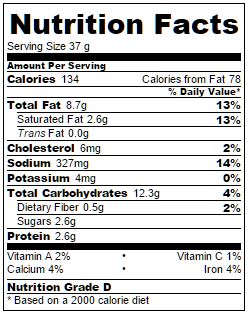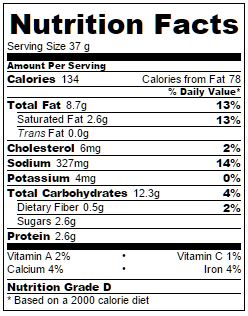 ♡ Affiliate disclosure: As an Amazon Associate, I earn commissions from qualifying purchases from Amazon.com. You can learn more about it here.