There's plenty of cheese action in this cheesy pesto pull-apart bread. Feed a crowd with this easy 4 ingredient appetizer.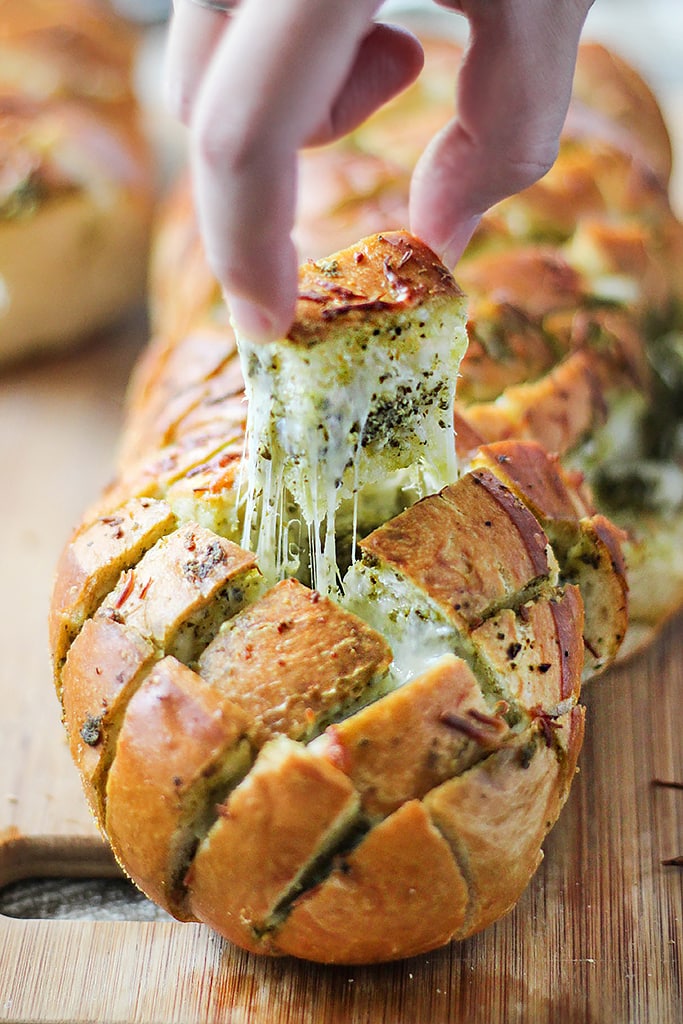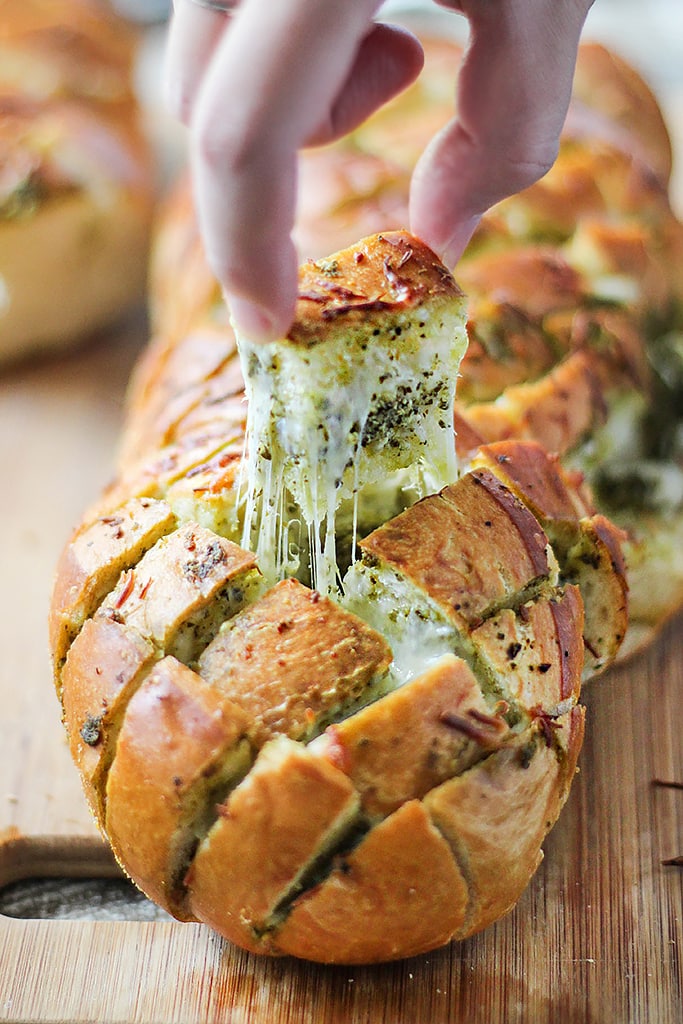 If anyone's in the mood for an easy appetizer that feeds a crowd, you're in luck! Today we're gonna be making a cheesy pesto pull-apart bread that is chockful of stringy cheese and pesto goodness.
There are really only four ingredients and you can get them all at the grocery store easily. All you need are French bread, butter, pesto and cheese to make this amazing appetizer with epic cheese strings. That's it. I did say easy, didn't I? 🙂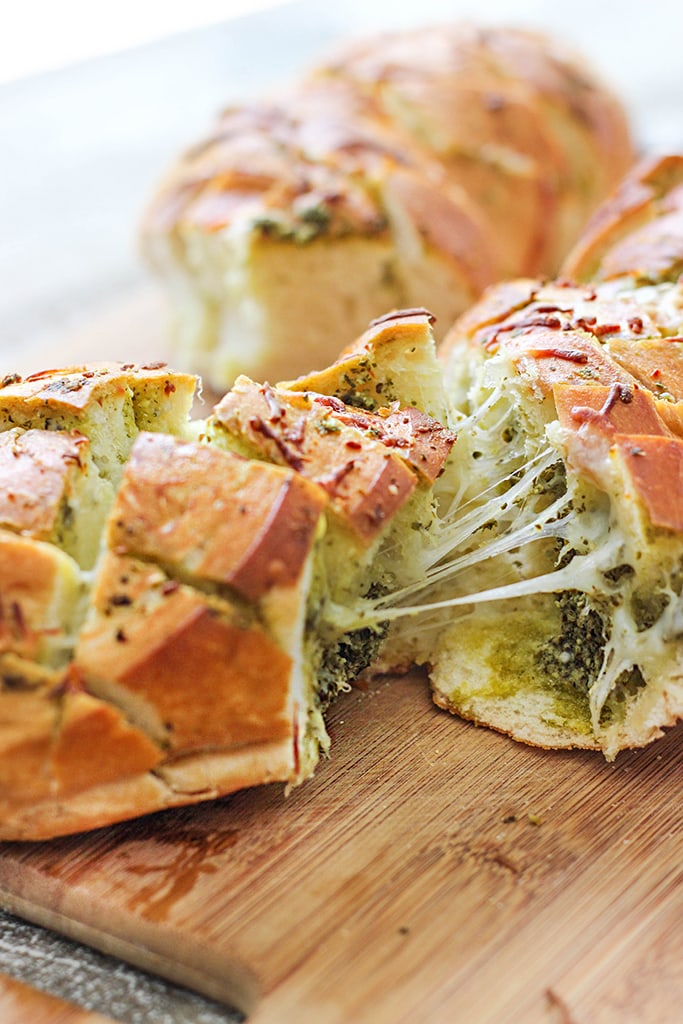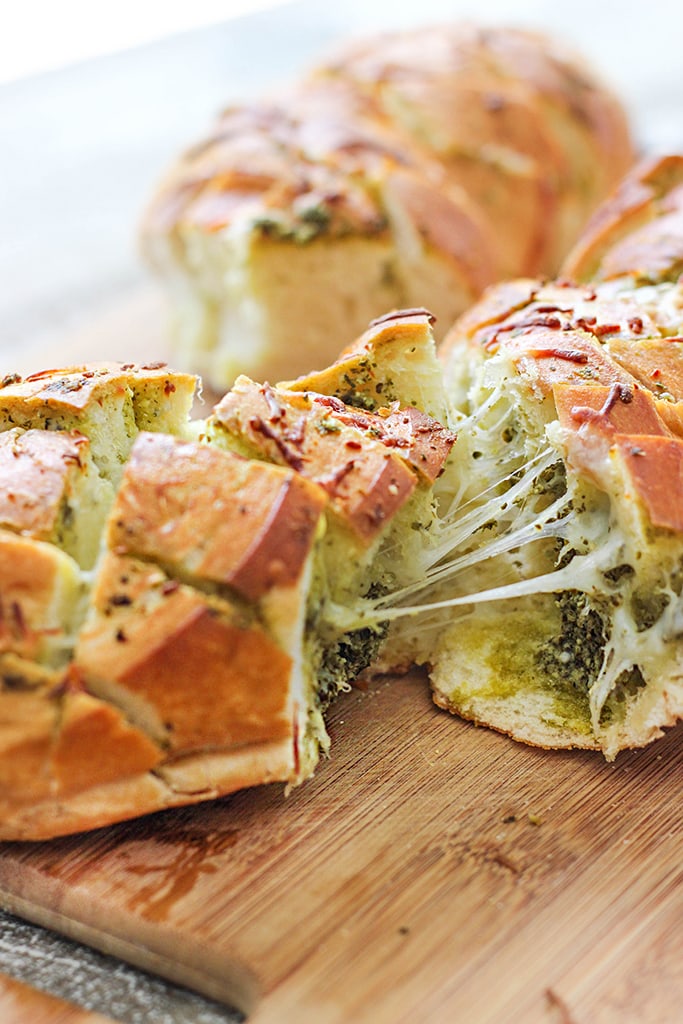 So taking cues from bloomin' onion bread, this appetizer is fun and easy but packs ten times the cheese power because I used melty Italian cheese instead of cheddar cheese. So expect lots of ooey gooey, cheesy strings. Let's get started!
CHEESY PESTO PULL-APART BREAD RECIPE TIPS
We begin by cutting the baguette. I used a crusty baguette because I figured it would be easier to cut. Use a serrated bread knife to make about 1″ cuts diagonally across the bread and cut until it almost reaches the bottom.
You'll want to keep the bottom intact so the bread holds together. Then make diagonal cuts cross-wise in the opposite direction.  This may take some time getting used to but if I can do it (horrible at cutting bread), you can too!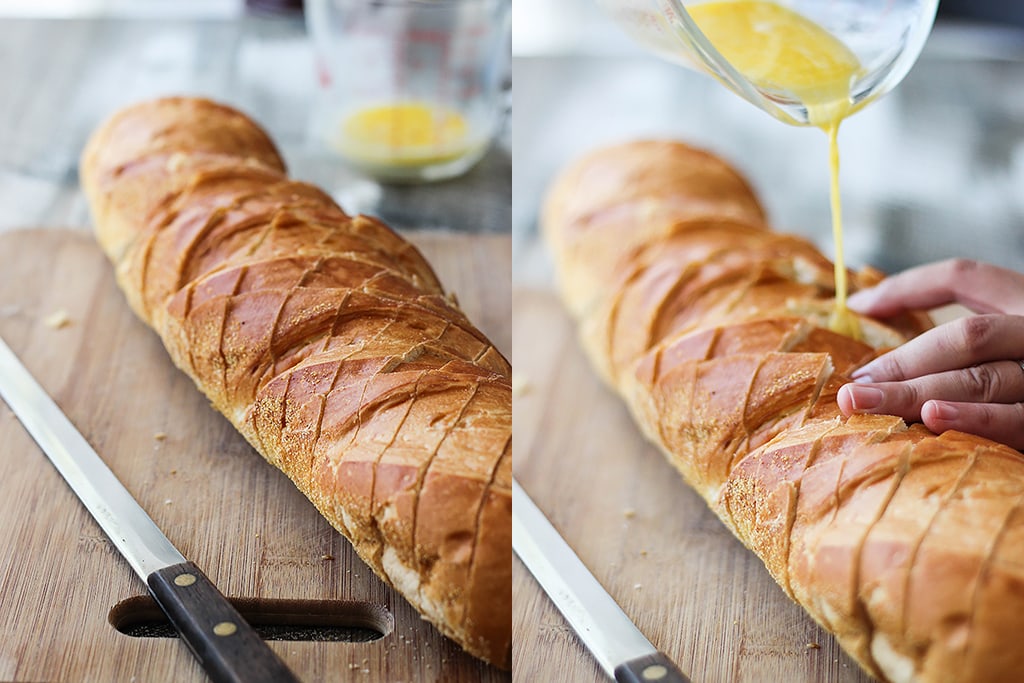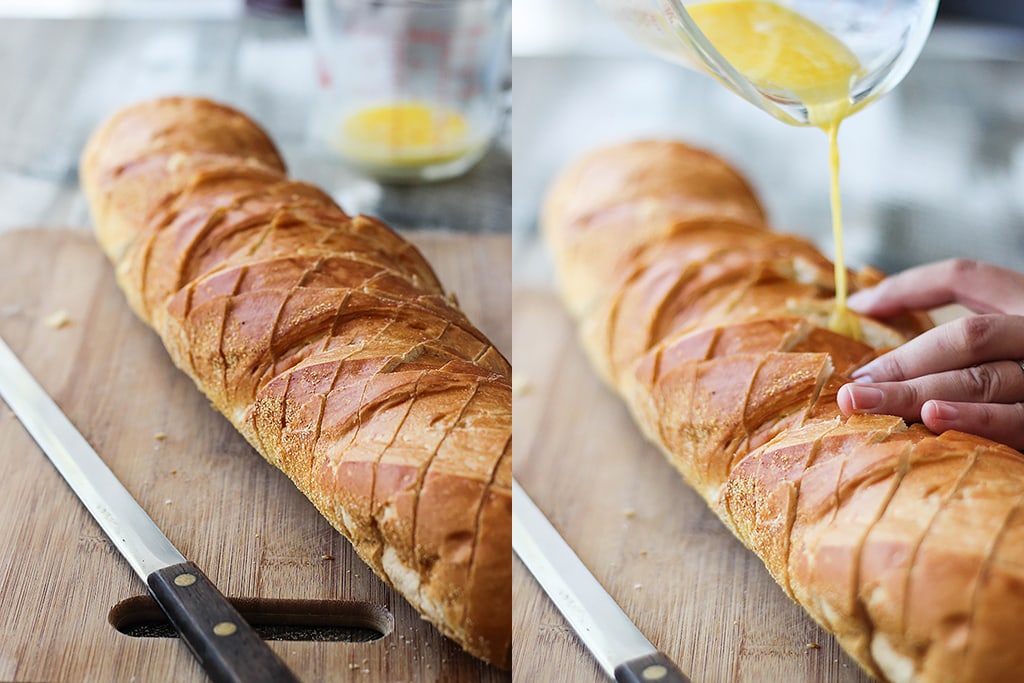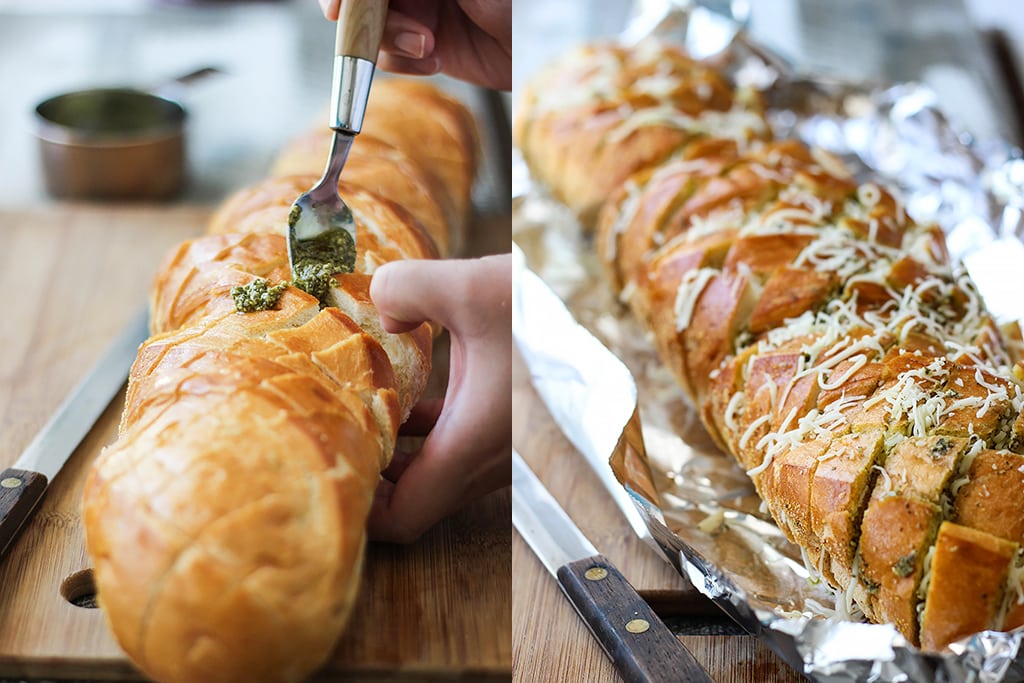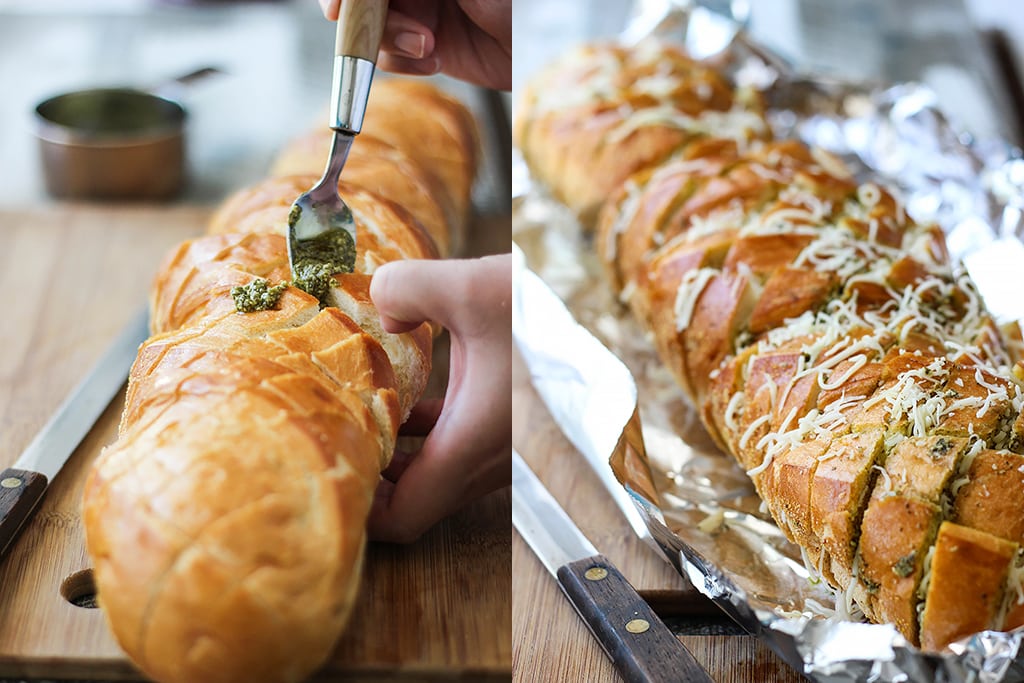 Melt some butter in the microwave and pour it evenly along the cuts of the baguette. Then start spreading your pesto. I started off using a spoon but switched over to a butter knife. It gives you more control over the spreading, at least for me.
It's great if you have two pairs of hands here, one to open up the bread and one to spread the basil. This might be a fun thing to do with your kids! But if it's just you in the kitchen, that's okay too. It'll just take a little longer. I used about half a cup of pesto but if you want a very strong pesto flavor, use one cup instead.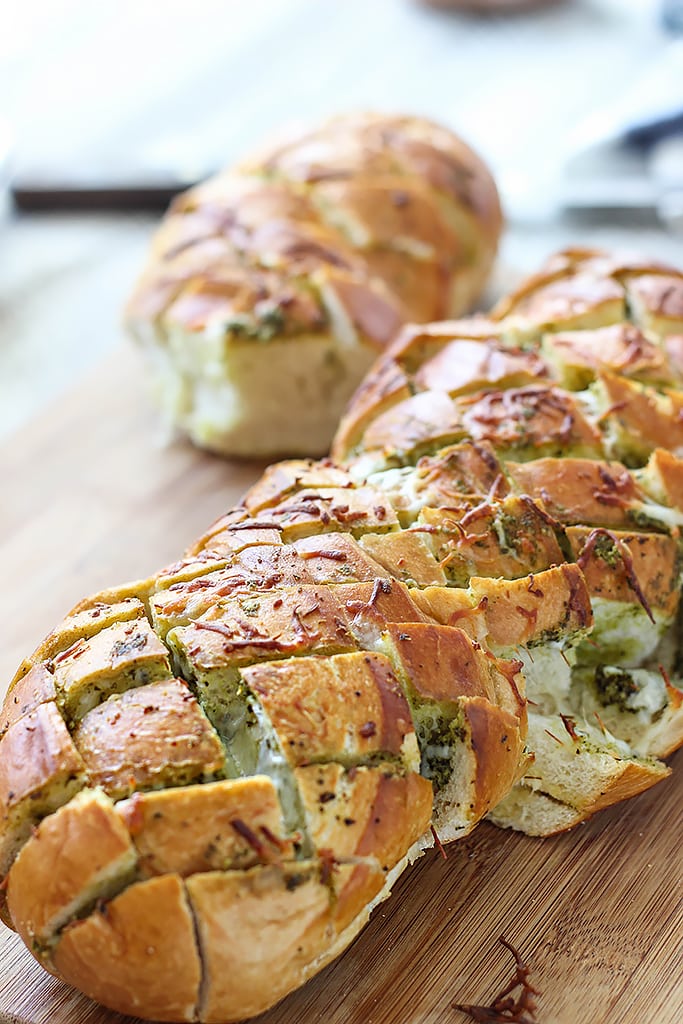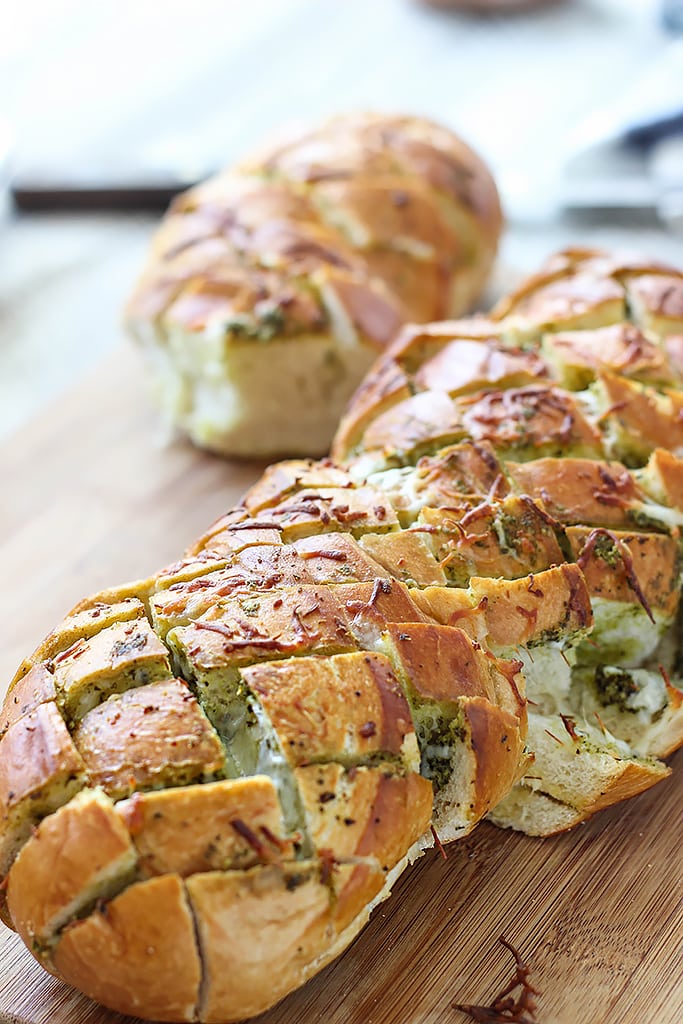 I found the cheese stuffing part to be the easiest step. I used an Italian blend with lots of melty cheese because we want strings. Lots and lots of cheese strings! It has mozzarella, provolone, romano, asiago and parmesan cheese.
Stuffing the cheese in between cuts ends up expanding the bread a little and this is where it starts looking good. This is a fun step because it's okay if you're messy.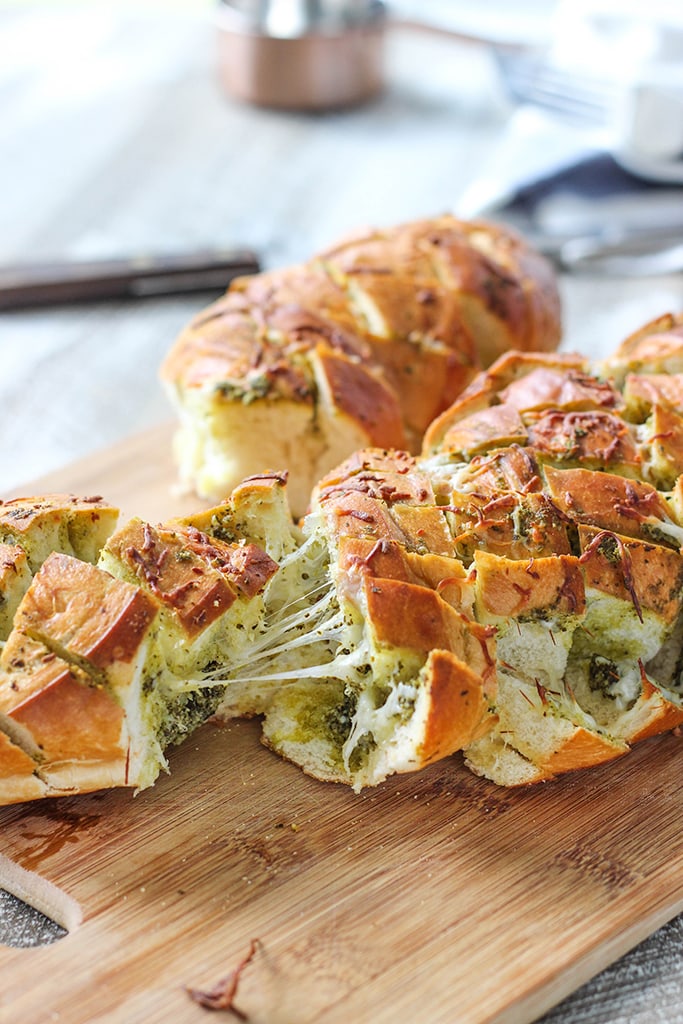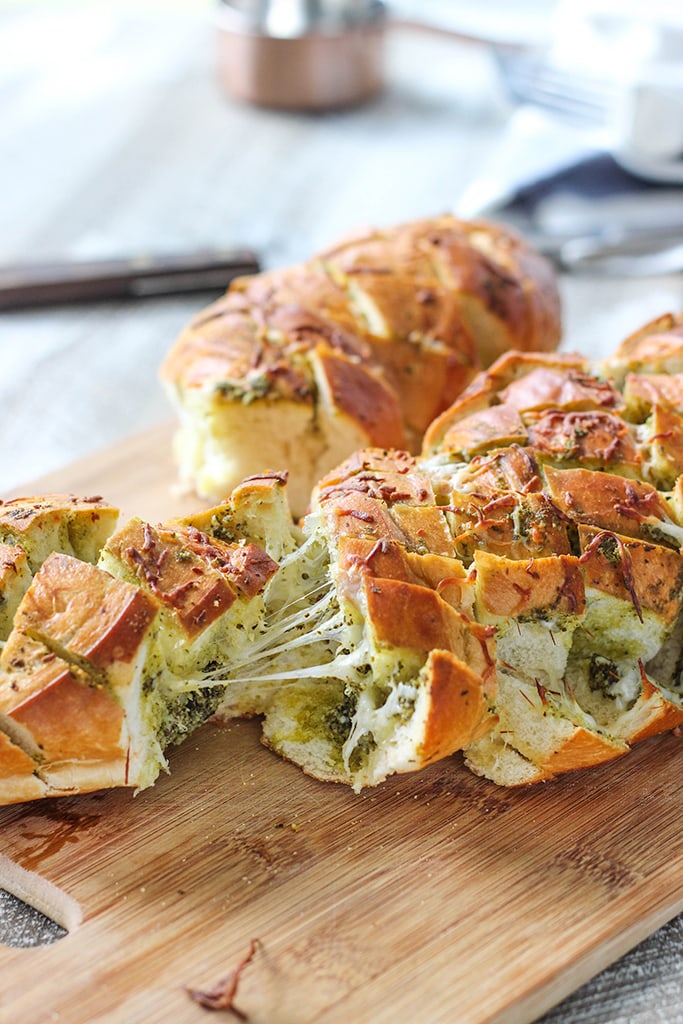 Then you wrap it up in aluminum foil and bake it for 15 minutes completely covered to warm the bread and melt the cheese. Then we open up the foil and expose the bread to bake for another 10 minutes. This is to add the crunch factor and is so worth it. Cheese + crunch = best appetizer ever!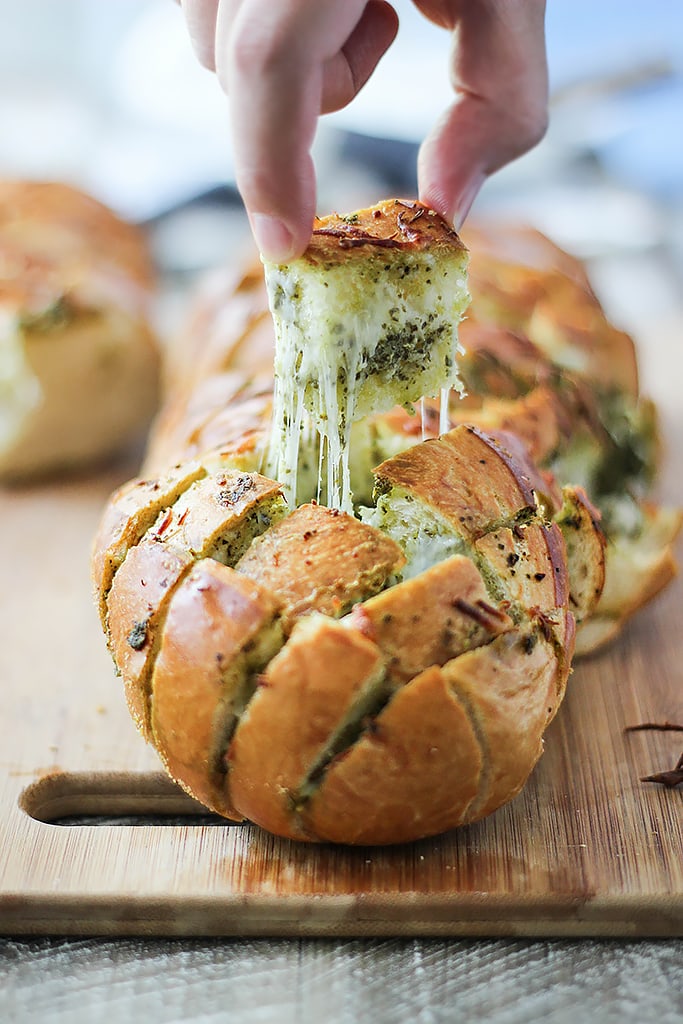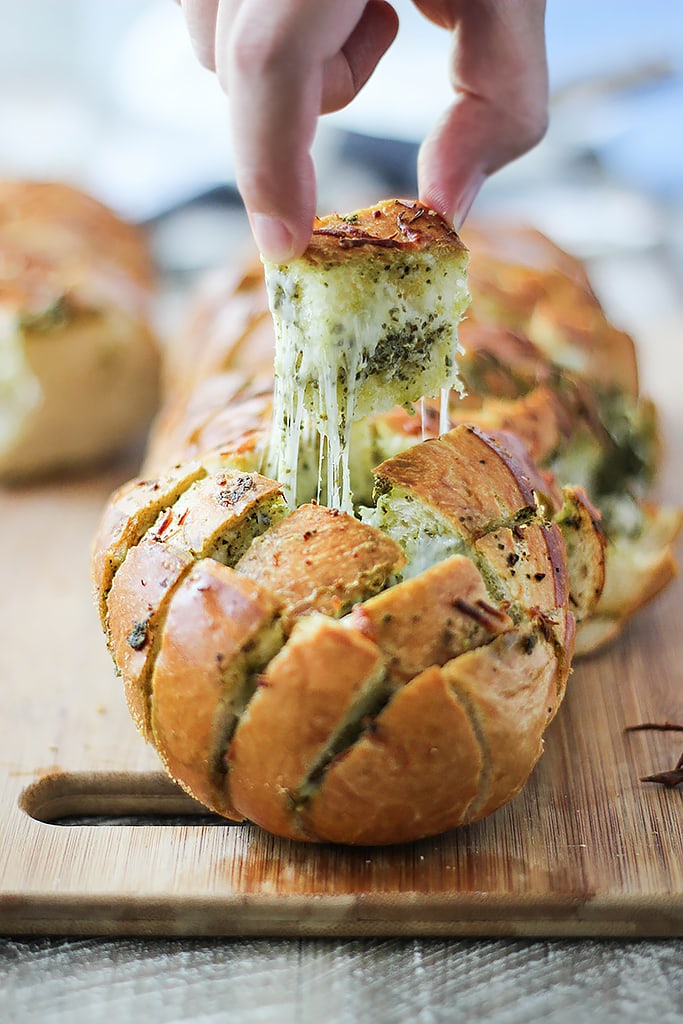 Remove from the oven and you're ready to serve! I advise waiting a couple of minutes, like ten or so for that sweet spot where it doesn't hurt to touch and eat it but it's still hot enough for a maximum melty string experience.
And you're ready to pounce! Just be careful with the oven and don't burn yourself like little ms. amateur here 😉
MORE BREAD APPETIZERS TO TRY
Did you make this recipe? Rate it!
♡ If you liked this recipe, giving it a star rating ★★★★★ in the comments below really helps! For more recipes, subscribe to my newsletter or follow me on Facebook, Instagram and Pinterest.
Print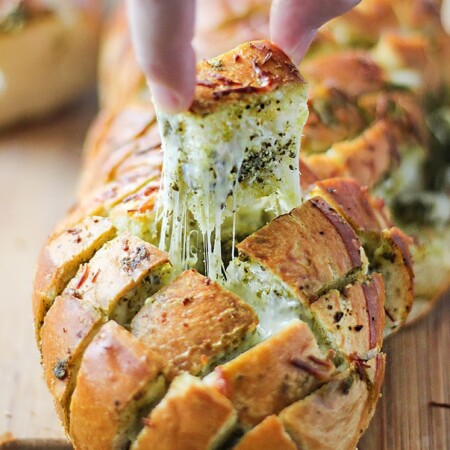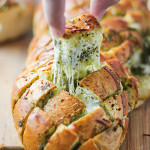 Cheesy Pesto Pull-Apart Bread
---
Author:
Total Time: 40 mins
Yield: 12 1x
Description
There's plenty of cheese action in this cheesy pesto pull-apart bread. Feed a crowd with this easy 4 ingredient appetizer.
---
1 baguette
1/2 cup butter, melted
1/2 cup pesto
1 1/2 cups Italian five cheese blend, shredded
---
Instructions
Using a serrated knife, make 1″ diagonal cuts across the baguette while leaving the bottom intact. Repeat by cutting it again in the opposite direction.
Pour the melted butter in between the cuts of the bread and distribute evenly.
Using a spoon or butter knife, spread the pesto along the cuts.
Transfer to aluminum foil and generously stuff the cheese in between cuts.
Wrap up completely in aluminum foil and bake at 375°F for 15 minutes.
Open up the foil to expose the bread and bake for another 10 minutes to make it crunchy.
Remove from oven and let it sit for 10 minutes.
Dish and serve warm.
Enjoy!
Notes
Scroll up to RECIPE TIPS for more useful tips, suggestions and ingredient substitutions.
Prep Time: 15 mins
Cook Time: 25 mins