Enjoy a crispy hash brown crust in this hash brown breakfast quiche filled with custard, zucchini, mushrooms and bacon!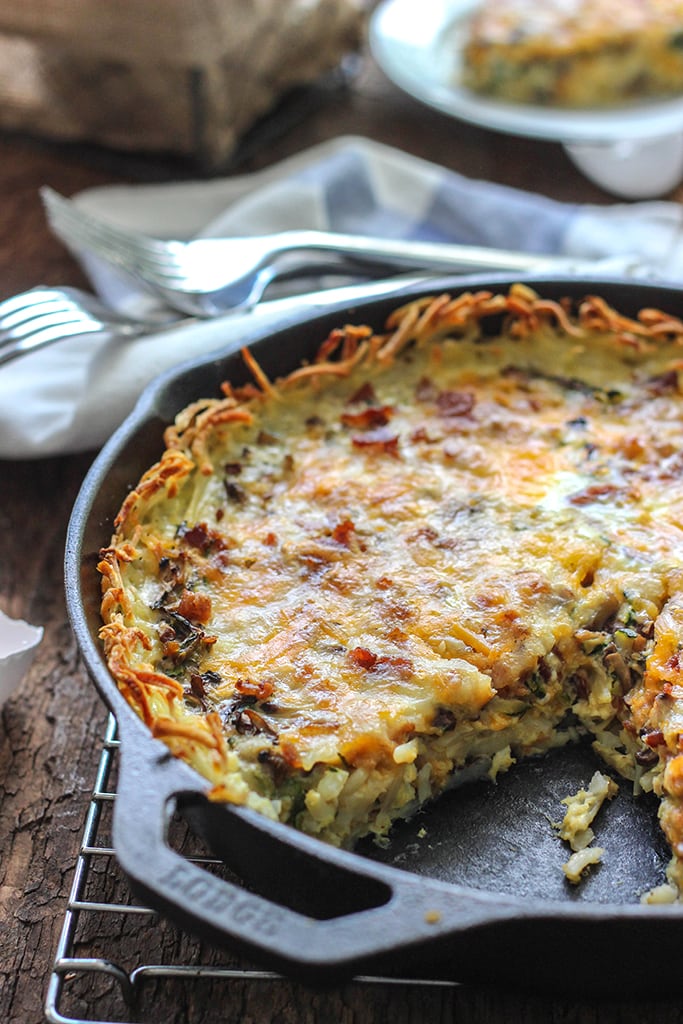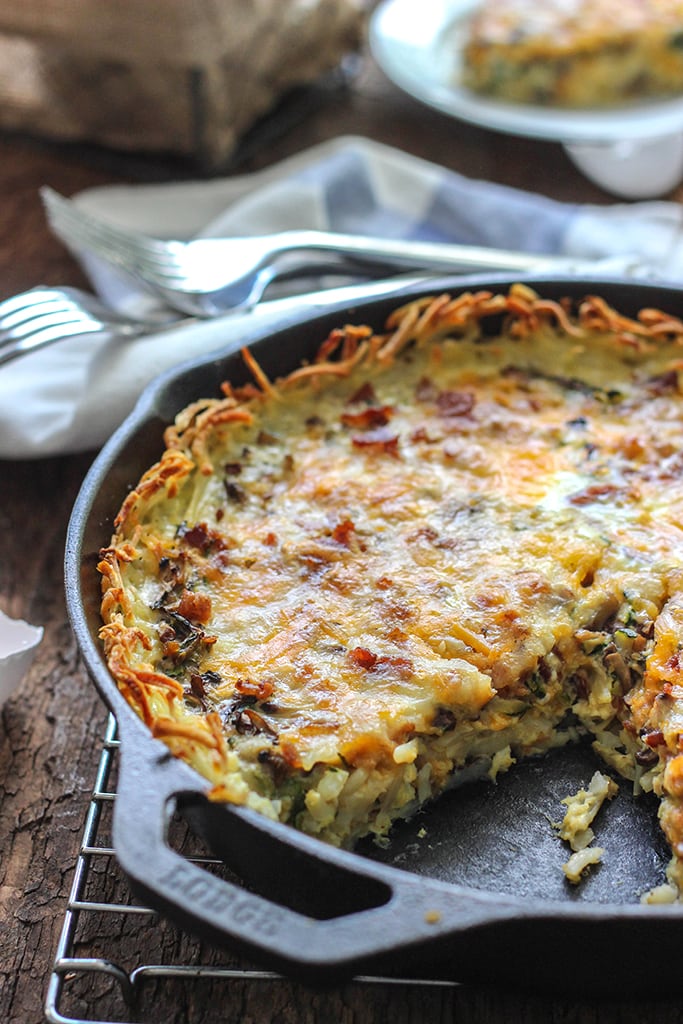 I'm pretty excited about this recipe. I've always loved a good spinach quiche but just never got around to actually trying my hand at making one. So today we're doing an early morning spin on the traditional quiche with a hash brown breakfast quiche. Because everyone loves hash browns!
This delicious breakfast quiche is made with a shredded hash browns crust instead of a traditional pie crust. It's like a bigger, quiche version of hash brown egg nests! You can even prep it the day before because not everyone likes mucking about the kitchen for an hour in the morning. So this is good for a make-ahead breakfast for those busy or lazy mornings.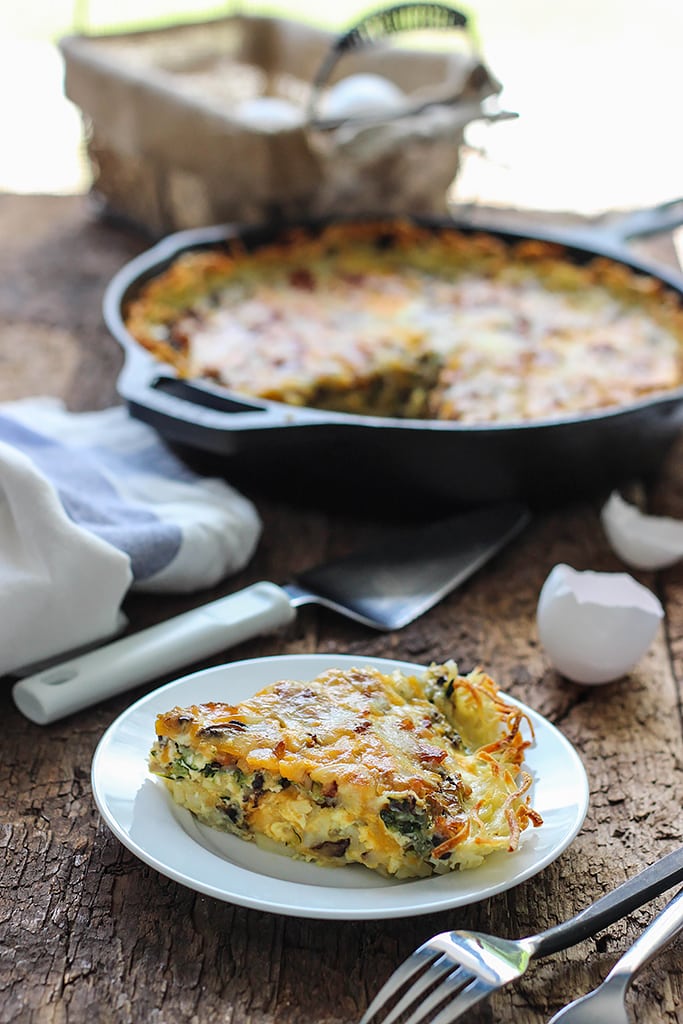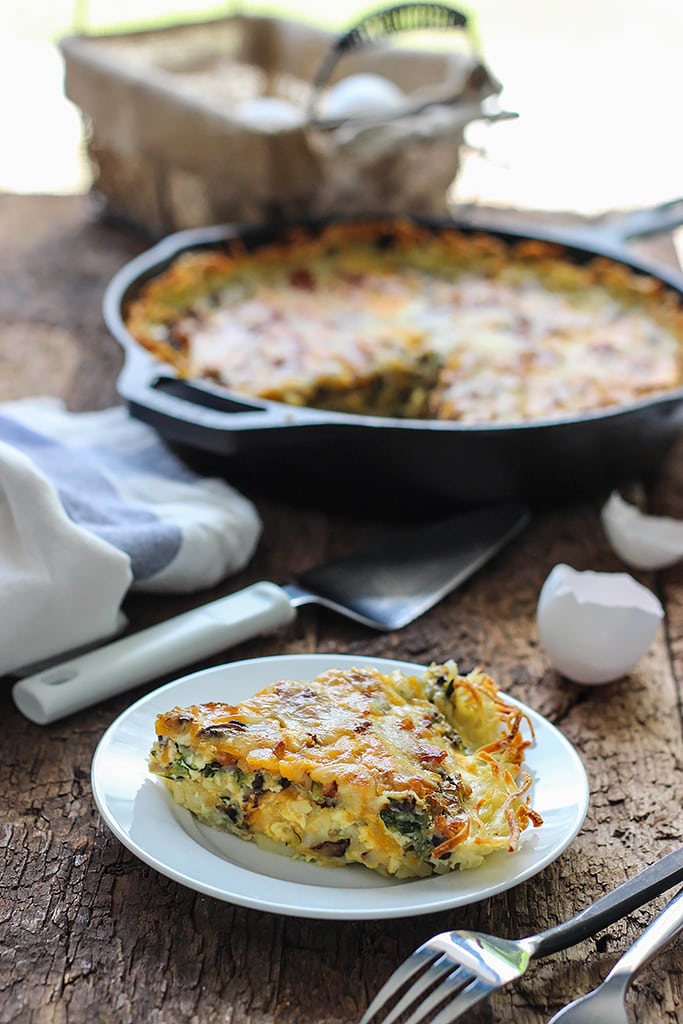 For more breakfast ideas try out this easy hamburger quiche or a cheesy sausage hash brown breakfast casserole (great for Thanksgiving and Christmas mornings). Or if you like making your breakfast with a muffin pan, try some healthy egg white muffin breakfast cups or these on-the-go breakfast muffins. In the meantime, let's make a breakfast quiche!
How To Make Hash Brown Breakfast Quiche (1 Min Video)
What You Need For Hash Brown Breakfast Quiche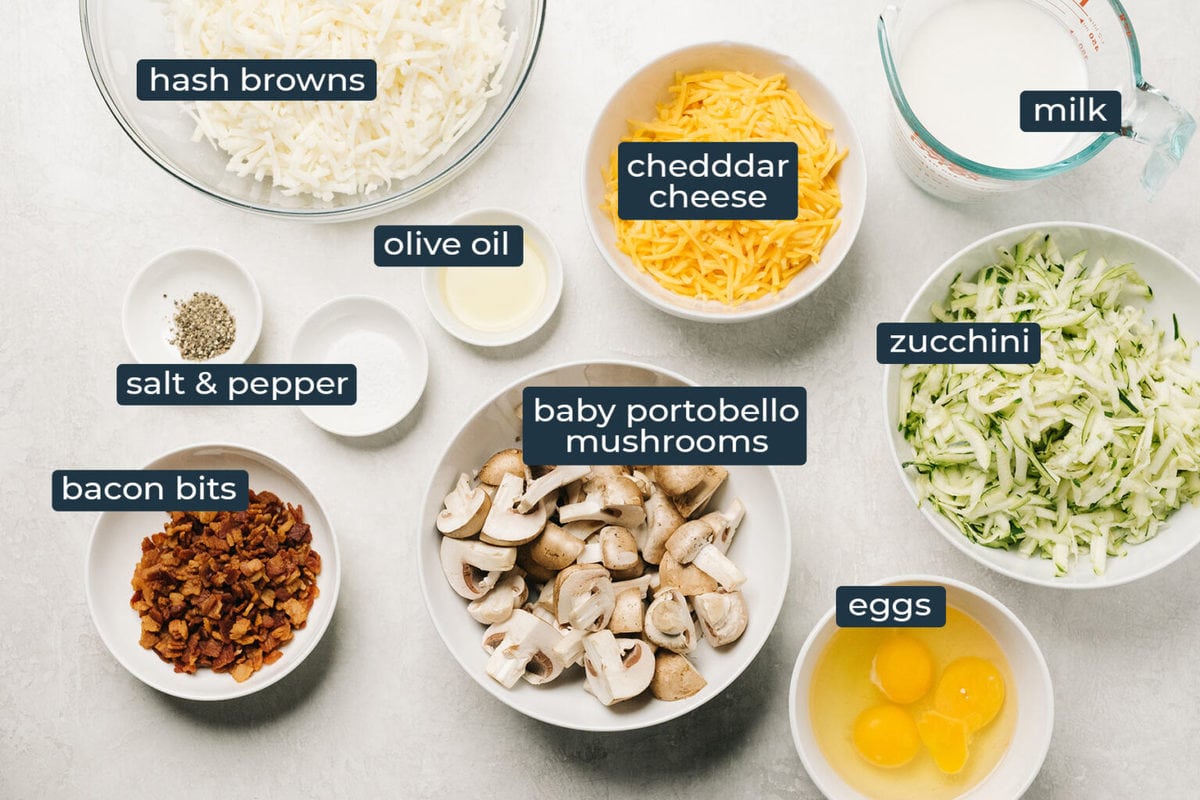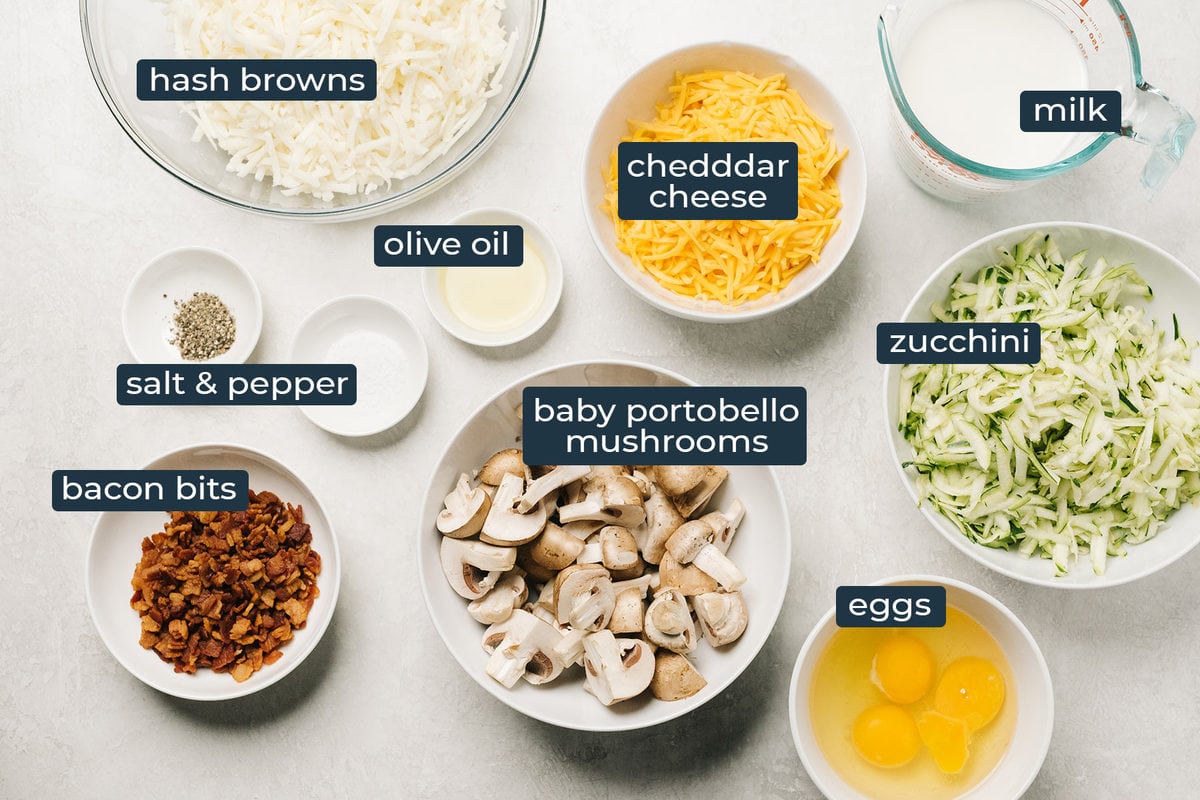 HASH BROWN BREAKFAST QUICHE RECIPE TIPS
Grease the pan before packing it tightly with the hash brown mixture. You'll want the hash brown shreds to resemble a pie crust, so pack it on the bottom and the sides with your fingers. I also used the back of a spoon and pressed along the edges to lift the sides up a little more.
It's okay to be messy. The important thing is to make sure the bottom of the pan is completely covered. Then we blind bake the crust which is pretty much just baking the crust without the filling. We do this so the crust isn't soggy and stays firm once it's baked with the filling and custard.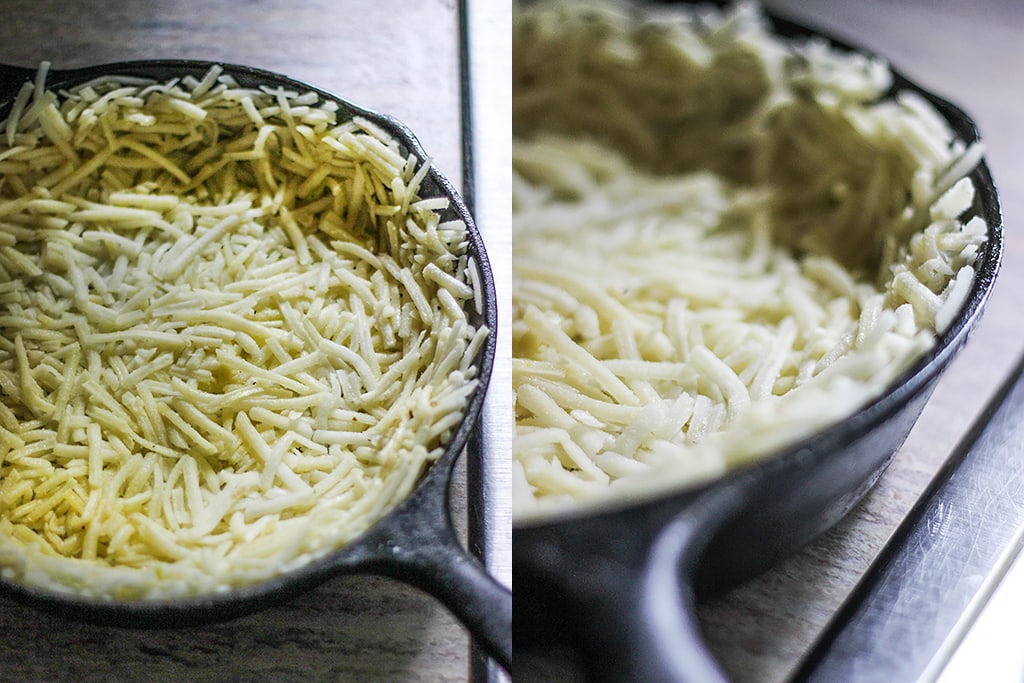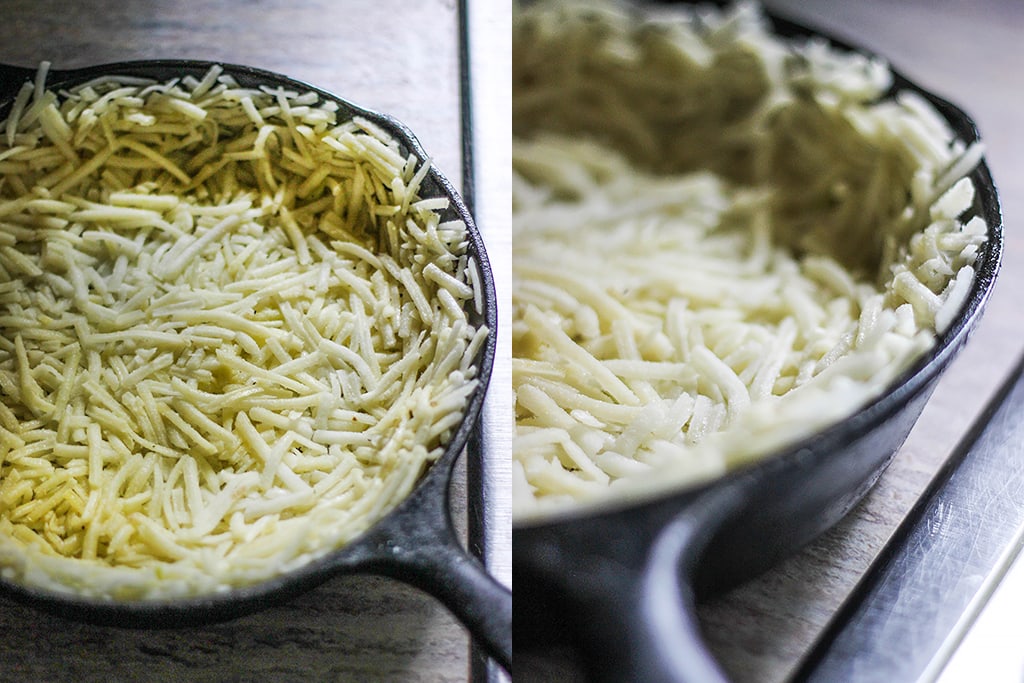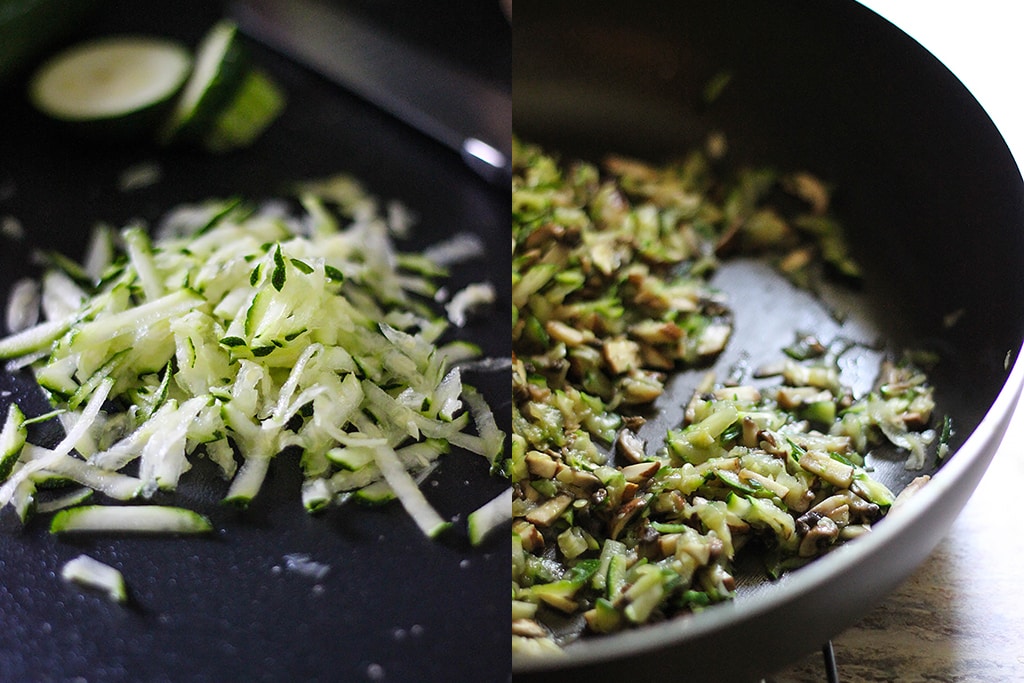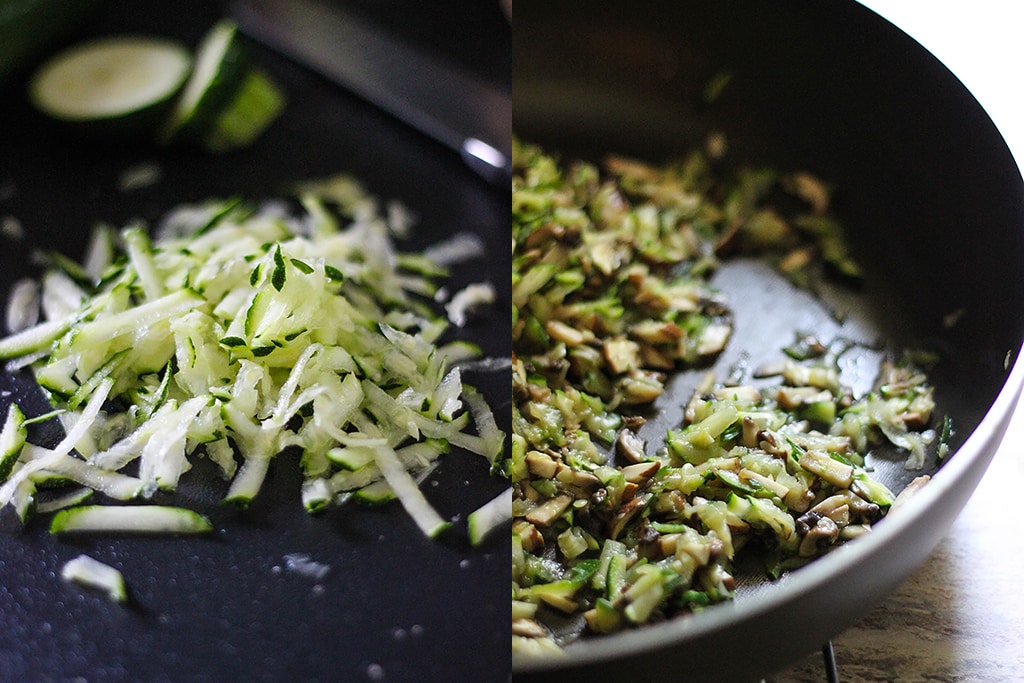 While that's baking, we start sauteing the zucchini and mushrooms. Don't worry if the mushrooms look super bulky, they will shrink once cooked down. When that's done, drain off any excess liquid since you'll want the veggies nice and dry so they don't dilute the custard. 
Zucchini has a ton of water content so they are a huge culprit in retaining moisture. Sauteing them should take care of it a little, but you can always squeeze any excess moisture out with a mesh strainer. After it's all said and done, you should end up with about two cups worth of cooked-down veggies for the filling.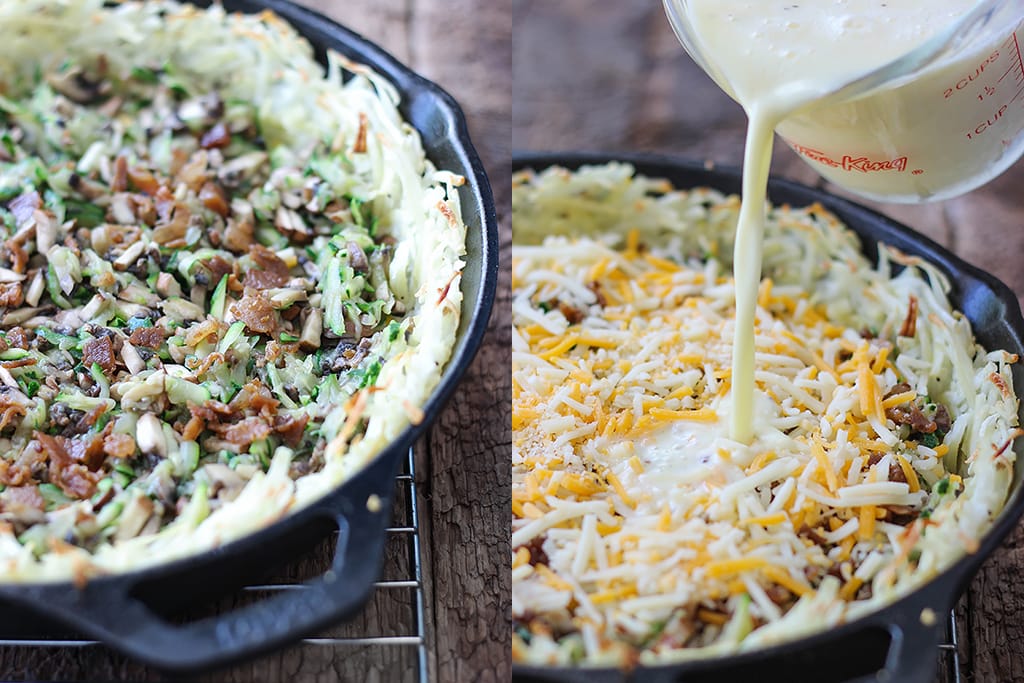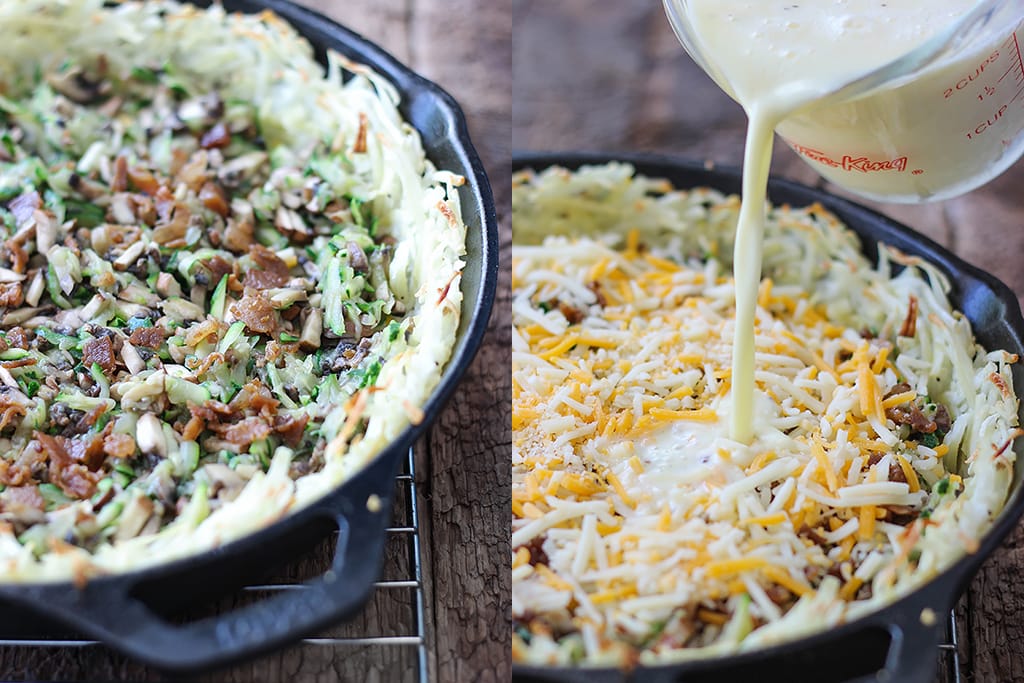 Once the hash brown crust is done blind baking, spread a layer of cheddar cheese on it. Then we top it with the cooked veggies and some bacon bits.
Finish with another layer of cheese for a rich and cheesy quiche. I used 1 1/2 cups of cheese in this recipe and divided it in half. You can opt for 2 cups of cheese instead for a richer quiche, or skip the cheesy top layer for a lighter, healthier version.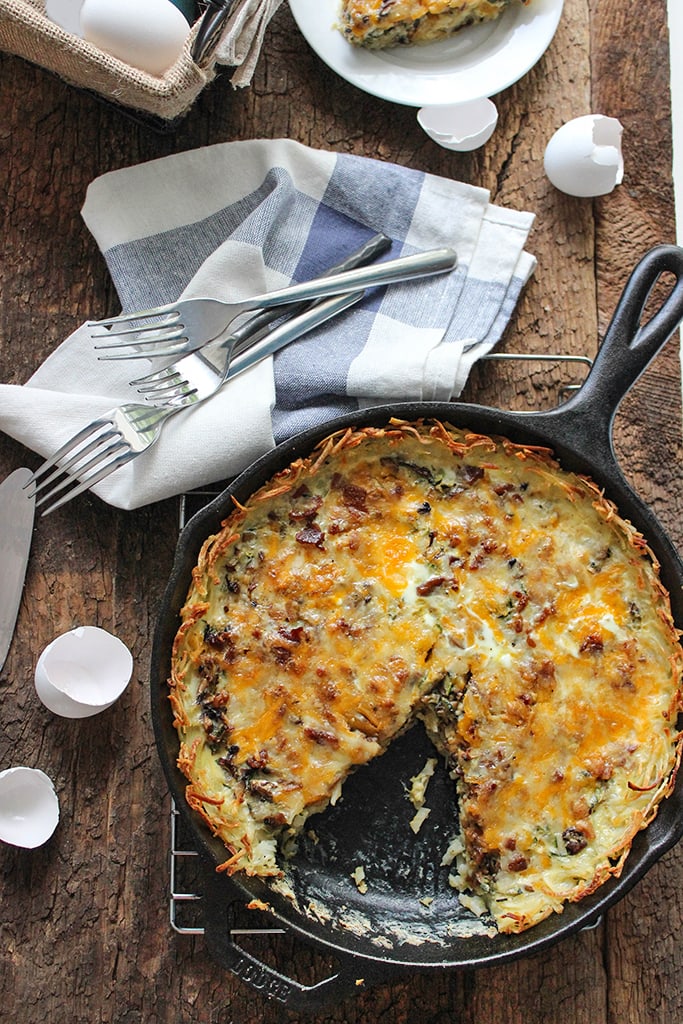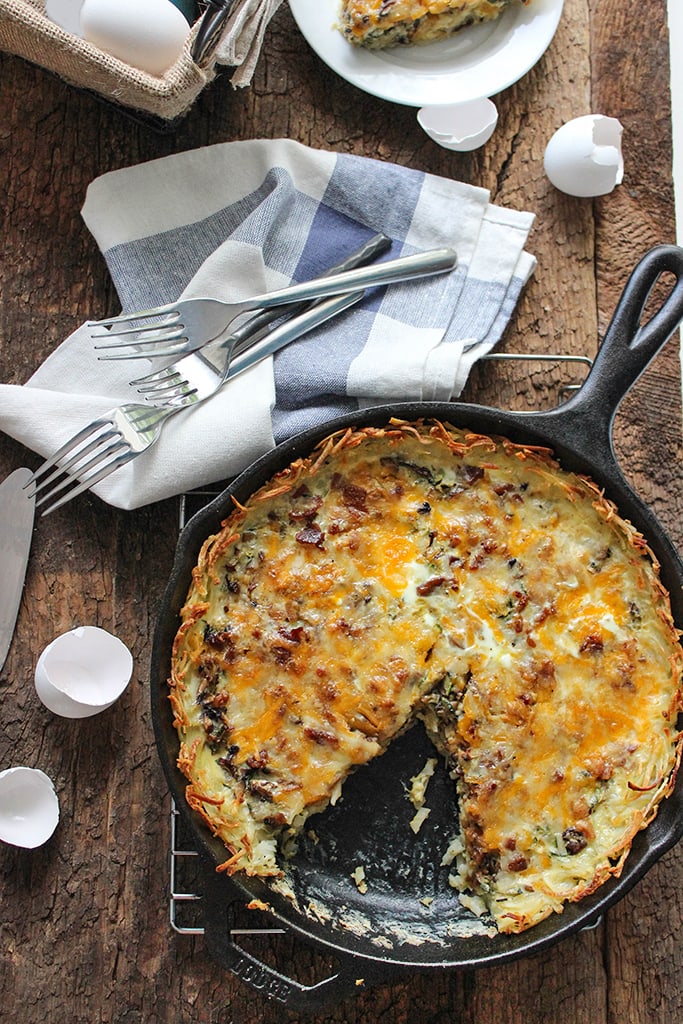 Then we make the custard by combining the eggs and milk with salt and pepper to taste. Whisk, whisk, whisk until it's frothy! A good rule of thumb for a nice quiche is to have a ratio of two eggs to one cup of milk. Pour the custard over the fillings and you're ready to bake the final time!
Baking will take some time to allow the custard to set. You'll know it's done when a butter knife inserted in the center of the quiche comes out clean. Let it cool down a little before slicing and serving since it'll need some time to set.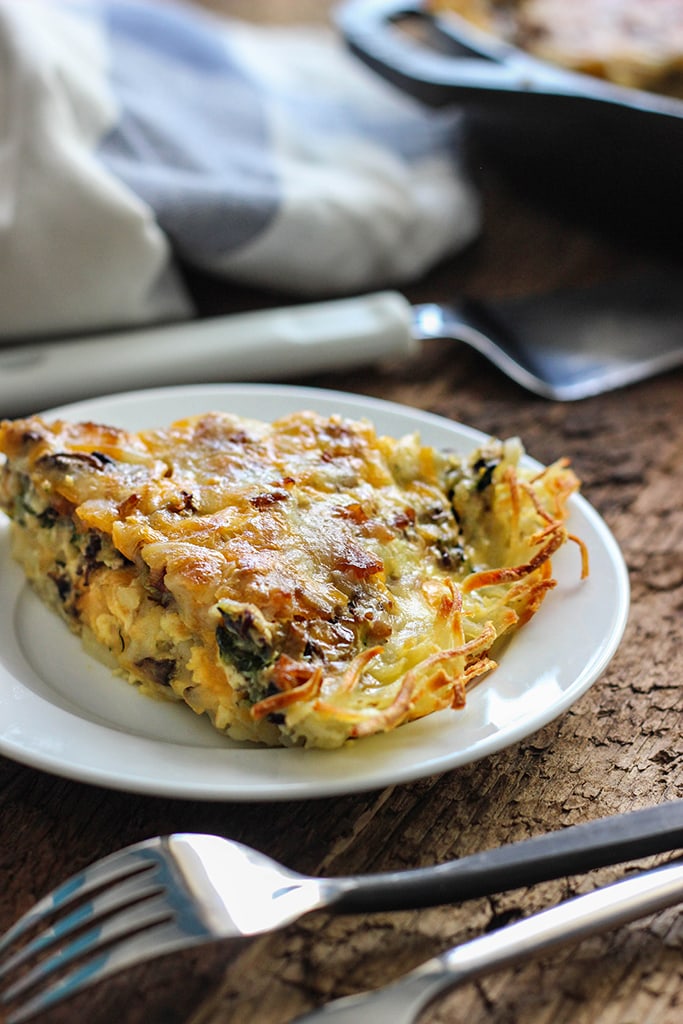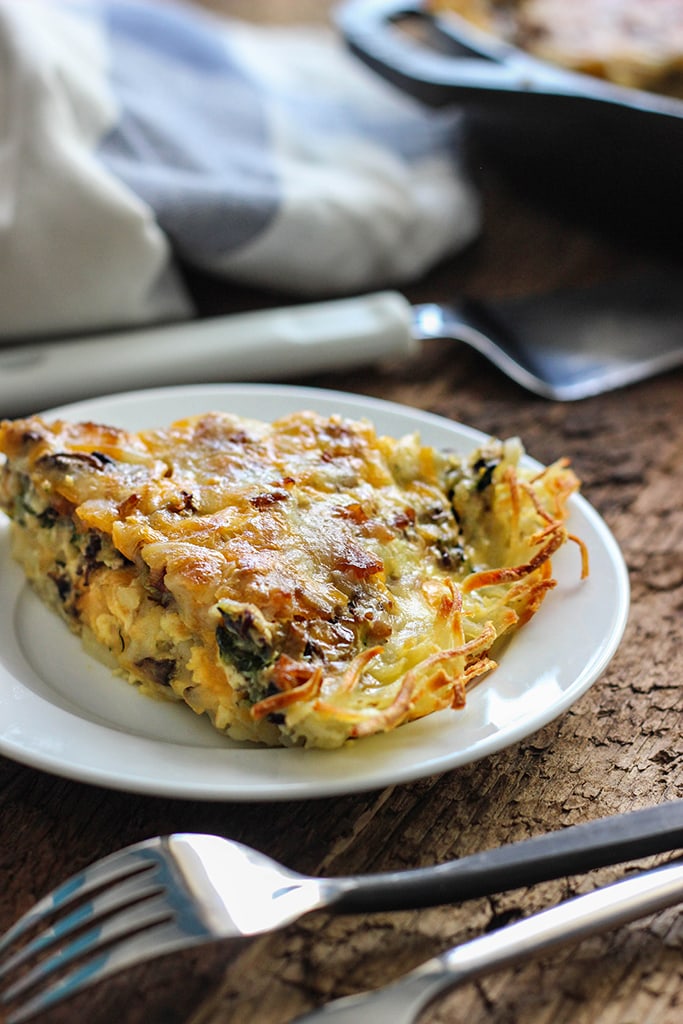 The good news is this breakfast quiche is really versatile. You change your fillings with whatever you have in the fridge. Some ideas are fresh bell peppers, leeks, or spinach. Just make sure the fillings don't have a ton of moisture content and come up to about two cups worth of filling so there's room for the custard.
And that's it. Happy brunching and let me know what fillings you ended up using in the comments below.
MORE BREAKFAST RECIPES TO TRY
Print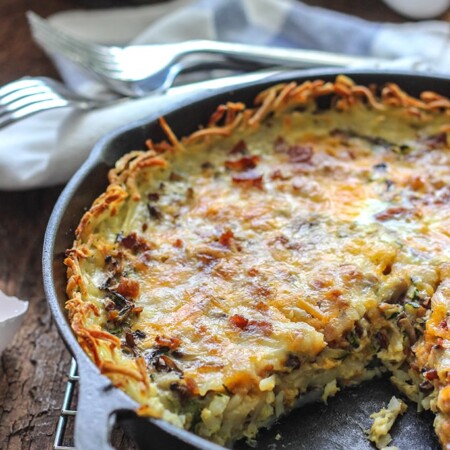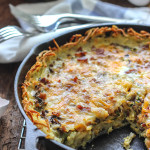 Hash Brown Breakfast Quiche
---
Author:
Total Time: 1 hour 20 mins
Yield: 8 1x
Description
Enjoy a crispy hash brown crust in this hash brown breakfast quiche filled with custard, zucchini, mushrooms and bacon!
---
15 oz. frozen hash browns, shredded and slightly thawed
3 tablespoons olive oil, divided
Salt and pepper to taste
1/2 cup bacon bits
1 zucchini, coarsely shredded
8 oz. baby portobello mushrooms, diced
3 large eggs
1 1/2 cups milk
1 1/2 cups cheddar cheese, divided
---
Instructions
Mix the hash browns, 1 tablespoon olive oil and salt and pepper to taste in a large mixing bowl.
Grease a 10″ oven-safe skillet or pie dish and add the hash brown mixture, pressing down to pack it tightly on the bottom and sides to form a pie-like crust.
Bake at 425°F or until the edges have browned, about 25 minutes.
Over medium-high heat, saute zucchini and mushrooms in 2 tablespoons of olive oil for about 5 minutes until tender. Drain any excess liquid.
Once the hash brown crust has finished baking, spread half of the cheddar cheese along the bottom of the crust.
Arrange bacon bits, zucchini and mushrooms in the pan and top with remaining cheddar cheese.
Combine eggs, milk and salt and pepper to taste and whisk until frothy.
Pour the egg mixture into the crust.
Bake for 40-50 minutes at 350°F or until a knife inserted in the center comes out clean.
Let it cool for at least 10 minutes before serving.
Enjoy!
Prep Time: 15 mins
Cook Time: 65 mins