This cheesy sausage hash brown breakfast casserole is a 5-star breakfast or brunch that can be prepped and baked the next morning.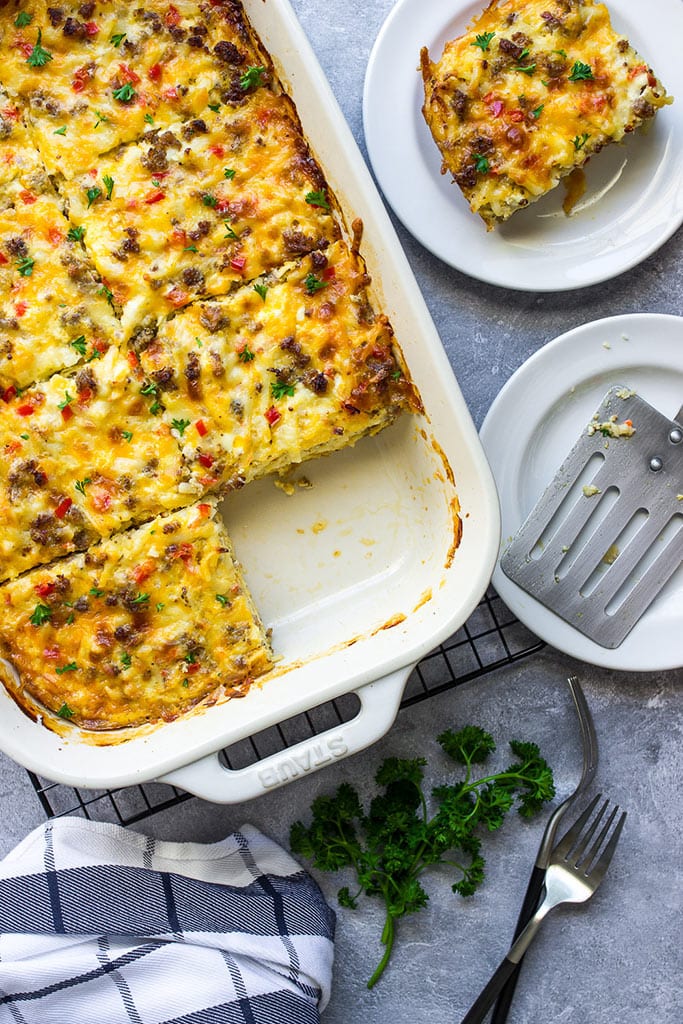 Today we'll be baking a cheesy sausage hash brown breakfast casserole for the ultimate make-ahead lazy morning meal. Combine frozen hash brown potatoes with sausage, eggs, cheddar cheese and flavor it with some sour cream and mustard for this hearty breakfast casserole.
Since you can make it ahead of time, it's perfect when you need to feed a crowd first thing in the morning. Think of Christmas or Thanksgiving mornings, or when you want that weekend brunch with friends. It even works with smaller groups or couples because just like hash brown egg nests or on-the-go breakfast muffins, leftovers taste just as good. So let's get started.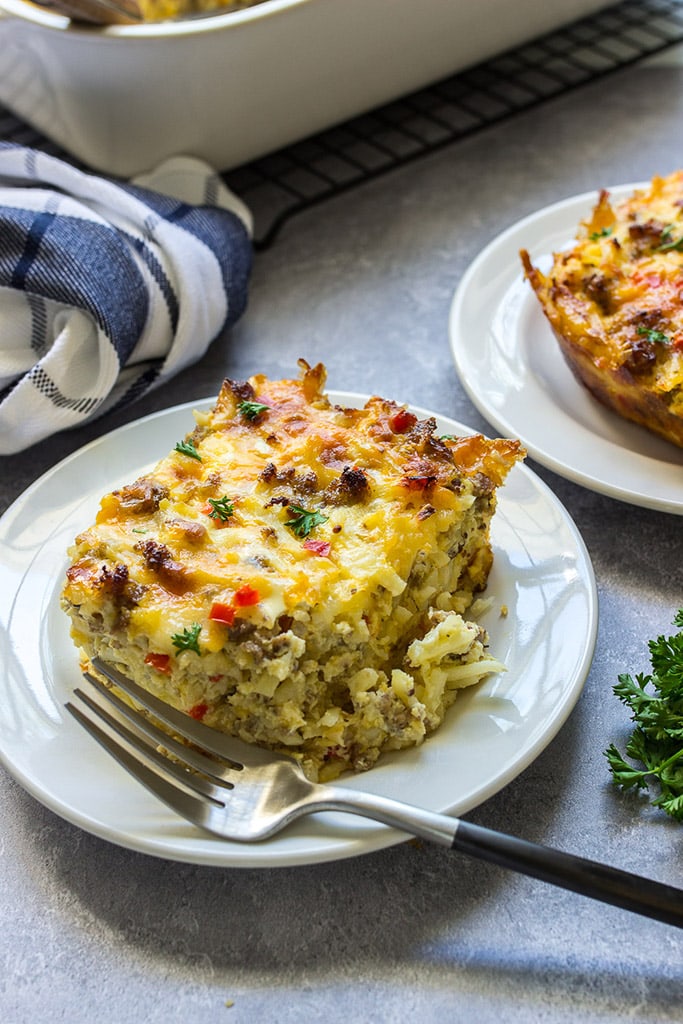 CHEESY SAUSAGE HASH BROWN BREAKFAST CASSEROLE RECIPE TIPS
Prep in advance – To make this in advance, cover and refrigerate overnight but let it sit at room temperature on the counter for about 30 minutes before baking the next day. Depending on your oven, you may have to increase cooking time by 5-10 minutes. The best way to check if it is done is to insert a knife into the middle of the casserole. If it comes out clean, it is done cooking.
Sausage – I used Jimmy Dean's sage sausage but you can use any kind of sausage for this recipe. You won't need any oil to brown it as it will eventually render and cook in its own fat. The quickest way to break up clumps is to use a meat masher once the sausage has fully browned. Depending on what brand of sausage you use, you might need to drain any fat from the pan.
Bell peppers – I went with red bell peppers but you can go for green or yellow or a combination of all three. For an easier way to add a splash of color, try using pre-packaged baby bell peppers.
Spice it up – If you want to spice things up a little, try adding some hot sauce or diced jalapeños to the egg mixture. Another suggestion would be to add some smoked paprika.
Load it up – For even more flavor, try adding some bacon bits or chorizo.
Mustard – Use any kind of mustard you have in your fridge like spicy, honey, Dijon, or coarse. I used some leftover coarse ground mustard I had sitting around from making this honey mustard salmon recipe.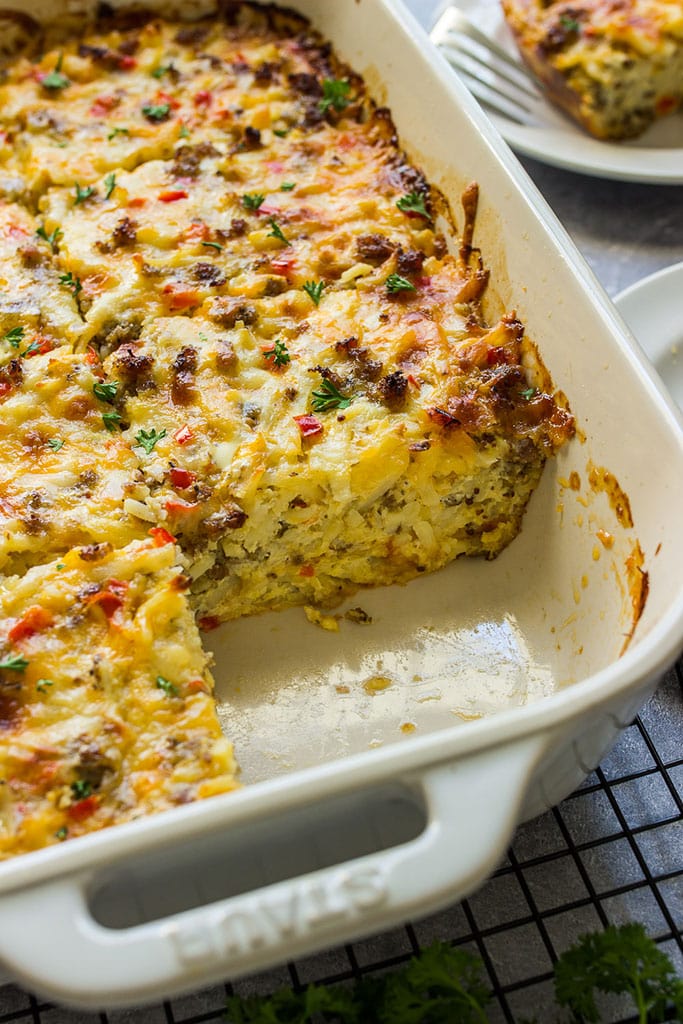 Sour cream – I added sour cream and mustard to give it more flavor but if you don't like sour cream, skip it and add another 1/2 cup of milk to the egg mixture instead.
Cheese – I used a triple cheddar mix with Vermont white cheddar, sharp cheddar, and mild cheddar cheese. You can mix it up with other cheese blends like Mexican cheese or Italian cheese.
Toppings – Add some color or freshness with chopped green onions or parsley. You can also incorporate these directly into the casserole.
Freezing – After baking, the casserole can be frozen for up to 2-3 months. To reheat from frozen, thaw it overnight in the fridge and reheat in the microwave or oven. To freeze before baking, assemble the casserole, cover and freeze for up to 2 months. Defrost a day before and let it sit out at room temperature for 30 minutes before baking according to the recipe instructions.
Leftovers – Store leftovers in the fridge for 3-4 days. Reheat them in the microwave, oven, or air fryer.
Reheating in the oven – Place the casserole in a baking dish. Cover with foil and bake at 350°F for 20-30 minutes or until warmed through.
Reheating in the air fryer – Preheat your air fryer to 350°F and air fry for 3-5 minutes until warmed through.
And that's about it. Save some room for this because it's so filling and hearty and you will want to finish the whole plate. Enjoy, happy crunching and let me know how you liked it in the comments below!
MORE BREAKFAST RECIPES TO TRY
Did you make this recipe? Rate it!
♡ If you liked this recipe, giving it a star rating ★★★★★ in the comments below really helps! For more recipes, subscribe to my newsletter or follow me on Facebook, Instagram and Pinterest.
Print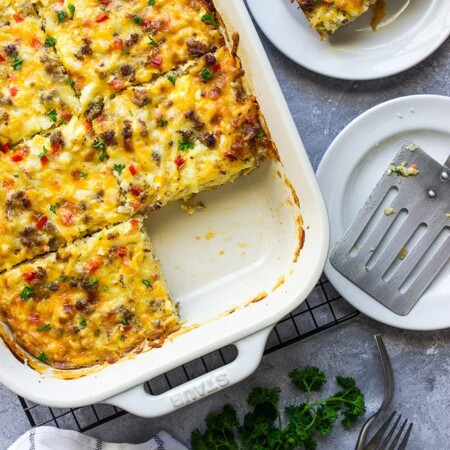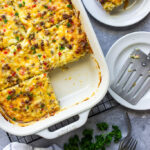 Cheesy Sausage Hash Brown Breakfast Casserole
---
Author:
Total Time: 1 hour 5 minutes
Yield: 8 1x
Description
This cheesy sausage hash brown breakfast casserole is a 5-star breakfast or brunch that can be prepped and baked the next morning.
---
20 oz. shredded hash browns, thawed
1 lb. sausage
2 cups cheddar cheese, shredded and divided
1/2 medium yellow onion, diced
1 medium red bell pepper, diced
8 large eggs
1 cup milk
8 oz. sour cream
2 tablespoons mustard
Salt & pepper to taste
---
Instructions
Over medium-high heat, brown the sausage and break up any clumps.
Add onions and bell pepper. Sauté until onions are fragrant and bell peppers are soft, about 3 minutes.
Combine eggs, milk, sour cream, mustard and salt and pepper to taste and whisk until smooth.
Combine shredded hash browns, cooked sausage mixture and 1 1/2 cups cheddar cheese in a large mixing bowl. Mix thoroughly before transferring to a 9×13 casserole dish.
Pour in egg mixture and top with remaining 1/2 cup of cheddar cheese.
Bake uncovered at 375°F for 45 minutes or until a knife inserted into the center comes out clean.
Let it cool for 5 minutes before serving.
Enjoy!
Notes
If refrigerated overnight, let it stand at room temperature for 30 minutes before baking. Depending on the oven, you might need to add 5-10 minutes of bake time.
Scroll up to RECIPE TIPS for more useful tips, suggestions and ingredient substitutions.
Prep Time: 10 mins
Cook Time: 55 mins