Enjoy the sweet and tangy glaze on this 8-minute air fryer honey mustard salmon for a quick and flavorful healthy seafood dinner.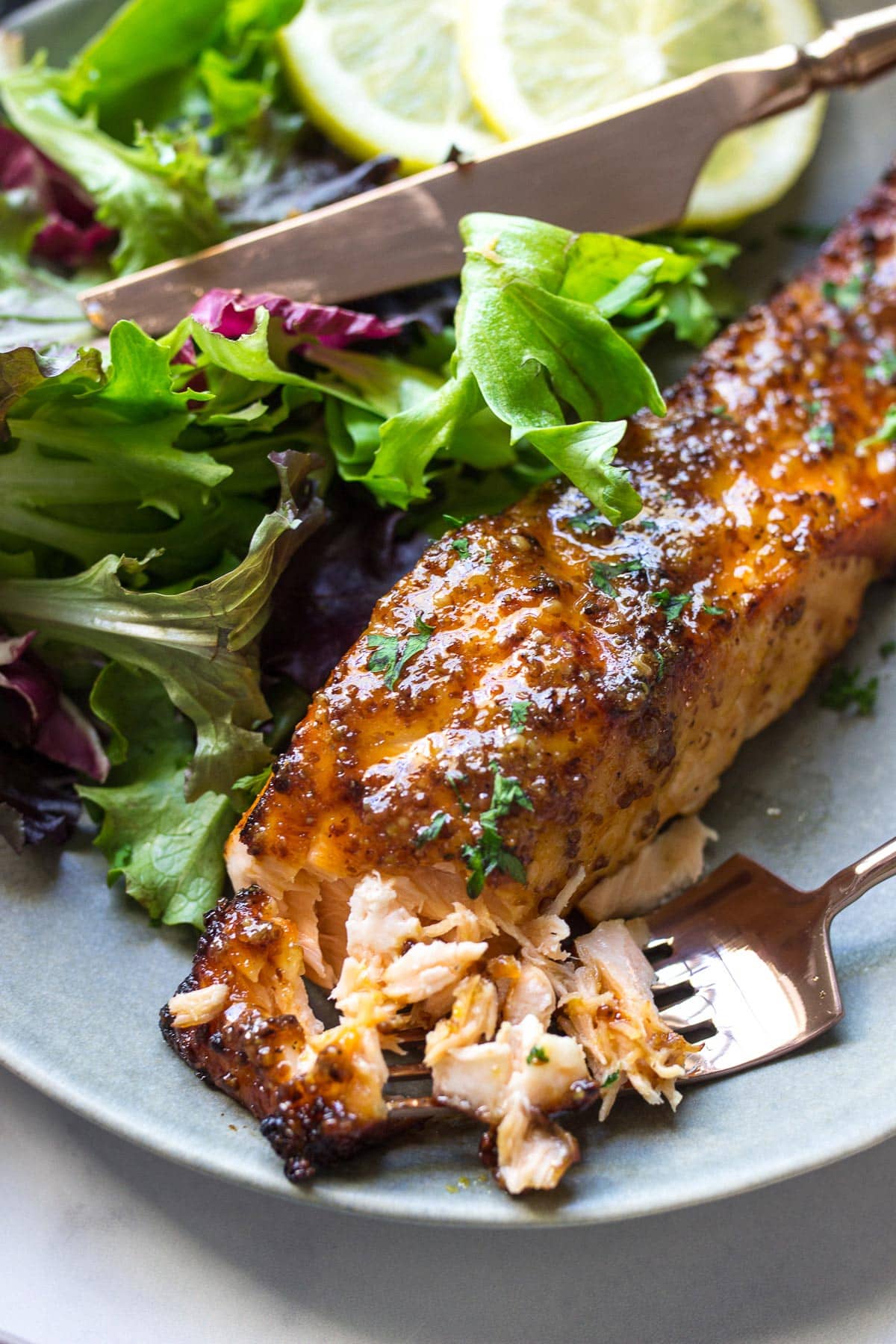 Today we're making some air fryer honey mustard salmon. This literally took me 8 minutes of total time to cook with some air fryer broccoli. Pair it with some rice, mashed potatoes or cauliflower, or some quinoa and you have yourself a well-balanced and delicious dinner.
What I liked about this was the combination of honey and whole-grain mustard with some paprika to give it a sweet, tangy and slightly smoky glaze. The texture in the whole grain mustard was a great addition to the sauce and the splash of lemon juice tossed in adds some freshness. We like to throw this in rotation with air fryer honey garlic salmon during the week for some variety. Let's get started.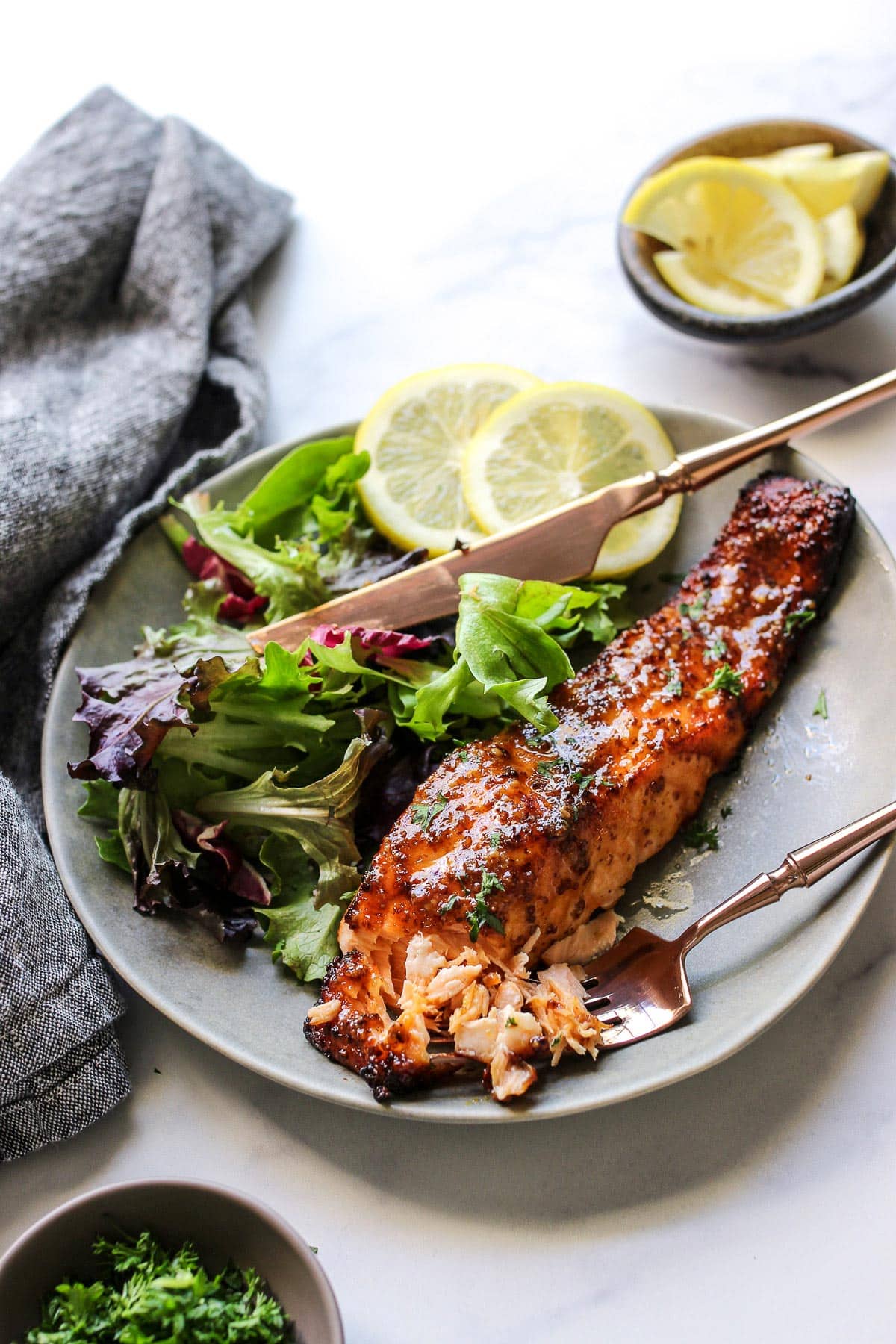 How To Make Air Fryer Honey Mustard Salmon (1 Min Video)
AIR FRYER HONEY MUSTARD SALMON RECIPE TIPS
‣ Air fryer – I have two types of air fryers. I use the 10 qt. oven-style air fryer for bigger meals with proteins on one tray and veggies on the other and the egg-shaped smaller capacity air fryer for quick meals. I've tested this recipe with both types of air fryers.
‣ Salmon – I used about two 5 oz. fillets for this meal but you can go up to 8 oz. without breaking the recipe. You can tell the salmon is done cooking when it is no longer translucent (red or raw) but opaque (pink). If the salmon flakes easily when pressed down gently with your finger or a fork (aka it separates easily along the white lines that run across the fillet), it is cooked! Alternatively, you can use a meat thermometer. FDA recommends cooking fish to an internal temperature of 145° F.
‣ Sauce – Divide the sauce and marinate with 2/3 of the sauce leaving a little left to drizzle after cooking. I like to drizzle it with a spoon and use the back of the spoon to coat it evenly.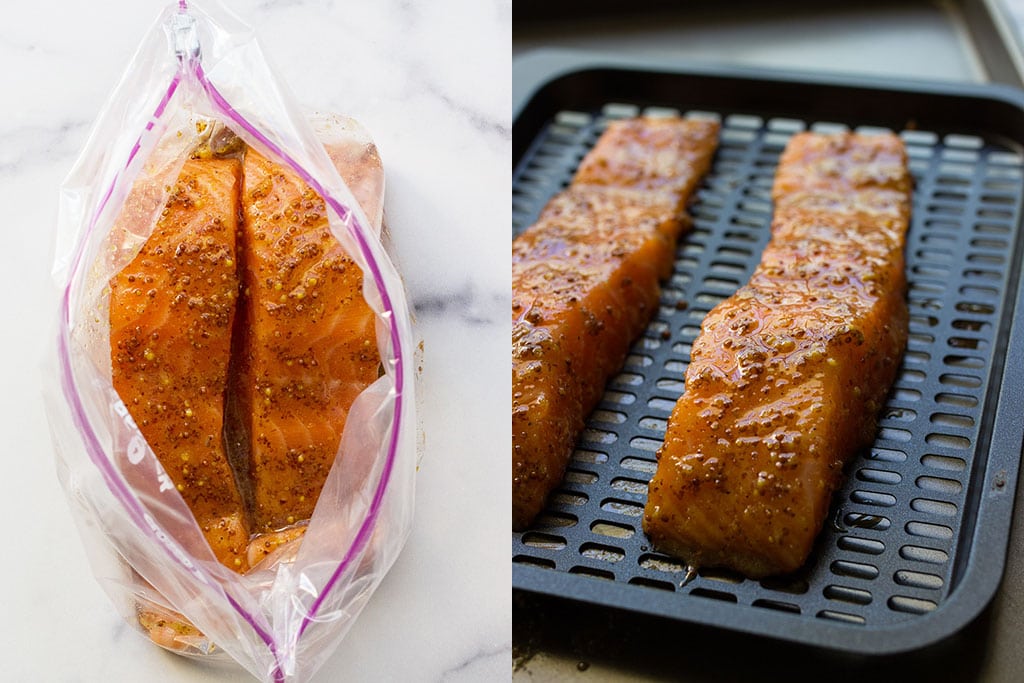 ‣ Mustard – Other mustards you can use are spicy mustard, regular mustard, honey mustard, or any kind of mustard you have on hand. I prefer whole grain because of the chunky texture it adds to the salmon.
‣ Paprika – Smoked paprika gives a hint of smokiness to the sauce but you can also use regular paprika or leave it out completely.
‣ Lemon – Besides adding some lemon juice to the sauce, you can also add lemon slices on top of the salmon while baking or to the air fryer to char them a little. Then dip a forkful of salmon into the charred lemon for some extra flavor.
‣ Sides – Serve with a side of salad, white rice, mashed potatoes/cauliflower mash, or quinoa. For a balanced meal, try air frying veggies as well.

AIR FRYER VEGGIES
So far, I've tested about three different veggies in the air fryer. I use this air fryer model so I'm able to fit in a tray of veggies at the same time as my salmon. The salmon takes about 8 minutes at 400°F so I usually add in the tray of veggies at the 5-minute mark and they're perfectly done by then.
I've only tested broccoli, zucchini and brussels sprouts at 400°F/5 minutes but I think green beans and asparagus would take about the same amount of time. Here are a few quick ideas on how to prep your veggies for the air fryer:
‣ Garlic Parmesan Broccoli: Toss them with some olive oil, pepper, seasoning salt and shaker Parmesan cheese.
‣ Zucchini: Add some olive oil, salt and pepper and a dash of sugar. I've also tossed it with olive oil and Johnny's garlic spread.
‣ Brussels sprouts: I like to add some olive oil, garlic powder and garlic salt, then toss them in a bottled balsamic reduction. It's all bottled and ready to go for a simple drizzle, so there's no need to fuss over making your own balsamic reduction.
‣ Green beans: Add some olive oil. smoked paprika, garlic powder and salt and pepper to taste for some smoky green beans.
‣ Asparagus: Toss it with some olive oil, lemon slices or lemon juice, garlic powder and salt and pepper to taste.
And that's about it. Happy eats and enjoy!
Don't own an air fryer? Try out the oven-baked version of honey mustard salmon or baked honey mustard chicken. Or try air fryer honey garlic salmon and air fryer brown sugar salmon for more air fryer salmon recipes.
MORE SALMON RECIPES TO TRY
Did you make this recipe? Rate it!
♡ If you liked this recipe, giving it a star rating ★★★★★ in the comments below really helps! For more recipes, subscribe to my newsletter or follow me on Facebook, Instagram and Pinterest.
Print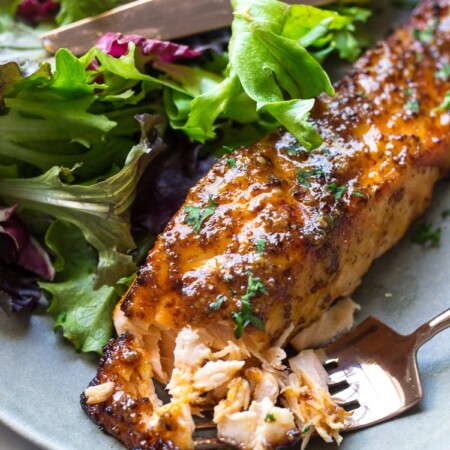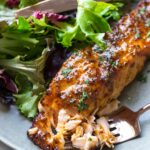 Air Fryer Honey Mustard Salmon
---
Author:
Total Time: 10 minutes
Yield: 2
Description
Enjoy the sweet and tangy glaze on this 8-minute air fryer honey mustard salmon for a quick and flavorful healthy seafood dinner.
---
2 salmon fillets (5-8 oz. each)

2 tablespoons honey

2 tablespoons whole grain Dijon mustard

1/2 teaspoon garlic powder

1/4 teaspoon smoked paprika

1 teaspoon lemon juice

Salt and pepper to taste
TOPPINGS
Fresh parsley, chopped (optional)
---
Instructions
Combine the sauce ingredients. Marinate the salmon in two-thirds (2/3) of the sauce for 30 minutes or toss the salmon fillets in the sauce until fully covered.
Preheat air fryer to 400°F and place the salmon fillets in the air fryer. Baste the remaining marinade onto the salmon fillets.
Air fry for 7-8 minutes, depending on the thickness of the salmon.
Dish and serve hot drizzled with the remaining sauce.
Enjoy!
Notes
This recipe assumes you have an air fryer with a preheat option. If you do not, run your air fryer for 5 minutes at 400°F to preheat it evenly before adding in the salmon and following the recommended recipe time.
Add red pepper flakes for some heat.
Scroll up to RECIPE TIPS for more useful tips, suggestions and ingredient substitutions.
Prep Time: 2 mins
Cook Time: 8 mins