Enjoy a quick and easy honey mustard salmon baked and ready in under 30 minutes. With a delicious sauce of garlic, honey and mustard for mustard lovers!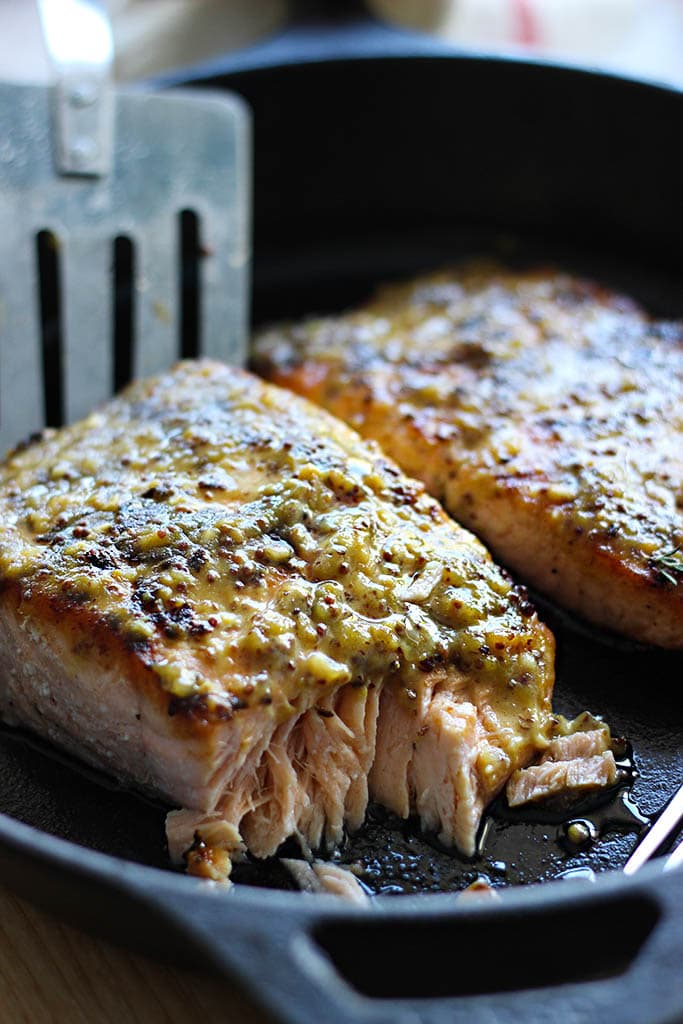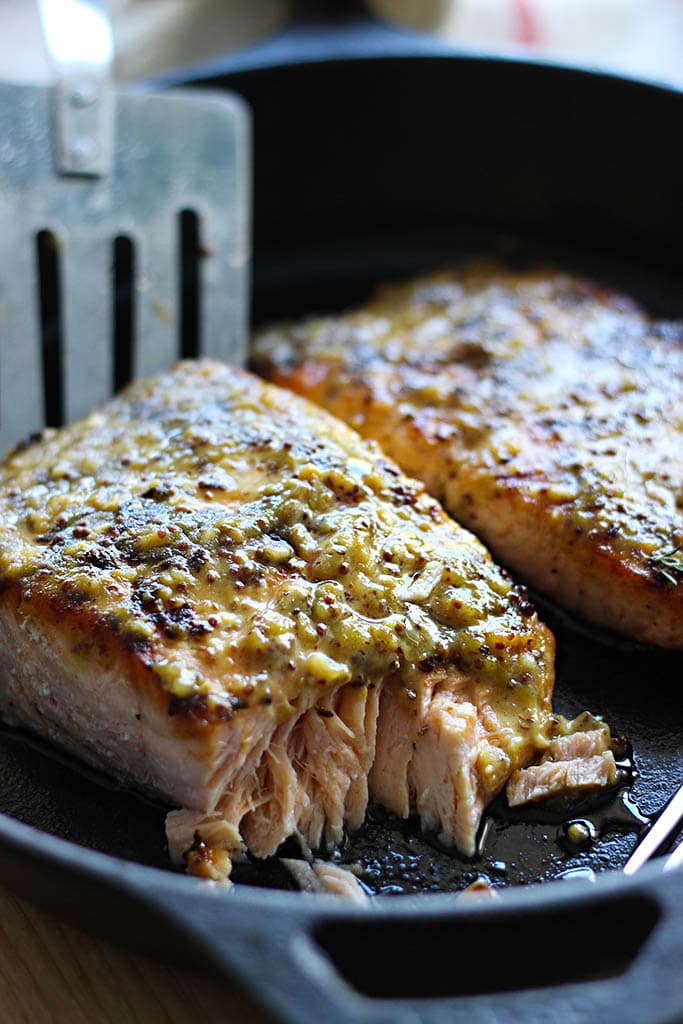 I guess people love an easy salmon recipe. My honey garlic salmon does really well and I can't figure out if it's the five-ingredient ease of it, or if it's because people just love salmon. Or maybe it's the honey garlic sauce. It could be all three.
So in the interest in being fair and assuming people like five-ingredient recipes and salmon, since I posted honey mustard chicken awhile back (which was so, so very delicious by the way. I stole all the skins), today I'm making the salmon version.
This seafood version also only has you guessed it: one, two, three, four, five ingredients. Salmon, mustard, whole grain mustard, honey and garlic. Easy, huh? I also have an air fryer honey mustard salmon version for those that own an air fryer. That one is even easier and only takes 7-8 minutes. But back to this recipe, let's start cooking!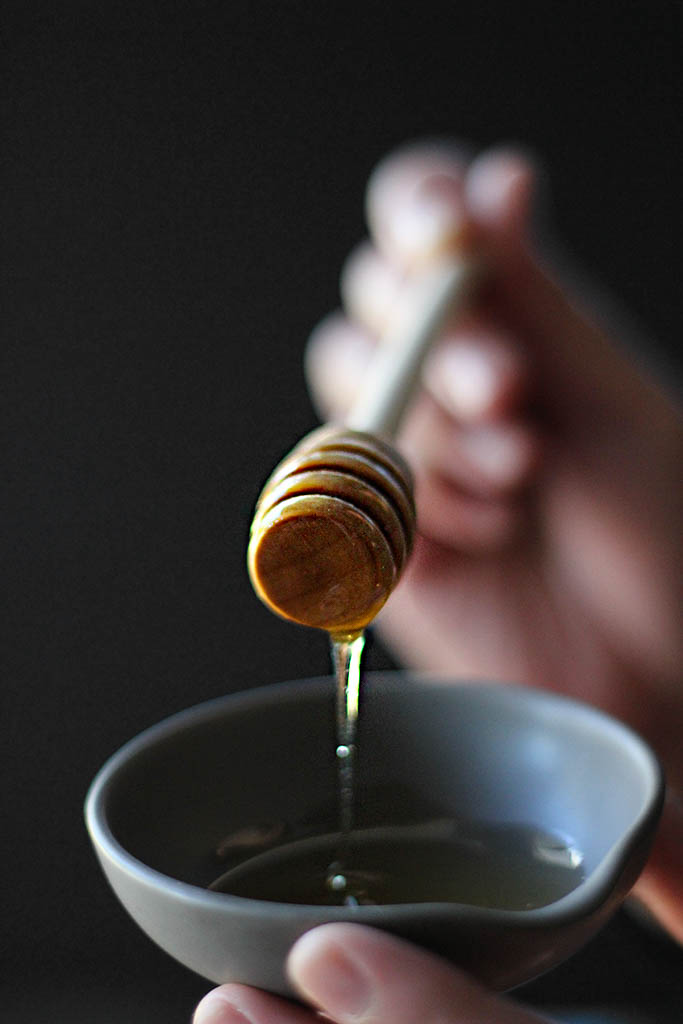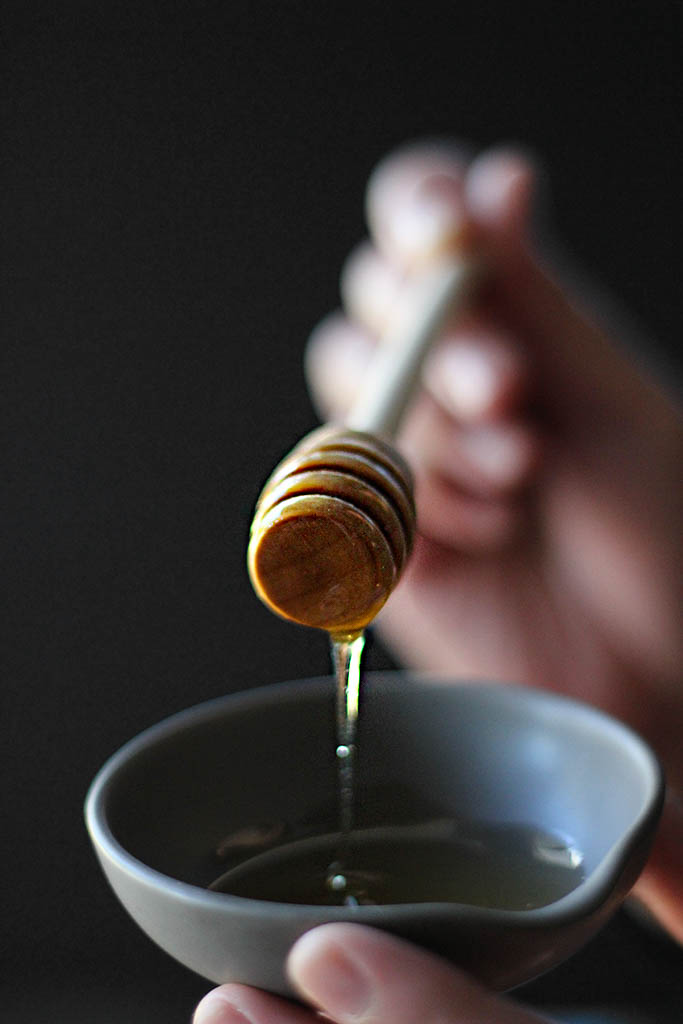 If you're interested in the honey garlic series, I have a crispy version, a seared and baked thigh version, a salmon version, a slow cooker version and an Asian-inspired roast version. It's been a fun series!!! More to come. Meanwhile, since I seem to love honey combo anything, here's a pic for you of glorious runny honey.
HONEY MUSTARD SALMON RECIPE TIPS
The trick with salmon is deciding if you want a crispy, crusty seared top or not before baking. And then knowing how long to bake based on how thick your fillet is.
If you like the seared tops, just pan-fry the top of the salmon once it's been generously covered in whole grain mustard to caramelize it a little before baking. One to two minutes should be enough time. If you don't want any sort of oil involved to stay healthy, skip the searing!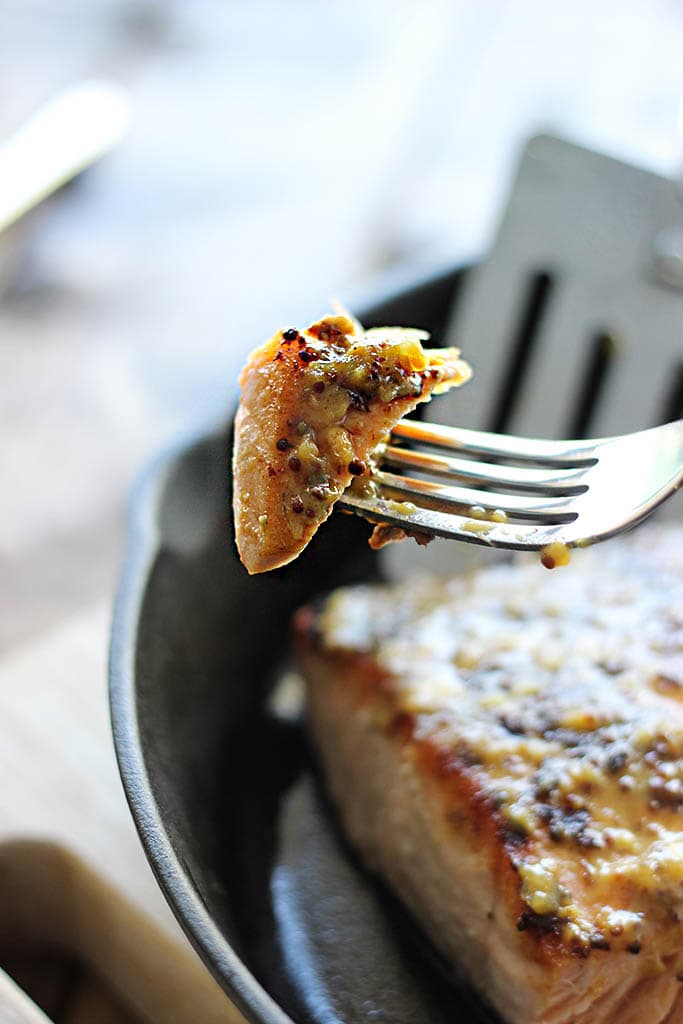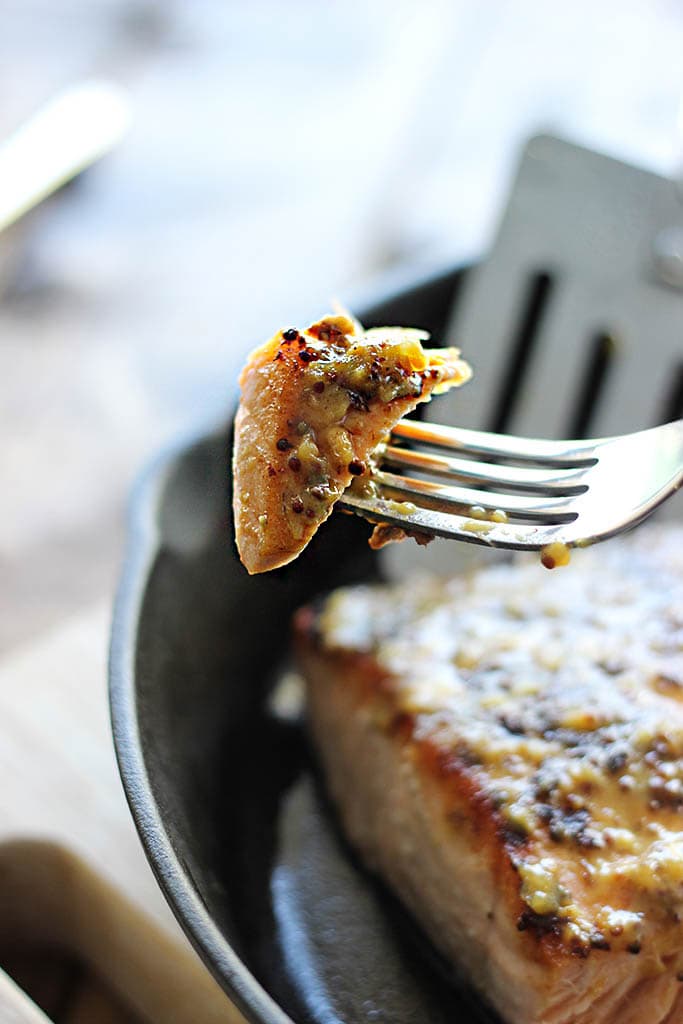 Then it's time to bake. The rule of thumb is to cook for about 10 minutes per inch of thickness which is measured from the salmon fillet's thickest point.
There's really not much else to say about this recipe since it's so simple. Combine the sauce ingredients, baste it on the salmon tops or the seared part and bake!
A good way to tell if you've overcooked it is to watch for the weird white stuff that forms on the sides. Too much white stuff = overcooked! Or you could use a meat thermometer to take out the guesswork. Cook it until the salmon reaches an internal temperature of 145˚F.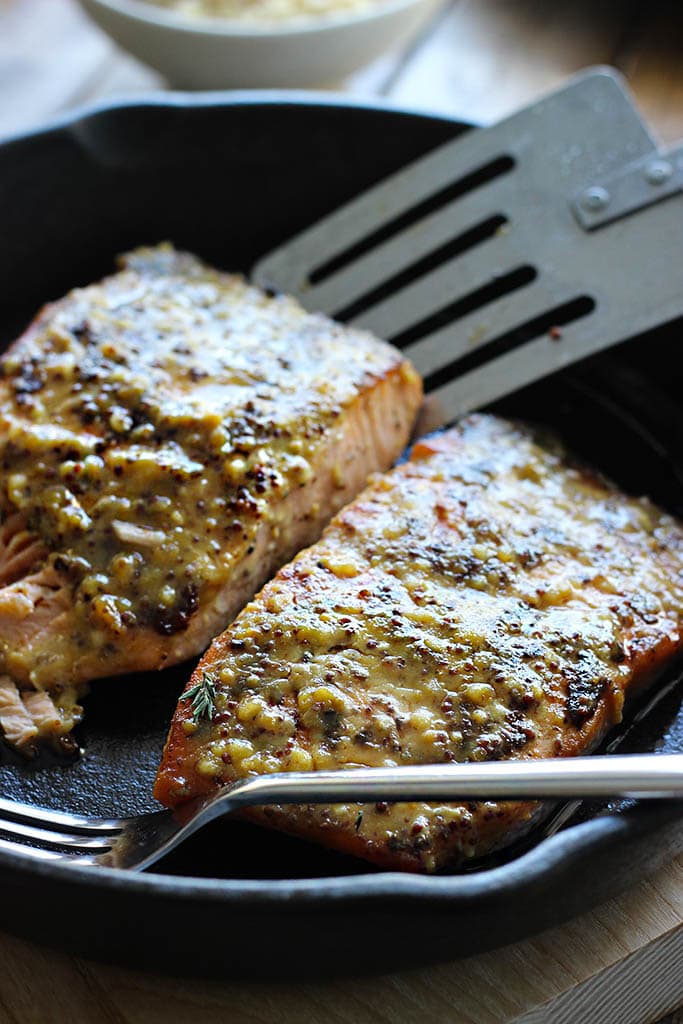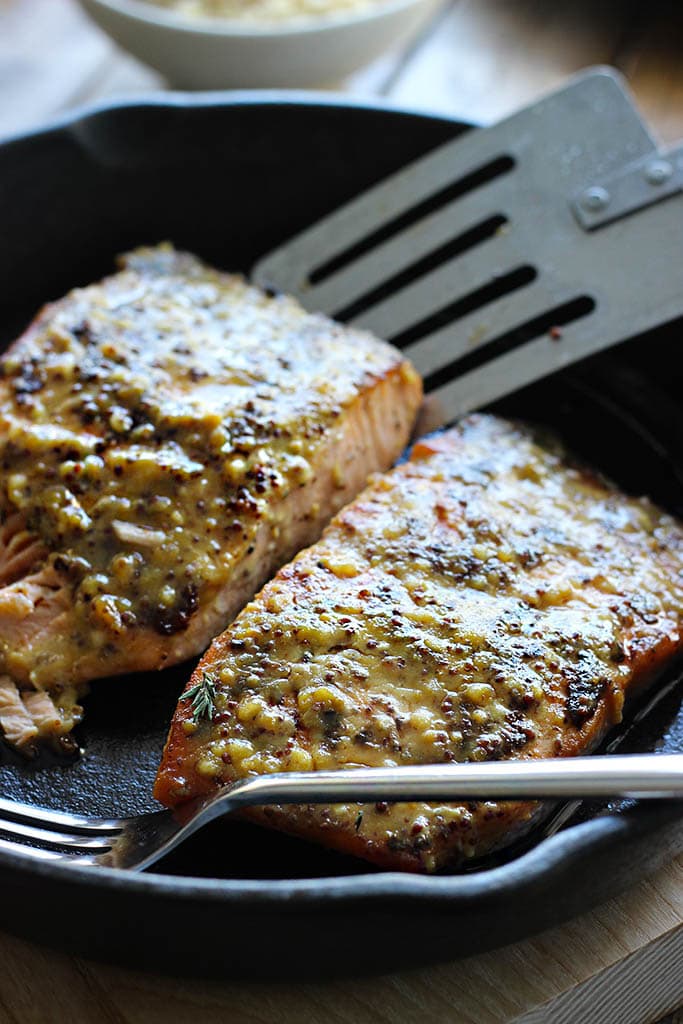 And that's all there is to it. Enjoy this salmon recipe! If you own an air fryer, try out this 8-minute version of air fryer honey mustard salmon.
MORE SALMON RECIPES TO TRY
Did you make this recipe? Rate it!
♡ If you liked this recipe, giving it a star rating ★★★★★ in the comments below really helps! For more recipes, subscribe to my newsletter or follow me on Facebook, Instagram and Pinterest.
Print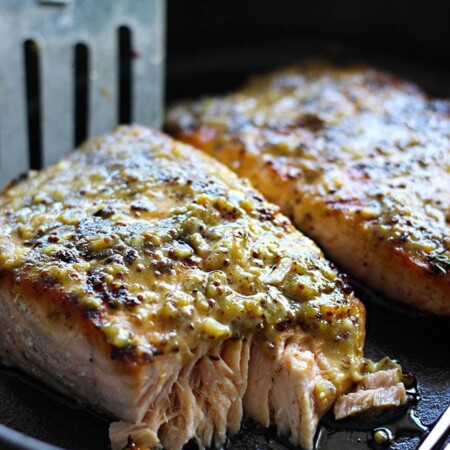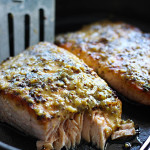 Honey Mustard Salmon
---
Author:
Total Time: 25 mins
Yield: 2 1x
Description
Enjoy this honey mustard salmon baked and ready in under 30 minutes. With a delicious sauce of garlic, honey and mustard for mustard lovers!
---
1 lb. salmon fillets
Salt and pepper to taste
2 tablespoons whole-grain mustard
1 tablespoon honey
1/2 teaspoon garlic, minced
---
Instructions
Season the salmon filets with salt and pepper to taste and generously brush the tops with 1 tablespoon of whole-grain mustard.
Over medium-high heat, sear the tops of the salmon for 1-2 minutes until caramelized.
Combine the other tablespoon of mustard, honey and garlic into a sauce.
Transfer salmon to a baking sheet or oven-safe pan and baste with the honey mustard sauce.
Bake at 350°F for 15-20 minutes depending on the thickness of the salmon.
Dish and serve hot.
Enjoy!
Prep Time: 5 mins
Cook Time: 20 mins