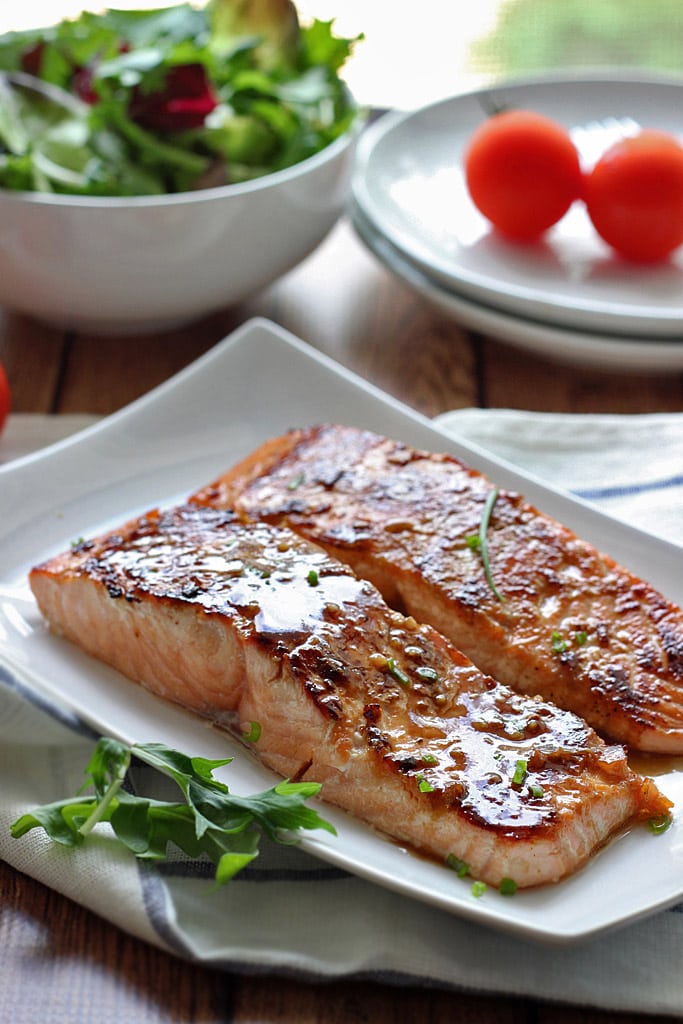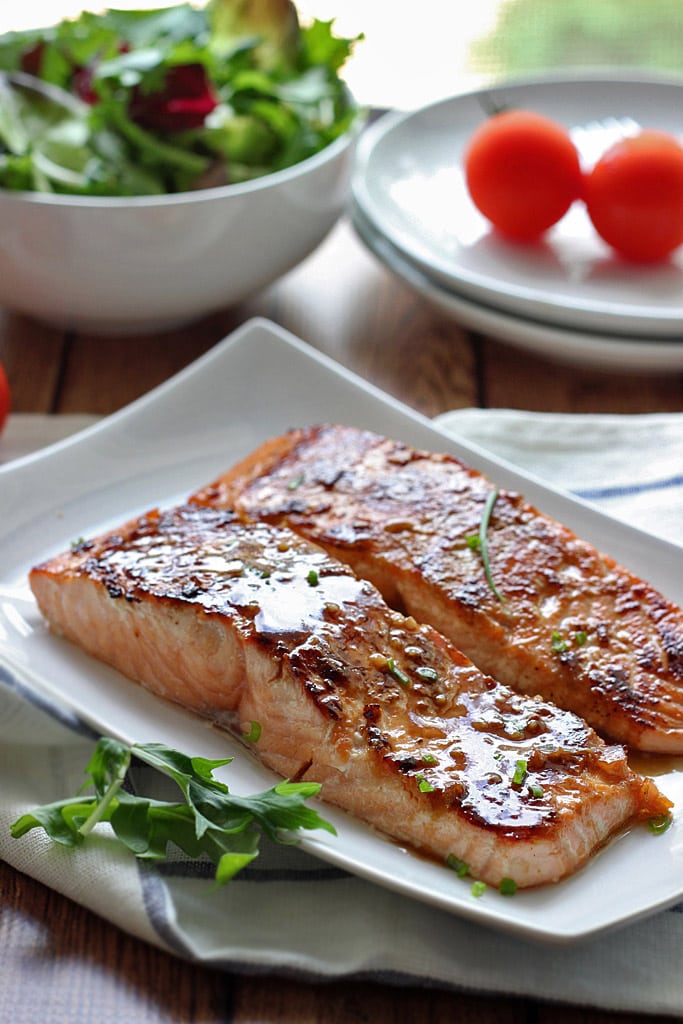 Lately I've been getting lots of honest comments from people who want to cook my stuff and have general questions or people who have cooked my stuff and came back to leave reviews. These comments make my day. It tells me there are actually people out there that trust me enough to spend money on ingredients and time in the kitchen. So keep them coming! I love it! I'll be honest and let you all know if I don't have the answer to things and do my best to make cooking and eating at home fun.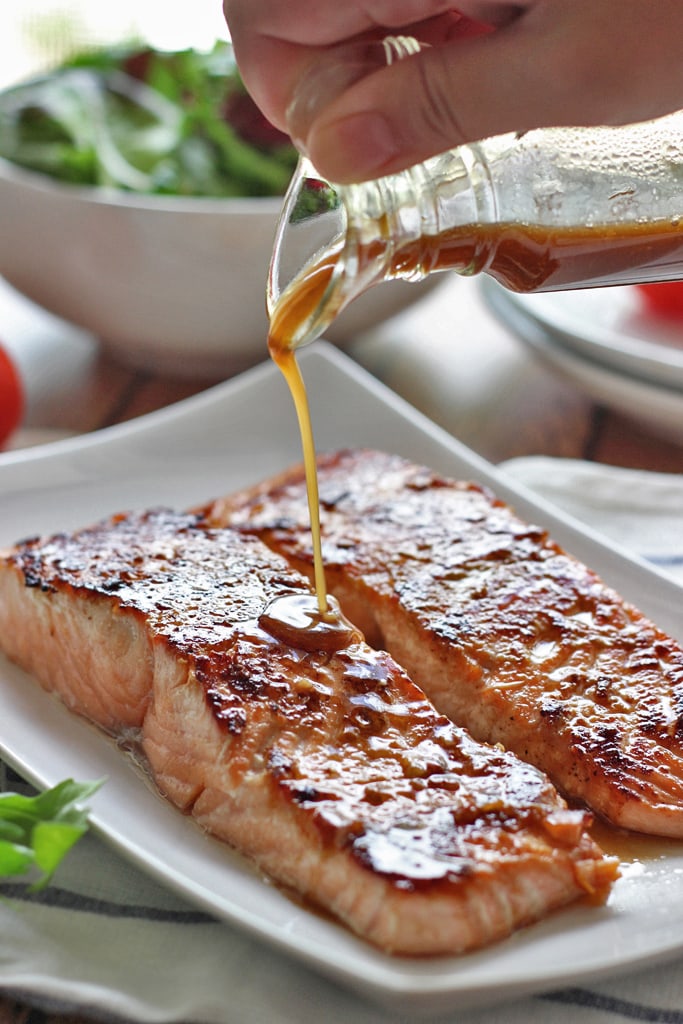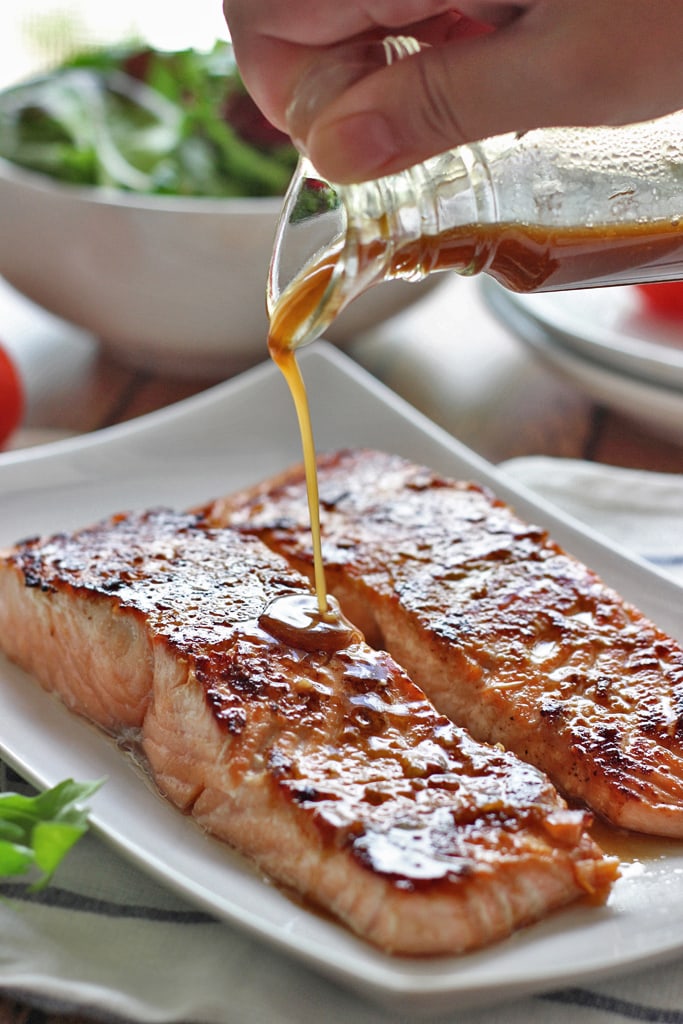 That being said, with the recent popularity of crispy honey garlic chicken and me being totally knocked off-guard by the deceptively humble sauce that just rocks that recipe, I've decided to make a baked salmon version. It's simple, it has FIVE ingredients and it's tasteh. So tasty, I spell it differently.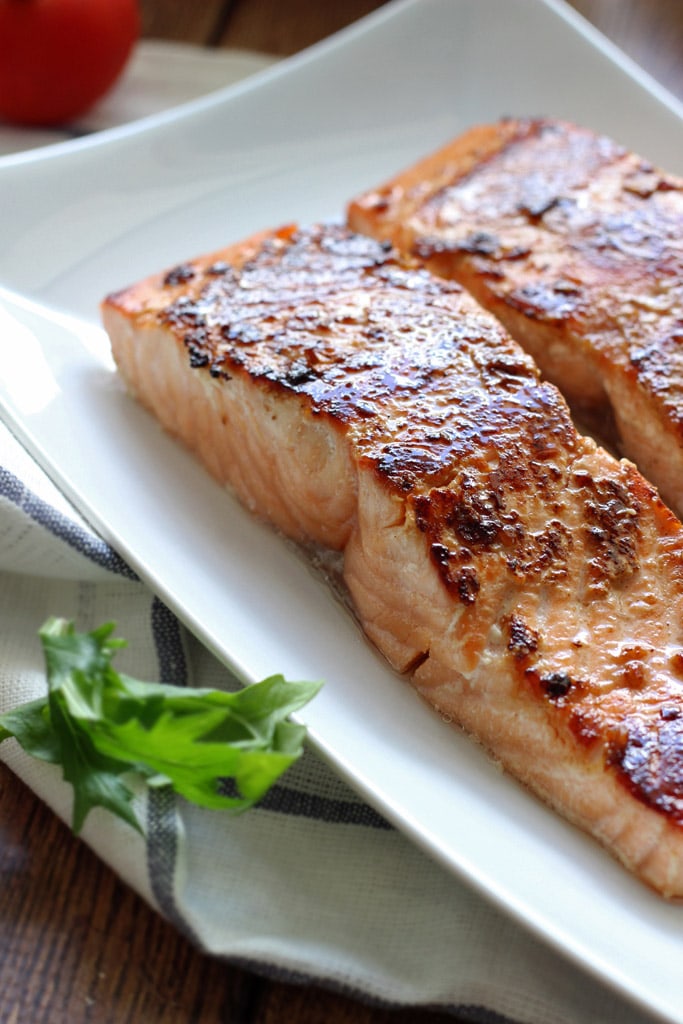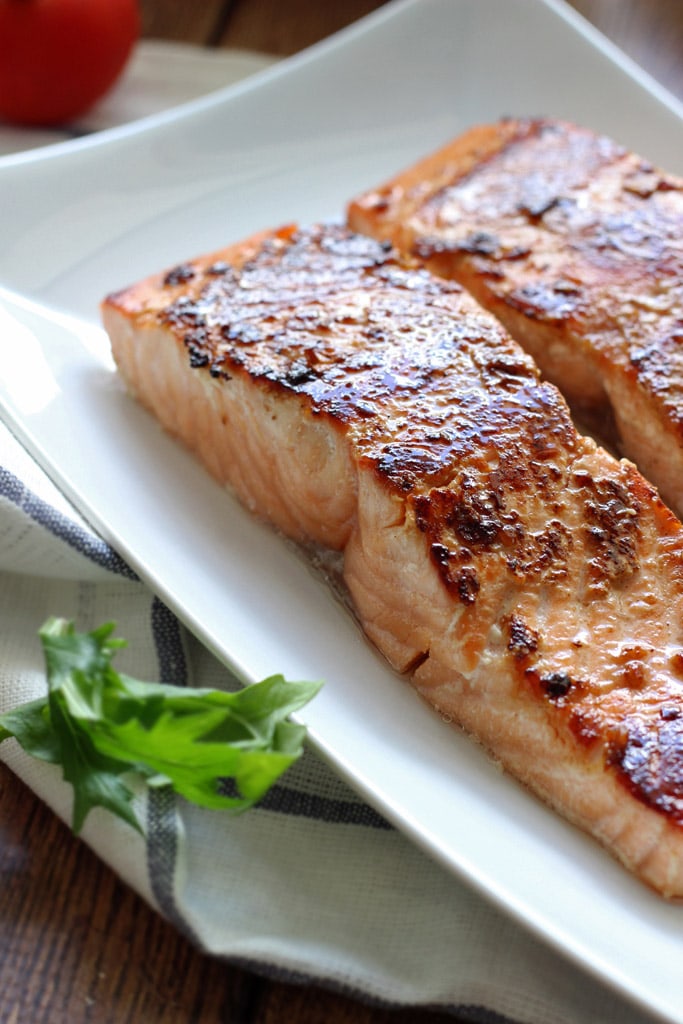 So my old recipes with salmon used measurements based on salmon fillets. '2 salmon fillets' etc. And while that sounds simple, I was basing this off  individually sealed frozen salmon fillets. It wasn't till we renewed our Sam's Club membership and I saw fresh gigantic slabs of salmon that I had the sinking realization that not everyone buys salmon the budget way like I do. Size does matter in this case. Ooops! I need to go back and fix those recipes. In the meantime, this salmon recipe will actually have weight measurements so the sauce is proportionate.
If you're talented at eyeballing the weight of salmon, then great! If not, maybe a kitchen scale will help. I got mine awhile back around the one year timeline since starting a blog. About the time I realized "Oh hey, maybe I need to measure stuff". Growing pains.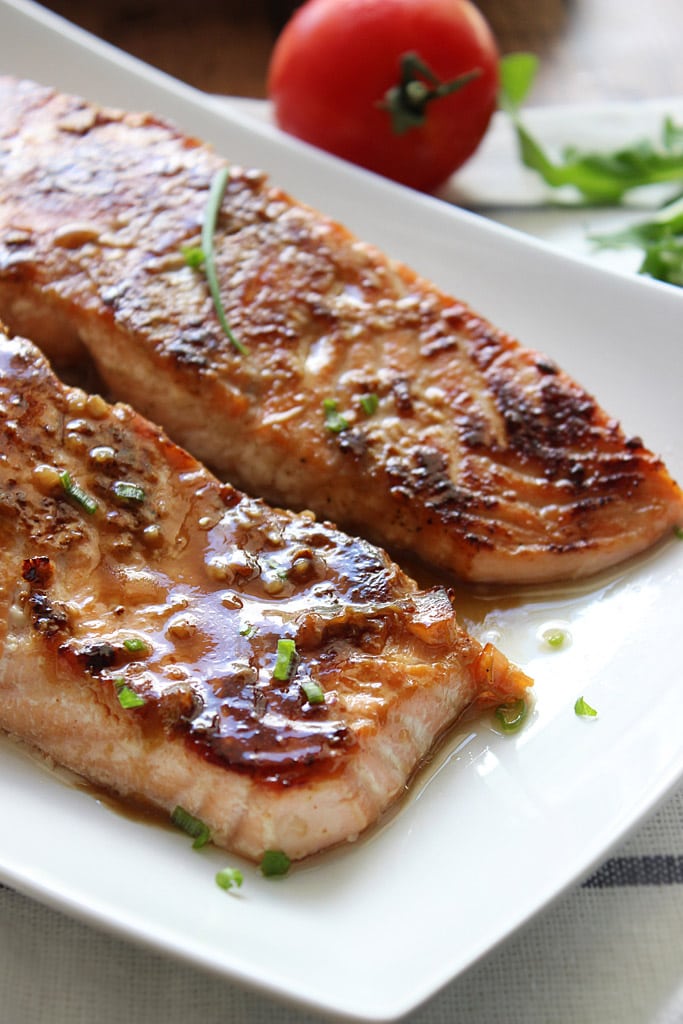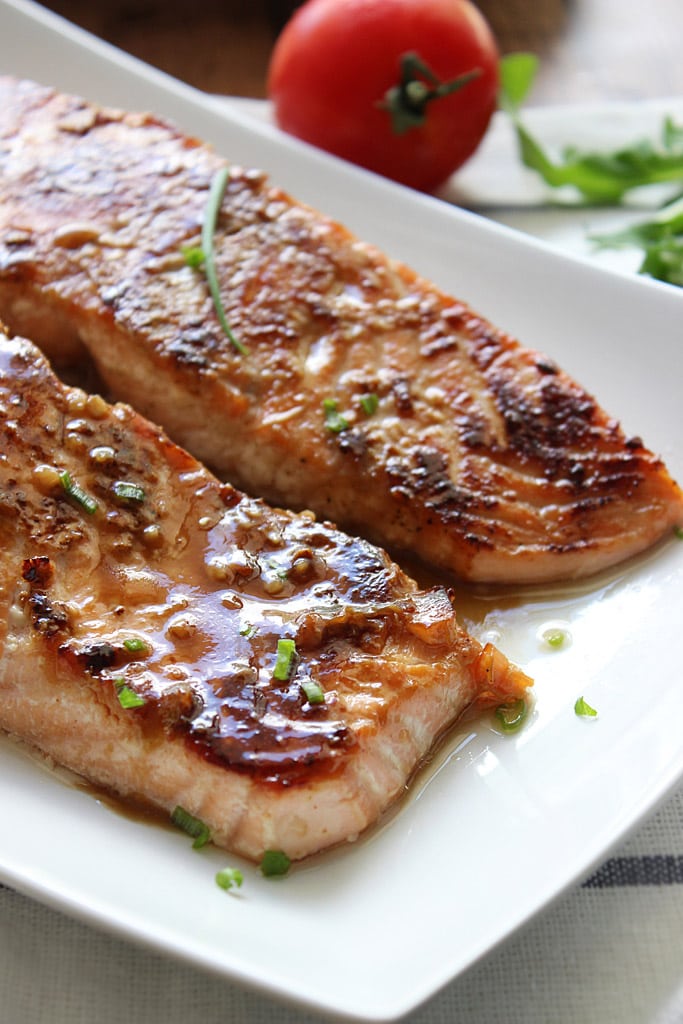 Back to the salmon, here's how it's done.  Marinate it, bake it and then serve drizzled with the sauce. It's that easy. Yum.
I did sear the top of the salmon over medium high heat for 1-2 minutes to caramelize it a little before baking. This step is purely optional though. Also, if you want more sauce but want it thicker without reduction, you can add 1/2 teaspoon cornstarch mixed with 1 tablespoon cold water. Use it once the sauce has come to a boil and stir to mix until the whiteness of the cornstarch disappears into the sauce. This is when you know the cornstarch has worked and the sauce is as thick as it can get.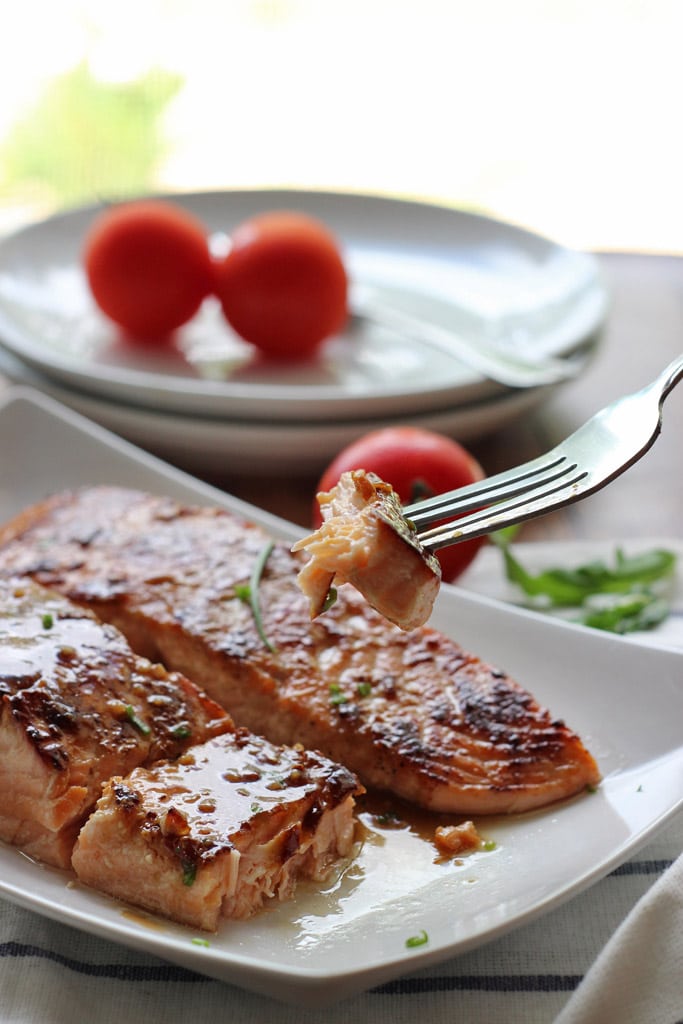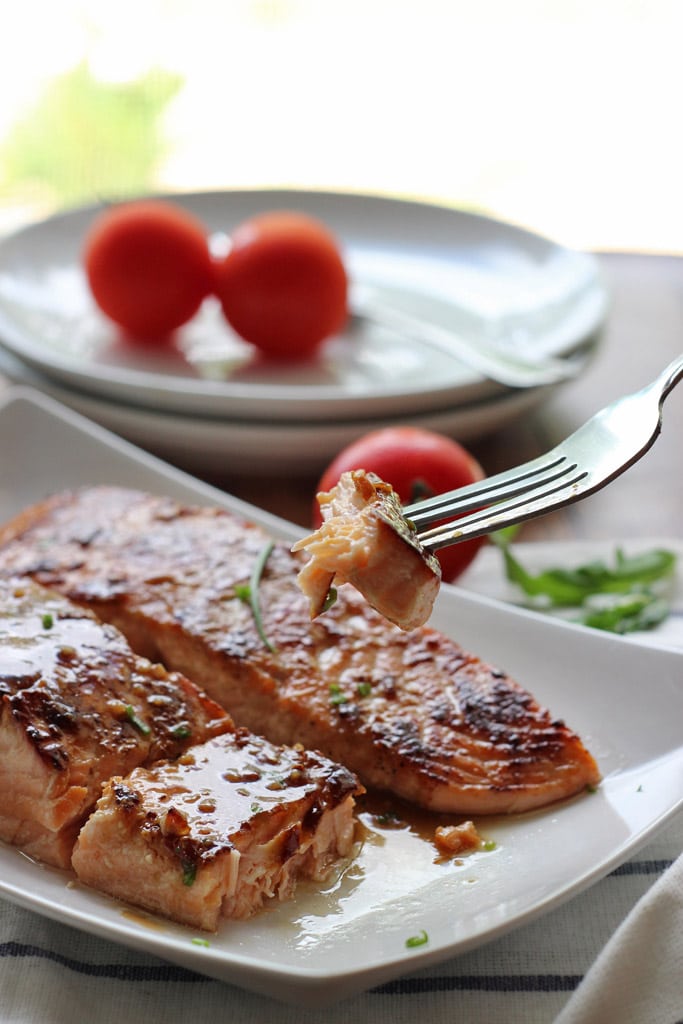 Baking time will vary depending on how thick your fillet is. The standard rule of thumb is to cook for 10 minutes per inch of thickness which is measured from the salmon's thickest point. That's about it! What you'll get is savory and sweet moist, flaky salmon. Not too shabby for dinner!
Lastly, I'm sorry if the salmon is very shiny. I seem to have picked the wrong angle to shoot it and the light made what was already glistening into mega glistening. My salmon has bling, Whoops! Don't worry, yours won't need a pair of sunglasses to eat safely, I promise.
And if you're in the mood for more recipes in the honey garlic series:
Print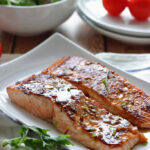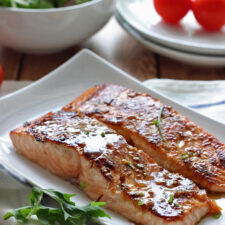 Honey Garlic Salmon
---
Author:

Prep Time:

10 mins

Cook Time:

20 mins

Total Time:

30 mins

Yield:

2

1

x
Scale
Ingredients
Sauce
1 teaspoon

garlic, minced

1/2 teaspoon

ginger, minced

4 tablespoons

honey

2 tablespoons

soy sauce
---
Instructions
Combine the sauce ingredients and marinate the salmon in the sauce for 15-30 minutes
Arrange salmon on a foil-lined baking sheet and bake at 350 degrees F for 15-20 minutes depending on thickness, basting the salmon with the leftover marinade halfway through
Over medium high heat, bring the leftover marinade sauce to a boil and simmer for 3-5 minutes until reduced *
Dish and serve the salmon hot drizzled with reduced sauce
---
Notes
For a slightly crisp and caramelized top, sear the top of the salmon over medium high heat for 1-2 minutes before baking.
*If you are uncomfortable reducing the marinade to use as a drizzle, you can divide the sauce into half; half for marinade/basting and half to reduce for a drizzle. If you want even more sauce, double the sauce ingredients before diving it into half.