Quick and easy honey garlic salmon baked and ready in under 30 minutes. With a sweet and savory marinade and sauce of garlic, ginger, honey and soy sauce.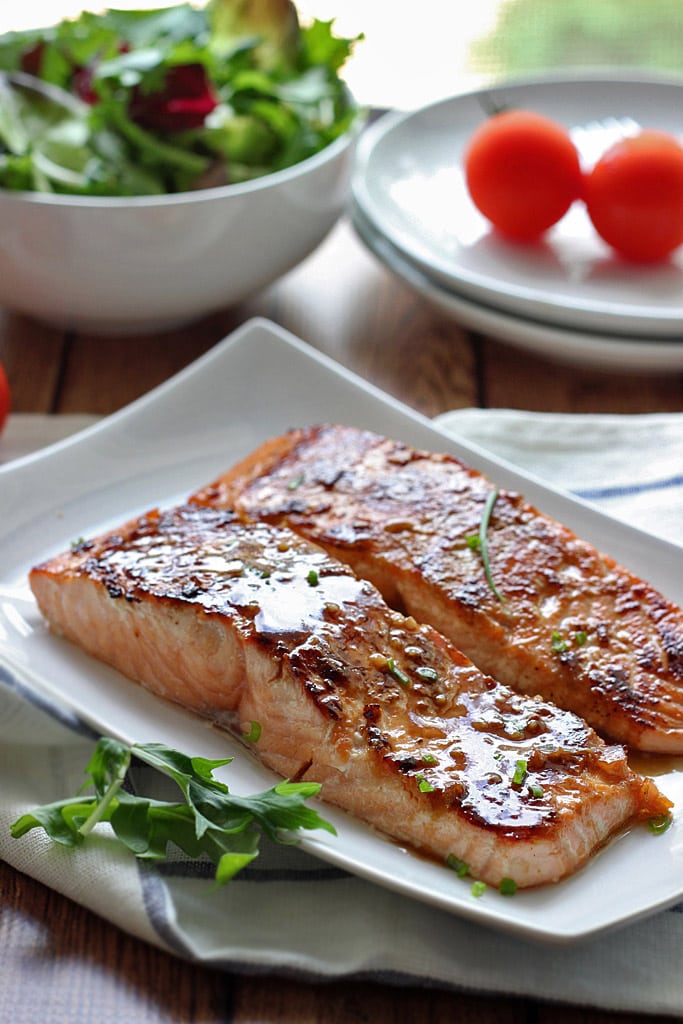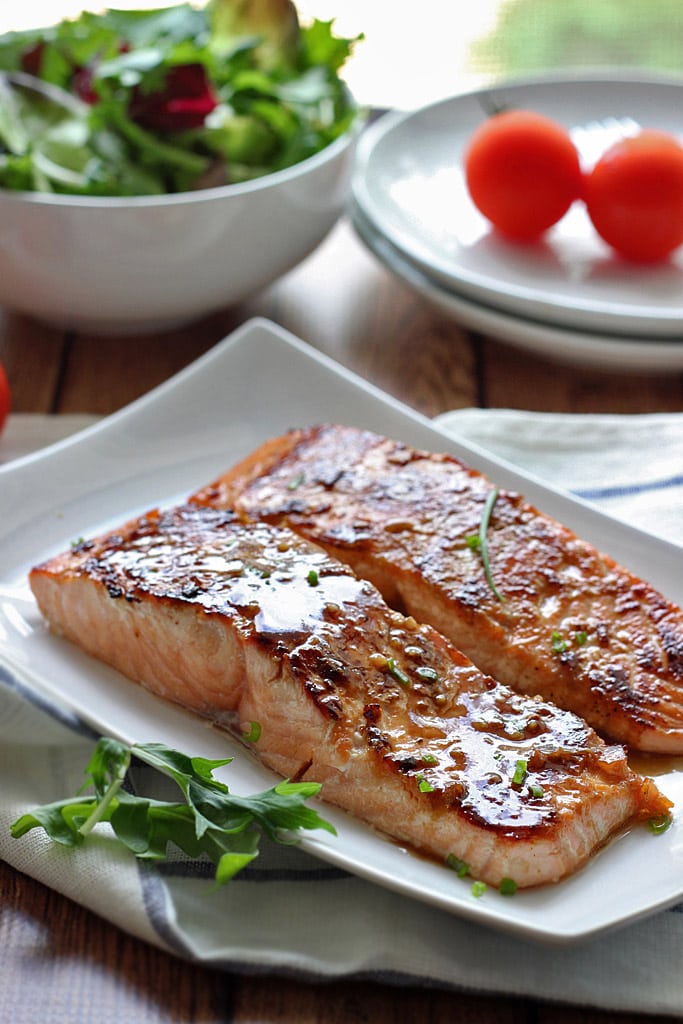 With the recent popularity of crispy honey garlic chicken and me being totally knocked off-guard by the deceptively humble sauce that just rocks that recipe, I've decided to make a baked salmon version. It's simple, it has FIVE ingredients and it's tasty. Also, it's super addictive. I liked it so much, I made an air fryer version too. So if you own an air fryer, head on over and grab the 8-minute air fryer honey garlic salmon.
And if you're a die-hard fan of the sauce and just can't get enough, try out honey garlic chicken skillet, slow cooker honey garlic chicken, and the insanely popular honey garlic shrimp with over 2 million pins.
How To Make Honey Garlic Salmon (1 Min Video)
Ingredients in Honey Garlic Salmon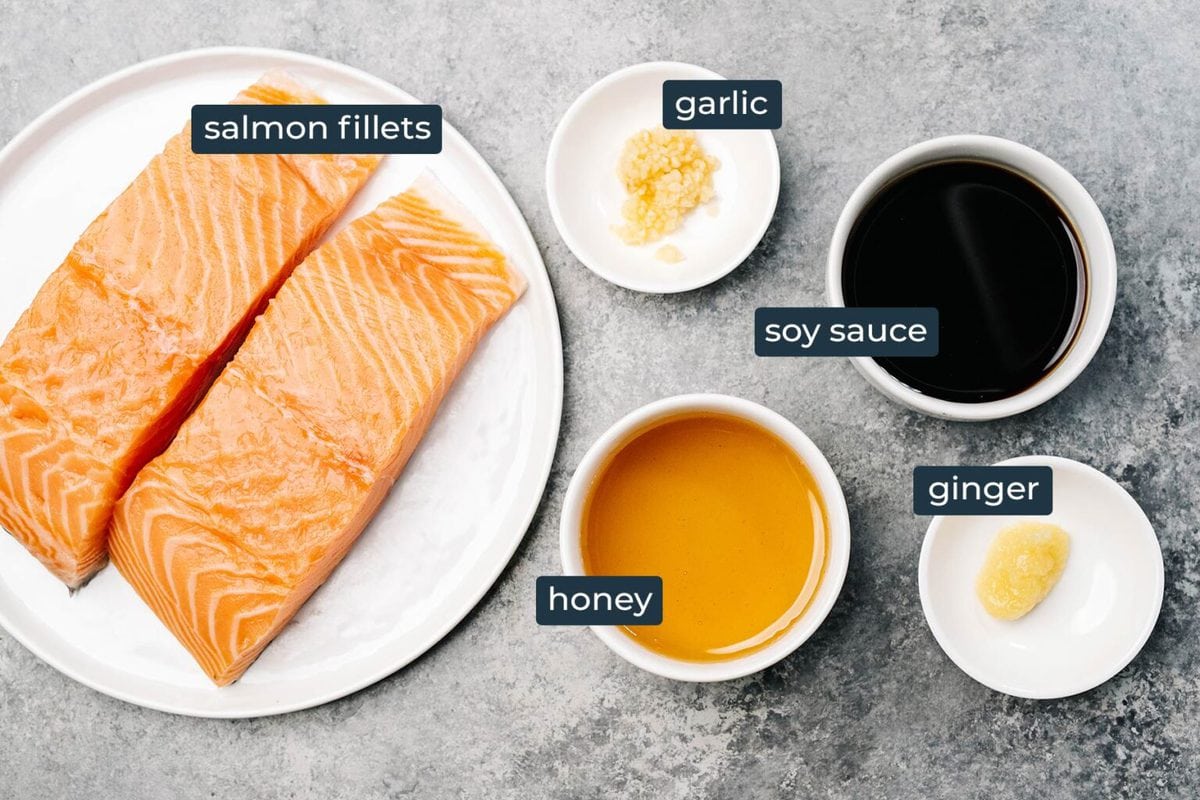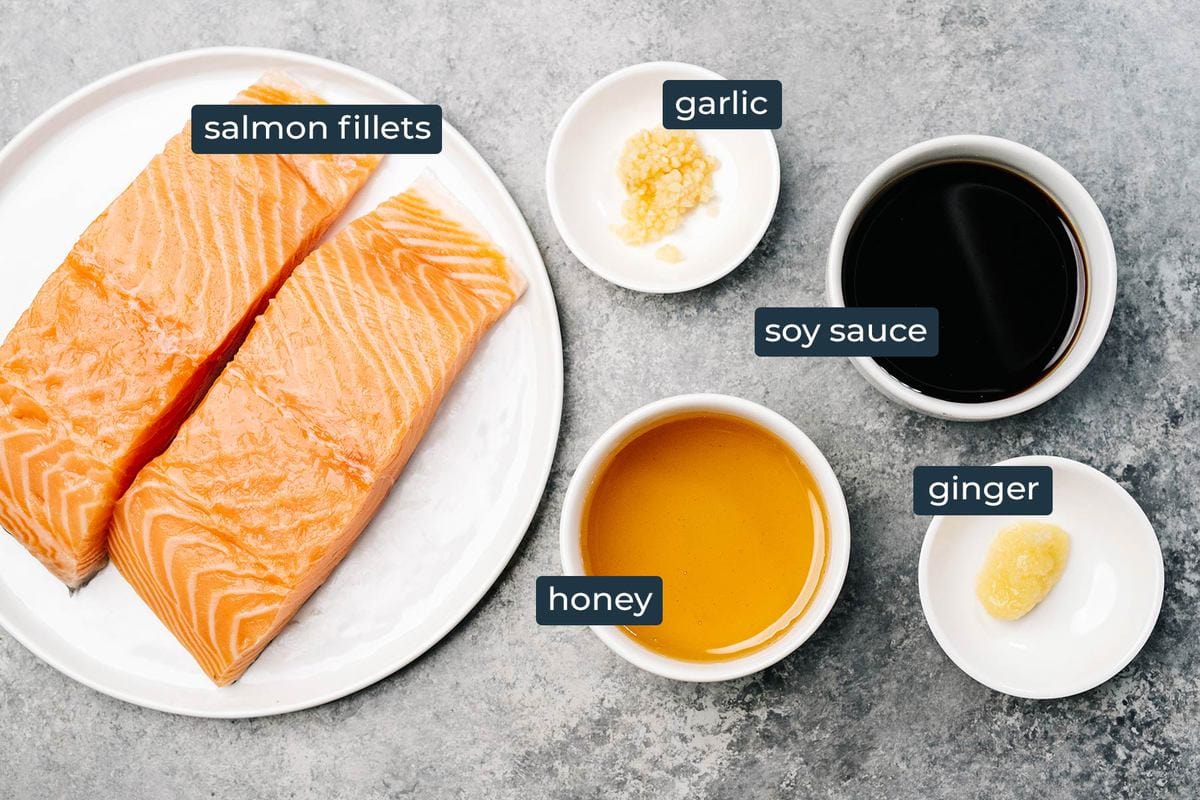 HONEY GARLIC SALMON RECIPE TIPS
Salmon: You can tell the salmon is done cooking when it is no longer translucent (red or raw) but opaque (pink). If the salmon flakes easily when pressed down gently with your finger or a fork (aka it separates easily along the white lines that run across the fillet), it is cooked! An easier way is to use a meat thermometer. I have several of these at home and they get used very often for chicken breasts and steaks as well so it's a worthwhile investment. Back to salmon, the FDA recommends cooking fish to an internal temperature of 145° F.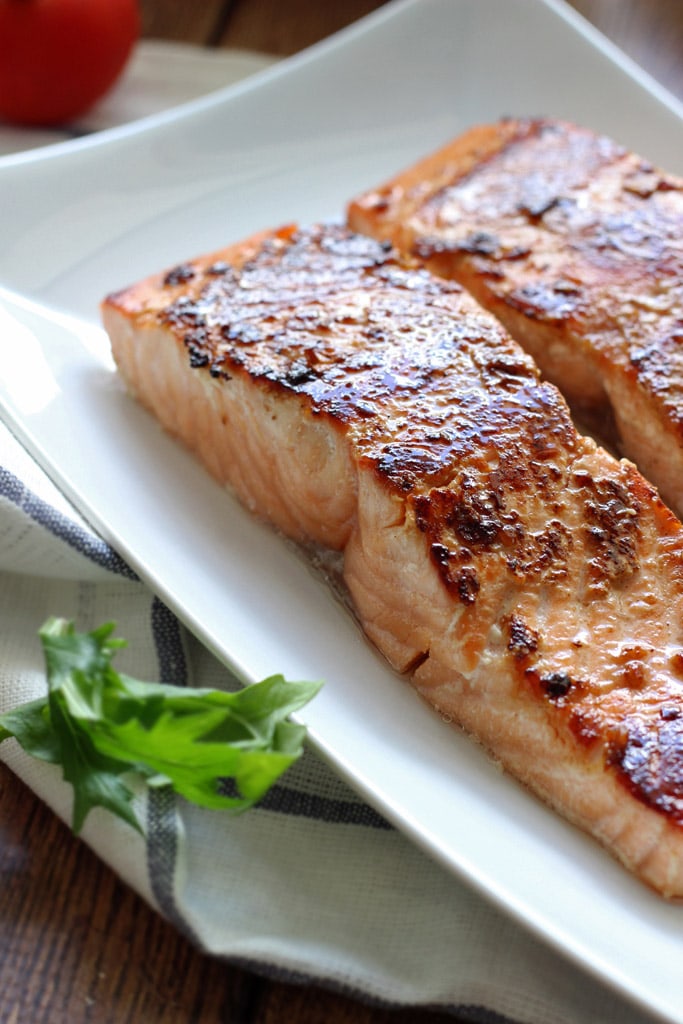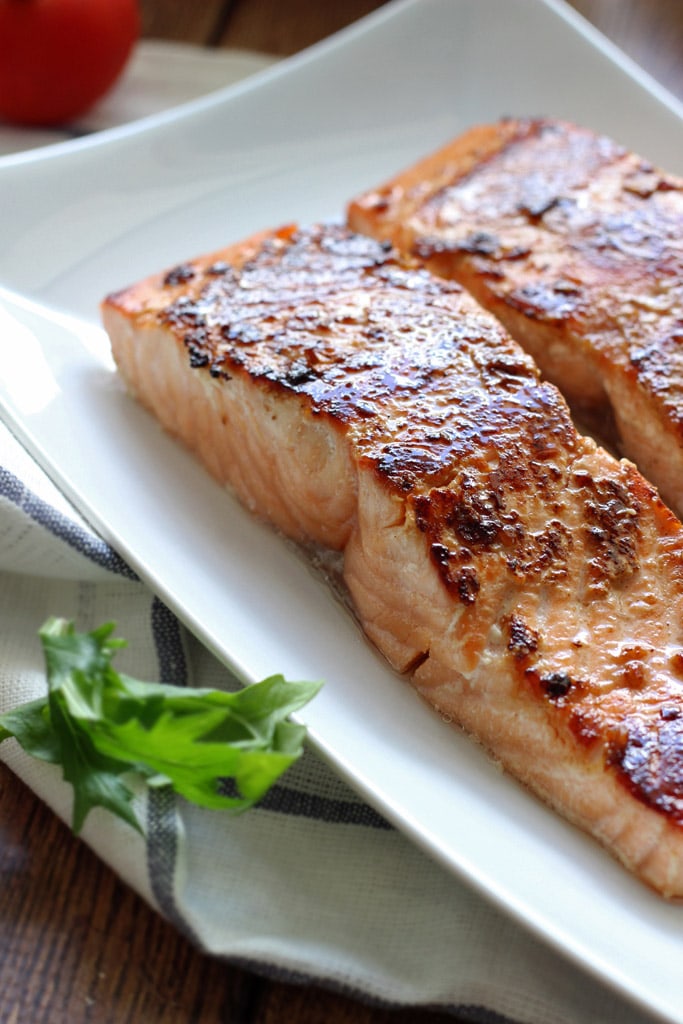 Searing: I seared the top of the salmon in a skillet over medium-high heat for 1-2 minutes to brown it a little before baking. You can do the same thing by broiling the salmon for 1-2 minutes in the oven once it's done cooking. This step is optional though, depending on how you like your salmon and how much work you want to do. I like crispy tops so it was worth the extra step for me.
Sauce: To quickly thicken the sauce over the stovetop, you can add a cornstarch slurry. Add it in once the sauce has come to a boil and keep stirring until the whiteness of the cornstarch slurry disappears into the sauce. This is when you know the cornstarch has worked and the sauce is as thick as it can get.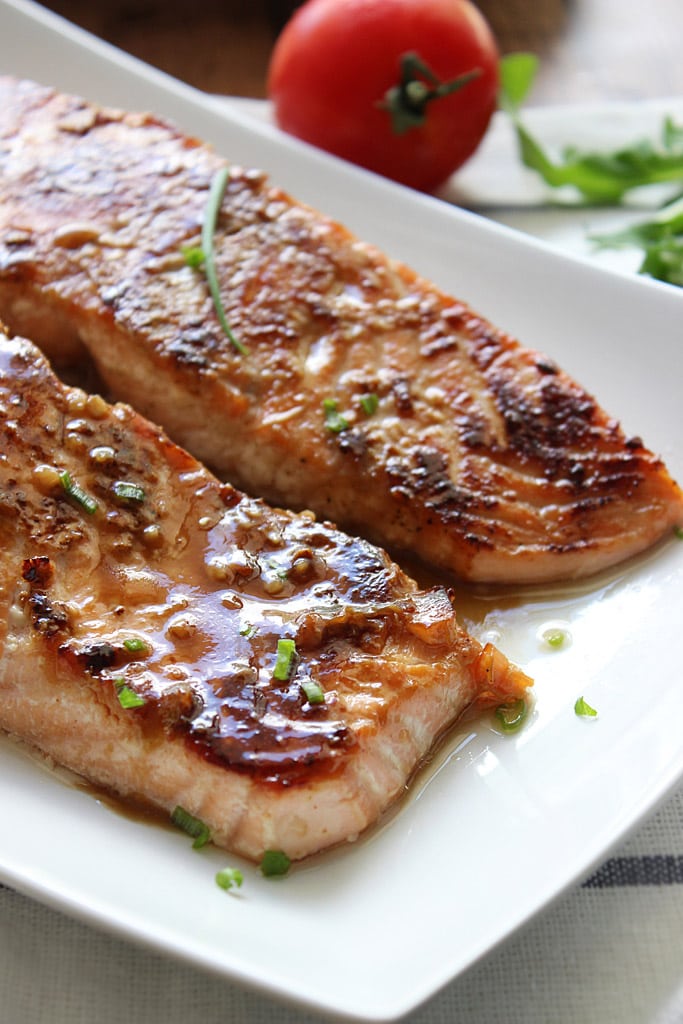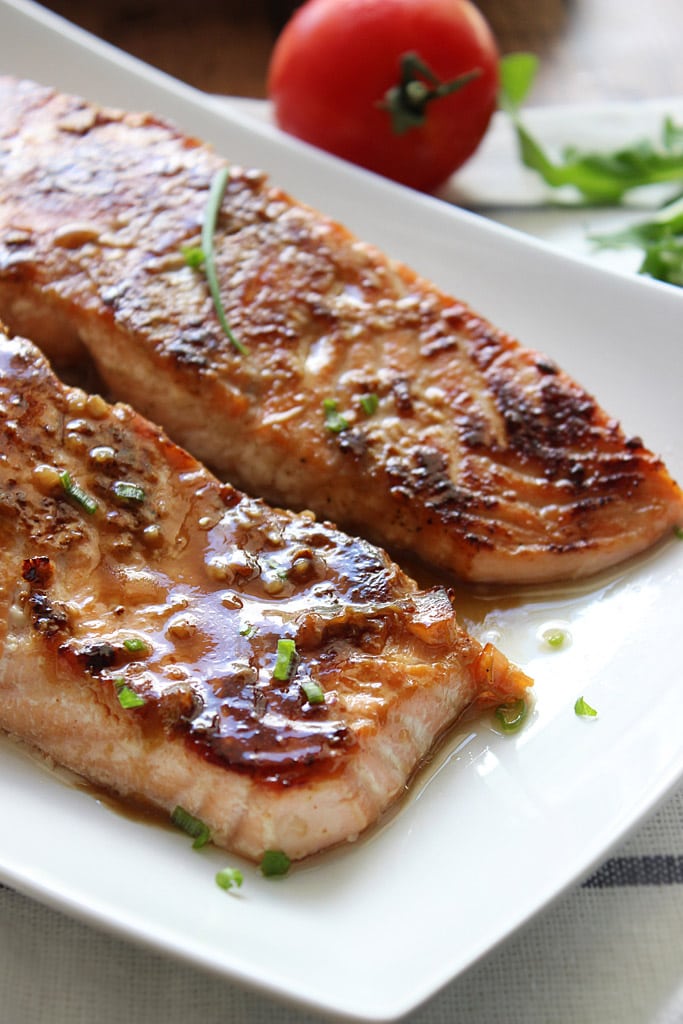 Honey: If you don't have regular honey sitting in your pantry, you can substitute it with maple syrup.
Soy sauce: Regular or low sodium soy sauce both work. You can also substitute it with tamari or coconut aminos.
Garlic: You can use either fresh garlic or garlic powder. If you're using fresh garlic, a little mini grater will come in handy so you don't have to break out the cutting board and a knife.
Ginger: The ginger part here is optional but it does add a lot of flavor. If you're not a fan, you can skip this and it will not break the recipe. Otherwise, use fresh minced ginger or a few dashes of powdered ginger.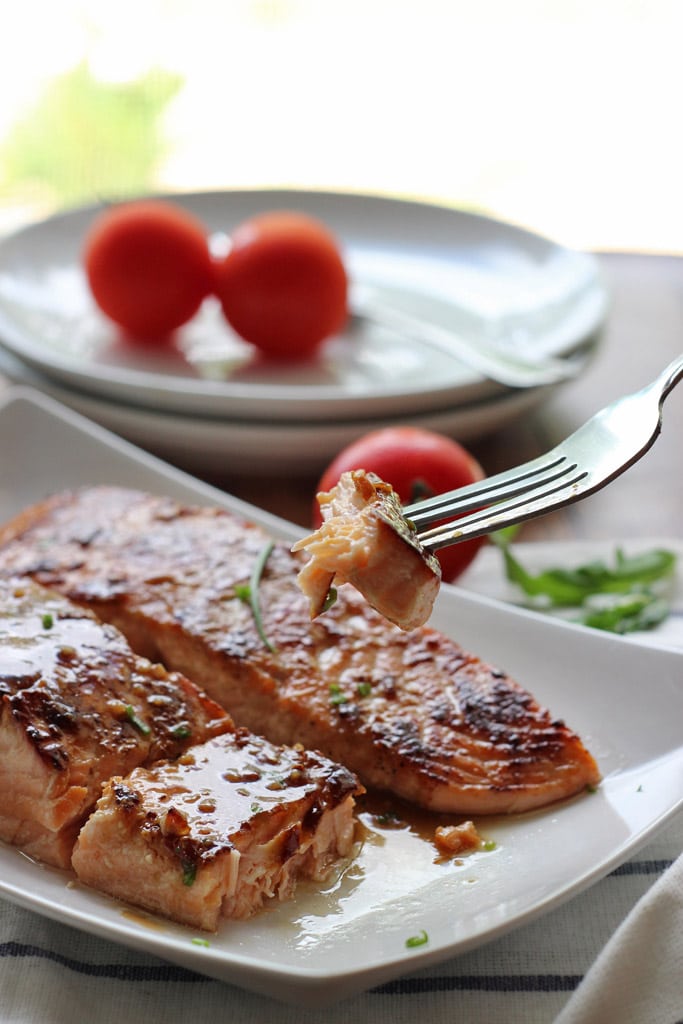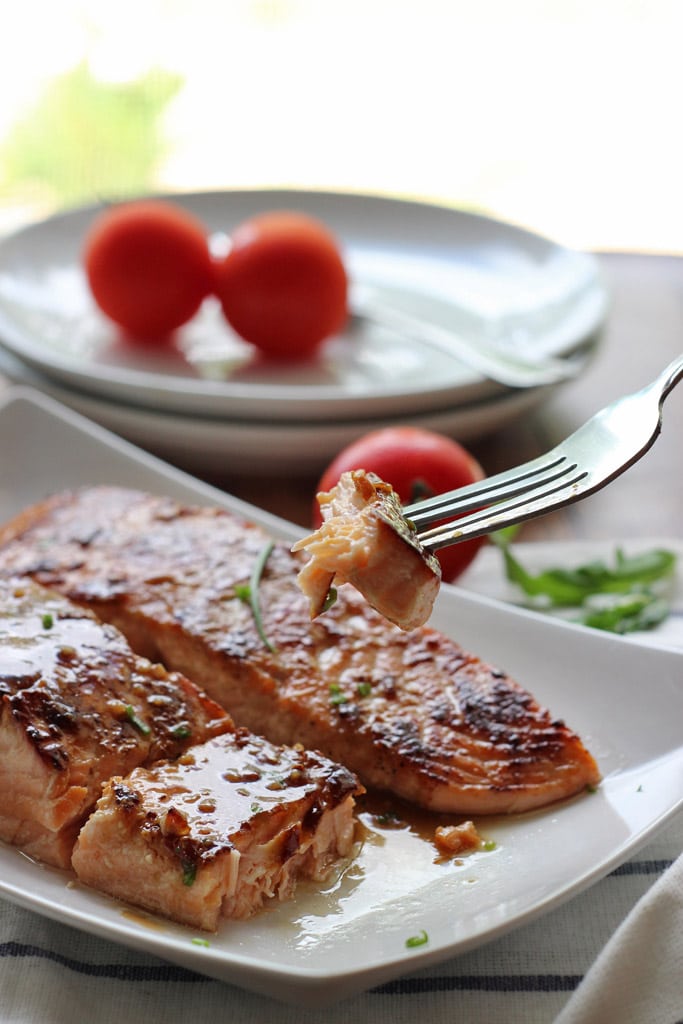 Add more flavor: Add more flavor with red pepper flakes, smoked paprika, fresh lime, or lemon juice. Also, try toppings like black sesame seeds or freshly sliced green onions for texture and crunch.
And that's it. I wasn't kidding when I said it was super easy. Not too shabby for a dinner that's also pretty healthy. Enjoy!
MORE SALMON RECIPES TO TRY
Did you make this recipe? Rate it!
♡ If you liked this recipe, giving it a star rating ★★★★★ in the comments below really helps! For more recipes, subscribe to my newsletter or follow me on Facebook, Instagram and Pinterest.
Print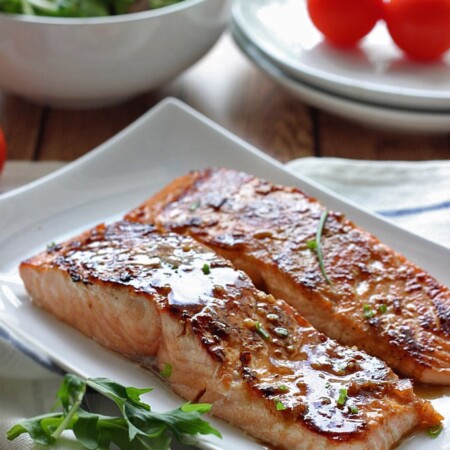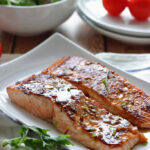 Honey Garlic Salmon
---
Author:
Total Time: 30 mins
Yield: 2 1x
Description
Quick and easy honey garlic salmon baked and ready in under 30 minutes. With a sweet and savory marinade and sauce of garlic, ginger, honey and soy sauce.
---
Sauce
1 teaspoon garlic, minced/ 1/4 teaspoon garlic powder
1/2 teaspoon ginger, minced (optional)
4 tablespoons honey
2 tablespoons soy sauce
---
Instructions
Combine the sauce ingredients and divide the sauce in half.
Marinate the salmon in half of the sauce for 15-30 minutes.
Arrange salmon on a foil-lined baking sheet and bake at 350°F for 15-20 minutes, depending on the thickness of the salmon.
Baste the salmon with the leftover marinade halfway through.
[Optional step] Over medium-high heat, bring the other half of the sauce to a boil and simmer for 3-5 minutes until reduced.
Dish and serve the salmon hot drizzled with the remaining sauce.
Enjoy!
Notes
For a slightly crisp and caramelized top, sear the top of the salmon over medium-high heat for 1-2 minutes before baking or broil at the end for 1-2 minutes until browned.
If you own an air fryer version, try out air fryer honey garlic salmon.
Prep Time: 10 mins
Cook Time: 20 mins