Enjoy this creamy, cheese-packed chicken Alfredo pasta bake with three kinds of cheese and plenty more to go around. There are tons of melty cheese strings in this fall casserole!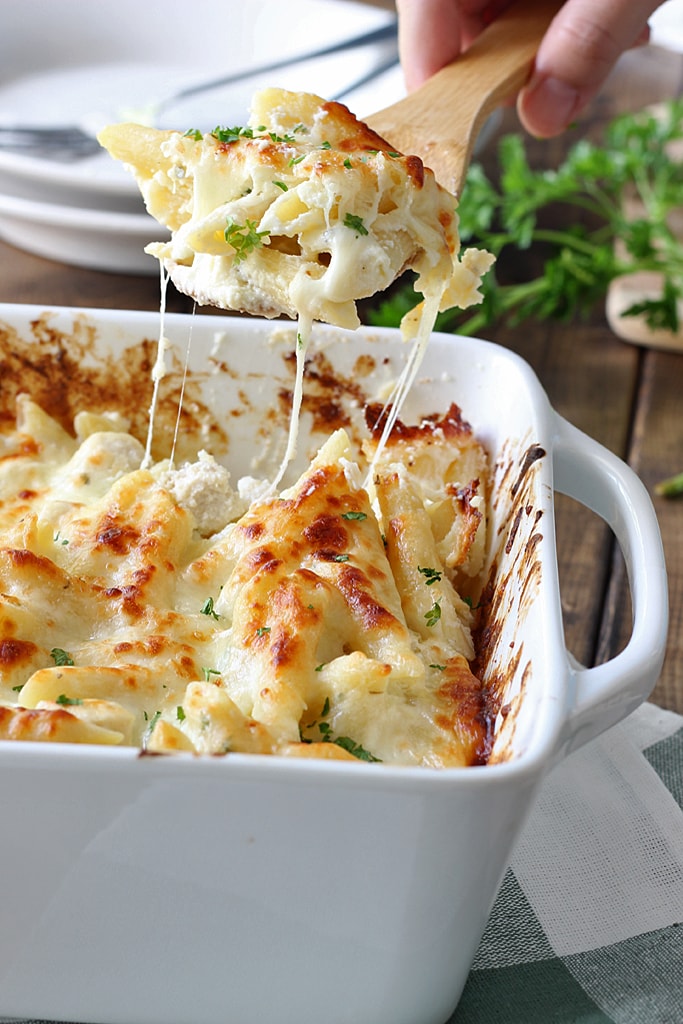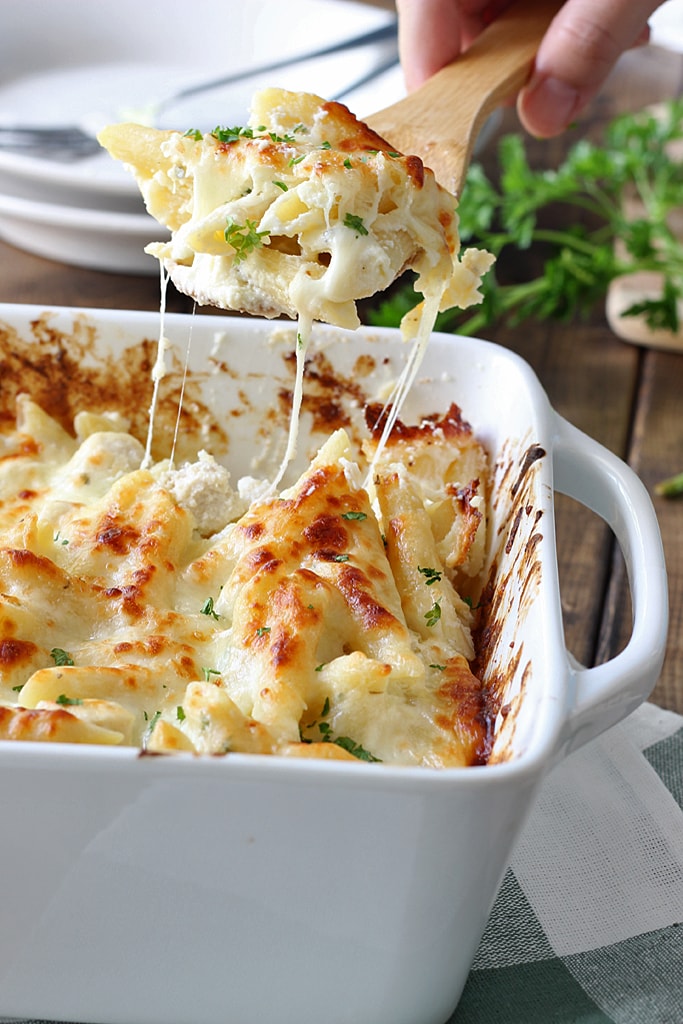 I don't know about you, but I love a good Alfredo. It's rich, it's definitely not good for you, but it's oh so yummy. And why shouldn't we love it? It has all the goodness of butter, cream and Parmesan. Creamy. Cheesy. Yummy. So today we're taking good old Alfredo sauce and making a chicken pasta bake. And we'll add more cheese plus other stuff to make a great fall casserole.
So if you're wanting cheese, I've got your back. This makes a HUGE serving to go around and it heats up well. It'll make that wet squishy sound when you mix it all up, a sign of tons of creamy cheesy power. It'll give you long strands of cheese when you dish a serving. The kind that you'll want to run your finger along to break. And it'll satisfy your cheese craving.
How To Make Chicken Alfredo Pasta Bake (1 Min Video)
Ingredients in Chicken Alfredo Pasta Bake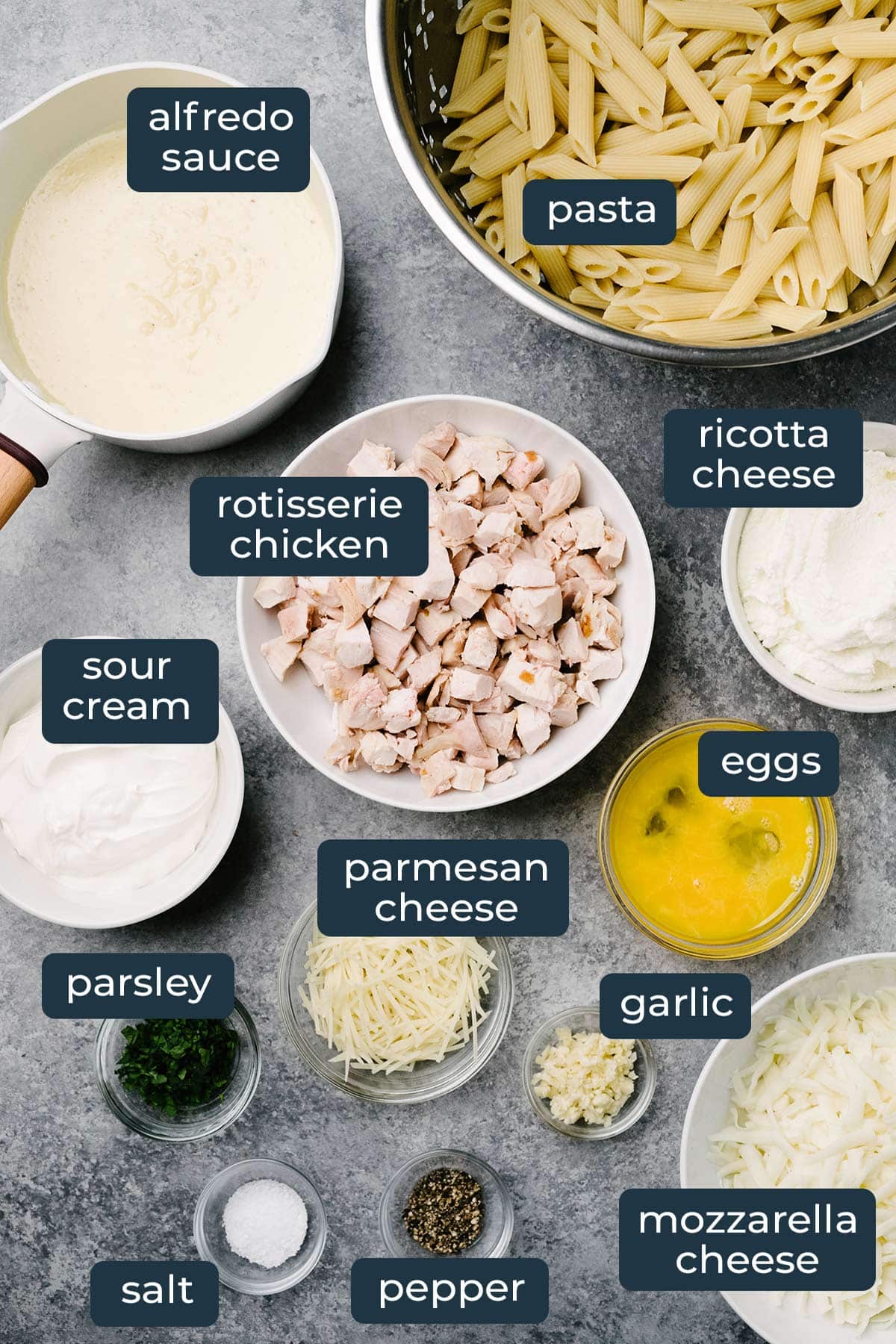 CHICKEN ALFREDO PASTA BAKE RECIPE TIPS
The great thing about this recipe is how you can customize it to save you time. I made the Alfredo sauce from scratch but you can also use store-bought sauce Alfredo sauce. I used some rotisserie chicken but if you're not a fan, any kind of leftover or cooked chicken works just as well. You can grill, pan-fry or poach about 2 lbs. of boneless, skinless chicken breasts and cube or shred them for the casserole.
You can also customize what kind of pasta you're using. I used penne for this recipe but it works with all kinds of tube-type pasta like ziti, rigatoni, elbows, or other pasta shapes like shells, cavatappi, bowties, or fusilli.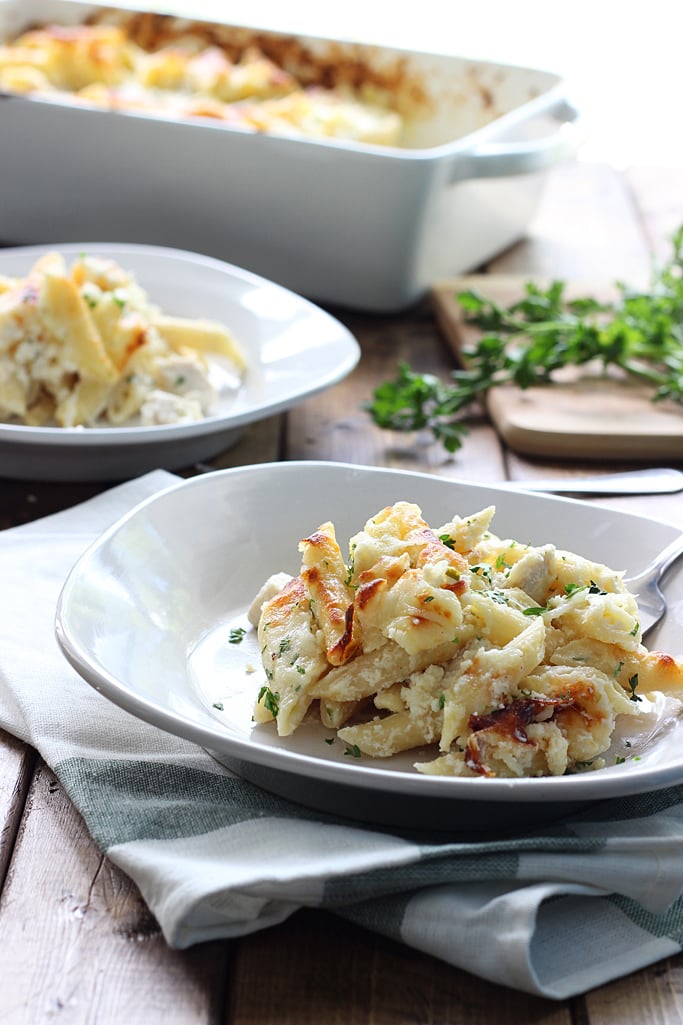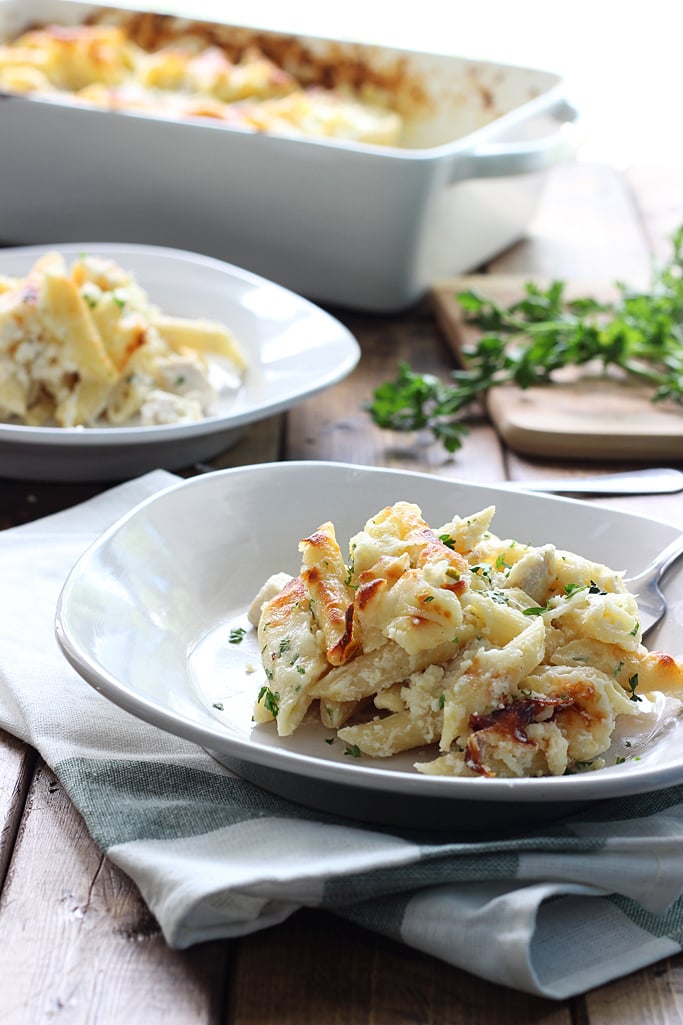 One thing I did make sure to do was to cook the pasta until the point just before it turns al dente. Then I rinsed it under cold water to stop the cooking process. Because if it continues cooking in the cheese sauce in the oven, it'll get slightly mushy.
I'm not a big fan of mushy pasta so I finish off the al dente process in the oven. Works for me. If you don't mind or even like mushy stuff (and I'm not talking about romance), then keep on cooking that pasta until it's al dente. The rest of you can join me in my anti-mush club.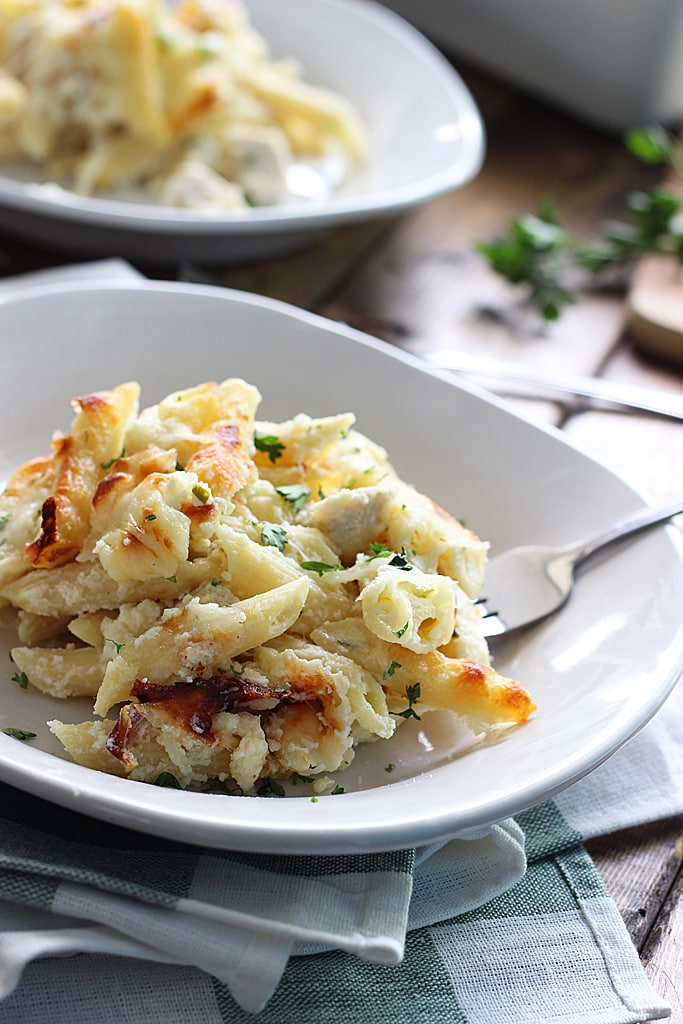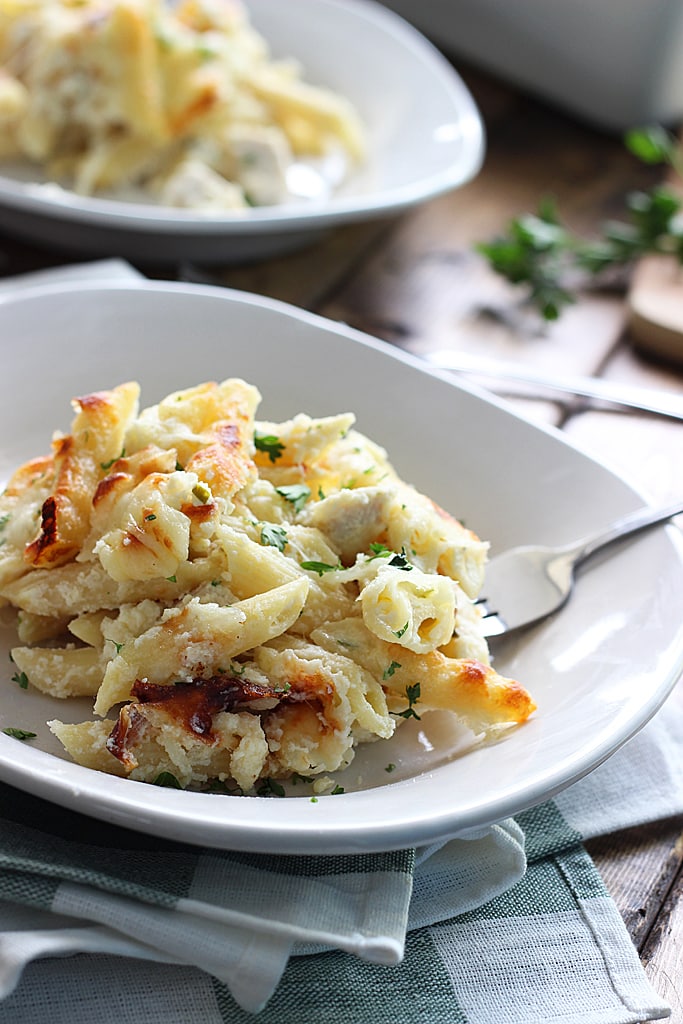 Another thing I want to kind of throw in here is that there's a lot of ricotta to go around, as you can see. So if you're not big on it, you can halve the ricotta and egg portion before mixing it in with everything. Some people like it, and some people don't. My preferred brand of ricotta is Galbani, so I'm a big fan.
The last time I made a casserole with tons of cheese was last year. My chicken, spinach and mushroom pasta bake are still rocking it. I was still using my iPhone back then to take pics and I didn't have all the gadgets and gizmos I have now to take a good stringy cheese shot. So this year, I made up for it.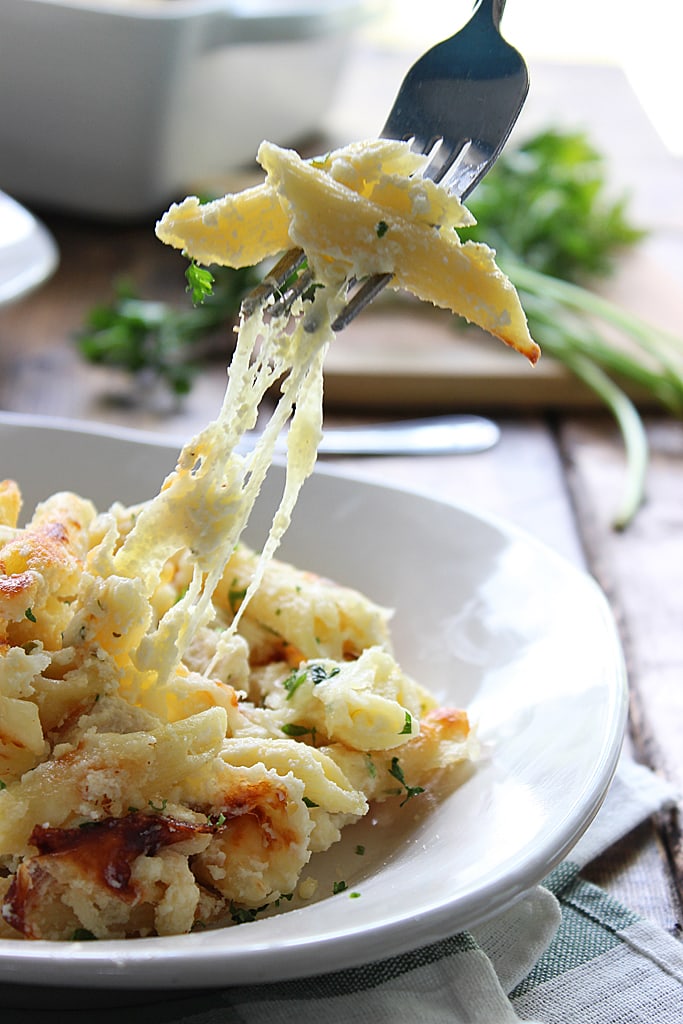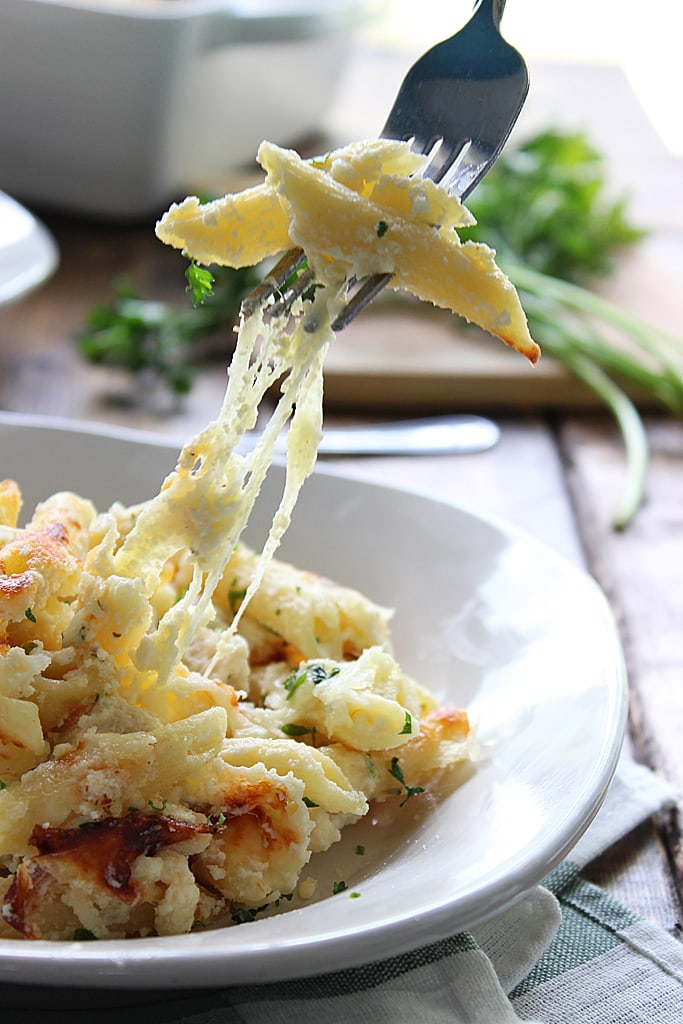 So really, if there's just the two of you and you want leftovers that will reheat well for days, this recipe is perfect for you. Or if you're a family of four and you want something for two days, here you go. And if you have a huge family, have at it. This can serve up to ten servings. The cheese is not stingy!
Enjoy and let me know how you liked it, what substitutions you made and what you paired it with in the comments below!
MORE ALFREDO RECIPES TO TRY
Did you make this recipe? Rate it!
♡ If you liked this recipe, giving it a star rating ★★★★★ in the comments below really helps! For more recipes, subscribe to my newsletter or follow me on Facebook, Instagram and Pinterest.
Print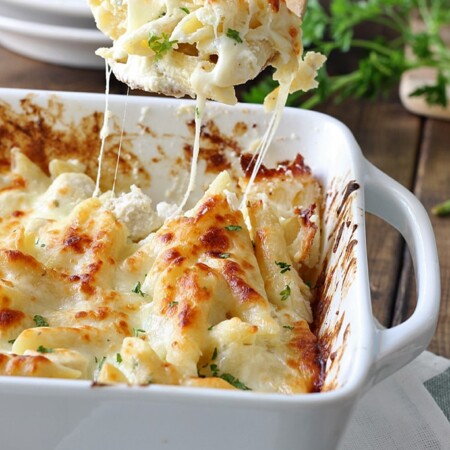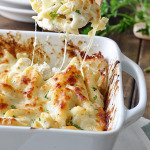 Chicken Alfredo Pasta Bake
---
Author:
Total Time: 50 mins
Yield: 8–10 1x
Description
This creamy chicken Alfredo pasta bake is a comforting fall casserole with three kinds of cheese and lots of melty cheese strings.
---
16 oz. penne/ziti/rigatoni pasta
2 cups Alfredo sauce
8 oz. sour cream
3 cups cooked/rotisserie chicken, cubed
15 oz. ricotta cheese
2 cloves garlic, minced
2 large eggs, beaten
1/4 cup Parmesan cheese, shredded
1 tablespoon fresh parsley, chopped
Salt and pepper to taste
2 cups mozzarella cheese, shredded
---
Instructions
Cook the pasta until just before al dente, about 2 minutes shy of the package directions. Drain and rinse pasta under cold water to stop the cooking process.
If you're making Alfredo sauce from scratch, see notes.
Mix cooked pasta with Alfredo sauce, sour cream and cooked chicken. Season with salt and pepper to taste.
Combine ricotta, garlic, eggs, Parmesan and parsley and mix well.
Add the ricotta mixture to the pasta and stir to combine. Transfer everything to a 9×13 casserole dish.
Top with a thick layer of mozzarella cheese and bake uncovered at 350°F for 30 minutes or until the cheese has melted and the casserole is bubbly.
Broil at 450°F for 2-3 minutes or until the cheese starts to brown.
Dish and serve hot.
Enjoy!
Notes
Homemade Alfredo sauce (2 cups):
INGREDIENTS:
1/2 cup butter
2 cloves garlic, minced
1 1/2 cups heavy cream
2 cups Parmesan cheese, freshly grated
1/2 teaspoon Italian seasoning
1/4 teaspoon coarse sea salt, or to taste (see note)
1/8 teaspoon pepper
INSTRUCTIONS:
Melt butter in a large saucepan or skillet over medium heat. Add garlic and saute until fragrant, about 30 seconds.
Slow stir in the heavy cream and bring to a gentle boil.
Reduce heat to medium-low and add grated Parmesan cheese in batches, stirring constantly until the cheese melts smoothly into the sauce. Season with Italian seasoning, salt and pepper.
Simmer gently until the sauce has thickened and coats the back of a spoon, about 3-4 minutes. Do a taste test and adjust seasonings, if needed.
Prep Time: 20 mins
Cook Time: 30 mins