Use store-bought ingredients for this quick and easy lemon pepper chicken Alfredo pasta that serves 6-8 and is ready in 30 minutes.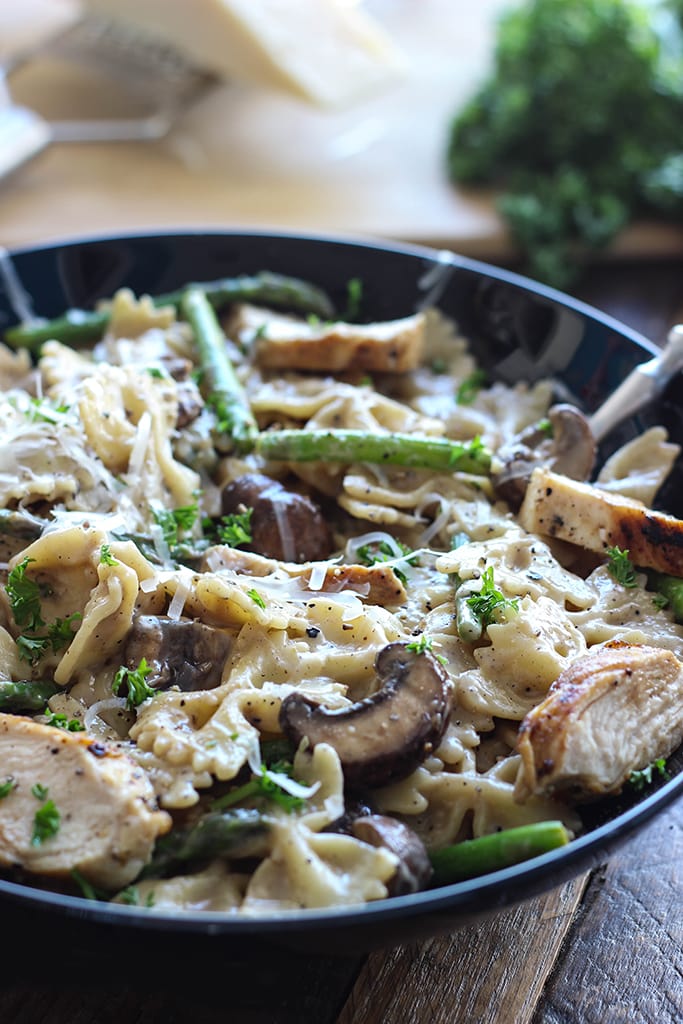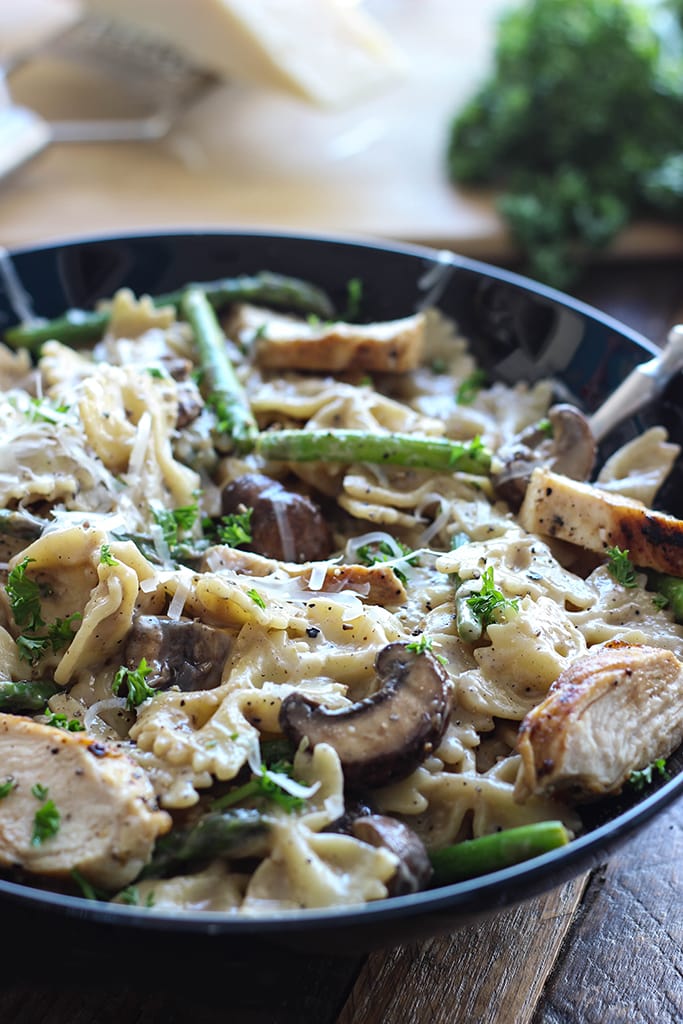 Today we'll be making some creamy lemon pepper chicken Alfredo pasta mixed with bite-sized pieces of fresh asparagus, baby portobella mushrooms and topped with thick-cut slices of seared chicken in lemon pepper seasoning. Top it with freshly cracked black pepper, parsley and of course, some Parmesan cheese.
I used farfalle or bow-tie pasta but you can substitute it with your favorite pasta. And for those that aren't fans of mushrooms, you can change it up with whatever you like, or just leave it out. I find the lemon pepper notes compliment an Alfredo sauce really well. Lemony and creamy! This one should take you all of 30 minutes in the kitchen for a hearty meal that can serve 6-8 people. Maybe toss in some garlic bread while you're at it, because everyone loves garlic bread. Let's start cooking!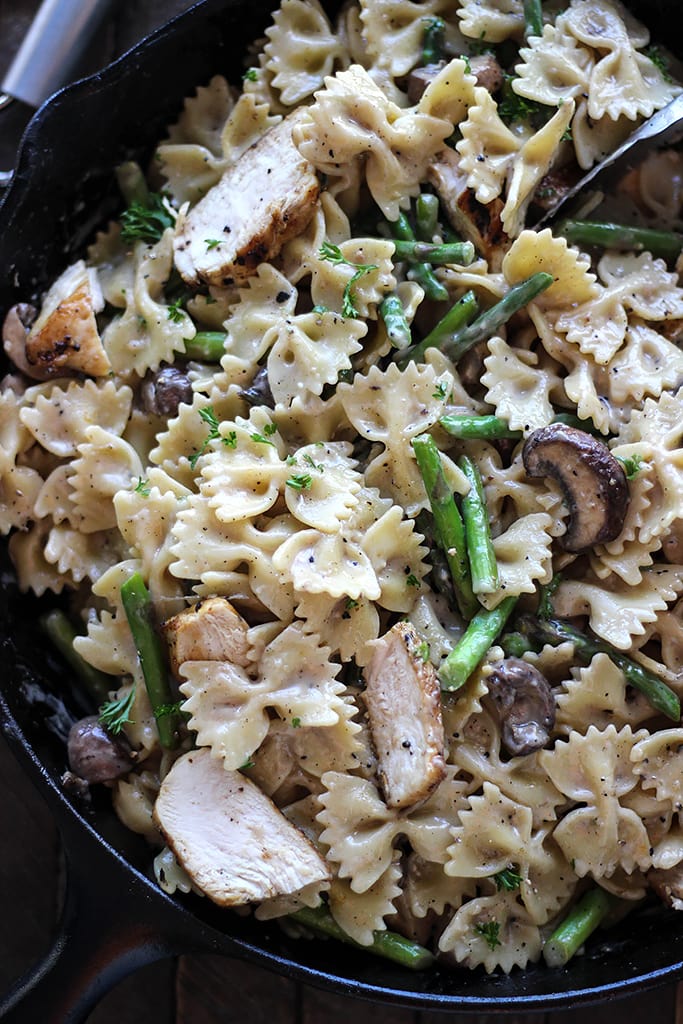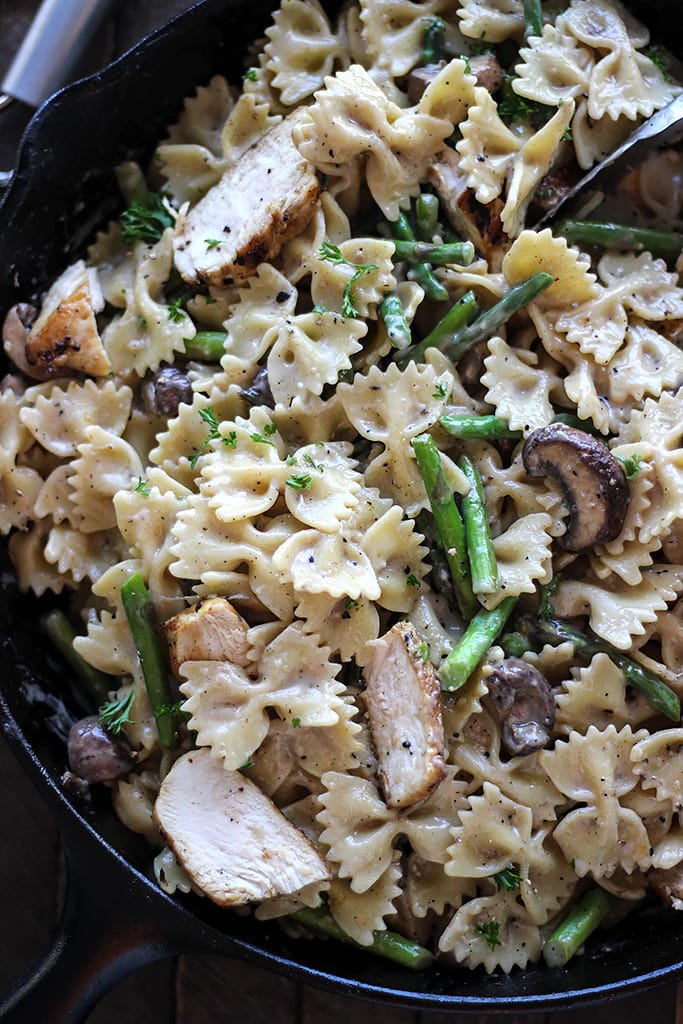 Start by cooking the pasta according to the package directions until al dente. I like to sample one before draining it out of the pot just to make sure, it's always good practice. While it's cooking you can start seasoning your chicken and searing it in a large skillet with some oil. Get it nice and hot before starting and cook the chicken until the center is no longer pink. The time it takes will depend on the thickness of your chicken breast. After that's done, slice it into thick strips with a sharp knife for nice clean cuts (I had to sharpen mine after cutting a few ragged pieces).
While the chicken is cooking, you can prep your mushrooms and asparagus. I quartered the mushrooms but you can slice them too. You can even find pre-sliced mushrooms in the vegetable aisle to save you some time, but I usually don't like the freshness (or lack thereof) of these ones, so I cut them myself. The slicing and dicing should take you 5 minutes, it's all pretty easy.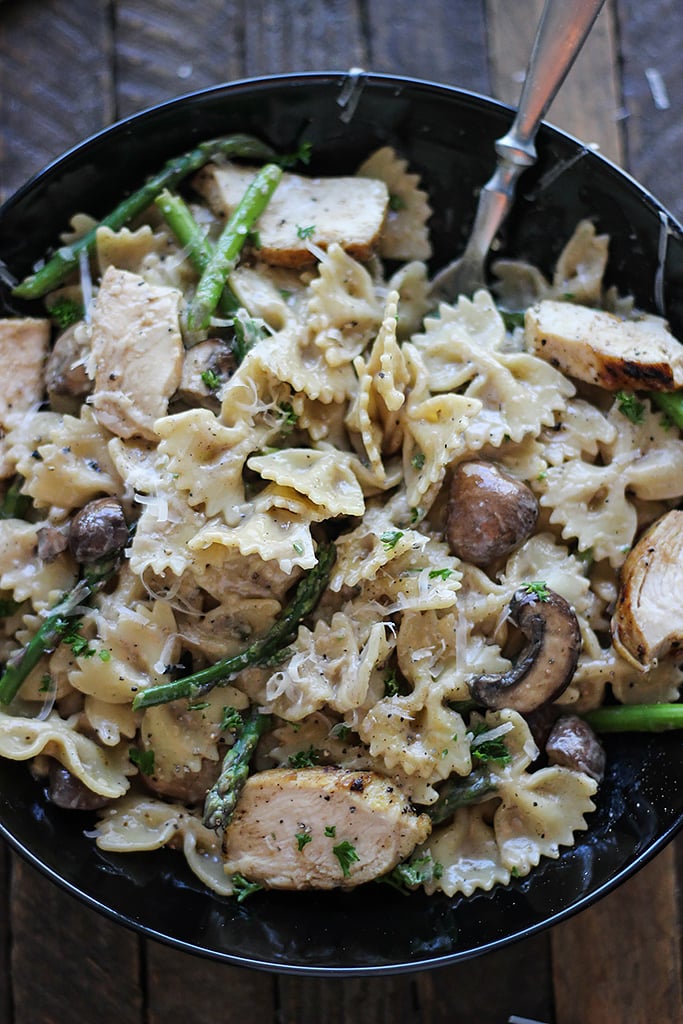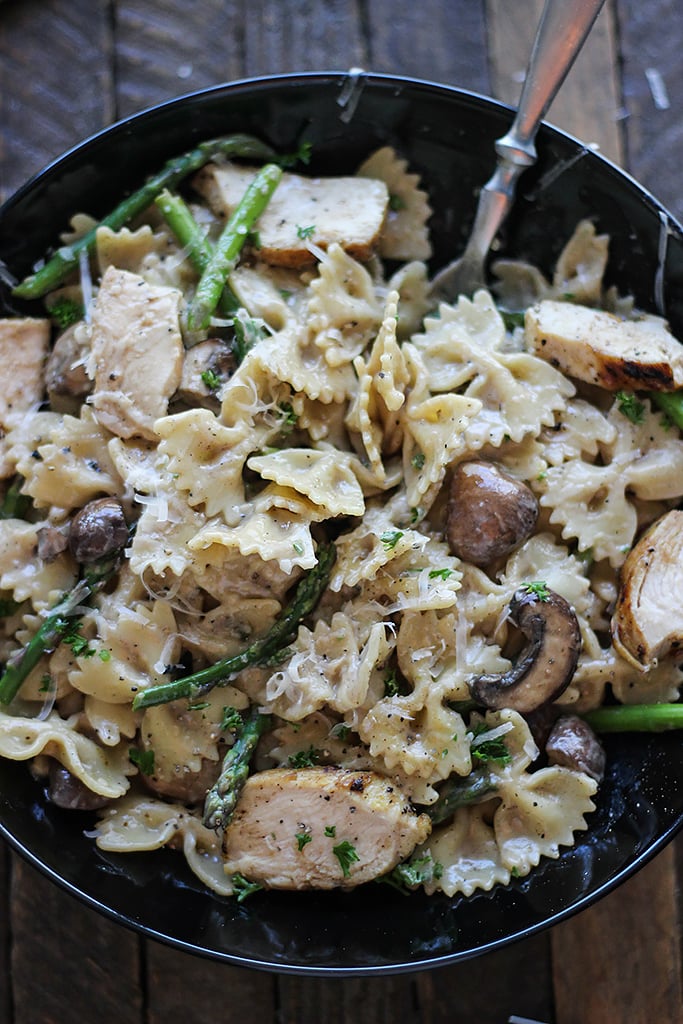 Once the chicken is done, add more oil to the pan if needed to saute the garlic, mushrooms and asparagus. This should take roughly 2 minutes until the mushrooms cook down. I used a cast iron skillet and had some sticky bits from the chicken searing so I deglazed the pan. You can use white wine for this or some chicken broth for a non-alcoholic and kid-friendly option.
Then we pour the Alfredo sauce in and mix it up. You can go for store-bought Alfredo or make it from scratch (I'll put the recipe for it in the notes section). Bring the sauce to a gentle boil and add the pasta. Stir to mix well and season with salt and pepper to taste.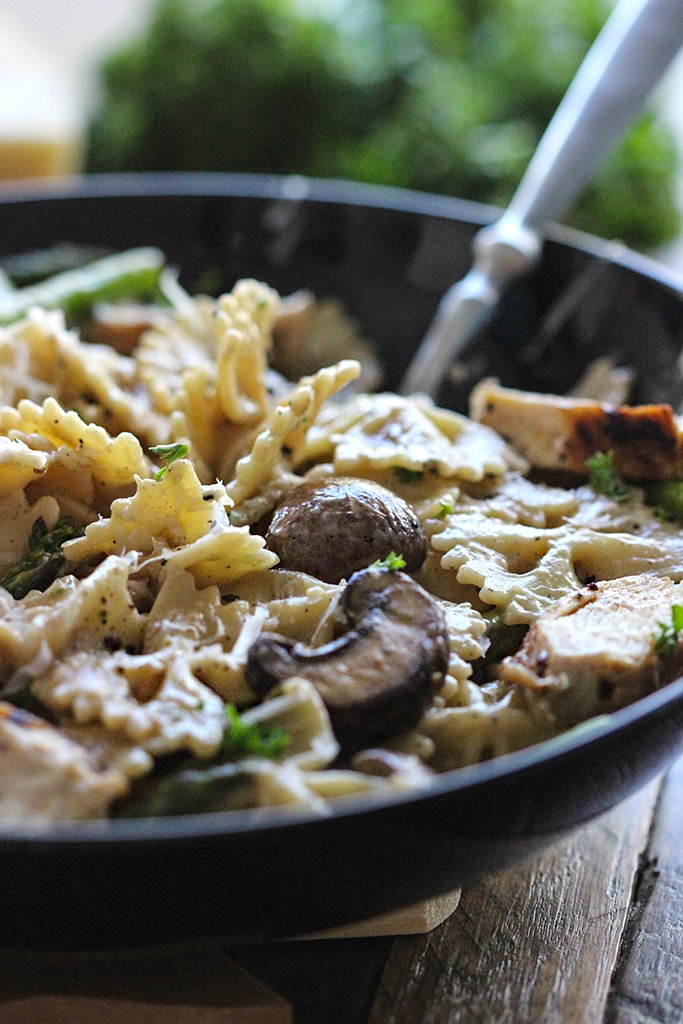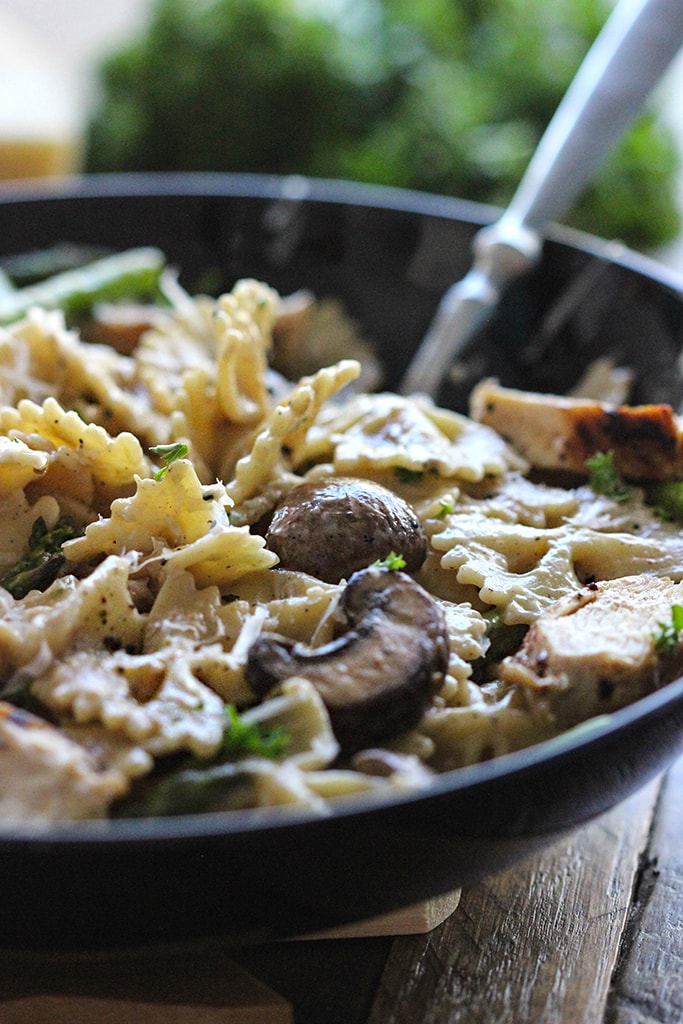 At this point, you can opt to reintroduce the chicken slices to the pan to get it all nice and creamy as well, or serve the pasta with the chicken slices on top. I opted for the latter for food photography purposes (so the chicken is sear is more visible) but this is entirely up to you and how you want your chicken.
And we're done! That's all there is to it. Top with freshly chopped parsley and some Parmesan cheese and you're outta the kitchen! Enjoy and let me know how you liked it in the comments below!
Did you make this recipe? Rate it!
♡ If you liked this recipe, giving it a star rating ★★★★★ in the comments below really helps! For more recipes, subscribe to my newsletter or follow me on Facebook, Instagram and Pinterest.
Print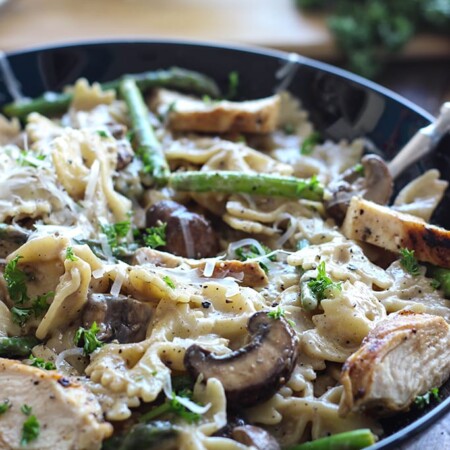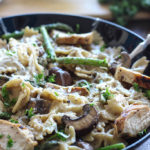 Lemon Pepper Chicken Alfredo Pasta
---
Author:
Total Time: 30 mins
Yield: 6-8 1x
Description
Use store-bought ingredients for this quick and easy lemon pepper chicken Alfredo pasta that serves 6-8 and is ready in 30 minutes.
---
16 oz. bow-tie/farfalle pasta
1 lb. boneless, skinless chicken breasts
Lemon pepper seasoning to taste
1 teaspoon garlic, minced
8 oz. baby portobello mushrooms, quartered/sliced
1/2 lb. asparagus, cut into 2″ pieces
1/4 cup white wine/chicken broth (optional)
2 cups Alfredo sauce
Salt and pepper to taste
2 tablespoons fresh parsley, chopped
Parmesan cheese, grated
---
Instructions
Cook the pasta according to package directions until al dente. Drain and set aside.
Season both sides of the chicken breasts with lemon pepper seasoning.
In a large skillet over medium-high heat, pan-sear the chicken in some oil. Reduce heat to medium after searing the first side.
Cook chicken on both sides until browned or until the center is no longer pink. Slice them into thick strips.
In the same pan, saute the garlic, mushrooms and asparagus in some oil until cooked, about 2 minutes.
If you have stuck on bits in the pan, deglaze it with 1/4 cup of white wine or chicken broth.
Pour in the Alfredo sauce and let the sauce come to a gentle boil.
Add in the pasta and stir to mix.
Season with salt and pepper to taste.
Dish and serve hot, topped with chicken slices, fresh parsley and Parmesan.
Notes
Homemade Alfredo sauce (2 cups):
INGREDIENTS
8 tablespoons butter
1 cup heavy cream
Salt and pepper to taste
2 cups Parmesan cheese, freshly grated
INSTRUCTIONS
Over medium-low heat, melt the butter and pour in the heavy cream. Stir to combine
Season with salt and pepper to taste
Remove pan from heat and add the Parmesan cheese in portions and stir to mix
Prep Time: 5 mins
Cook Time: 25 mins