This pizza pasta casserole has all the flavors of pizza you love in casserole form topped with tons of mozzarella cheese to get those much-loved cheese strings!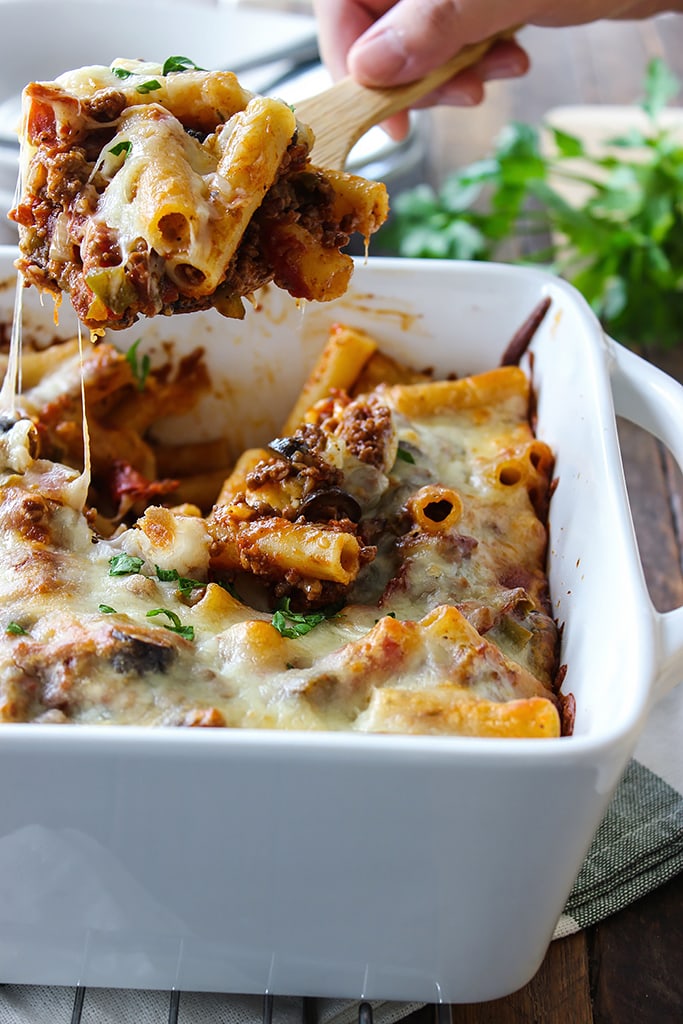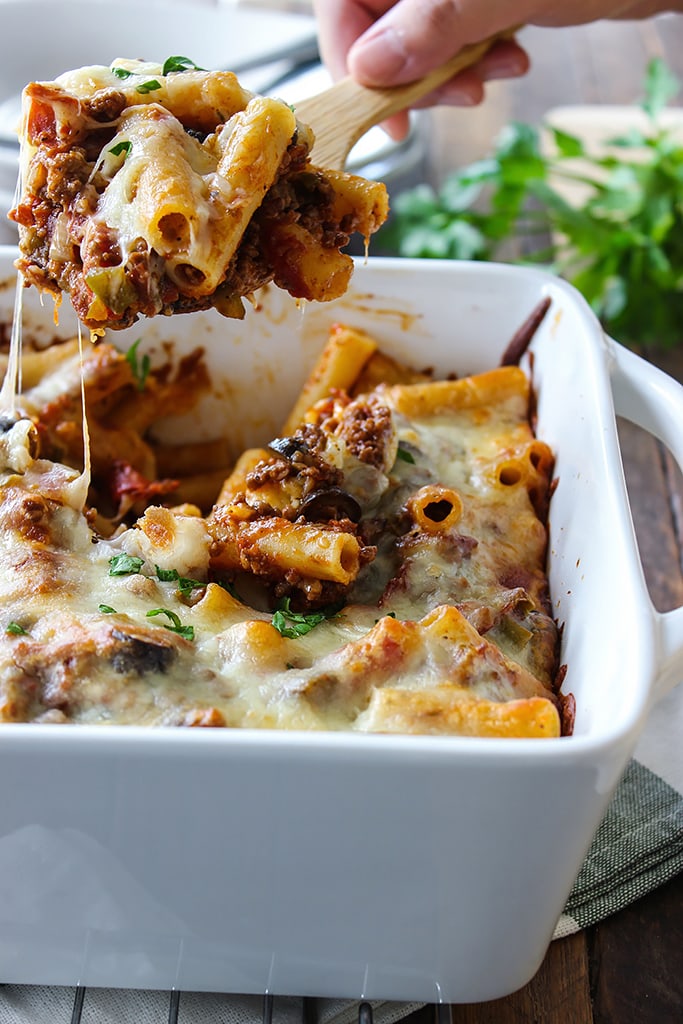 Today we'll be doing a casserole with all the flavors you love in a supreme pizza. With ground beef, pepperoni, fire-roasted tomatoes, bell peppers and black olives, expect a very meaty pasta sauce.
We're going to combine it with a tube-type pasta like penne/ziti/rigatoni, put it in a casserole dish and bake it with a thick layer of mozzarella cheese on top to get those classic cheesy pizza strings everyone loves.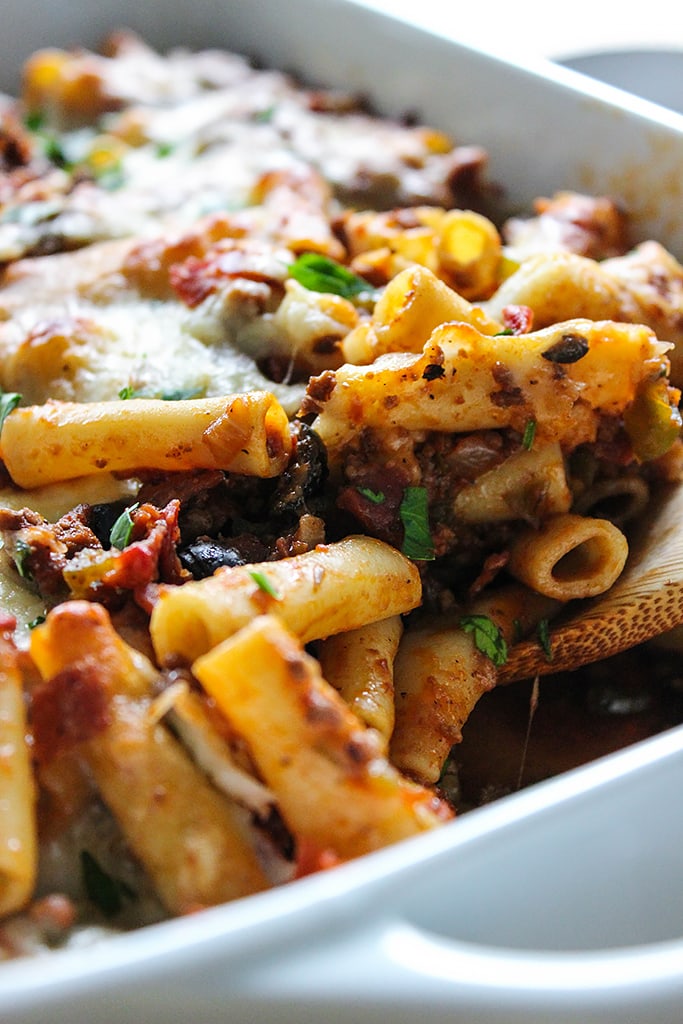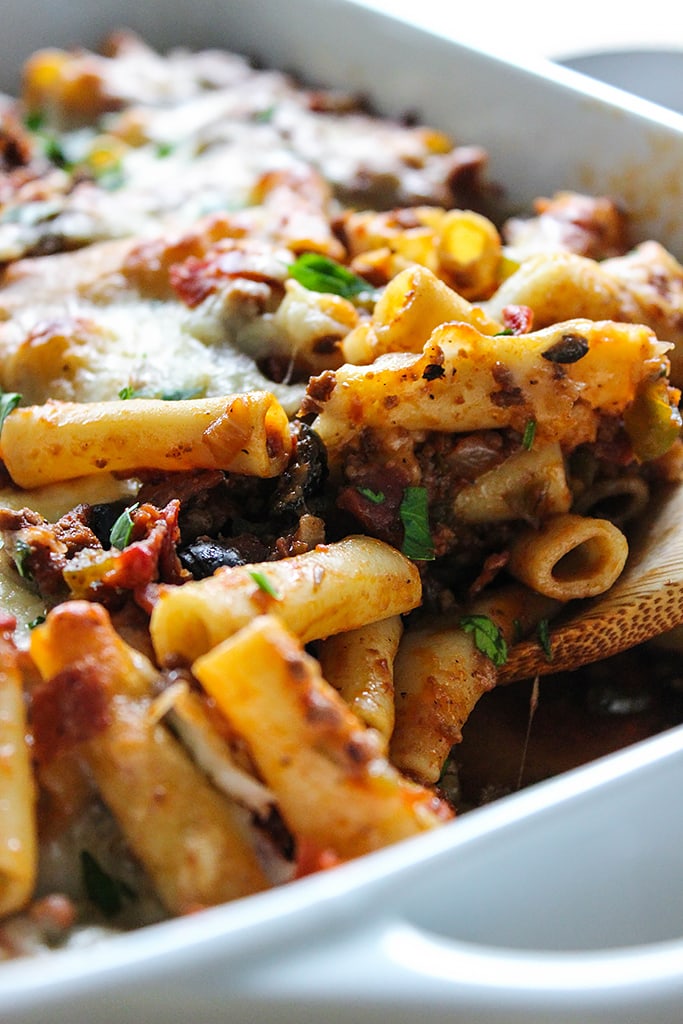 It's all the flavors you love from a pizza, in a pasta casserole form that's big enough to feed a crowd. I've included the flavor profile of the popular red pasta sauce from the slow cooker beef and cheese pasta recipe, which is especially popular with the kids.
The long and short of it is I always balance out the acidity of the tomatoes with some sugar so it has an even deeper flavor and make the sauce more robust with some beef bouillon cubes and Worcestershire sauce. So expect more than tart tomato flavors from this casserole! Let's get started!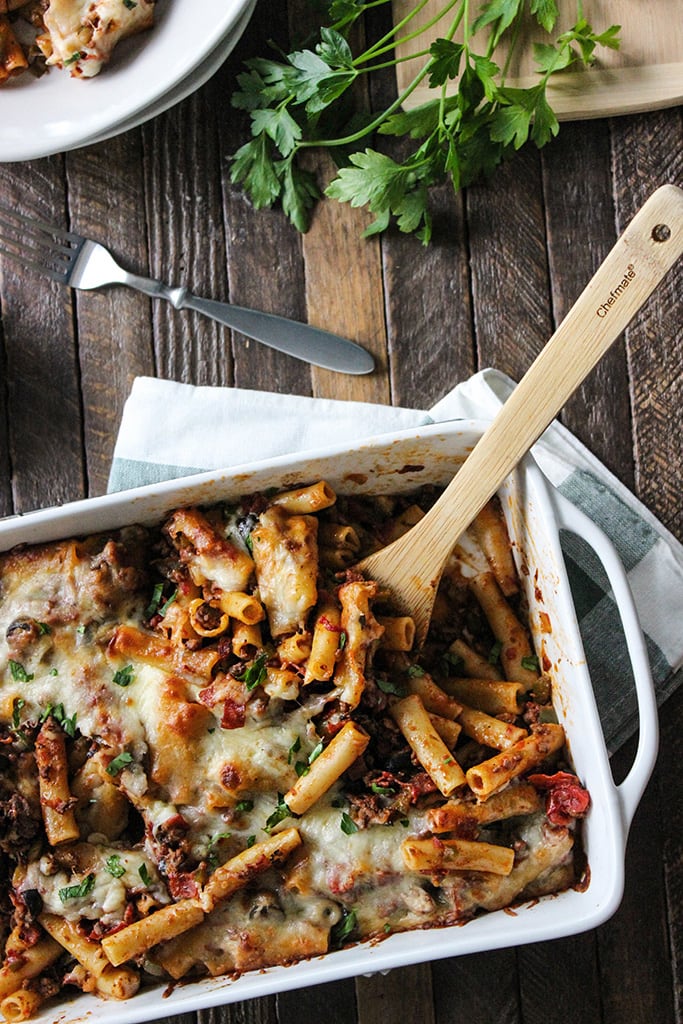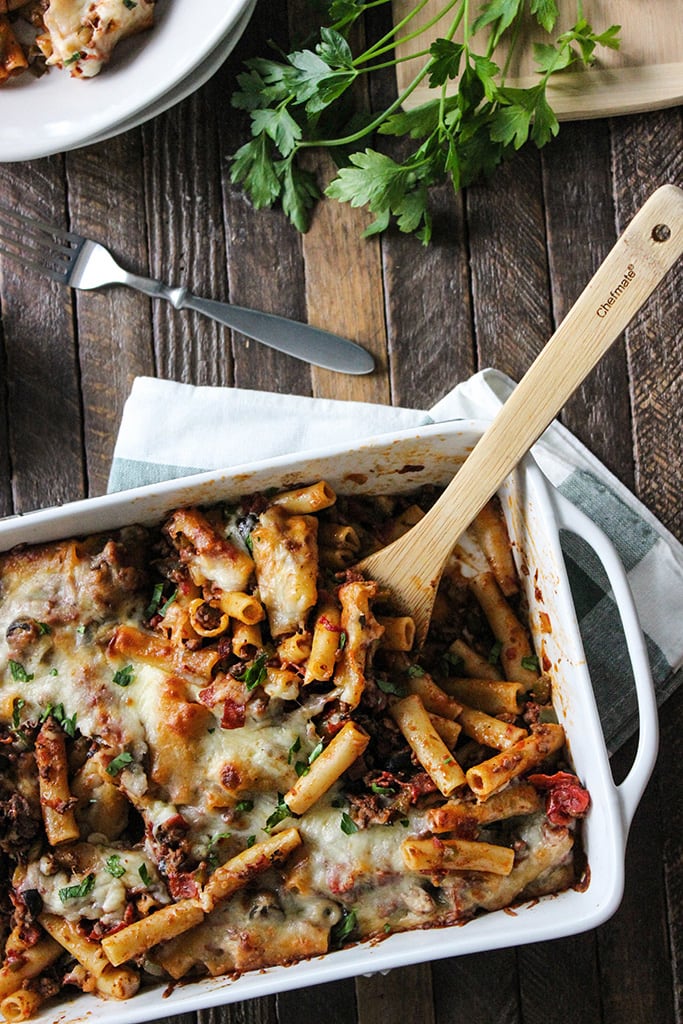 PIZZA PASTA CASSEROLE RECIPE TIPS
First, we brown the ground beef in a dutch oven to melt away all the fat and get rid of it. How much fat you'll get will depend on how lean it is. I've found though that even the leanest ones still tend to have some fat and we don't want that. It'll just make the pasta sauce greasy and watered down.
While you're browning the beef, start cooking your pasta until it's just before al dente, about 1-2 minutes less than the package instructions. This is so the pasta doesn't get too soggy while baking in the oven later. It will finish getting to al dente in the oven. I've found this method combats the typical stereotype of soggy pasta that pasta casseroles are famous for.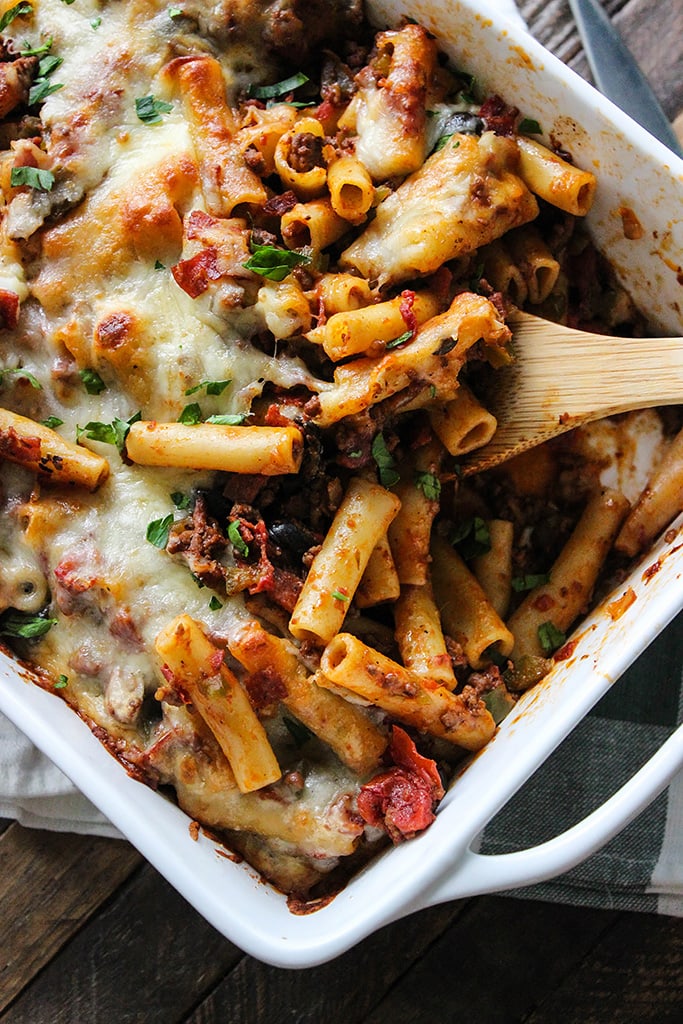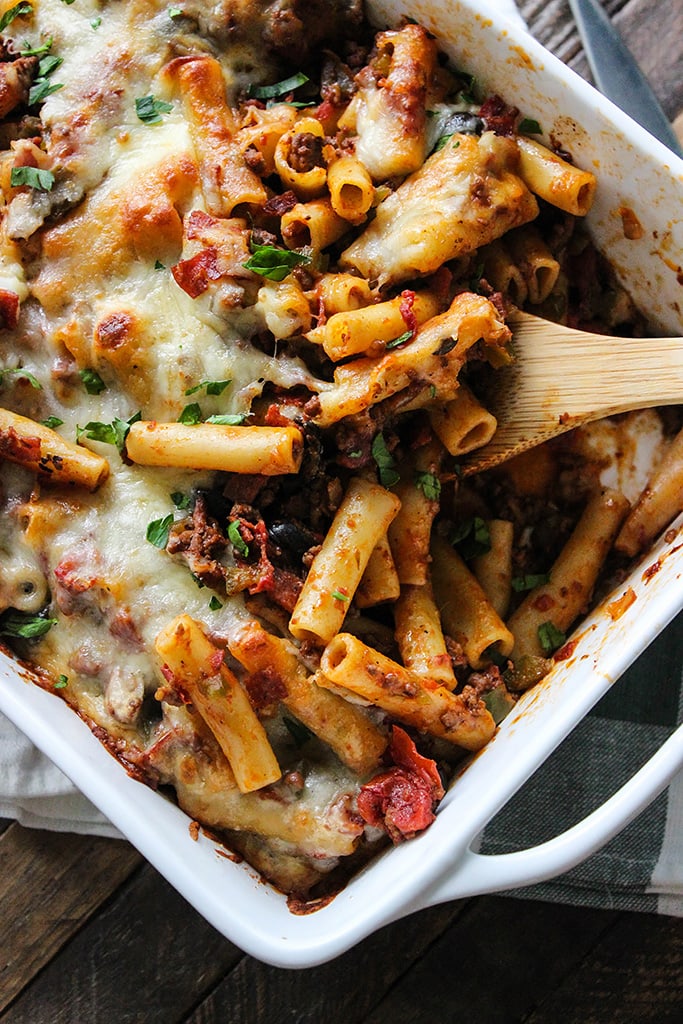 While the pasta is cooking, start slicing and dicing the pepperoni and the rest of the veggies. A good tip to dice up the pepperoni is to pile them into little stacks beforehand and then dice it up that way. You might be tempted to separate the diced pepperoni bits while dicing, but save it till all the dicing is done. The oil from the pepperoni will just make your grip on the knife slippery. Once it's done, run your fingers through the diced pepperoni to separate them and set them and the rest of the diced veggies aside.
In the same pot you used to brown the ground beef, saute the onions and garlic over medium-high heat until it starts smelling amazing. It's honestly one of my favorite smells in the world. I can't count the number of times I'd have the hubs yell from the living room that whatever I'm cooking smells incredible and I'd yell back "It's only onions and garlic!". No kidding.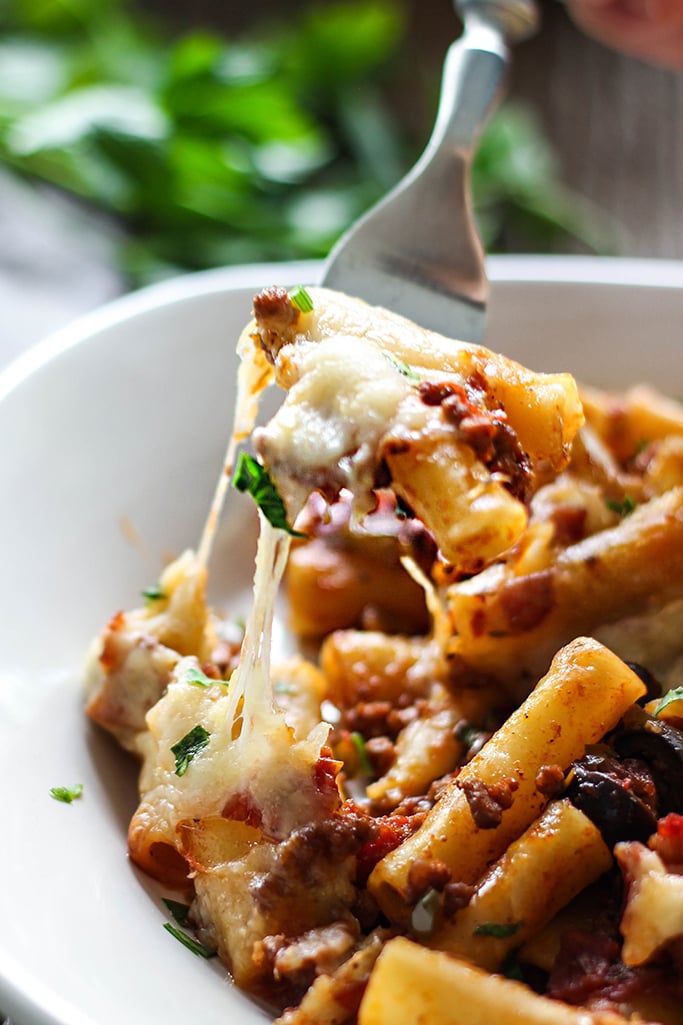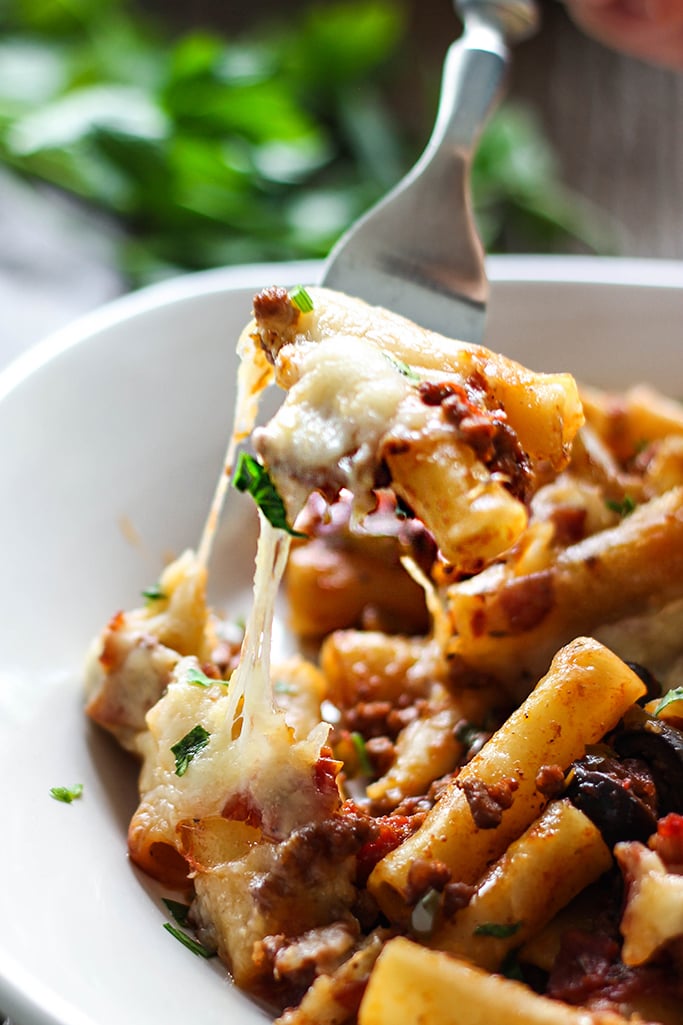 Back to the recipe, toss in the bell peppers and let them sweat a bit. Add in the beef, diced tomatoes and tomato sauce. This is when you reduce the heat to medium so it can come to a gentle boil. It's also to save your kitchen from the huge mess that is spitting tomatoes.
Toss in the diced pepperoni, olives and the seasonings with optional wine, if you like your pasta with that. Otherwise, leave the wine out to keep it kid-friendly. Then we simmer. Not too long, just enough to let all the ingredients get to know each other on a first-name basis.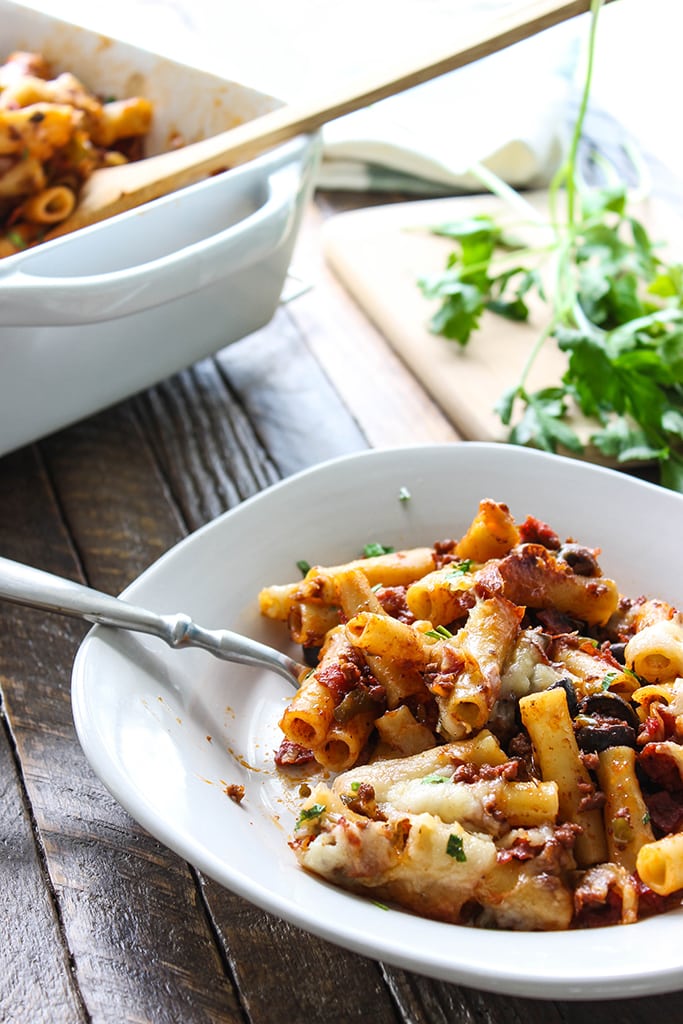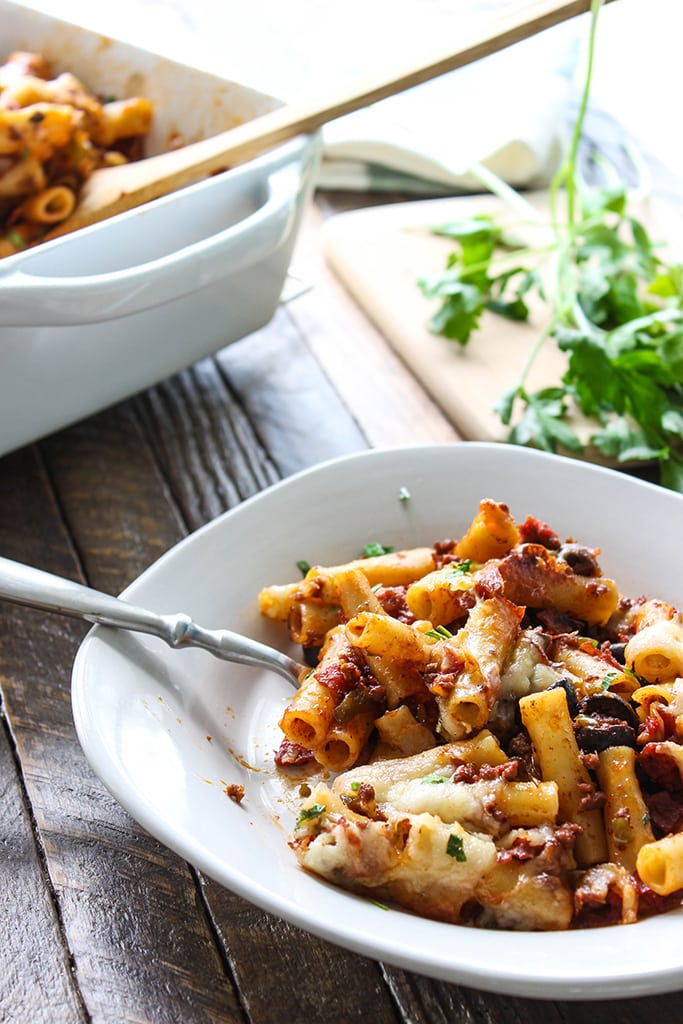 Now you can stop here if you like prepping in advance and you can reheat this sauce the next day with freshly cooked pasta to bake. The flavors will marry even more sitting overnight. Or if you want to do it all in one day, combine the pasta with the sauce and put it all in a casserole dish.
Top with two cups of mozzarella cheese and bake for 30 minutes. It'll get nice and bubbly in the oven and the cheese will brown slightly. If it isn't brown enough for you, add some broiling time. And you are done!
Serve, eat, and enjoy your pizza pasta casserole with some Parmesan cheese and some freshly chopped parsley or basil.
MORE PASTA CASSEROLES TO TRY
Did you make this recipe? Rate it!
♡ If you liked this recipe, giving it a star rating ★★★★★ in the comments below really helps! For more recipes, subscribe to my newsletter or follow me on Facebook, Instagram and Pinterest.
Print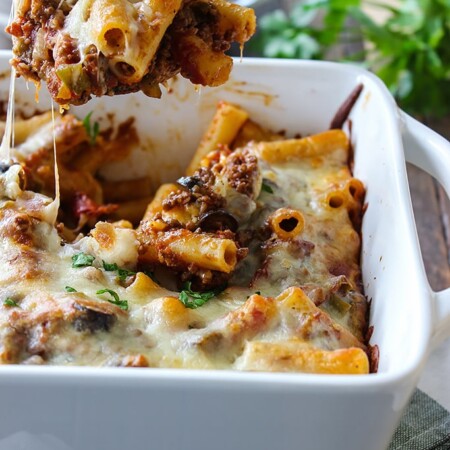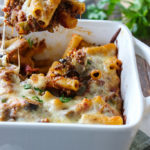 Pizza Pasta Casserole
---
Author:
Total Time: 1 hour
Yield: 8–10 1x
Description
This pizza pasta casserole has all the flavors of pizza you love in casserole form. With tons of mozzarella cheese and lots of cheese strings!
---
16 oz. penne/ziti/rigatoni pasta
1 lb. ground beef
1/2 yellow onion, diced
1 teaspoon garlic, minced
1 green bell pepper, diced
1 can (15 oz.) diced tomatoes, with liquid
1 can (15 oz.) tomato sauce
6 oz. pepperoni, diced
1 can (4 oz.) chopped/sliced black olives
2–3 tablespoons sugar
2 beef bouillon cubes
1 tablespoon Italian seasoning
1 tablespoon Worcestershire sauce
Red pepper flakes to taste
Salt and pepper to taste
1/2 cup red wine (optional)
2 cups mozzarella cheese, shredded
Parmesan and parsley/basil for toppings
---
Instructions
Cook the pasta till just before al dente. Drain and set aside.
While pasta is cooking, brown the ground beef over medium-high heat until cooked. Spoon out any excess fat and set cooked beef aside.
In the same pan, saute onions and garlic in some oil until fragrant, about 2 minutes.
Add bell peppers and saute for another 3 minutes until the vegetables sweat.
Add in beef, diced tomatoes and tomato sauce and bring to a gentle boil.
Reduce heat to medium and add in pepperoni, olives, sugar, bouillon cubes, Italian seasoning, red pepper flakes, salt and pepper to taste and red wine (optional).
Simmer uncovered for 10 minutes.
Combine pasta with pasta sauce and toss to mix.
Arrange in a 9×13 casserole dish and top with a thick layer of mozzarella cheese.
Bake at 350 degrees F for 30 minutes or until bubbly.
For optional more cheese browning, broil in the middle rack at 450 degrees F for 2-3 minutes.
Dish and serve hot with Parmesan cheese, parsley or basil.
Enjoy!
Prep Time: 15 mins
Cook Time: 45 mins