This meatball pasta bake can be made with just 5 simple store-bought ingredients or jazzed up with homemade Parmesan meatballs and marinara sauce. Choose how easy or complicated you want it to be and enjoy a delicious bubbling meatball casserole.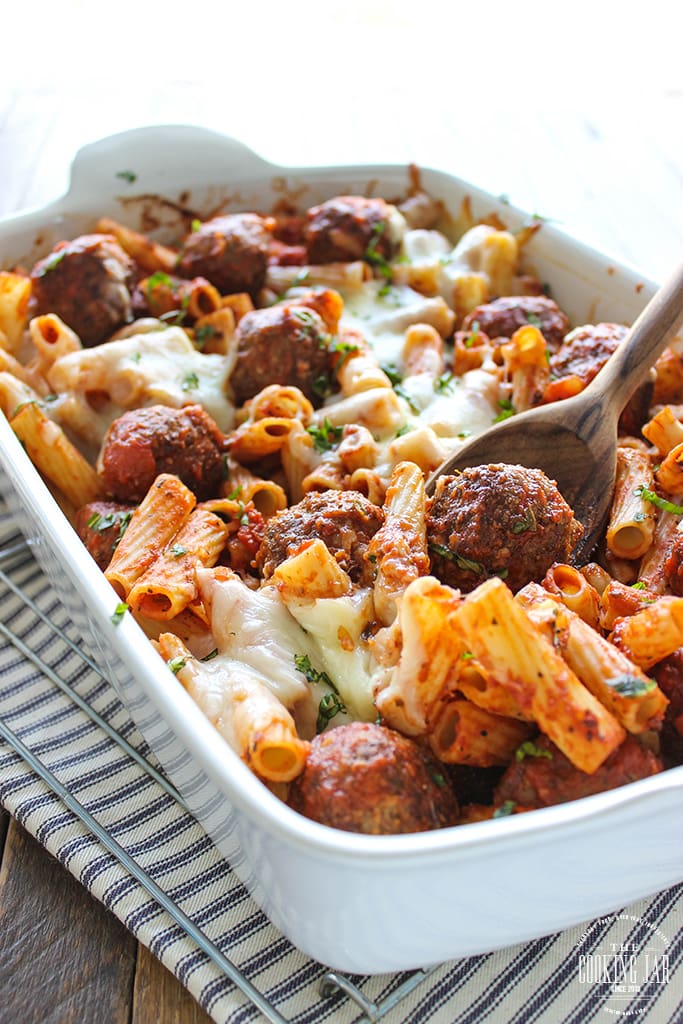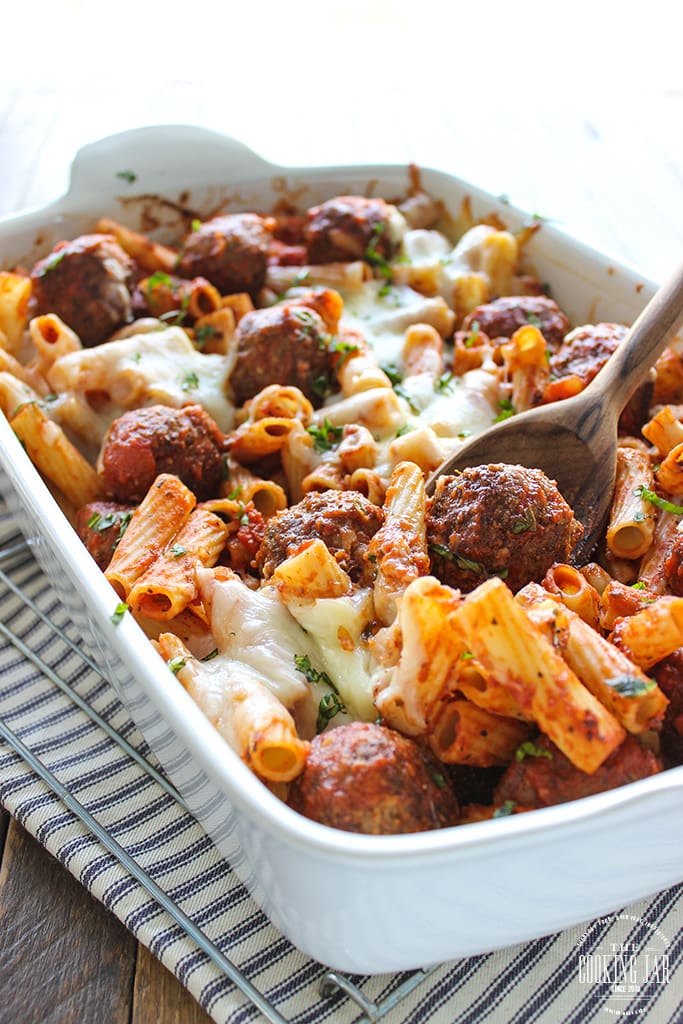 Today we're making a comforting meatball pasta bake. This meatball casserole will feed you for days with its cheesy goodness and meatball heartiness. And we're gonna go with versatility on this one. If you're not too fussy and want to keep it super simple and hassle-free, this can be a five-ingredient pasta bake with the store-bought stuff.
Or we can take it up a notch and make our own Parmesan meatballs from scratch because that's pretty easy too (and so, so, so very yummy). These homemade meatballs can be baked for those looking to be healthy, or pan-fried for those short on time. Grated Parmesan cheese is a secret ingredient that makes these meatballs delicious. Once you try them out, you might not want to go back and you might not be able to order meatballs at restaurants anymore because now you know you can make it better. Plus you might get random declarations of love from your significant other. Cause I know I do when I make them.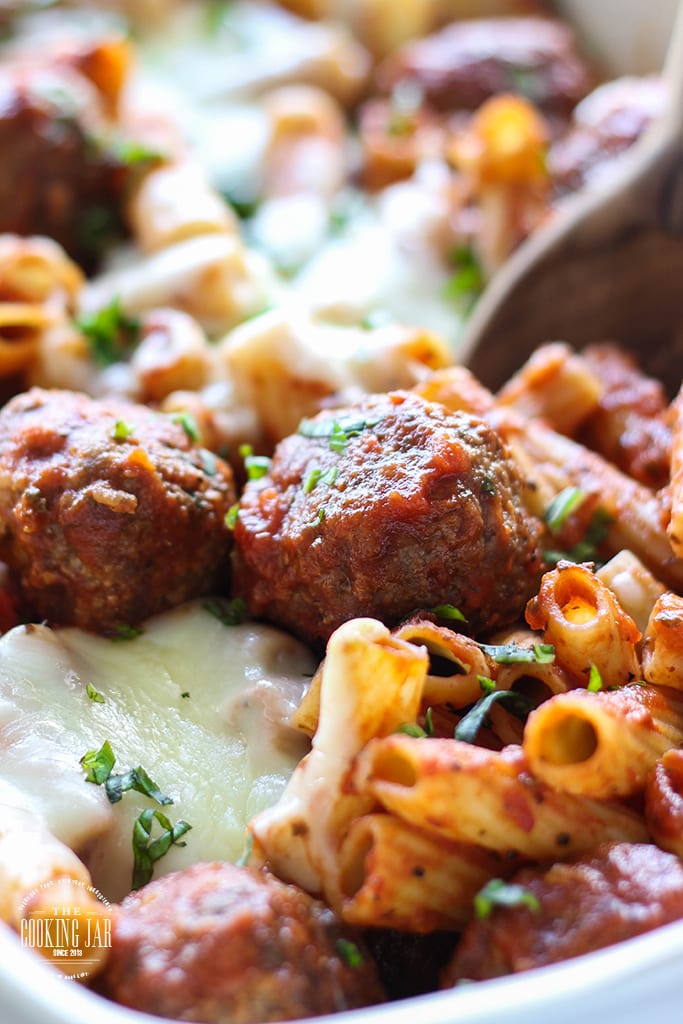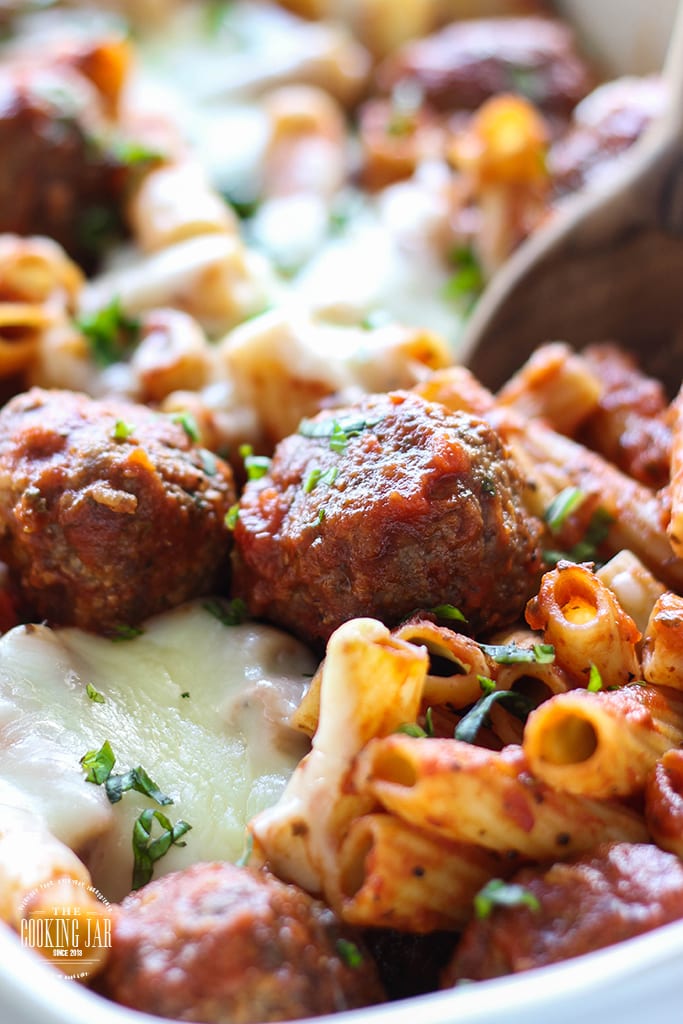 If you don't like the taste of the store-bought jarred marinara sauce, we can elevate that a little too with this homemade marinara sauce recipe. And finally, you can go with shredded mozzarella for the topping or fresh mozzarella. Remember, this is as simple and delicious as you choose to make it. It all depends on your mood. So let's start cooking.
How To Make Meatball Pasta Bake (1 Min Video)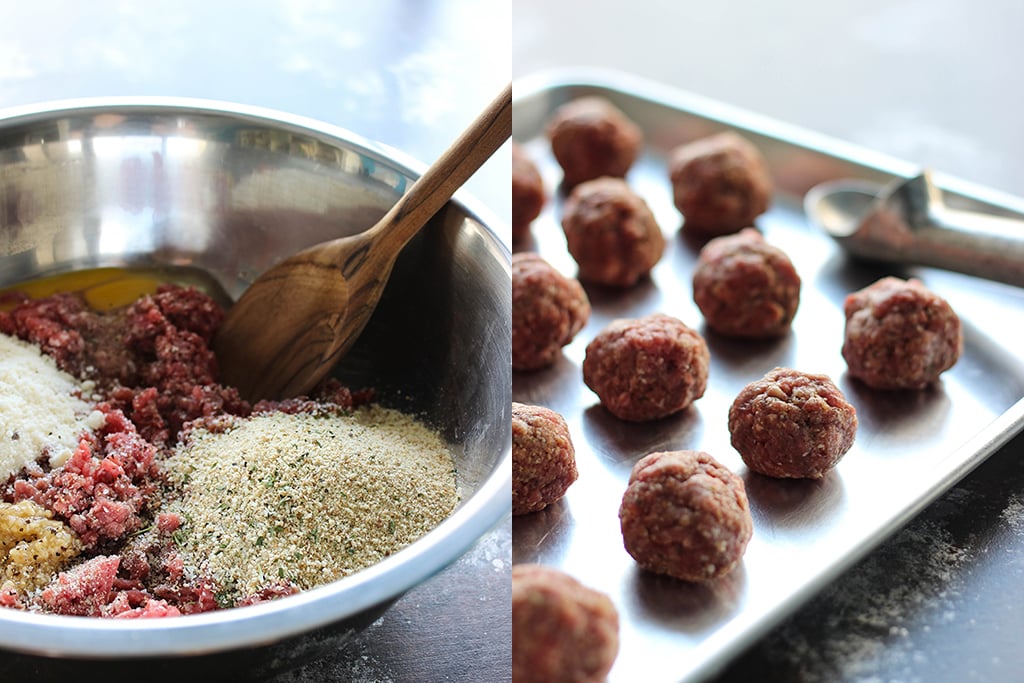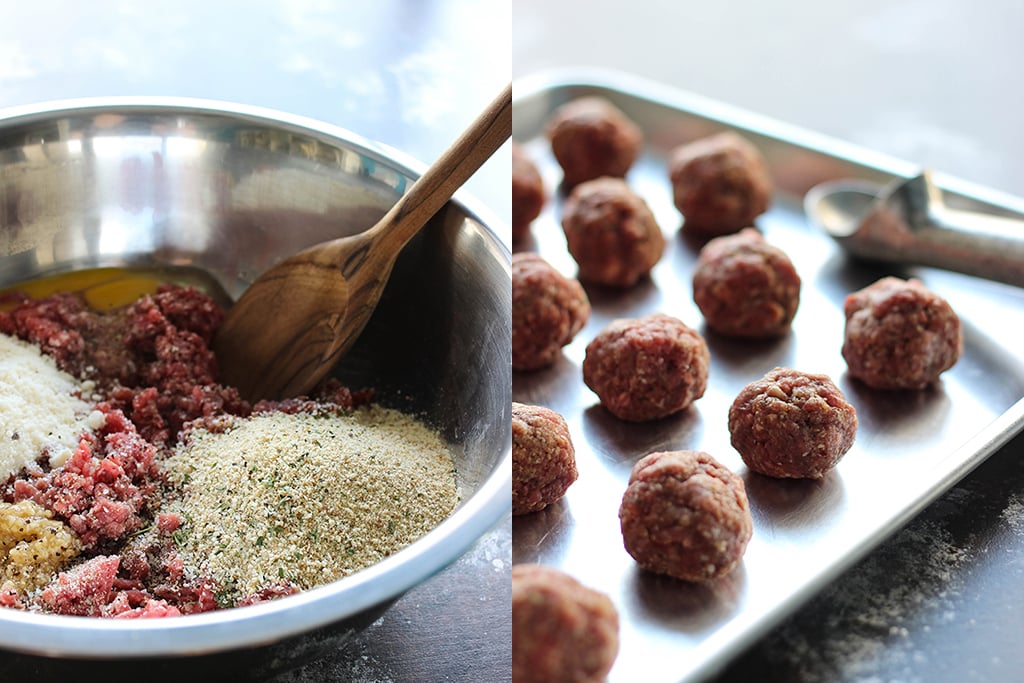 MEATBALL PASTA BAKE RECIPE TIPS
Cook the pasta until it's just before al dente and rinse it off in cold water when you drain it. We do this step because pasta bakes tend to have soggy pasta if you're not careful and since it'll be cooking longer in the oven, we try to avoid this by cooking it until it's edible but still a little chewy. The oven will take it the rest of the way to al dente.
Now if you're going with store-bought frozen Italian pre-cooked meatballs, prep them according to directions. Make sure they're thawed so we don't add in any excess liquid to dilute the sauce. We'll be heating up the marinara sauce and letting the meatballs simmer in them for 5 minutes.
If you're going the homemade meatballs route, mix all the meatball ingredients together and start forming your meatballs with an ice cream scoop and your hands. Use the ice cream scoop to size it up so they're all the same size (and so you avoid potential arguments on who gets the bigger balls at the dinner table) and then use your fingers to seal off the creases.
I had a little over 1 lb. of ground beef and ended up with about 21 meatballs, so 1 lb. should give you about 16 neatballs or so. We're going to be matching the weight of the frozen meatballs pound for pound.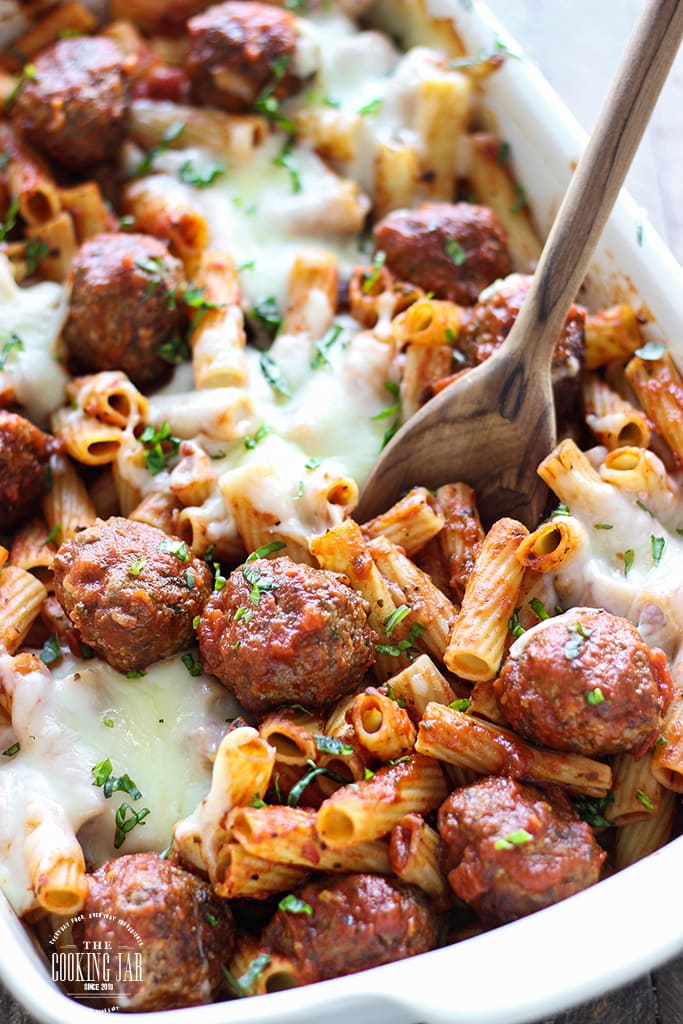 Line them up on a baking sheet if you're going to bake them. You don't need to grease the baking sheet because even super lean ground beef will render some fat while baking, so the meatballs will not stick. Bake it at 425°F for about 10-12 minutes.
It will cook more in the oven later with the pasta bake. This is by far the easiest way to cook the meatballs because there's no oil splatter and draining on paper towels.
If you're pressed for time, you can pan-fry it instead. You'll only need enough oil to coat the bottom of the pan because the meatballs will render some of their own fat to add to this. Roll them around on all sides until they're browned which should take 5-8 minutes.
I did it in two batches in a 10″ skillet. Drain them on paper towels to remove all that oil and remember to drain any excess oil from the skillet before starting on the marinara sauce.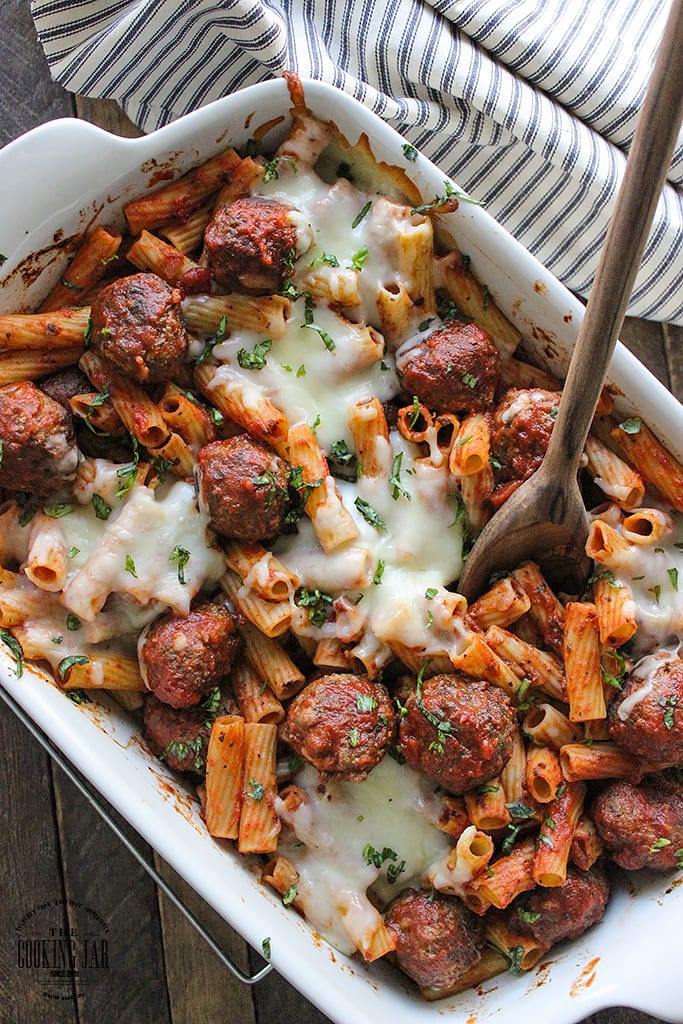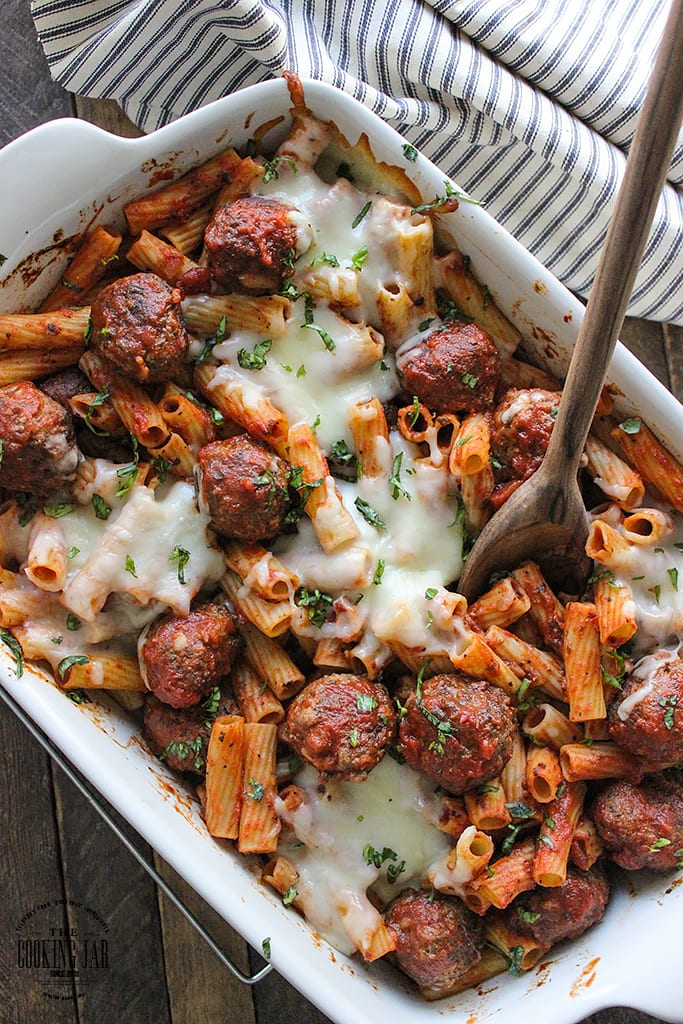 Next, we'll be simmering the meatballs in the marinara sauce. Now, this pasta bake is not very saucy but more like coats the pasta than anything. So if you like your pasta super saucy, add another cup or so of marinara sauce to the mix.
If you're customizing your marinara sauce, do it before adding the meatballs. Make sure to be gentle when stirring to coat the meatballs fully in the sauce. You don't want them to fall apart!
Combine the meatballs and sauce with the cooked pasta and mix well but gently. I did this in the casserole dish itself. Less washing! Top with mozzarella cheese. Feel free to blanket the pasta bake evenly with mozzarella. I chose to separate them into little puddles of cheese for the pics so you can see what's inside the pasta bake.
In fact, I encourage you to fully cover it with mozzarella so the exposed meatballs and pasta don't harden up. That way, it'll all stay moist. Also, add more cheese if you want to upgrade your mozzarella blanket. I used about one cup, so for maximum cheese, you can go with two cups worth.
You can use shredded or fresh mozzarella. Even mozzarella balls work too. Bake for about 30 minutes to marry the flavors and melt the cheese. If you want a golden cheesy top, broil it on the top shelf of the oven later at 450 degrees for 2-3 minutes or until the cheese browns.
And we're ready to serve! Top with freshly chopped basil and sneak in some Parmesan cheese if you're feeling indulgent. That's it! Happy eating!
MORE MEATBALL RECIPES TO TRY
Did you make this recipe? Rate it!
♡ If you liked this recipe, giving it a star rating ★★★★★ in the comments below really helps! For more recipes, subscribe to my newsletter or follow me on Facebook, Instagram and Pinterest.
Print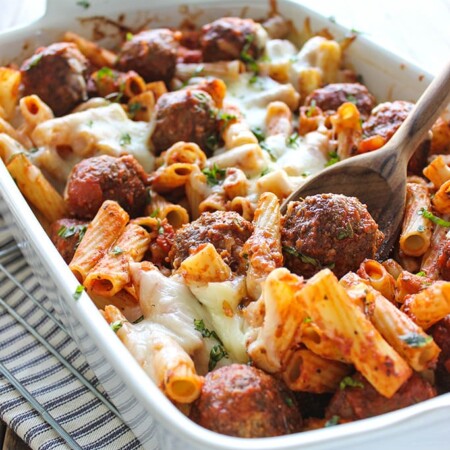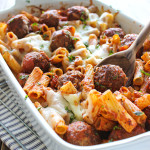 Meatball Pasta Bake
---
Author:
Total Time: 45 mins
Yield: 8–10 1x
Description
This meatball pasta bake can be made with just 5 simple store-bought ingredients or jazzed up with homemade Parmesan meatballs and marinara sauce.
---
16 oz. ziti/penne/rigatoni pasta
1 jar (24 oz.) marinara sauce
1 lb. frozen, pre-cooked Italian meatballs/homemade meatballs (see notes)
8 oz. mozzarella, fresh/shredded
3 tablespoons fresh basil, chopped (optional)
---
Instructions
Cook the pasta until just before al dente.
Drain and rinse pasta under cold water to stop the cooking process.
Simmer the marinara sauce over medium heat in a skillet. Add the meatballs to the skillet, coat them fully in the sauce and simmer for about 5 minutes.
Combine meatballs and sauce with pasta and mix well.
Transfer to a 9×13 casserole dish and top with mozzarella cheese.
Bake at 350°F for 30 minutes or until cheese has melted and is bubbly.
Dish and serve hot sprinkled with chopped fresh basil.
Enjoy!
Notes
Homemade Parmesan Meatballs:
INGREDIENTS:
1 lb. ground beef
1 tablespoon garlic, minced
1 egg, beaten
1 tablespoon Worcestershire sauce
½ cup Italian bread crumbs
½ cup Parmesan, grated
Salt and pepper to taste
INSTRUCTIONS:
1. Combine all the meatball ingredients in a large mixing bowl and mix thoroughly with your hands
2. Scoop out about 1 golf ball sized meatball mixture, roll it in your hands to make meatballs. I used an ice cream scoop
3. If pan-frying: Over medium high heat, brown the meatballs in batches in some oil until evenly browned, about 5-8 minutes.
4. Remove meatballs and drain on paper towels.
5. If baking: Bake the meatballs on a sheet pan at 425°F for 10-12 minutes
Prep Time: 10 mins
Cook Time: 35 mins