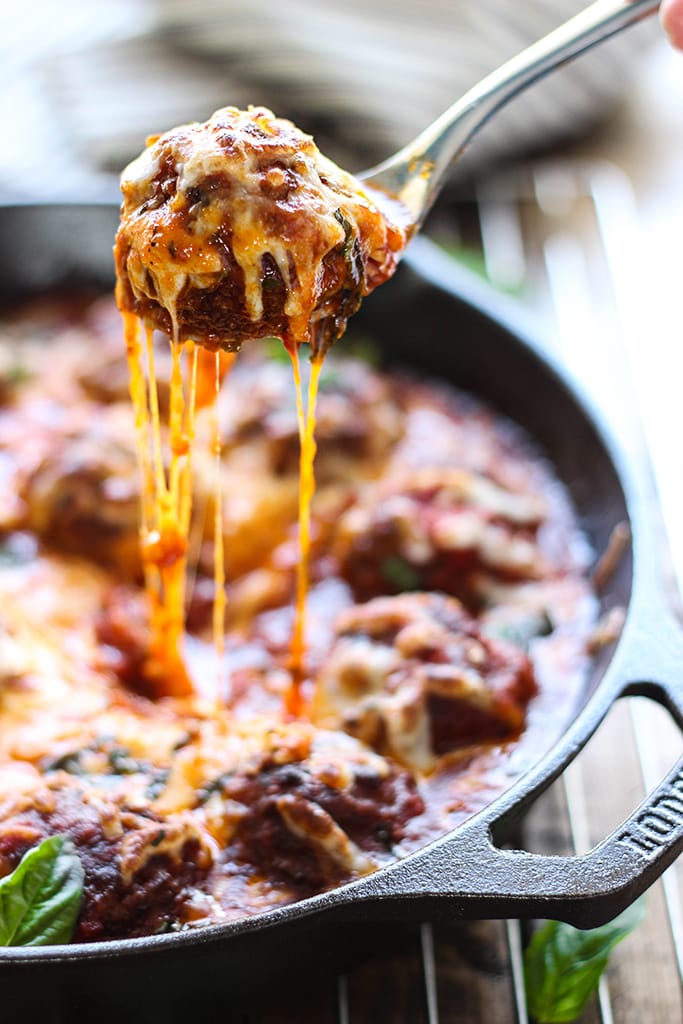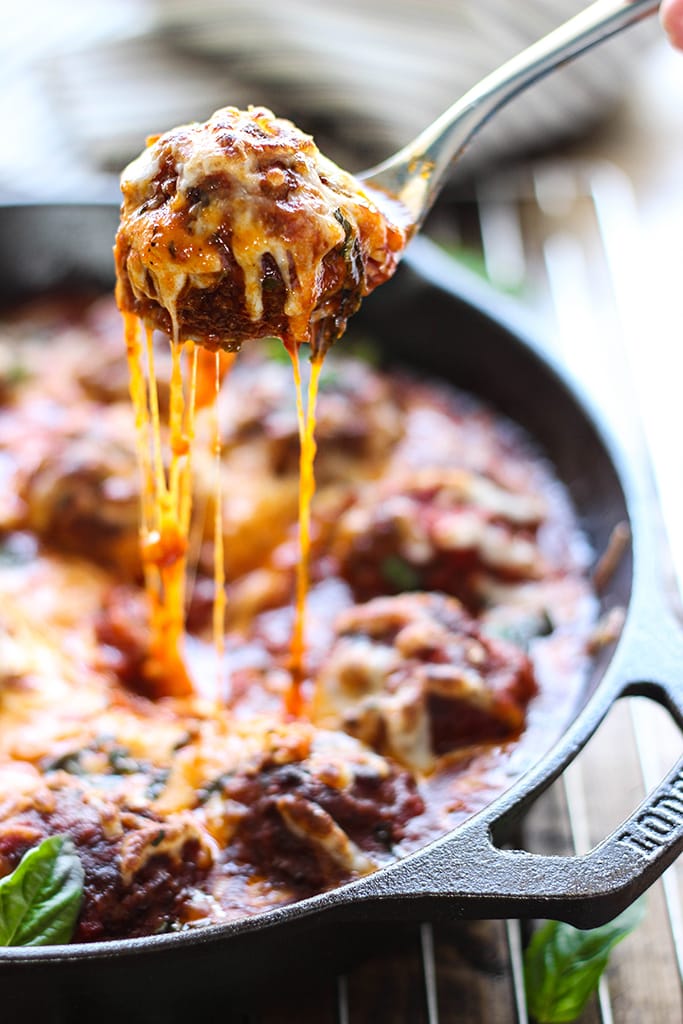 Okay. I know there's been a huge influx of cheese-related food here lately. And I'm gonna be just as guilty about it this week. So bear with me a little while more? And for those that just can't get enough of cheese, hooray! More cheese infused food!
Now I've made some meatballs way, way, way back before this blog was well known. I called them Parmesan meatballs. The problem was, whenever I made them, I always made an army of meatballs to justify the whole process. I mass produced meatballs. Oh say, about 55 or so every time I made a batch?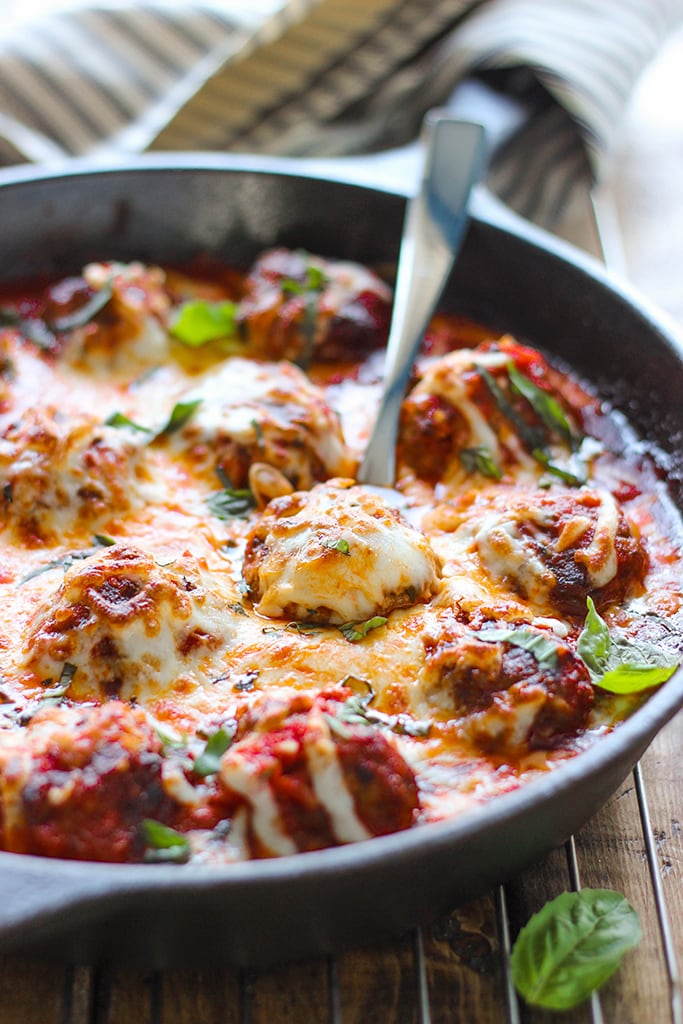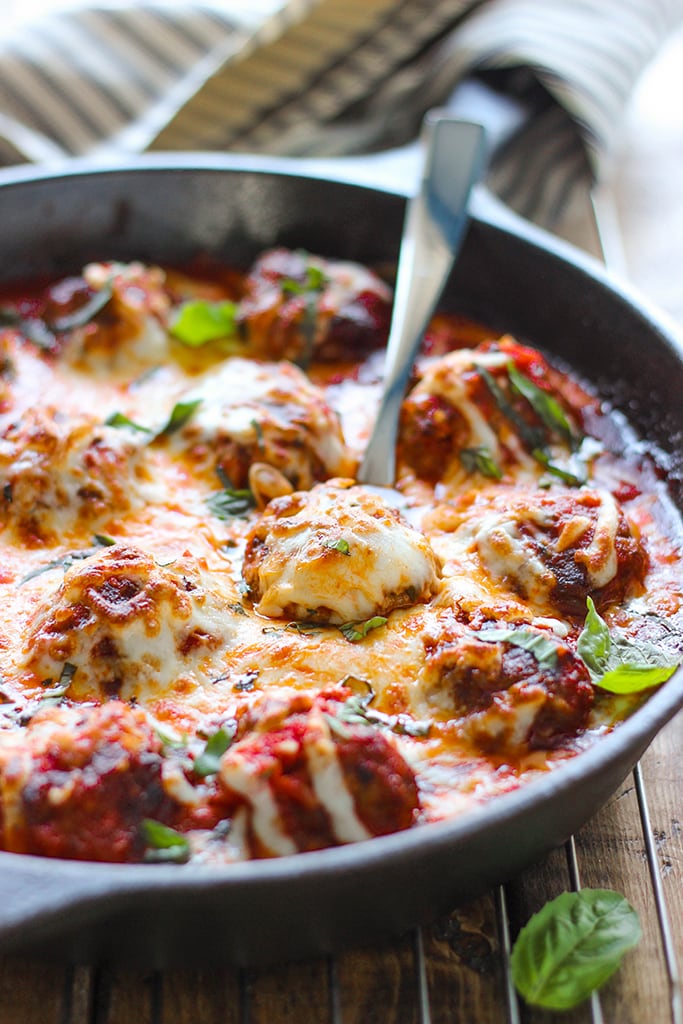 And while an army of meatballs sounds like days of delicious meals, not everyone wants so stand by the kitchen counter rolling 55 meatballs in their hands. So today I'm gonna break down the batch a little and make it more single family sized, or couple sized. And instead of giving you plain meatballs that really don't look great all naked and stuff, I'm dressing these up with marinara sauce and cheese.
All done in one skillet, your meatball heaven awaits you. Taking cues from my Parmesan meatballs, these have dried Parmesan packed tightly in them and it really makes a difference. Now you can use these meatballs with some demi baguettes to make a sub or toss it with some freshly cooked pasta. Or just munch on them straight from the pan if that's the way you roll. I leave the eating how…up to you. The important thing is to enjoy it!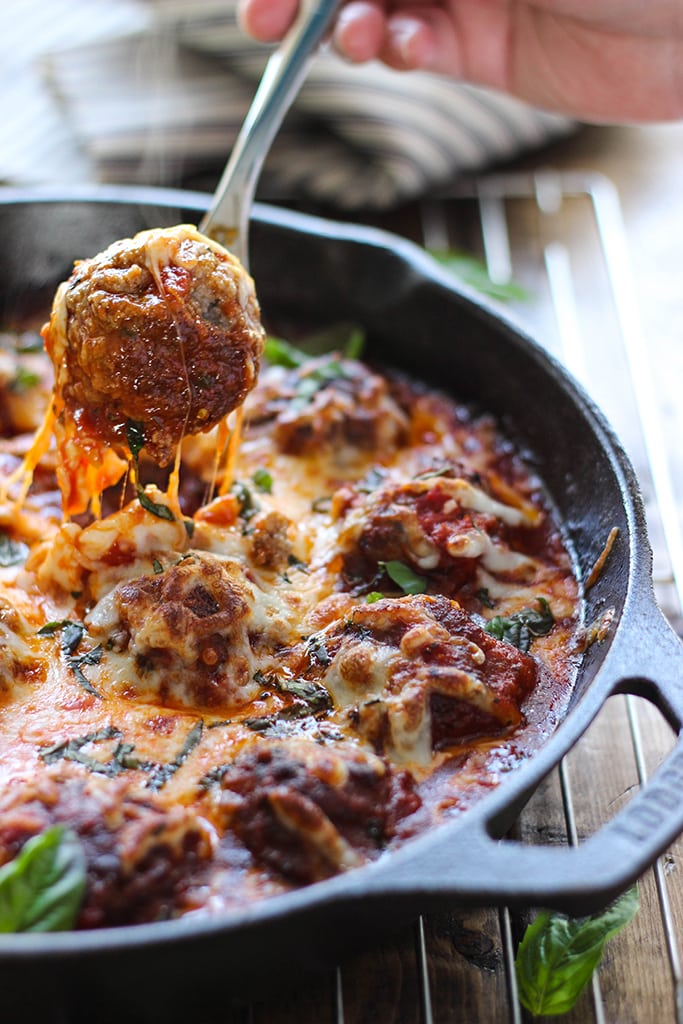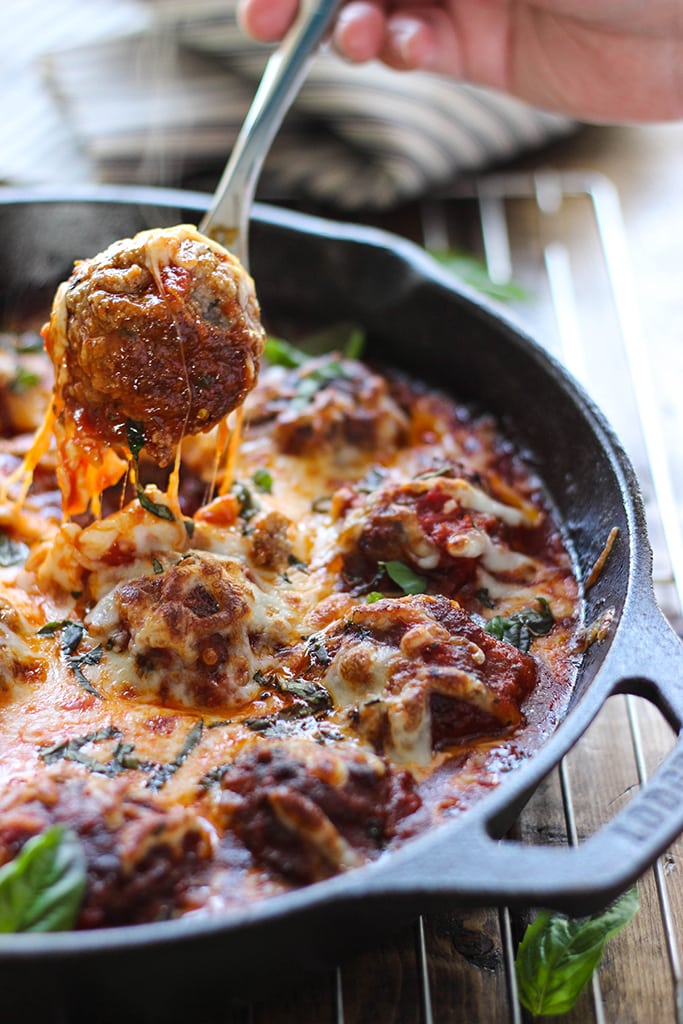 If you don't feel like making meatballs from scratch, you can shortcut your way to this dish with some frozen Italian meatballs. But for those that wanna make it from scratch, you can make them the size I suggested or go bigger, but you will have less meatballs to go around. I used an ice cream scoop to get them sized. They're about the size of golf balls. I ended up with 16 meatballs. That's about 4 meatballs per person. Then it's pan-frying them in the skillet until they are well browned.
Get the pan and oil nice and hot before you start pan-frying so they don't stick. I have a 10″ skillet so I did this in two batches. You'll want some space for them to roll around so you can brown them on all sides. I used just enough oil to coat the bottom of the skillet so they wouldn't stick, about a tablespoon. Depending on how lean your ground beef was, some fat will render and you'll end up with more oil than you started with. Use this oil to brown your meatballs.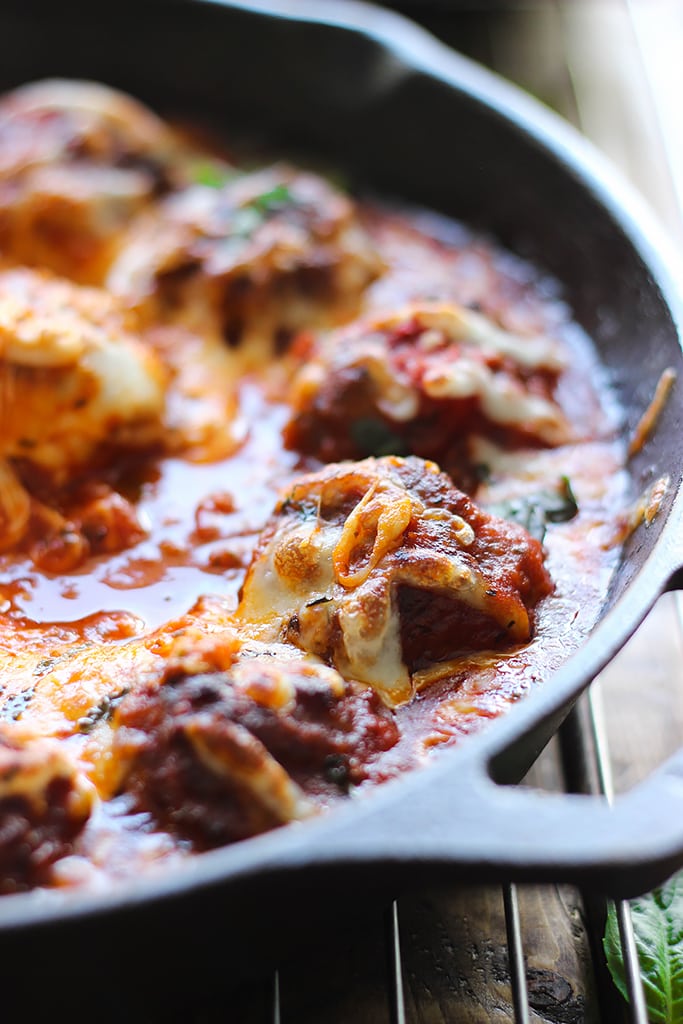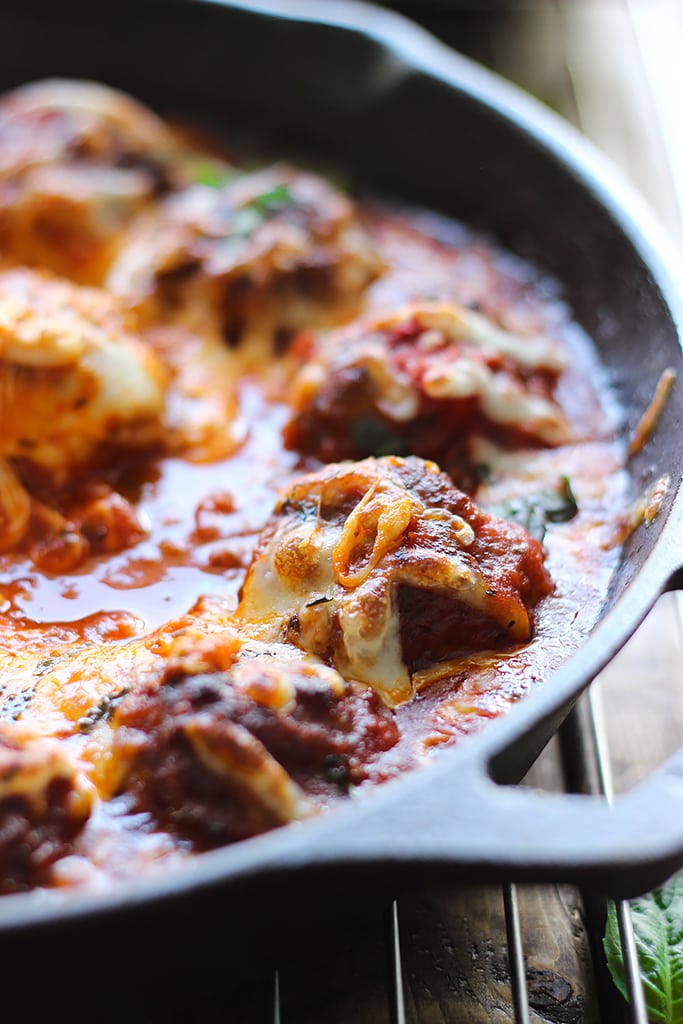 When you're rolling your meatballs around to brown, do it gently! The same goes for when you're reintroducing them back into the skillet and marinara sauce. Easy does it!
Remove any excess oil before you add in the marinara sauce. And for the marinara sauce there are also options. Go for a recipe that's already a staple if you have one. Stick with a jarred one if that makes you happy. Or dress it up with some seasonings. I like to add some Worcestershire sauce, beef bouillon cubes, red pepper flakes and balance out the sourness of the marinara with a teeny tiny bit of sugar. If that sounds right up your alley, you can use this recipe as a general guideline on what to toss in there. I really should update that picture.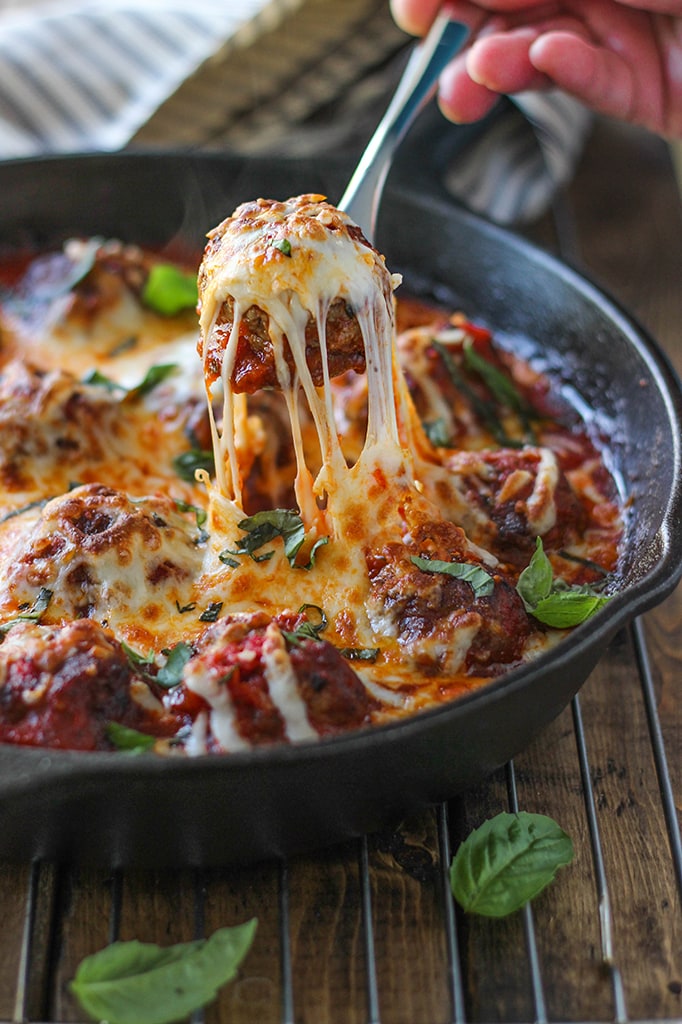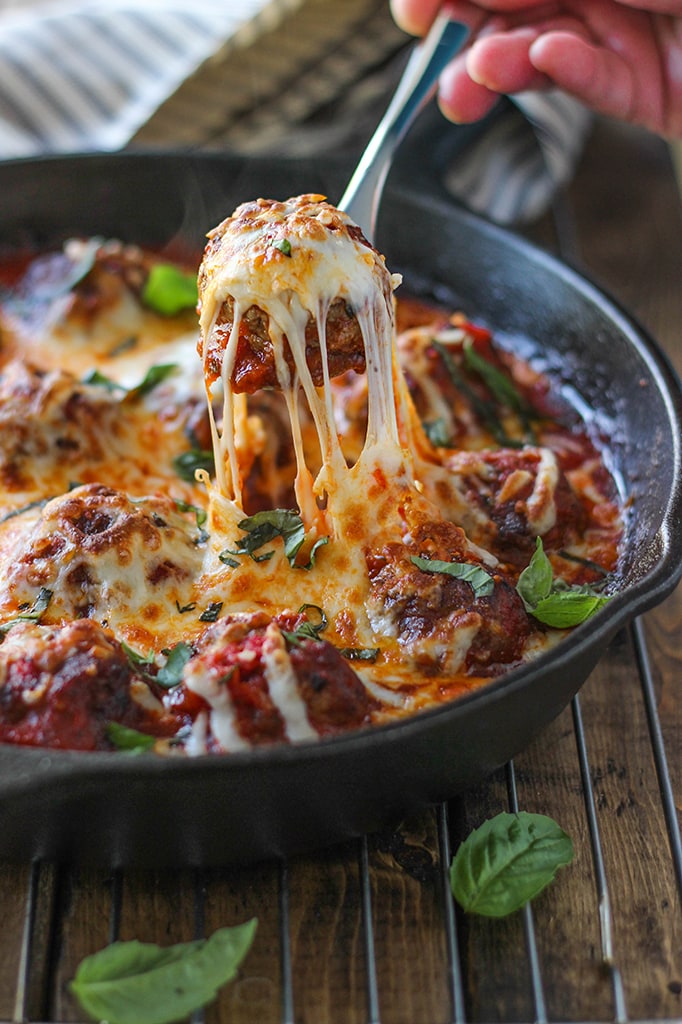 Add the meatballs one at a time and roll them around in the sauce to get them fully coated as you add them back to the skillet. Then simmer for a little to marry the flavors. You'll want to reduce the heat around this stage because anything tomato sauce related means a huge mess. Reducing it to a gentle simmer helps keep it contained. Wear an apron!
Once it's done simmering, top with some mozzarella cheese. Add some Parmesan cheese too for good measure if you want. Now I don't have any covers for my cast iron skillets so instead of covering it and melting the cheese that way, I'll be broiling it for a few quick minutes to melt that layer of cheese. If you have a cover, go for it. If you want a nice browned cheesy layer, broil it!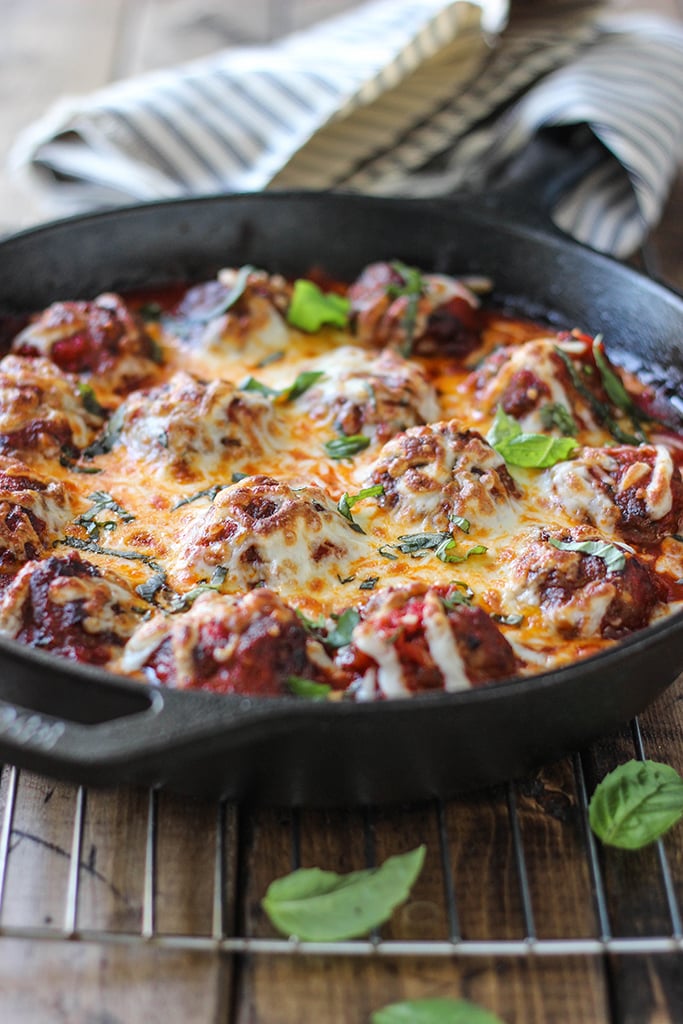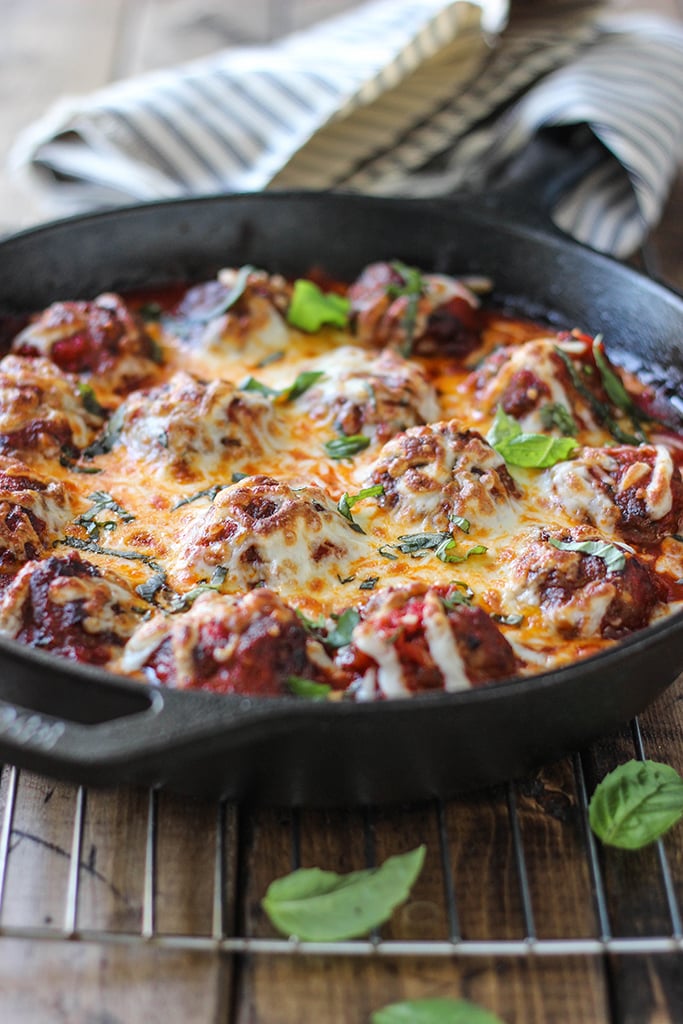 And that's that! Break out your baguettes or drain off your pasta. It's eating time!
Print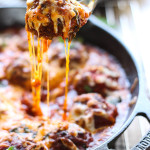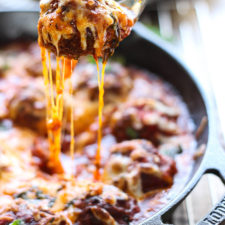 Cheesy Meatball Skillet
---
Author:

Prep Time:

10 mins

Cook Time:

20 mins

Total Time:

30 mins

Yield:

4

1

x
Scale
Ingredients
1

jar (24 oz.) marinara sauce

1 cup

mozzarella cheese, shredded

1 tablespoon

fresh basil, chopped
Meatballs:
1

lb. ground beef

1 tablespoon

garlic, minced

1

egg, beaten

1 tablespoon

Worcestershire sauce

1/2 cup

Italian bread crumbs

1/2 cup

grated Parmesan
Salt and pepper to taste
---
Instructions
Combine all the meatball ingredients in a large mixing bowl and mix thoroughly with your hands
Scoop out about 1 golf ball sized meatball mixture, roll it in your hands to make meatballs. I used an ice cream scoop
Over medium high heat, brown the meatballs in batches until evenly browned, about 5-8 minutes
Remove meatballs and drain on paper towels. Drain any excess oil from the skillet
Reduce heat to medium low and pour the marinara sauce in the skillet
Add the meatballs back to the skillet and roll them around to coat them in the marinara sauce. Simmer for 5 minutes or until internal temperature of meatballs are 165 degrees F
Top with mozzarella cheese. Cover and simmer until cheese melts or broil at 450 degrees F for 3-5 minutes for browned cheese
Dish and serve hot sprinkled with chopped fresh basil
---