Baked Ziti is a great family meal to bring to the table with 3 kinds of cheese, a hearty meat sauce and a cheesy browned top!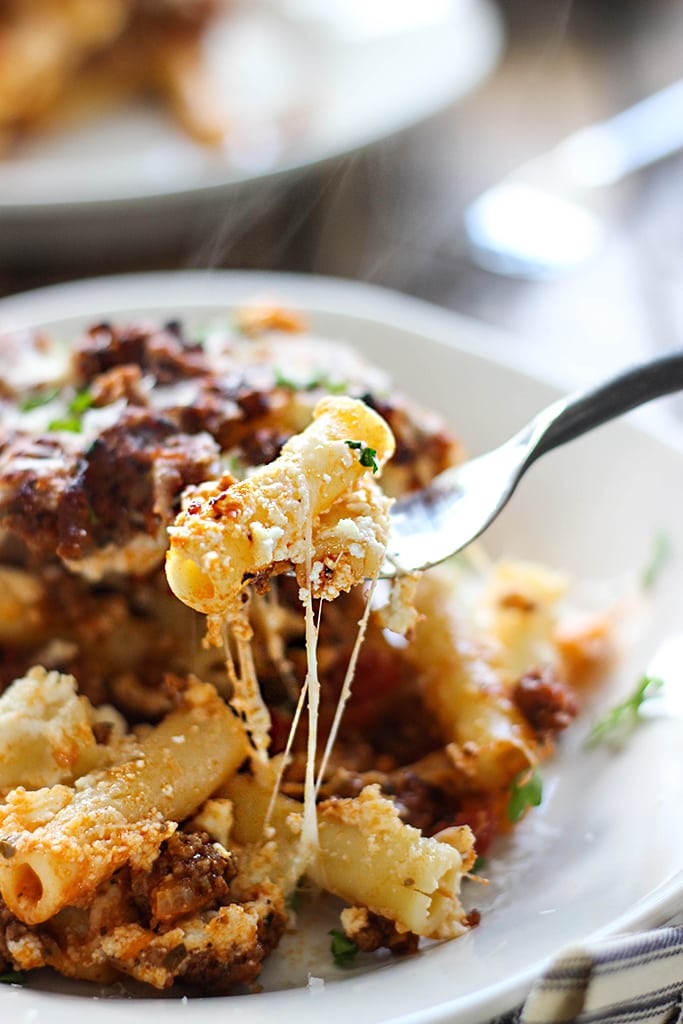 Here's a relatively easy-baked ziti for the weekend with lots of helpings to go around. It has three types of cheeses, a couple of very beefy meaty layers and a golden brown cheesy top. What more could you ask for? Well, maaaybe some extra Parmesan cheese on top.
You can follow this recipe to the tee or simplify it with fewer ingredients. It all depends on how much work you feel like putting in and how picky you are about flavor! It takes its flavor cues from my slow cooker beef and cheese pasta, with added beef bouillon cubes and Worcestershire sauce for extra beefy flavor and a bit of sugar to balance out the tartness of marinara sauce. It's been really popular for family meals and with the kids so this should work just as well!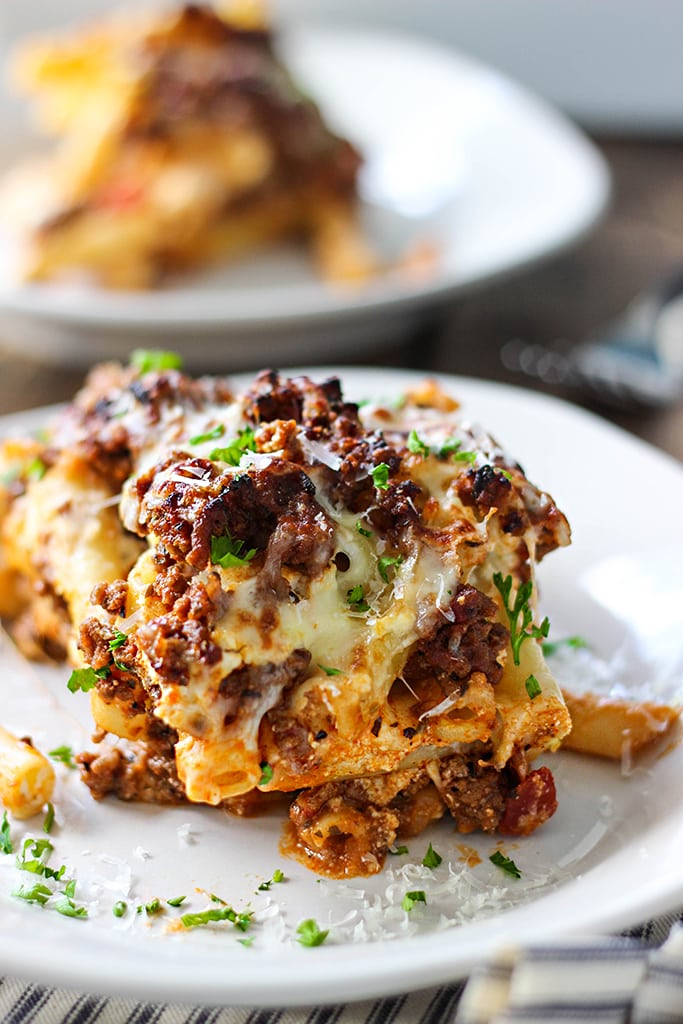 This will be the second time I've attempted baked ziti. The first time a year or so ago gave me this soggy mess of noodles which lead to me refining my technique with pasta bakes in general and this recipe. So one year later and lotsa baked pasta experiences later (chicken Alfredo pasta bake!), I'm trying it again.
BAKED ZITI RECIPE TIPS
No more soggy pasta this time. I took several precautions. I did end up cooking the pasta until al dente but rinsed it under cold water to stop the cooking process. I figured it'll cook more in the oven leading to that dreaded soggy pasta so putting a stop to the cooking whenever possible helps. It's the same reason we'll be baking it uncovered, so the contents don't steam while baking.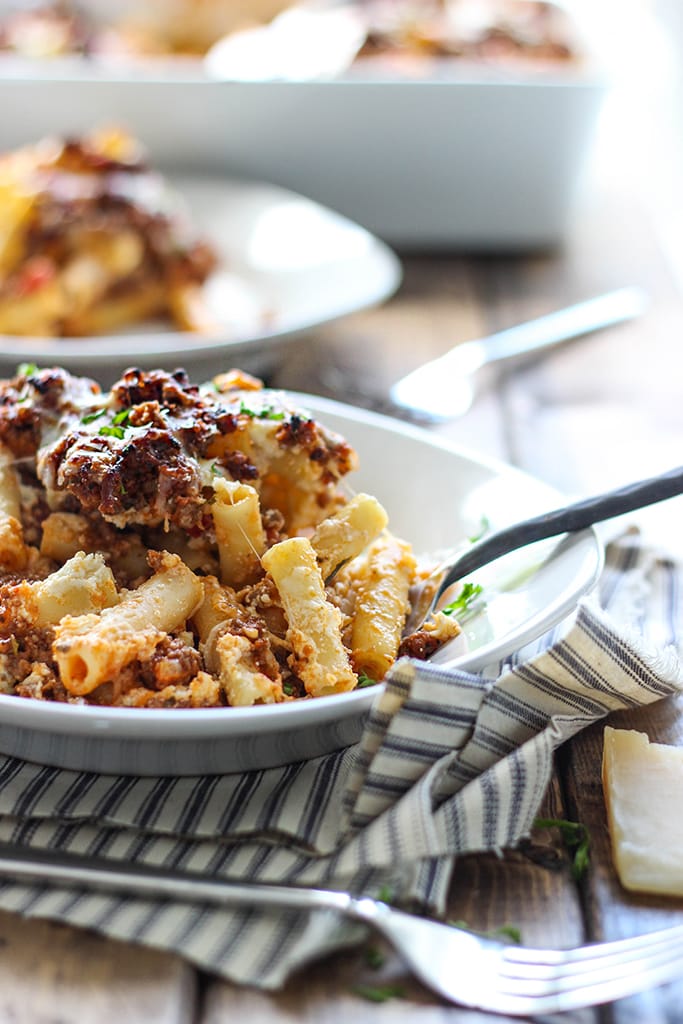 Your beef layer on top will get slightly crisp and crunchy because it's not covered but I actually liked the added texture of it. Yummy ricotta, cheesy strings of mozzarella, chewy noodles, mmm beefy beef and oh, there's some crunchy beef too! It worked out well.
Since all of the stuff was pre-cooked before baking, the baking part is just to cook up that egg you added to the ricotta mixture. Thirty minutes or so is fine. Then you top the pasta bake with more mozzarella cheese and broil it for a couple of minutes until browned.
And that's about it.  Happy cooking and let me know how you liked it in the comments below.
MORE PASTA CASSEROLES TO TRY
Did you make this recipe? Rate it!
♡ If you liked this recipe, giving it a star rating ★★★★★ in the comments below really helps! For more recipes, subscribe to my newsletter or follow me on Facebook, Instagram and Pinterest.
Print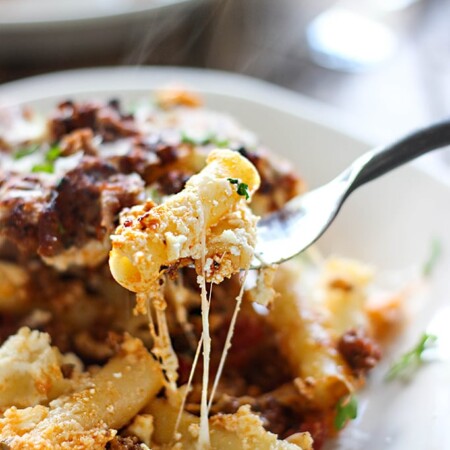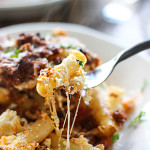 Baked Ziti
---
Author:
Total Time: 55 mins
Yield: 6-8 1x
Description
Baked Ziti is a great family meal to bring to the table with 3 kinds of cheese, a hearty meat sauce and a cheesy browned top!
---
16 oz. ziti, cooked al dente
2 lb. ground beef
1 yellow onion, diced
1 teaspoon garlic, minced
1 jar (24 oz.) marinara sauce
2 tablespoons Worcestershire sauce
2 teaspoons Italian seasoning
2 beef bouillon cubes
2 tablespoons sugar
Salt and pepper to taste
2 eggs, beaten
15 oz. ricotta cheese
2 1/2 cups mozzarella cheese, shredded and divided
1/2 cup grated Parmesan
---
Instructions
Bring a pot of salted water to a boil and cook the pasta until al dente. Rinse under cold water to stop the cooking process.
Over medium-high heat, brown the beef until cooked through. Drain any excess fat.
Remove beef and set aside. Saute onions and garlic until onions are soft, about 5 minutes.
Add in beef, marinara sauce, Worcestershire sauce, Italian seasoning, bouillon cubes, sugar and salt and pepper to taste.
Meanwhile, in a large bowl combine eggs, ricotta, 1 1/2 cups mozzarella cheese and Parmesan cheese.
Add the pasta to the cheese mixture. Stir until thoroughly combined.
Spoon 1/3 of the meat sauce into a 9×13 casserole dish.
Top with half the pasta mixture.
Repeat layers once more and finish with a final layer of meat sauce.
Bake uncovered for 30 minutes at 350°F.
Sprinkle with the remaining 1 cup of mozzarella cheese and broil at 450°F for 3-5 minutes or until cheese has browned.
Dish and serve hot.
Enjoy!
Prep Time: 10 mins
Cook Time: 45 mins