Pasta without meat doesn't have to be boring. This easy vegetable pasta is flavorful and different with a sweet heat pasta sauce everyone will love!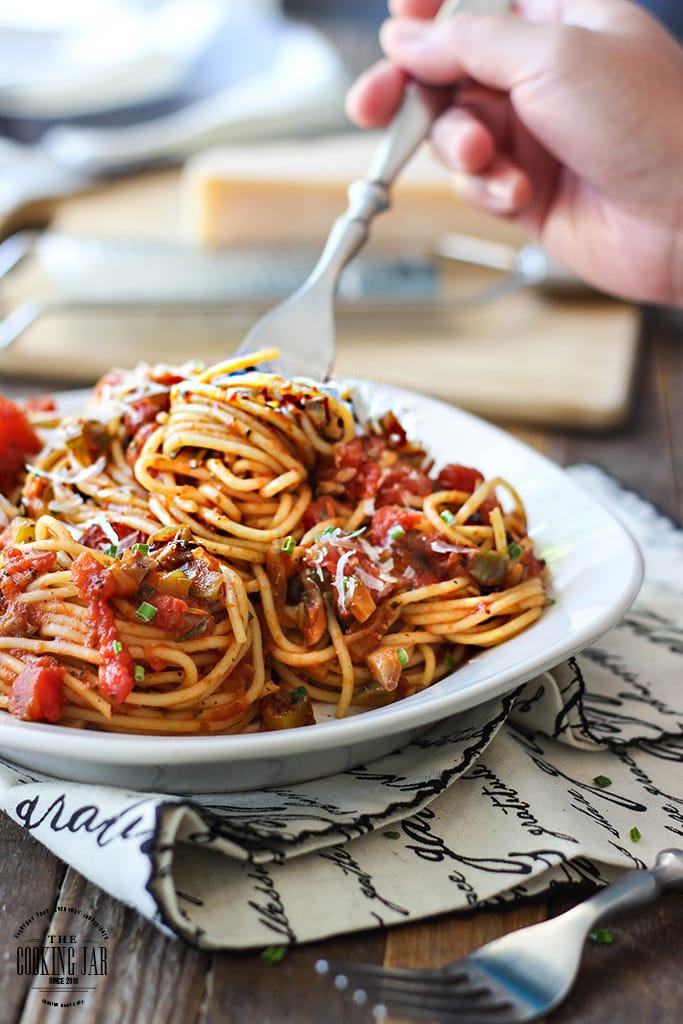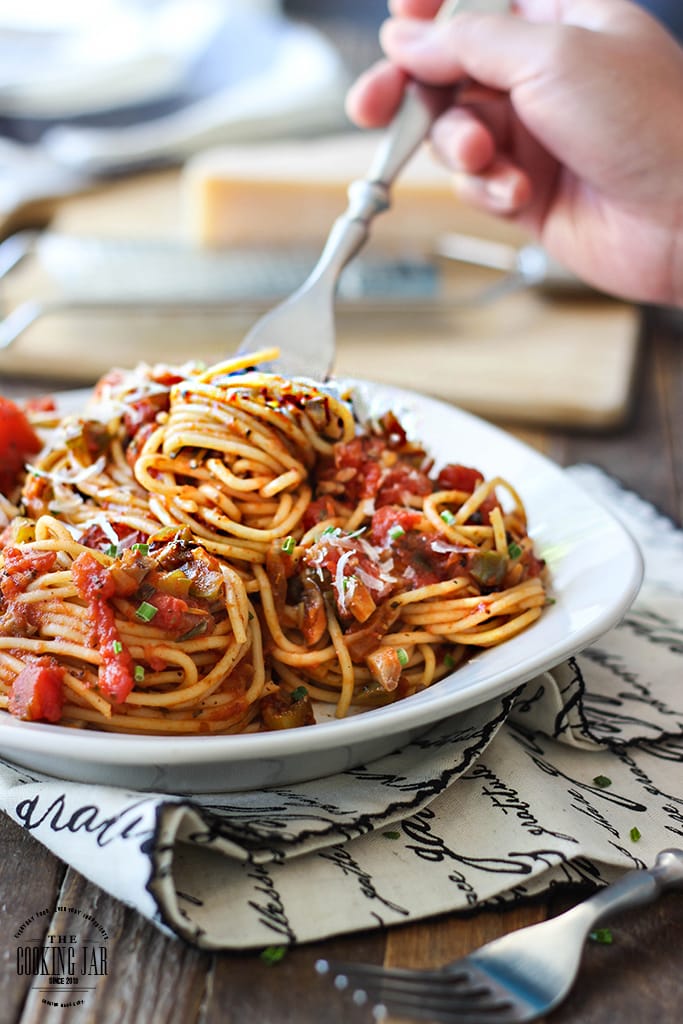 After a little hiatus, I've decided to kick things off with an easy vegetable pasta recipe. No meat, but still tasty. This will be a good one for the kids, a crafty way to sneak in some vegetables because of the semi-sweet pasta sauce. I've thrown in some onions, bell peppers, and mushrooms and seasoned it with herbs and other yummy stuff.
This is the original recipe behind the famous pasta sauce of slow cooker beef and cheese pasta. I refined the recipe over 10 years and evolved it from vegetarian to a meat-based sauce, but the essential flavor behind the seasonings stayed the same. Just a little bit of Worcestershire sauce to add some depth of flavor, herbs, and some sugar to balance out the tartness of the tomatoes. And some red pepper flakes for a touch of heat.
So let's get started.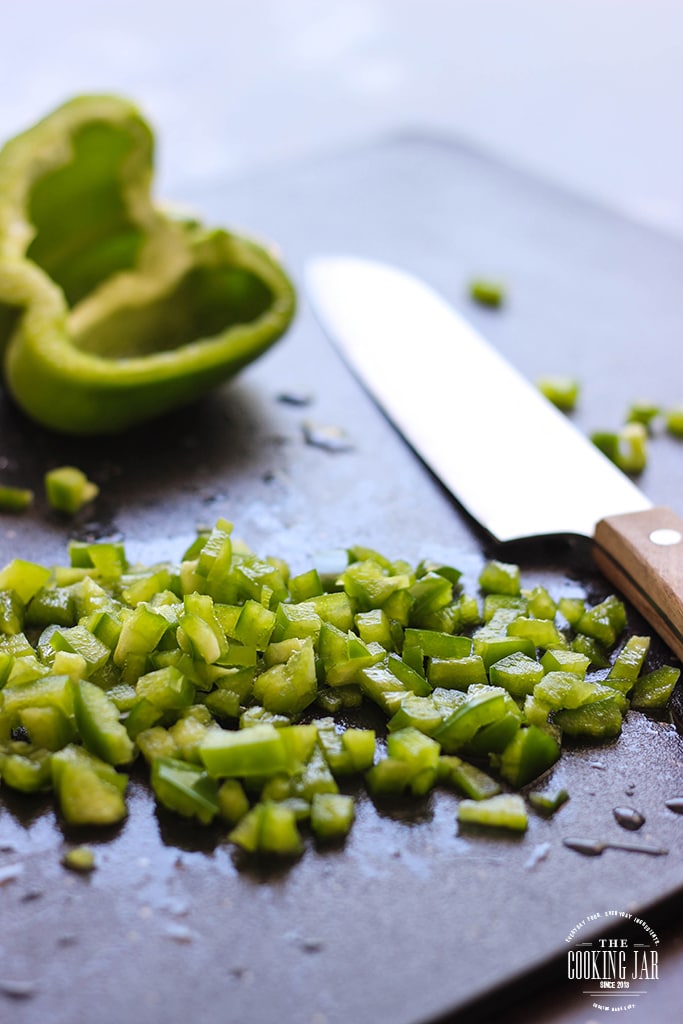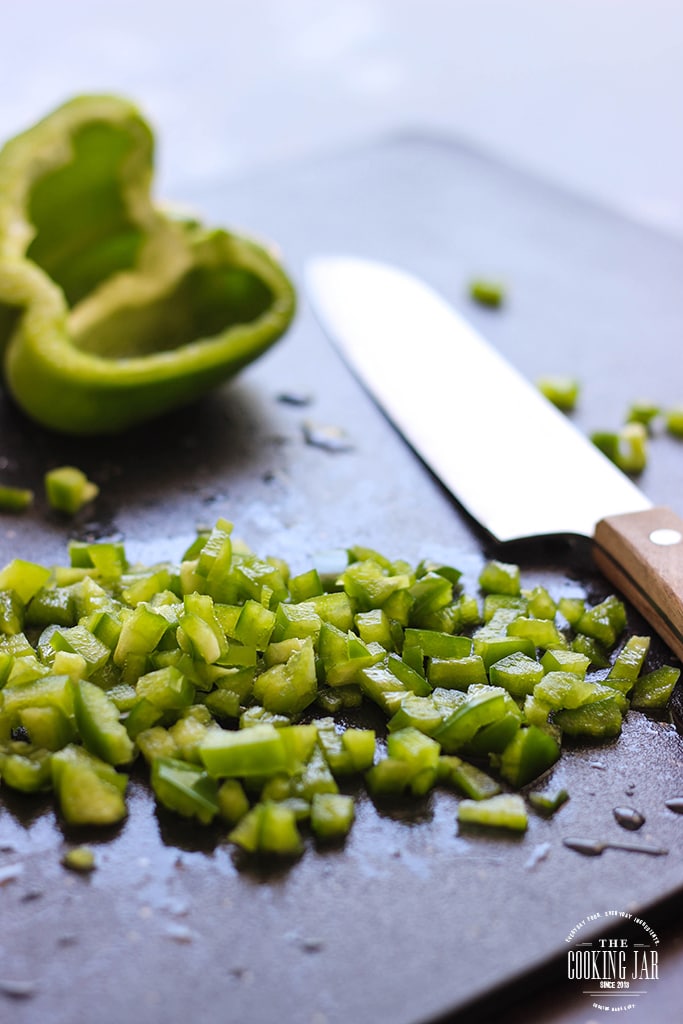 EASY VEGETABLE PASTA RECIPE TIPS
We start by slicing and dicing some veggies. While you're doing this, get the pasta started. You can use whatever pasta you prefer, I chose to stick with good old reliable spaghetti. If you're on a low-carb diet, try whole-wheat pasta. Or you can even go the zucchini noodles route for full veggie power.
Back to the prep, the dicing will take up most of your time, but I think you'll have some fun at least with the mushrooms cause they're so spongy. I know I did. After some heavy, crisp dicing of the onions and bell peppers, the suddenly quiet and soft dicing of mushrooms was a nice change.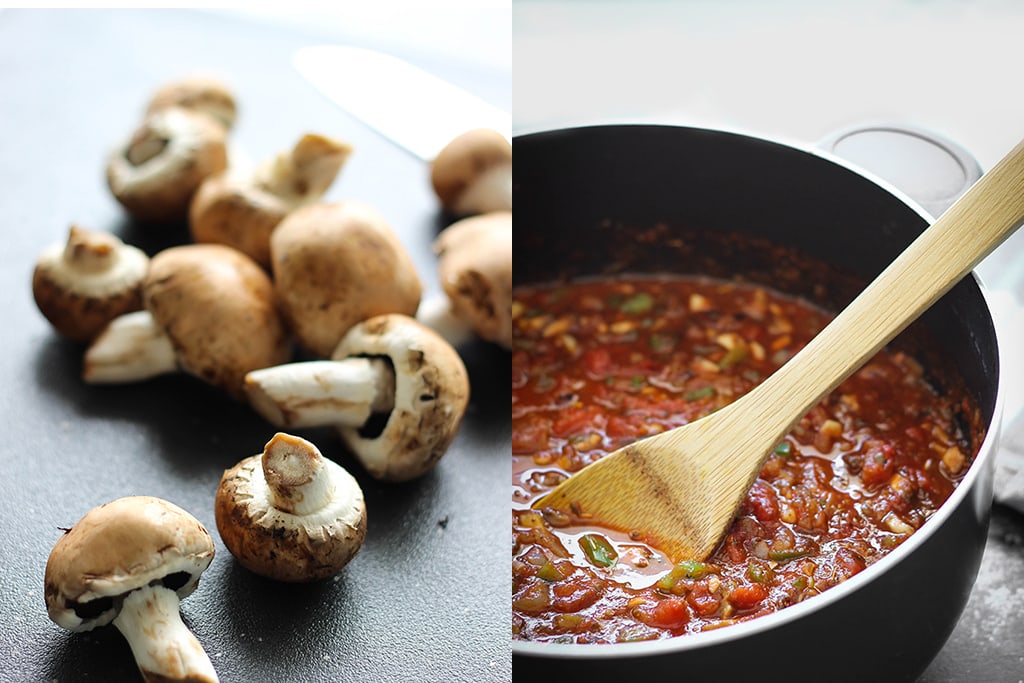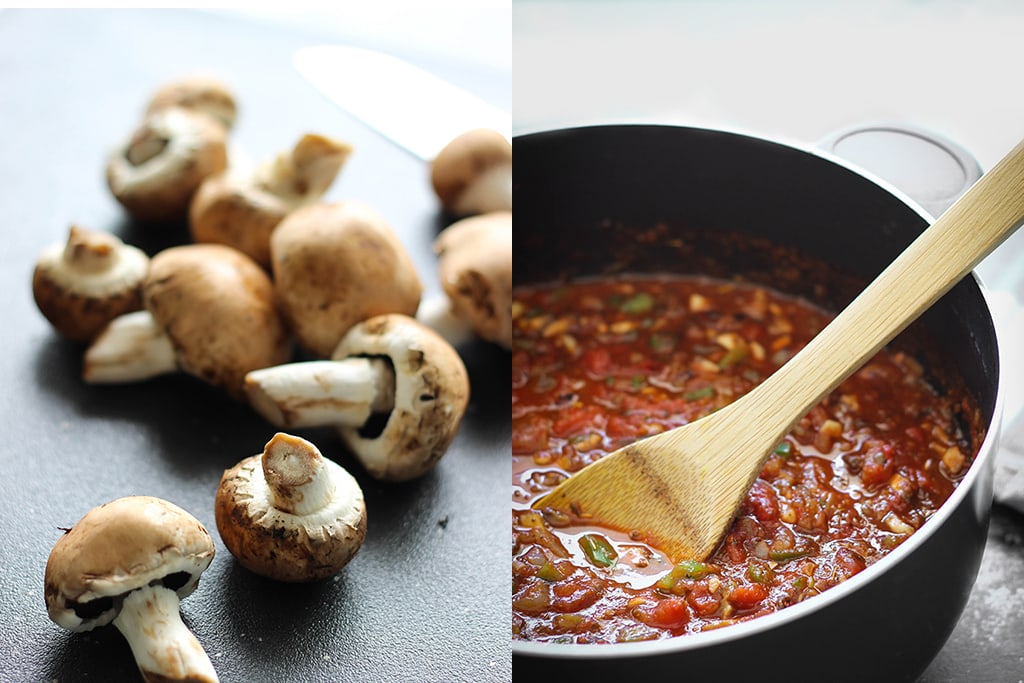 Then we start sautéing the onions and garlic in about two tablespoons of olive oil, let it sit for a little then add in the rest of the veggies. Give it some time to let it sweat. It'll look dry at first and you'll wonder if you should add in more oil but worry not. It'll cook down and produce its own liquid, I promise you.
Once it's sweated for five minutes or so, add in the roasted tomatoes and pasta sauce. Stir and add your seasonings. Then it's hands-off time while you let it simmer and marry the flavors for 30 minutes. Go have a shower, chase the cat around the house or watch a quick episode on Netflix.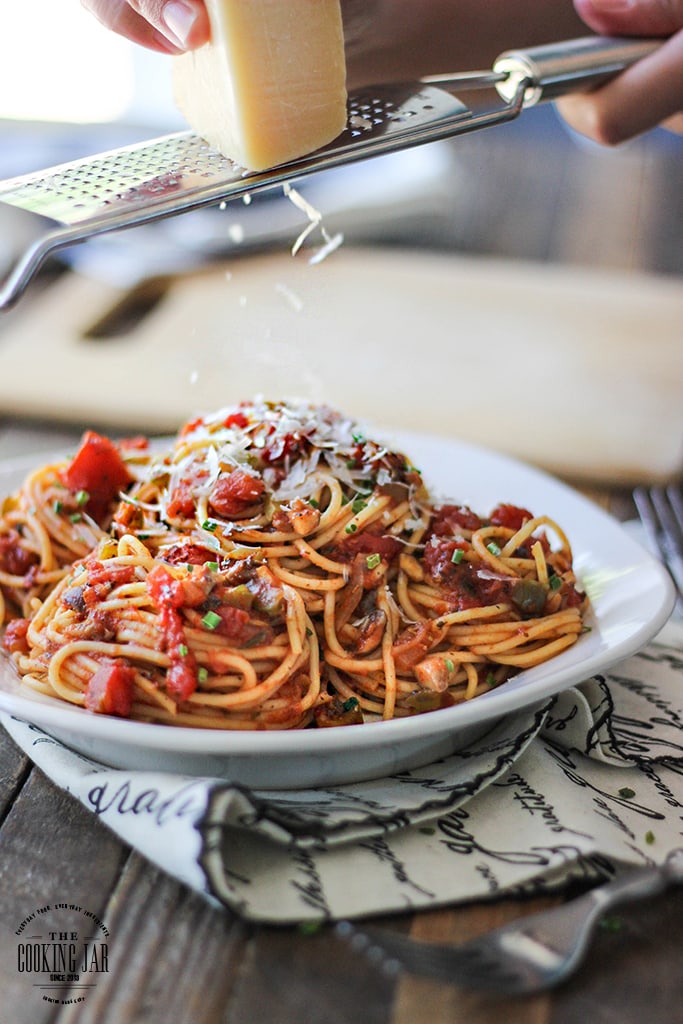 Add in your herbs and we're ready. You can use fresh herbs if you like. The measurements in the recipe are for dried herbs but wow is fresh basil great!  Then we'll serve with some Parmesan cheese and maybe some garlic bread or garlic knots. And that's it! I did say easy, didn't I?
Enjoy digging in and let me know how you liked it in the comments below!
MORE VEGETABLE PASTA RECIPES TO TRY
Did you make this recipe? Rate it!
♡ If you liked this recipe, giving it a star rating ★★★★★ in the comments below really helps! For more recipes, subscribe to my newsletter or follow me on Facebook, Instagram and Pinterest.
Print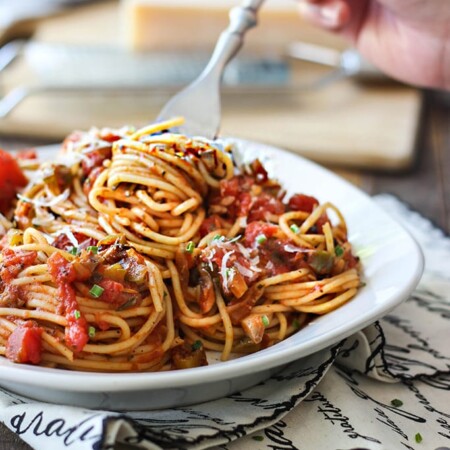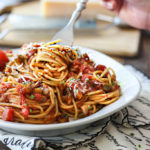 Easy Vegetable Pasta
---
Author:
Total Time: 50 mins
Yield: 4-6 1x
Description
Pasta without meat doesn't have to be boring. This easy vegetable pasta is flavorful and different with a sweet heat pasta sauce everyone will love!
---
1 lb. pasta, cooked al dente
SAUCE
1 yellow onion, finely diced
1 teaspoon garlic, minced
1 green bell pepper, finely diced
8 oz. baby Portobella mushrooms, diced
24 oz. pasta/marinara sauce
15 oz. fire roasted diced tomatoes, drained
2 tablespoons Worcestershire sauce
2 tablespoons sugar
Red pepper flakes to taste
Salt and pepper to taste
1 teaspoon basil
1 teaspoon oregano
1 tablespoon Italian seasoning
---
Instructions
Over medium-high heat in a dutch oven, saute the onions and garlic until the onions are translucent.
Add diced bell peppers and mushrooms and let the vegetables sweat, about 5 minutes.
Pour in pasta/marinara sauce, diced tomatoes, Worcestershire sauce, sugar, red pepper flakes, and season with salt and pepper to taste.
Reduce heat to medium-low. Cover and simmer for 30 minutes.
Add in basil, oregano, and Italian seasoning and stir to mix.
Dish and serve hot over cooked pasta topped with Parmesan cheese.
Enjoy!
Prep Time: 10 mins
Cook Time: 40 mins