This quick and easy chicken with lemon garlic cream sauce is bursting with rich citrus flavor and is ready in 20 minutes!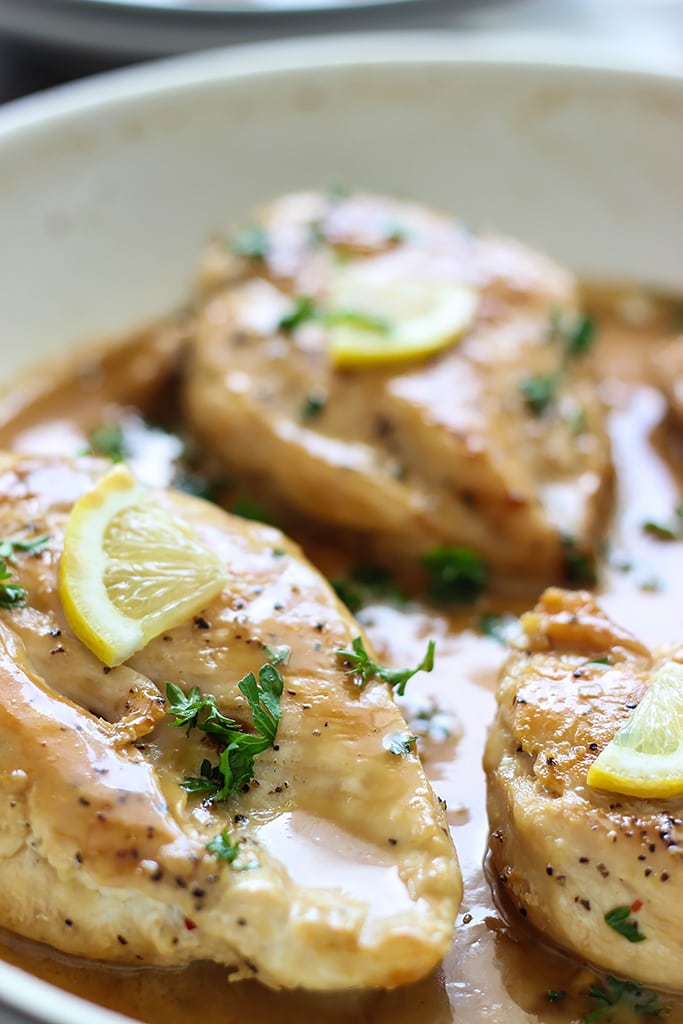 Lemon chicken is wonderful if done right. I've made a crunchy and buttery lemon pepper version before and some baked juicy crispy-skinned thighs as well. The lemon-infused flavor really brings life to your regular, boring old chicken breast or thigh.
For this recipe, instead of enjoying just one layer of flavor from the fresh citrusy taste of lemon, we'll add some sweetness from some honey for a slight combination flavor of sweet and sour. We'll also be adding a few dashes of red pepper flakes for some heat and to kick up the taste just a little.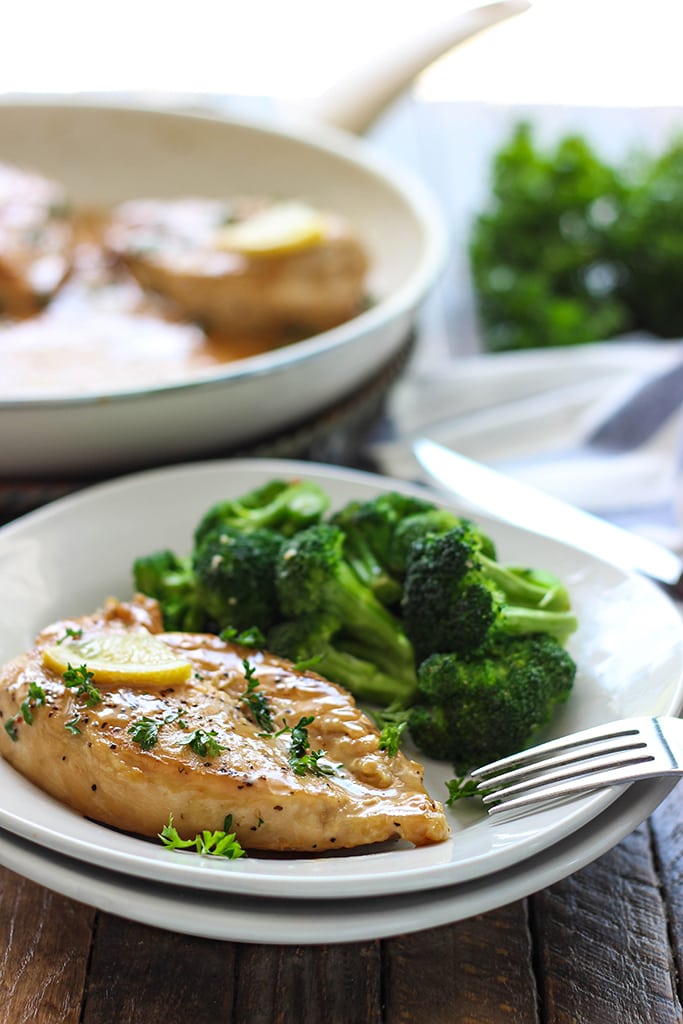 Coupled with a cream sauce, this combo is creamy and rich but filled with fresh, zesty flavors. It's wonderfully delicious and easy to get ready for weeknight dinners.
You can use either boneless, skinless chicken breasts or thighs, whichever you prefer, and serve it with some greens like some broccoli, green beans, or asparagus and/or some carbs like mashed potatoes or some fully loaded baked potatoes. Let's start cooking.
CHICKEN WITH LEMON GARLIC CREAM SAUCE RECIPE TIPS
I flattened the breasts to help them cook evenly. For this recipe, I used fresh chicken breasts but frozen chicken breasts work just as well. Get make sure to pound them down to about 1/2″ of thickness and you're good to go.
Pat the chicken dry with paper towels before seasoning them so they can sear up nicely over the stove. Then we pan-sear it in some butter and olive oil. Depending on the thickness of your chicken, it should take about 10-15 minutes to fully cook.
The easiest way to stop the guesswork of whether the chicken is fully cooked is to cut it in the thickest part to see if the meat is white instead of pink, or if you want to keep them pretty and presentable use a meat thermometer.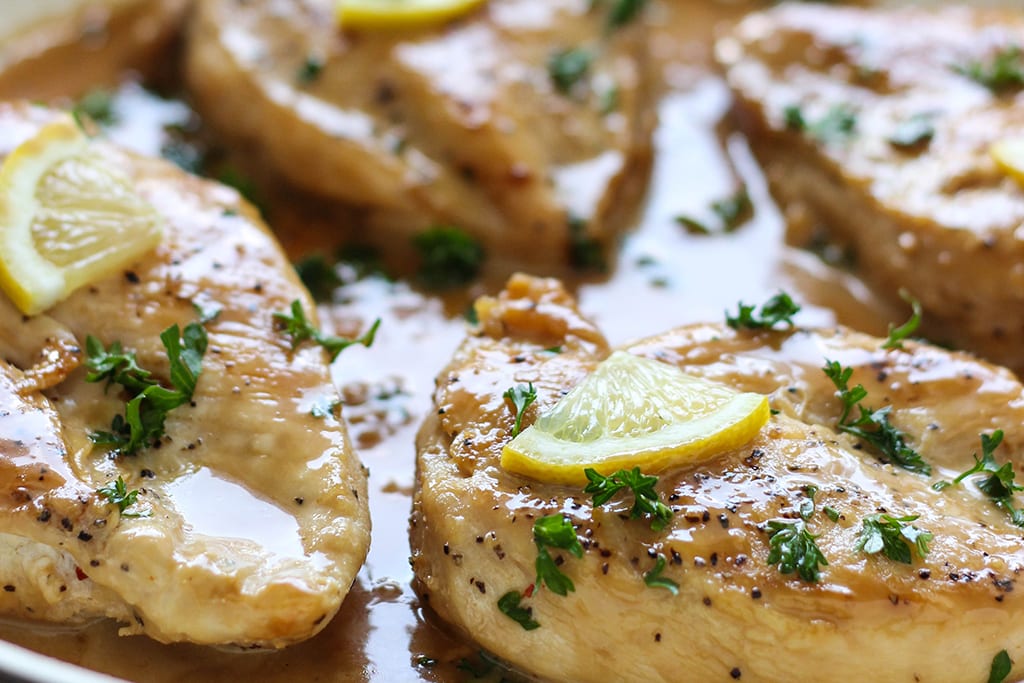 You might also need to do the cooking in two batches, depending on the size of your breasts and the skillet you use. Just don't overcrowd them too much and if you want to keep your kitchen clean, use a splatter screen.
Then we combine the sauce ingredients and let it simmer until thickened. Stir in the heavy cream, add the chicken back to the pan and toss it in the sauce to coat. Let it simmer some more until the sauce is as thick as you want it. Make sure to taste the sauce to see if it's to your taste and add more salt and pepper or pepper flakes if needed.
And that's about it. Serve with some lemon wedges and if you need more lemony goodness, just squeeze some onto the chicken.
Happy cooking!
MORE LEMON CHICKEN RECIPES TO TRY
Did you make this recipe? Rate it!
♡ If you liked this recipe, giving it a star rating ★★★★★ in the comments below really helps! For more recipes, subscribe to my newsletter or follow me on Facebook, Instagram and Pinterest.
Print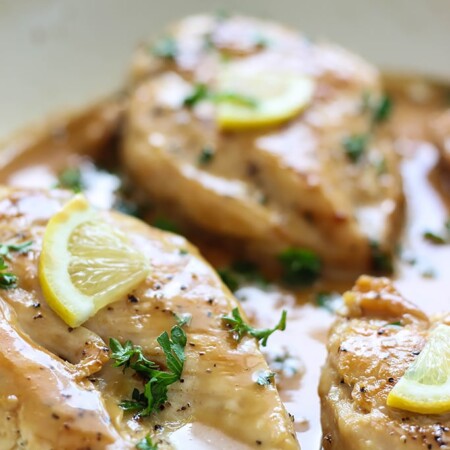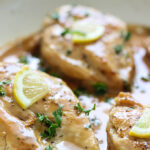 Chicken with Lemon Garlic Cream Sauce
---
Author:
Total Time: 20 mins
Yield: 4 1x
Description
This quick and easy chicken with lemon garlic cream sauce is bursting with rich citrus flavor and is ready in 20 minutes!
---
4 boneless, skinless chicken breasts
Salt and pepper to taste
2 tablespoons butter
1 tablespoon olive oil
1/4 cup heavy cream
LEMON GARLIC CREAM SAUCE
1 cup chicken broth
2 tablespoons lemon juice
2 tablespoons honey
1 tablespoon garlic, minced
Red pepper flakes to taste
---
Instructions
Wrap the chicken breasts in plastic wrap and pound into 1/2″ thickness.
Pat the chicken dry and season both sides of the chicken with salt and pepper to taste.
Over medium-high heat, melt butter and add 1 tablespoon olive oil.
Pan-sear the chicken breasts until browned on one side, about 5 minutes.
Lower heat to medium and flip the chicken to the other side.
Cover and continue cooking for 10 minutes or until internal temperature is 165°F and juices run clear. Remove chicken from skillet.
Combine the sauce ingredients and stir to mix.
Pour sauce into the skillet and scrape up any browned bits from the chicken.
Simmer until sauce has thickened, about 5 minutes.
Stir in heavy cream and mix.
Return chicken to the pan and stir to coat with the sauce.
Dish and serve hot with lemon wedges and parsley (optional).
Enjoy!
Prep Time: 5 mins
Cook Time: 15 mins