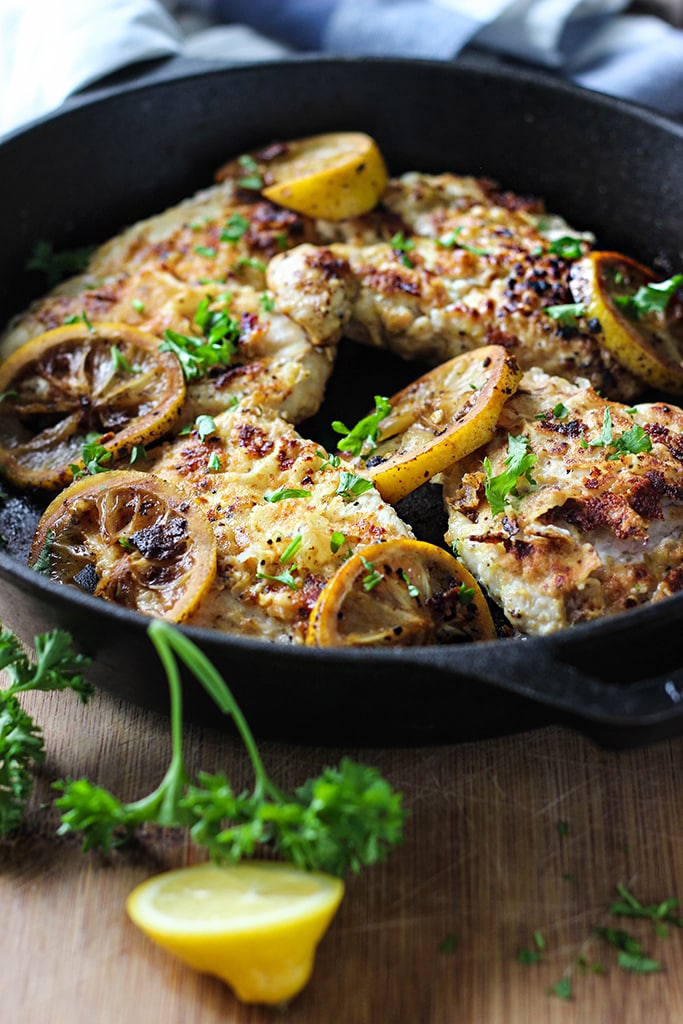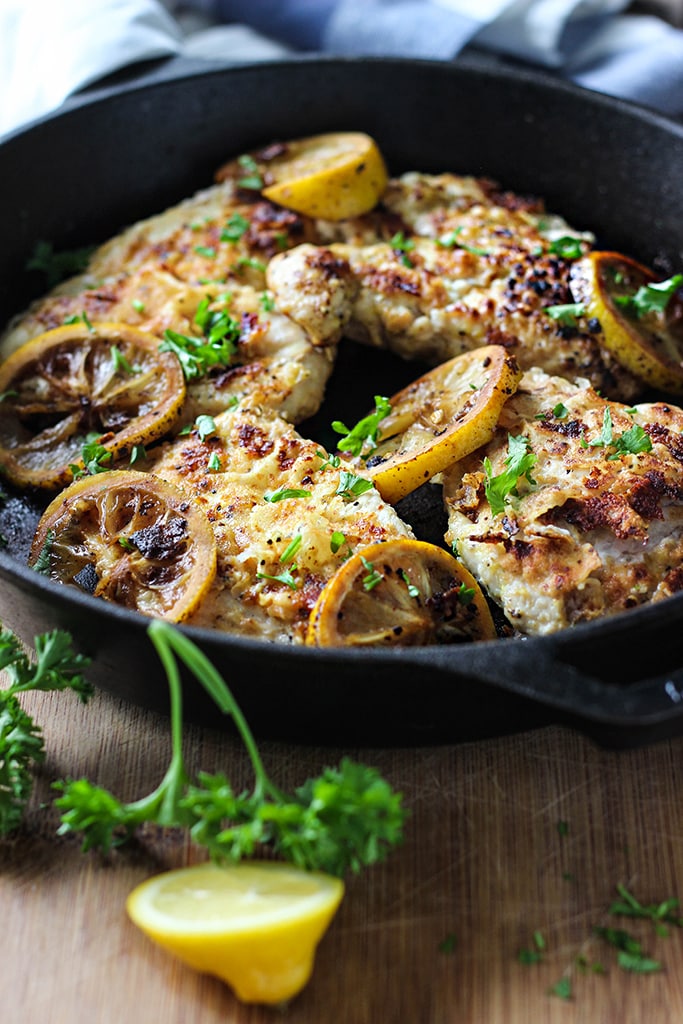 Here's a quick and easy weeknight dinner. I don't know about you but I loooove lemon pepper, especially with fresh fish. It's such a great flavor to add to seafood and so simple to take from zero to "Wow, this is a yummy dinner".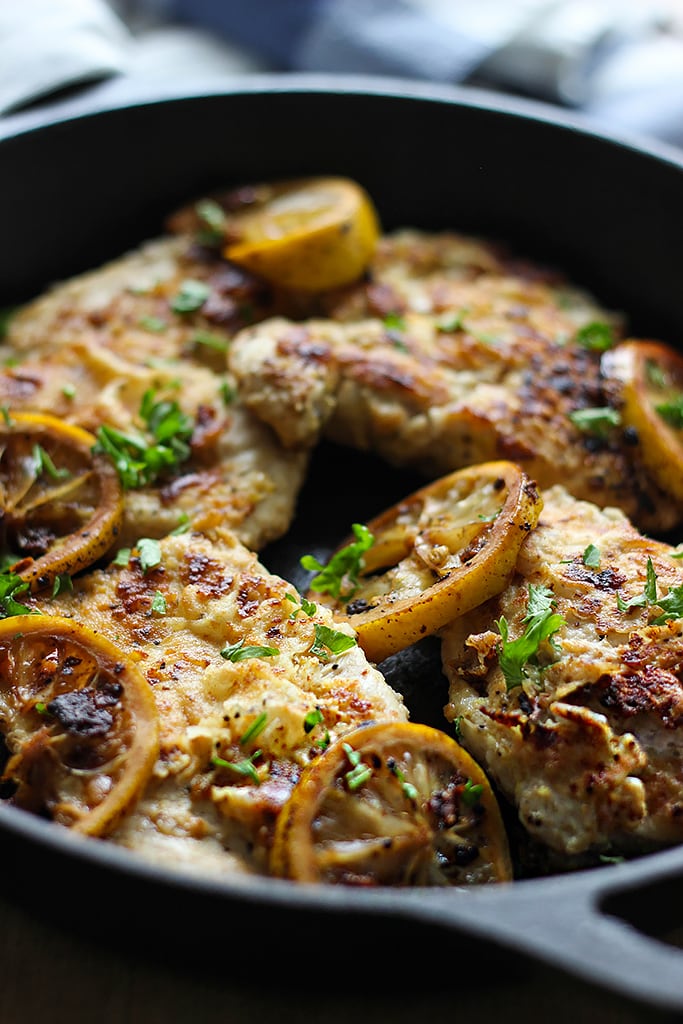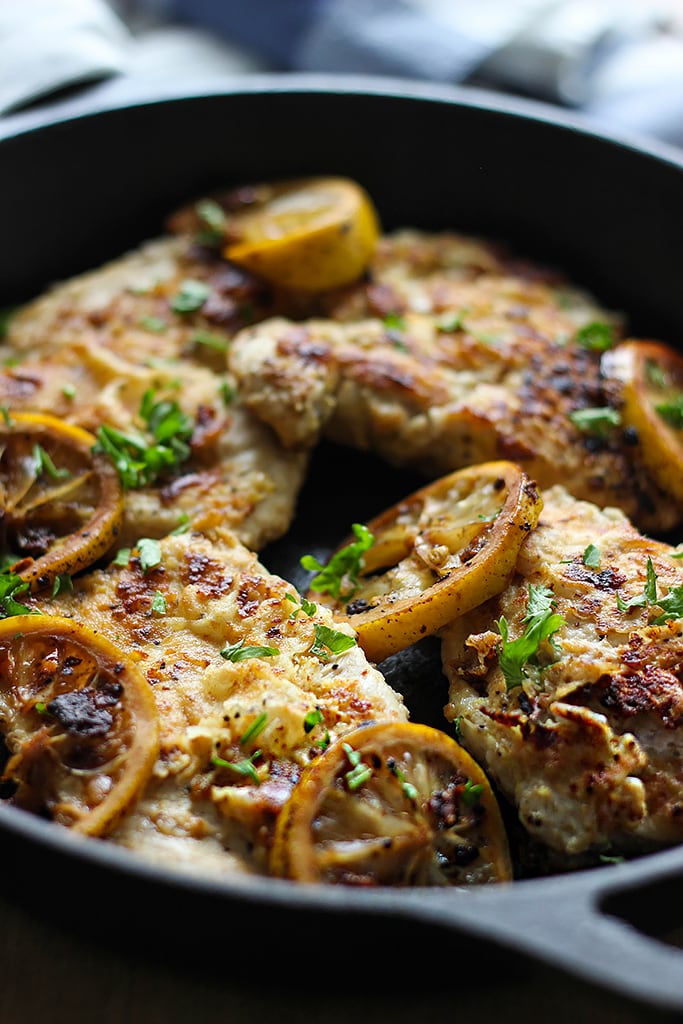 The good news is that it works well with chicken too. So today we have lemon pepper seasoned chicken breasts lightly breaded for some crispiness and pan-fried in melted butter with caramelized lemon slices. Yum!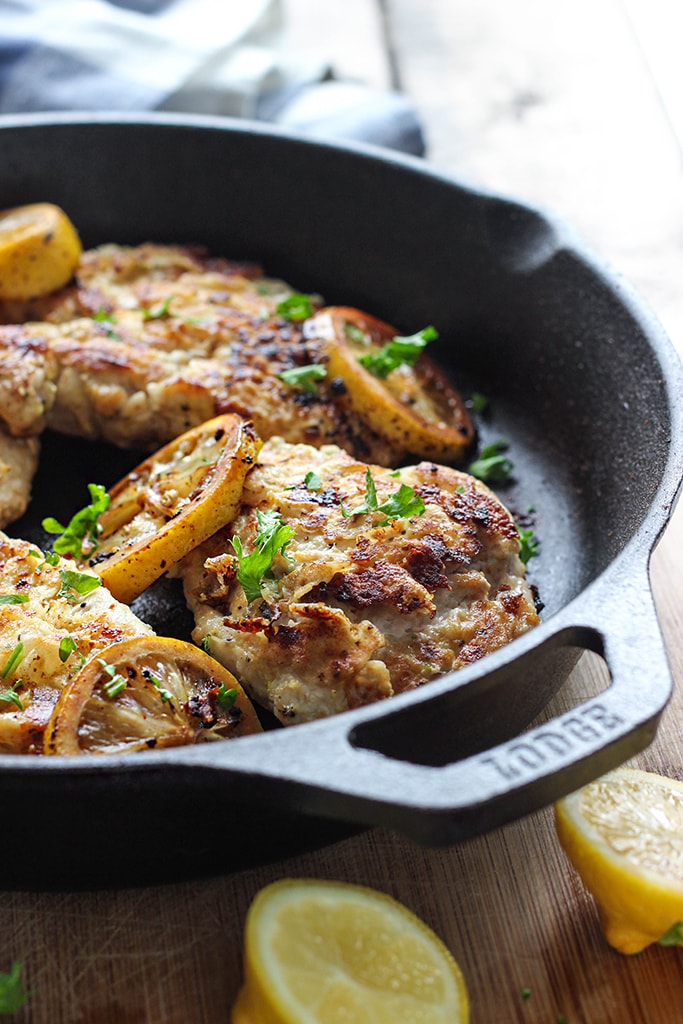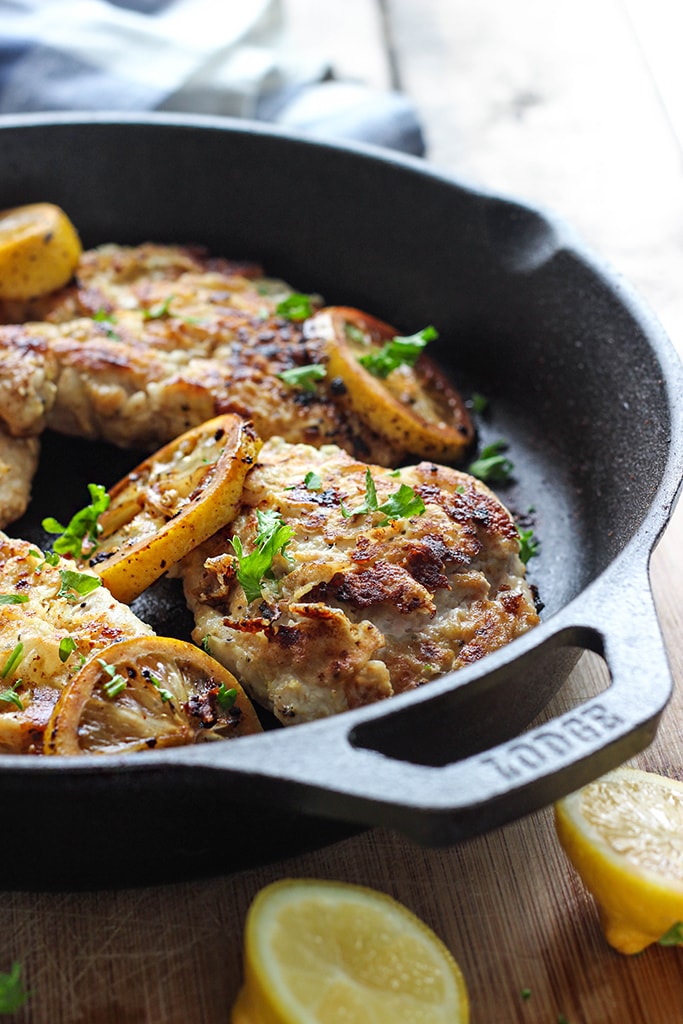 From start to finish, this takes less than 30 minutes. The hard part for me was pounding the chicken breasts down nicely. I need some practice being new and all to the meat mallet. But we pound it so it all cooks evenly. You know how some chicken breasts tend to mound up in the center? The sides will cook faster than the center so pounding takes care of that.
Then we season the chicken with lemon pepper seasoning. I used 3 teaspoons worth but if you like yours heavily seasoned, go for it. After this we'll dredge the chicken with some regular flour to give it a crisp outer layer while it's pan-frying. Easy peasy, nothing to see here.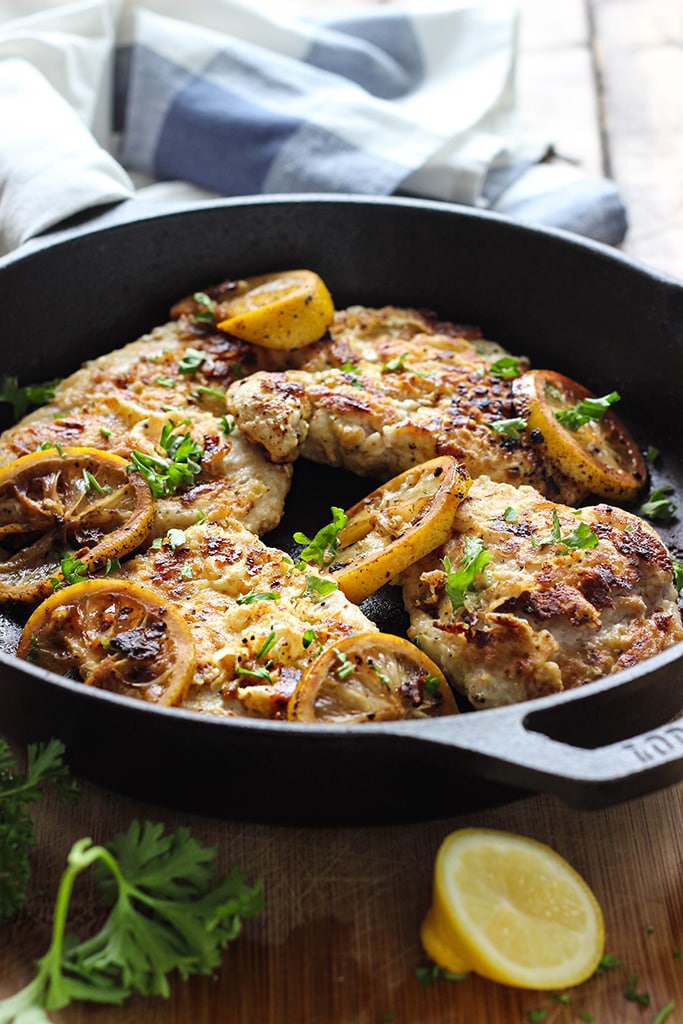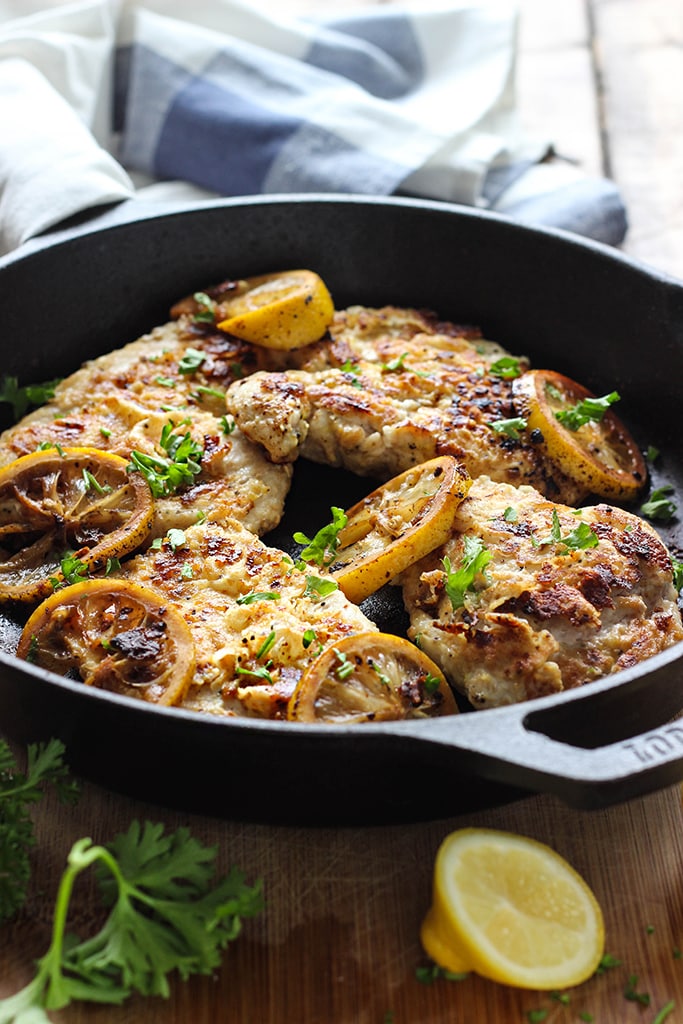 Melt some butter and add in some olive oil, wait till the pan is hot (the butter will smoke a little) then add in your chicken. I used a 10″ cast iron pan so I did it in batches of two. Each side should take about 3 minutes to brown up nicely.
Once that's done, you'll have some browned bits stuck to the pan. Add in some chicken broth now and it'll sizzle as it deglazes. Use the lemon and move them about in the pan to work off these yummy brown bits. The chicken broth will evaporate quickly and you'll be left with nicely browned lemon slices.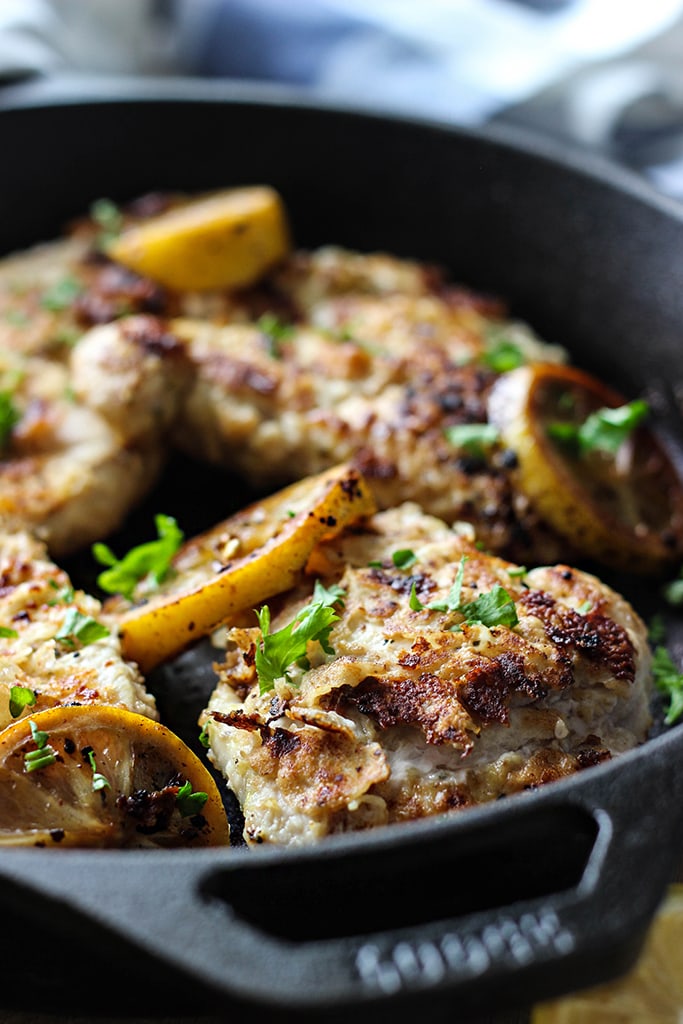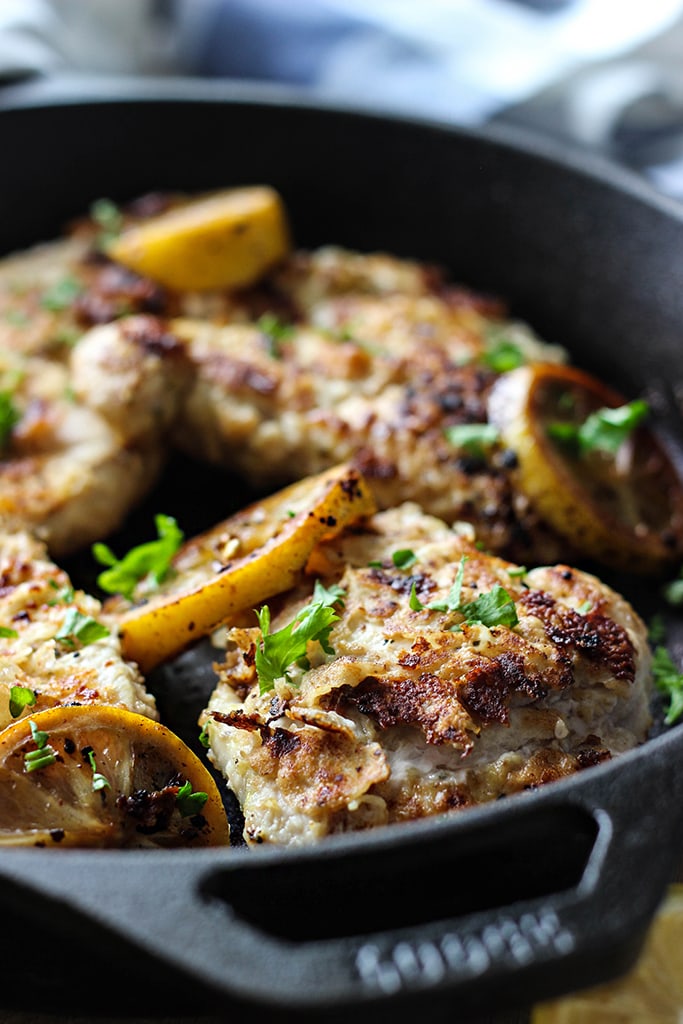 Add the chicken back to the pan, drizzle with some lemon juice for good measure and serve it while it's hot!
Happy cooking!
Print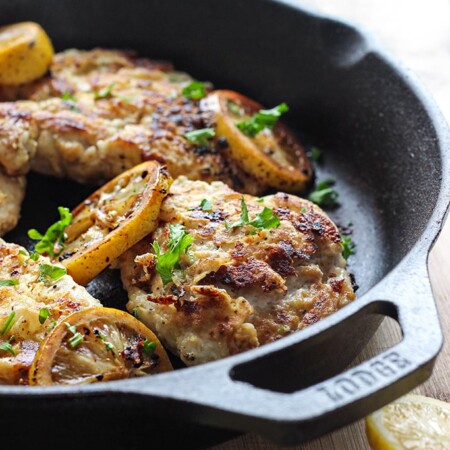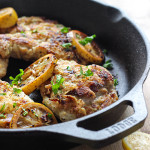 Lemon Butter Chicken Breasts
---
Author:
Total Time: 25 mins
Yield: 4 1x
4 boneless skinless chicken breasts
3 teaspoons lemon pepper seasoning
1/4 cup flour
2 tablespoons butter
1 tablespoon olive oil
1/2 cup chicken broth
1 lemon, sliced
1 tablespoon lemon juice
---
Instructions
Wrap the chicken breasts in plastic wrap and pound into 1/2″ thickness with a meat mallet
Season chicken with lemon pepper seasoning and dredge the chicken in flour
Over medium high heat, melt butter with olive oil and pan-fry the chicken in batches until browned, about 3 minutes per side. Remove chicken and set aside
Add lemon slices to the pan and deglaze the pan with chicken broth. Use the lemon slices to work off the stuck on brown bits
Brown the lemon slices, about 1 minute per side
Add chicken breasts back to the pan and drizzle with lemon juice
Dish and serve hot
Prep Time: 10 mins
Cook Time: 15 mins