Five ingredients and 20 minutes are all it takes to enjoy this honey garlic chicken with the much-loved sauce that won over kitchens everywhere.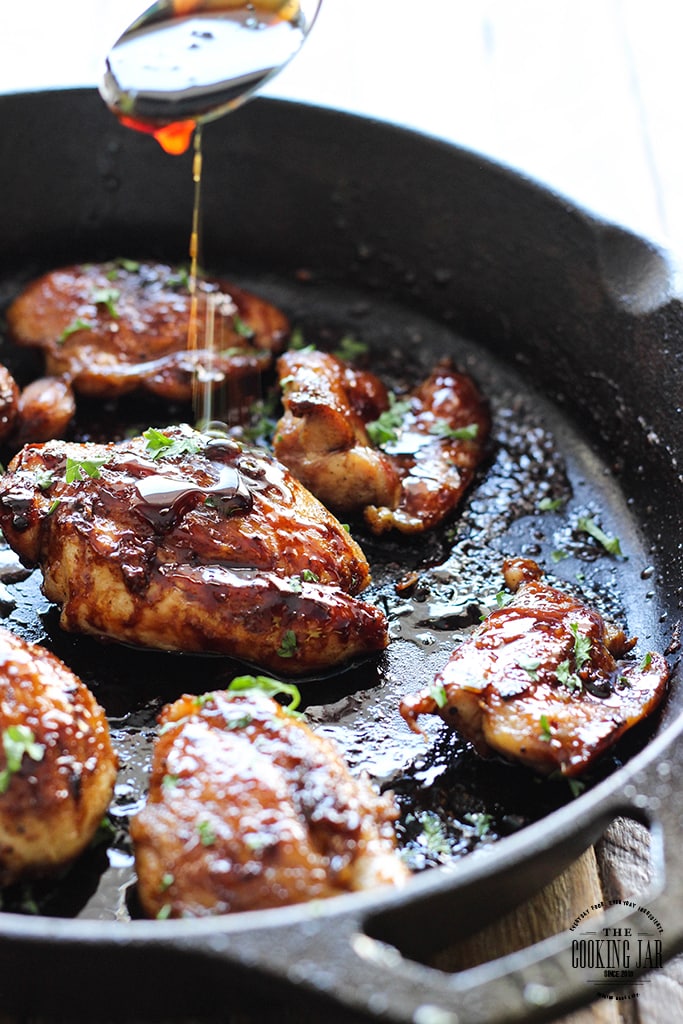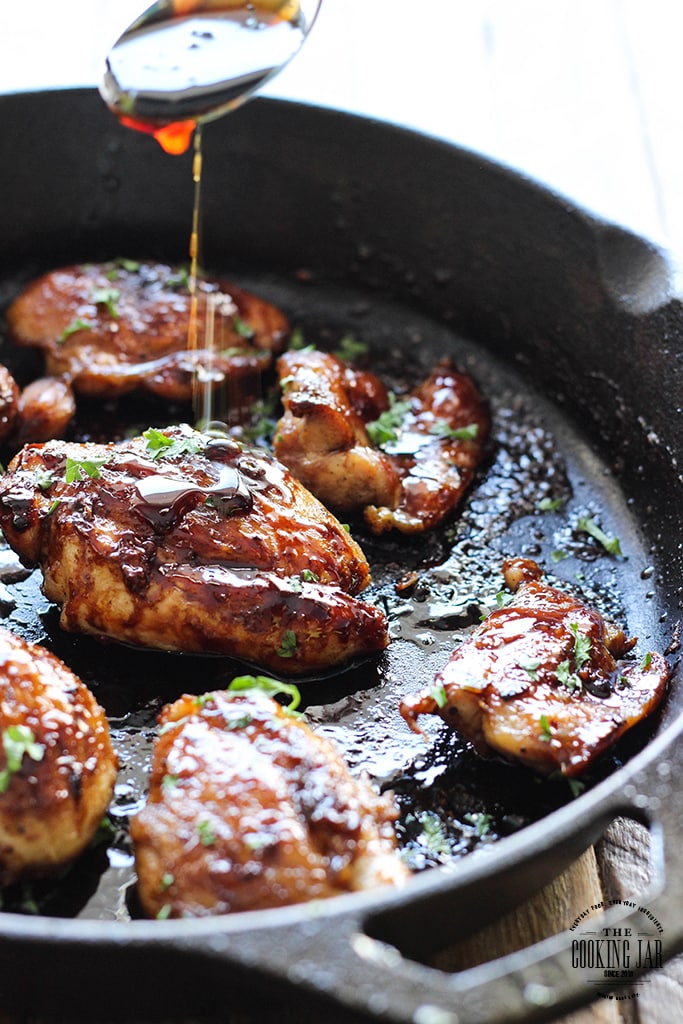 Today we're making some delicious, honey garlic chicken. With the same, much-loved flavor profile of honey garlic shrimp and honey garlic salmon, we get to enjoy everyone's favorite sauce with boneless, skinless chicken breasts or thighs. It's an addictive sauce with a sticky, sweet and savory glaze that works great with almost every kind of protein.
It's simple to cook, quick and easy, but so rewarding. And it's 20-25 minutes (depending on the thickness of your chicken) from start to finish without sacrificing any flavor.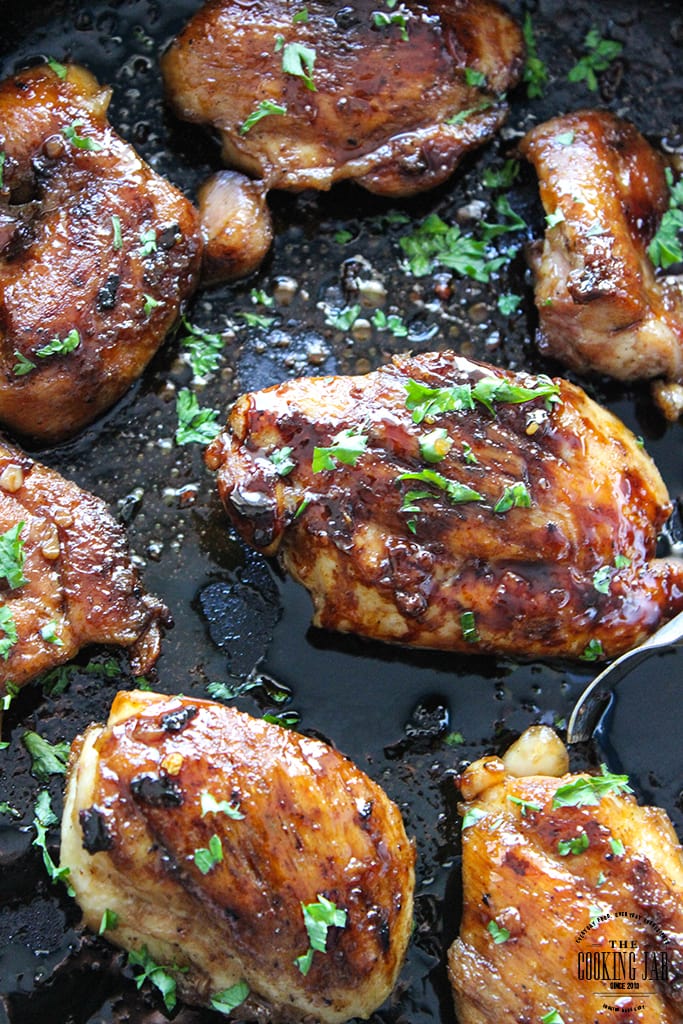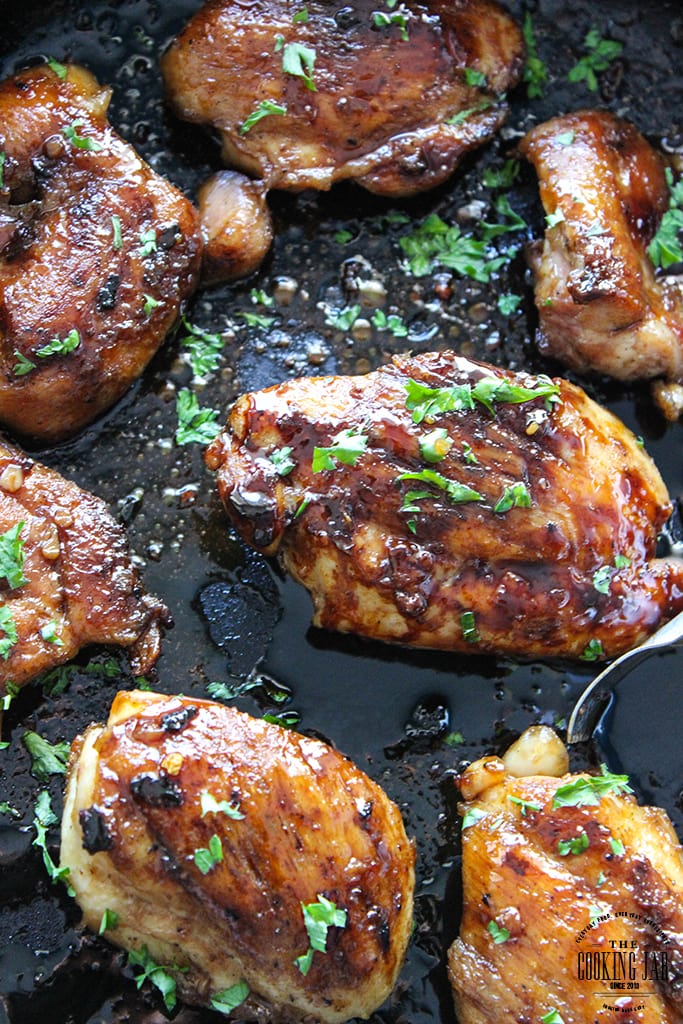 Don't worry about all the shiny stuff on the pan that looks like oil. It's actually the sauce. Loads and loads of sauce! This is the stuff that'll give your chicken that wonderful glaze. I used boneless, skinless chicken thighs because I feel they are juicier but if you prefer chicken breasts, this will work too.
It's a great answer for quick weeknight dinners. Serve with a side of rice or mashed potatoes with some greens on the side like green beans, broccoli, or asparagus. There are plenty of ways to enjoy this. Let's start cooking!
How To Make Honey Garlic Chicken (1 Min Video)
What You Need For Honey Garlic Chicken
This one is SO simple and I wasn't lying when I said you only need five ingredients. You can use either boneless, skinless chicken breasts or chicken thighs. Both regular soy sauce and low sodium soy sauce will work.
And if you don't have fresh garlic and ginger on hand, feel free to substitute with garlic powder and powdered ginger. Ginger gives the sauce a warm flavor but if you're not a fan, you can absolutely leave it out too. It will not break the recipe. And if you want to build on this recipe for more flavor, try adding in a splash of lime juice or a few dashes of red pepper flakes.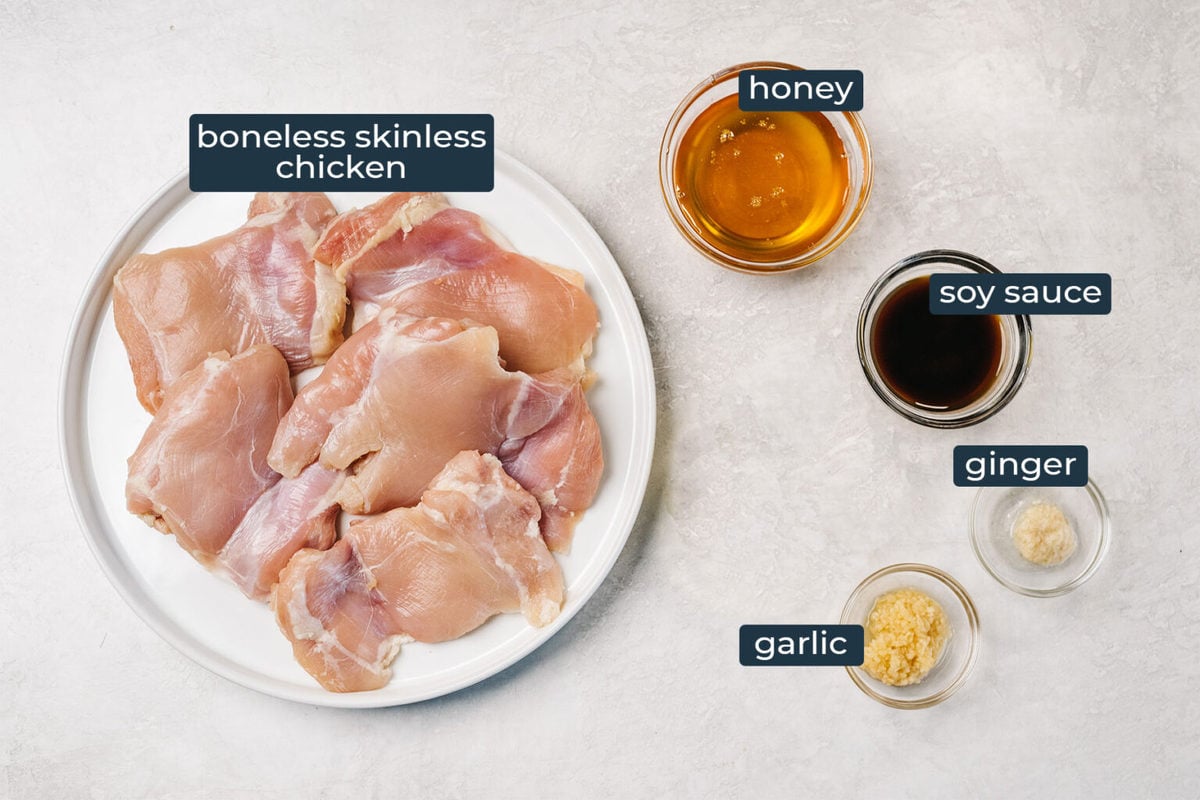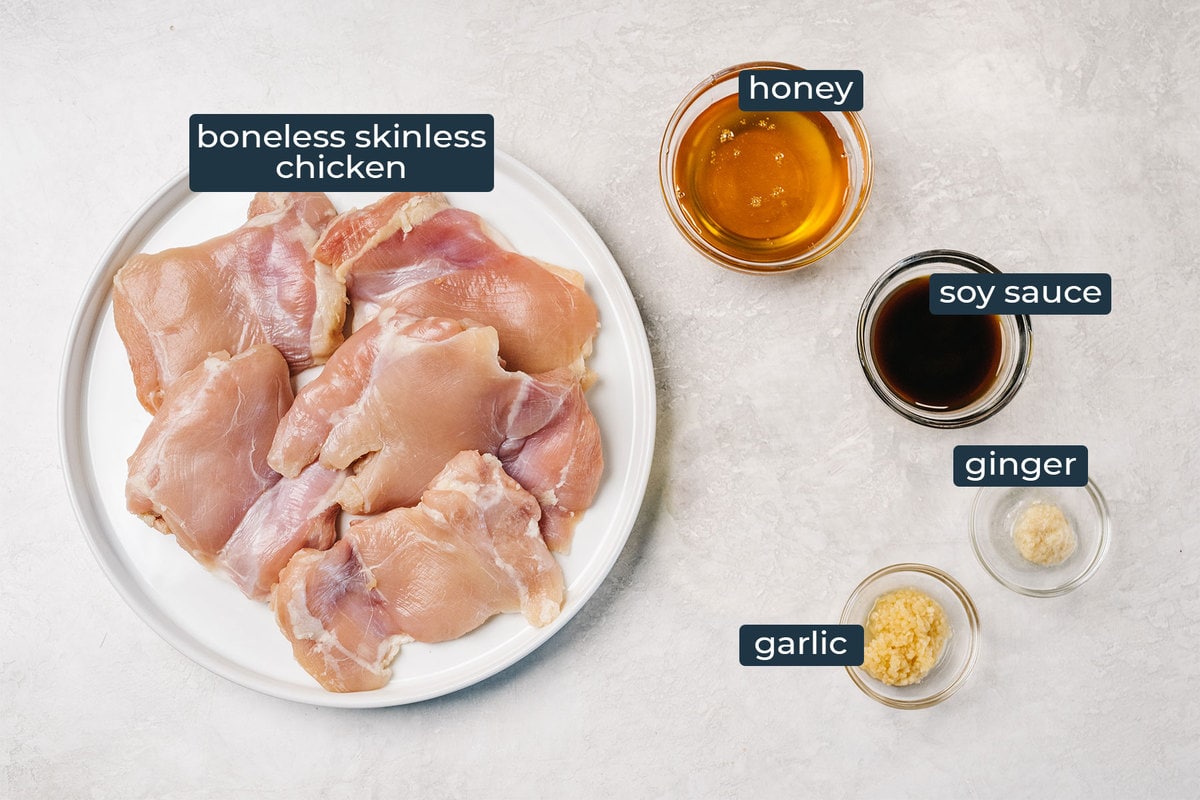 HONEY GARLIC CHICKEN RECIPE TIPS
One pound of boneless, skinless chicken thighs turned out to be about four thighs for me. So if you sub with chicken breasts, go for one pound's worth. Cut the thighs in half to make them cook quicker and cook them in two batches so you're not overcrowding the pan. This also makes sure the chicken sears properly instead of steaming.
If your breasts are slightly on the thicker side, it might be worth it to cut it up lengthwise as well, to cut that thickness in half so it'll cook faster and more evenly. Also make sure the thighs/breasts are dry before we cook them so they brown up nicer (and so you don't get attacked with angry, spitting oil).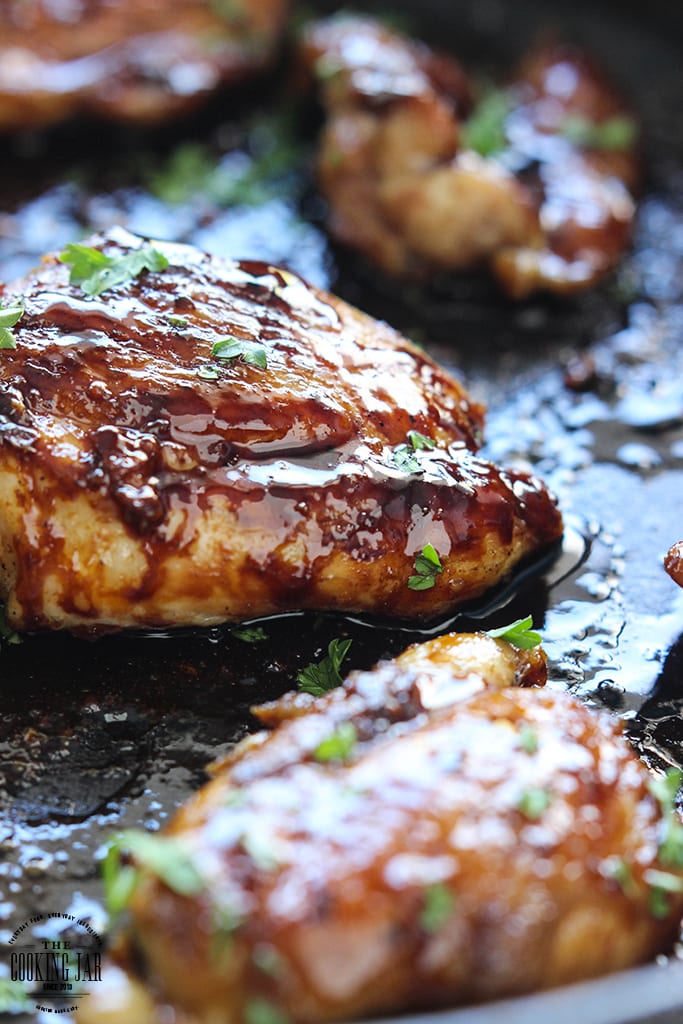 Start heating up the pan over medium-high heat in a 10″ skillet. I used about two tablespoons of oil, just enough to coat the bottom of the pan. Since there isn't any skin on the chicken to render fat, we'll be relying solely on the oil you add to the pan to sear them.
It should take about 3-4 minutes to sear and cook each side, depending on the size of each chicken piece. The smaller pieces will end up crispier than the bigger ones. Keep an eye on them and remove them from the pan earlier if needed. After the first side of the chicken is done, reduce the heat to medium to stop the pan from smoking before flipping the chicken over. You will be cooking from medium to medium-low heat from here on out.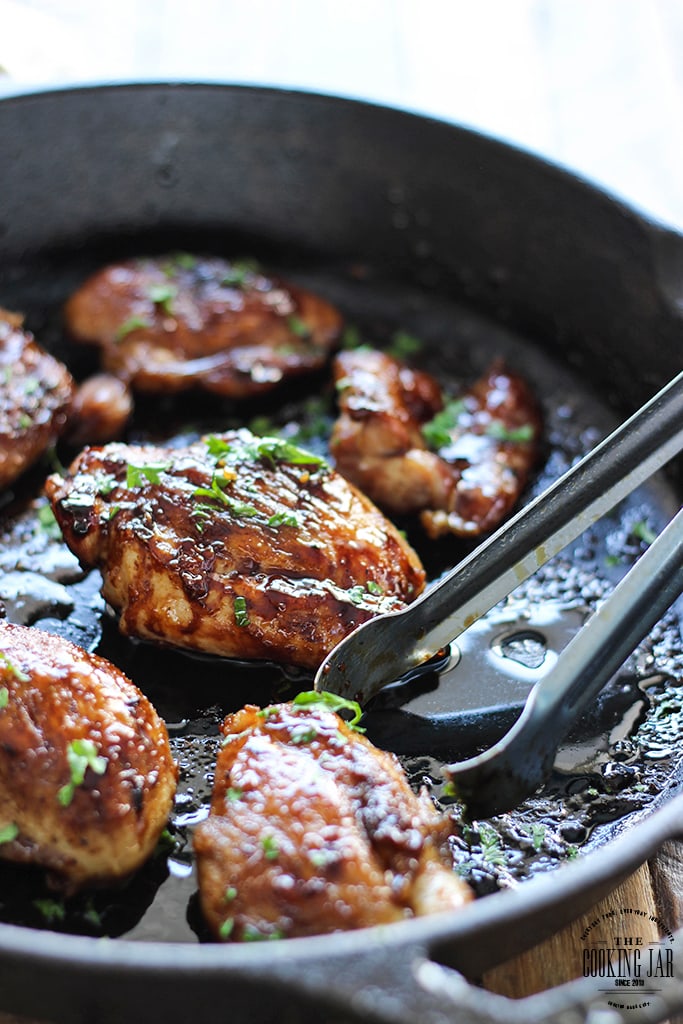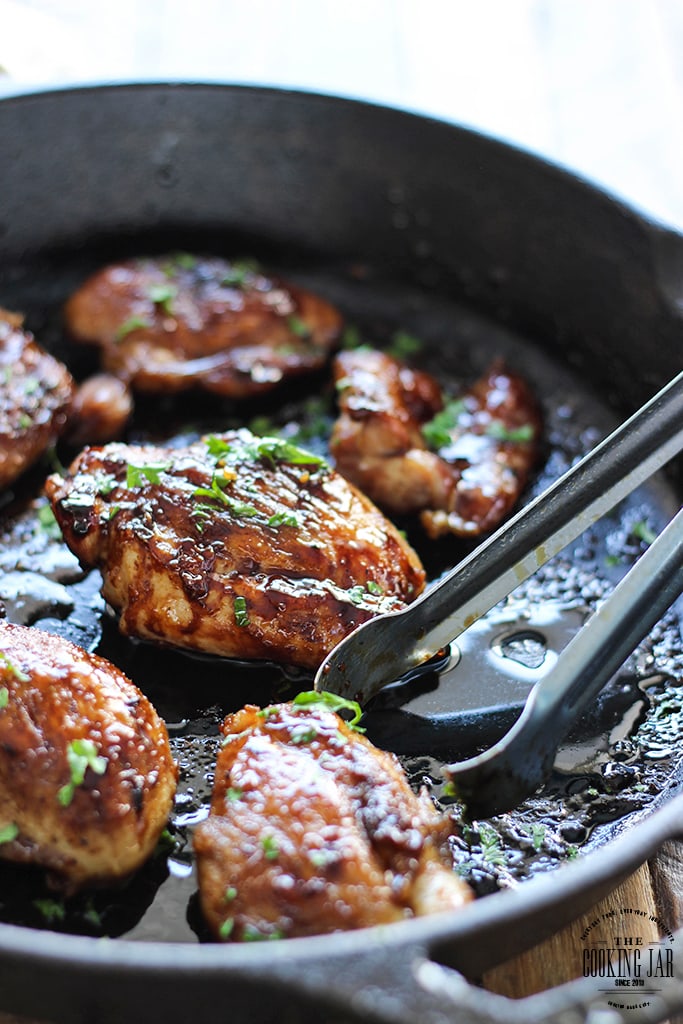 Even though we patted the chicken dry with paper towels earlier, there might still be some angry spitting from the oil. So it's always worth it to invest in a splatter guard. And wear an apron! Once it's all cooked, drain the chicken on some paper towels and remove any excess oil from the pan, leaving just a little to saute the aromatics. Saute the garlic and ginger until fragrant, add the chicken back to the pan, and pour in the honey and soy sauce mixture.
Make sure to keep the heat on medium-low as boiling the sauce too fast will burn and harden it into a sticky mess. And even though sticky sauce sounds great, burning it changes the sweetness of the honey to bitterness. It's not too tasty.
Flip the chicken in the sauce to coat both sides and once the sauce has reduced, we're done. That's it! Go enjoy your glazed chicken and brag about how you're a cooking expert. There's no need to tell anyone it was only five ingredients! 😉
MORE HONEY GARLIC RECIPES TO TRY
♡ If you liked this recipe, giving it a star rating ★★★★★ in the comments below really helps! For more recipes, subscribe to my newsletter or follow me on Facebook, Instagram and Pinterest.
Print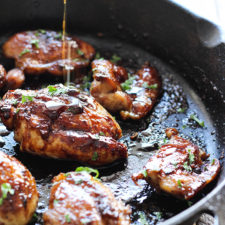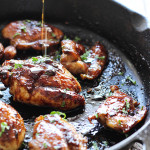 Honey Garlic Chicken
---
Author:

Total Time:

20 mins

Yield:

4

1

x
Description
Five ingredients and 20 minutes are all it takes to enjoy this honey garlic chicken with the much-loved sauce that won over kitchens everywhere.
---
1

lb

. boneless, skinless chicken thighs/breasts

2

cloves garlic, minced / 1/4 teaspoon garlic powder

1/2 teaspoon

ginger, minced / 1/8 teaspoon ground ginger (optional)

4 tablespoons

honey

2 tablespoons

soy sauce
---
Instructions
Combine the honey and soy sauce and set aside.
Over medium-high heat in a 10″ skillet, pan-sear the chicken in some oil. Reduce heat to medium after searing the first side.
Cook them on both sides in batches until browned, about 3-4 minutes per side, or until the center is no longer pink and a meat thermometer reads 165°F. Drain chicken on paper towels and remove most of the oil from the pan.
Add garlic and ginger (optional) and saute for 30 seconds until fragrant. Add the chicken back into the pan.
Pour in the honey and soy sauce mixture and bring to a gentle boil over medium-low heat until the sauce is reduced. Flip the chicken to coat in the sauce fully.
Dish and serve hot.
Enjoy!
Notes
Note: If using garlic powder/ground ginger, stir them in with the soy sauce and honey before adding it to the pan with the chicken.
Add more flavor with a few dashes of red pepper flakes or a splash of lime juice.
Prep Time:

5 mins

Cook Time:

15 mins
♡ Affiliate disclosure: As an Amazon Associate, I earn commissions from qualifying purchases from Amazon.com. You can learn more about it here.