Creamy spicy chicken and corn chowder is the perfect soup for fall with chicken, corn, bacon, jalapenos, bell peppers and cheddar cheese.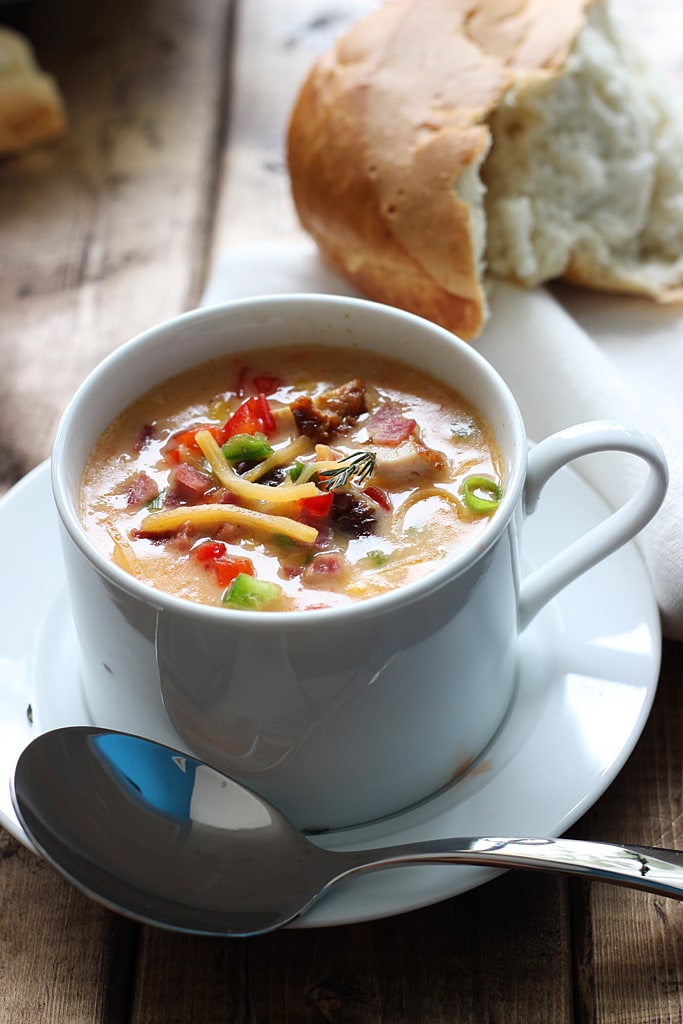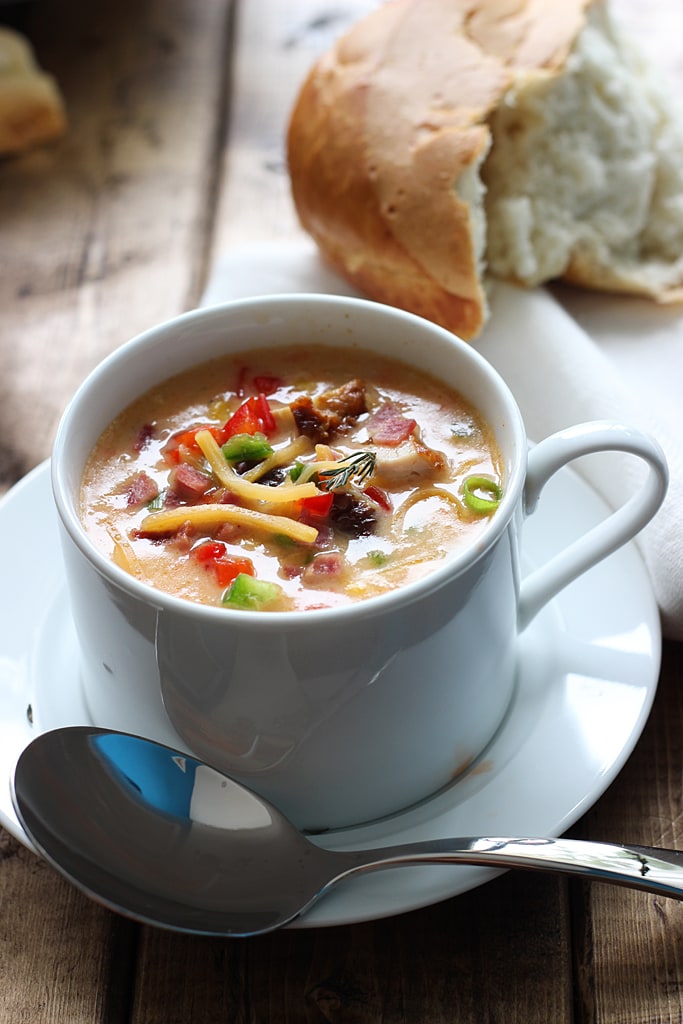 I've had some requests for more soups, so here we go! This is one I will happily chow down on because one, it has corn. Two, it's creamy and three it has bacon and cheese.
For those that like it spicy, there's that too. But the level of spiciness can be customized so it's a sweet background heat for those that don't want to be punched in the face and it's where's-the-water-I-need-it-now for those that love it SPICY. Just keep adding some cayenne until you're tearing up and happy.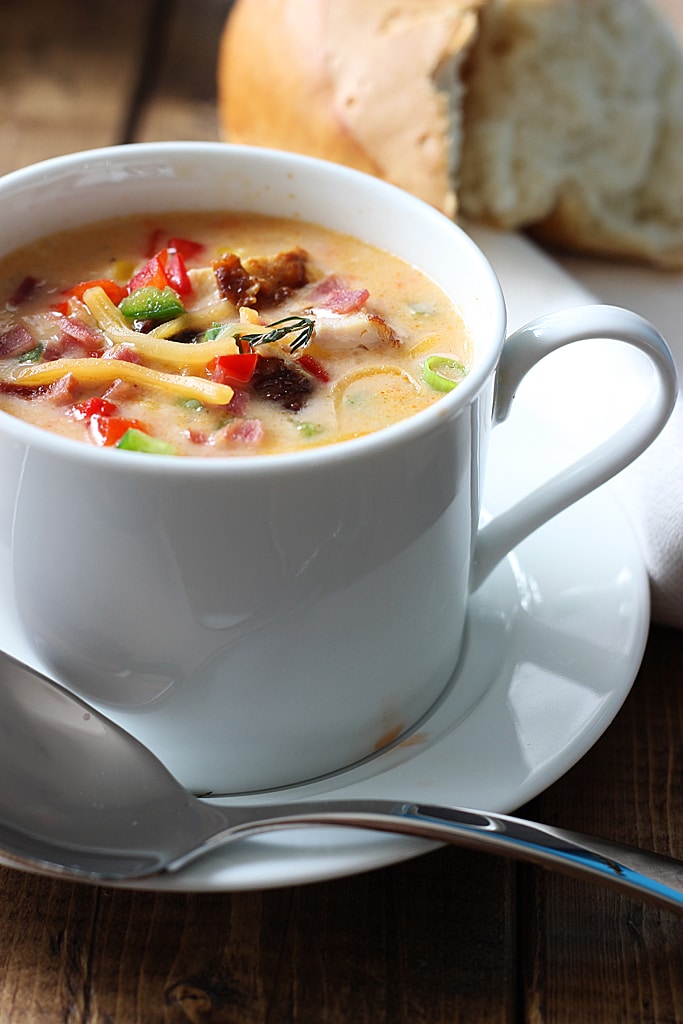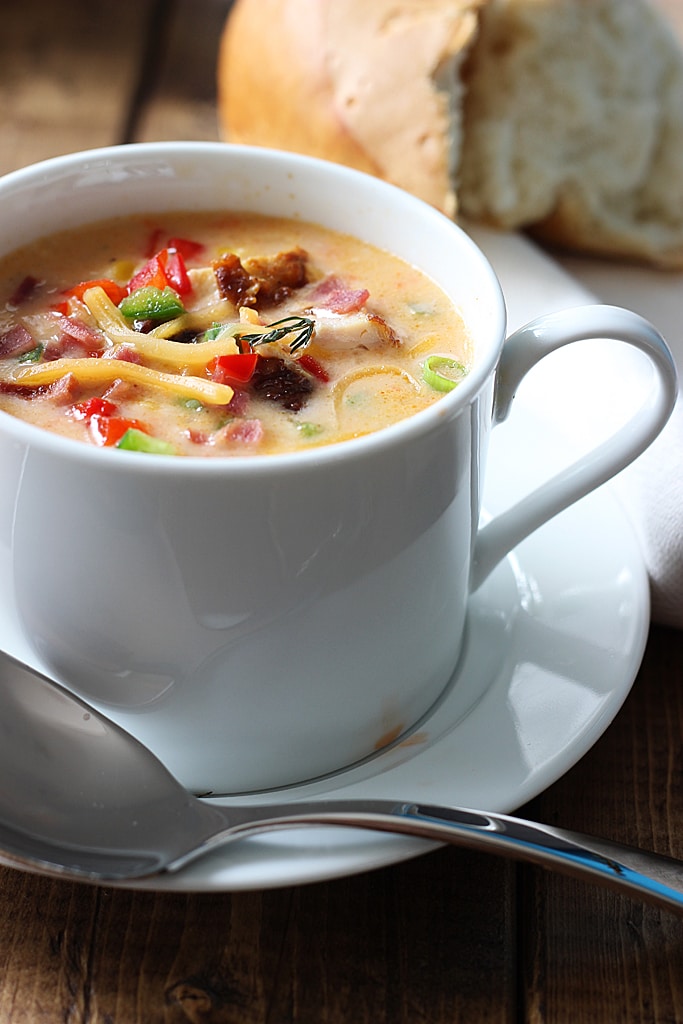 There are also some herbs and Old Bay seasoning just to deepen the flavor a little. Some slicing and dicing is needed but it's such a colorful collection of raw ingredients, it's really not that bad.
With so much going on with this chowder and its medley of flavors, there's plenty of comfort to go around. So let's start cooking.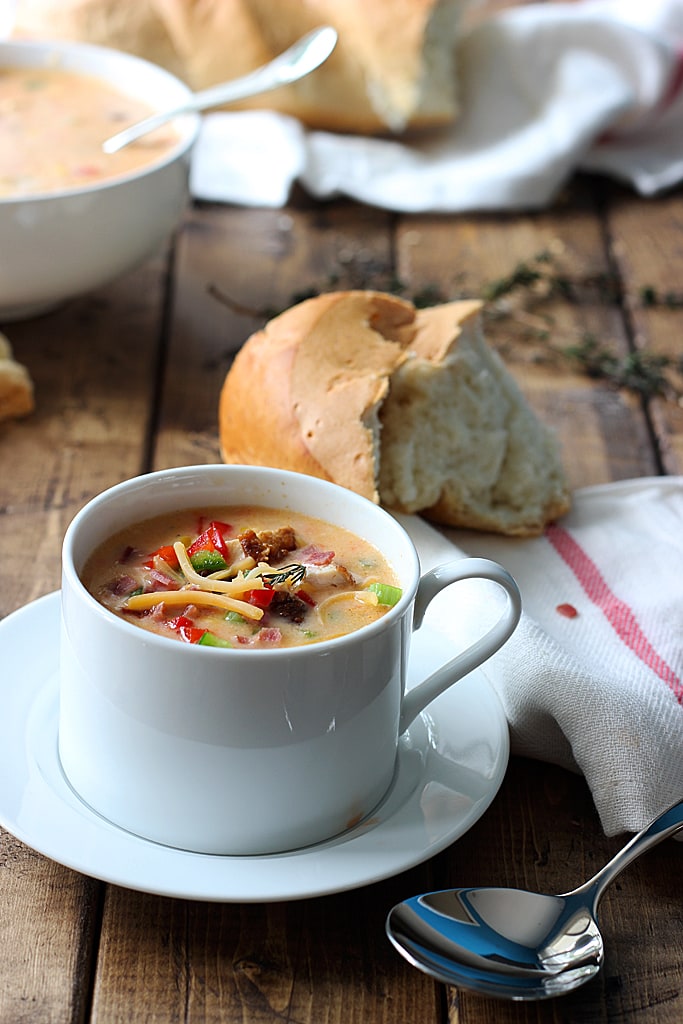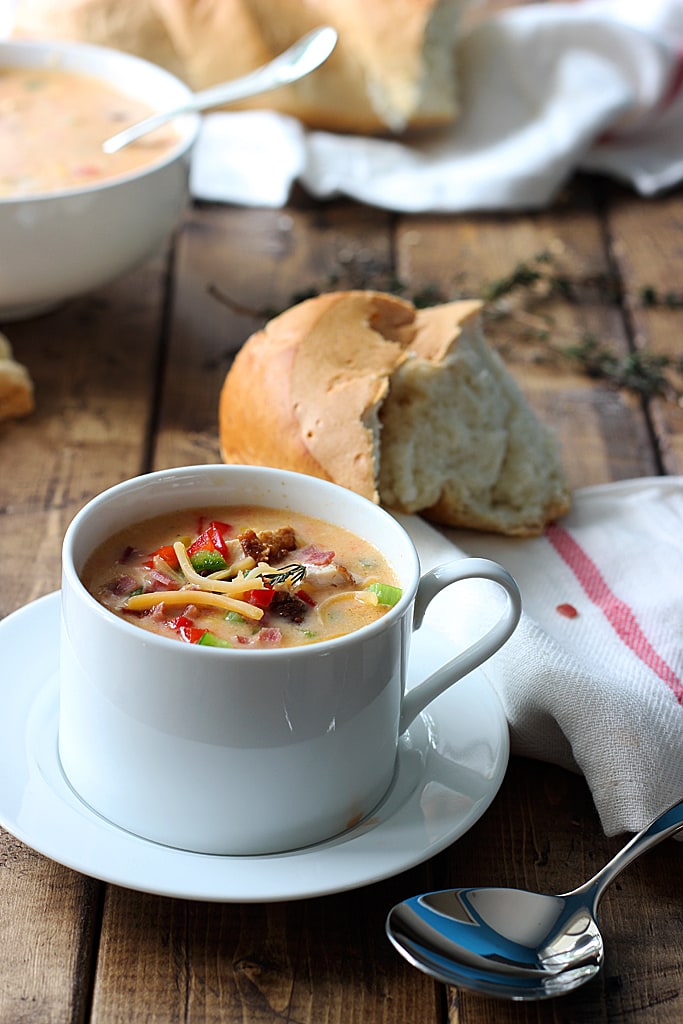 CREAMY SPICY CHICKEN AND CORN CHOWDER RECIPE TIPS
Use some rotisserie chicken to cut down your cooking time. I pulled off all the meat and just chopped them up roughly. If you want to poach chicken, about 3-4 chicken breasts should make for 3 cups, if I remember correctly. Or grill it! I kept it simple by just buying some rotisserie but go crazy in the kitchen if you're feeling like it.
So to make it creamy and thick, I've made a roux which is basically butter and flour mixed together to act as a base before adding broth and milk. On top of that, the broken down potatoes also act as a thickener. If you want it even creamier, substitute milk with heavy cream or add a cornstarch slurry towards the end.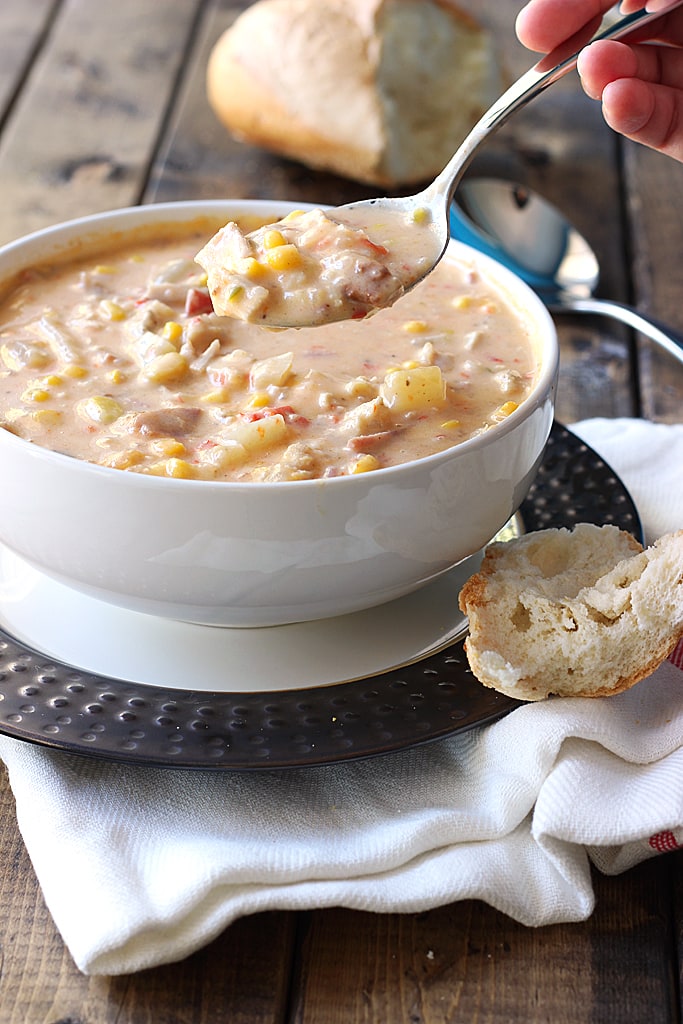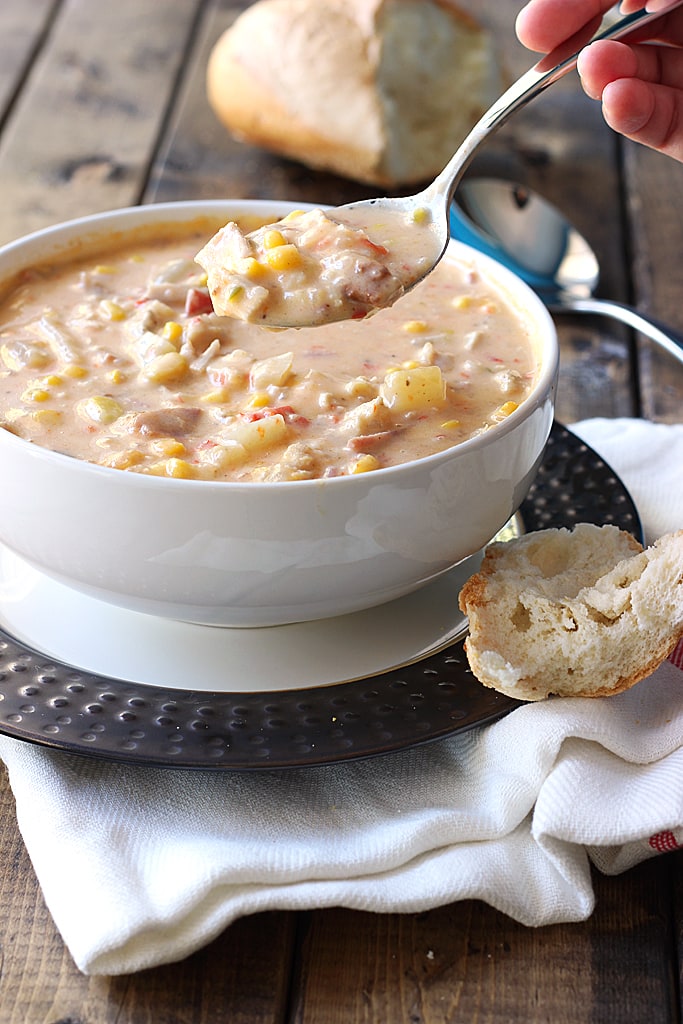 To make the cornstarch slurry, dissolve cornstarch (I used two tablespoons) in some cold water, just enough to mix it all up, and add it to the soup once it has started to boil. It's a quick and no-fuss way to get your soup the consistency you want it.
One last thing! The smaller your dice your potatoes, the quicker it will cook and the easier it breaks down to help thicken the soup. Pureeing half the soup in a blender or with a hand blender will also thicken the chowder.
Make sure to buy a baguette to dip with. The soup is filling by itself but crusty bread will make it even better. Enjoy!
MORE COMFORTING SOUPS AND STEWS TO TRY
Did you make this recipe? Rate it!
♡ If you liked this recipe, giving it a star rating ★★★★★ in the comments below really helps! For more recipes, subscribe to my newsletter or follow me on Facebook, Instagram and Pinterest.
Print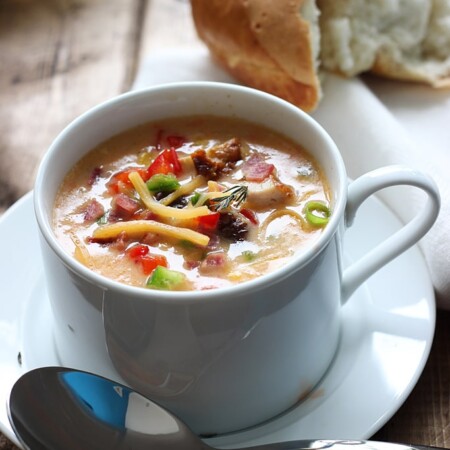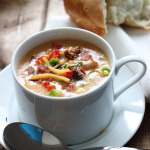 Creamy Spicy Chicken and Corn Chowder
---
Author:
Total Time: 50 mins
Yield: 6-8 1x
Description
Creamy spicy chicken and corn chowder is the perfect soup for fall, with chicken, corn, bacon, jalapenos, bell peppers and cheddar cheese.
---
4 tablespoons butter
1/2 medium yellow onion, diced
2 teaspoons garlic, minced
1 jalapeno, seeded and diced
1 red bell pepper, diced
1/4 cup flour
3 cups chicken broth
3 russet potatoes, diced
2 cups milk
2 cups corn
3 cups rotisserie chicken, shredded or chopped
1 tablespoon fresh thyme
2 bay leaves
1/4 teaspoon cayenne pepper
2 teaspoons Old Bay seasoning
Salt and pepper to taste
6 slices bacon, cooked and crumbled
2 green onions, chopped
Cheddar cheese, shredded
1 lime, cut into wedges
---
Instructions
In a dutch oven over medium heat, melt butter and saute onions, garlic, jalapeno and bell peppers until soft, about 3 minutes.
Add flour and stir to combine.
Pour in chicken broth and whisk until smooth.
Add potatoes, cover and simmer for about 10 minutes.
Puree half the mixture in a blender to help thicken the soup and add it back to the dutch oven.
Add milk, corn, chicken, thyme, bay leaves, cayenne, Old Bay seasoning and season with salt and pepper to taste.
Simmer uncovered for another 10 minutes.
Serve warm topped with bacon, green onions, cheddar cheese and lime wedges.
Enjoy!
Notes
For an even thicker soup, use a cornstarch slurry. Add to the soup when it is boiling and stir until the soup thickens.
Prep Time: 20 mins
Cook Time: 30 mins
Nutrition for serving size of 8: