A hearty slow cooker beef stew with fall-apart, melt-in-your-mouth, tender chuck roast, potatoes and carrots. Here's a comforting, warm meal that's a perfect antidote for the cold weather.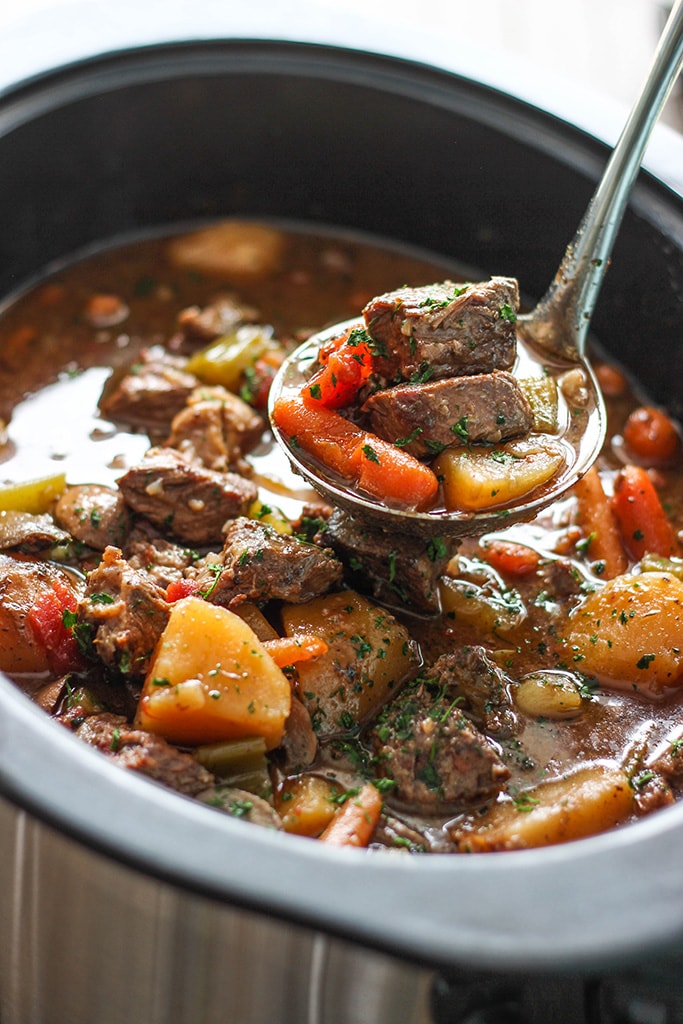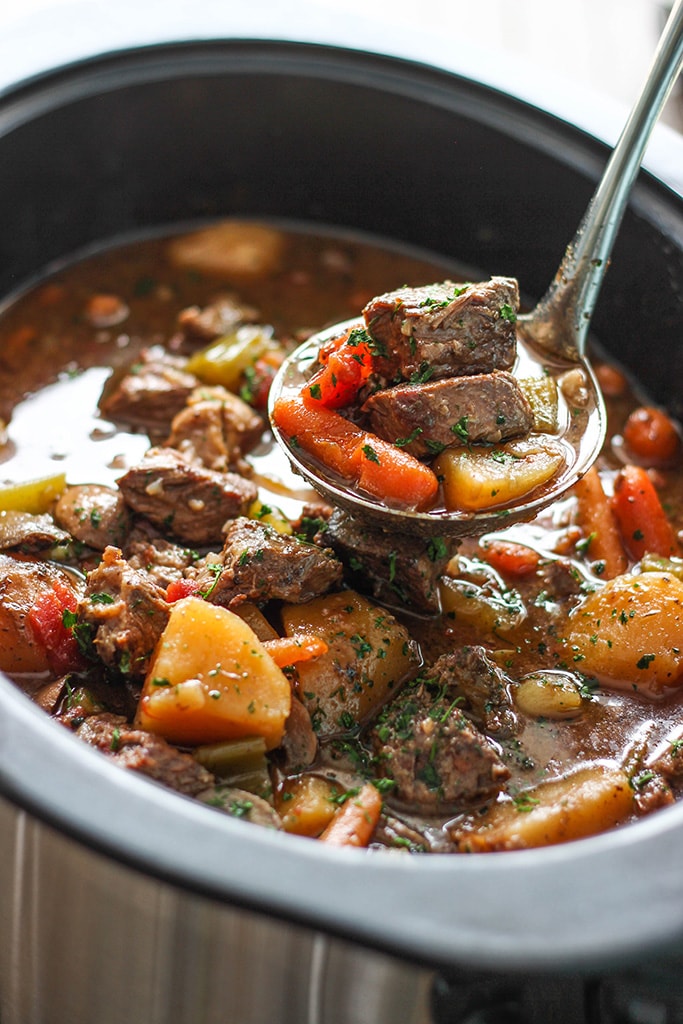 It's mighty cold! So today we'll be doing a slow cooker beef stew to warm ourselves up. This is the perfect time to break out the crock-pot and let it do the cooking for you while you reward yourselves at the dinner table later.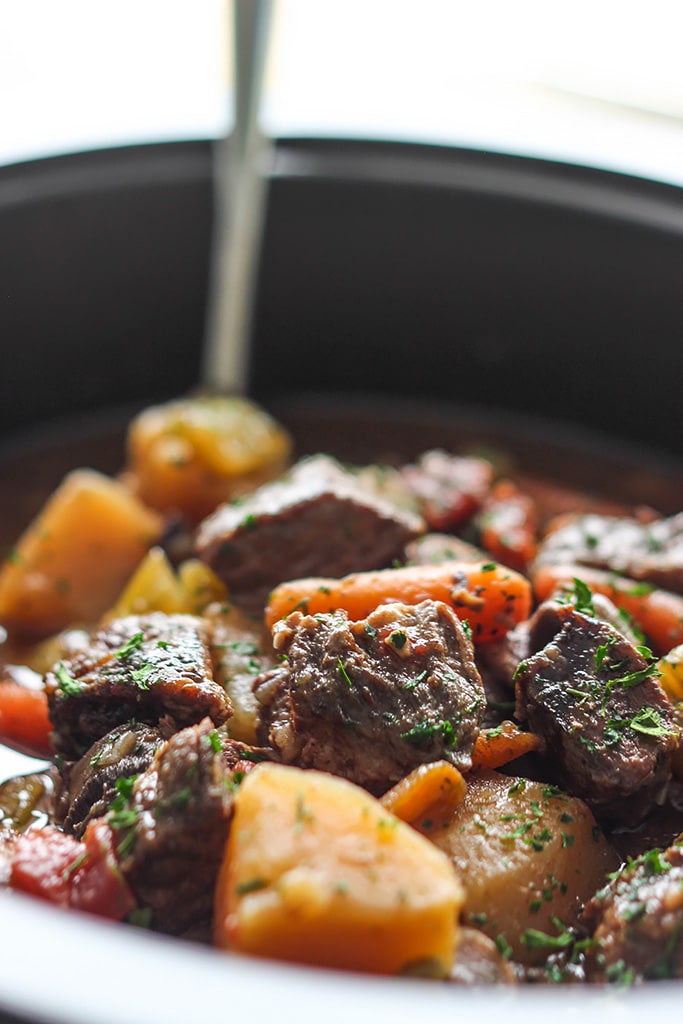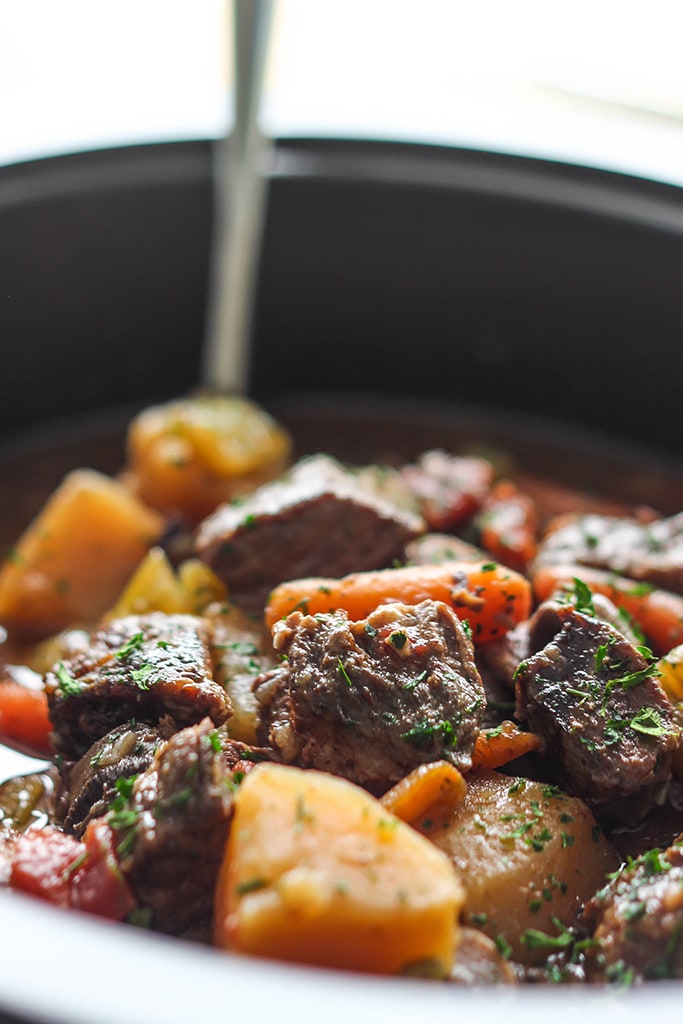 With chuck roast, potatoes, carrots and onions and some seasonings, you've got yourself a meal that goes well with some crusty bread to help fill you up. The meat is melt-in-your-mouth tender. So tender, I had to be careful ladling it into bowls to not break them apart. Sounds good?
Let's begin.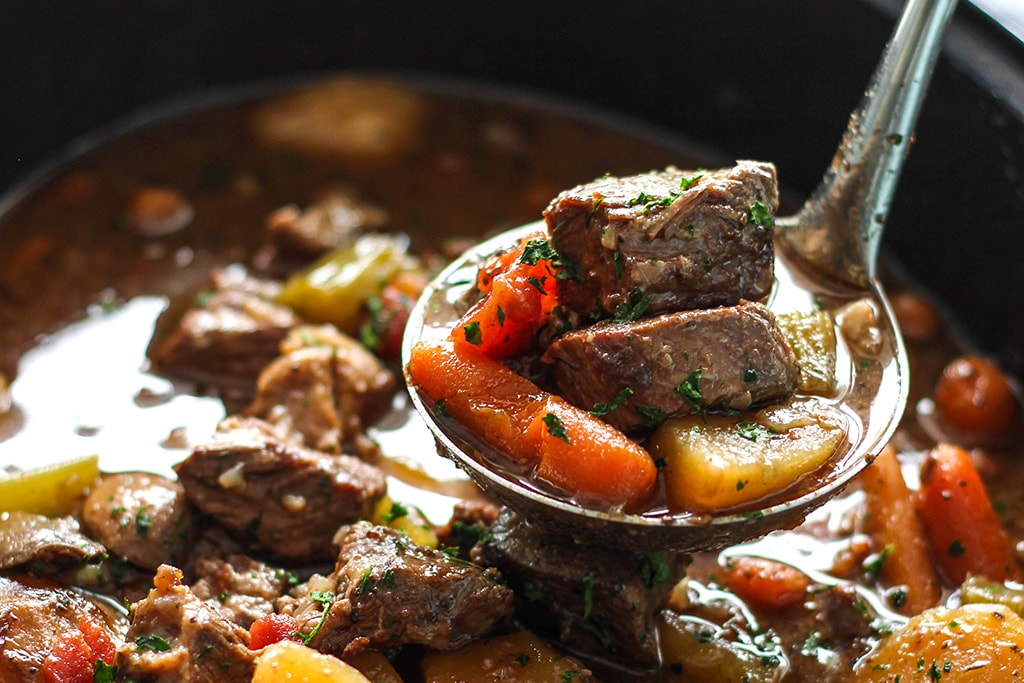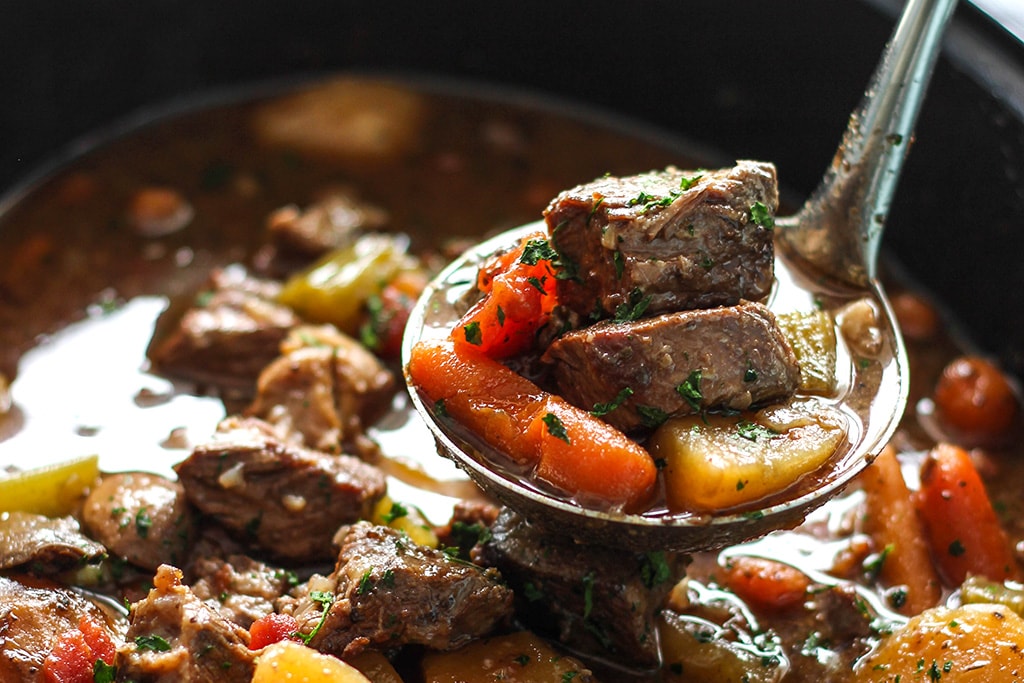 SLOW COOKER BEEF STEW RECIPE TIPS
The bulk of the work comes from all the chopping and cutting. You'll need the carrots and celery cut into 2″ pieces so they don't disappear into nothingness when cooked long and slow. By the same reasoning, the potatoes should be quartered to help them retain shape. Use potatoes like Yukon gold or red potatoes so they don't crumble too much in the stew. The same goes for the beef. Big chunks so they retain their shape!
One of the best seasonings you can use for the stew is allspice. Contrary to its name, it is not a combination of spices but has a combination flavor of cinnamon, cloves and nutmeg. If you don't have allspice ready, you can use these seasonings instead. It gives the stew a unique taste and adds a wonderful flavor. I used to use whole allspice but used ground allspice for this recipe to make this spice a little more approachable. I know some people can get weirded out seeing things you aren't used to in their food!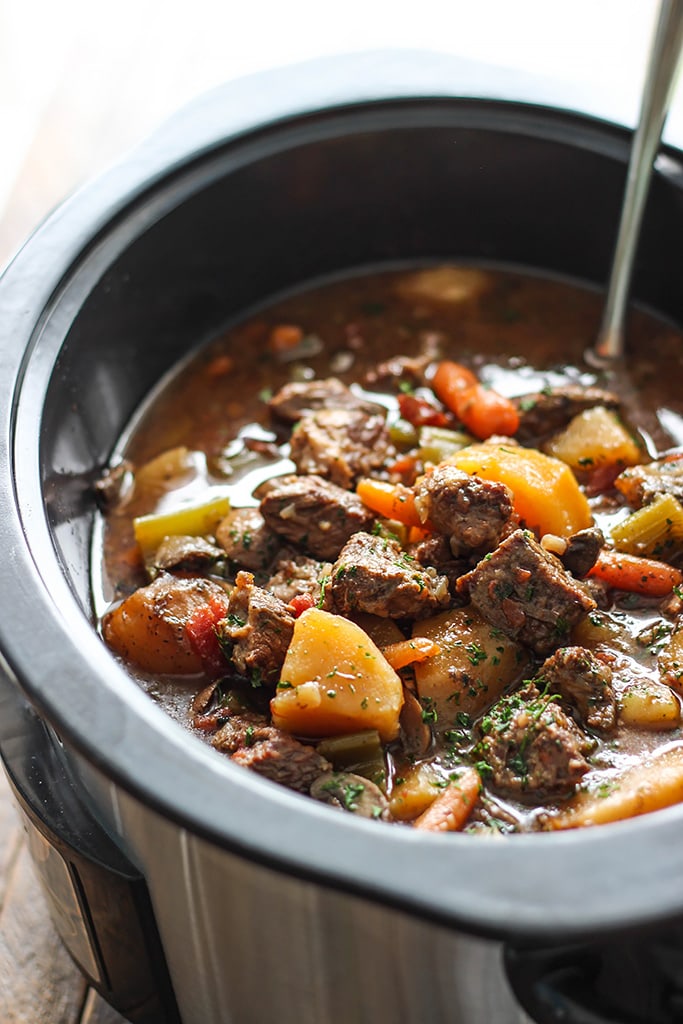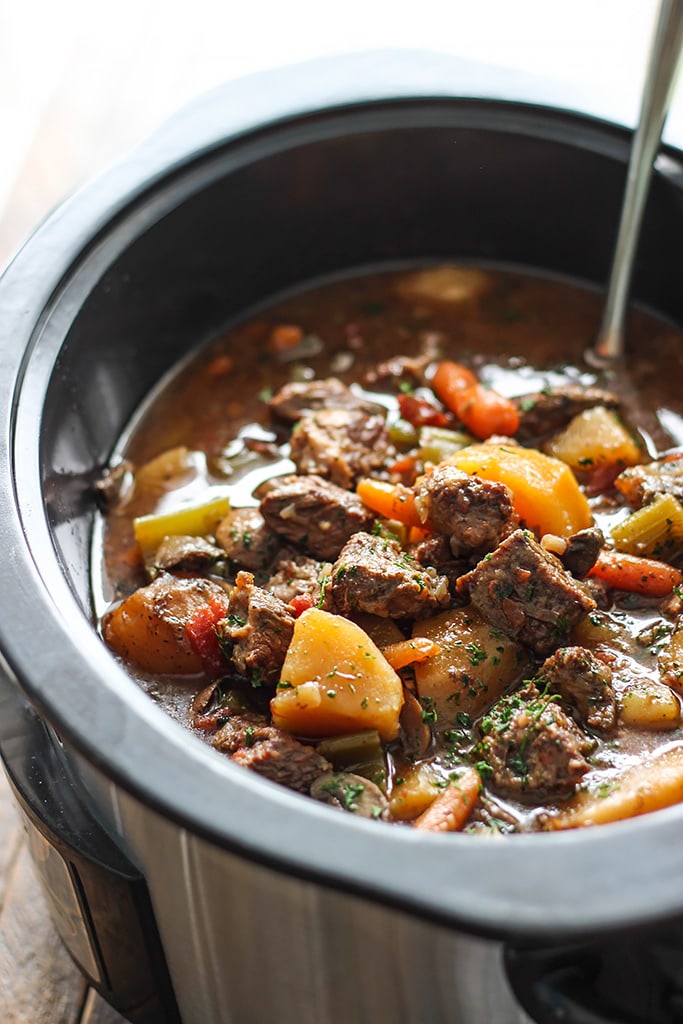 There are two ways you can do this. You can skip the searing and sauteing of the beef, onions and garlic and throw everything in the slow cooker and call it a day if you're short on time. The other way is to dust the beef cubes in flour and pan-sear them all on both sides to bring out more flavor.
Sauté the onions and garlic to bring their flavor out as well then deglaze the pan with wine (optional) and broth. THEN you chuck everything in and call it a day.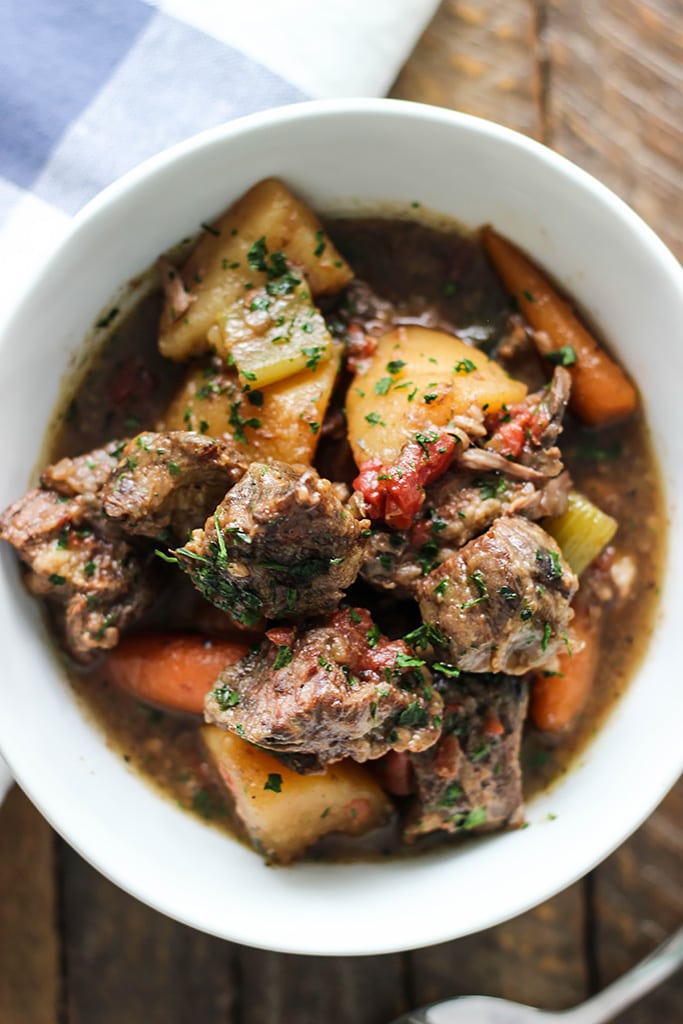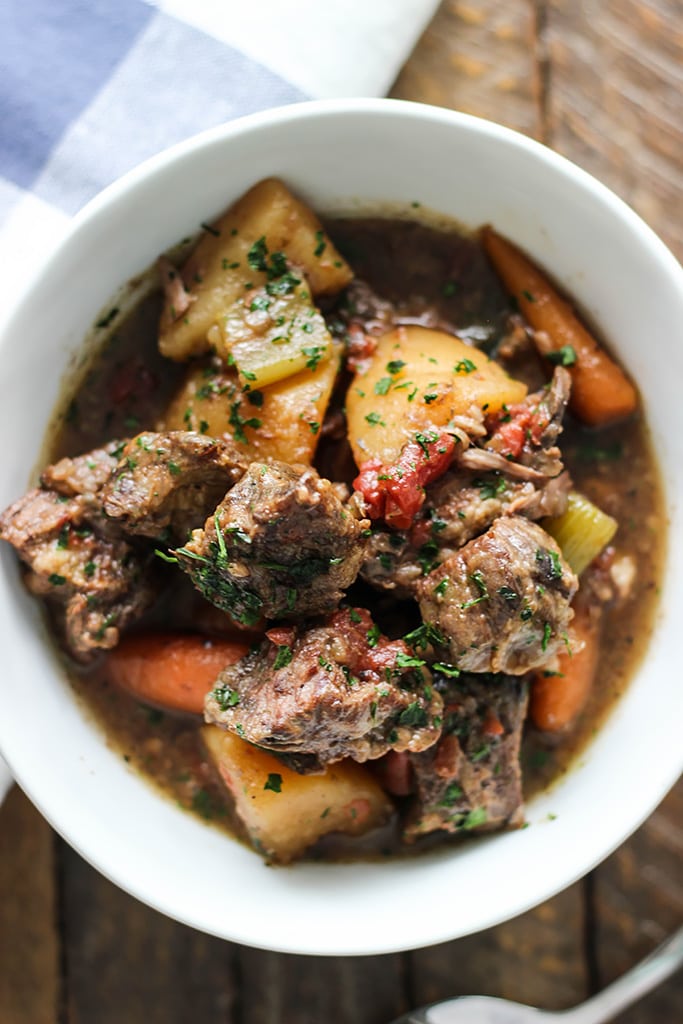 I went with the slightly longer version. It's about an extra 20 minutes of cooking time but my reasoning was if you're going to spend all that time slicing and dicing veggies, you might as well try to make the best stew you can!
And that's about it. Ladle them into bowls and serve with some crusty bread. Enjoy!
MORE SLOW COOKER SOUP RECIPES TO TRY
Did you make this recipe? Rate it!
♡ If you liked this recipe, giving it a star rating ★★★★★ in the comments below really helps! For more recipes, subscribe to my newsletter or follow me on Facebook, Instagram and Pinterest.
Print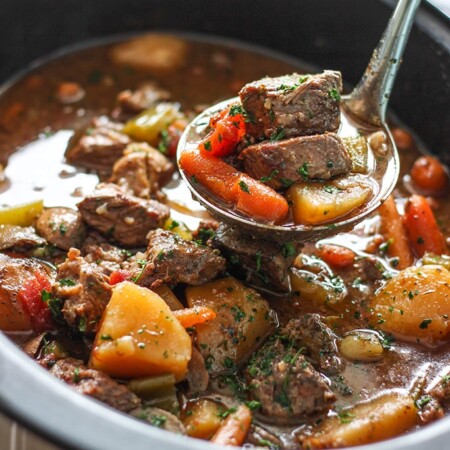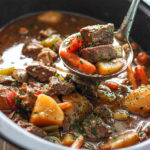 Slow Cooker Beef Stew
---
Author:
Total Time: 9 hours
Yield: 6-8 1x
Description
A hearty slow cooker beef stew with fall-apart, tender chuck roast, potatoes and carrots. A comforting, warm meal perfect for the cold weather.
---
2 teaspoons garlic, minced
2 lbs. beef chuck, trimmed of fat and cut into 2″ cubes
1/4 cup flour
6 yukon gold potatoes, peeled and quartered
3 large carrots, cut into 2" pieces/8 oz. baby carrots
4 stalks celery, cut into 2" pieces
1 medium yellow onion, diced
8 oz. mushrooms, sliced (optional)
1 cup red cooking wine (optional)
2 cups beef stock/broth
1 (14.5 oz) can diced tomatoes, drained
1 bay leaf
1/2 teaspoon dried thyme
1 teaspoon dried parsley
1/8 teaspoon ground allspice
1 tablespoon Worcestershire sauce
Salt and pepper to taste
---
Instructions
Toss the beef cubes in flour until fully coated on all sides.
Over medium-high heat, sear the beef cubes in some oil until browned. Remove and set aside.
In the same pan, add more oil and sauté the onions and garlic until fragrant.
Pour in red wine and beef broth. Scrape off any browned bits from the pan into the broth. Simmer until broth begins to boil
Layer bottom of slow cooker with potatoes, carrots and celery.
Add in seared beef cubes, onions and garlic broth and diced tomatoes.
Season with bay leaf, parsley, allspice, Worcestershire sauce and salt and pepper to taste.
Cook on low for 8 hours.
Dish and serve hot with crusty bread.
Enjoy!
Notes
Add 1-2 cups more beef broth if you prefer your stew soupier.
Prep Time: 30 mins
Cook Time: 8 hours 30 mins